Johannesburg is a sprawling city. Although it does have a definable centre (the inner-city central business district or CBD), many think of the northern suburb of Sandton as the city's new commercial centre. Still, urban life tends to spread across various suburbs, each with its own distinct identity and style.

Johannesburg has a large public transport system, although it doesn't reach nearly as many places as we would like and it is not always reliable. However, the city's transport network is currently (and constantly) being upgraded and services like the Gautrain have proven particularly popular. Depending on the length of your stay most visitors will find that renting a car makes life easier - outside the city centre there are entire neighbourhoods that can be difficult to reach with public transport, and the situation becomes even more trying if you want to head into the countryside.

Much of the city's new public-transport infrastructure, such as the Gautrain rapid-rail and Rea Vaya bus service, is safe, efficient and relatively easy to navigate. The Gautrain is most useful for getting between Sandton, Rosebank and Park Station and its network of feeder buses puts some of the suburbs, and particularly Montecasino, within easier reach for non-motorists. The other great selling point of the Gautrain is its quick link to O.R.Tambo airport - just 15 minutes flat from Sandton station. The Rea Vaya bus is a steadily developing network of buses which links the inner-city with Soweto and western suburbs such as Auckland Park. With a circular route through the city it is a particularly useful mode of transport for those who want to explore the City Centre without a car.

More adventurous visitors will find they can get almost anywhere if they are willing to brave the infamous minibus taxi network, although it helps to swot up on the confusing taxi hand signals beforehand. Metered taxis and tuk tuks provide additional transport options for those without their own wheels.
TYPES OF PUBLIC TRANSPORT IN JOBURG
Gautrain
Joburg's pride and joy, the shiny-gold Gautrain (pronounced 'How-train') links central Johannesburg (Park Station) with the main business districts of the north (Sandton and Rosebank) and beyond to Pretoria and O.R. Tambo International. To use the train, buy a Swift Card at any station and top it up with money at the kiosk or vending machine inside the station. Alternatively, you can also use your contactless bank card. Joburg's Gautrain stations are Park Station (next to Braamfontein), Rosebank,  Sandton, Marlboro (close to Alexandra township) and Midrand. Widely considered the fastest and the most reliable public transport system in Joburg, check out their website gautrain.co.za to see when the next train is due.

Need to know: You are not allowed to consume any food or drinks on the Gautrain and at Gautrain stations. The security staff are pretty strict about this and have been known to land people with spot fines. Short local trips (such as Park to Sandton) cost from R26 depending on the time of day. Trains run daily from 05:30–21:00 at intervals of 12–30 minutes. Timetables are available online or download the Gautrain app.
Gautrain Bus
Connected to every Gautrain station is a network of Gautrain 'feeder' buses linking up nearby suburbs. To use the bus you will need a Swift Card or a contactless bank card. There are route maps and timetables at all Gautrain stations and bus stops. Buses usually arrive every 20 to 40 minutes depending on the time of day, Monday to Friday only (the bus service does not operate on weekends). You can track where the next bus is on Gautrain app or call +27 10 223 1098. 

Useful Gautrain Bus routes
From Park Station: For Constitution Hill take the J1 Parktown bus. For Standard Bank Gallery and the Main Street Mining District take the J2 CBD bus. First Gautrain bus leaves the station at 06:16 and the last at 20:26.

From Rosebank station: Melrose Arch (RB2), Hyde Park (RB4), Killarney (RB5) or Illovo (RB3). The first bus leaves Rosebank at 06:21 and the last at 20:01 (the last bus to Killarney is at 18:59).

From Sandton station: For Liliesleaf take the S3 and get off at Rivonia and 11th. The museum is a 15–20 minute walk. For Montecasino take the S5. On weekends from 08:15–19:30 a Midi-Bus shuttle leaves Sandton station for Montecasino, and vice versa, every 45mins. Tickets cost R20 and can be bought at the station.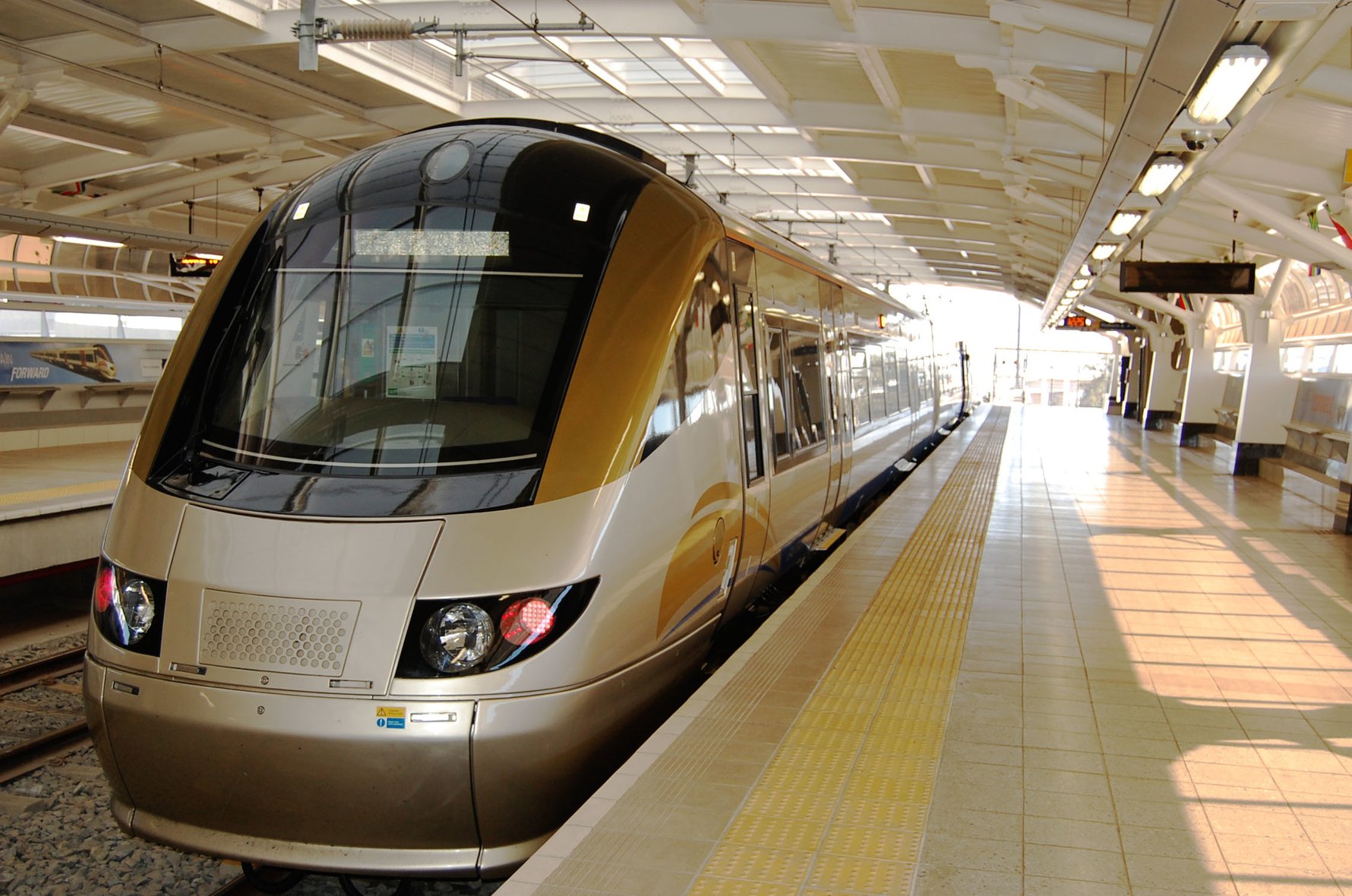 Rea Vaya
The Rea Vaya Bus Rapid Transport System (BRT) boasts traffic-beating bus lanes and special enclosed bus stops 'stations' with raised platforms and security staff, modelled on similar systems in Latin America. Most Rea Vaya routes traverse the Joburg City Centre and connect up to destinations in Soweto and in the West Rand.

To use the bus, you will need to purchase a smartcard for R30 which can be done at the Park Station and Carlton Centres stops. Sometimes the payment 'system' is offline which can be frustrating when you want to top up your smart card, so it is advisable to load money in advance. We recommend having a minimum balance of R50 to ensure you can make at least a long return journey if you need to. Most trips cost around R12 to R15. Single journey tickets are also available which cost R21. It is worth asking the staff at the station before you enter about the bus or route you want to take as unfortunately stations are not user friendly and are very confusing for first-time users. Make sure you clearly indicate to the bus driver when you went to get off as they do not stop at every bus stop unless requested.

Useful Rea Vaya routes:
C-3 The circular City Centre C–3 route stops at most major tourist sites as well as Park Station. Stops include Constitution Hill, Johannesburg Art Gallery, the Fashion District, the Carlton Centre (visit the 50th floor viewing deck for amazing city views), Library Gardens, Chancellor House, Newtown Junction (Mary Fitzgerald Square) and Wits Art Museum in Braamfontein.

C-1 For Maboneng catch the C-1 at Chancellor House, Library Gardens or Carlton Centre and get off at the Jeppe SAPS stop (corner Albertina Sisulu Rd and Betty St). The centre of Maboneng is a two-minute-walk via Betty Street. The C–1 ends at Ellis Park near the rugby stadium.

C-4 Leaves from Park Station. For 44 Stanley get out at Milpark and for Melville at Main Rd and 1st Ave (Melville's main hub, 7th Street, is a 10-minute-walk via 1st Ave). The bus also stops at Cresta Mall

T-2 and F-4 For Vilakazi Street in Soweto take the T-2 from Park Station and change to the F-4 bus at the Boomtown Station in Soweto.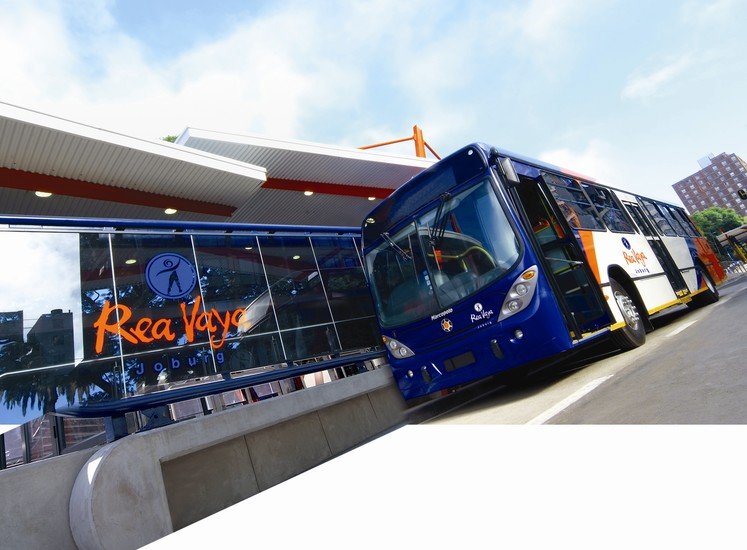 Taxi cabs and ride-hailing services
Uber/Bolt: Since its launch in Joburg late 2014, Uber has become the Joburg ride-hailing system of choice. Generally speaking it is extremely safe, quick and reliable and much more competitively priced than regular transfer and meter taxi companies. Uber's main competitor is the local ride-hailing service Bolt, which is cheaper but has a poorer reputation for customer service.

Need to know: Avoid requesting an Uber if you are close to a metered taxi rank, meter taxi drivers and Uber drivers have frequently been in conflict with each other. If you are at a train station or other major landmark such as a shopping mall, usually your Uber app will direct you to a specially designated Uber pickup point. Be mindful of 'phone snatchers' who are known to target people distracting by the Uber app while standing in busy public places.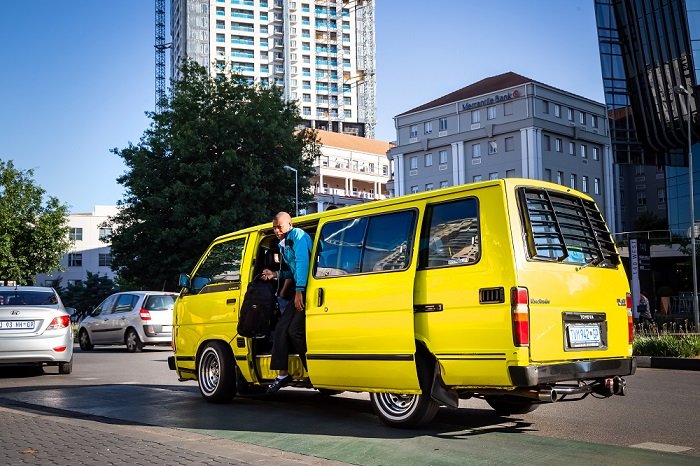 Mini-bus Taxis
Commonly known quite confusingly as 'taxis', mini-bus taxis are by far the most widely used public transport option in Joburg. Running throughout the city is a complex system of privately owned mini-bus which ferry commuters to all corners of the city, which can be very confusing to navigate without the help of a local. A complex system of hand/finger signals is used by passengers waiting for a 'taxi' to show to passing drivers which direction they want to go.

Once inside pass your fare forward to towards the driver or whoever is collecting money in the front seat. Note that unlike in other countries that use these mini-bus systems there is no list of destinations or prices posted in the window so you will need to rely on your fellow passengers for this information. You need to call out to the driver in advance when you want to get off - giving a landmark, such as 'after the robots' is usually the easiest.

The easiest way to test the minibus waters is to ride one down to the City Centre - raising your index finger shows you want to head downtown. Once there you will be dropped at one of the main taxi ranks - usually either Park Station or MTN Metro Mall in Newtown (more commonly just referred to as 'Bree'). Be vigilant at taxi ranks as they tend to be very crowded and are an easy place to be pick-pocketed. Avoid taking mini-bus taxis at night.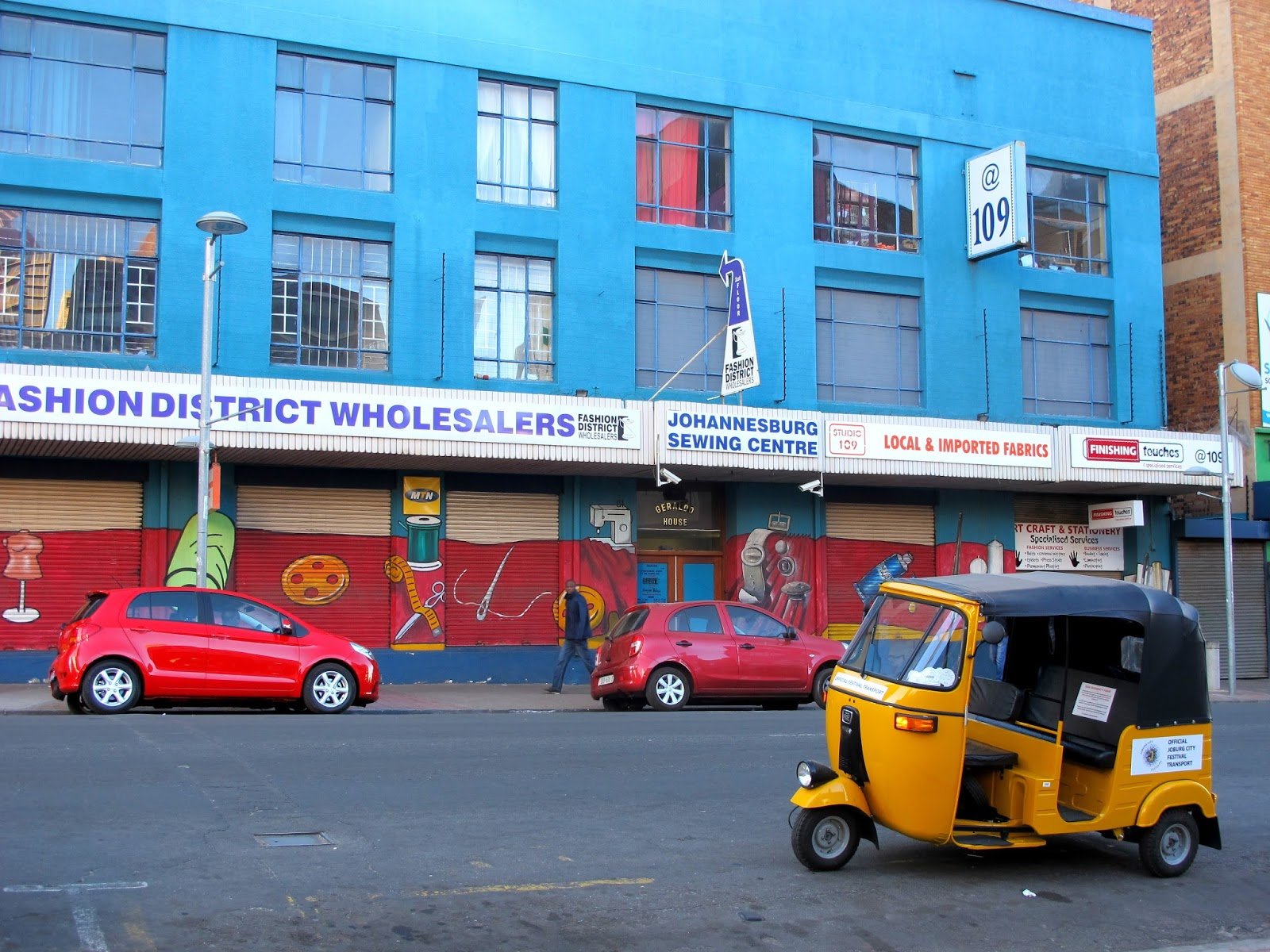 Tuk–Tuks
A fun transport option for a short journey are the enterprising fleets of tuk–tuks based in Sandton Central and Melville. While speeding around corners and chugging up steep hills on the back of a glorified motorbike might not be to everyone's tastes, they do make travelling between suburbs much easier. Fares start from R40. 

E-tuk tuk tel. (+27) 826 950 211, (+27) 825 156 593, e-tuktuk.co.za. Based in Melville e-tuk–tuks serve Braamfontein, Fordsburg and can also pick up from Rosebank station for a flat fee of R40.
Shesha Tuks tel. (+27) 861 743 742, sheshatuks.co.za. Based outside the Sandton City Mall on West Street, Shesha Tuks work within a 5km radius which can get you as far as places like Parkhurst, Rosebank and Illovo. Rates start at R35 for a 3km journey although it is best to agree on a price beforehand.
DRIVING AND CAR RENTAL
If you have a driving licence the easiest way to explore Joburg is by car. There are numerous car rental companies at both Joburg airports, and most offer drop-off or pick-up points in Rosebank or Sandton. When driving, plan your route before setting off, and store valuable items out of sight. South Africans drive on the left-hand side of the road, passing on the right (usually). Maximum speed is a nippy 60km/h on urban roads, 100km/h on national roads and 120km/h on highways.

Fuel is widely available. Joburgers like to drive fast, hog the middle lane and don't seem to mind being passed on all sides. Avoid driving behind minibus taxis in the left lane because they make frequent unannounced stops, and in the City Centre avoid the awkwardly placed bus lanes. Traffic lights (South Africans call them robots) sometimes don't work; treat the crossing as a four–way stop. Jaywalking is popular, especially in the inner city, and not uncommon even on freeways. Street signs are not always visible, and many addresses are given as the corner of two streets rather than as a numbered single-street address.
WALKING IN JOBURG
Much of Johannesburg, especially the northern suburbs, is designed for cars and not pedestrians and distances can be long and uninteresting. However, during the daytime the dense urban areas of the vibrant City Centre - particularly the elegant Mining District and Braamfontein - are easily navigated on foot, while some of Joburg's prettier neighbourhoods such as Melville or Parkhurst are also lovely to walk through, particularly in spring when the jacarandas blossom. When walking be wary of your valuables, avoid poorly lit or deserted streets and walk only during daylight hours. You should not attempt to walk through the central Joburg areas of Hillbrow, Berea, Joubert Park and Yeoville without a local guide and crossing the bridges over the rail tracks from the CBD to Braamfontein is also highly discouraged.