Gauteng's water playground is the section of the Vaal river that forms the border between the Gauteng and Free State provinces. On any given weekend pleasure cruisers set out from riverside restaurants, the wealthy flash past in their speedboats and here and there the occasional houseboat can be spotted chugging along with locals enjoying a weekend away. Curious by nature we decided to join the weekend river people and get out on the water to understand the appeal. We rented a houseboat from Old Willow No. 7.  and quickly discovered one of the best ways to escape, and get back to nature.

There are a few companies offering small houseboat rentals on this section of the Vaal river near Vandebijlpark and among the most prominent is Old Willow No. 7 Houseboat Charters, based in the upmarket Korhaan River Estate on a fabulous stretch of river known locally as 'Millionaire's Bend'. Old Willow No. 7 has a fleet of nine 'LeisureLiner' houseboats that at a squeeze can sleep up to four (they advertise boats as sleeping up to five, although the fifth member of your crew should preferably be a small child), available for full-day and overnight rentals.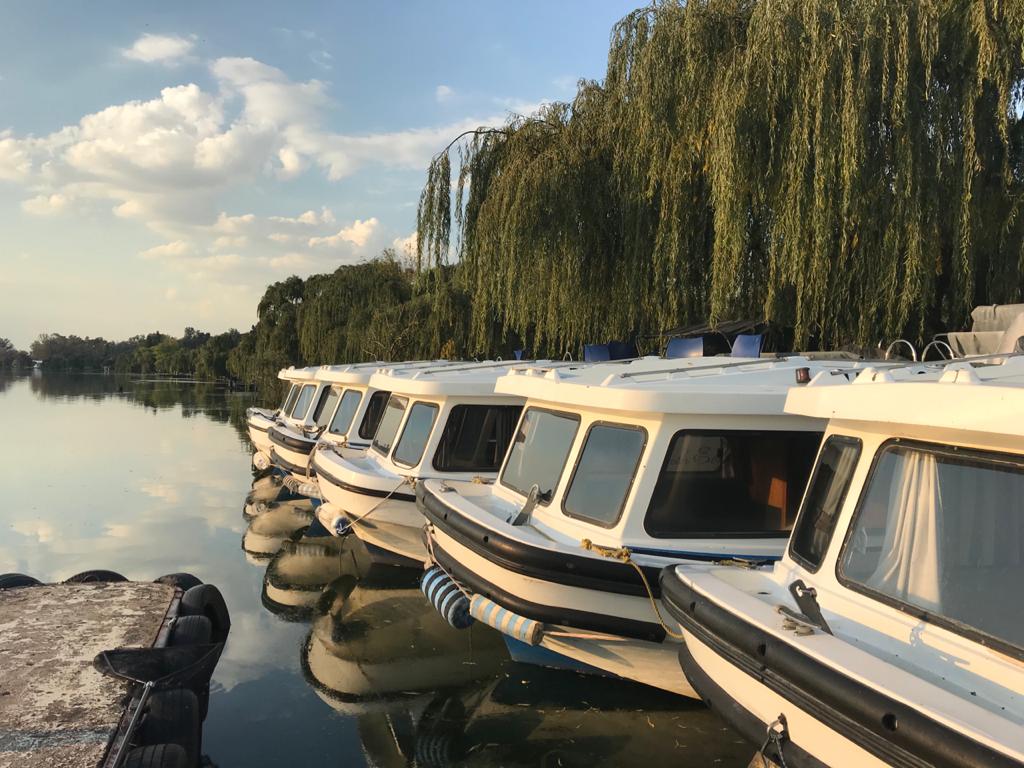 Once you've booked your trip, you'll receive an email with a wealth of information about the boat and the laws of the waterways that you are advised to read in detail before you arrive. We strongly recommend it. There's a fair bit to learn (although you'll find you'll very quickly get to grips with handling the boat) and it's also pretty embarrassing to arrive not knowing your port from your starboard. One of your crew will be designated the skipper for your stay and will need to sign all indemnities and go through a brief training on how to handle the boat and what to do should you encounter problems with the engine before you set off.

Old Willow also provide extensive information on places you can park your boat, areas of the river to avoid and potential routes you can follow. We were recommended to head downstream and explore the sections of the river leading towards the Vaal dam wall, a quieter and more scenic stretch of river that also has the best spots to moor overnight.

With our route mapped out, sufficient fuel loaded onto the boat and confidence instilled in how to manoeuvre it, we set off for an afternoon meander downstream. The boat has two 'rooms', a galley area with a dining table that can be transformed into a bed and a compact bedroom in the rear, as well as a small deck in front from where the boat is steered, and access to a rooftop deck to soak up the sun.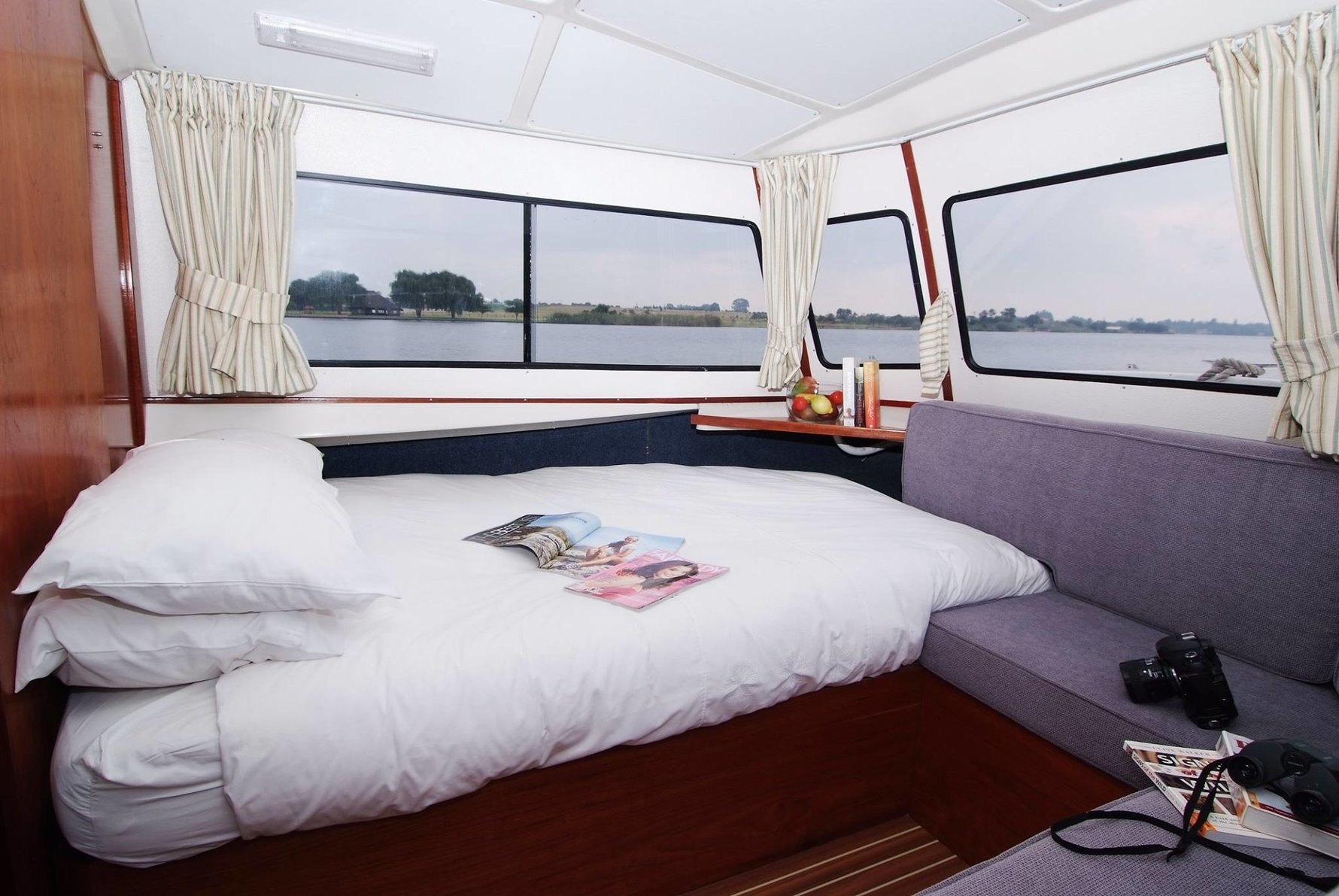 Cruising downstream in the direction of the dam wall takes you along Millionaire's Bend, a fabulous stretch of river lined with extravagant private mansions that open right out onto the water. There's no shortage of luxurious speedboats parked up at the private jetties and we even spotted a helicopter landing on the lawn of one property on the route. This is the quietest and most scenic part of the river and we happily spent our whole weekend cruising up and down this roughly 10km stretch of water.

When it comes to social distancing and getting back to nature, you simply can't beat a houseboat. As your own captain, out on the water you get the pleasure of being able to simply sail away from the crowds at will. The closest anybody will get to you is a passing wave from the shore and at night if you choose the right spots to shore up you'll find the only sounds are the hundreds of weaver birds nesting in the reeds. 

The maps provided by Old Willow indicate around half a dozen restaurants and cafes that can be accessed via the water. We decided to stop at one venue for lunch, purely for the novelty of getting to park our boat and jump off at a jetty for a drink, although stopping at the riverside restaurants doesn't really add anything special to the experience. If anything we endured achingly slow service and the hassle of plotting a 15-point turn to slowly ease the boat into a parking spot.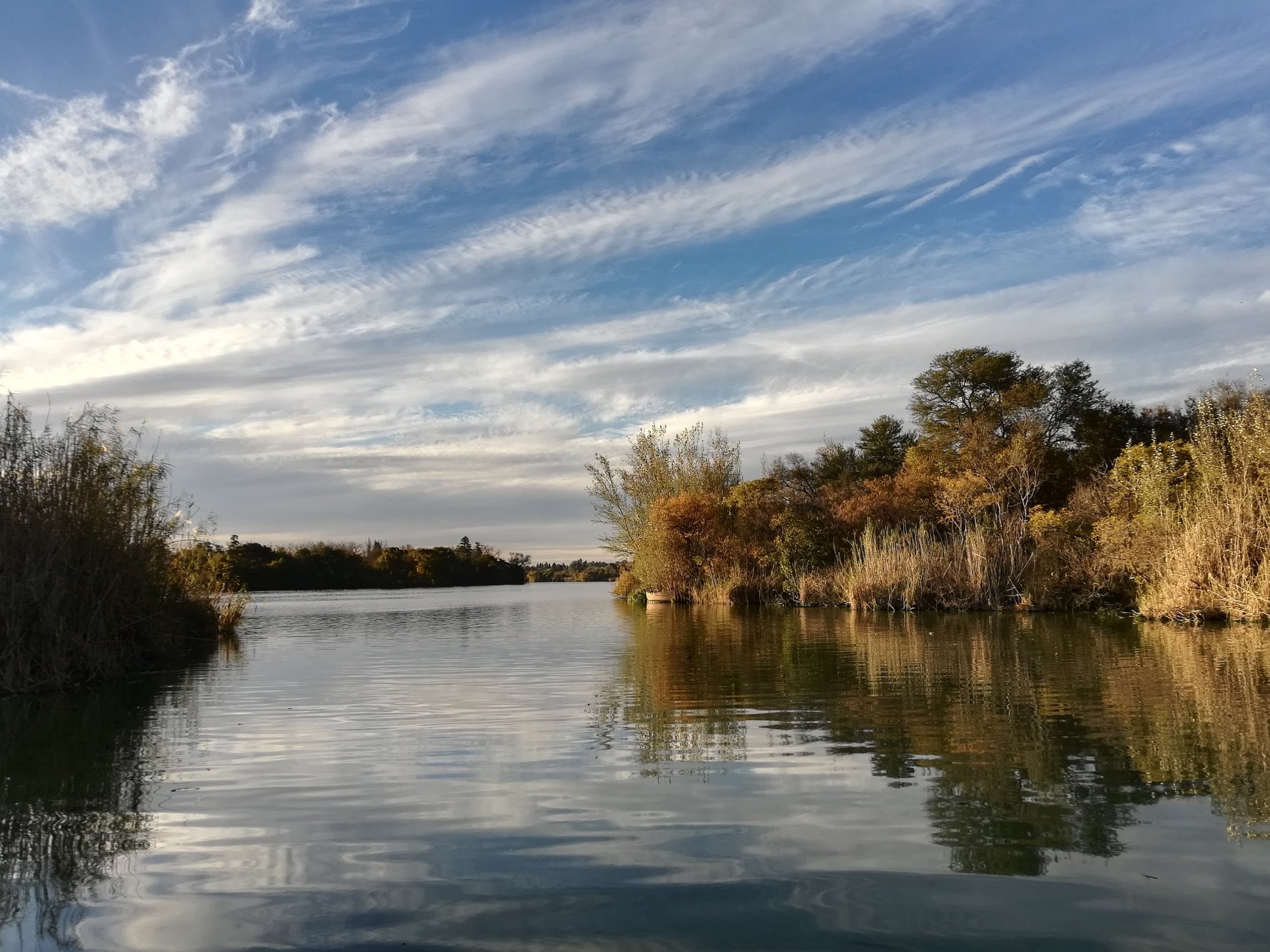 If you eat at one of the local riverside restaurants you can usually moor overnight at their jetties for free, although we recommend heading straight for the many 'bundu bashing' overnighting spots, small unpopulated creeks just off the river where you can tie your boat up to the reeds. There are at least a dozen different 'bundu' spots accessible by the houseboats. Our favourite was the blissfully peaceful Otter's Cove, about an hour's cruise from Old Willow's jetty, where we were treated to a late afternoon chorus of birdlife before sunset.

If you find camping a little too much like hard work, but also relish the opportunity to get back to nature and plan your day around your own agenda, a houseboat break is the perfect compromise. You're as close as you can get to the great outdoors with the ability to choose your own adventure every day. And you also get all the added benefits of your own bathroom, gas hobs, a bed and electric lights. We visited in winter when the river was very quiet and the water bracingly cold, but we can well imagine in summer an afternoon dip followed by a sunset braai on the deck would also be the perfect escape.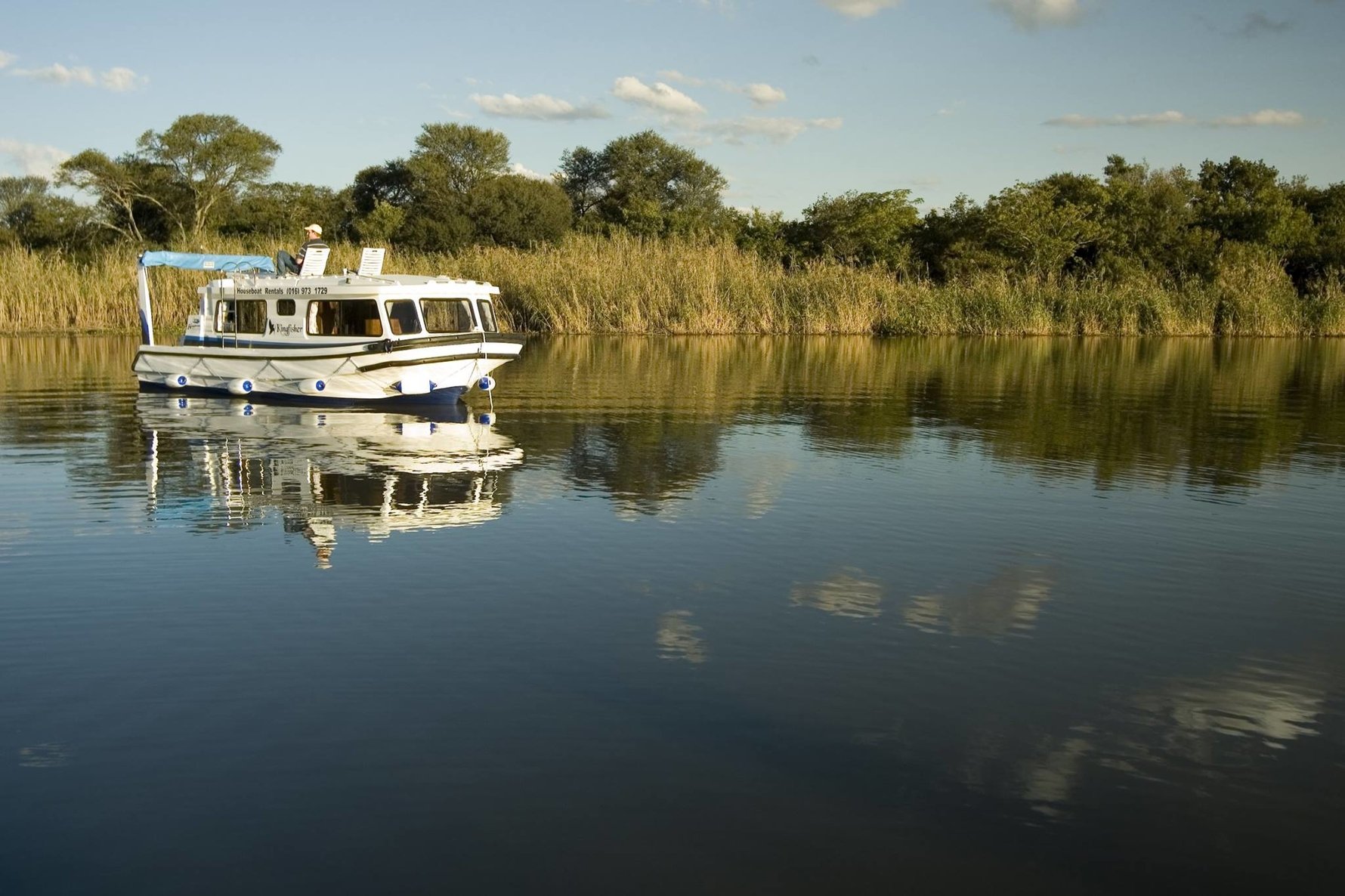 NEED TO KNOW
What to bring
Make sure you have everything you need before you set out. Houseboats are pretty slow going and Old Willow's jetties are quite remote so it will be a long journey if you realise you have forgotten something.

In addition to all your food for your stay, we also recommend bringing a torch, warm clothing and flat shoes with good grips for colder nights as well as sufficient briquettes and firelighters if you plan to braai and extra drinking water (the boat has water, although if there are more than two of you and you use the shower you could run it out). The boat has a plug point that only works when docked to the mains at the Old Willow jetty so make sure you have portable battery packs or turn off your devices when not in use to save power. If you are planning on fishing you can buy bait directly from Old Willow when you arrive and their incredibly knowledgable team will also point you in the direction of the best fishing spots.

When to go
Note that it is strictly forbidden to drive boats after dark. Boats are available from 13:00 and we recommend arriving as close to this time as possible to make the most of your first day. The boats need to be returned by 10:00 in the morning. In winter it can be very chilly at night, although it is also the quietest time to come to this section of the Vaal river. In summer the river can get very busy on weekends with pleasure cruisers and waterskiers, so if possible try book a stay during the week to have the place to yourself. At midday the river is at its busiest so this can be a good time to park up and enjoy lunch before continuing on.

Where and how to book
Houseboats can be booked online at oldwillow.co.za. Overnight houseboat rentals cost from R895 per person. Call +27 83 391 4884 to find out more.
Old Willow No. 7 is around a one-hour drive south of Joburg, approximately 15 minutes drive from Vandebiljpark.

*This was not a sponsored visit