Whether you're putting it on the braai or looking to cook up something quick for a mid-week dinner, there's always a good time to make steak, although somehow so many people often get this deceptively easy dish wrong.

For the ultimate guide to what to do and what not to do when it comes to the world's favourite red meat, we turned to the team from The Hussar Grill, one of South Africa's oldest and most established grill rooms, for their tips on how to master the perfect steak.
How to choose your meat - and age it at home

According to The Hussar Grill, one of the first and foremost keys to cooking the perfect steak is making sure that you buy the very best quality meat available. Known for its dedication to sourcing only the very best Class-A grain-fed beef and game, all The Hussar Grill's meats are sourced directly from local farms and family-run businesses. 

The Hussar Grill wet ages its whole meat for a minimum of 28 days before they reach the grill. This ensures the finest matured, tender and flavourful steaks. This is why storage temperature is vital. The Hussar Grill steaks are vacuum-sealed to avoid any oxygen getting in and then are stored in a cool 5-degree Celsius fridge.

If you have bought steak that is fresh but not aged, but is vacuum-sealed, you can still wet age your steak at home by keeping it sealed and leaving it in your refrigerator. Don't be alarmed if the meat matures in colour from the bright reddish pink blush of fresh meat, to a deeper tone. This is a good sign as the meat's flavour will be improving and becoming more tender!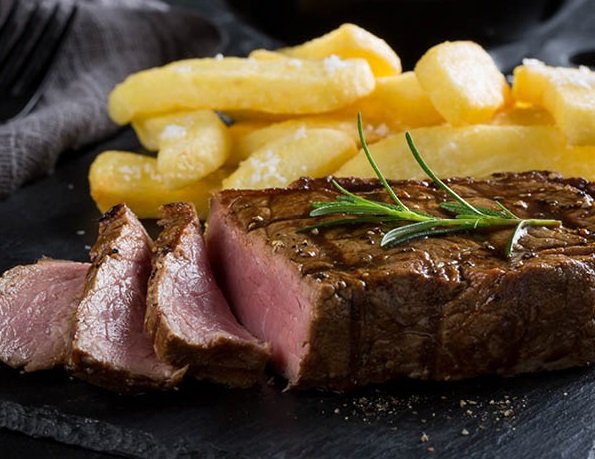 Preparing the steak before it goes on the grill

When you're ready to cook your steak The Hussar Grill recommend using a griddle pan to get a beautiful char-grilled mark effect. Make sure to use tongs to turn your steak so that you don't press down on the meat.

Jason Allen the owner of The Hussar Grill restaurant in Steenberg, Cape Town says that heat is the next vital step. "Do not cook your steak directly from the fridge. Let it sit outside on the counter for at least 30 minutes to bring it up to room temperature if you want your steak to cook evenly from edge to centre".  It is also essential ​​​​​that the griddle pan is pre-heated before you put the steak on.

Before you put the steak in the pan, lightly brush it with olive oil. The only thing you should be putting on your steak before grilling it is oil or a basting sauce if you are using one. Putting salt on raw meat is a no no, as it absorbs moisture and will dry out the meat.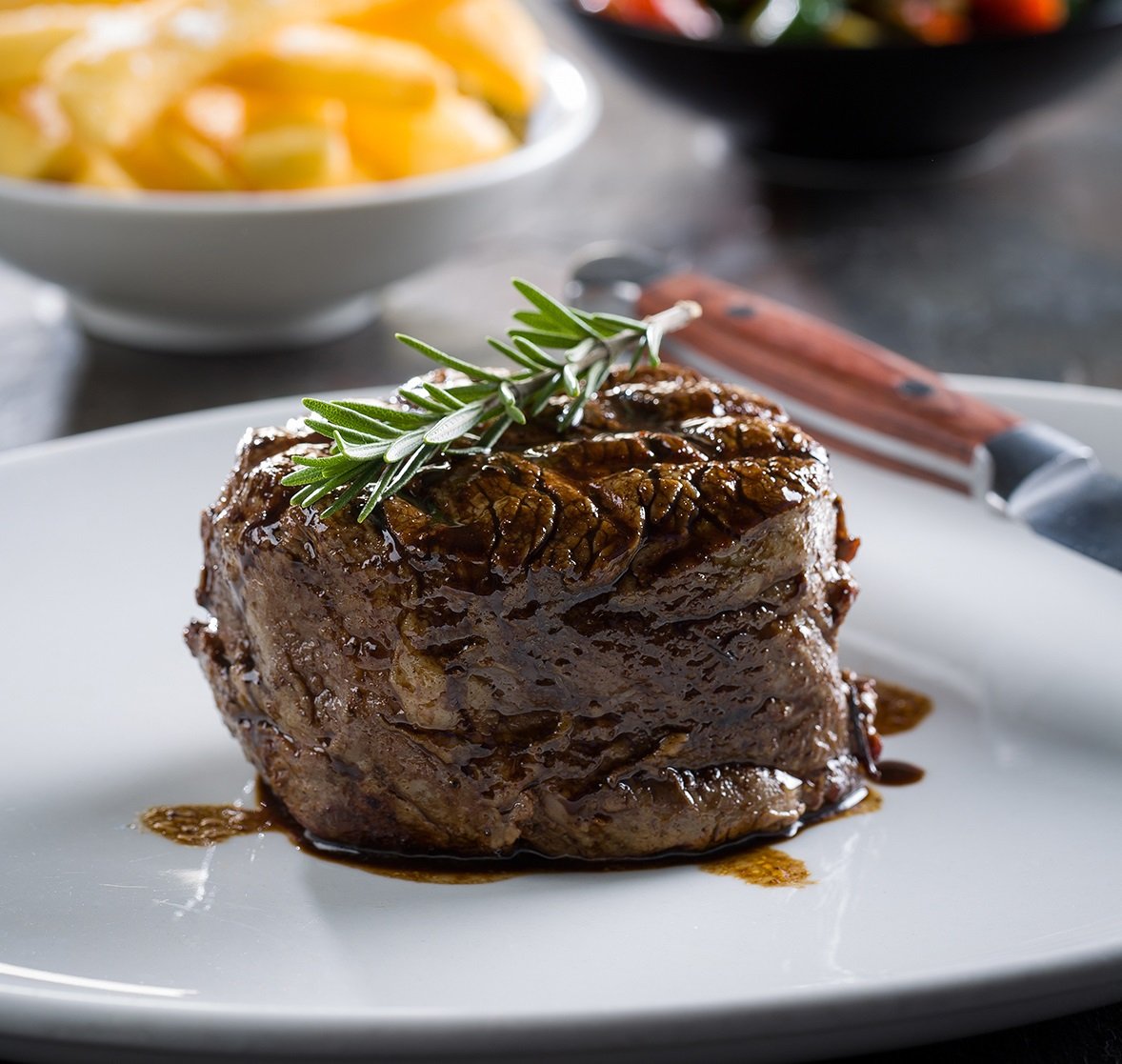 Rare, medium rare or well done?
How you like your steak is a matter of personal preference, and often of controversy too! However, there are some recommendations for how your steak should be done depending on the cut of the meat.

Fillet is the softest, most delicate cut of meat as it comes from a part of the cow where muscles are hardly used. Fillet is best served rare or medium-rare as it is lean and will dry out if cooked too long.
Rump steak is from the hindquarters, where the muscles are not too developed. It can be served medium-rare.
Sirloin is a fattier cut that should be cooked to the medium stage.
Rib Eye, which is marbled with fat, needs to be cooked medium or more, to help break down the fat content and caramelise the fat into the flavour.

To cook the perfect medium-rare steak, grill it for one minute per one centimetre of thickness on each side. Adjust this time slightly if you want a rare or well-done steak. And if your cut has fat or a bone, cook it on that side first.

Once the steak is cooked, let it rest for a few minutes to allow all its tasty juices time to redistribute and reabsorb, resulting in a more tender and flavourful steak. And enjoy!

ABOUT THE HUSSAR GRILL
A good old-fashioned grill room that draws from the best traditions, The Hussar Grill is one of South Africa's oldest grill rooms. The first Hussar Grill opened in leafy Rondebosch in Cape Town in 1964 and the brand now has spread across South Africa.

You can find four The Hussar Grill restaurants in and around Joburg: at Morningside Shopping Centre, Silverstar Casino in Krugersdorp, Montecasino Casino and Entertainment Centre and at Waterfall Corner in Midrand. For directions and reservations visit hussargrill.co.za. Follow The Hussar Grill's tips and recipes on Facebook, Instagram and Twitter.