An award-winning young artist, Lindo (Lindokuhle) Zwane (born in Newcastle in 1992) studied printmaking at Artist Proof Studio, where he also worked as a drawing facilitator for 3 years. His preferred medium are paintings and charcoal drawings, as well as of course, printmaking. We say of course, because Artist Proof Studio has produced some of the finest printmakers not only in Joburg, but across South Africa and beyond. Lindo Zwane's studio is based at August House.

As his new exhibition Ubumnyama (meaning darkness) opens in August 2021 at , we chat to him about his journey as an artist, his experience of the Covid era, and the influences on his new work.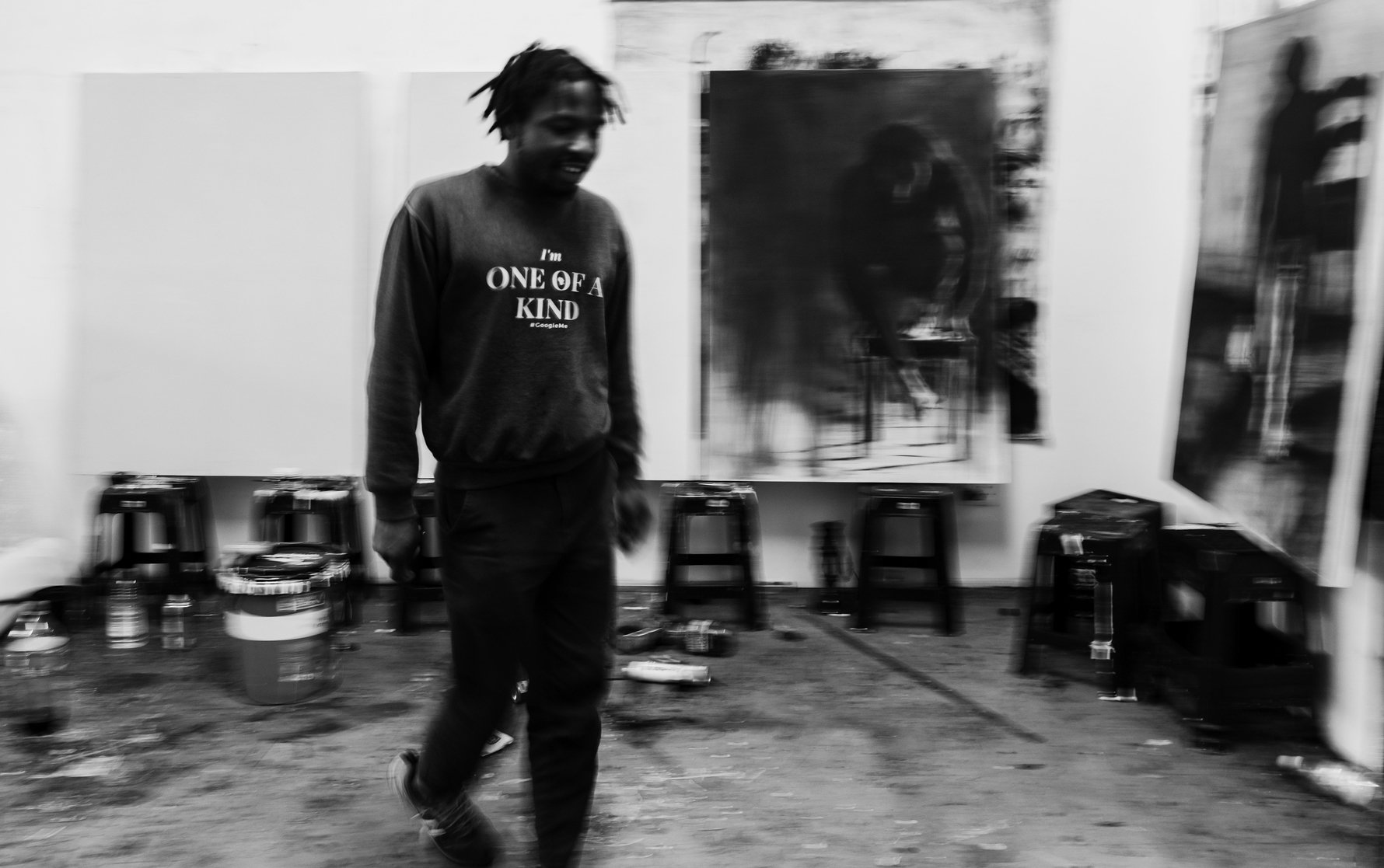 "We all came here in search of a better life, in search of the "gold" in whatever shape or form. Whoever you are or where ever you come from Joburg promises us that and that promise is our common ground." – Lindo Zwane

What has shaped your journey as an artist? 
The chance to study printmaking. That was the beginning. I was able to get to meet amazing people who have shaped and guided me ever since. Of course winning awards and the chance to show in great galleries and take up an international residency were of huge importance to me, and definitely a confidence booster.  I still can't define how my journey has been other than say I have been really lucky or fortunate. 

Favourite medium and why?  
It has to be charcoal at the moment, but I think the love for it has always been there even back when I was studying printmaking. I love drawing more than painting, I think that is definitely another reason. With charcoal it's the darkness, the intensity. It is such a dramatic medium, simply beautiful.

Your studio is in the city at August House. Why have you chosen to be there? 
Initially it was a good move for my art career as a young artist to share a building with artists I looked up to, and other artists who were just starting out in the art would. Over the years I have learned to appreciate the location because of the surrounding spaces and the people occupying these space. I draw my inspiration from interacting with them, and just observing and learning from them.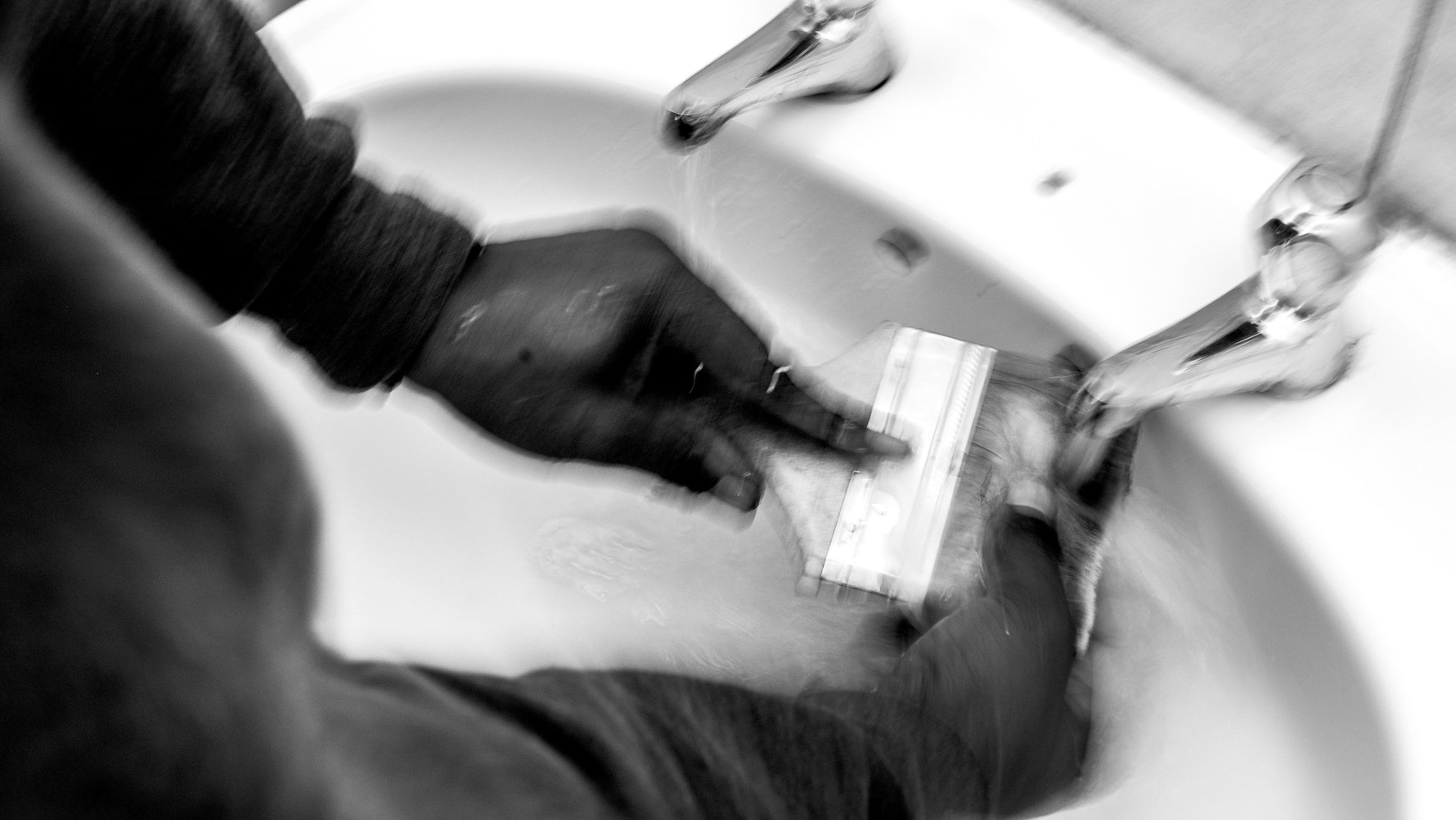 When did you know you wanted to be an artist? 
I made a conscious decision in my second year of studying printmaking that I wanted to be an artist, other than that art was the only think that worked out for me. I think it's fair to say it chose me first.

The first work that made you proud?  
A dry point print I did in my first year as a student. It was selected to be part of an art fair and it sold out – an edition of 10 prints. It was an affirmation that maybe I have something to say and there are people who connect with that. 
 
What's the one work you didn't want to sell?
Almost all the works I do. And most recently my charcoal drawing titled "fragile", but I always remind myself that even I will always hope for a larger audience to interact and connect with the work, and that means parting with it. 

Your new exhibition deals with darkness and shadows. 
I have learned that when you are in the dark, the only thing you can be sure about is your presence and the space you occupy. The work uses simple elements such as shape and tone, creating a visual balance between simplicity and complexity. The high contrast in the work is a reminder of the never-ending duplicity of human nature. I think that's what the show looks at, and also darkness as a state of mind. All that is associated with darkness.

What do you love about Joburg? 
Spaces and people. I love the energy and how even though we may come from all different parts of the continent and the world, we all came here in search of a better life, in search of the "gold" in whatever shape or form. Whoever you are or where ever you come from Joburg promises us that and that promise is our common ground.

What do you most dislike about Joburg? 
It can be chaotic and sometimes, if not most times, some of us get lost in that chaos. And I guess that some parts are still considered dangerous. I think we should be able to feel safe and be part of a community that understands that.

One thing you would change about this place?
The slow pace of development, and cleaning up of spaces. I think I have realized how some developments or change in spaces can influence the people living in them. Also I wish Joburg can live up to its promise of a better life for more people that come here in search of that life. 

 If Joburg was a colour, what would it be?
I wouldn't choose just one. Joburg is such a vibrant city. I'd have to go for the whole rainbow

How have you felt the impact of this COVID era on your art? 
As a business its hasn't been easy, and with my art practice it has changed my approach to drawing. My inspiration was from walking on the streets and seeing children playing and having those nostalgic moments that take me back to my own childhood – the narrative now is rather more on catharsis and introspection.

Three words that describe this city? 
Vibrant, creative and culture