When it comes to this Morningside bar, the name tells you pretty much everything you need to know about what's on offer. There's local craft gin (lots and lots of it!), a food menu devoted to 'local' street food favourites (with a Sandton spin) plus plenty of nods to Jozi (Joburg) history in the decor. 

If you've ever driven along Rivonia Road through Morningside on your way to the Rivonia suburbs, you might not have noticed The Wedge Shopping Centre. Until a few weeks into South Africa's seemingly endless 2020 lockdown, the Jozi Gin Local Eatery bar, which in looks right onto the road, was hidden behind glass and a tall balcony. In the first half of 2020 the Jozi Gin team got busy opening up the wide balcony to create an airy indoor-outdoor space just in time for reopening in September that is perfect for the summer months.

Inside the decor is typically Sandton plush with some fun local details including a 10m long retro brass-clad bar behind which stands a statement clock face modelled after the Edwardian masterpiece that once held centre stage in the old Park Station, all offset by walls of wood and corrugated iron.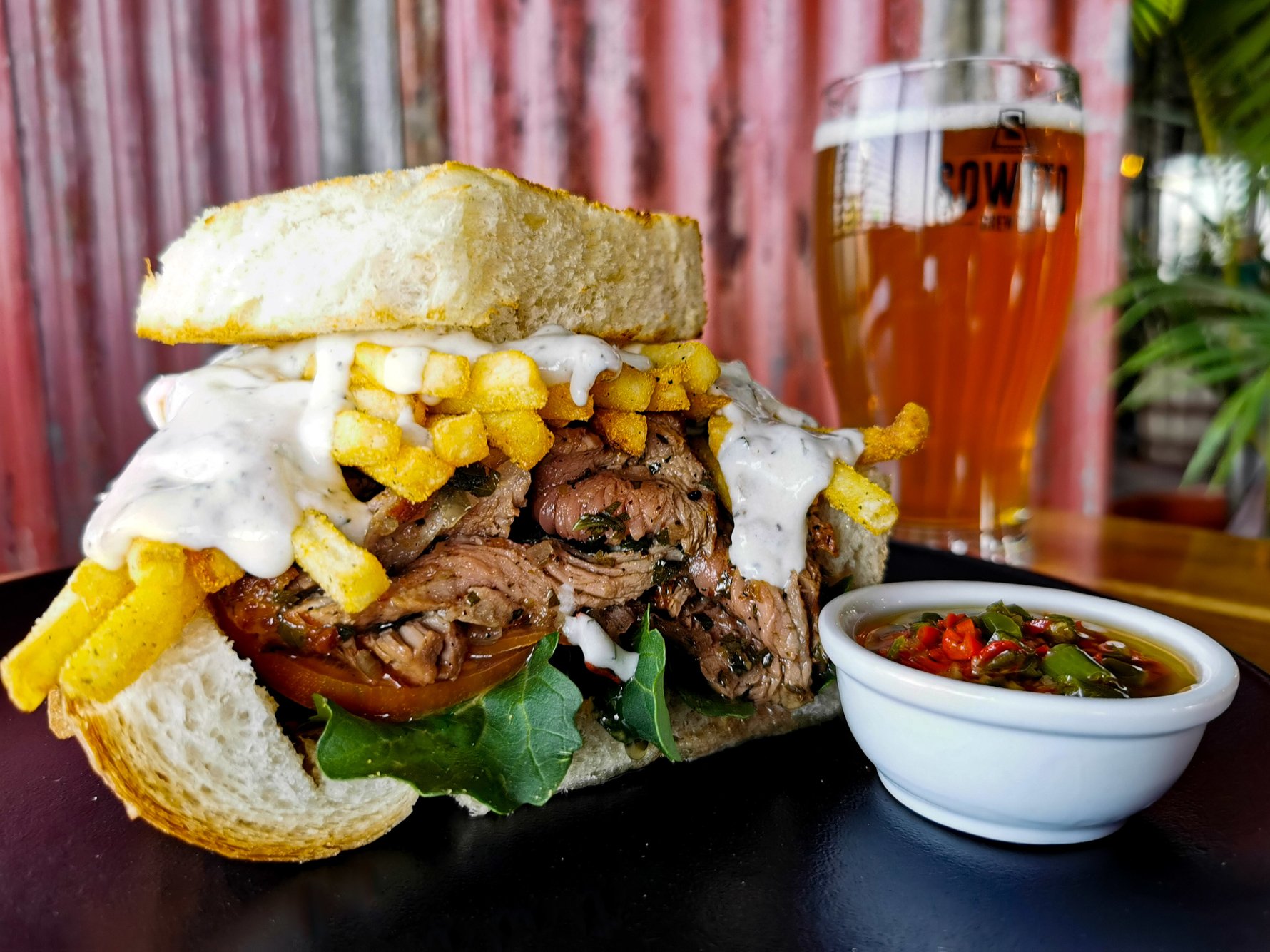 The nostalgic food menu focuses on classic South African comfort food, given an upmarket Sandton twist. The meat is fired on a charcoal grill and of course, there's a big focus on meat. 

In typical bar style there's a good selection of signature burgers, as well as the spectacular foot-long gourmet boerie rolls which come with a variety of toppings including; spicy chakalaka and sweet fried onions, jalapeno and bacon, and feta, perinnaise and caramelised onions. Another chunky option for those hankering for classic local street food tastes is the twice-fried slap chips which come loaded with relish and served in paper or the famous Deluxe Jozi City Kota, an upmarket take on the humble kota piled high with herb-rubbed sirloin, chips, herb cream and chilis.

From the braai menu we enjoyed the slow-roasted sticky pork ribs slathered in a sweet-sour teriyaki style sauce and for dessert, you guessed it, super sweet peppermint crisp and melktart is king. 

With its lively approach to 'meeting, eating and drinking' this is a fun addition to what has until now been a fairly work-a-day shopping centre. Ideal this spot is for those in Sandton looking for a late afternoon drink, or three, after escaping another day at the office.

*Johannesburg In Your Pocket visited by invitation of the restaurant. Views expressed in this review are our own.