There's nothing to make you feel more truly alive than finding your heart pumping out of your shirt while you contemplate a leap from the top of a zipline. Dedicated adrenaline junkies have been addicted to this fear factor for years. But there's something about the experience of living life vicariously through a screen for months during lockdown that has got even the most 'fraidy cat among us seeking out adventure activities to set the pulse racing.

As part of our eight-week series in partnership with Gauteng Tourism, to get you inspired for your next adventure, here's our guide to Gauteng's most thrilling adventure activities. Scary scale ranking: 1/5 for the Tarzans, 3/5 for the novices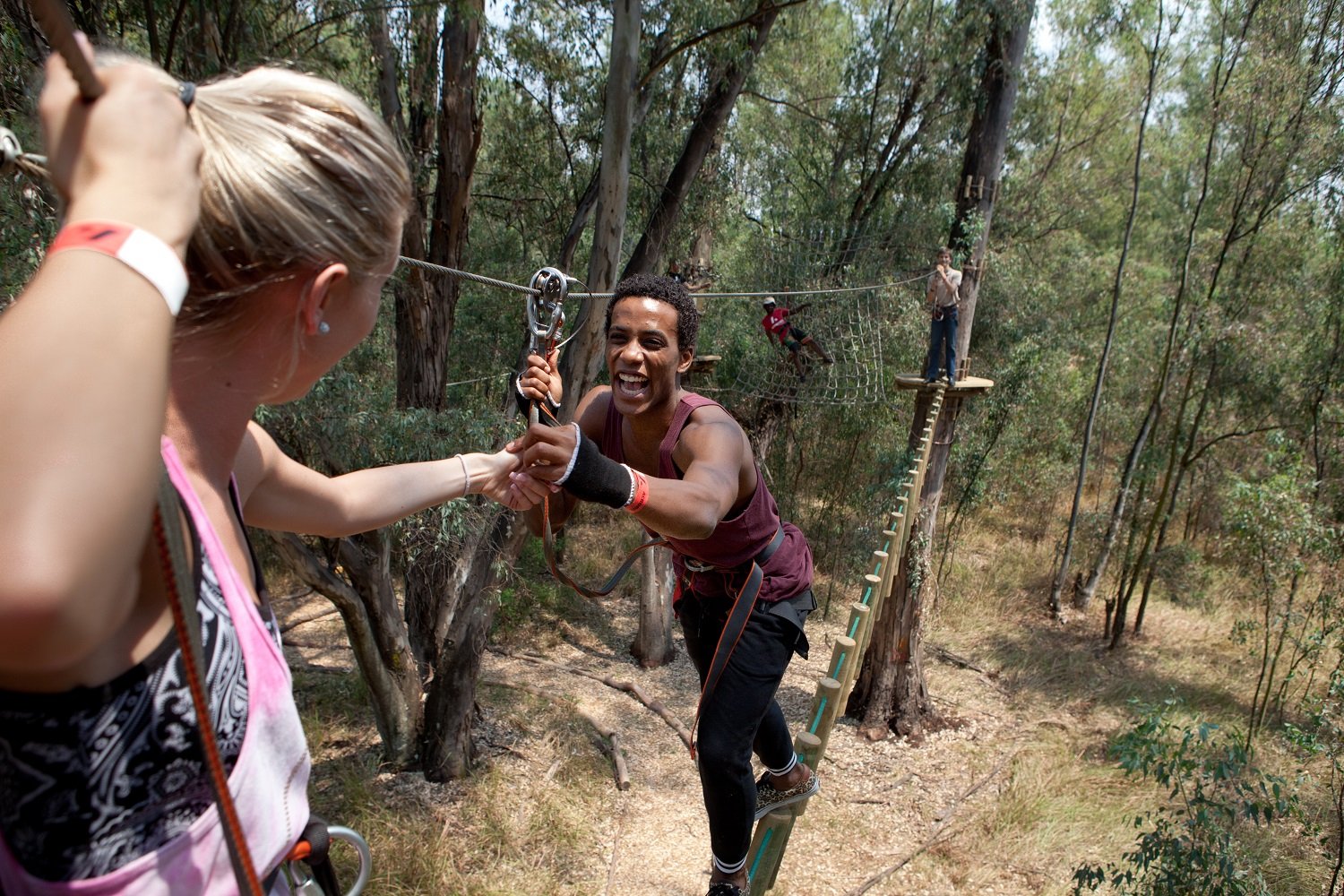 Acrobranch's treetop adventure obstacle courses are a great way to test your stomach for heights. There's a course for everyone – the Acro-Twigs is for the little ones, then there's the zipline course and the most difficult course, the High-Flyer. The High-Flyer course is definitely not for the faint-hearted (so of course we were determined to try it). Expect to use up lots of mental and physical energy as you zipline from one obstacle to the next and work out your muscles on a variety of other obstacles including clamber nets, rope ladders and bridges. 

WHERE IS IT AND HOW TO BOOK: Acrobranch has numerous locations in Gauteng including at James and Ethel Gray Park and Huddle Park in Joburg, and at the Big Red Barn, Rosemary Hill Farm and Musaiek in Pretoria. Book your visit online in advance at acrobranch.co.za
Take to the skies with Sky Adventures
Scary scale ranking: 2/5 stomach has definitely dropped, is this how James Bond feels?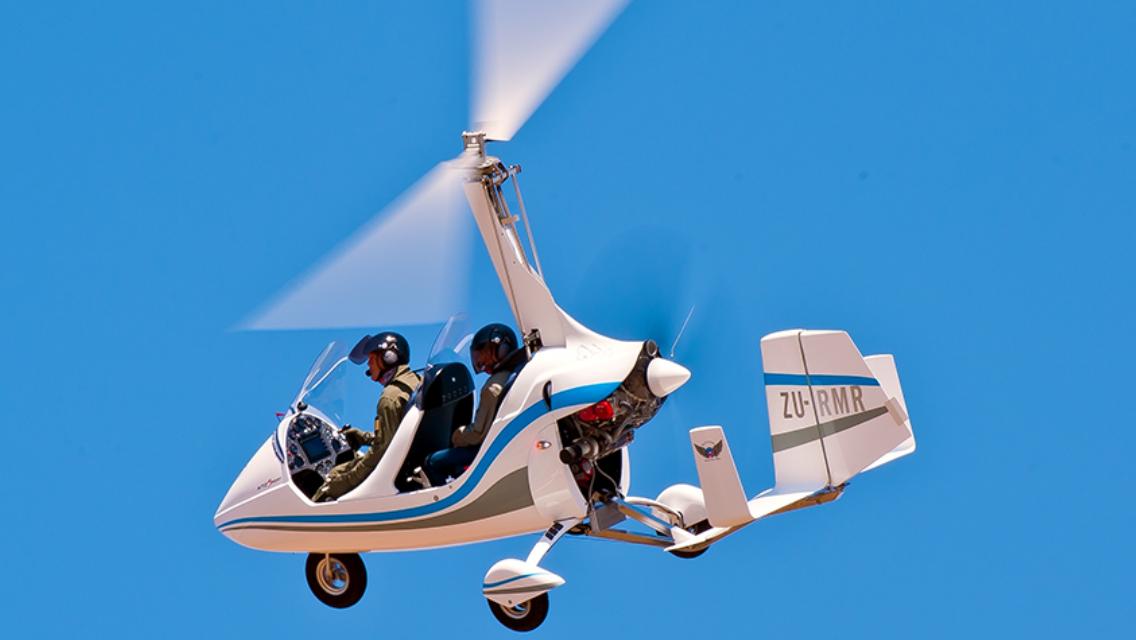 Enjoy breathtaking views of the city on a helicopter or microlight flight with Sky Adventures. Helicopter flips leave from Krugersdorp Airport and you can choose from a 35 minute Johannesburg Skyline tour, a scenic 20-minute flight around the Cradle of Humankind or a 35-minute flight to the Hartbeespoort Dam and over the Magaliesberg mountains. For something different there's also the option to take a thrilling flight in a small two-seater aeroplane from Alberton or Benoni and feel the wind in your hair on a gyrocopter flight from Springs.

WHERE IS IT AND HOW TO BOOK: Flights take off from various locations in Joburg and Ekurhuleni including Springs, Alberton, Benoni and Krugersdorp depending on the kind of transport you'd like to book. Check out what's on offer and book a flight online here.
Driving off-road on a 4x4 adventure trail
Scary scale ranking: 2/5 for the driver, 3/5 for the passenger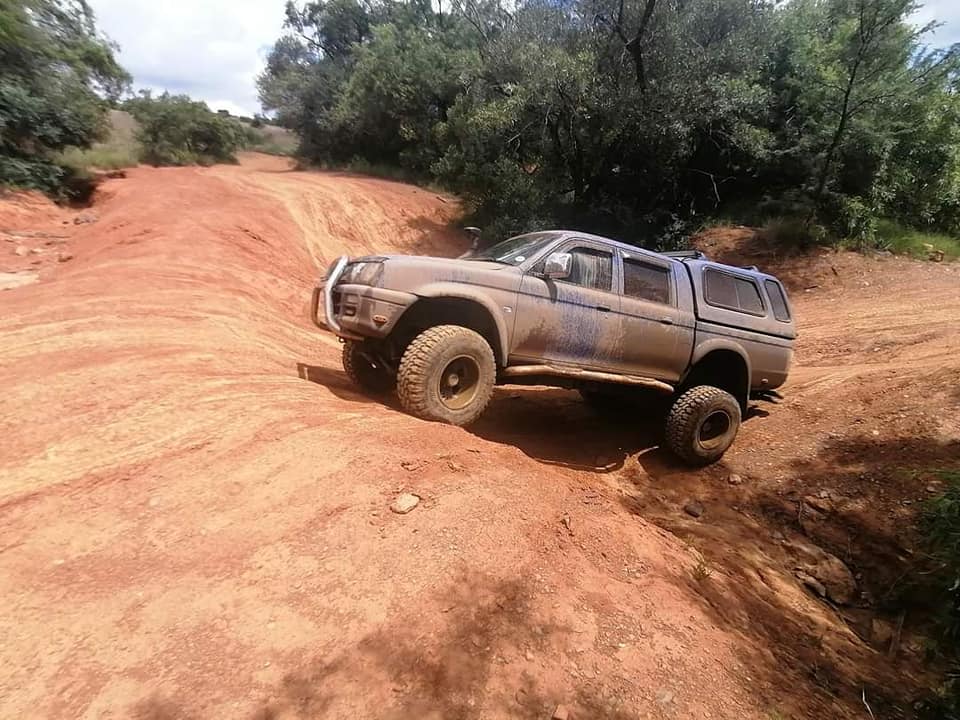 Are you a four-wheel driver? Has the most action your pride and joy seen recently been a gravel road? Time to take that baby out for a spin! Gauteng has a number of 4x4 parks and off-roading trails designed to really put your driving skills to the test. In the Magaliesberg fill up the tank and tackle the 9km self-drive 4x4 trail at Hennops Offroad Trail (takes 2-3 hours to complete) which has lots of mud-holes, steep rocky climbs, descents and dongas to tackle. 

WHERE IS IT AND HOW TO BOOK: The 4x4 Hennops Off-road Trail is located just off the R511 on the way to Hartbeespoort Dam between the Hennops Hiking Trail and the R104 turn off. No prior booking is required though note that the last entrance to the 4x4 trails is at 13:00.  Find out more at hennopstrails.co.za/offroad-trail/.
Sky dining in Bryanston
Scary scale ranking: 3/5 that second glass of bubbly definitely helps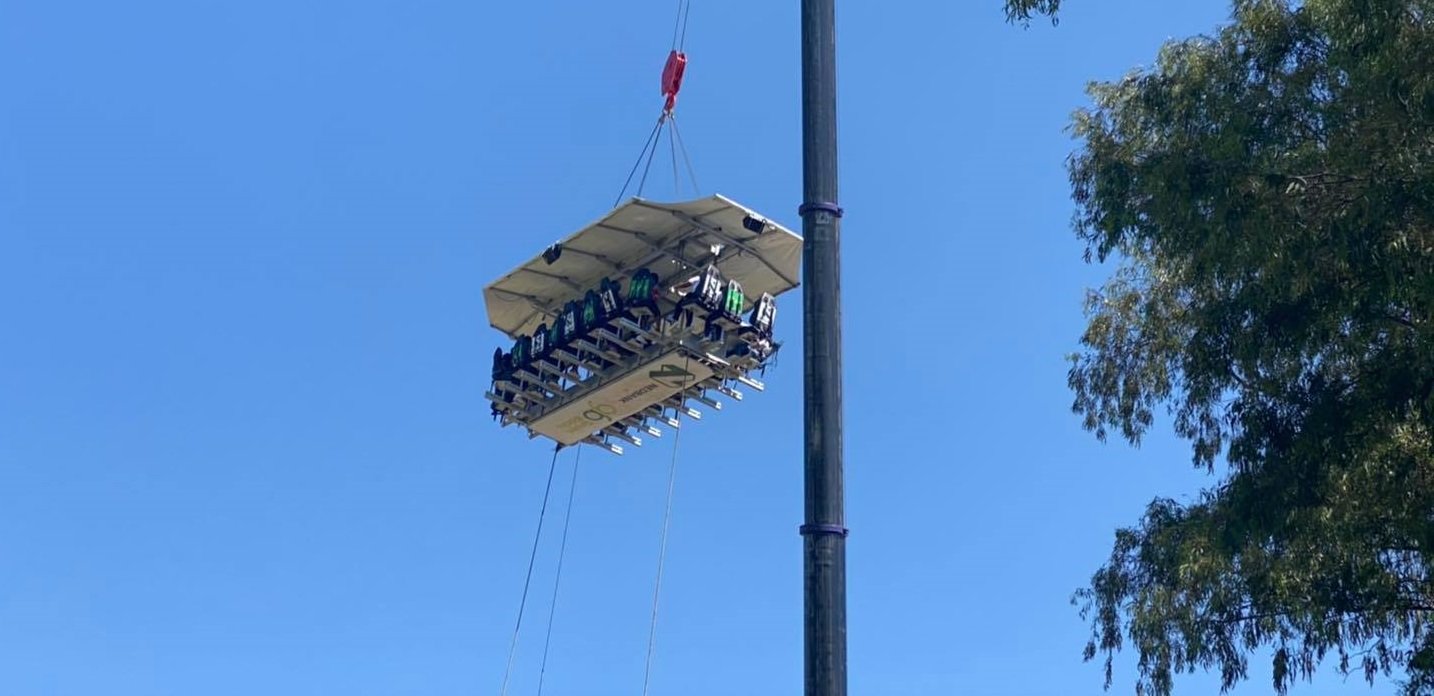 Enjoy dinner with a view, served at a dining table suspended from a crane some 50 metres up in the sky. Based at the Higher Ground restaurant in Bryanston, the Sky Dining experience offers breakfast, lunch or three-course dinners. You'll be safely strapped into your chair in front of the table (which is manned by a waiter) before being lifted up into the sky. To make sure your nerves remain steady, even breakfast comes with two glasses of bubbly. In all you'll spend around an hour and a half in the sky.

WHERE AND HOW TO BOOK: Sky Dining is based at Higher Ground restaurant at St Stithians School (entrance at 40 Peter Place) in Bryanston. Prior booking is essential and dining experiences are only hosted on certain dates. Check out the next upcoming sky dinners and book your seat at sky-events.co.za. Scary scale ranking: 3/5 A view so gorgeous you'll hardly notice the shakes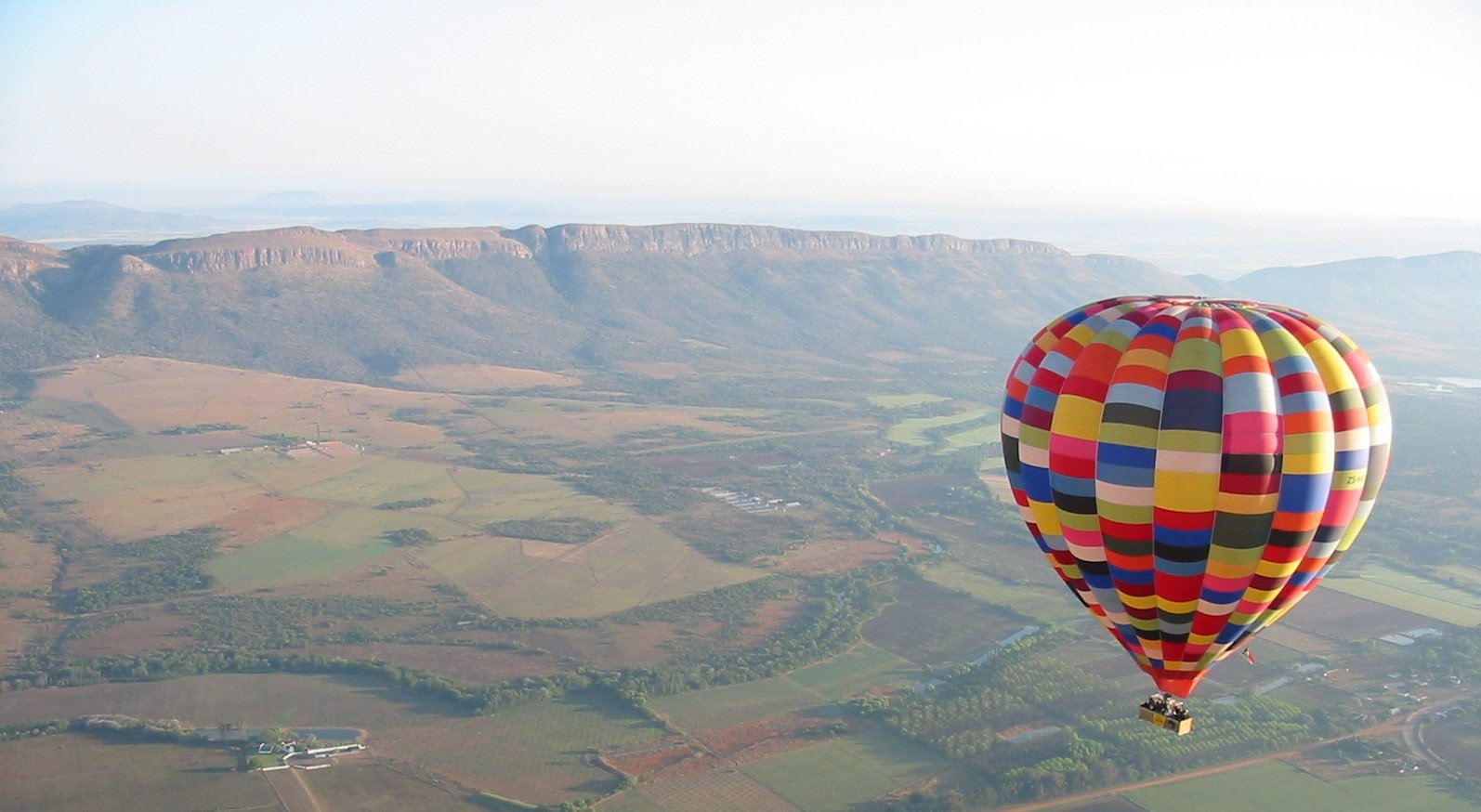 Treat yourself to the most refined and genteel way to travel with a sunrise hot air balloon ride at 2100ft above the Gauteng countryside with Bill Harrops Balloon Safaris. On a clear day you'll be able to see all the way to Joburg's city centre, the glistening Hartbeespoort waterways and to the Cradle of Humankind.

The take-off site is around one hour drive from Joburg in the heart of the Magaliesberg countryside and departure time is a strict 06:00 to catch the sunrise. If wind conditions are optimal you'll rise above the earth and gently float along above the treetops with a glass of Champagne in hand. Balloon flights are followed by a delicious breakfast back on terra firma where you are also awarded with your 'Citation for Bravery'.

WHERE IS IT AND HOW TO BOOK: Skeerpoort (off the R560), Magaliesburg. Advanced booking is essential. Note that this is also a highly weather dependent activity. Find out more at balloon.co.za Scary scale ranking: 3/5 Screaming, but also laughing too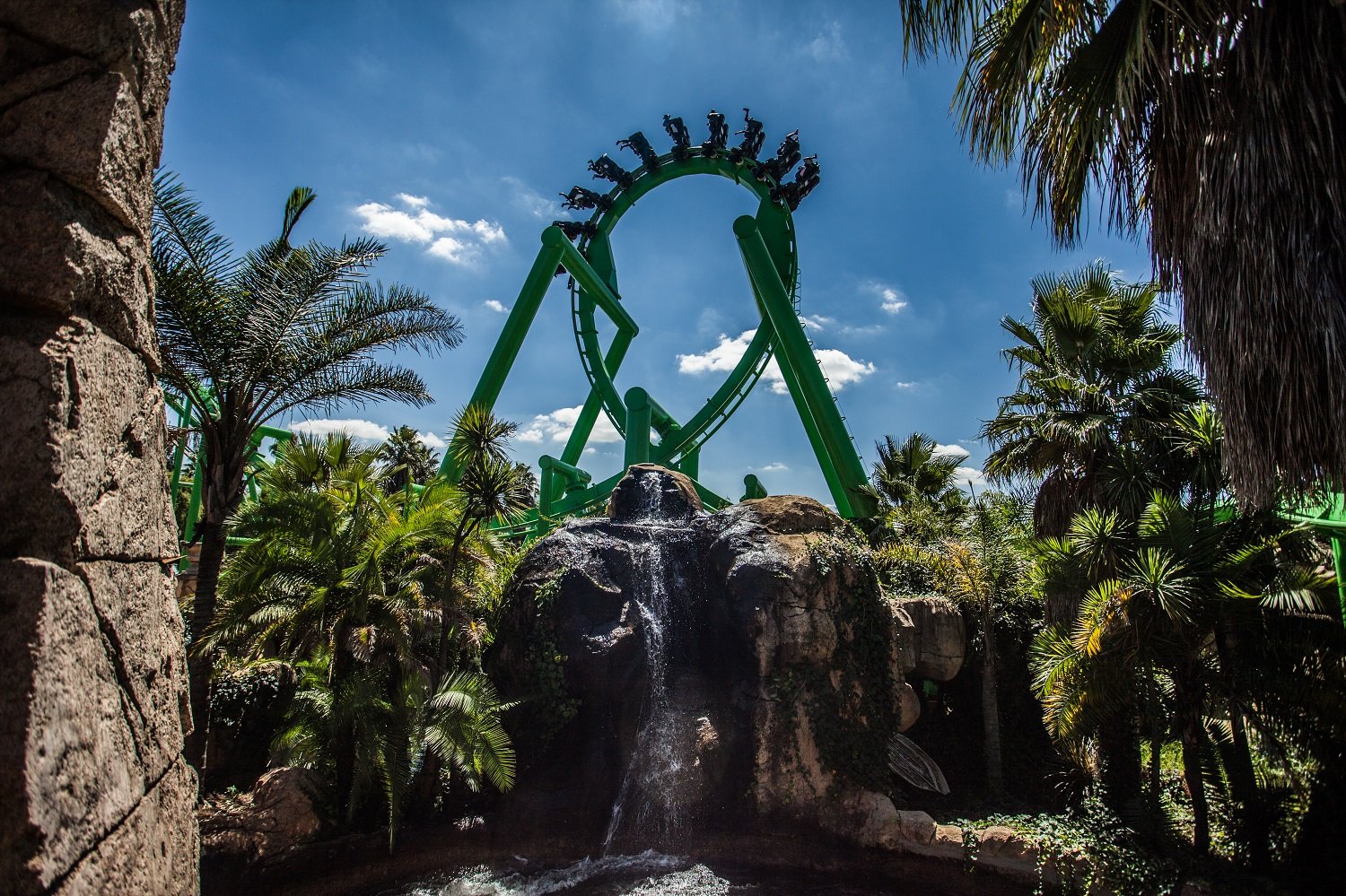 One of southern Africa's biggest and best theme parks, with rides and attractions for all ages, Gold Reef City is the ultimate family day out for adrenaline junkies. Extreme rides like the Anaconda, Jozi Express and Tower of Terror are for the bravest, while there are also relatively tamer rides for the little kids. The Storm Chaser, designed to replicate the experience of being trapped inside the eye of a storm comes with a 10/10 Fear Factor rating, the highest in the park. You'll be swirling around at great speeds, getting ever higher while the ride flips up and down, throwing you sideways and upside down. After trying it out ourselves, we can confirm it is as wild as it looks. 

WHERE IS IT AND HOW TO BOOK: Gold Reef City is located in Ormonde, south Joburg (corner Northern Parkway and Data Crescent). Find out more and plan your visit here.
Zipline across gorges with Adventure Zone
Scary scale ranking: 4/5 Screaming, possibly crying, definitely laughing too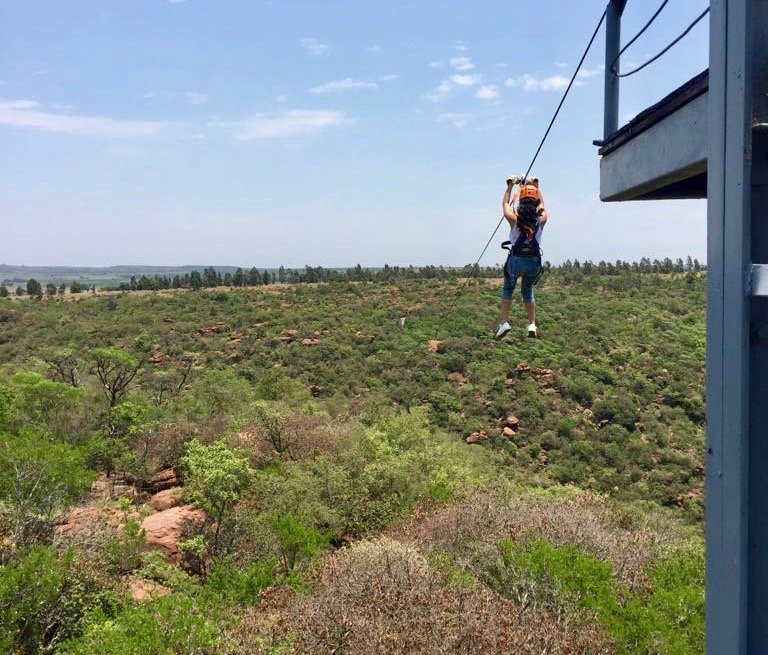 Take the plunge and see the countryside from a new angle while ziplining across the Muningi Gorge just outside Cullinan with Adventure Zone. The big-ticket activity is the ziplining adventure although you can also quad bike, abseil, rap jump and hike over the magnificent rocky and forested landscape. 

We reluctantly tried the ziplining... after coming up with multiple reasons not to fly through the air on a steel cable 75 metres above a forested gorge at more than 100km per hour. The seconds of dread pre-flight are fast replaced by an exhilarating rush as you survey the dramatic landscape below, and celebrate feeling like the luckiest person alive to be freed of all else by just a thin metal cable attaching you to earth. Adrenaline-pumping and strangely addictive.

WHERE IS IT AND HOW TO BOOK: The Adventure Zone base at Muningi Gorge is about 13km east of Cullinan. Book your experience online in advance here. Scary scale ranking: 5/5 A spare pair of clothing may be required...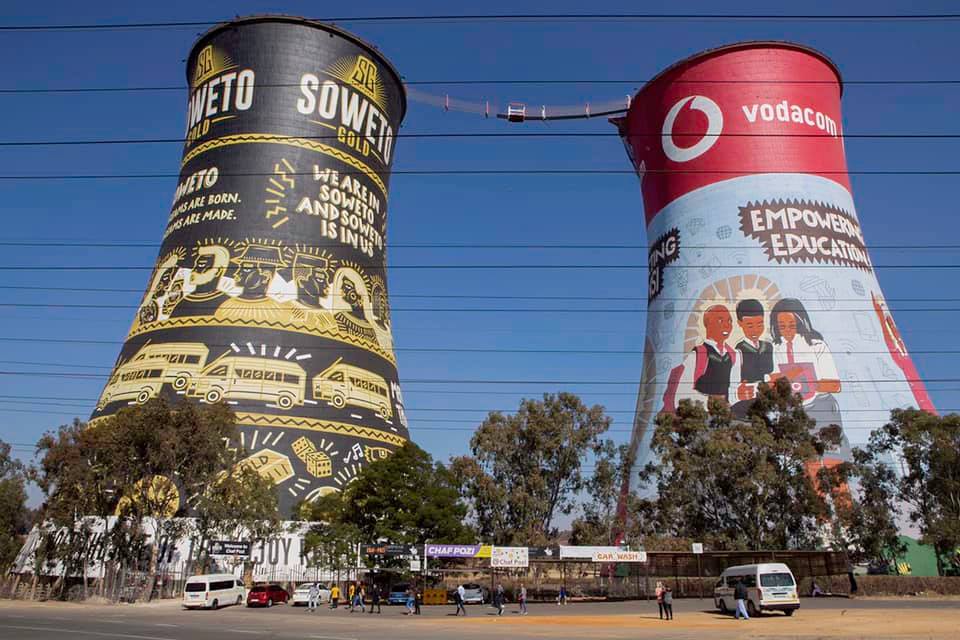 One of the most famous bungee jumps in South Africa is the terrifying 100 metre drop from the top of Soweto's iconic cooling towers. As if bungee jumping wasn't already scary enough, you also have the option to take things up another notch and bungee jump in a straightjacket (yes really!) and tumble down without the use of your arms. In addition to bungee jumping, you can also do a SCAD (Suspended Catch Freefall Device) fall inside one of the towers. Basically a dramatic freefall down onto a massive net, the SCAD fall at Orlando Towers is the highest in the world.

WHERE IS IT AND HOW TO BOOK: You can't miss the Orlando Towers in Orlando East, Soweto, just off Chris Hani Road. All activities take place on a first come first serve basis, so there is no need to book. Group bookings can be made on Thursdays and Fridays and must be paid for in advance. Find out more at sowetotowers.co.za
Caving in the Cradle of Humankind with Wild Cave Adventures
Scary scale ranking: 5/5 going in, 6/5 when you see a bat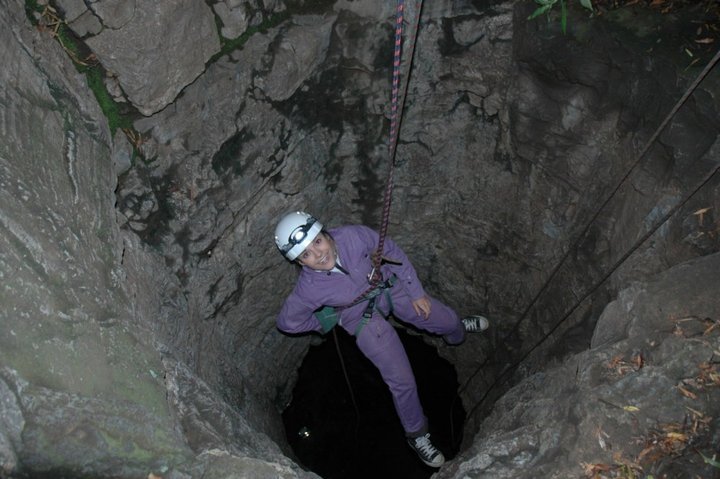 What could possibly be scarier than bungee jumping? How about abseiling deep down into the earth and then clambering through dark caverns, possibly in the company of bats? 

Based in the Cradle of Humankind Wild Cave Adventures offers guided explorations in three different cave systems. The standard 1.5 hour Bat Cave excursion is described as the most entry-level (no prior experience is required) and begins with a 17metre descent into the extraordinary 4,400sqm Bat Cave by rope (you'll exit via a rope ladder). This one is more fun than scary and suitable for teens. The Swartkranz Cave excursion is another level up and explores a 65-metre natural vertical fault with some good fitness required for abseiling in and vertical climbing out. Meanwhile the Westminster Cave is for the real caving pros with plenty of climbing, tight spaces and narrow passages to squeeze through.

WHERE IS IT AND HOW TO BOOK: The caves are all located within the Cradle of Humankind, close to Krugersdorp. Advanced booking is essential. Check out the different offerings and make a booking at 
wildcaves.co.za.

Responsible travel in the time of Covid-19: 
Please remember wherever you decide to go, keep following the latest lockdown restrictions as set out by the government. Wear your mask in public, cover your cough and wash your hands regularly. Follow the 'Three Cs': avoid crowded places, closed spaces and close contact with others where possible and if you are feeling sick or have been in contact with someone with the virus - please stay at home! It is up to us all to be mindful of the rules and help stop the spread of this virus. #visitGauteng #staysafe #traveldifferently

* This feature is part of our new series of Gauteng guides, in partnership with Gauteng Tourism, highlighting how to explore more of the Gauteng Province and its countless attractions. Read our art guide to Gauteng here, our heritage and history guide to Soweto here, our guide to where to take a hiking holiday here and check out our ideas for 10 fun Gauteng day trips here.