With a fresh selection of new courses monthly, Discovery Healthy Food Studio is the place to learn to cook – from Asian cuisine to healthy brunch ideas and even how to master the all South African braai. We were invited to try out one of their courses and can recommend them for a few reasons – the cooking part is fun, the eating part is delicious, there's an opportunity to meet new people, or gather with friends, and we love the rooftop Sandton venue with its superb views. 

Discovery started as a medical aid company, and the Vitality HealthyFood Studio located at its shiny HQ on Sandton's most prominent corporate boulevard is part of the company's strategy to make healthy and good living more easily accessible to people. The building itself is worth a walkabout before you head up to your cooking class or event  – a mini-mall that is a marvel of offerings that includes a grocery store, coffee shops, a hair salon and lots of other cool amenities.

Head to the rooftop of the curvy glass building to find the Studio with its knock-out views over the tree-filled suburbs, and three resident chefs who make sure delicious things are happening in the kitchen.

There's something quite special about going out to eat and cooking the meal yourself, especially with the guidance from a top chef. The food tastes even better, you have an opportunity to meet new people and sharing a meal is a great conversation starter.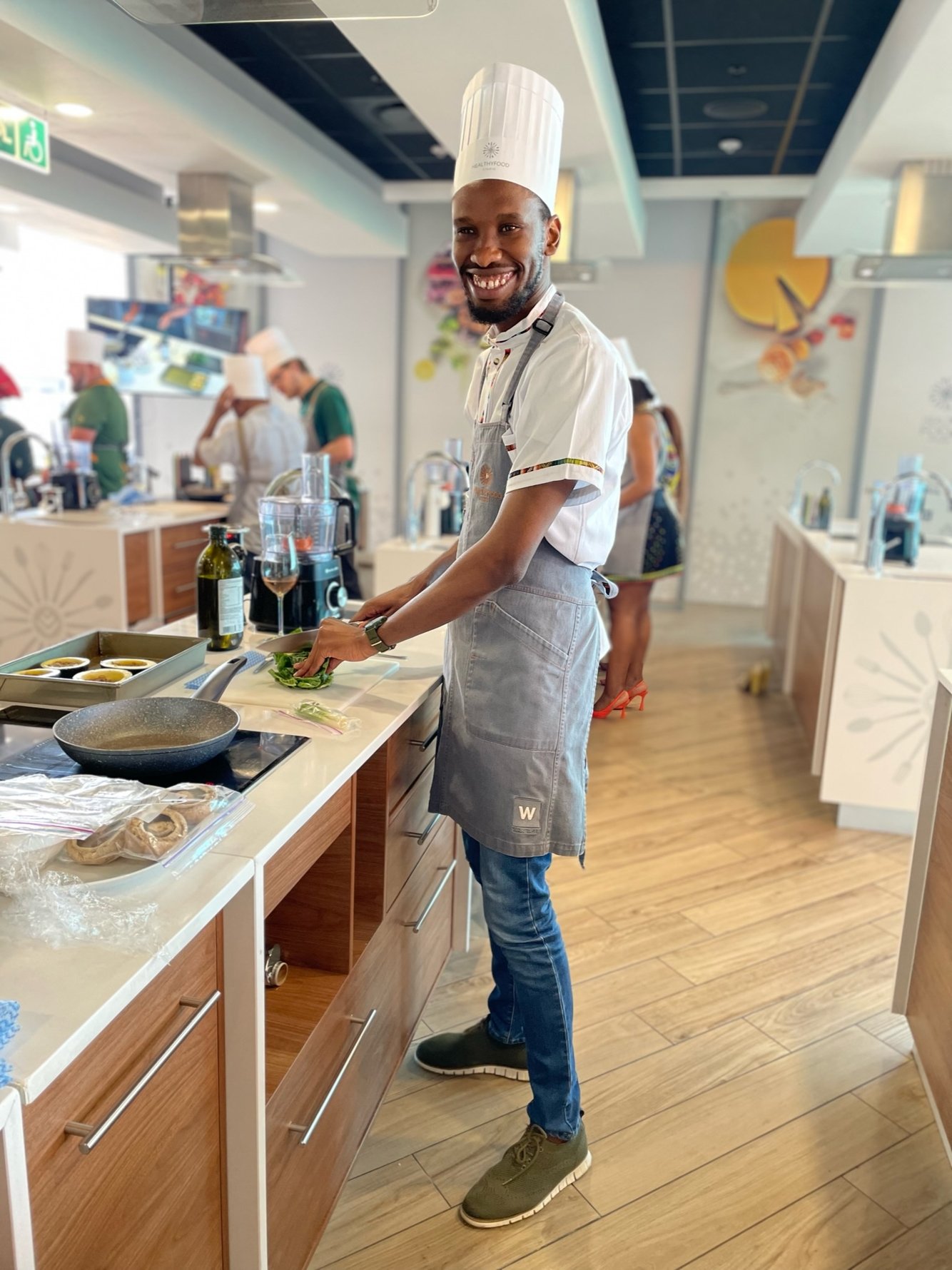 The courses can be booked online and there are great options for individuals or partners looking to take their kitchen game to the next level. For corporate teams, or other events, including seated dinners or cocktail parties, you can hire the space and be catered to by one of the chefs or get into the kitchen for some food-based team-building.

On the day of our course – in braai mastery – we arrived at the Discovery building hot and bothered and it was a great reprieve to make our way up to the cool space of the Studio. From there, we were shown to the waiting area and welcomed with a much-needed drink to enjoy while taking in panoramic views of Sandton. Sous Chef for the day Tsholofelo Mavimbane then came to introduce herself and offer appetisers of grilled tuna crostini with cucumber, and olive salad so that we wouldn't be too tempted to snack on the ingredients while we cooked. It was a good move. 

It was then time to don our aprons and head into the kitchen. The Studio has partnered with Woolworths, Weber, Whirlpool and KitchenAid and the kitchens here are stocked with the freshest seasonal ingredients and top-notch equipment. They have done a great job of making the space feel welcoming, and it thankfully feels more like your home kitchen than the stressful rigours of a restaurant kitchen. Flowers brighten the space. There are 22 cooking stations and each one is fully equipped, and there are even screens so that you can watch what the chef is doing without having to crane your neck.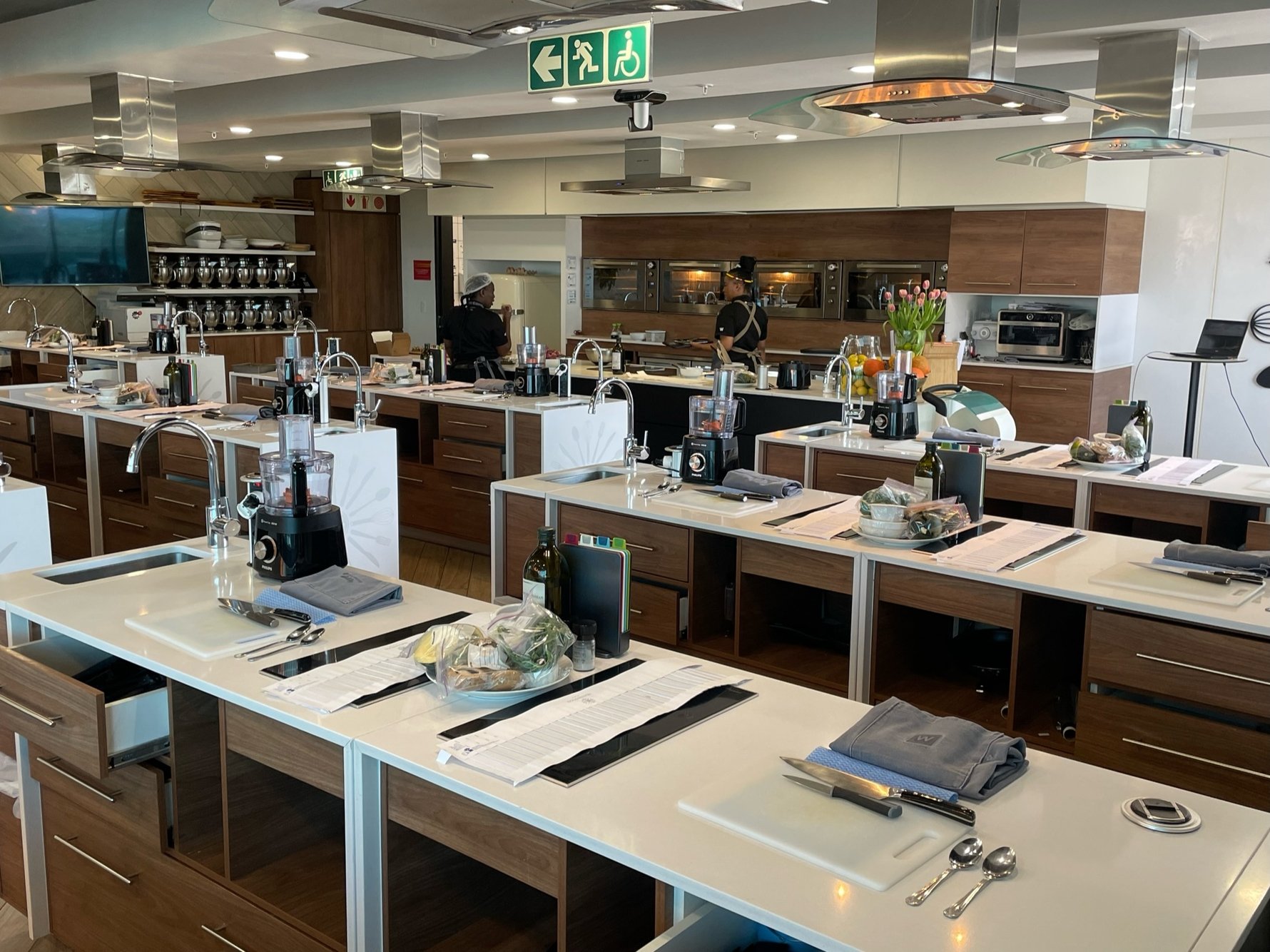 The experience was fantastic and on more than one occasion we had to remind ourselves that no, we weren't in Masterchef (although when you taste the results of your labour you could be forgiven for thinking this one more time). Chef Mavimbane was incredibly friendly and helpful, and structured the cooking experience so that there was a fair bit of socialising and mingling with our compatriots. This made sitting down to eat at the end more enjoyable, as the people we shared the meal with were no longer strangers. 

As we soaked in the views and tucked into the three-course meal we had just prepared, it was hard not to feel a sense of satisfaction and, not to toot our own horn too much. The food was superb. For starters, we made asparagus with sherry-pineapple vinaigrette, portobello mushrooms with Swiss chard and feta, and grilled gem squash with spiced pecan butter. For the main course we were at the braai with Cuban mojo chicken legs, stuffed chicken breasts with blueberry salsa, spicy ginger scallion burgers with sesame spinach and Dijon mustard-glazed leg of lamb roast. By the time we got to the desserts, we had to loosen our belts a little in order to make room for some heavenly grilled peaches with blackberry sauce.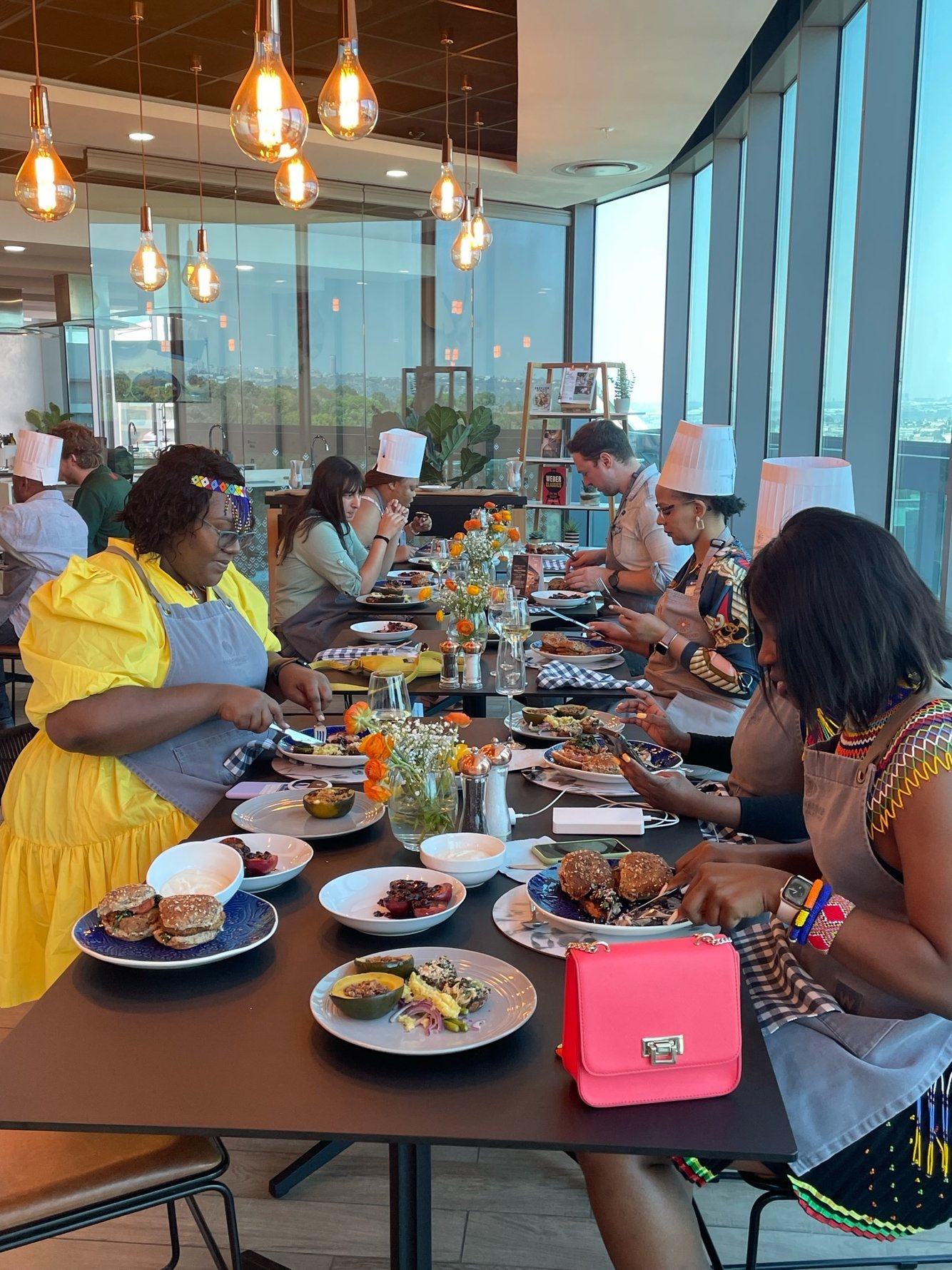 Perhaps what set this course apart from other cooking courses we have tried was the atmosphere that they have managed to create within the Studio. The sociable nature of it meant that rather than feeling like a rigorous course, it felt like a fun family gathering. The Chefs also make sure to create a space where you feel able to make mistakes and aren't concerned with whether you can dice vegetables at speed or not. The focus on healthy eating was also refreshing, and they provide a lot of tips and information on how you can make recipes more healthy, outside of the one you were learning to make.

The courses on offer are super varied – from Asian dishes and festive cooking to fiery Latin American feasts. We can't wait to return for another cooking course, or next time we might just indulge in one of the chef's meals at their date night offering. In the meantime though, we'll be in the kitchen whipping up bold new meals with our new-found skills.

To see all the courses and events offered by the Vitality HealthyFood Studio, click here.