Joburg loves coffee, and despite the rigours of lockdown, the city seems to have more coffee shops than ever before, with new spots popping up almost every other week. Perhaps it's all that caffeine required to get through this pandemic...

In 2021 Rachel Leigh Dzenga, aka @jozicoffeespots, joins In Your Pocket as our new Joburg coffee correspondent, keeping you up to speed with all the latest new coffee spots you should know.  Rachel is a full-time Psychology student and the curator of our favourite Joburg coffee-focused Instagram account, @jozicoffeespots where she celebrates Joburg coffee culture and explores the city through coffee. 

In this month's Jozi coffee column, Rachel shares her pick of local coffee shops with the loveliest courtyards, gardens and outdoor terraces. Perfect for this Covid era.
Red Door Cafe, Edenvale 
Where: 26 5th Avenue, Edenvale 
Outdoor seating: Courtyard 

Red Door Cafe is an Edenvale gem, hidden away on 5th Avenue. This vibrant cafe has a wonderful indoor area with a fireplace for the colder months, but what really makes this spot so delightful is their gorgeous gravel courtyard, full of character and lots of greenery. I love the quirky details, from their games cupboard to their repurposed coke bottle chandeliers. This is also a fantastic brunch spot, and the coffee here is as wonderful as the space!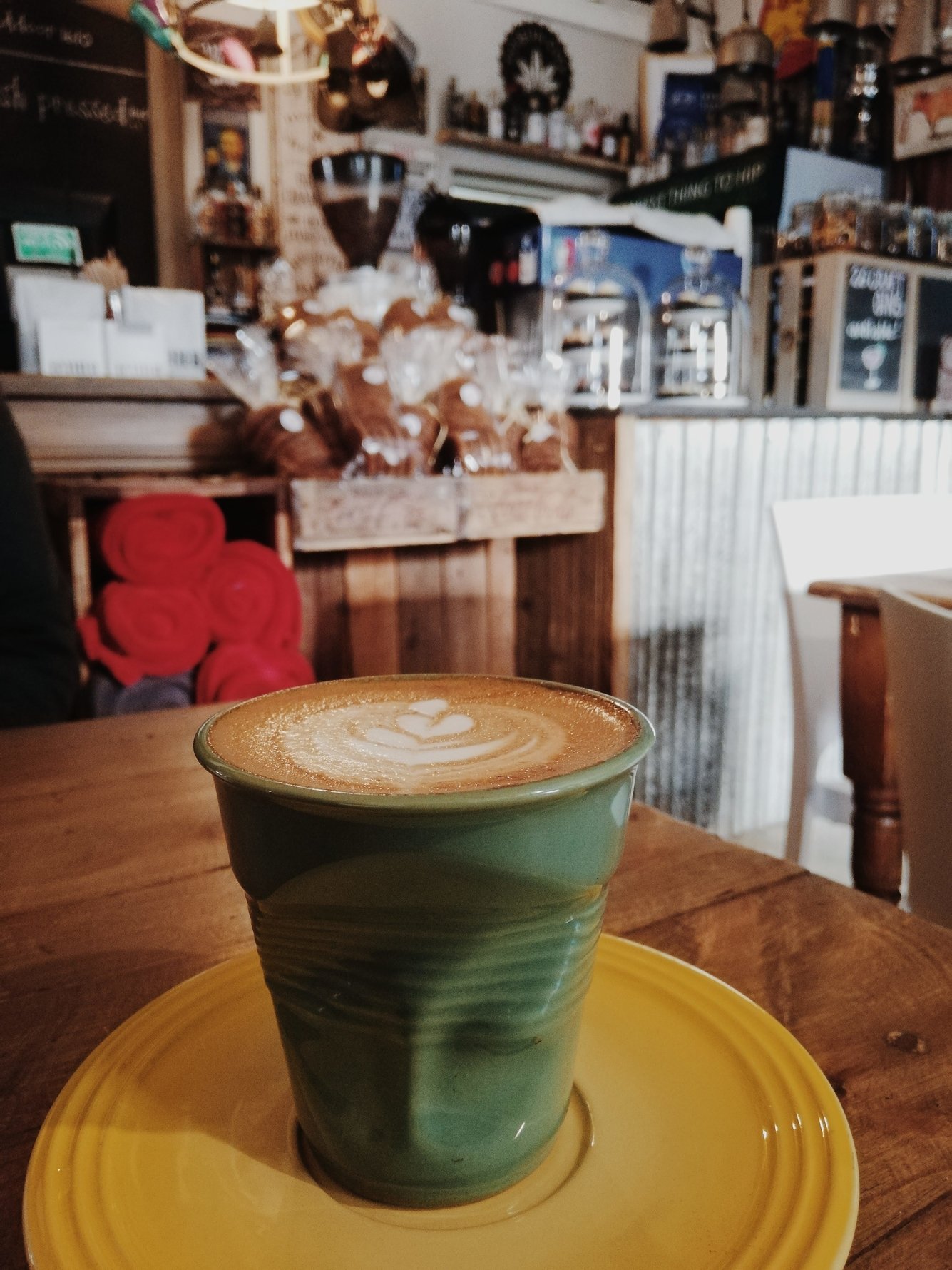 Iris Garden Patisserie, Rivonia
Where: 40 Wessel Road, Edenburg 
Outdoor seating: Terrace 

Iris Garden Patisserie is the perfect spot for tea and cake on a sunny afternoon. This small patisserie is famous for their latte art, their beautiful cakes (think mille crepe and Swiss roll cakes) and their outdoor terrace, which always seems to have roses in bloom creeping over the palisade. A charming patisserie with so much character.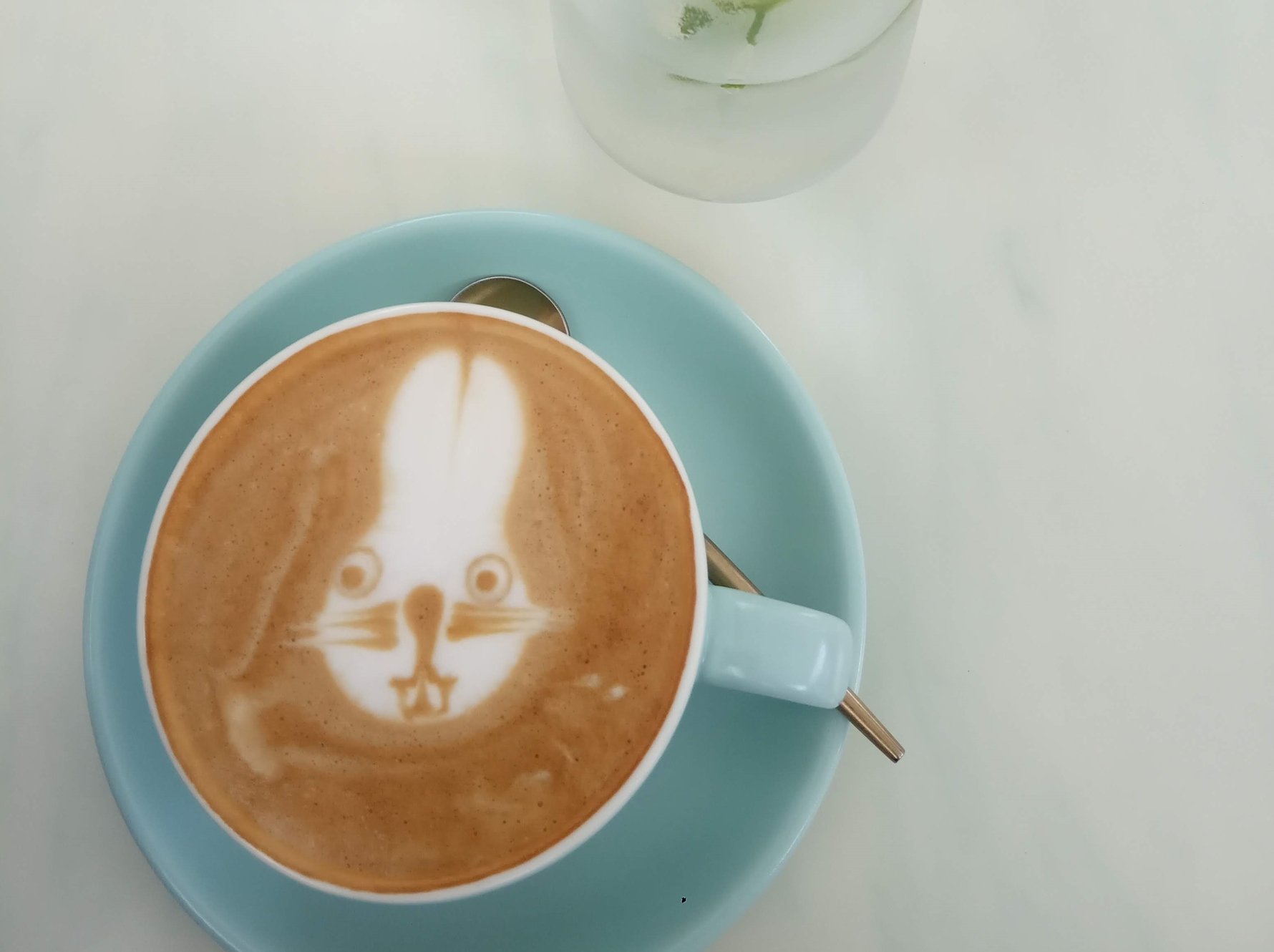 Vice Cafe, Craighall Park
Where: 11 Rothesay Avenue, Craighall Park 
Outdoor seating: Terrace

Vice Coffee in Craighall is a trendy Aztec inspired coffee spot that offers Mexican coffee, elixirs, and a variety of healthy meal options. The space is casual and inviting, and their indoor couch lounge has large windows opening onto their outdoor terrace, which has ample seating and an abundance of potted cacti in the most vivid colours. The outdoor space is shaded with a canopy for warmer days, and is the perfect place to start your morning with a coffee in hand.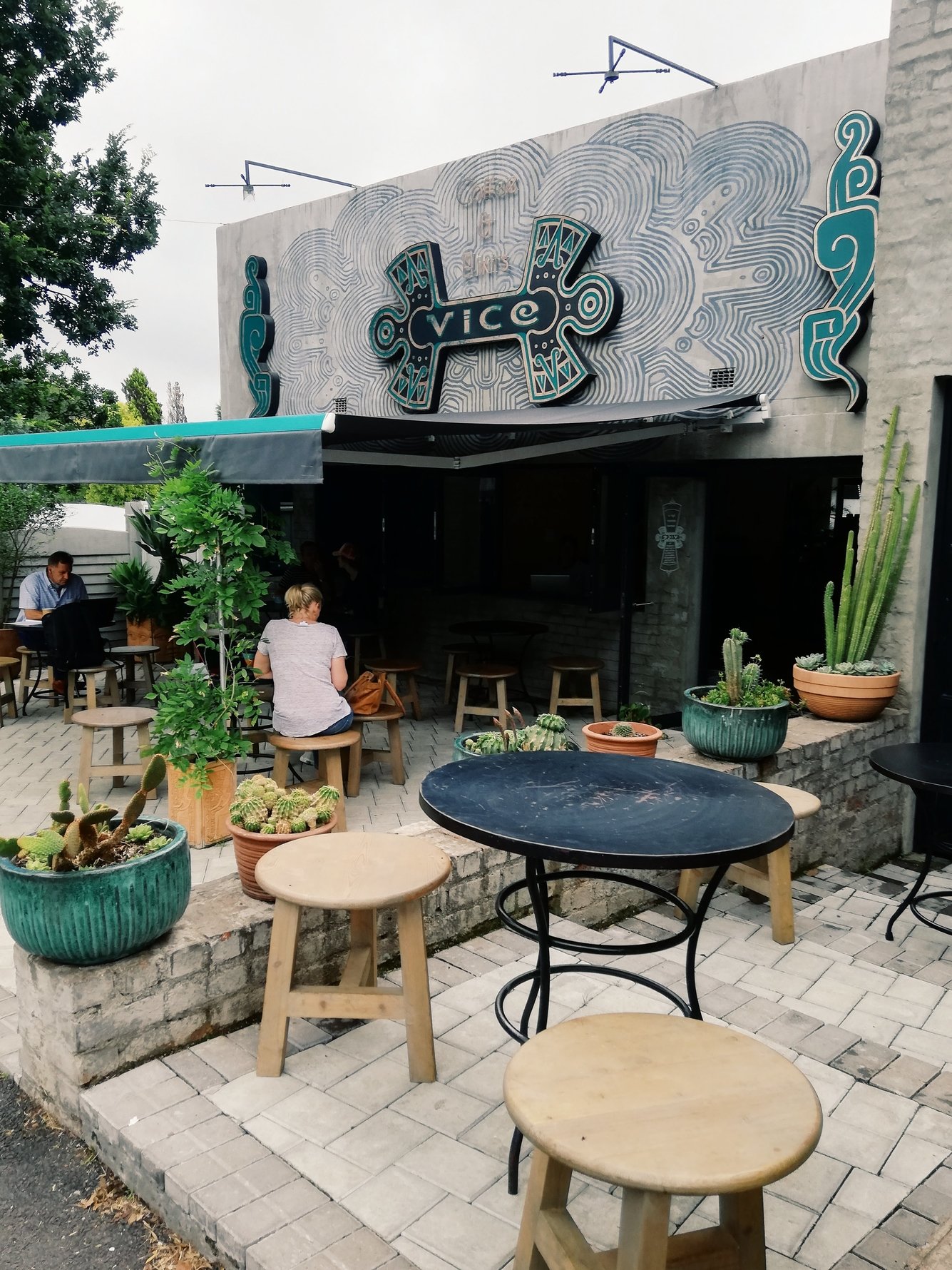 Honest Food Store, Hydepark 
Where:  4 Hurlingham Rd, Dunkeld (Located inside One Apartment block) 
Outdoor seating: Terrace 

Honest Food is a beautiful eatery located in One Hyde Park. It's lovely outdoor deck has a splash pool. Honest Food Store offers a delicious brunch and lunch menu, focused around conscious food that is healthy and beautifully presented. They also boast an entire vegetarian and vegan alternative menu, as well as stock fresh cold-pressed juices and a variety of goodies to take home.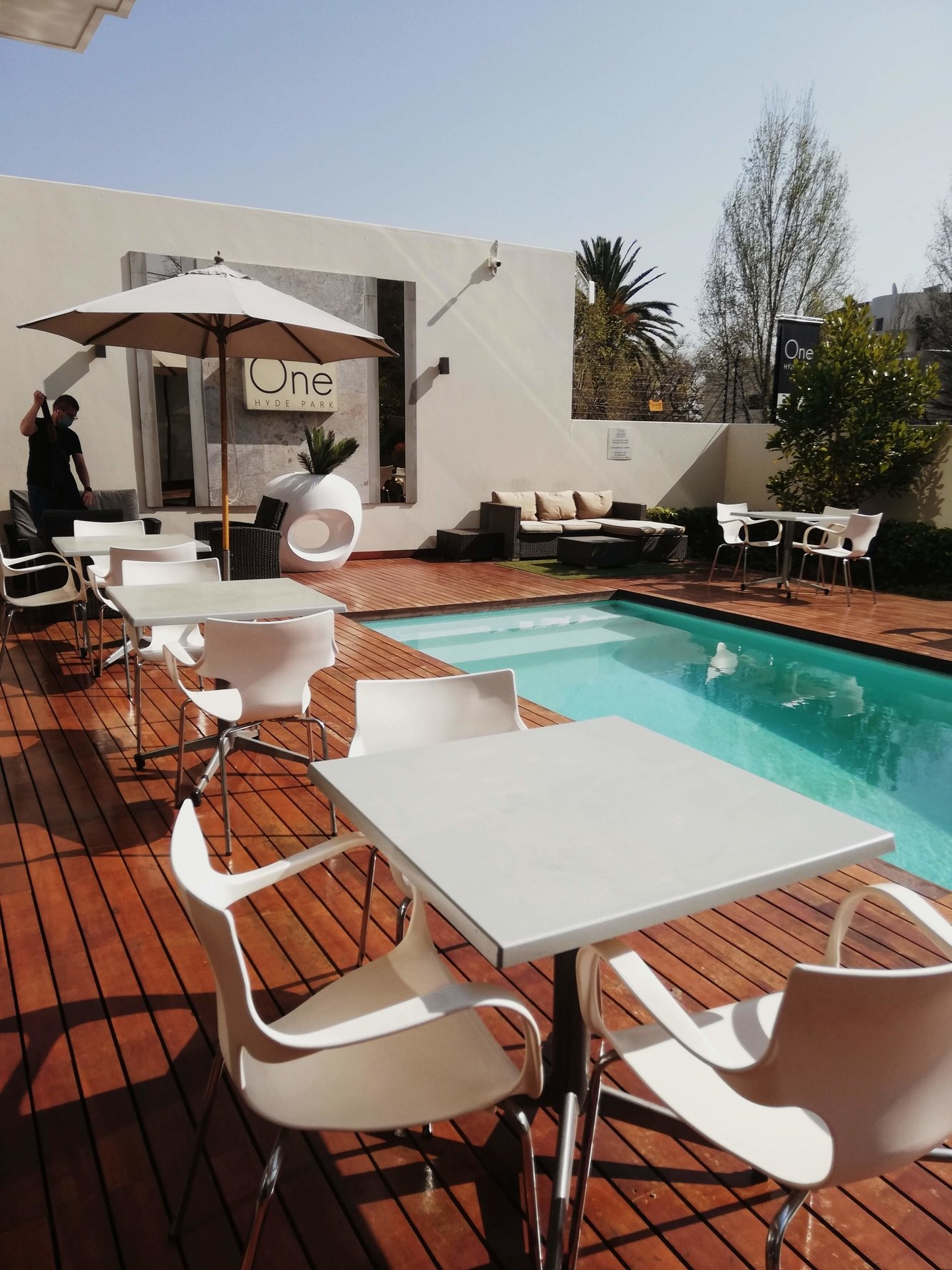 Toasted, Parkwood 
Where: 138 Jan Smuts Avenue, Parkwood 
Outdoor seating: Courtyard 

Toasted is by far one of the quirkiest coffee spots in Jozi. Toasted is an all female-owned business, founded by individuals with a passion for creating a collaborative space and women-led community. They serve batch brew coffee from Humble Coffee, as well as an array of decadent and gourmet toasted sandwiches. Their outdoor courtyard is colourful and full of character, and it is the perfect space to spend the afternoon working on their high-speed Wi-Fi alongside like-minded co-working customers.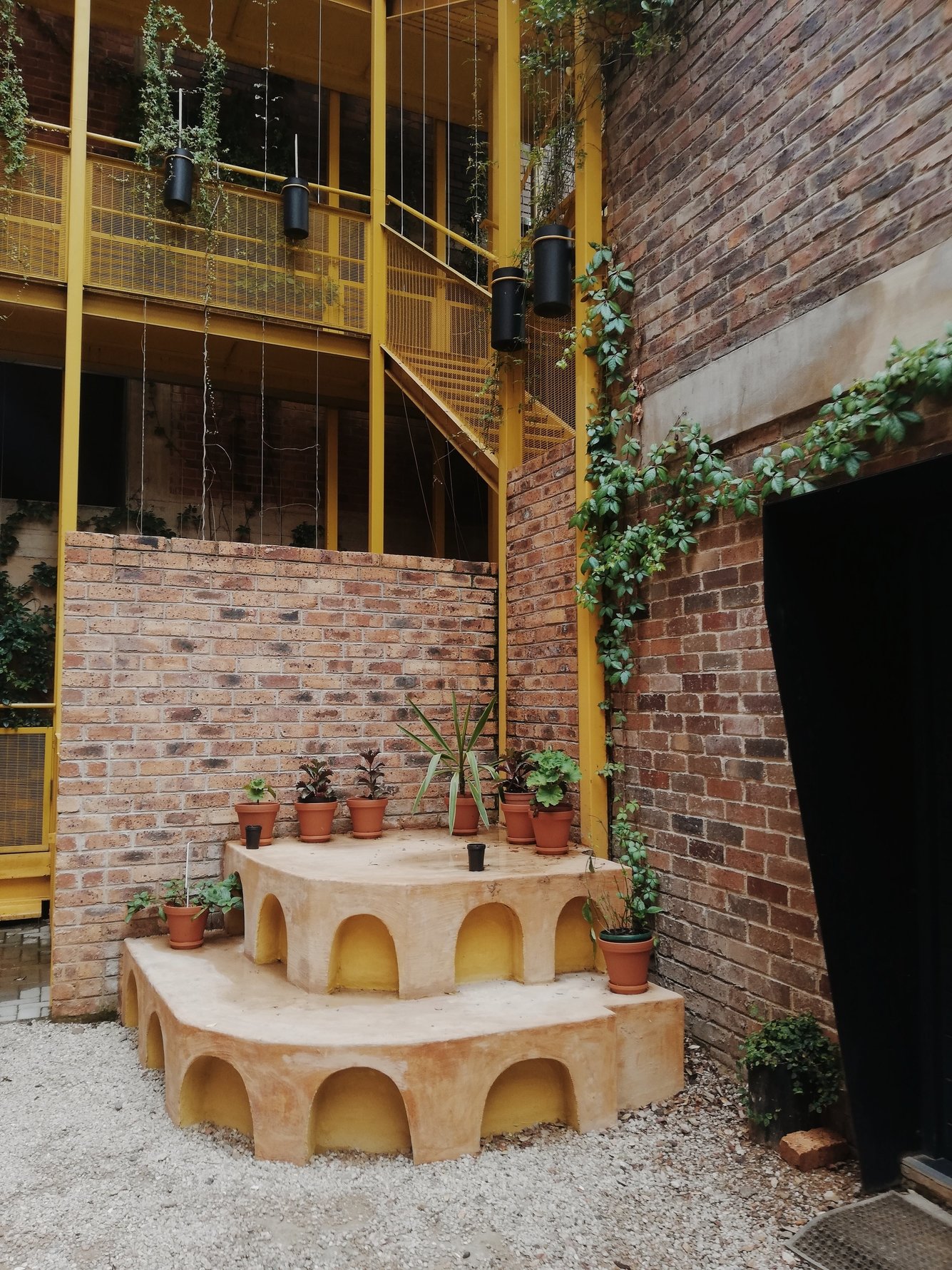 Sesame Café, Blackbrick, Sandton 
Where: 25 Fredman Drive, Sandon Central
Outdoor seating: Terrace  

Sesame Cafe is located in the new vertical village, Blackbrick, which is a cool hotel and apartment space in the heart of Sandton Central. You can enjoy their all-day breakfast, brunch, or light lunch from their deli on the roomy terrace. They also have a salad bar, sandwich offerings, and great organic coffee.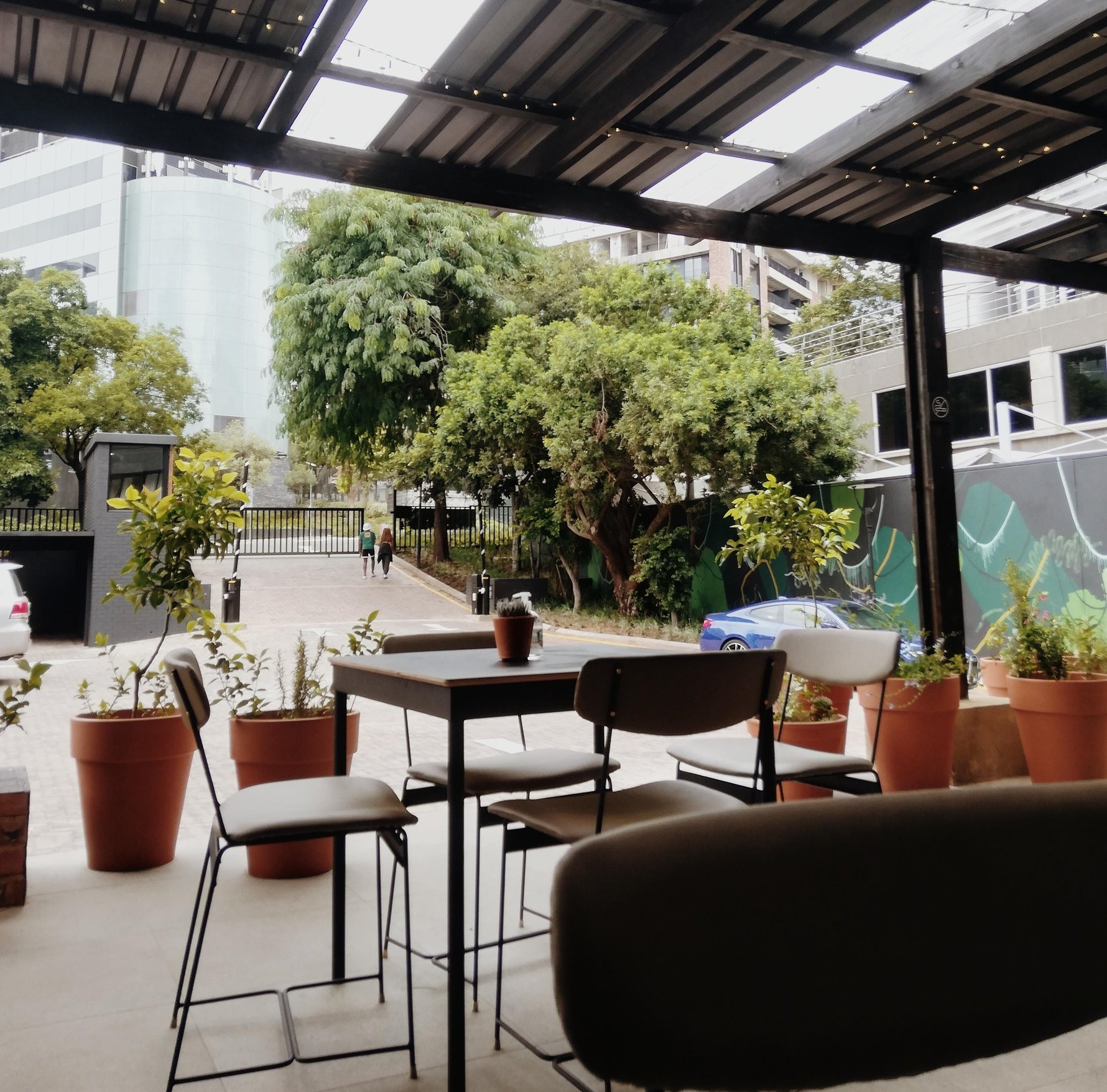 Spilt Milk 
Where: No. 1 7th Street, Melville 
Outdoor seating: Courtyard 

Spilt Milk is a social cafe in the heart of Melville, with a spacious courtyard out the back. They offer breakfast, lunch, and a variety of pastries and sweet treats. Spilt Milk has a warm atmosphere, rustic touches, and is a casual and inviting space, perfect for a family lunch or a day out of the office.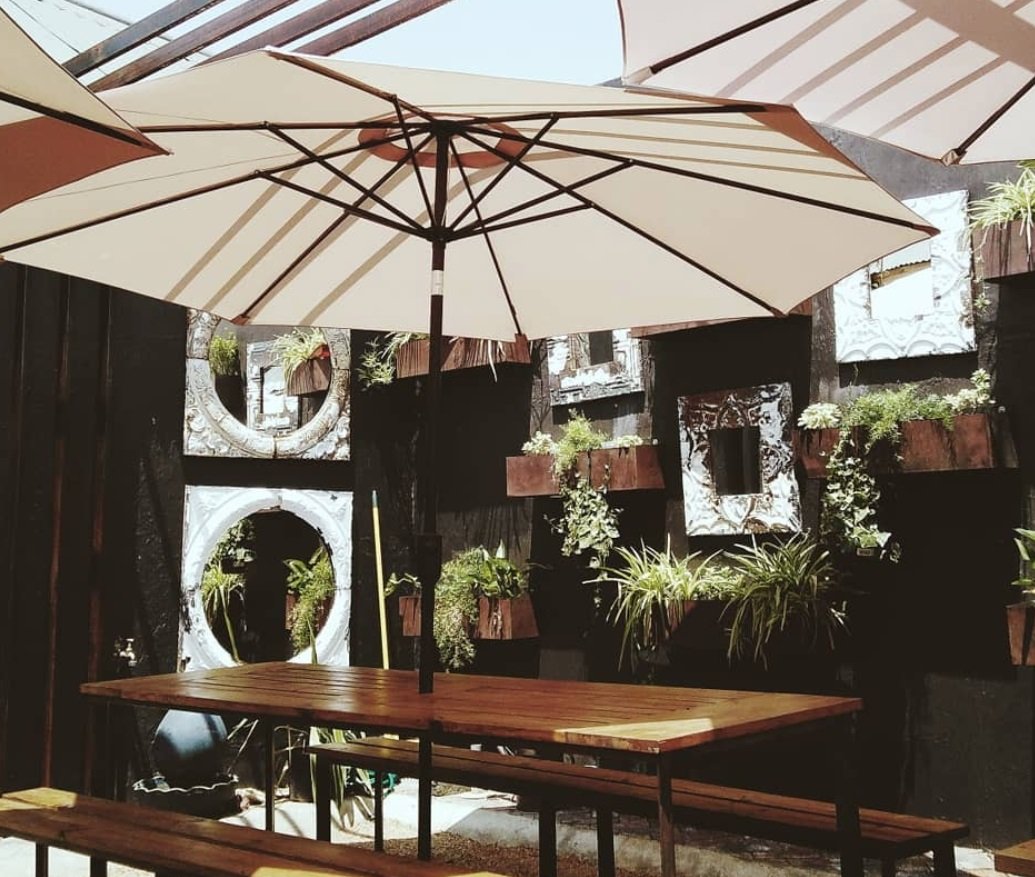 Zara's Cafe, Rivonia  
Where: 329 Rivonia Boulevard (Located in Rivonia Cube) 
Outdoor seating: Terrace 

Zara's Cafe is a bright and welcoming cafe in Rivonia, with a gorgeous indoor and outdoor space. They have a full breakfast and lunch menu, but are most famously known for their delicious cakes and other sweet treats (think carrot cake, Nutella cheesecake, and custard slices, to name a few.) They have a lovely terrace with plenty of shade, and their iconic pops of yellow and blue, reminiscent of their seaside store in Ballito, will be sure to make you smile.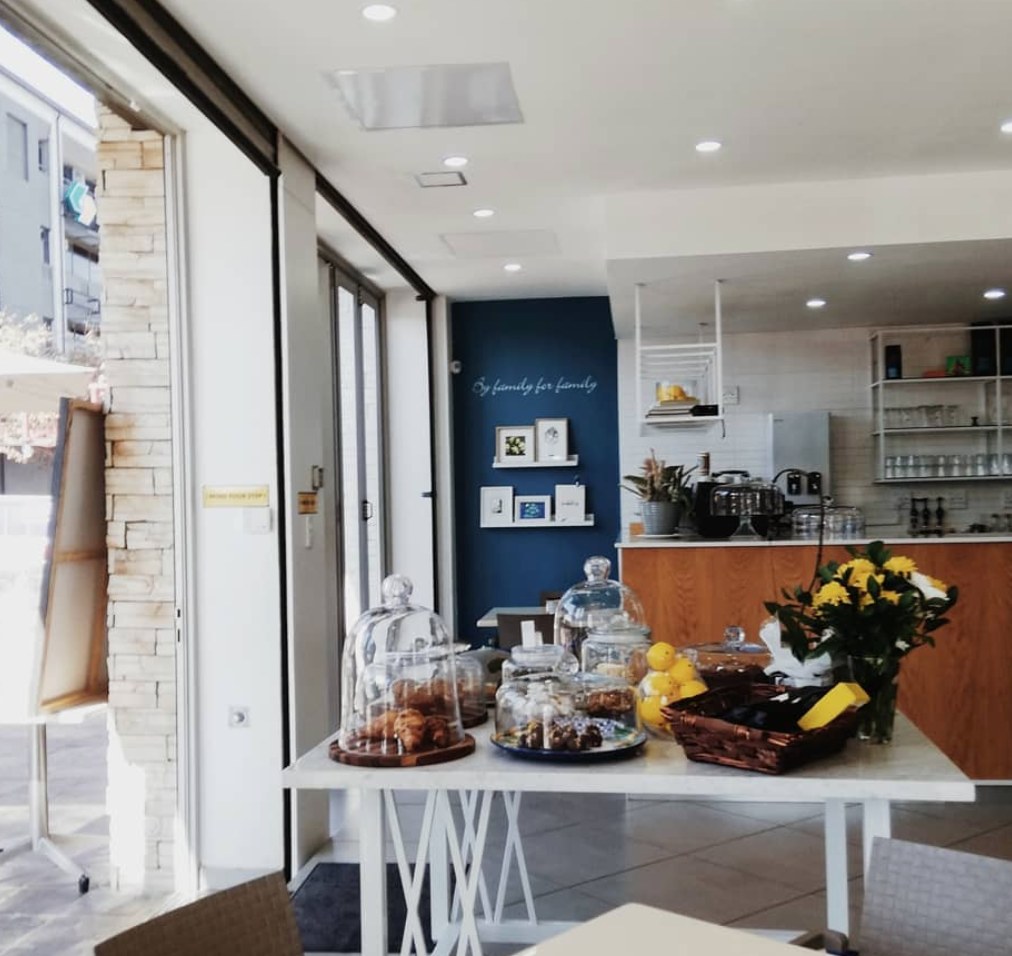 Vintage Coffee Drive-Thru, Midrand 
Where: 64 Maud Avenue, Crowthorne 

Vintage Coffee Drive Thru in Midrand is definitely worth a visit given how unique the experience is. The drive-thru itself is situated near the entrance of Urban Life Church in Midrand, and is one of the few places you can get a speciality coffee in a drive-thru. I absolutely love their grey container, their use of stone, and the friendly face that greets you on arrival! Note Vintage Coffee drive-thru is cashless, they accept bank cards and Zapper.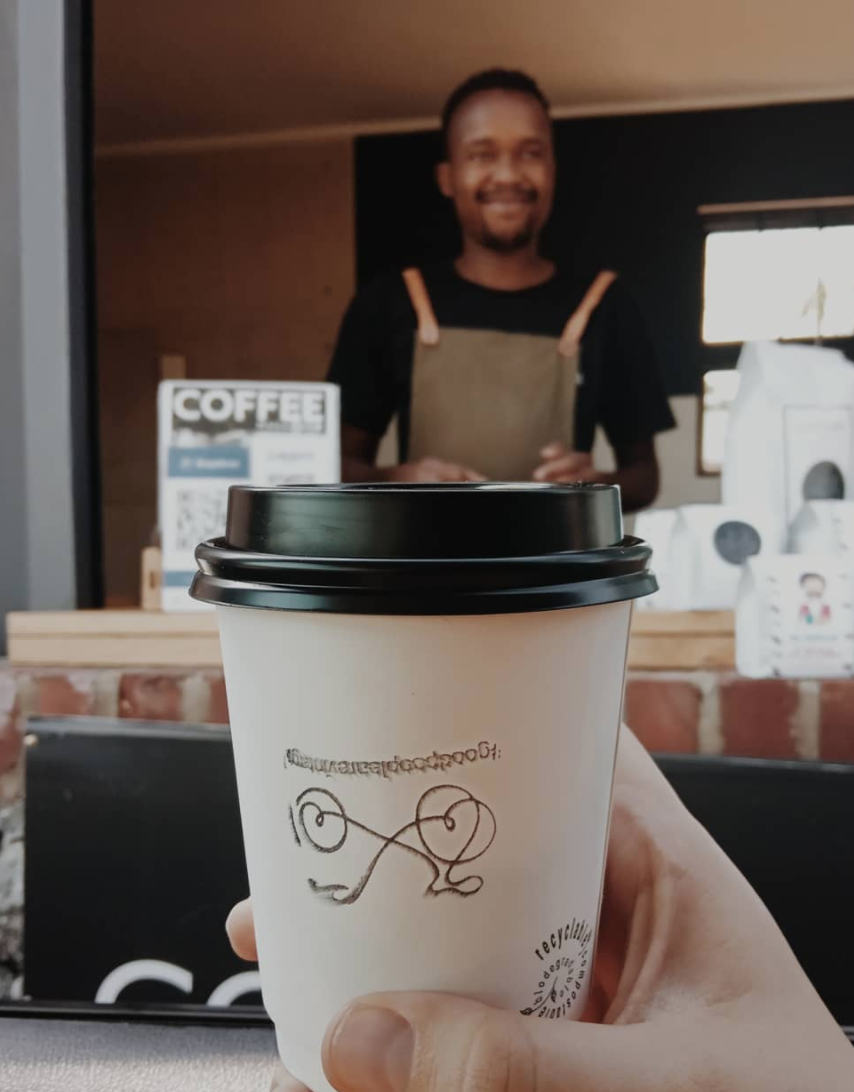 Breezeblock, Brixton 
Where: 29 Chiswick St, Brixton
Outdoor seating: Courtyard

On a quiet street in the quirky Jozi suburb of Brixton, you'll find Breezeblock. This hidden Joburg gem on Chiswick Street embodies exactly what a neighbourhood cafe should be, with friendly staff and a casual atmosphere. This coffee spot offers a variety of hearty meals, from breakfast to lunch, and they also have excellent coffee. What makes this place truly unique is the retro feel of the cafe, with plenty of vintage pieces, and a timeless charm. Their courtyard is spacious and tranquil, the perfect place to hide away from the bustle of Jozi with a good book.