The work of Lyndi Sales comes to Keyes Art Mile with a series of large-scale installations. The work of Sales is concerned with manners of perception and the possibilities of alternative realities, and her complex and intricate installation works make use of a variety of often re-commissioned media.

Sales focuses her attention on the fragile passages between worlds and systems, and "the mutability of the real and perceptual". Her work frequently evokes the suspension of time and heightening of perception that occur before a transformative moment of crisis or collapse.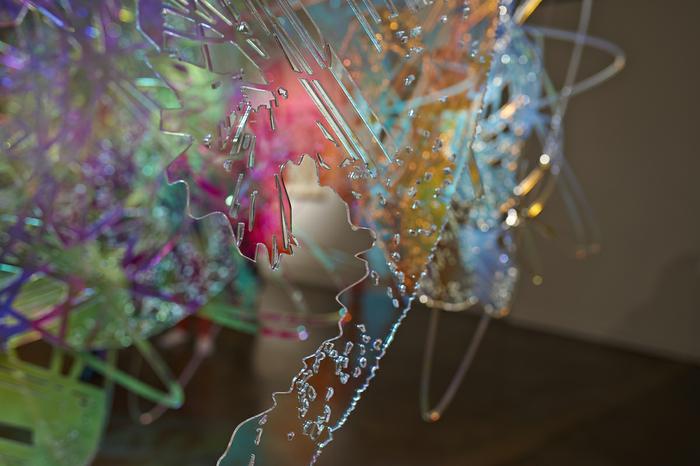 "Recently the artist has worked with scientific imaging systems and astronomical geometries in experiments with gestalt, constructing entanglements and distortions that bring together optical effects in productive visual tension." Having experienced a threat to her vision – a knot in her cornea – her work has been preoccupied with questions about what we see,  and the idea of the 'whole' picture. "Experiments with the disappearance of time, the flattening of space, with vibrations of pattern and amplification of colour evoke the kind of shift in perception that mescaline once lead Aldous Huxley to call an encounter with 'Mind at Large'."

Amidst South Africa's profound social division hindering meaningful dialogue, Sales' thought-provoking approach emerges. Rather than focusing on the obstructions to our vision, she daringly explores the possibilities of perceiving with closed eyes, inviting us to delve into uncharted realms of insight.

Abstract, and complex, the work of Lyndi Sales  is always enchanting in that it leads you to want to look closer, and see more, while asking profound questions.