If you've driven north on the M1 around the city in the past few weeks you must have noticed some activity as you near the area above Mary Fitzgerald Square in Newtown. Mammoth portraits of music legends have started to take shape at eye-level, best visible from the right lane. This is a small part of the work being done to revitalise public art in this city neighbourhood. 

Historic Newtown is Joburg's original cultural precinct, the home of artist, dance and music studios and the acclaimed Market Theatre complex. Ever since the mining camps pitched here in the 1890s the neighbourhood, sandwiched between the grand Main Street Mining District and Fordsburg, has been in a constant state of renewal, riding a many decades-long rollercoaster of rise and decline.

In 2021 Newtown is getting another makeover, this time courtesy of a street art and beautification initiative, the Newtown Revitalisation Project, an initiative by the Newtown Improvement District supported by the City of Joburg, that aims to give the district a much-needed new lick of paint, and to bring to life to the area's rich cultural history. 

Despite various different efforts over the past decade to revive Newtown and reinstate this city district as Joburg's original cultural district, economic forces have not always been in Newtown's favour. Least of all during the Covid crisis with its many lockdowns that put cultural life squarely in the firing line.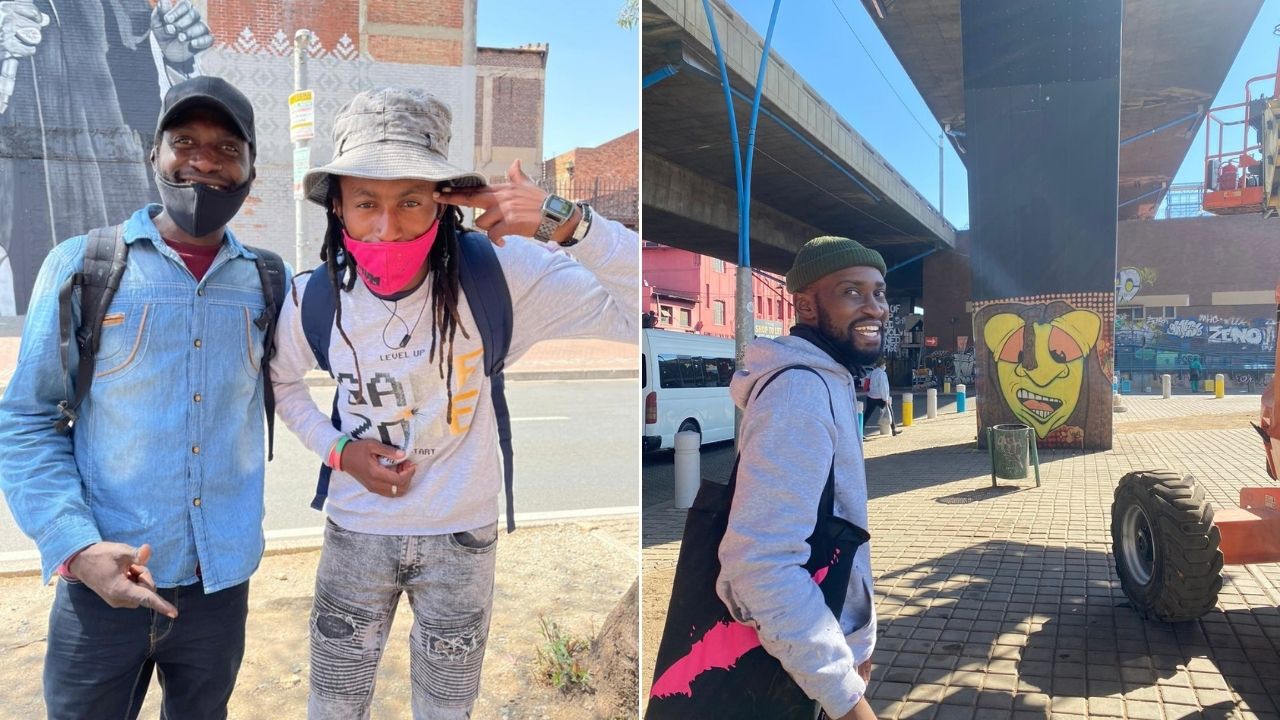 As the pandemic ripped through the city, the Market Theatre, a Newtown cultural icon, remained closed for extended periods. The brilliant annual Back to The City Festival that would draw close to 20,000 visitors for a celebration of Freedom Day and hip-hop culture couldn't take place.  Meanwhile, brave artists and musicians, many of them based in Newtown, staged a lengthy sit-in across the street at the National Arts Council to protest its lack of intervention to protect the collapsing arts sector. The immense Museum Africa shuttered, restaurants closed and tourists stayed home. And all the while Newtown's scores of incredible public art installations have started to degrade.   

Emerging from this latest crisis, in the winter of 2021 Newtown Improvement District has embarked on the Newtown Revitalization Project, a new dedication to cleaning up the area on a mass scale and reinstating some neighbourhood pride. The new commissioned artworks honour Newtown's rich cultural history, particularly its jazz legacy, while many of Newtown's older public art installations are also finally being restored, repainted and revitalised as part of this project. Beyond the street art there's also a renewed dedication to keeping the streets neat, clean and green. 16 new trees have been planted around Mary Fitzgerald Square where many trees had already lived their latest, and on the surrounding streets a further 16 have been planted.

Here's a look at the most prominent to look out for on your next Newtown visit.
The Jazz Legends series by Dbongz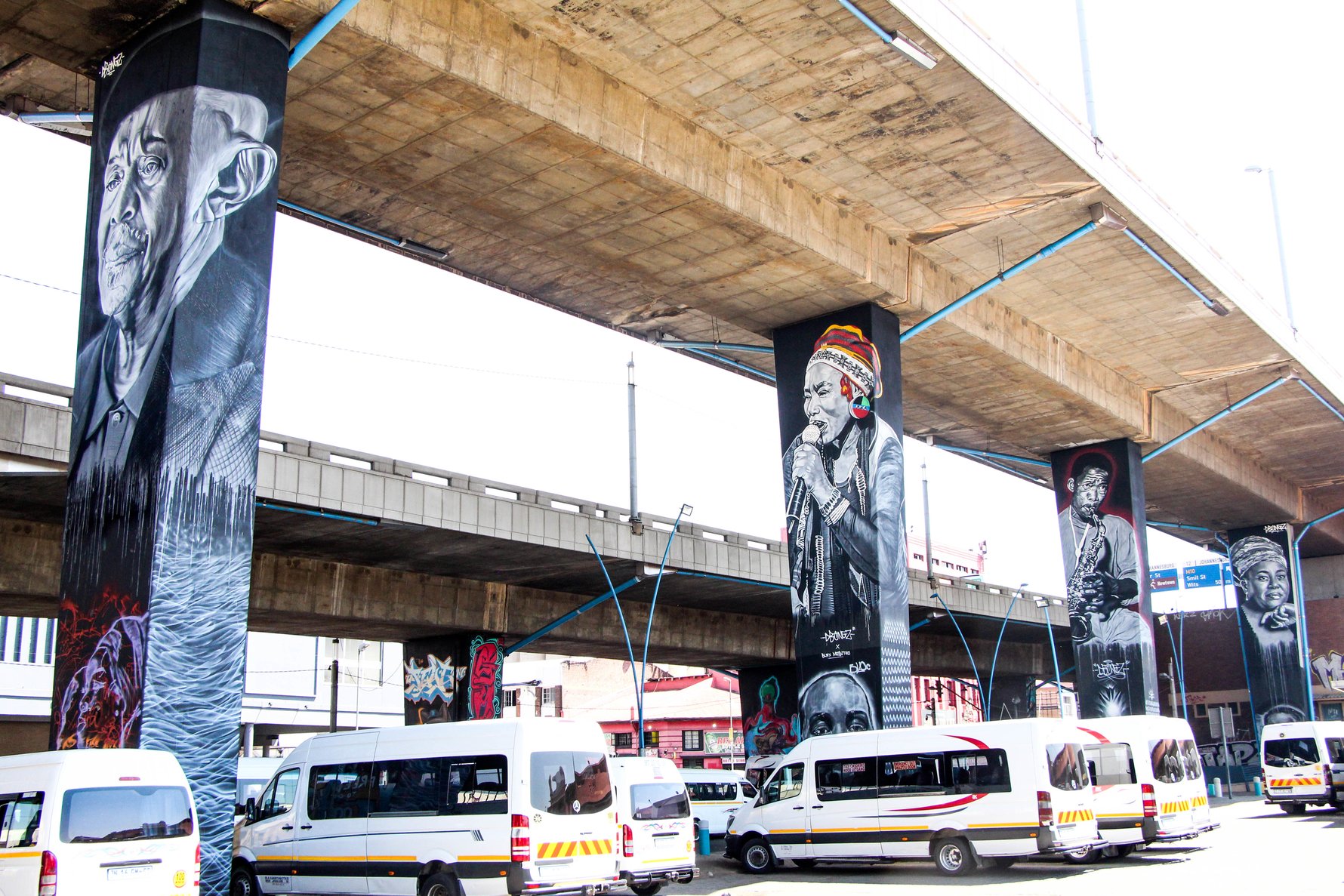 The Jazz Legends series includes four large portraits by "Dbongz" Mahlati on the pillars beneath the M1 freeway, each depicting a key music icon. The graffiti/street artist, from west Joburg, has created an impressive body of work that is well-known across the city – look out for his large-scale pieces in Maboneng and Jewel City – and he has also painted installations across the globe too.

As part of this series there are portraits of departed legends: jazz musician, singer and songwriter Jonas Gwanga, virtuoso singer, dancer and composer Busi Mhlongo, jazz musician Jeremiah "Kippie" Morololong Mokoetsi (who has been referred to as South Africa's Charlie Parker – a monument to him sits near The Market Theatre, where once a famous jazz joint carries his name) and opera singer Sibongile Khumalo.

A large-scale portrait of Miriam Makeba two blocks away on Gerard Sekoto Street (pictured top), adds to this tribute to musical genius. Makeba, nicknamed Mama Africa was a civil rights activist, singer, songwriter and actress, also renowned for her inimitable fashion style.
Where to find it: Under the M1 freeway on the edge of Mary Fitzgerald Square.
Mary Fitzgerald Square makeover, including work by Tshepo Kekae aka RedTitan and Tetteh Cudjoe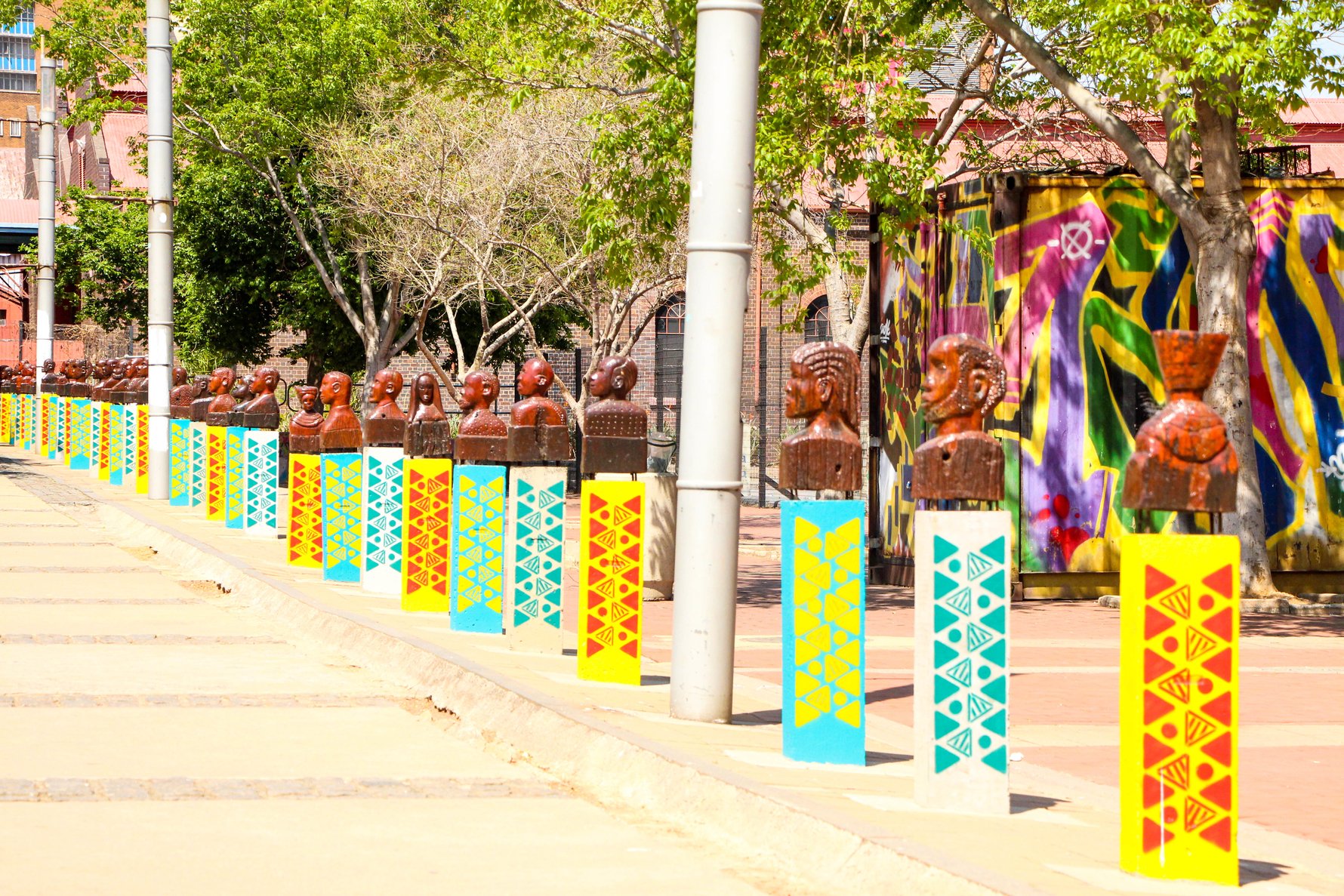 Mary Fitzgerald Square is a sight of city activation, from major protest action to music events. Named after Mary "Pickhandle" Fitzgerald, considered to be South Africa's first female trade unionist representing the city's early miners, the square was once the gathering point for wagons coming to market. 

It's a meeting place for the city. And for too long has stood empty due to Covid, and also due to the bareness of its surface. This new project sees a fun "piano key" walkway mural painted across the square and the walkway leading from Museum Africa towards the park and the Worker's Museum. The piano is the work of Tshepo Kekae aka RedTitan and Tetteh Cudjoe. Tshepo Kekae comes from the entertainment business. Based in the West Rand he has worked on a number of mural projects while Tetteh Cudjoe is a Ghanaian artist noted for his sketching ability. 

As part of the project the facade of Museum Africa has been repainted to its former heritage glory, while dozens of the historic Newtown wooden heads made by artist Americo Guambe (which are estimated to total some 700 across this side of the city) have been refurbished, repolished and brightened up with some colourfully painted plinths. 
Where to find it: Mary Fitzgerald Square
Saxophone Sculpture by James Delaney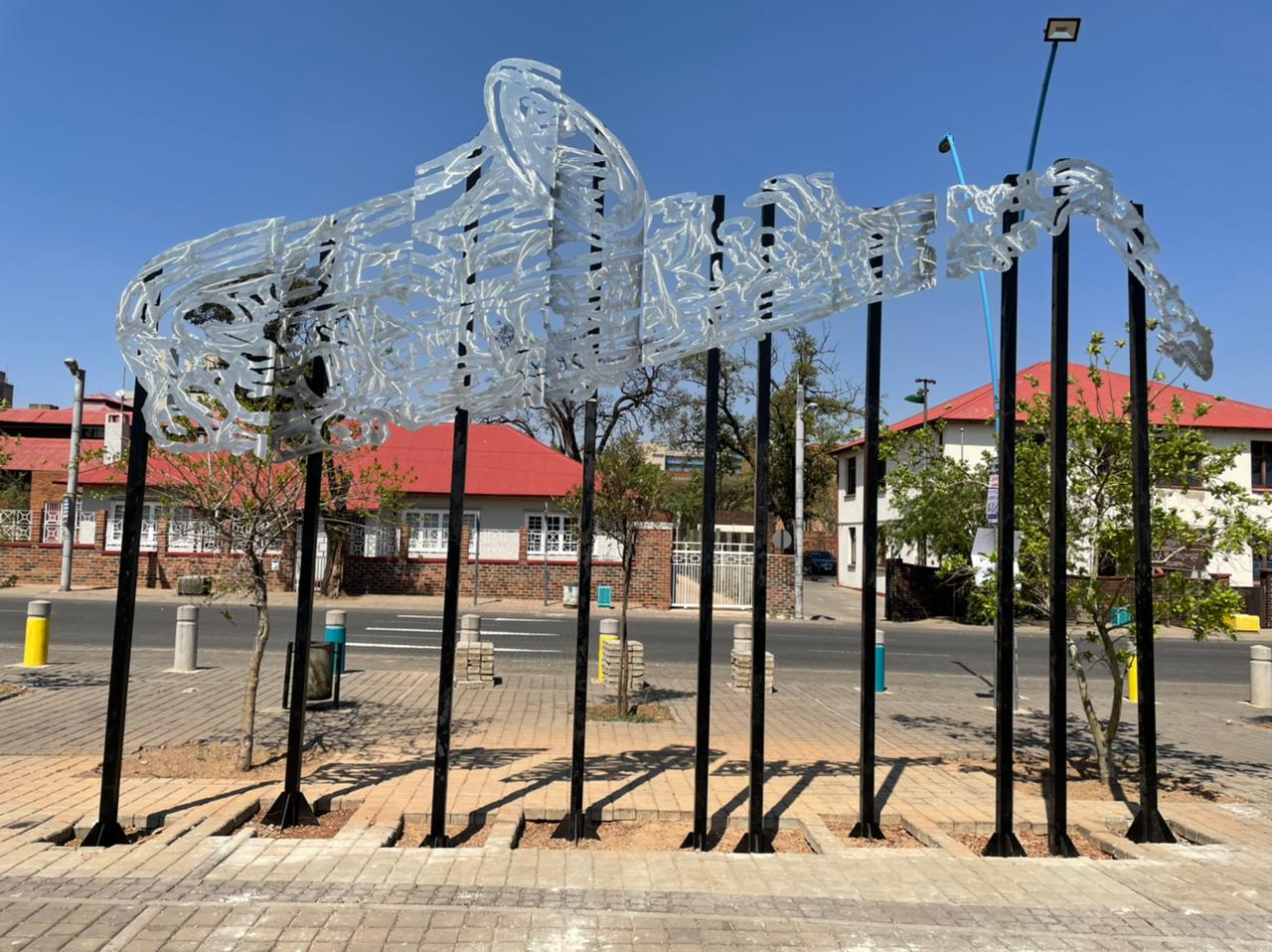 James Delaney's elegant seven-metre steel-cut sillouette of a saxophone completes Newtown's medley of jazz tributes. Standing on 10 pillars the eight different panels are placed in such a way that as you walk around the monument it moves into 3D. Meanwhile, the cut-out relief designs are positioned so that you catch various different glimpses of Joburg's iconic skyline, always different at different times of day.  
Where: Mary Fitzgerald Square, between the Workers Museum cottages and The Market Photo Workshop.
Newtown Park restorations
In the park behind Mary Fitzgerald Square entered by a walkway across the road from the piano keys is a rich history of previous public art, including a massive South African Flag that stands before Sci-Bono and in front of the Worker's Museum (newly renovated, as a separate project). The flag sculpture was donated by the Dutch government as a tribute to South Africa's democracy. As part of this project it has been significantly restored with a fresh coat of paint and is now a highly visible landmark in Newtown. Surrounding the park and the walkway leading there from the square, several other murals, some of them created around the time of the 2010 World Cup, have also been repainted. Keeping in theme with Newtown's arts history they also pay tribute to local jazz musicians, writers and playwrights.
Where to find it: In front of Sci-Bono Discovery Centre