Located inside Hyde Park Corner mall's Exclusive Books shop, Olives & Plates is a modern all-day Mediterranean restaurant with a fresh and lively atmosphere. Blush pink flowers climb the walls, there's soft lighting by night and by day natural illumination from the floor to ceiling windows, and a lively buzz all day long. 

There's also a seat to suit every mood. Enjoy a light meal and a drink at the bar, choose a table with a window view for sunset, or sit by the bookshelves and get lost in a novel.

Open all day, there's enough variety for breakfast, lunch, and dinner to keep you going back frequently to dine, plus plenty of vegetarian options, and some vegan and gluten-free dishes. The breakfast and lunch menus go beyond the usual Mediterranean offerings and also include other classic cafe favourites like eggs benedict, granola bowls, and burgers.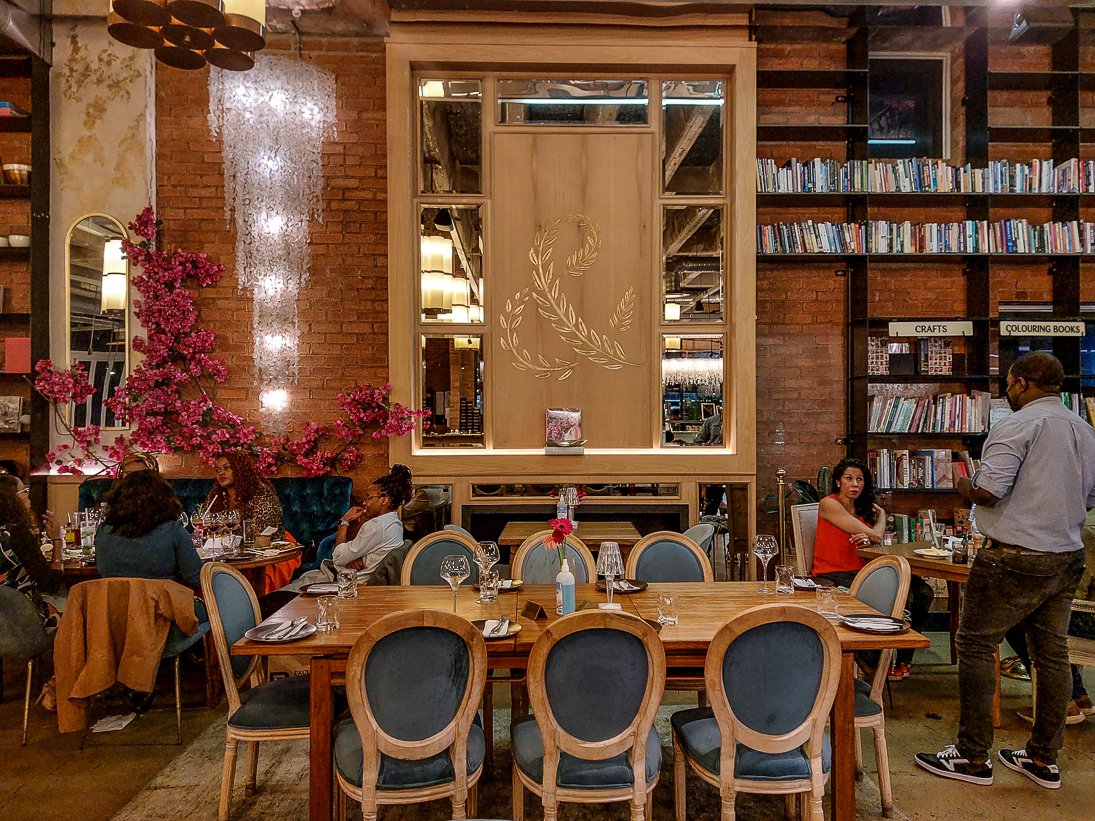 If you're craving pasta, from our most recent dinner visit we can recommend the butternut and sage conchiglione – heavenly! A warm and comforting dish of baked pasta shells filled with butternut and gorgonzola and covered in a creamy sage sauce, the second we took a bite we knew we had made the right dinner choice. The funghi pasta is also a winner.

For fish eaters, the line fish grill is the most popular choice. Our waiter Prince was keen to point out that the fish is "always fresh, never frozen." Take your pick of sauces and sides to complement the dish. We recommend the peri-peri sauce, which gives a good balance between flavour and heat. It's lemony but the taste (rather than the fire) of habanero peppers shines through. Other signature dinner favourites include Beef Wellington, the Tomahawk steak from the grill, and the crema di filetto.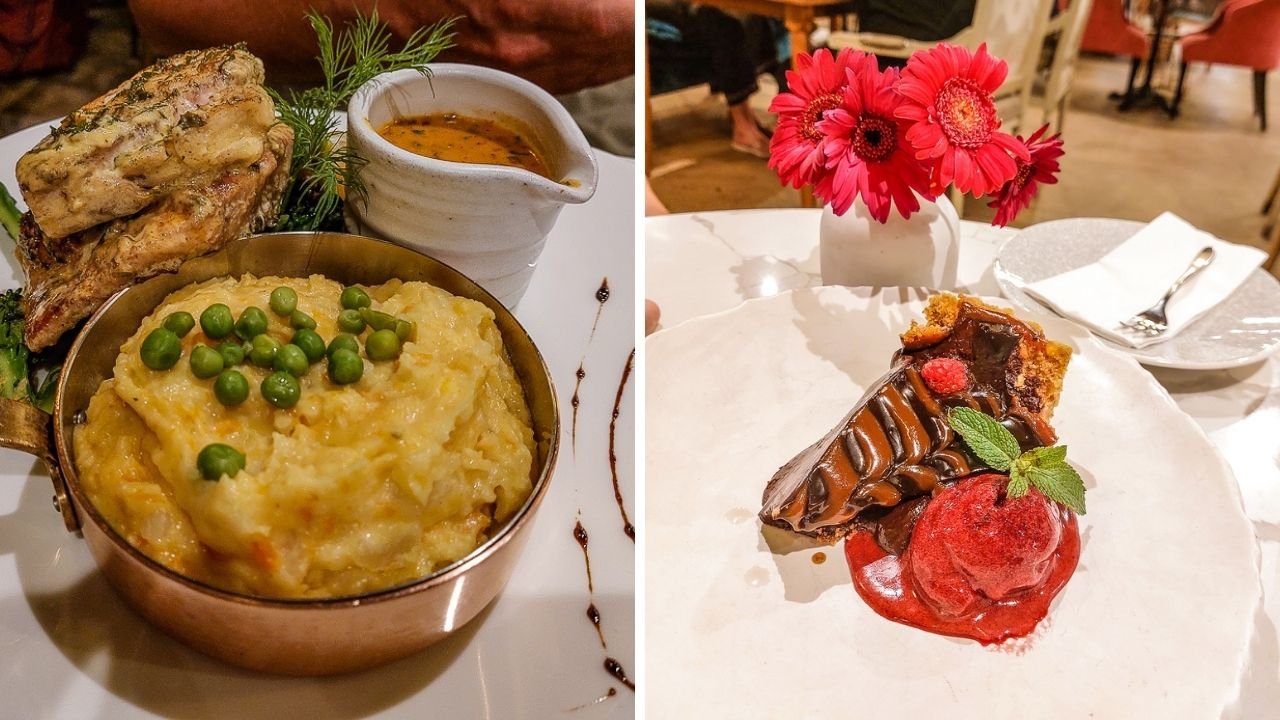 One of the great pleasures of a visit to Olives & Plates is indulging in the cakes. Make sure to save room for dessert! There is a beautiful array of baked goods grandly displayed at the centre of the restaurant, and each cake looks more enticing than the next. Although the cheesecake and lemon cakes will win over the eyes, we found it was the Lindt Chocolate Tarte that was truly outstanding. It's like eating pure, creamy Lindt chocolate, albeit in cake form, and is served with a zesty raspberry gelato and a crust complemented by crushed nuts. Eat it quickly before it melts!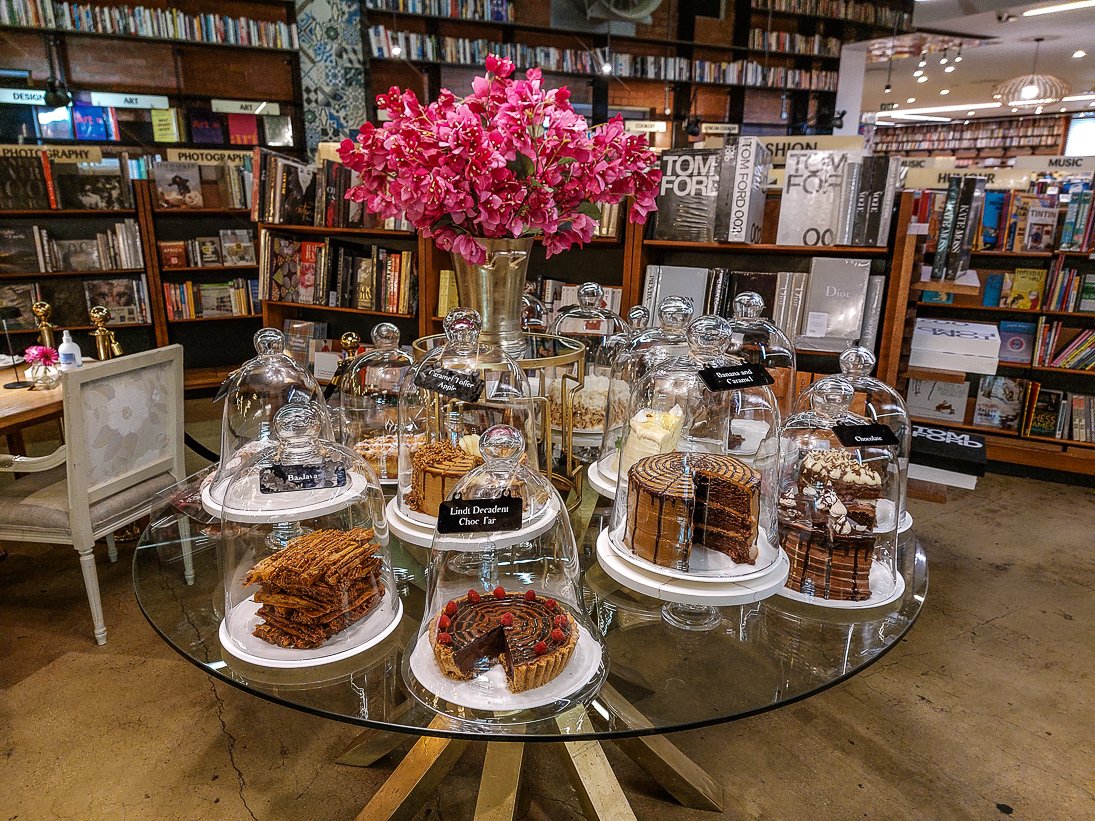 For dinner we recommend making a reservation, especially if you are four or more people. No reservations are taken for lunch or breakfast. If you do happen to be there during a busy time, leave your number at the entrance and you'll be called back when a table is ready. Hyde Park Corner has plenty of eye-catching shop windows, or of course there's lots to browse within the excellent bookshop itself while you wait. 

*Our reviewer, @thescribsandnibs (Attiya Sayyed) was invited by the restaurant. The views expressed in this review are her own. Follow the Scribs and Nibs travel and food blog online at thescribsandnibs.com.