An extensive and high-tech science and art museum, Origins Centre explores the origins of modern humankind, from a southern African perspective. Located at the University of the Witwatersrand in Braamfontein, Origins Centre shines a light on the history, art and traditions of southern Africa's first nations, the San people, and it is one of the finest museums focusing on the region's ancient history. 

Using ancient artefacts discovered across southern Africa, from rock art paintings and engravings to ancient stone tools, as well as the testimonies of San communities, the museum details the traditions and beliefs of our most ancient ancestors, and engages visitors in thinking about how ancient African paleo-anthropological findings have been interpreted over centuries. 

Whether you are a history buff, art lover, ethnologist or archaeologist, you can easily spend anything from two to four hours here. For South Africans the museum provides fascinating insights into often forgotten elements of the recent past, while for foreign visitors this is a valuable opportunity to gain insights into the region's ancient cultures and sites of historical significance. 

Origins Centre has also been designed to appeal to families too. There are some interactive displays, plenty of video and if you are coming with energetic kids we recommend downloading the free Origins CentreAR app in advance which has augmented reality features that can be used in conjunction with many of the museum displays.
Human history illustrated in art and science
As much as it is a science museum, Origins Centre is also an art museum. Through a spectacular array of contemporary art installations and ancient rock art examples, the museum celebrates the ancient tradition of the human urge to create art.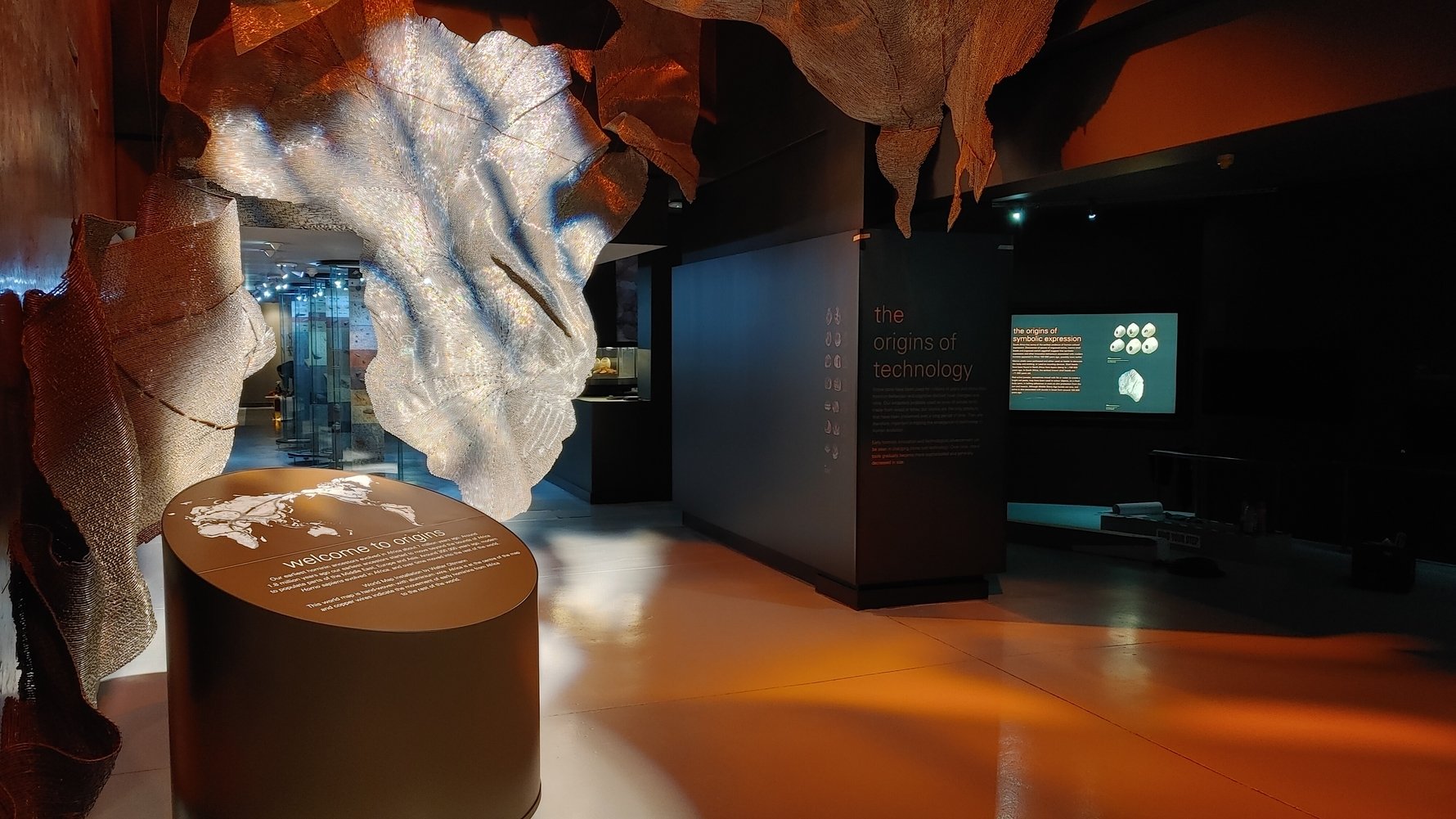 At the entrance you are greeted by Walter Oltmann's swirling ribbon-like wire sculpture, depicting the movement of modern humans across the continents from Africa, and a collection of ancient stone tools, considered the primary evidence of conscious humanity, displayed in gleaming interactive cabinets.

From here you are introduced to what is thought to be the world's oldest artwork, a piece of ochre decorated with a delicate geometric pattern that was discovered in 2008 in the Blombos Cave near Mossel Bay. The items found in the cave, which also include engraved fragments of ostrich shells, are thought to date back up to 100,000 years, providing compelling evidence of ancient human's intelligence, and urge to create.
The art of the San - people of the eland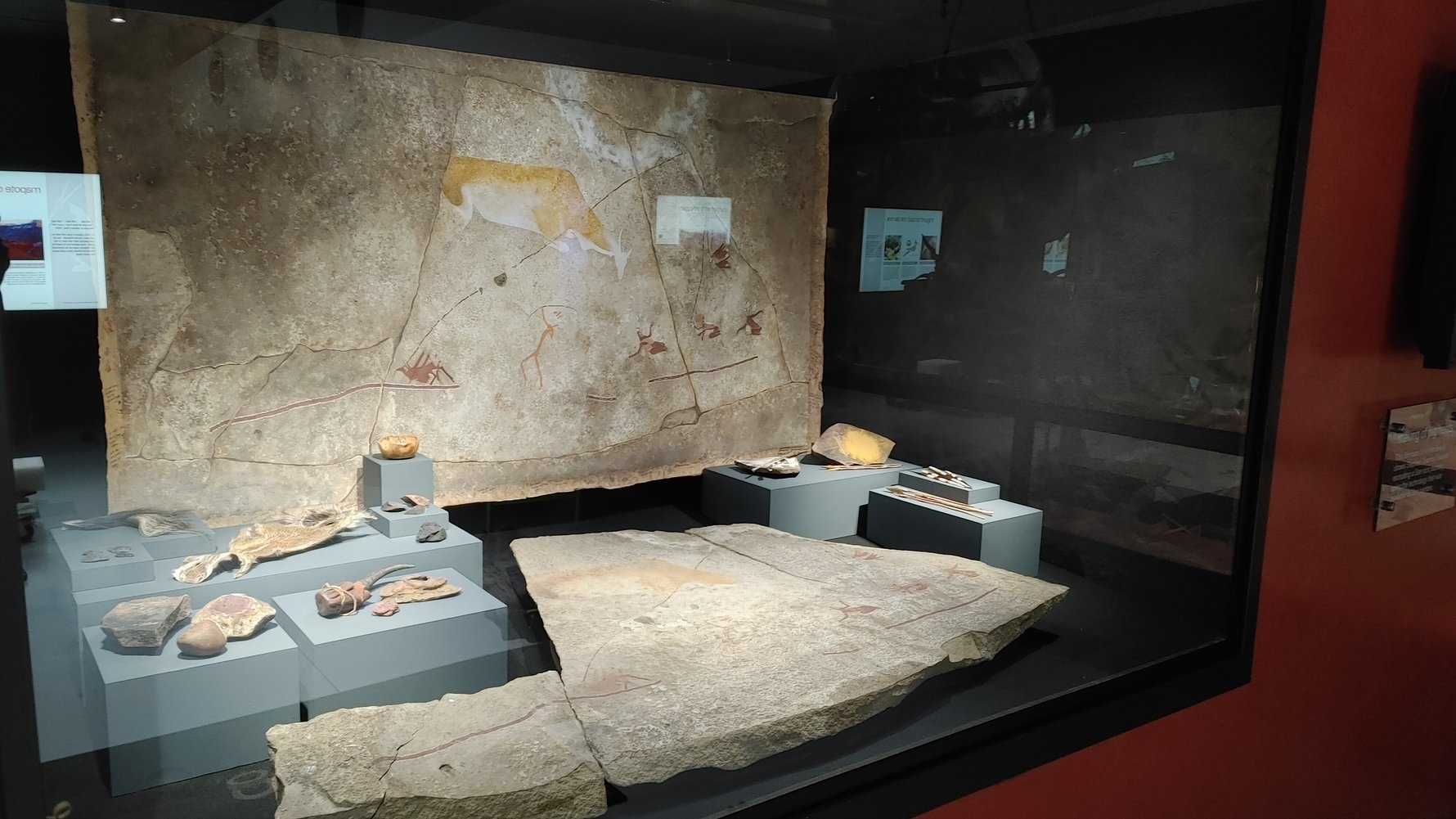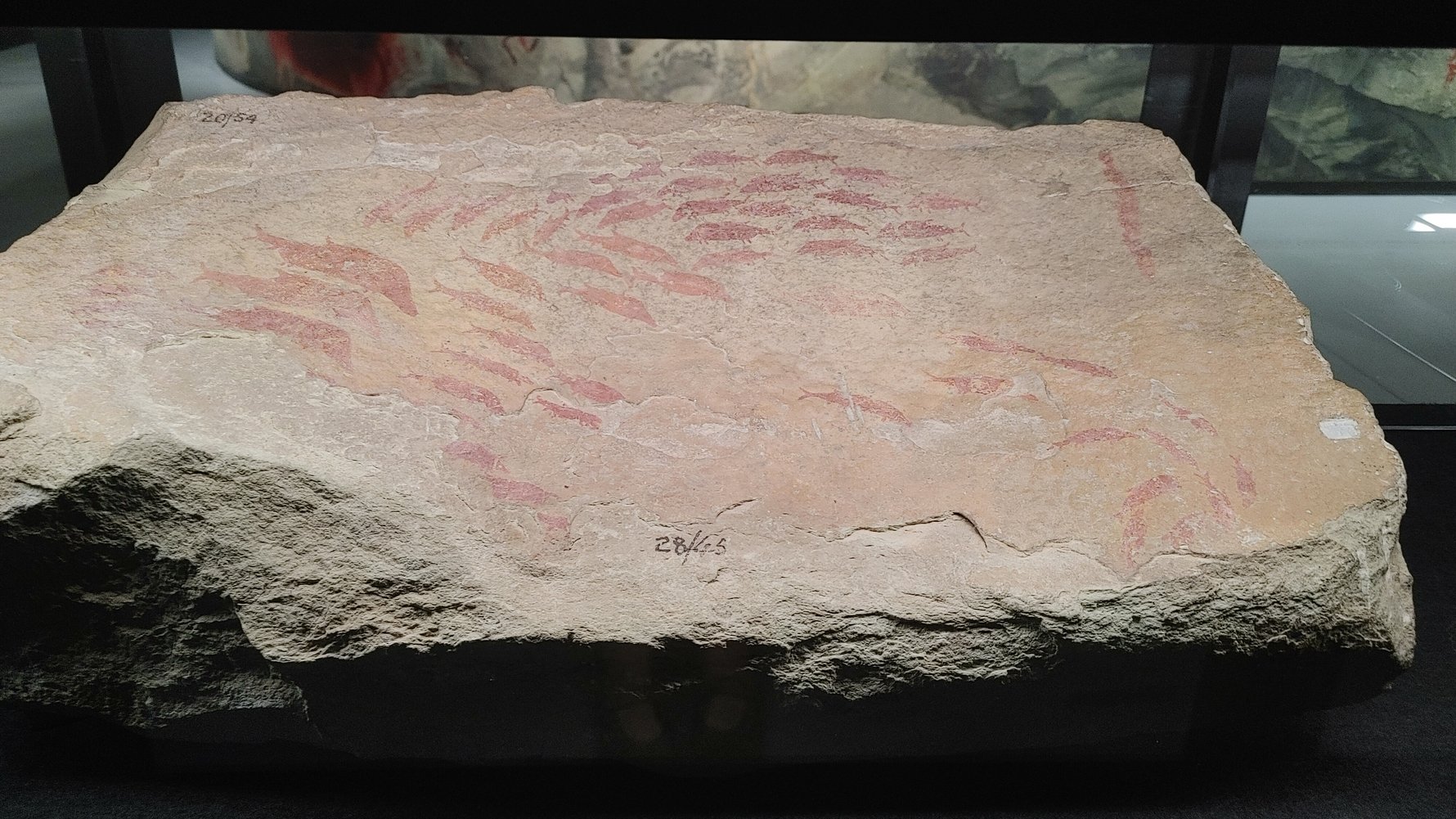 Through more than a dozen halls the museum traces this line of history, examining the spiritual and creative urges of ancient African communities. Putting a compelling focus on the ancient cultures of southern Africa's San people, the museum details the San's complex cosmology, beliefs and traditions in video, sculpture, installation and artefacts.

In recent years the museum has upgraded its exhibits to re-address the colonial gaze placed on this part of human history. The museum refers to 'San' history but acknowledges the politics of language, explaining that San is a broad term that refers to different groups whose histories have overlapped. We were interested to learn that while in South Africa the term 'bushmen' is now broadly seen as derogatory, in parts of Botswana and Nambia, communities refer to themselves as 'bushmen' rather than San.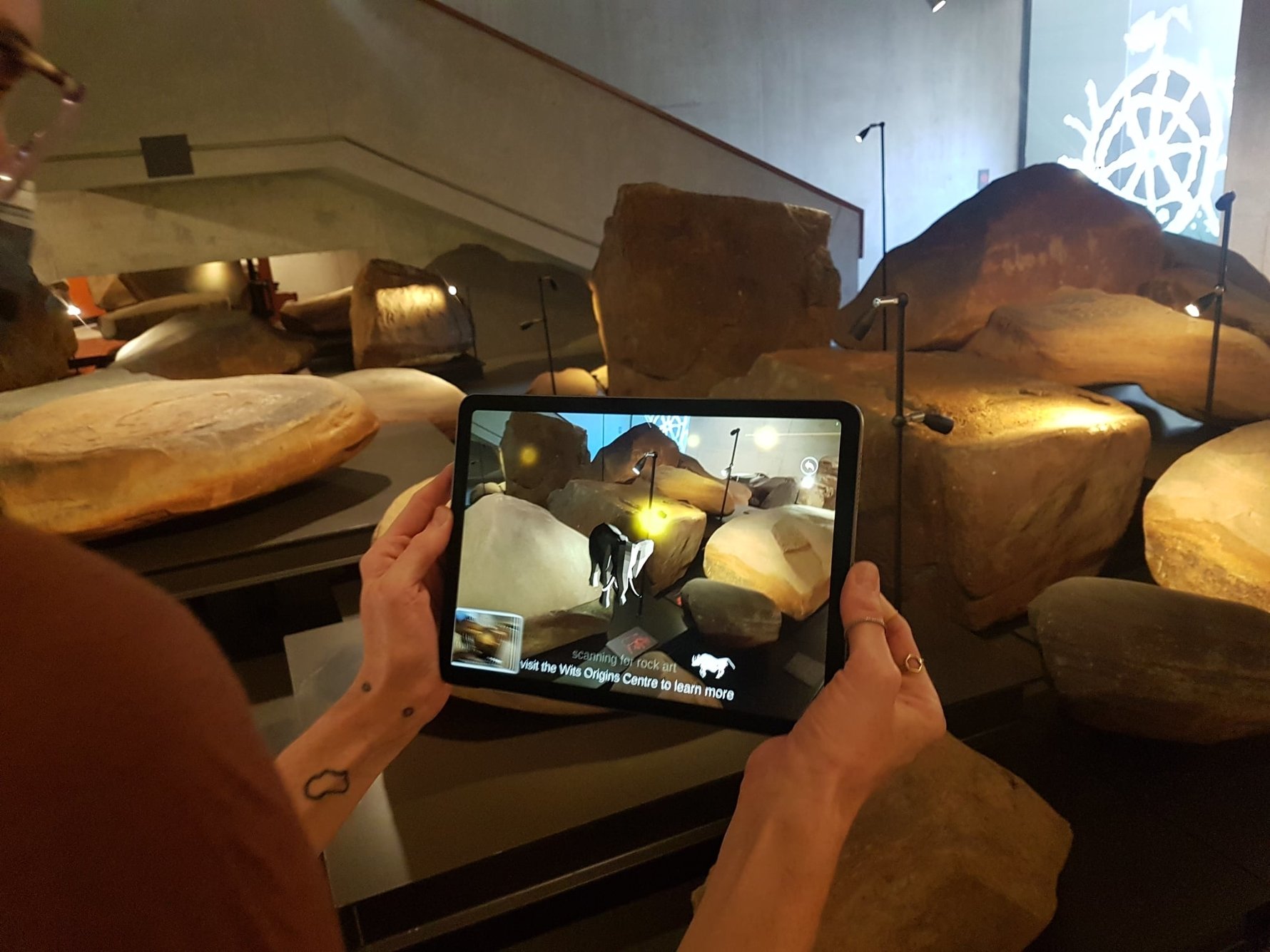 One of the biggest highlights of the Origins Centre museum is the opportunity to see real examples of ancient San rock art, discovered in caves in the Drakensberg. The practice of removing pieces of rock art painting has long been banned and Origins Centre contains some of the relatively few pieces of South African rock art paintings that can be found inside a museum. The examples on display are accompanied by a fascinating exhibit detailing the meanings and symbolism of recurrent imagery, particularly that of the eland, an animal which it is believed can cross between the human and spiritual worlds. 

A huge collection of rock engravings are also on display in the museum, variously depicting animals such as giraffes, rhinos and lions, which can be brought to life in 3D using the Origins Centre's fun augmented reality (AR) app.
'People who are different come together'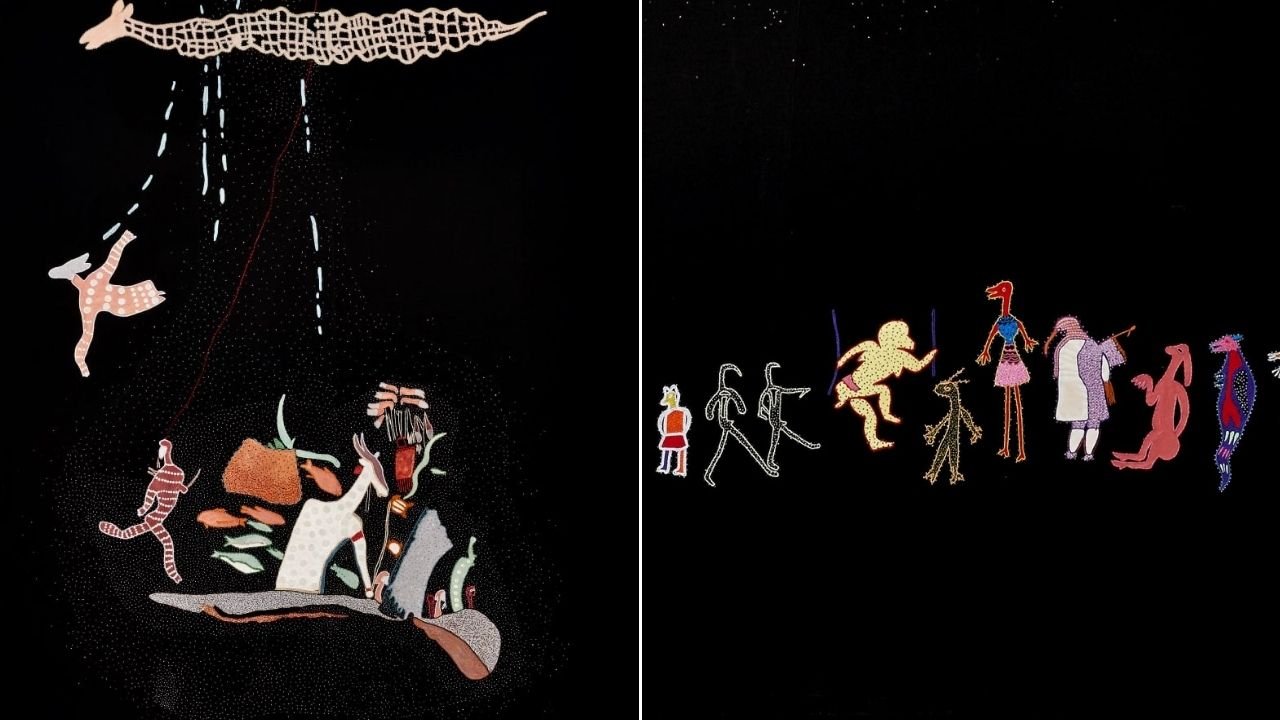 Another major museum highlight is the immense hall containing Tamar Mason's incredible The Thread of Knowing. Created in 2005 with a team of 80 women embroiderers, it consists of eleven 4.5 metre tall hand-embroidered panels that detail the history of the San over the past 2,000 years. Using traditional San imagery the panels are beautifully embroidered on black fabric and embellished with beads, eggshell, glass and safety pins.
These tapestries detail the San's own interpretation of their history and human origins story, depicting the various influences and tragedies faced by San communities over the past two millennia, from a decline in the hunter-gather lifestyle and the arrival of colonial settlers, to genocide and brutalisation, cultural appropriation and later, the devastating AIDS pandemic. This history is also relayed in a short accompanying film.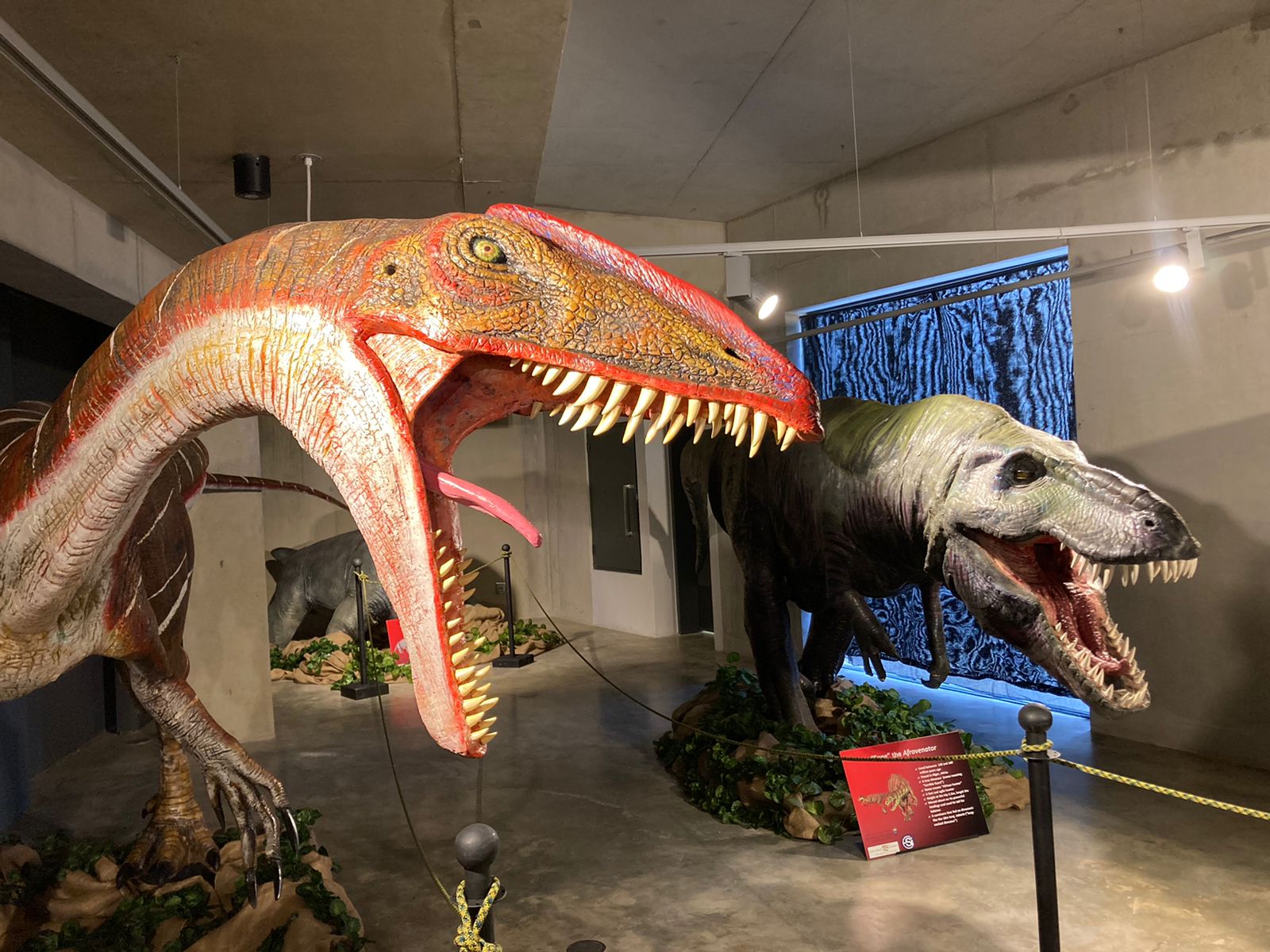 From here you can also take a detour to visit two more small exhibitions upstairs, one of which focuses on geology and another exhibit of life-sized models of various dinosaurs who are known to have lived in Africa millions of years ago. This exhibit is always a favourite with school groups in particular.
In the final hall of the museum are two more exceptional art installations created by artists Pippa Skotnes, Malcolm Payne and Willem Boshoff. Willem Boshoff's Signs of People installation speaks to the erosion of ancient languages and the proliferation of labels and stereotypes forced on cultures, people and communities. Meanwhile, Payne and Skotnes's Double Vision illustrates the personal histories of individual San people through history, told in their own words, and presents "a visual interpretation of the idea, articulated in |xam in the South African motto, that 'People who are different come together'".

By placing the stories, traditions and personal tragedies of the San people at the centre of this exploration of rock art and human history, Origins Centre invites visitors to think more deeply about their own heritage. Through art and artefacts, both contemporary and ancient, the museum traces our common human urges and beliefs; to create, to communicate, to cooperate, to explore and to find spiritual meanings beyond the physical world, with the generations of people who lived tens of thousands of years before us.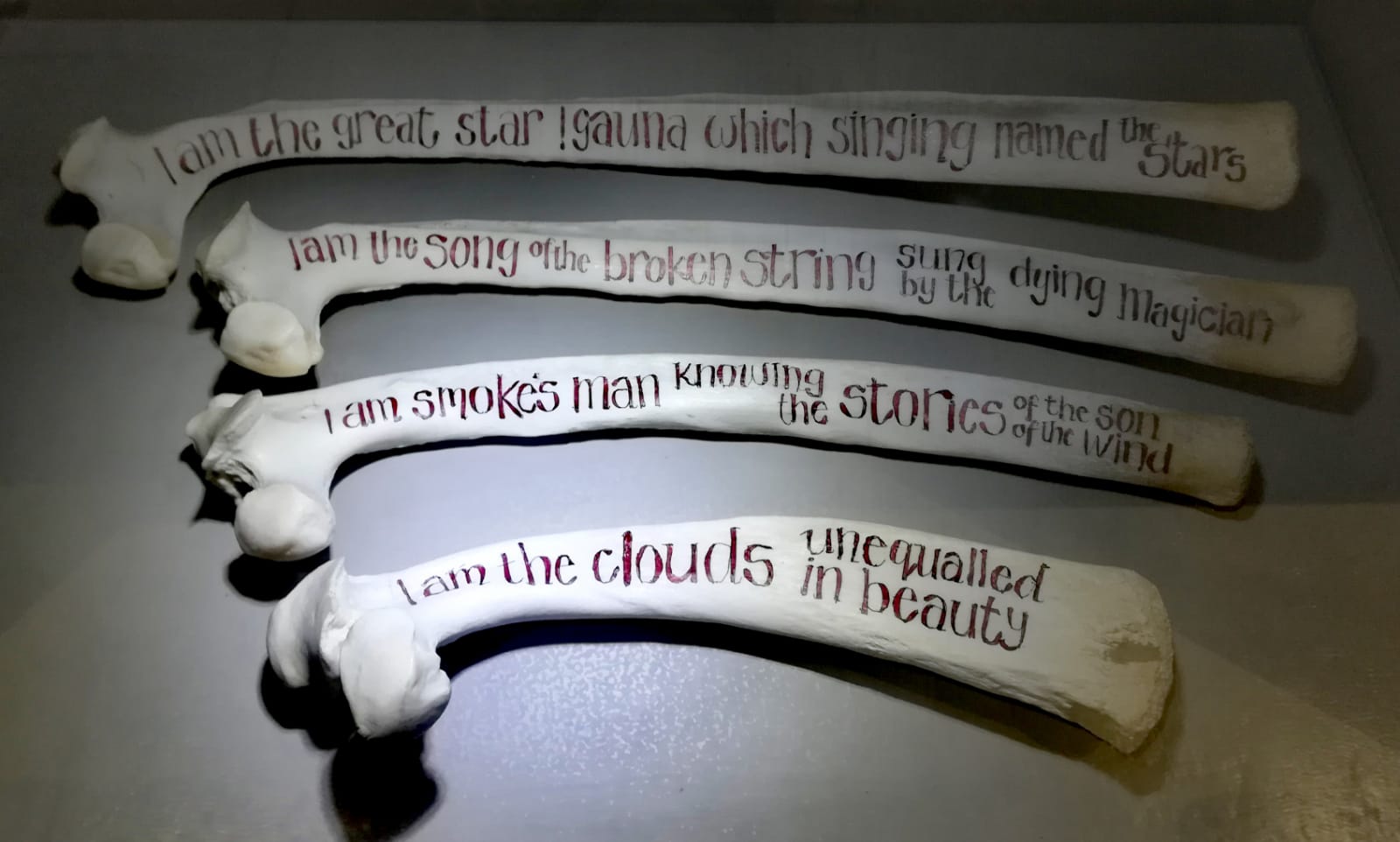 Origins Centre gift shop  bookshop
At the end of the museum exhibits you will pop out in the excellent Origins Centre gift shop and bookshop. Take some time to browse the fantastic selection of books that focus on San history, rock art, and modern South African history, with a particular focus on ethnology. The gift shop stocks an array of high-quality handmade gifts such as jewellery and home decor and many traditional items handmade by San communities in the South African Kalahari. The museum also has a small cafe.
NEED TO KNOW
Ticketing: All museum tickets must be bought in advance online, you can buy your tickets here. If you are looking for specialist knowledge and an in-depth talk-through the rock artworks in particular, consider booking online for a guided museum tour.

Location: Origins Centre is located inside the Wits University campus. The entrance to the museum is immediately on your left as you enter the gates on Yale Road in Braamfontein. Tell the guards at the gate that you are going to the Origins Centre and they will direct you to the museum parking places.