Through the high winding roads and into the heart of Northcliff, you'll find a hidden treasure that beautifully blends intimacy and relaxation tucked below the dramatic rocky landscape of the Northcliff ridge. The Cliffside Boutique Getaway was formerly a suburban home, that has been converted into a five-bedroom boutique establishment, but it's not just a place to rest your head, it's where comfort and style meet the raw beauty of a uniquely Johannesburg landscape. Adding to its charm is the opportunity to explore an accessible hiking trail from the doorstep. 

The Johannesburg In Your Pocket team headed to the Cliffside (August 2023) as part of our roaming office, a day where we work from a hotel workspace and get the opportunity to connect with hospitality partners and explore hotel properties. 

Our morning started with a platter of fresh fruit and a range of delicious juices that packed a punch, and a warm welcome by the team here, who maintained their eagerness to help us with whatever we needed. We worked in the dining area for the most part of the day to enjoy the sunshine, the breeze from the open patio doors, and to be as close as possible to the coffee station.

There is a more formal boardroom for business travellers who need a dedicated and quiet space to brainstorm and discuss, but it's what's in the boardroom that might make you want to loosen your tie a bit. With a Celestron Astromaster 90 telescope available for stargazing and shelves of over 1,000 DVDs and series box sets, you might find your attention drawn away from spreadsheets. The hotel staff can set up a DVD player upon request, allowing you to choose from a collection of throwback movies, classics, romcoms and beloved series.
Where boredom won't find you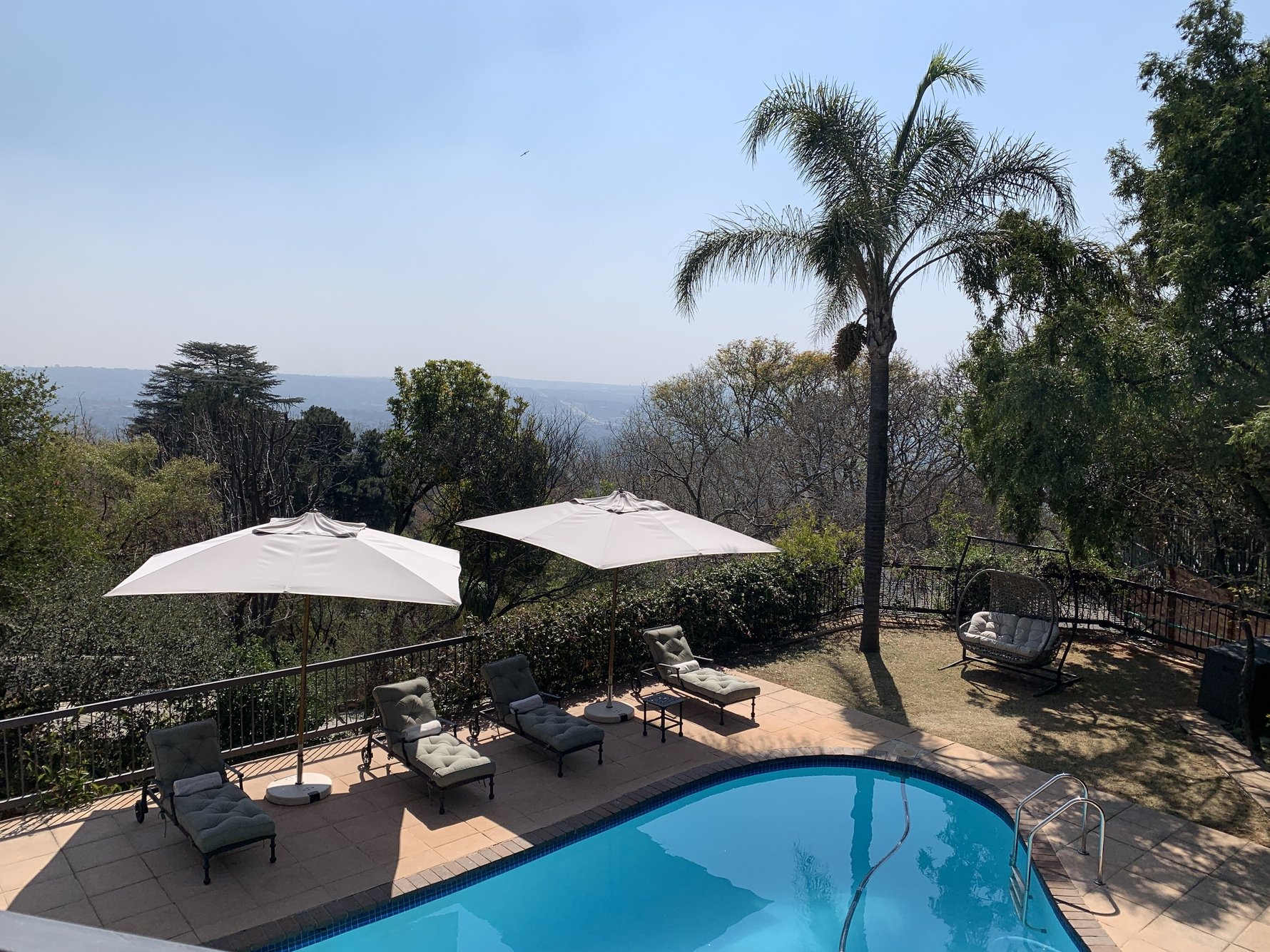 In the communal entertainment area, you'll find board games and an honesty bar where you simply note what you take and settle your bill at checkout. The gas fireplace in the lounge is the perfect place to gather and share stories. We wish we could've walked away with a goodie (or six) from their dedicated wine fridge that stocks red, white and champagne, all chilled at their optimal temperatures. The selection includes wines from boutique local winemakers. The owner is determined for Cliffside to showcase the best of South Africa's vineyards.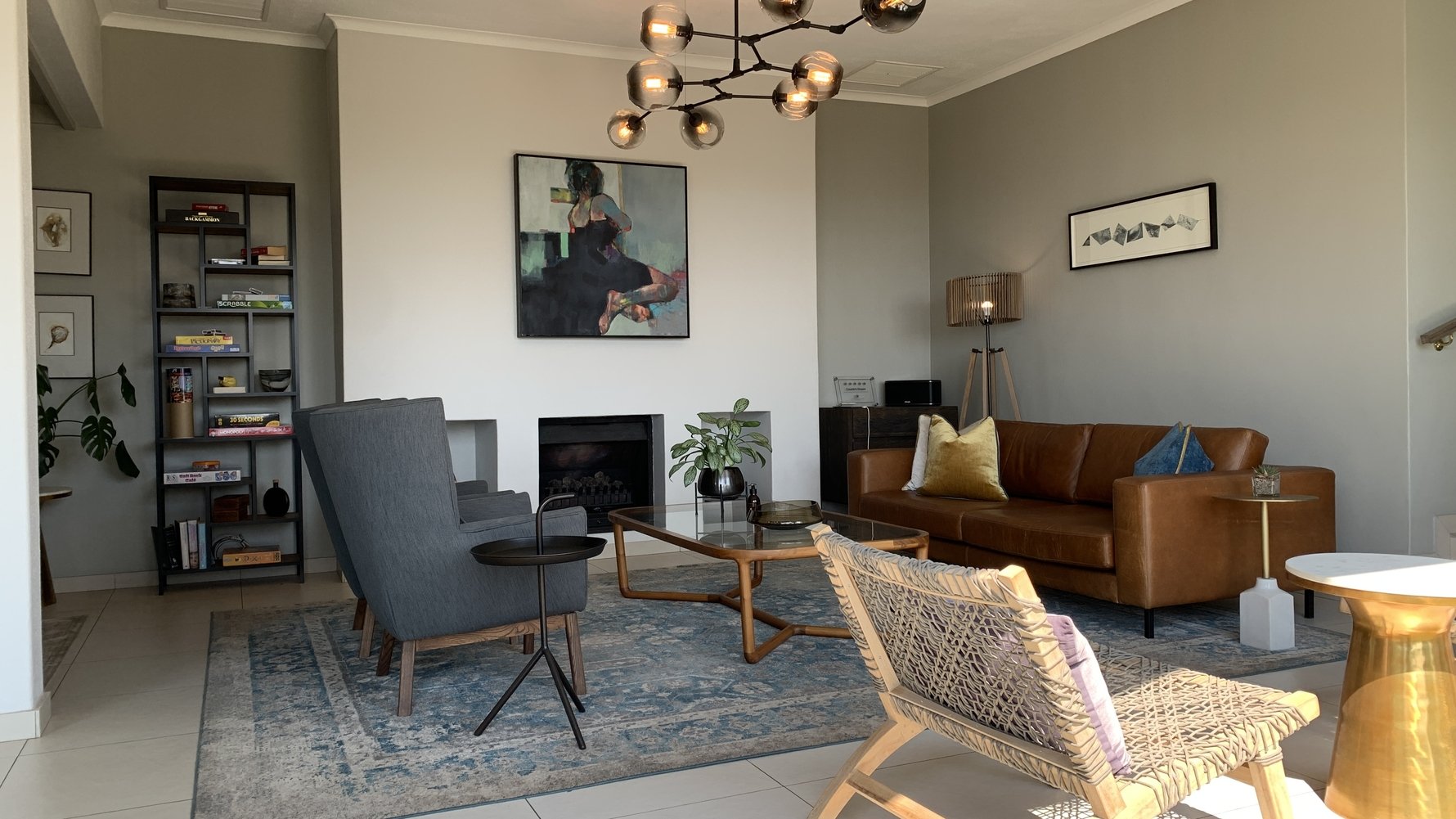 In every corner of Cliffside, you'll find local artwork and design that creates a unique character for the property. Nothing is generic, or "decorated". The dedication to detail and the commitment to providing guests with an exceptional experience are evident at every turn. 

The large pool invites you to take a dip, and the temperature is always just right (checked every day by the dedicated grounds staff). Surrounding the pool are trees and plants that have been there before the beginning of construction, maintaining an organic atmosphere that connects you to the local environment. After a day of exploration or relaxation, you can unwind in the sauna next to the pool, complete with a changing room and shower, eliminating the need to return to your room.
Culinary delights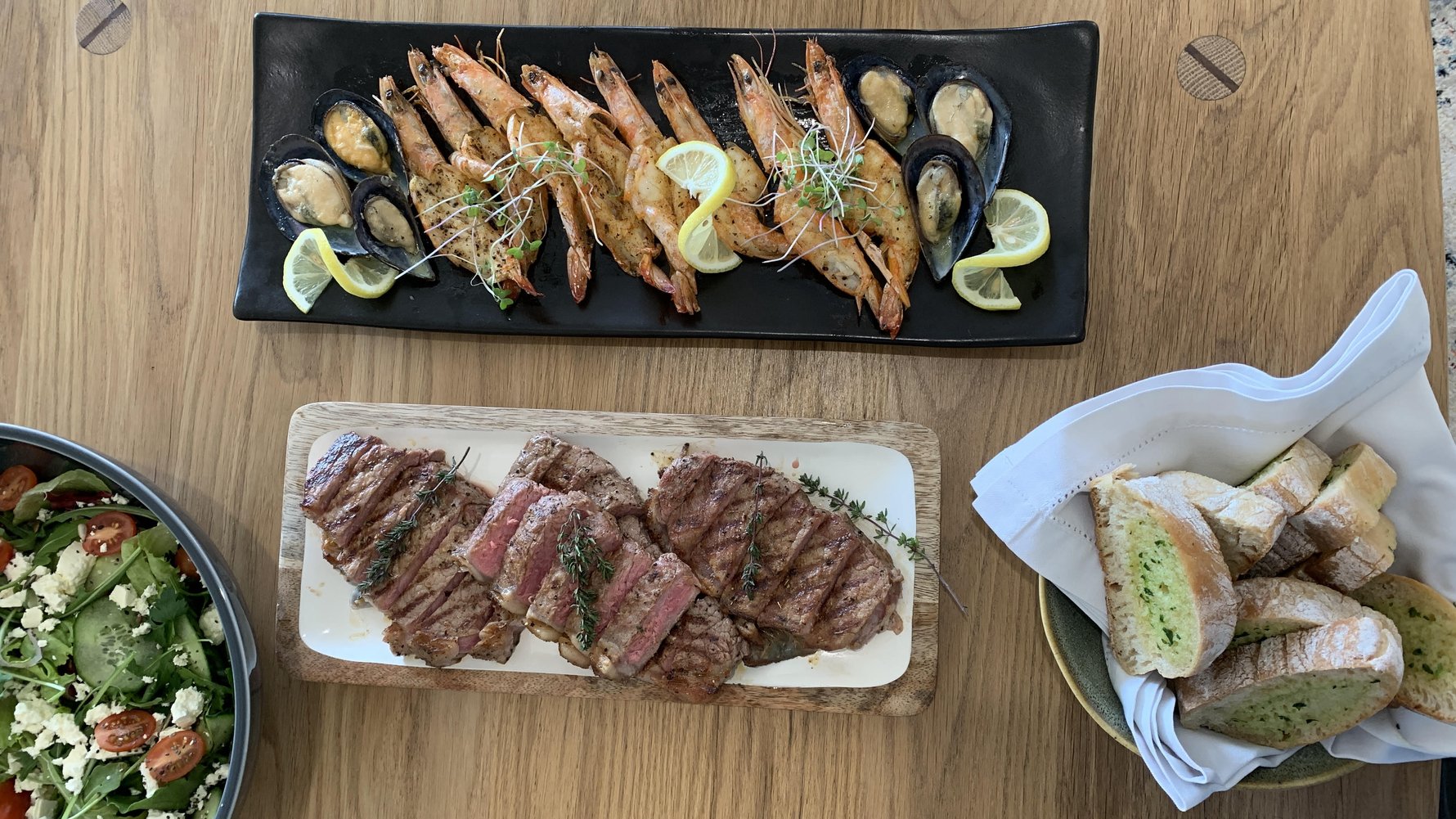 A highlight of any stay at Cliffside is the culinary experience crafted by Chef Phindy Ndlovu, who has been a part of the team since opening. For our lunch, we were treated to family-style offerings prepared in a classic South African braai-style. Our lunch included a plater of large buttery prawns, sliced steak with a creamy mushroom sauce, fresh green salad and bread that was to die for. Dessert was irresistible – a homemade dark chocolate brownie served with dreamy (and generous) scoops of ice-cream. 

Chef Ndlovu's creativity and commitment to excellence shine through in the menu, which has been refined through collaboration with Marble chefs. The result is what she agrees is elevated casual and exclusive dining. 

Chef Ndlovu is also dedicated to minimising waste, with pre-ordered fine-dining meals and a herb garden that she personally tends to. The small menu features carefully selected ingredients, ensuring each dish meets the high standards of Cliffside and every meal is a celebration of South African flavours and international culinary techniques. All dietary requirements are catered for. 
A room for every taste
Cliffside boasts a variety of rooms and suites, each designed with meticulous attention to detail to ensure a memorable stay. Each room includes a complimentary bar stocked to your heart's content along with a mini-coffee bar that ensures you're never far from your caffeine fix. The entertainment options are fantastic with a smart TV in each room where you'll have access to Apple TV, Netflix and Showmax. The Horizon Suite is a stunning oasis with a private balcony where you can enjoy breakfast while taking in the view. The suite also features a small lounge area with a TV, a luxurious bath and shower, a chic grey and black colour palette and to accommodate additional guests, a sleeper couch is also available. 

The Sunset Room beckons with its teal scallop tiles in the bathroom, and its balcony is perfect for a calming yoga session as you watch the sun dip below the horizon. Ideal for solo travellers, the Sunrise Room, a smaller version of the Sunset Room, offers a more intimate setting with luxurious marbled shower tiles and a welcoming feel. 

For a more private and spacious experience, The Cottage is an excellent choice. This self-catering unit features a kitchenette, a private garden, sliding doors that bring the outdoors in, and the capacity to sleep four guests between the bed and sleeper couch. It's an ideal spot for a girls' night or a relaxing staycation, and its safari-inspired décor and exposed wooden ceilings create an inviting atmosphere that's both cosy and adventurous 
Nature in Northcliff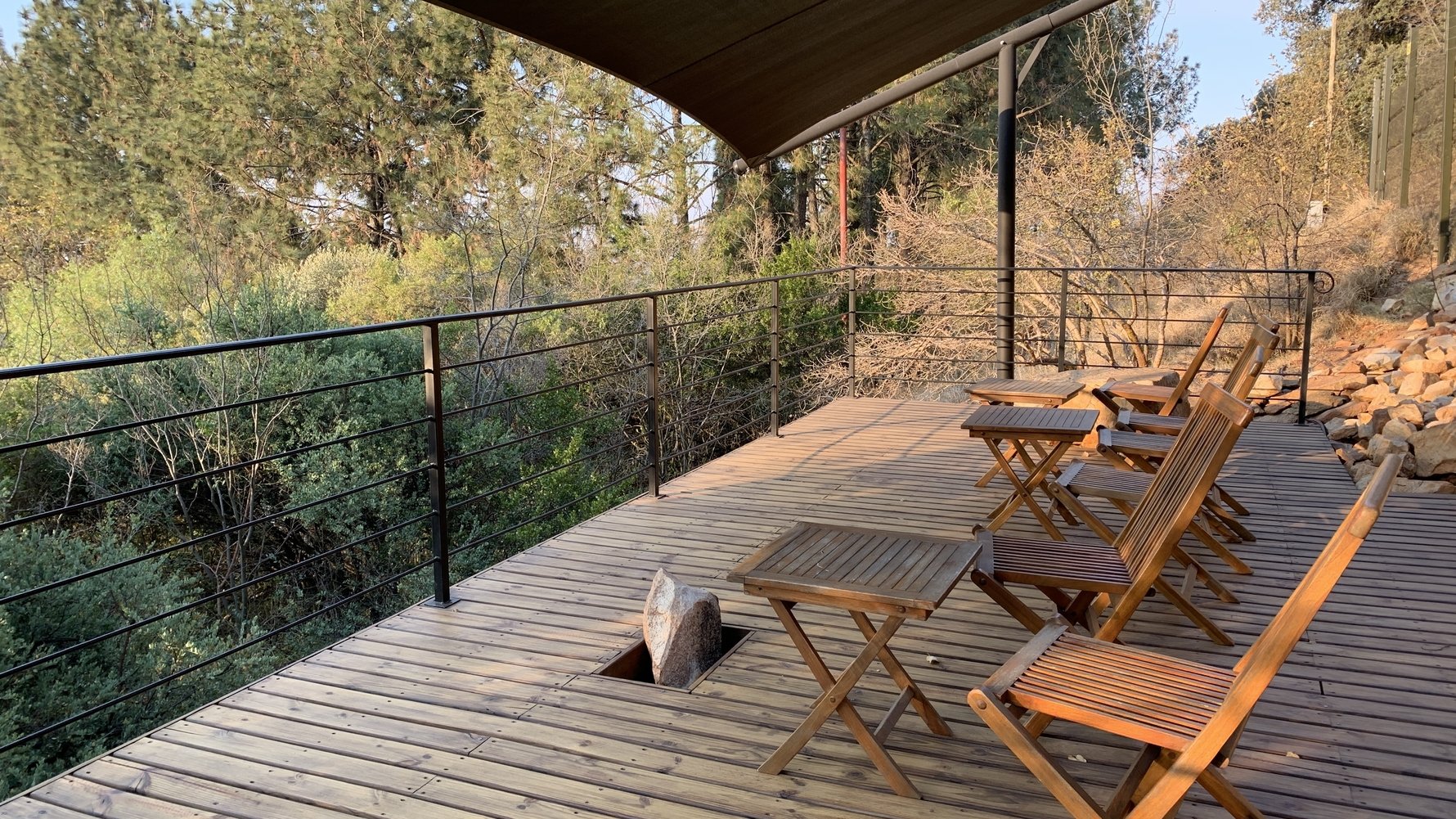 The Cliffside offers more than just comfortable accommodation. It's a place to connect with nature and explore the surrounding environment and the commitment to sustainability is evident, with solar panels ensuring a reliable and eco-friendly power supply. There's a walking and hiking trail with benches, one dedicated to the late David Sprag, who contributed to the planning of the property.

The trail takes you through three properties, including the house where owner Paul grew up. It's a 5km hike that immerses you in the beauty of the surrounding landscape. At the beginning of your hike, you will most likely pass the East Deck which is an outdoor patio above the rest of the property; perfect for intimate picnics, proposals and anniversary celebrations. The staff is ready to bring your vision to life, ensuring your special moments are unforgettable.

Whether you're seeking a serene escape in nature, a memorable celebration or a productive business trip, the Cliffside offers a haven of sensible luxury and relaxation and a desire to return to this true oasis in the heart of Johannesburg.