On the southern border of Gauteng Province (about one hour's drive from Joburg), this vast nature reserve, named after the protea or sugarbush plant (suikerbos in Afrikaans) is among the largest in the region and covers more than 220 km². For hikers and cyclists it's a wonderful day trip with uninterrupted ridgetop views that reveal nothing but hills.

The area was first proclaimed a nature reserve in 1974 and in the 2000s and 2010s was expanded significantly to encompass more grasslands and wetland areas. Dominating the reserve is the Suikerbos Ridge which runs east to west through the middle. It is this scenic ridge that your attention will be focused on with the cycling trails, hiking paths and tarred roads all snaking up and around it. If you imagined this reserve was mostly gently rolling hills and grasslands, be ready for longer than expected and rewarding inclines as the ridge rises up from the surrounding plateaus to a height of 1,918 metres. 

After paying your entrance fees at the gate (pick up a map at the gate), there are a few more kilometres drive to the main car park where there are toilets and space to picnic (bring your own chairs and tables).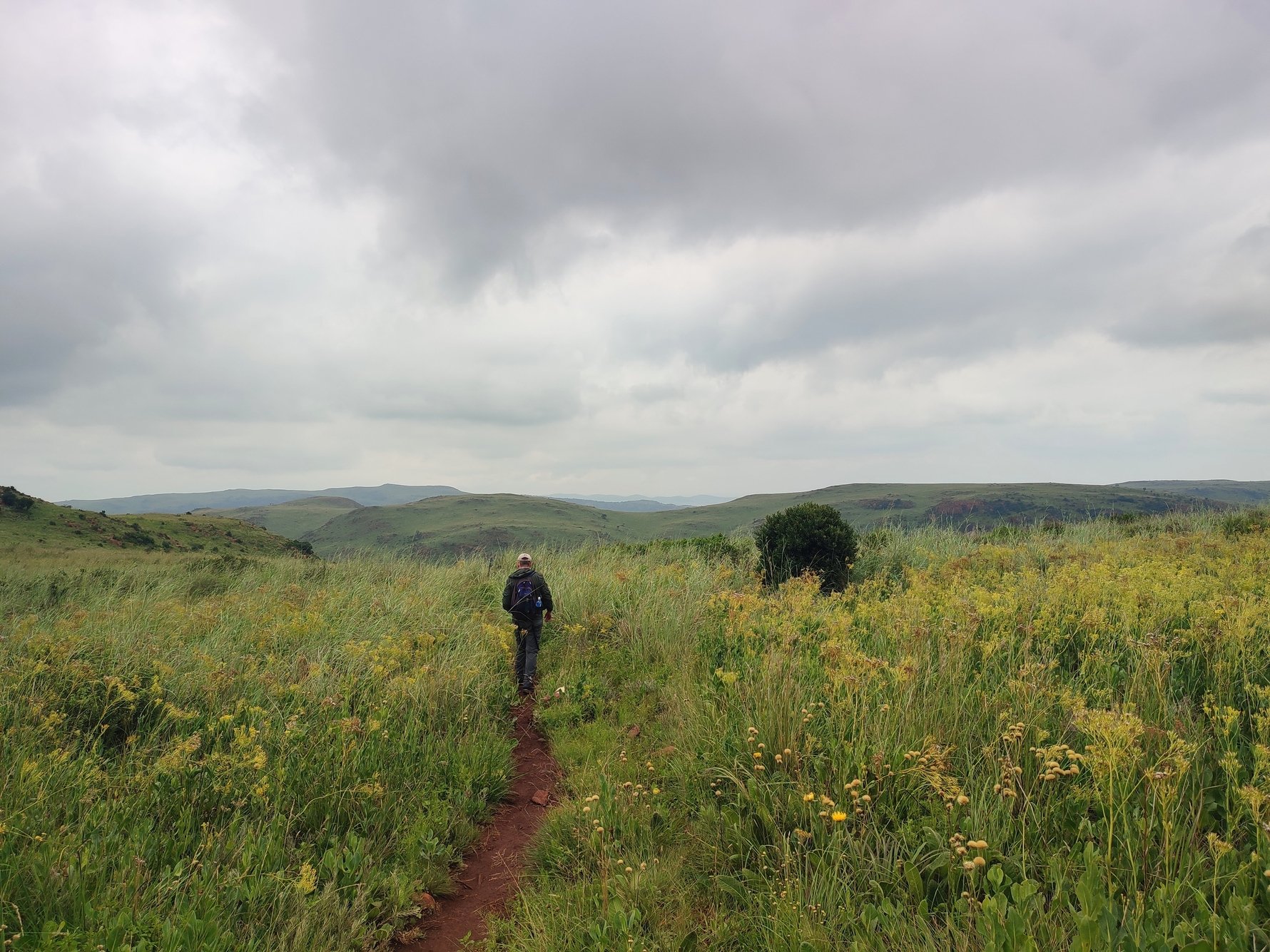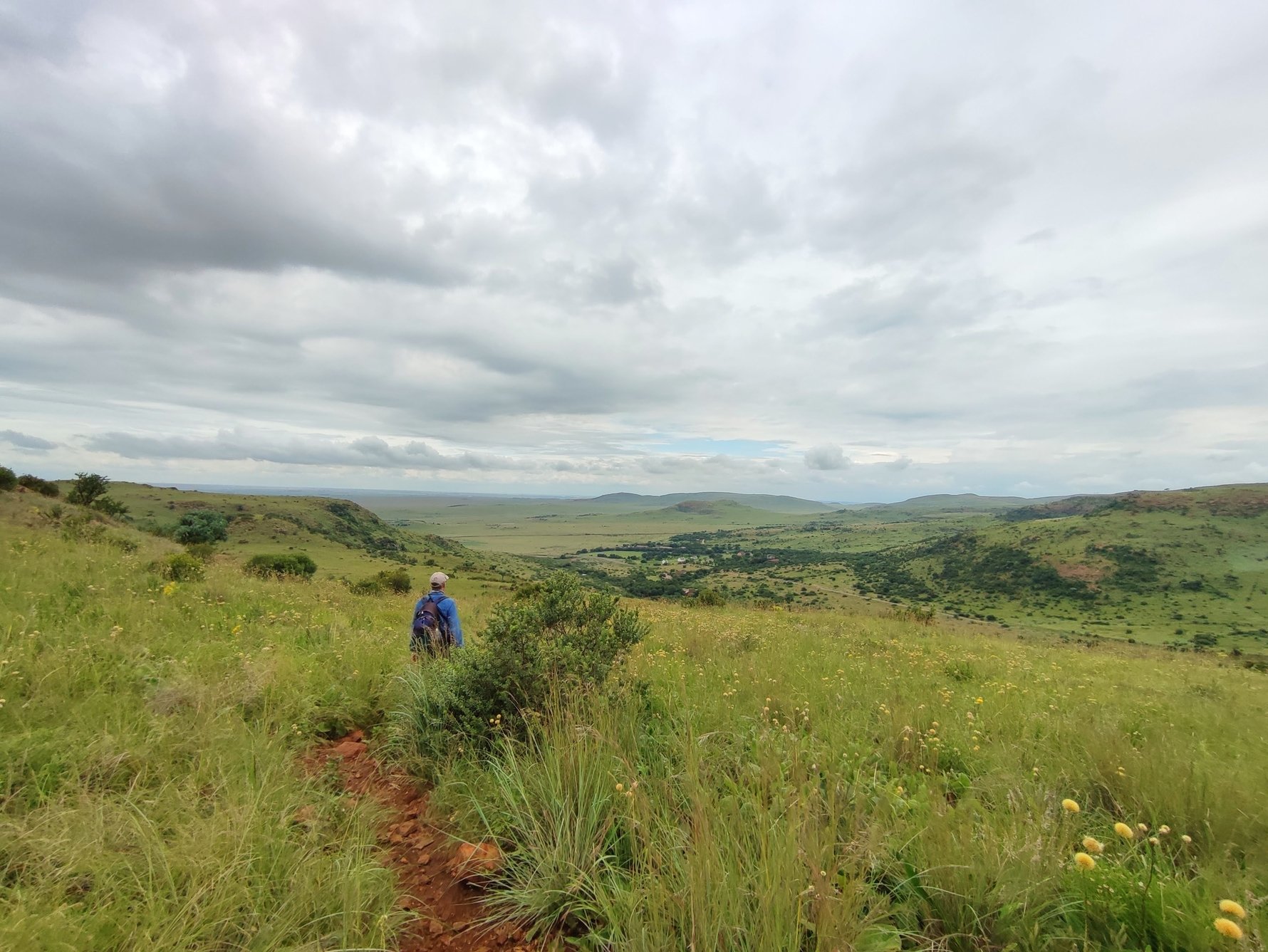 Hiking the Bokmakierie trail
For hikers there are three routes to choose from: the meandering 4.5km Cheetah trail and the 10km or 11.5km loops of the Bokmakierie trail (named for the distinctive yellow bird commonly spotted in the reserve). We opted for the 10km loop which was more than enough ups and downs to keep us going for a good four hike. The Bokmakierie is a circular trail with no set direction indicated to tackle it. We opted to circuit clockwise and found following in this direction there were much steeper downs than ups. Ignore any signs indicating a 17km loop, this trail was redesigned to become the 11.5km.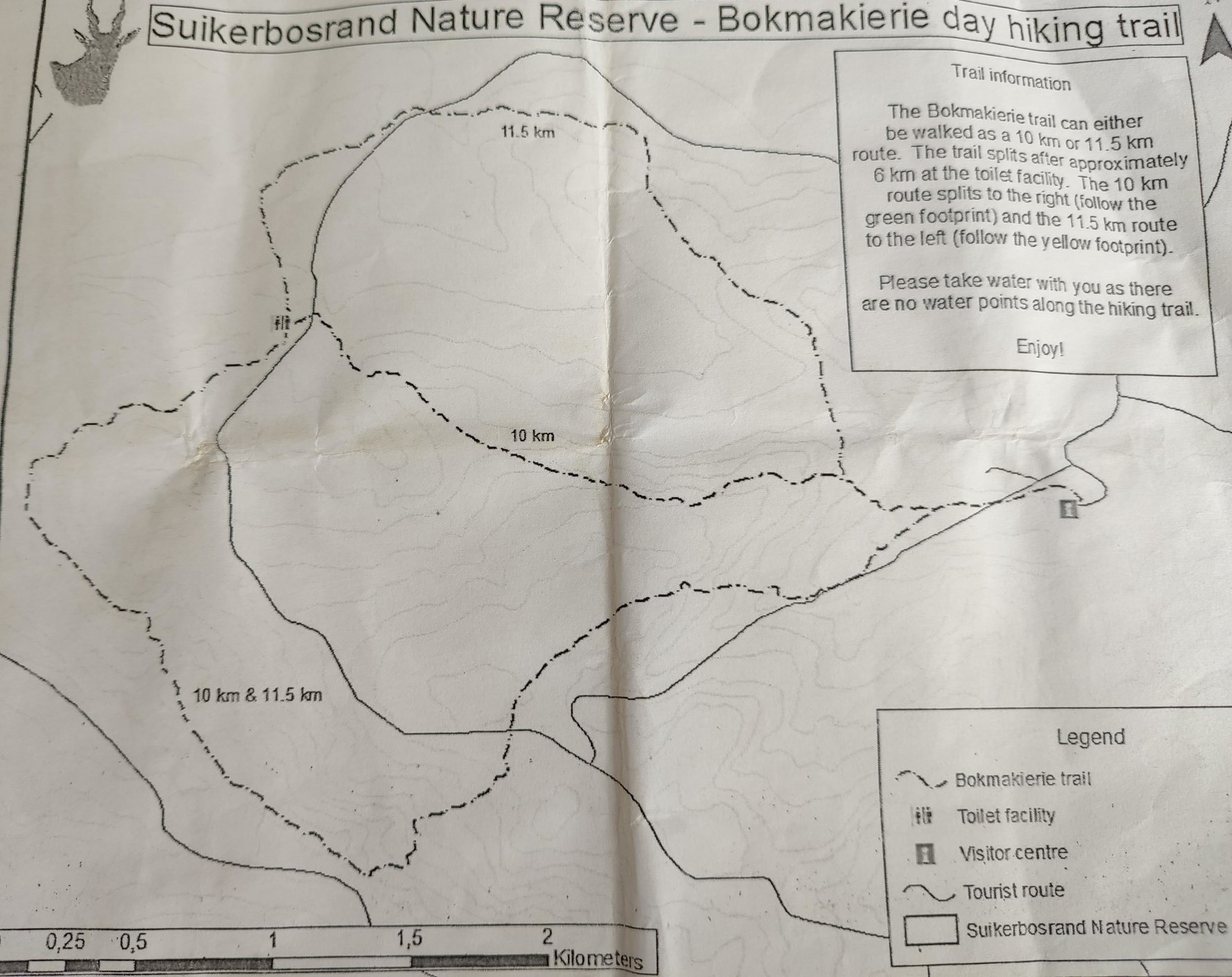 The trail begins by following a river up to the top of the ridge, where there's a great viewing point bench before you pass down again into the next valley. From here you then walk along through groves of sugarbush trees surrounded by views of the hills before reaching the markers where you can decide if you have the legs to do the longer loop (this is a good halfway stop if you've brought lunch with you).

Along the way keep your eyes and ears peeled for an abundance of birdlife – more than 270 species have been recorded within the reserve. We didn't spot any game during our hike (however their spoors were evident), although spottings of kudu, springbok and blesbok are not uncommon.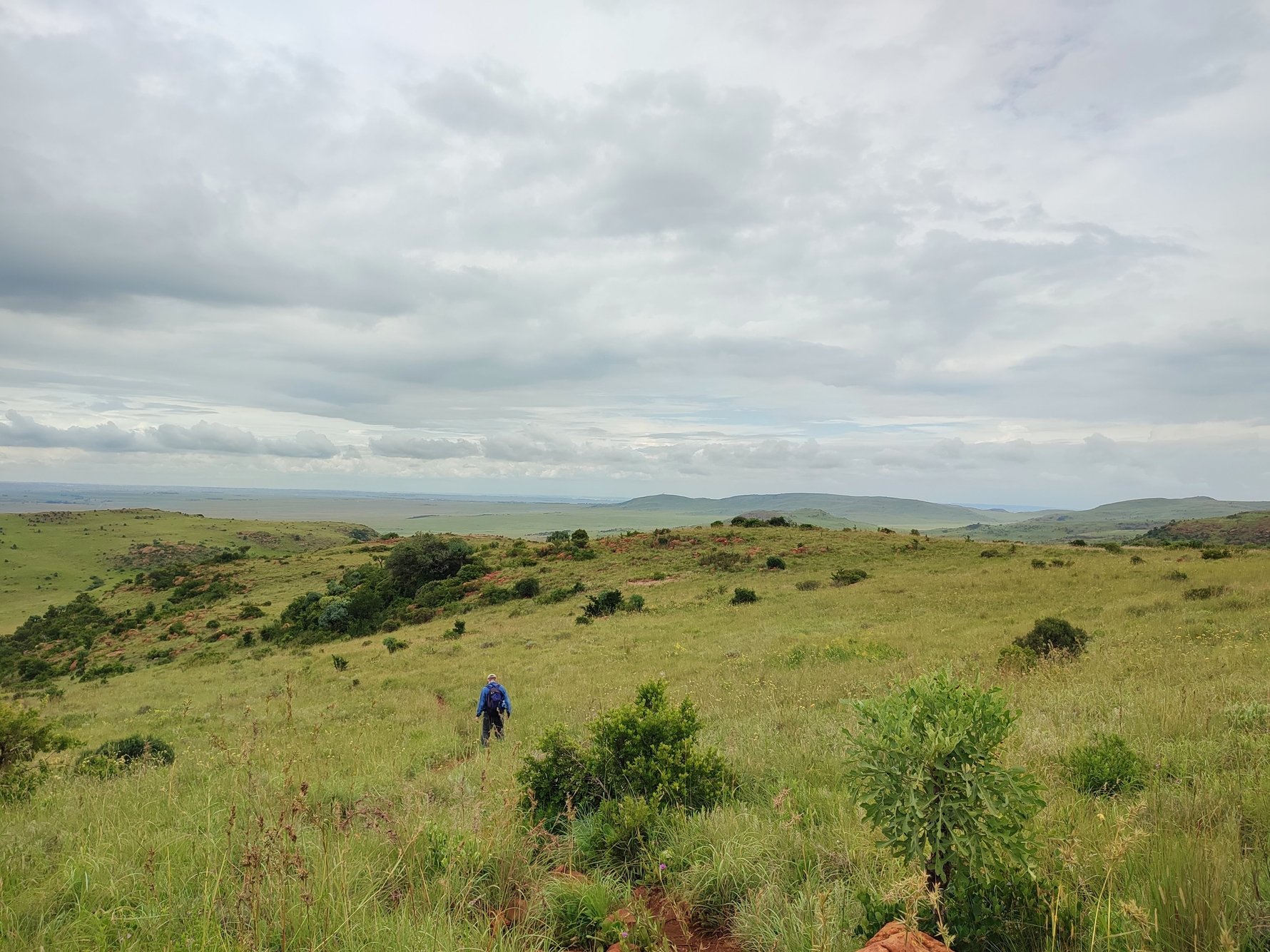 An ancient Tswana kingdom on the Suikerbosrand
In addition to its rich biodiversity, the Suikerbosrand is also an important area of archaeological research and investigations into the remnants of an ancient pre-colonial Tswana city discovered in the area are ongoing. 

You are unlikely to recognise the settlement as you hike, most of what remains lies beneath the ground. Scientists using laser technology (LiDAR) have begun to recreate what they think the city may have looked like before it was abandoned and subsumed by the veld. Information obtained from the LiDAR studies reveal a settlement that stretched as far as 10km in length with some 800 homesteads. Pottery, copper ornaments and tools continue to be uncovered providing intriguing insights into the history of a once-thriving pre-colonial settlement that was lost into the sands of time. Read more about this remarkable archaeological discovery here.
Overnight hikes
Suikerbosrand is one of only a few Gauteng nature reserves where it is possible to embark on an overnight hike. The remote hiking cottages are in operation, although as we only hiked the 10km trail we cannot vouch for their current condition. Those wishing to tackle an overnight hike should do so as a group. The hiking huts can accommodate groups of up to 10 and you should bring all your supplies with you.  There is a minimum charge of R240 to book the hut with each adult charged at an additional R50. Call +27 11 439 6300 or +27 79 439 0537 to enquire about the overnight huts.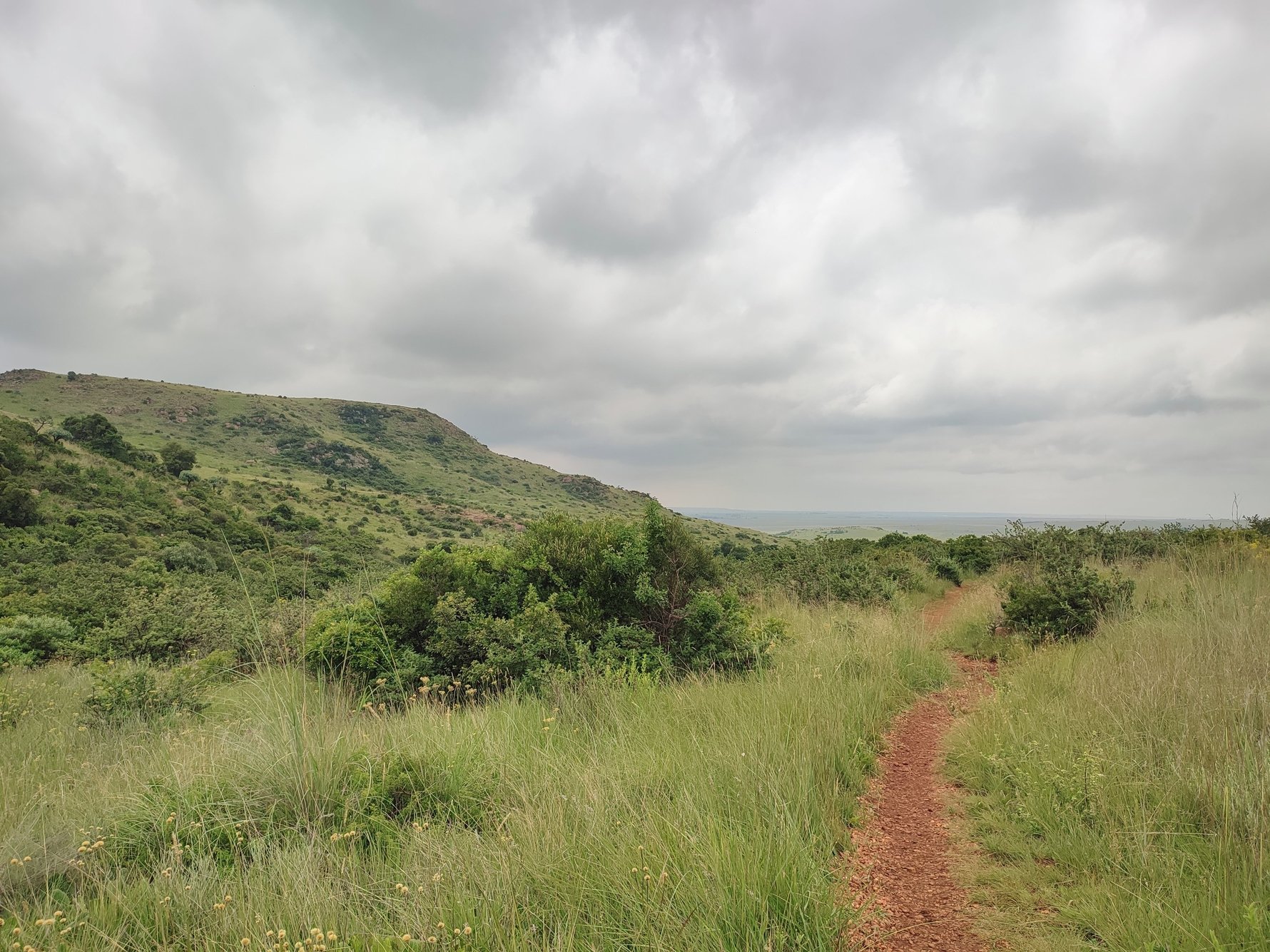 HIKING NEED TO KNOW: There is no need to book in advance, although before the rains in later winter / early spring we recommend checking if the reserve is open. To protect the reserve, controlled veld fires are usually carried out at this time. The hiking trails are only partially shaded and if it is a clear day we recommend setting out early to avoid the midday sun. There are no water points along the route so make sure to carry all your required water with you.

Bring along a plastic bag to pick up any stray rubbish you may find on route. Compared to most trails in Gauteng we found the trails at Suikerbosrand to be especially well kept and clear of rubbish and there were plenty of well-designed bins at various points to deposit any stray plastics.