Joburg is among the world's most treed cities, and within city limits there is no shortage of scenic green spaces to take a stroll. For long walks and hikes, take a short drive out of the city into the surrounding countryside where you can find private nature reserves crisscrossed by hiking trails that promise plenty of interesting fauna and flora and wonderful views, all within an easy day-tripping distance.

Over the years we've made it our mission to get out and hike Gauteng, and we always have our eyes and ears open for new trails to try out. Here's our comprehensive, tried and tested guide to Gauteng's hiking trails.

A NOTE ON PERMIT-HOLDER-ONLY HIKING AREAS: 
In this hiking guide we have focused on trails that do not require a permit to visit. There are several impressive hikes in the Magaliesberg area that can only be accessed by members of The Mountain Club of South Africa (MCSA), who have applied for the relevant permits. In some cases it may be possible to apply for a permit as a non-member or as the guest of a member. Hikes that can only be accessed with such permits include Castle Gorge, Cedarberg Kloof, Dome Pools, Grootkloof, Mhlabatini, Lower Tonquani, Upper Tonquani and Ysterhout Kloof. For more on joining the MCSA and applying to visit one of their Magaliesberg trails visit magaliesberg.mcsa.org.za

A 13km drive east of Cullinan in the scenic Muningi Gorge, where Adventure Zone Cullinan offers high-octane ziplining and abseiling activities, and also has three interesting hiking routes that plot their way up and down through the wooded gorge. There are three hikes to tackle: a 2km, 4.5km and 8km, each of which involves some moderate scrambling up and down over boulders as you make your way along the riverbed of this scenic gorge. The 8km route should take around three to four hours to complete, with some moderate uphills as you climb up a pass in the gorge before looping back around the top. For post-hike refreshments there's a small deck overlooking the dam at the top of the gorge serving drinks and snacks.
BOOKING: All activities, including hiking, should be booked online in advance at azcullinan.co.za
Open Mon – Sat, 8:00 – 17:00. Sun 8:00 – 15:00 (last activities go out at 15:00). Find them at 103 Oak Avenue, Cullinan or find out more here.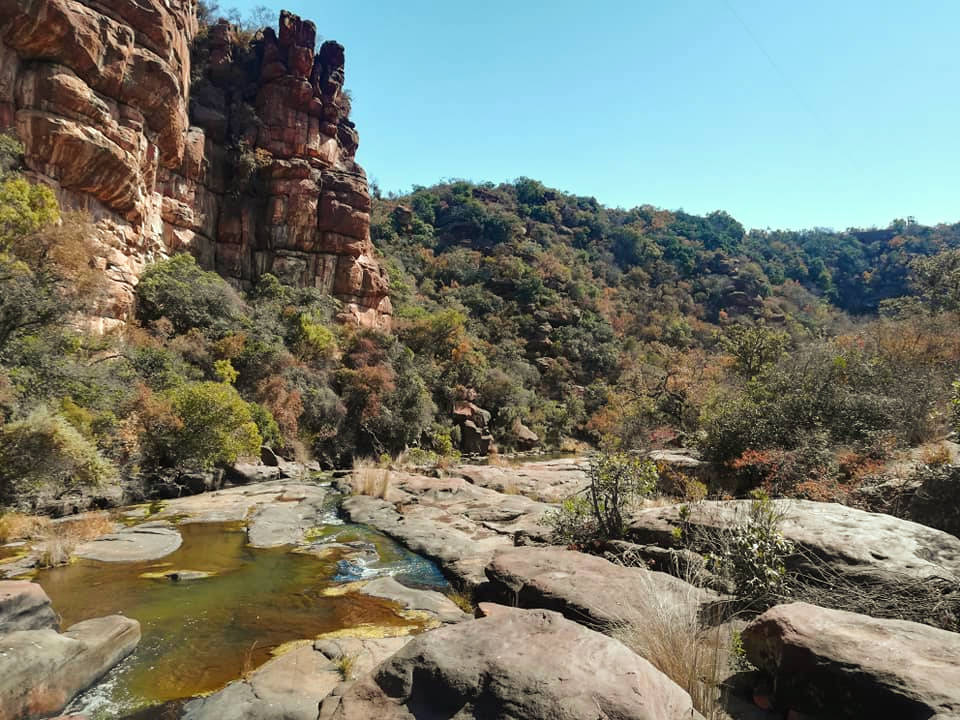 In 2020, the Adventure Zone company was invited by the Voortrekker Monument and Museum to develop new attractions in the reserve that would broaden the monument's appeal and make better use of the expansive nature reserve that surrounds it. The new hiking trails offer a choice of 3km, 5km or 8km routes. The trails scale the hill on which the Voortrekker Monument stands, before tracing a winding path through the grasslands below and heading up again to the steeper slope on the adjacent hill, up to the Schanskop Fort. Here, you'll find some of the best views of Pretoria. 
BOOKING: The hike should be booked in advance by phone so the team can know to expect you. Call +27 72 274 8259 to arrange your visit. You can pay the hiking fees (R80 p.p.) when you arrive.
Find it at the Voortrekker Monument, Eeufees Road, Groenkloof, Pretoria.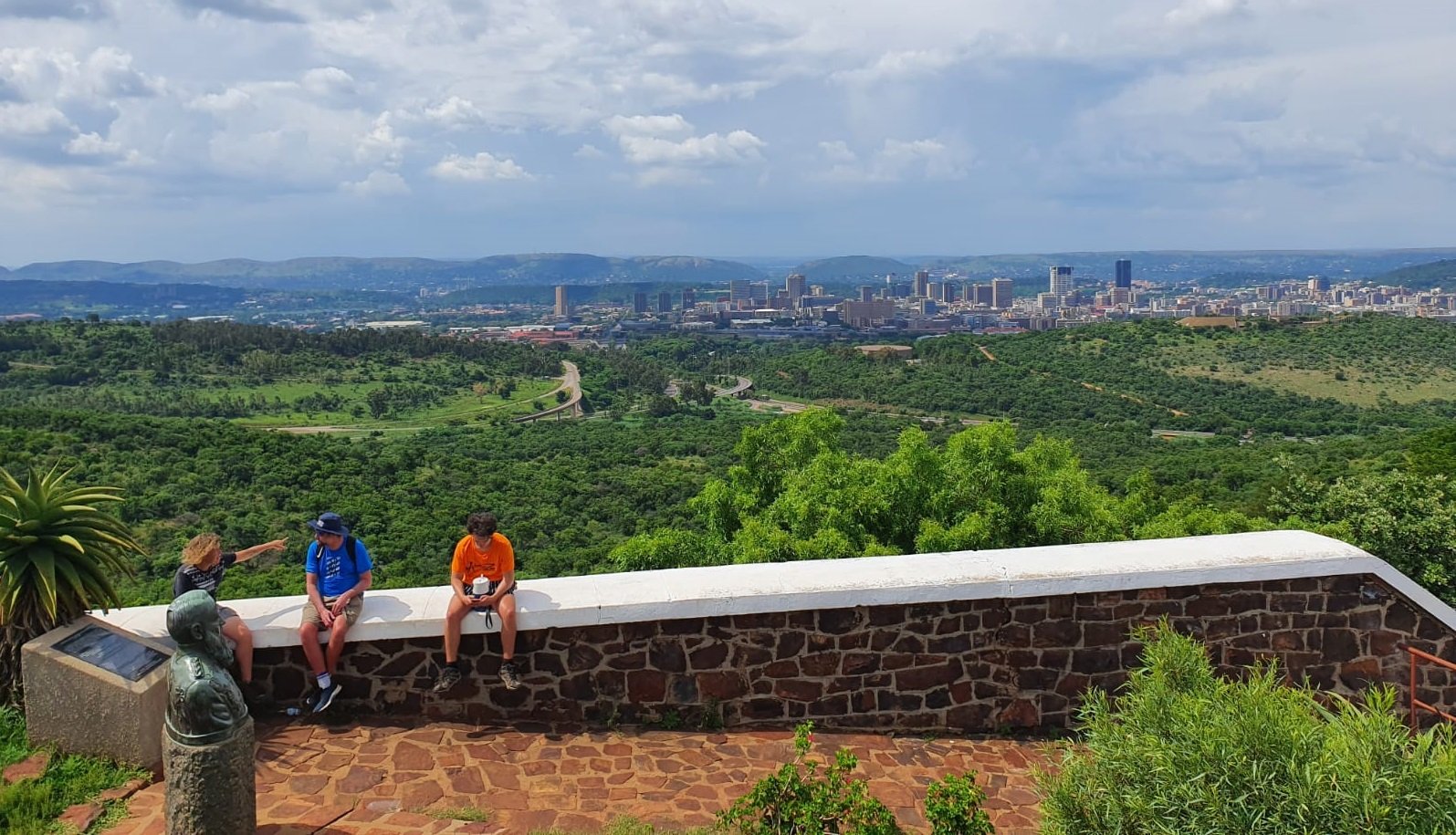 Just half-an-hour's drive from Sandton Central, this expansive lodge in the middle of a 160-hectare conservancy in the Cradle of Humankind is popular with mountain bikers, trail runners and open-water swimmers. Head to the activities centre next to the car park to pick up maps and pay for activities. For mountain bikers, trail runners and hikers looking for a gentle walk, there are over 30kms of trails crisscrossing the game reserve spread over three well-marked routes. For hikers, the best route is the easy-going 10km route which traces a path around the Cradle Moon Dam. There is abundant game including zebras, giraffes and springbok. The dam is also a short walk from the Cradle Moon reception, and it's a popular destination for open-water swimmers – albeit very cold in winter! Swimmers can follow the buoys to plot a 1km swimming route around the circumference of the dam.
BOOKING: There is no need to book in advance to enjoy Cradle Moon's cycling, running, hiking and swimming activities. There is an entrance (conservation) fee, plus an additional fee depending on the activities you want to do. Pay for all activities at the activities centre on arrival (you will need to show your proof of payment to exit afterwards). No pets or music, and no food, drinks, coolerboxes or alcohol is allowed to be brought onto the premises. But not to worry; there are two restaurants on site.
Find it at Plot 59, Beyers Naude Drive, Muldersdrift. Find out more here.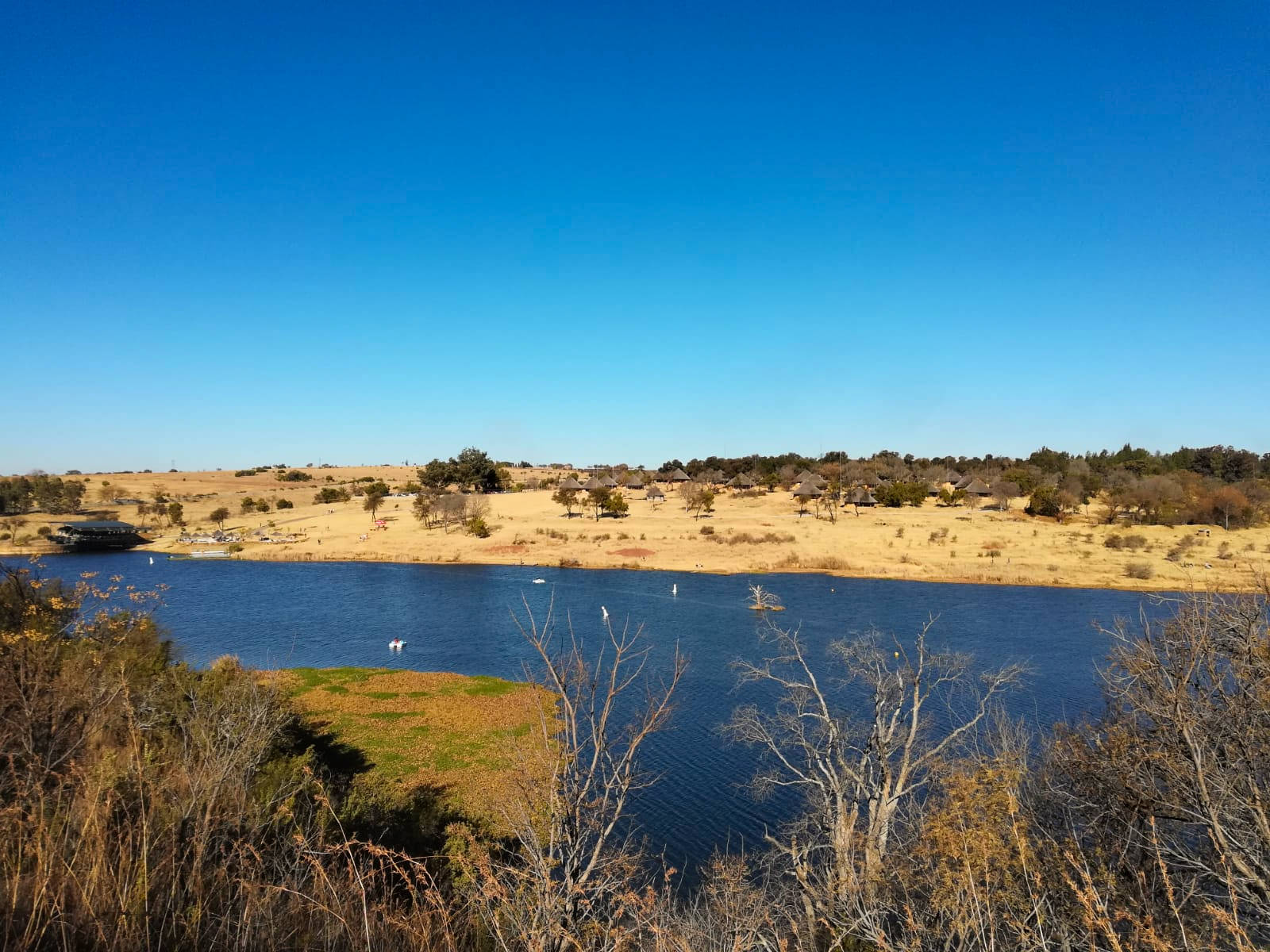 Bordering Hartbeespoort Dam, about a 30-minute drive from Pretoria, this hilly hiking reserve which hugs the rocky​ foothills of the Magaliesberg mountains, has an array of trails to suit all ages and fitness levels. Families will enjoy the 5km or 7km Kiepersol trail while a more difficult hike can be had on the 12.5km Ktatu Trail. 
BOOKING: The trails are open strictly by prior appointment only. Hikers and trail runners must book and pay for their visit in advance by email at reservations@dewildttrails.co.za or call +27 82 7779 326. All trails are pet-friendly except the Wild Dog and multi-day Brown Hyena trails; closed Mon.
Find it at R513 Yellow board no. 78E, Farm Schietfontein Portion 19, Schietfontein, De Wildt. Find out more here.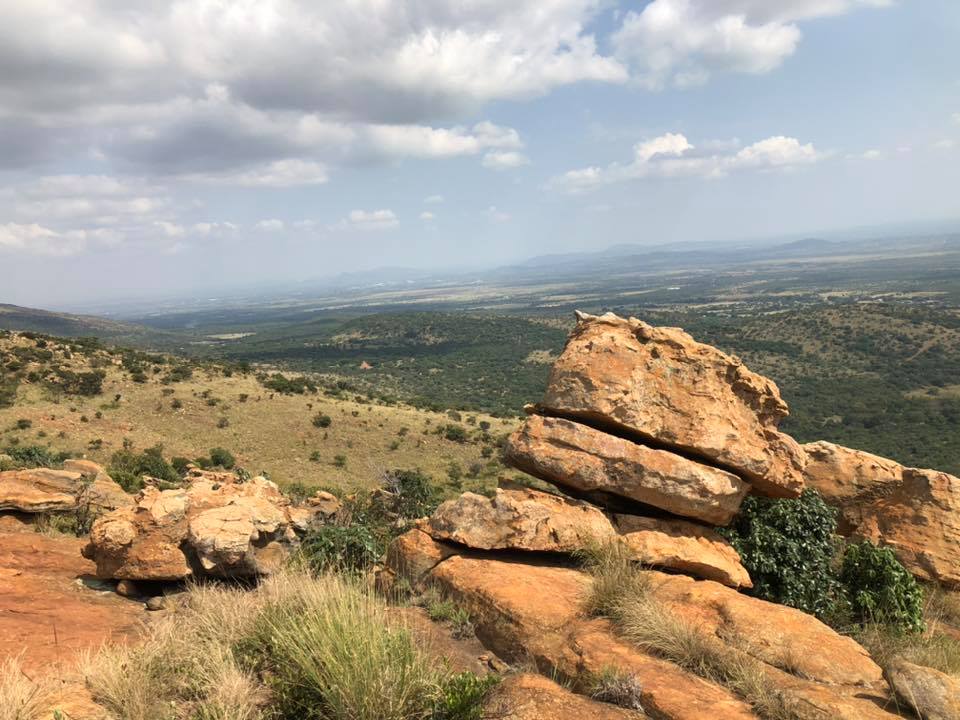 Not to be confused with the network of safari reserves in KwaZulu-Natal, this nature reserve near Bronkhorstspruit, east of Pretoria, offers mountain biking, hiking, game drives, fishing and bird watching. There is an abundance of interesting game to watch out for including zebras, wildebeest and red hartebeest, as well as fantastic birdlife. There are three different hiking trails to choose from which traverse a tree-lined river valley overlooked by rocky outcrops. The short Ochna trail (5km) treads a path through grasslands and up a small koppie, the Protea trail (14.6km) covers much grassland and a small, steep, rocky hill, while the 21km Burkea trail is a tough walk through grassland and over hills to the far side of the reserve and takes approximately five hours to complete. There is a shop on the reserve that stocks the basics.
BOOKING: The reserve is open for hiking, mountain biking and self-drive excursions. There are no specific routes for cyclists, but they can make use of any of the jeep tracks around the reserve. The reserve is open on Saturdays and Sundays and you must book your entrance permits in advance as only 50 entrance permits (one permit per car) will be issued per day. To book your visit email bookings@ezemvelo.co.za
Find it on the R493, Elandsfontein. Find out more here.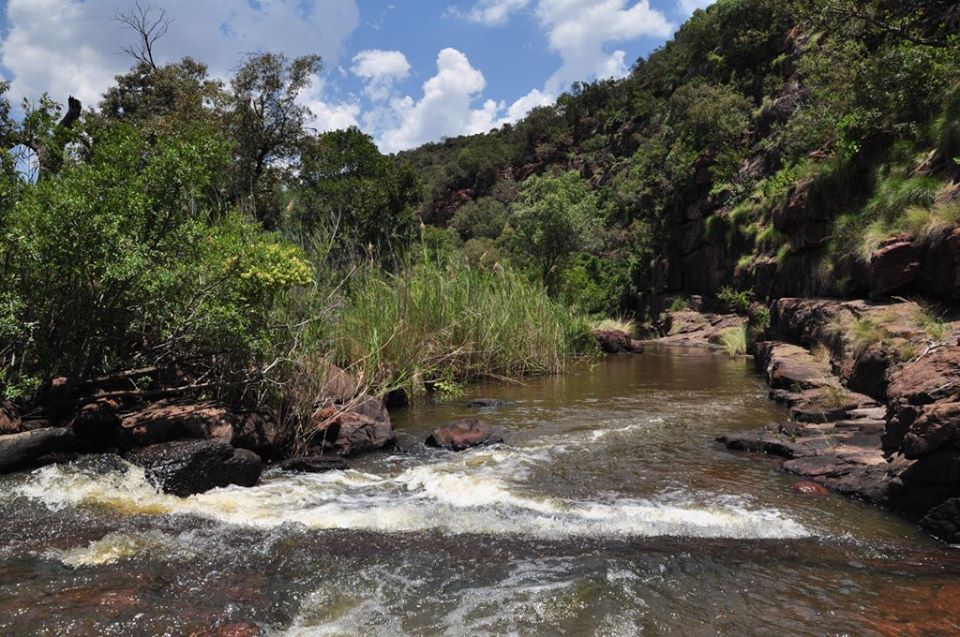 A 45-minute drive north of Joburg, but more than worth the journey. Choose from three circular hiking routes: the short 2km Dassie trail, the 5km Zebra route or the more challenging 10km Krokodilberg route (four to five hours for experienced hikers). All trails begin by crossing the Hennops River either by a suspension bridge or via a fun, old-fashioned 'cable car' which works by a pulley system. The trails then meander through the surrounding hills with good views of the nearby Magaliesberg mountains.
BOOKING: There is no need to book in advance to visit Hennops Hiking Trail. Note the last entrance to the trails is at 13:00. No pets or baby strollers allowed.  
Find the entrance off the R511 (10km south of the R105 junction). Find out more here.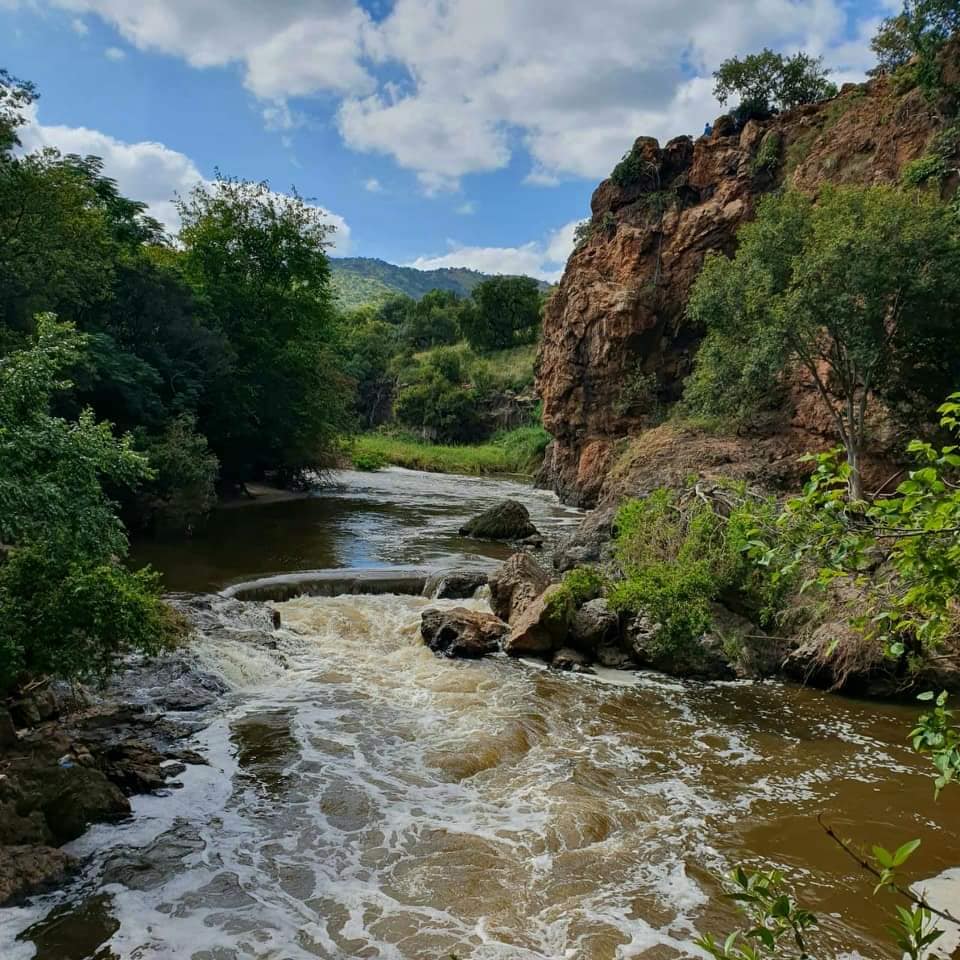 A 40-minute drive from Joburg, and a few kilometres outside of Krugersdorp, lies this picturesque farm with a range of trails meandering across the hills. The trails gently wind around the hills before swooping down to follow a river through a wooded valley towards a waterfall at the foot of the kloof. There are six well-marked and maintained trails to choose from. The most popular is the 7km Yellow route which should take you around 75 minutes to complete. Note that these trails are designed with trail running in mind, so they feature a lot of loops that you might find quite annoying. Unless you are on a mission to clock up your steps you might want to consider 'chicken running' some of the more boring loops.
BOOKING: Open San, Sun and public holidays from 6am. No prior booking is required although it can get busy, so arrive as early as you can. Kids Grade R and under enter for free. Waters and energy drinks/snacks are allowed on trails but no other food or beverage is allowed – these are available from the restaurant and take-away section. No private picnics allowed (picnic spots can be pre-arranged and baskets paid for upfront). No pets allowed. Find out more here.
Find the entrance along the N14 (extension of Hendrik Potigieter, Muldersdrift).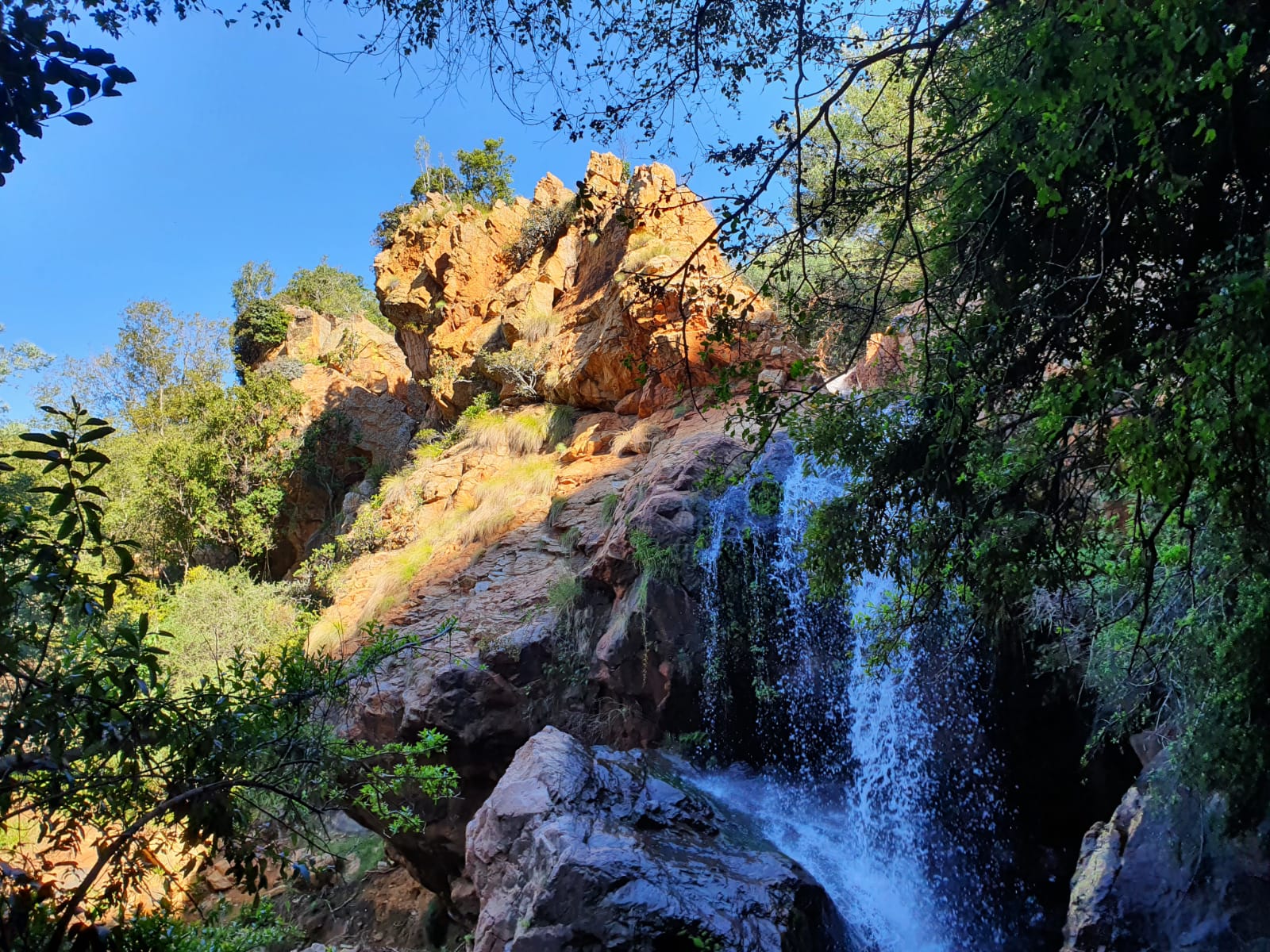 This extensive nature reserve covers more than 600 hectares and is a popular city escape in south Joburg. Blesbok, zebra and other game roam the hillsides of the 'rock river mountain' and there are various signposted hiking trails ranging from 3km to 9km. The circular 8km Dassie trail starts at the Silent Pools entrance and winds its way to the top of the hill, or take the slightly shorter and flatter Bloubos trail that follows the river. Neighbouring the reserve is Thaba Trails (101 Kliprivier Drive, Mulbarton), a dedicated mountain biking area that opens on weekends with a 6km, 15km or 30km biking trail to choose from.
BOOKINGS: This is a public nature reserve and no prior booking is required and there's no entrance fee. Arrive as early as you can. Open from sunrise to sunset seven days a week (but just make sure you're out of the reserve by the closing time on the gate). No pets or bicycles allowed. There is a braai and picnic area at the reserve's entrance (but you'll need your own braai set-up).  
Use the entrance directly opposite 129 Peggy Vera Road, Kibler Park. Find out more here.
A nature reserve and heritage site, the Melville Koppies boast archaeological remains of Stone Age and Iron Age settlements, and great views over the city centre skyline. The best way to visit is on one of the Sunday morning guided hikes (90 minutes and longer), which alternate between a 4km guided walk and a more challenging 10km hike and take in the area's unique fauna and geology.
BOOKINGS: Melville Koppies Central opens on Sunday mornings for walkers and hikers, entrance is strictly from 08:00 sharp and you must have left the reserve by 11:30 (the gates will be locked). Email wendavid@mweb.co.za  or call +27 79 532 0083 to book your place on a guided hike (R100 p.p). Or enjoy a 5km self-hike (R50 p.p; R50 for under 18s); pay on the day at the reception hut. No pets, braais, picnicking or bikes allowed. Secure, free parking can be found opposite the Koppies' entrance at Marks Park Sports Club in Judith Road, Emmarentia. 
Find it at the corner Judith and Orange roads, Emmarentia. Find out more here.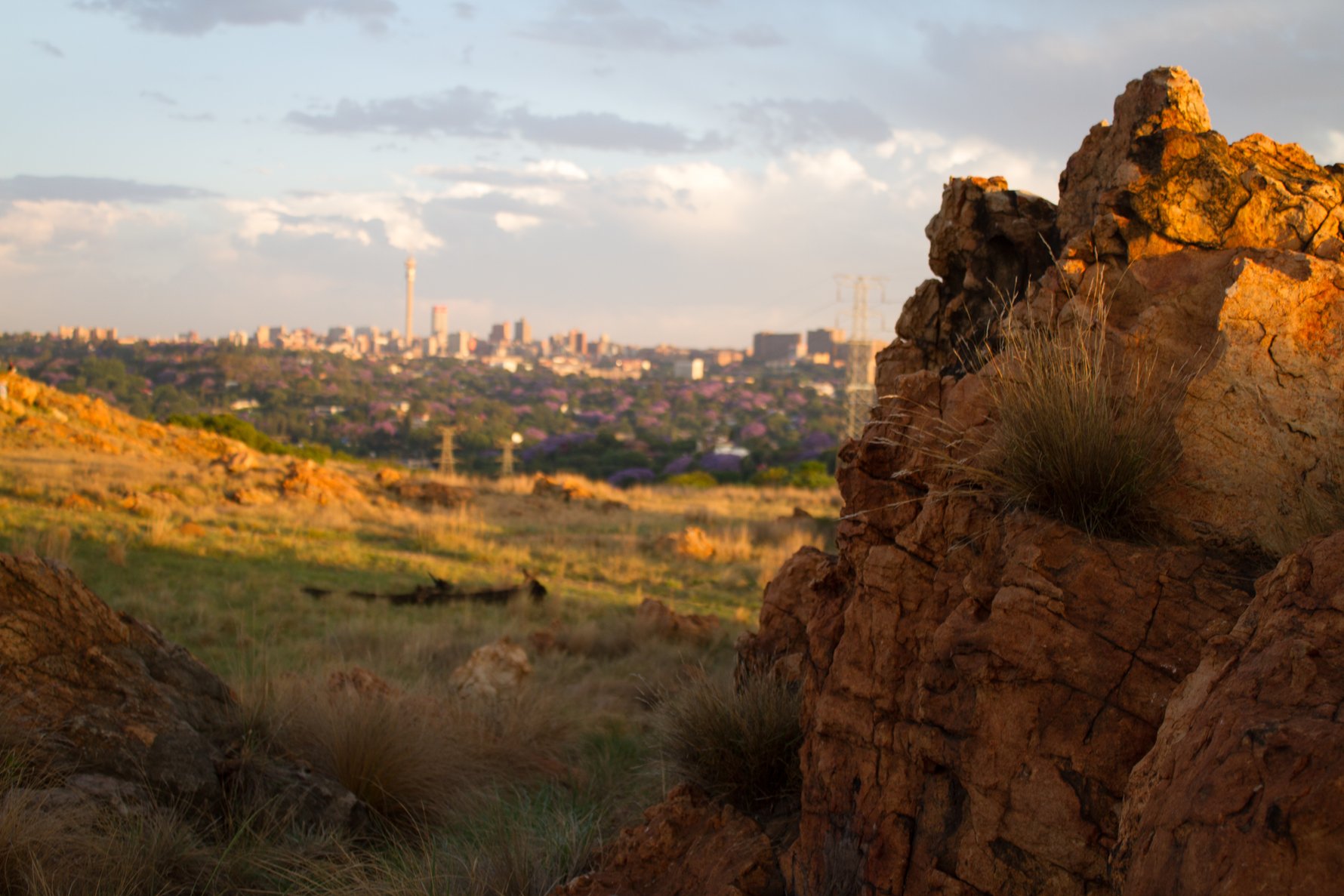 This peaceful, privately managed 275-hectare reserve is crisscrossed by relatively flat hiking and cycling trails that are well-maintained. There are specially designed mountain biking routes ranging from 10km to 40km (as well as a kiddies' and pump track) and non-technical hiking trails of varying distances that skirt around the reserve's wetland areas.
BOOKINGS: All hiking and cycling trails are open daily and the Fourways Farmers Market takes place here over the weekends (there's an additional entrance fee for the market of R10 p.p). There is no need to book although the reserve may close to extra visitors if it gets too full, so we recommend getting there early. The entrance fee varies depending on the activity you want to do. You can also picnic at Dam 3 (it has braai facilities but limited capacity) for an additional fee. Fishing is allowed at Dam 3 but a daily permit must be bought (strictly catch and release). Strictly no pets allowed in the reserve, but socialised, leashed dogs are allowed at the market. The Toroko Trail Park, located on the reserve, is open Mon – Sun, 6:00 – 18:00.  
Entrance on Arden Rd (off Ardeer Road) in Modderfontein, or at Taroko Trail Park, Norfolk Lane, Klipfontein. Find out more here.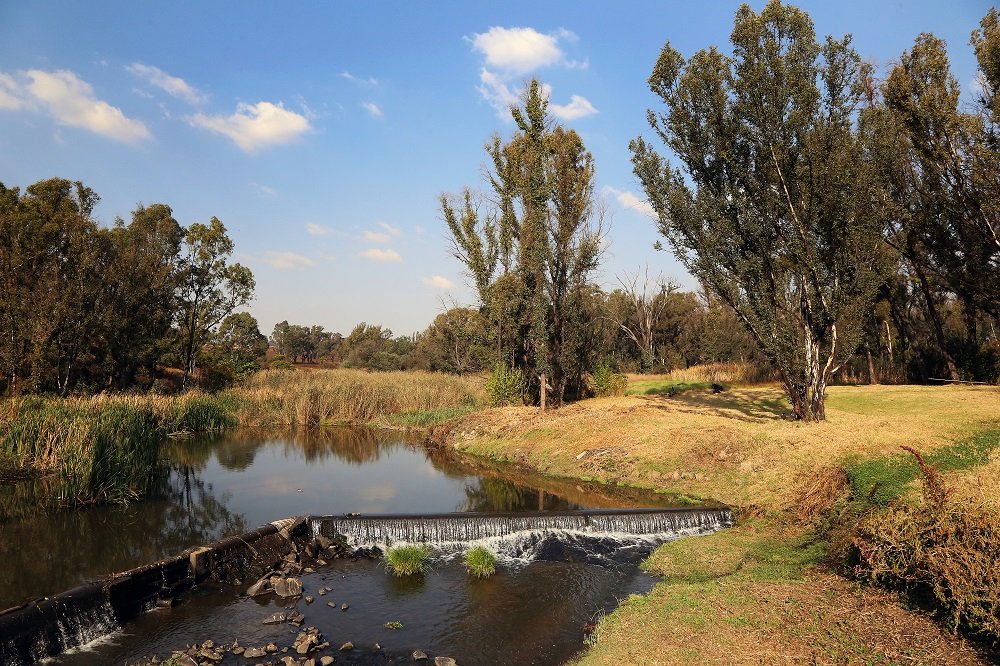 This historic family farm sits right below the craggy foothills of the Magaliesberg mountain range. It's popular with day visitors who come to hike the Rustig trails which climb their way up the crags to offer spectacular views across northern Gauteng. There's a choice of easier trails ranging from 3km to 5km, and a more challenging full-day 13km trail which will take your right up to the top of the mountain. The trails pass through various terrain taking in grasslands, cave entrances and rocky outcrops with rewarding views down into the valley below. 
BOOKINGS: Advanced booking is required to ensure a safe number of hikers on the trails. You must book your hike beforehand online via the Rustig website. No pets allowed. Cashless venue. 
Find it at Portian 91, Plaas Hartebeesfontein, Hekpoort.
Spread across the lower slopes of the foothills of the Magaliesberg, this large game farm also offers 4x4 trails. The full 12km hike is occasionally closed in hunting season (if it is closed you will only manage a 6km loop). The trail starts by meandering through farmland (look out for the albino wildebeest) before making a steep incline up a winding, rocky path quickly revealing sweeping views. At the top there is a small dam (dubbed 'Camp's Bay') with a rope swing if you fancy a dip in summer. This is one of the few hiking trails that allows you to bring dogs (they must be on a lead) and there are braai facilities, plus a tuckshop on site.
BOOKING: The trails are open daily from 07:00 to 17:00 and there is no need to book in advance. It is worth calling ahead to check if hunting will be taking place on the day you plan to visit. R70 for adults, R30 for children. Hiking is cash only.
Sable Ranch, on the R96 just before Hekpoort. Find out more here.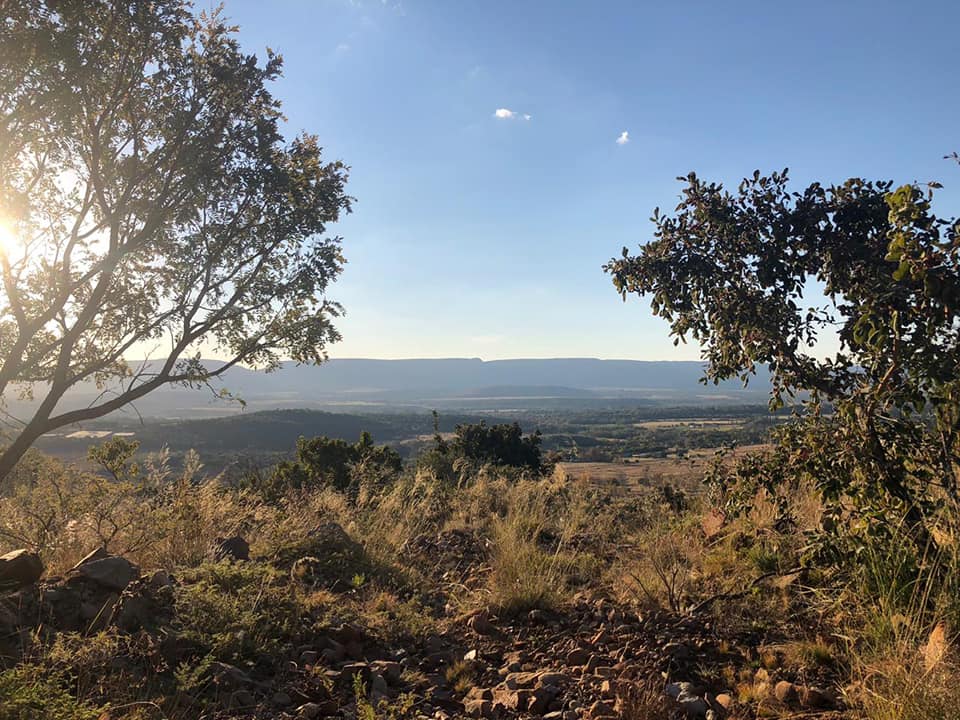 On the southern border of Gauteng, this vast 19,000-hectare nature reserve is also an important area of archaeological research with the remnants of an ancient, pre-colonial Tswana city discovered in the area in 2018. Named after the sugarbush (suikerbos), the reserve hosts meandering hiking trails that snake over the Suikerbosrand mountain range as well as a 60km tarred self-drive/cycling route that traverses the rolling hills, taking in several dams and bird hides. Day hikers can choose from the 11.5km Bokmakiere trail, the easy 3.7km Cheetah trail, or the visually impaired/wheelchair-accessible 700m Toktokkie trail. The reserve is also popular for its overnight and multiple- day hiking trails which make use of remote hikers' cottages scattered throughout the reserve.
BOOKING: Overnight trails should be tackled in a group (maximum 10 hikers) and will need to be arranged in advance with the reserve. No cash accepted. Open daily 07:00 – 16:00 (from 06:00 on weekends, although this is on a trial basis). R45p.p entrance fee (R35 for pensioners and kids between three and 11), additional R35 per car (increases depending on size of vehicle).
Find it on Heidelberg Road, R550 off the N3, Nigel. Find out more here.
Tswaing Meteorite Crater
At 1.8km wide, the Tswaing Meteorite Crater, north of Pretoria, was formed more than 200,000 years ago when a meteor smashed into the earth. At the centre of the crater is a small lake; from the parking entrance a 7.5km trail will take you to the crater rim and down to the edge of the lake and back up again. Open daily from 07:30 to 16:00; weekends 06:00 to 14:00. Self- and guided tours on offer, with various admission fees, as well as a garden and braai area.
Find it on Soutpan Road (M35), Soshanguve. Find out more here.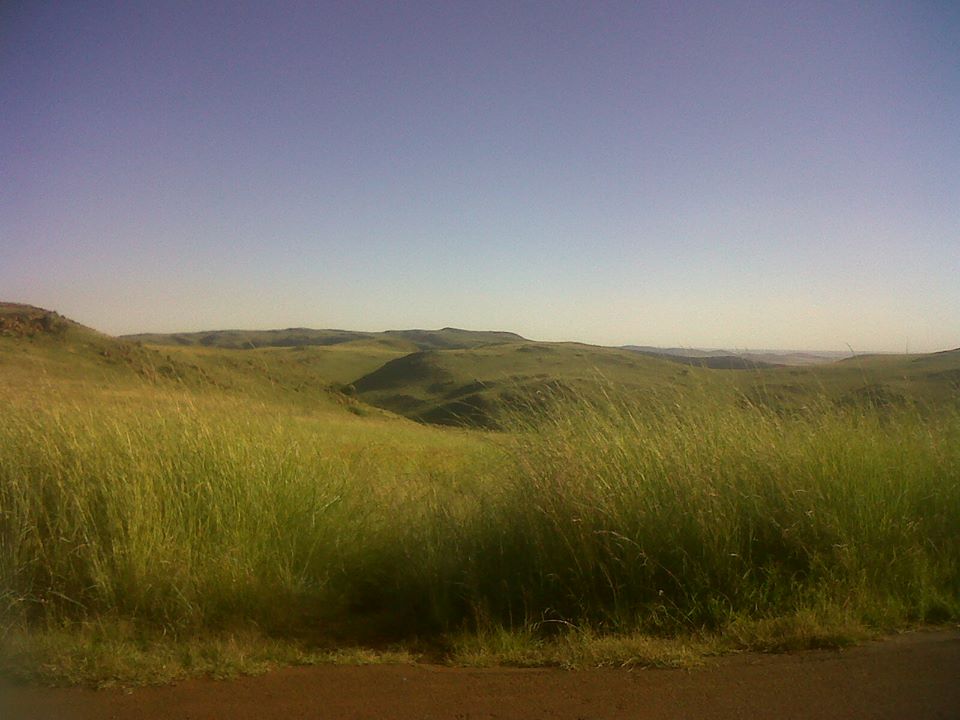 One of Joburg's most beautiful and well-maintained parks, head here for a wide variety of unusual flora, excellent birdwatching (look out for the pair of Verreaux's eagles), a waterfall and other natural delights. There are various easy walking routes which wind their way through the gardens, the longest of which is a 3.5km nature trail that takes you to the top of the Witpoortjie waterfall.
BOOKINGS: The Walter Sisulu Botanical Garden is managed by the South African National Biodiversity Institute (SANBI). There is no need to book in advance to visit the gardens but there is an entrance fee. No cash accepted. Open daily 08:00 – 17:00. No pets allowed. 
Find it at the end of Malcolm Road, Poortview, Roodepoort. Find out more here.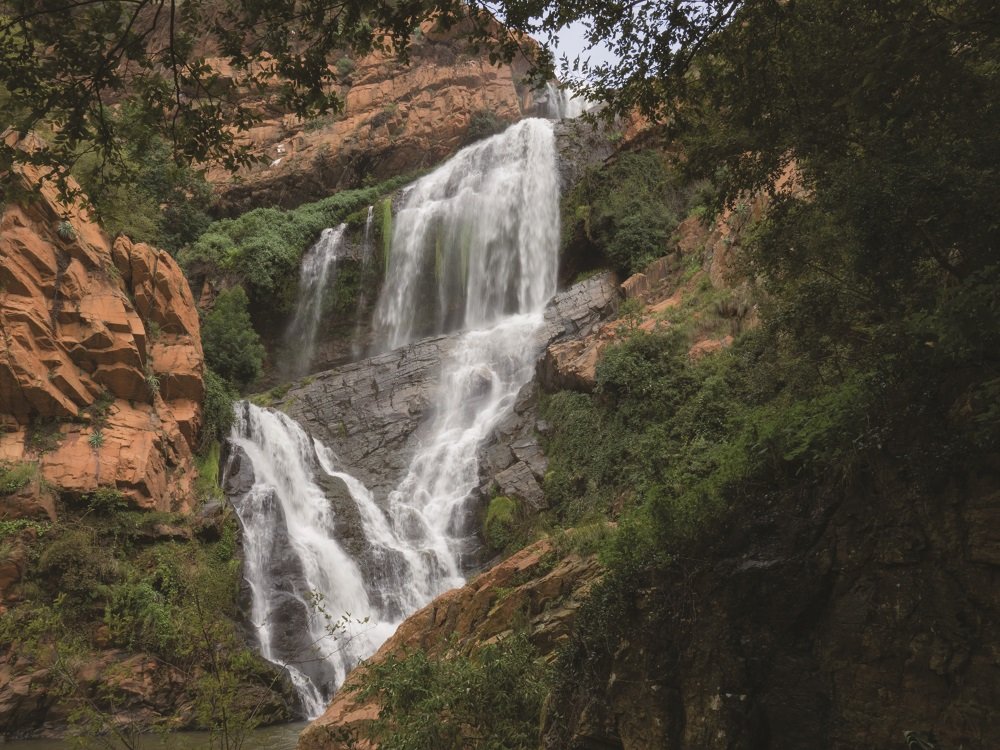 Windy Brow Game Reserve Adventure Trails
There are three designated walking and trail running routes to choose from: the 4.5km Archaeology route, 3.3km Geology route and the 5km Ecology route, all of which trace an easy-going path through the gently rolling hills of this game reserve on the outskirts of Cullinan, east of Pretoria. The views across the plains towards Pretoria, the diamond mine and the distant Magaliesberg mountains are perhaps not as impressive as at other reserves, but the abundant game, including giraffes and zebras, more than make up for it. 
Bookings: Open Sat and Sun from 07:00 (no need to book in advance). You can also visit during the week by prior arrangement. No pets allowed. 
Windy Brow Nature Reserve, Portion 2 Elandsfontein No 85, Cullinan. Find out more here.

If you are a keen hiker and want to know more about hiking Gauteng, read our interview with Tanya Pembroke.