What inspires a collector? How does art add value to everyday life at home? And what's it like to be in the auction room bidding for a piece live? 

Ahead of the landmark North / South live virtual auction by Strauss & Co, happening online from November 8 to 11, in our new Art of Collecting series we talk to local collectors about what it is like to buy an artwork at auction and what it is about the artwork they pursued that has such special personal value.

This week Cape Town based lawyer Hoosein Mahomed shares the experience of buying one of his favourite artworks at auction.

Tell us about yourself and when you started collecting art
I have a huge interest in the arts. I have collected contemporary art for a long time. The works I collect and the art community that I engage with add incredible complexity and beauty to my life.

I have filled my entire life with art. It actually follows me everywhere, into every room, every space, every moment. It is probably what I think about most often. I am constantly on the lookout for new and interesting artists and art works. I like what I like and I am relentless in my personal pursuit of artistic pleasure.

I started collecting contemporary art because I am interested in various art forms and mediums of expression. Art remains at the forefront of culture and global connectedness. I wanted to continue having conversations that were beyond the ordinary.

Tell us the story of the item you bought on a Strauss & Co auction
I have been interested in Guna Massyn for a long time. He was the young lover of Alexis Preller. When Alexis died on the 13 December 1965 at the age of 64, he would leave everything to his soulmate Guna. A heartbroken Guna would die tragically in a fatal car accident that same December at the age of 25. Some historians say it may have been suicide.

They are buried side by side at Dombeya in Hartbeespoort. I decided to buy this work because it feels inspiring and beautiful and naïve, and it's mostly about love.

This artwork, The Race by Guna Massyn, was on a live auction in Houghton, Johannesburg. I recall seeing the work and being amazed at how large and colourful it was. I was only interested in this particular work.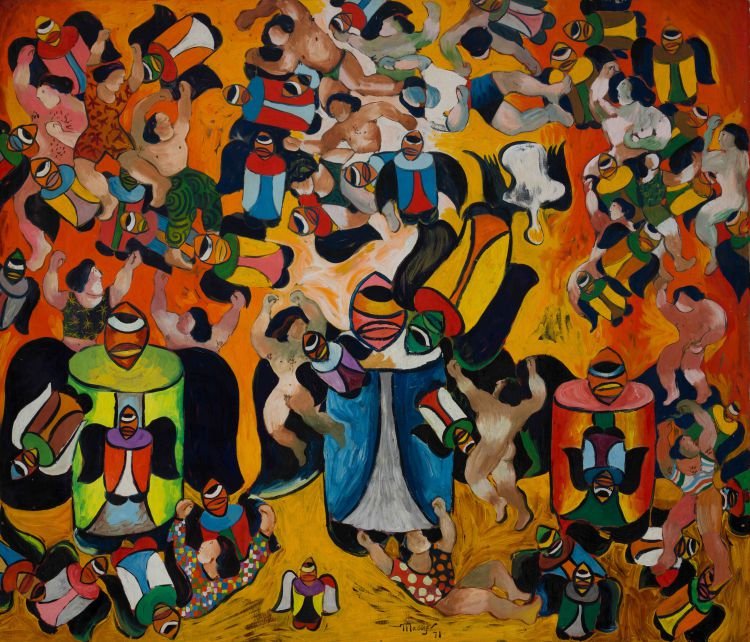 Did the auction unfold as you planned it?
There were not really many bidders for this particular work. I bought it not long after Nelson Makamo appeared on Time magazine's cover so at this particular auction I recall seeing a huge frenzy around the Makamo lots.

What does this artwork mean to you today?
It means that I constantly get to share the story of Guna Massyn with everyone who sees the work. It continues to remind me that love knows no age, that love is spacious, that love is love.

What tips can you share on buying on auction?
Always investigate the work you are buying properly to avoid disappointment. Ask for certificates of authenticity and get feedback on provenance etc. Don't overpay because in some instances, you can actually call the artist's primary gallery and get recent and better works at much better prices. If works go unsold on auction, call the auction house the following day and make an offer on the work, you may get it at a very discounted price.

If the auction is online, I do not bid until the last day. I usually watch the movement on the auction voyeuristically and with great interest. I am definitely enjoying the online nature of the auctions since lockdown much more. The auctions no longer feel like a sprint, they are more like a marathon now.

The auction market is a very important part of the art ecosystem. Artists that have solid secondary market sales create buyer confidence. But when all is said and done, buy what you like. Life is too short to be surrounded by unhappiness.

*Make sure to check out (D)REA Projects on the FNB Joburg Art Fair's digital platform opening on the 6 November 2020. Hoosein Mohamed's project space will be showcasing "inimitable and intimate work by the artist Goldendean. We will show new works by Goldendean as well as an incredible augmented reality experience by them." 

Follow Hoosein's contemporary art focused Instagram page at @hoosein_insta and follow artist Goldendean on Instagram at @goldendean_art.