Gerald Garner is a Johannesburg tourism pioneer and city activist, who, for the past decade has headed up one of Johannesburg's most popular inner-city walking tour companies, JoburgPlaces.

Garner has also been involved in projects to develop and re-imagine interesting, and formerly neglected, heritage spaces. His vision has created new life for historic downtown Joburg buildings such as 1 Fox Precinct, the One Eloff building and now the Thunder Walker at the Edwardian-era Somerset House arcade on Gandhi Square. None of this has been without a fight, as Joburg is a city mired in bureaucracy and often dulled leadership. A place where official neglect is at constant odds with hopes and dreams for change. It's part of Joburg's charm, that constant friction, and sense of possibility. 

Johannesburg 2020 & Ahead is Garner's latest book, following on from books detailing Joburg's unique attractions including JoburgPlaces, Sandton Places and Johannesburg Ten Ahead. However, this is the first time in which Garner truly lays his own cards on the table, looking back at the city's most recent history and using his own experiences of living in, working in and exploring the inner-city as a unique vantage point from which to offer suggestions about how the city can be made better in the future. And by better he means more equitable. 

What starts out as a personal look at the most recent history of urban development in Johannesburg (including an honest and personal look of the current status of lockdown as it was at the time of publishing), then moves on to become a very detailed manifesto of interesting and often unusual ideas for how to redevelop and grow the city in more sustainable ways in the future.

Most readers will find it difficult to agree with all of Garner's suggestions for urban improvement and may find personal points of disagreement in his views on the public vs private management of urban spaces. However, his solutions to issues such as waste management, street lighting and public transportation are easy to support.

Garner's imagination and ability to think on a grand scale is inspiring and fun to consider, although those without a familiarity with the geography of the inner-city might struggle to follow some of his proposals.

Imagine if parts of the railway tracks that slice through the centre of Joburg could be transformed into a green belt? What about transforming the headquarters of the vacant AngloAmerican building into an education campus? Could the PRASA rail tracks be revived with a 'shuttle' service that runs up and down between Braamfontein and Maboneng?

The book ends by summing up Garner's eleven-point manifesto for making the city a fairer and more sustainable city of the future, a city that is better suited to South Africa's growing young population.

It's a positive end to a book that is filled with the study of complicated urban issues that are unique to Johannesburg.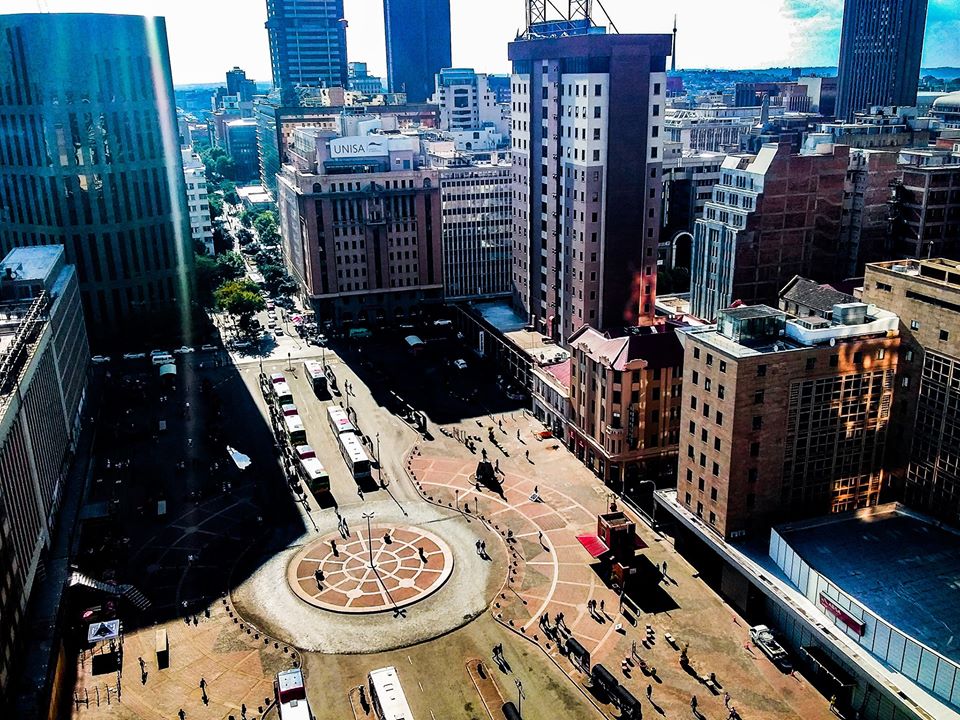 There are lots of ideas in Johannesburg 2020 & Ahead that we would like to see politicians and policymakers stand behind; such as prioritising the maintenance of public space, making the redevelopment of commercial property into residential more sustainable, and ensuring that as the city grows space is allocated for green areas and other essential amenities like schools and clinics. Whether the city's decision-makers are able to use this unique moment in history to usher in a much more innovative vision for Joburg's urban redevelopment is anyone's guess.

As an ebook this is a long and sometimes challenging read, more of a draft than a polished work, although we are sure that as times allows the future print version will make better use of the book's abundant photography of the city. Allowance must be made for the fact that it was written in a frenzy during what must be one of the most extraordinary eras - that of the defining period of COVID-19, and in particular South Africa's extreme lockdown which started in March 2020. 

Gerald Garner has witnessed first-hand and has born the costs of the total shutdown of tourism and hospitality business in Johannesburg over this period, and it is only now in August 2020 that tourism businesses have been allowed to restart for local travellers.  

Viewed as a unique product of this moment that we are living through, the book makes a great addition to telling the Joburg story.

Leaving his personal opinions aside, Garner has brought together an important record of the last decade of Joburg's development, outlining the challenges, successes and setbacks that have befallen Johannesburg, matching them with important facts and statistics. This is a worthwhile read for those interested in what has shaped contemporary Johannesburg and what might shape its future.  

Order a copy of the ebook Johannesburg 2020 & Ahead online at joburgplaces.com. The book will be available as a hard copy in November 2020.