Have you ever dreamed of your own gin label? Well, we found the place for you to start. At the Indaba Hotel, Conference Centre & Spa located in Fourways you'll find Joburg's Inverroche Gin School, offering a two-hour gin-making experience that takes you from start to finish in crafting your own gin. We went along for an evening and found it to be a really fun distraction, filled with delicious G&T's and plenty of new ginspeak to impress any bartender worth their salt (recommended for couples, friends or teams).
 
First developed by mediaeval monks in Holland as a medicinal tonic, gin has gone through some serious evolution over the past millennium. The spirit became most infamous in 18th Century England when the often toxic concoction known as 'mother's ruin' became the drunk's drink of choice, before gaining a somewhat misplaced notoriety among colonialists for deterring mosquitos.

In the 20th Century this complex juniper-based spirit somehow fell out of fashion, before suddenly in the 21st Century undergoing a major global revival, led by inventive craft distillers who reclaimed the drink and began tinkering with the various botanicals that make different gins so distinctive.

Today craft gin is everywhere and South Africa has literally dozens of independent craft gin labels. Among the most pioneering is Inverroche, launched in 2012 in the village of Stilbaai in the Cape by Lorna Scott. Now sold in 15 countries worldwide, it is one of South Africa's most famous craft gin brands, and the first to establish the use of indigenous Fynbos (of which botanists have recorded more than 9,000 different varieties) as its key botanicals.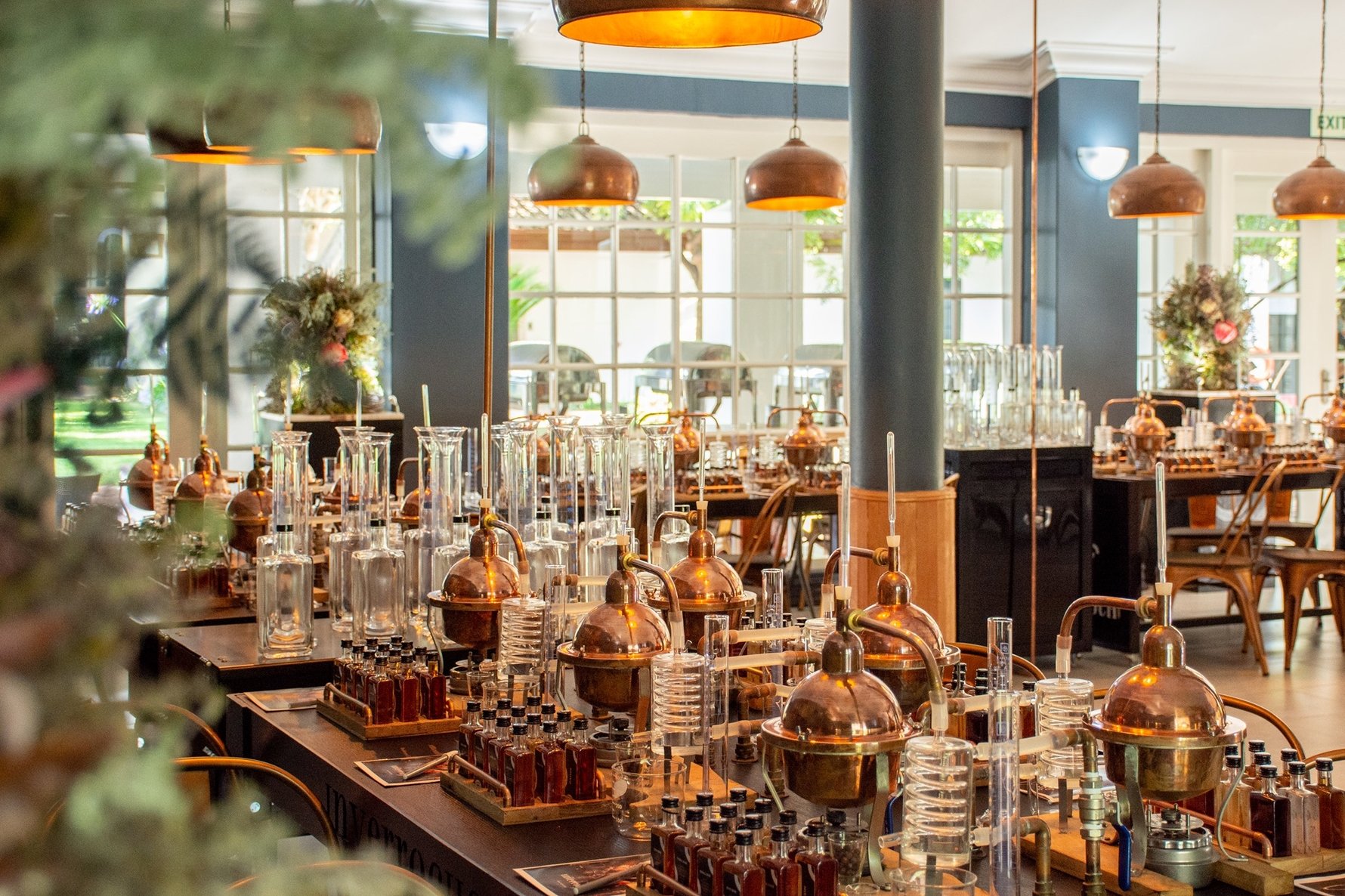 When you visit the Inverroche Gin School, based at the sprawling Indaba Hotel in Fourways, you will find it's this word 'botanicals' that comes up a lot. Alongside other lingo like 'heads', 'stills', 'foreshot' and 'compounds'. Not to mention the various new herbs and spices, such as cancerbush and kooigoed, that will cross your palate as you learn the alchemy of gin distilling.

Your two-hour lesson on becoming a master distiller begins with a journey back in time to meet those old Dutch monks with their barrels of juniper dodging the plague. Of course nothing ever could ward off the Black Death, but you'll learn juniper, the essential base ingredient of gin, certainly does have lots of other useful qualities. As do the many other miraculous herbs beautifully displayed in the sensorium at the centre of the schoolroom that your teacher will talk you through. We tried to keep up on our recipe notebook, but choosing what botanicals you are going to pour into your gin concoction like a wizard at Hogwarts is half the fun of the experience.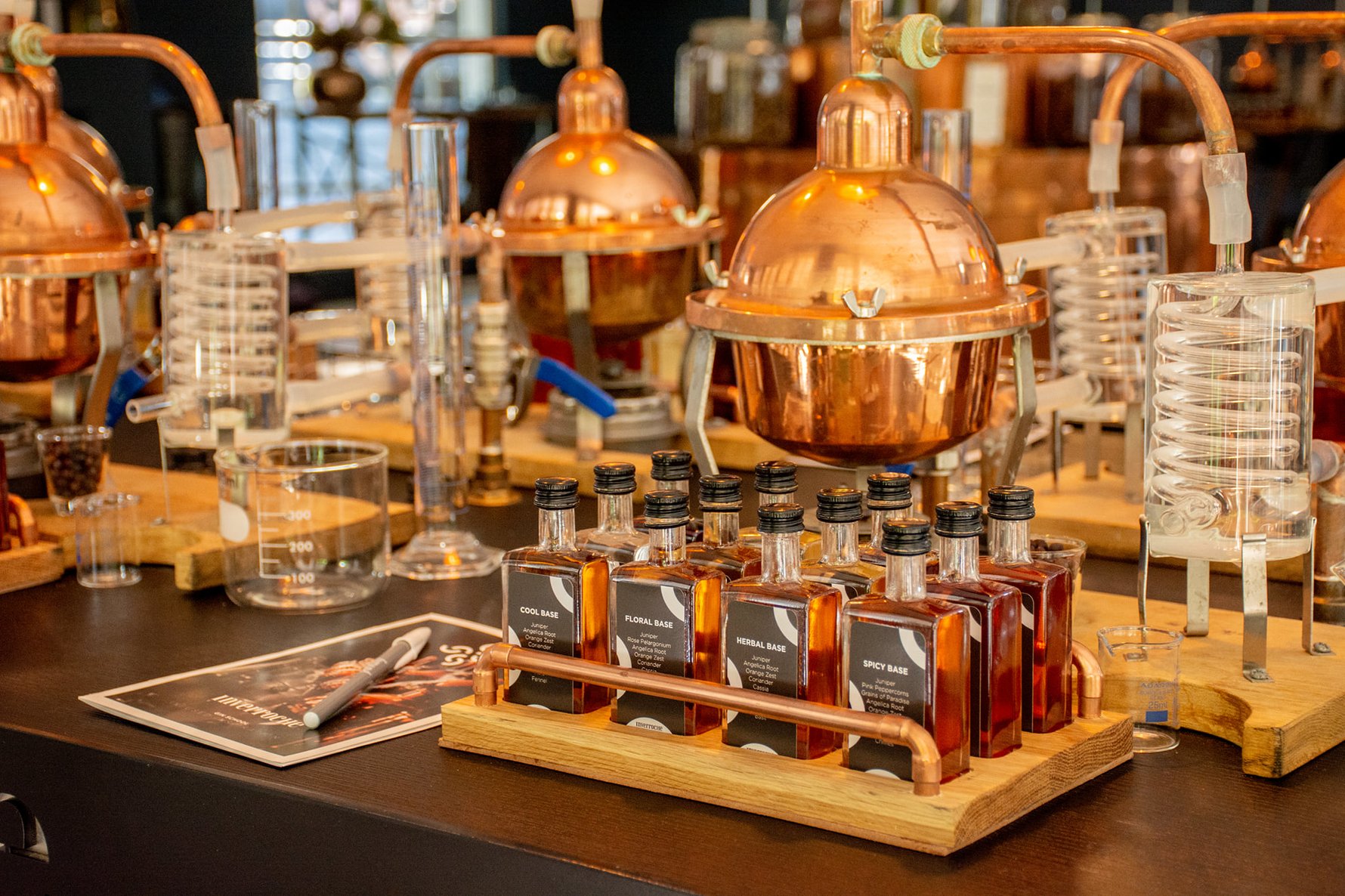 The 'classroom' space is an atmospherically lit old farm building at Indaba Hotel filled with miniature copper stills, glass tubes, and measuring beakers. It's like the steampunk version of a high school science class we wish we could have sat in.Before you are rows of small bottles of botanicals to choose from, distilled into tinctures that you can measure out millilitre by milliletre. There's definitely a science to it (this is a school after all), but you will be easily distracted by the aromas your nose chooses and perhaps also the names of some of the botanicals too – rose malva sounds rather nice doesn't it?

Once we'd mastered our recipes, feeling somewhat proud of ourselves that we had just invented the next best gin you've ever tried, it was into the copper stills and the burners were set. At this point it was time for a break on the adjoining terrace and another G&T while we waited for the distilling to commence. The temperatures at which these miniature pot stills function is a fine science so the room is closed for half an hour or so to allow for optimal distillations. Then it was back inside to find our drinks slowly dripping through a swirl of tubes and into a beaker.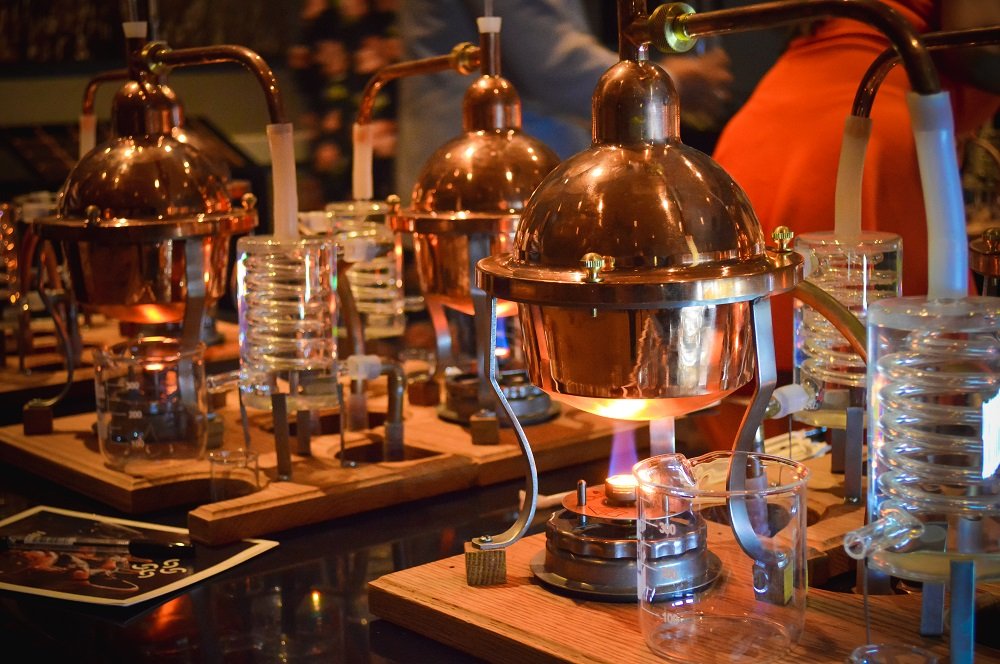 The very first part of spirit (known as 'the heads') is essentially poison that has a power to "paralyse you and make you go blind" we were told. This was swiftly and safely discarded before we'd even contemplated the mistakes one could make. A neat reminder that you shouldn't really be trying this straight up at home without a little prior education.

Then comes the 'heart' which will form the final central core of your gin. We were invited to taste a drop on our finger to study the botanicals as they came through. At this point you will either still be convinced of your genius for gin making, or you'll be holding on tight to the idea that botanicals come through at different points and when all that raisin and rooibos you poured in finally emerges, this drink is gonna be banging... hopefully.

Once your beaker is full it's time for the finishing touches. The spirit gets diluted with water in a satisfyingly tall measuring cylinder before you pour the masterpiece into your own special bottle. 
  
And the final product? There's obviously some bias, but we really do think it was pretty good! Would our bottle of Johannesburg Gin Your Pocket, containing pretty much every botanical on the table, win any awards? Well, we'd be lucky to get it on the nomination list with all the competition that's around. But still. Nothing tastes quite as good as something you've made yourself.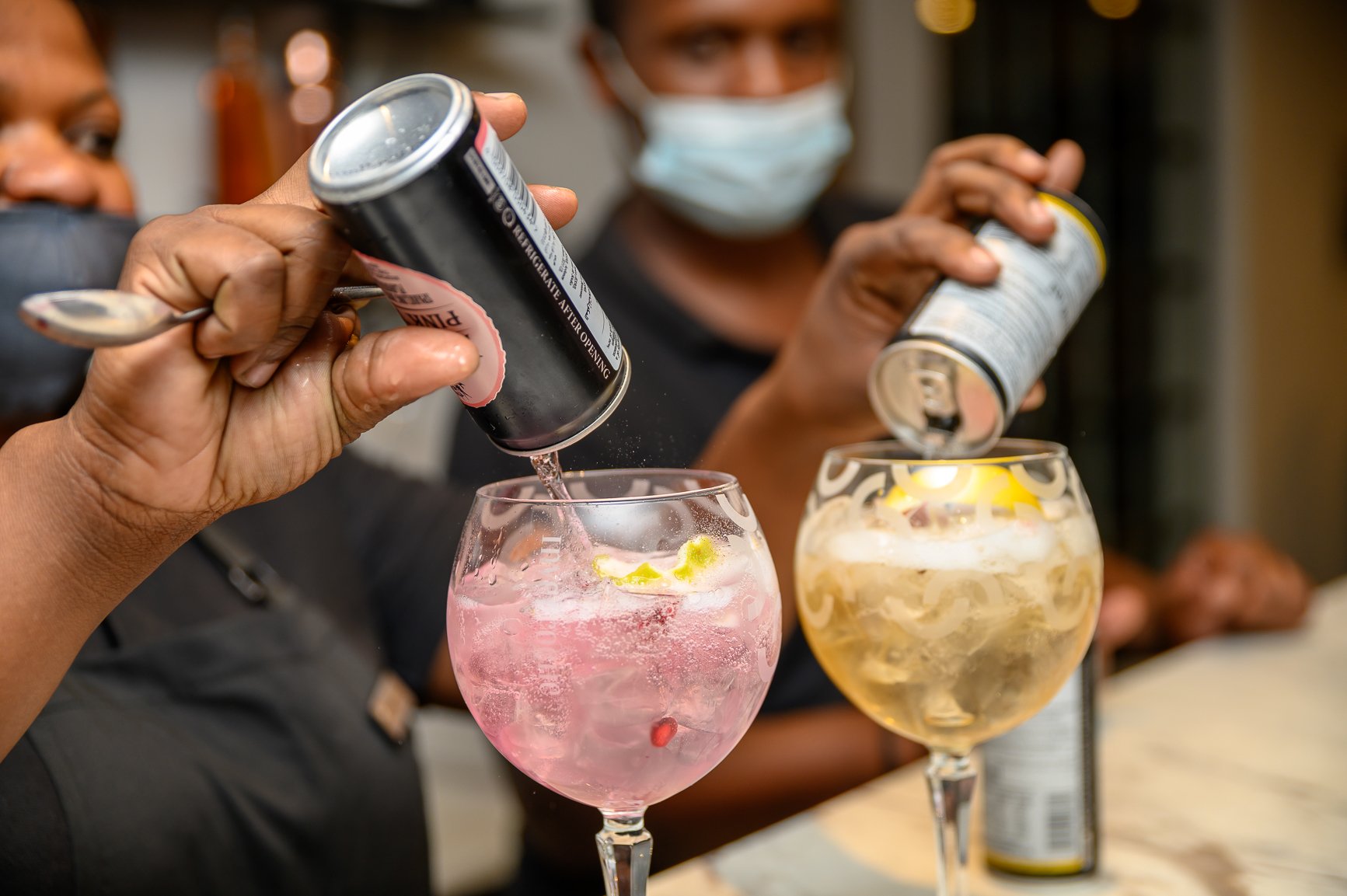 NEED TO KNOW
The two-hour Gin Masterclass costs R895 per person and includes your own hand-crafted take-home 500ml bottle of gin as well as welcome drinks and snacks on arrival. The school can be booked for groups of up to 12 or there are regular public events, see The Gin School Facebook page for the latest classes and events at the school.

Book for a group or enquire about their next public event online at indabahotel.co.za/Gin-School/gin-school.html. 

The Gin School is located at the Indaba Hotel, Spa & Conference Centre, cnr William Nicol Drive and Pieter Wenning Rd, Fourways, tel. +27 11 840 6600.