In our What to Cook series we have asked chefs from our favourite Joburg restaurants to share some of their favourite recipes while we #stayathome. Here he has shared his recipe for onion soup from his cookbook Mile 8.

Chef and co-owner of two Joburg top restaurants Marble and Saint, David Higgs is a well known personality who has shaped many young chefs kitchen careers.His book Mile 8, launched in 2019, is an amazing record of his life in the kitchen – and with the announcement of lockdown he launched a fund to support the 300 staff members who work at Marble and Saint with its sales. Buy a copy of Mile 8 and 100% of the sale price will go towards the fund. Support the fund and order your copy here. 

Not one to sit still, besides for being a phenomenal chef, David Higgs is also an avid cyclist and during lockdown has become the star of Instagram TV with his lively stay at home cooking sessions offering easy to follow lessons on everything from making an omelette to the best way to grill a steak, cycling talks and exercise sessions, and a daily #whatsinyourfridge feature where he suggests a recipe. 

On the back of the popularity of his Instagram cooking series, Higgs has now also launched his own YouTube channel! Watch Dave's Kitchen on YouTube here.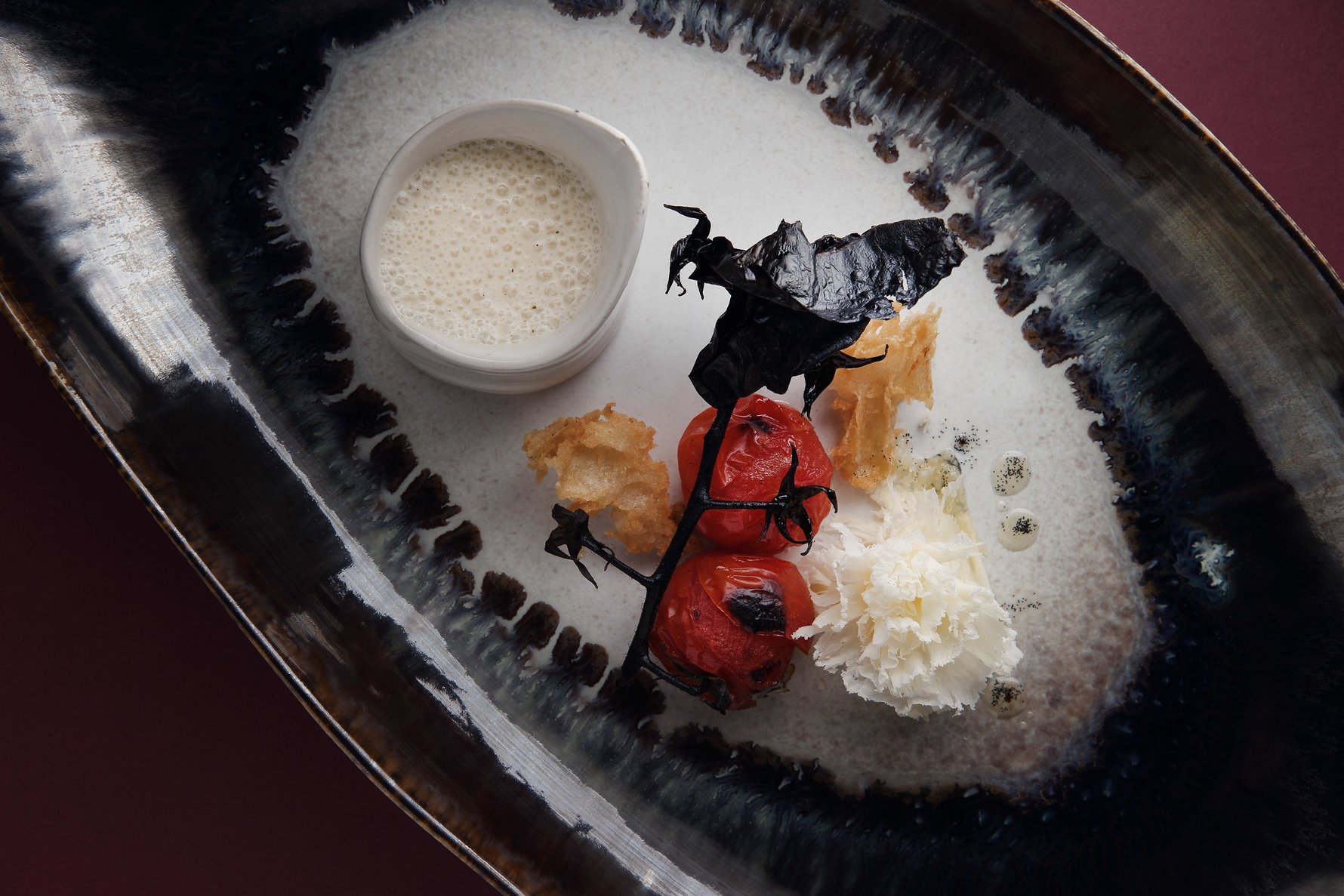 White onion soup, charred tomato, Healey's mature cheddar
The white pepper in this soup is a key flavour, and is a great combination with the cheddar. Remember, if you are making a fire at home for a braai, the coals before and after you have cooked are ideal for roasting vegetables for soups and sauces for the next day. We need to start thinking about energy use and waste, not only product.

Serves 8 starter portions
Onion soup
1.6kg white onions
100g butter
3 sprigs thyme
5g garlic
700ml water
30ml cream
salt and white pepper

Vine tomatoes
16 tomatoes
50ml olive oil
1 vanilla pod
Onion ash petals
onion peelings and offcuts

Pulled focaccia croutons
focaccia bread*
oil for deep frying

Onion ash oil
5ml onion ash powder*
olive oil

8 thin slices (55g) shaved Healey's mature cheddar – 1 slice per serving

Method
Wrap whole onions with skin on in foil and roast at 220C until soft. Once cooked, remove the outer skin, cut the insides into large pieces and place in a pot with butter, thyme and garlic. Cook without colouring. Add 500ml stock and simmer gently until the onion is tender.

Remove from the heat and leave at room temperature for 1 hour.  Add to a blender with the cream and blend until smooth. Adjust consistency with the remaining stock, and season with salt and white pepper. 

Wash the vine tomatoes, ensuring that they stay intact with the vine. In a separate bowl combine the olive oil with the seeds of the vanilla pod. Gently heat to infuse and brush carefully over the vine tomatoes. Place tomatoes in a wood-fired oven or under a hot grill to blister. Reserve juices for finishing the soup when serving.

Place onion peelings and offcuts on a tray and into a wood-fired oven. Roast the skins until black and charred. You need 8 petals to garnish the plates – reserve any extra for the onion ash oil (see recipe below), unless you have already prepared onion ash powder.

Pull 24 small pieces of focaccia bread without the crust from the loaf and deep fry until golden brown and crunchy. Drain excess oil on paper towels. 

Mix together the onion ash powder and add olive oil until the mixture is liquid enough to drizzle. Alternatively, blend the reserved charred onion skins (from the onion ash petal recipe) to create a powder and drop into olive oil.

To assemble, serve each portion of soup with 4 blistered vine tomatoes, 1 onion ash petal, 3 pulled focaccia croutons, a slice of Healey's cheddar, 3 drops onion ash oil and the reserved tomato/vanilla juices from the blistered vine tomatoes.

How to make onion ash powder 
Place the onion peels and offcuts in a wood-fired oven, or in a normal oven at 200C. Roast until blackened and charred, and blend to a powder.