In our What to Cook series, we have asked the chefs from our favourite Joburg restaurants to share with us the recipes of some of their most delicious signature dishes so that we can all stay fit, healthy and happy while we #stayathome. 

Here are three tasty recipes from top star chef James Diack.

Chef and restaurateur James Diack sources almost all the ingredients used in the menus at his four Joburg restaurants from his family's organic farm Brightside in the Magaliesberg. At his flagship contemporary restaurant Coobs in Parkhurst, Diack and his team like to debut their most daring and inventive creations that emphasise sustainable ingredients and seasonal produce.

You can follow James Diack on Instagram @chefjamesdiack. Here he shares with us a signature fine dining dessert, a vegetarian pizza that you can make from scratch and a how-to guide to making your own beef carpaccio.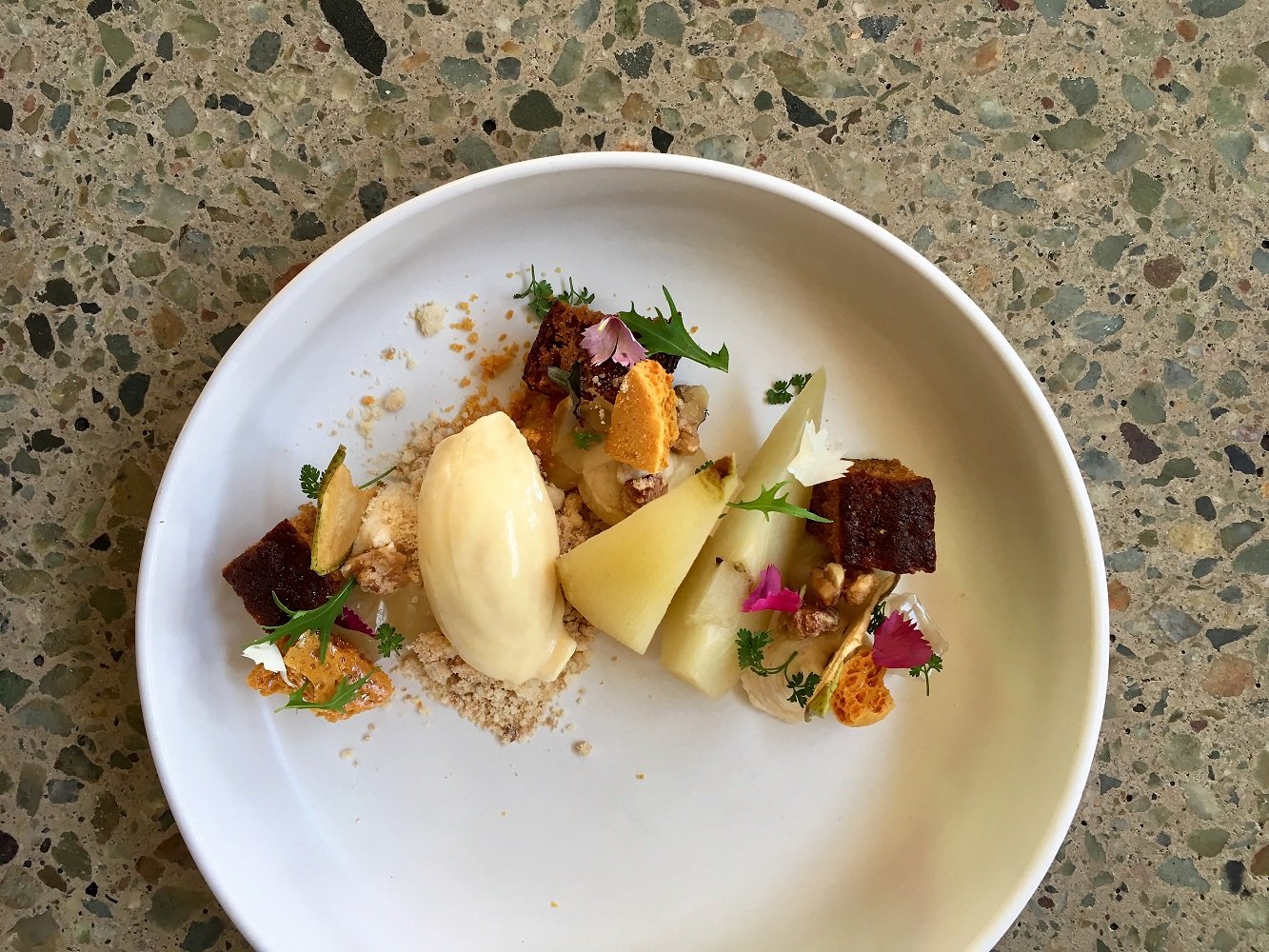 Spiced Poached Pear with ginger sponge, honeycomb, whipped chocolate and white wine jelly
750 ml (1 bottle) white wine
200 ml water
20 g star anise
20 g fennel seeds 
3 cinnamon sticks or 3 TBS cinnamon
30 g sugar
2 pears (will serve 4 people)
Peel and core pears. Add all the ingredients to a medium sized pot. Bring to boil, then lower heat to medium heat.
Add pears and cook until they can be pierced with a knife, but still can hold its shape. Allow to cool with pears in the liquid ​​​​​.

Pear puree
2 x pears
500ml water
80 G sugar 
Peel pears, core and cut into 2cm cubes. Add pears to water and sugar to boil until pears are soft and translucent
Drain remaining liquid. Blend until smooth ​​​. 

Ginger Sponge
200g flour
200g sugar
1 tsp ground ginger powder
1 tsp bicarb soda
55g butter
1 egg
2 tbsp golden syrup or honey
240ml warm water

Mix dry ingredients. Add batter into dry mixture until crumble form. Mix egg, syrup and warm water. Mix wet and dry until well combined. Bake at 180C for 35- 38 mins.

White wine jelly
200g white wine
50g sugar
6 gelatin leaves
Bloom gelatin leaves in cold water. Boil wine and sugar. Add gelatin leaves to wine until dissolved. Placed in sprayed container set in fridge. 

Honeycomb
50ml water
90g glucose
270g sugar
50g honey 
15g bicarb 
Add everything except bicarb to a large pot. Boil until the mixture reaches 130C. Whisk the bicarb. Decant to well-sprayed tray or silicon mat, leave to set​.​

Whipped white chocolate
240g cream
5ml vanilla
1 Tbs cinnamon powder
60g glucose 
450g white chocolate
650g cream 

Heat cream, vanilla, glucose until warm enough to melt chocolate. Add heated cream to chocolate, stir until chocolate has melted, allow to cool. Whisk cream until thick, fold cream into chocolate and allow to set for at least 3 hours.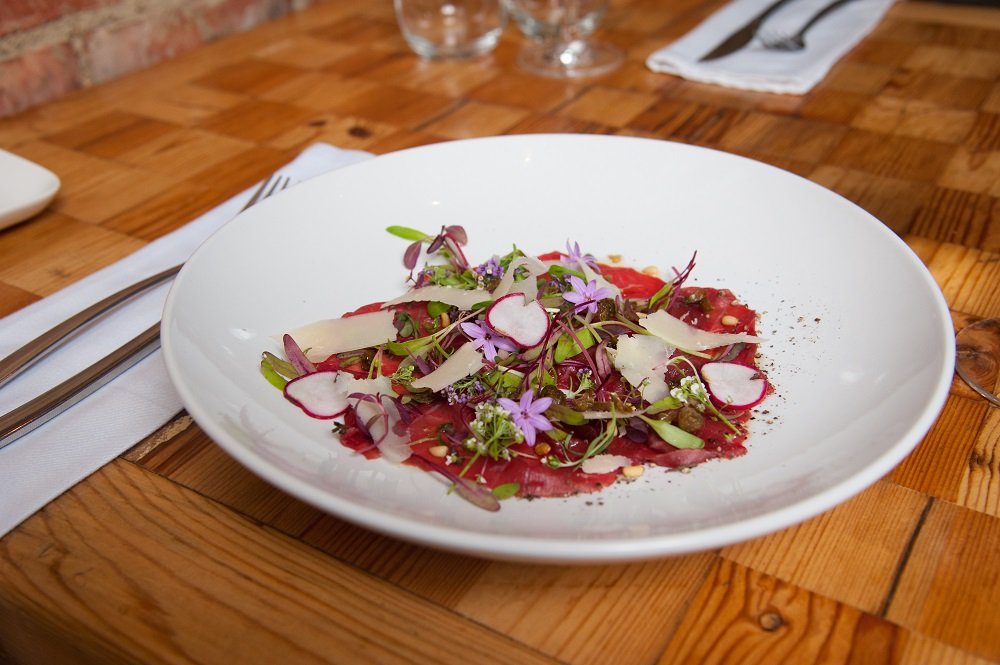 Beef Carpaccio
Let's start by preparing your Beef ribeye. Start by portioning your ribeye into 10cm by 10cm blocks. Then rub your ribeye blocks in salt and pepper and coat in olive oil. Gather a variety of mixed herbs sage, rosemary and thyme work best for creating flavour. Roughly rip up your herbs and mix them together, then rub them all over your ribeye blocks. The olive oil will help with coating the herbs to the meat. Take your ribeye and place into a vacpac bag and seal tightly or wrap in plastic wrap as tight as possible, then place wrapped block into the freezer overnight.

Cutting Your Carpaccio Slices
Beef carpaccio is a very thinly sliced meat soft and delicate. Remove your ribeye from the freezer and unwrap it. Using a gravity slicer or a sharp mandolin slice your meat about 2mm thick. Place your slices on greaseproof paper in a flat deep dish and cover with plastic wrap to avoid it from drying out. Try to avoid overlapping your meat slices as they can stick together and rip apart being so thinly sliced.

Toppings
A variety of toppings work with beef carpaccio, we find that these work the best: 
Pinenuts  50g
Radish slices 100g
Crispy capers 50g
fresh parmesan slices 30g
black pepper  10g
Mixed micro herbs 50g
Edible flowers  20g

To prepare the toppings start by thinly slicing your radishes into discs. Using fresh capers deep fry them for 1minute until crispy. Using a peeler gently slice paper-thin slivers of parmesan. In two separate bowls place some black pepper and your pinenuts. In one bowl place your mixed micro herbs and edible flowers Truffle Dressing

A truffle dressing is generally used on beef carpaccio this how to make one. Using fresh truffle paste take one tablespoon of the paste and place into a bowl. Pour 300ml of organic olive oil into the same bowl and whisk together.

Plating the carpaccio
Creating this plate is a process of layering your toppings over your meat. Start by placing your slices of ribeye on the plate usually creating a circular shape depending on the shape of the plate. Gently sprinkle your pine nuts over your ribeye slices. Place your radish slices and capers over your meat.  Using a peeler, you can freshly slice or pre-slice your parmesan and place over your meat.

Sprinkle a pinch of pepper over everything and drizzle with your truffle olive oil. Finish the dish by garnishing with mixed micros and edible flowers.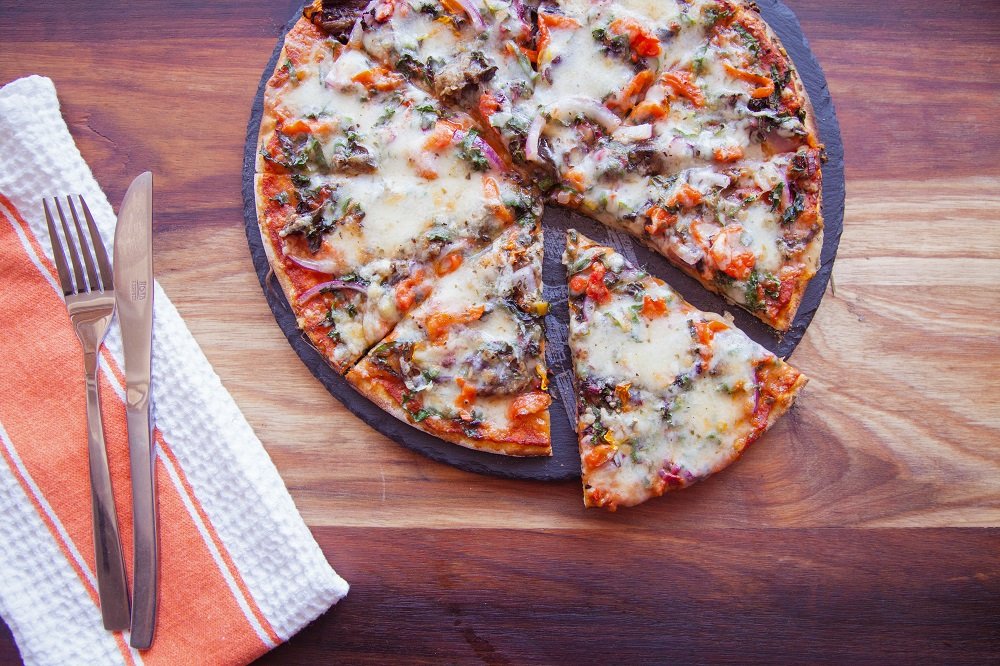 La Stalla – vegetarian pizza
First you want to start by making your own Napoli sauce to use on the pizza. This also goes very nicely with pasta. Then get busy making your own dough and preparing a delicious mix of toppings to go on top.

Napoli sauce
Serves 4, preparation time 1 hour
Ingredients: 
50g basil
4x carrots
2 x red onion
2 x leeks
1 x head of garlic
15 x plum tomato 
50g black pepper
50g fine salt 
100ml Olive oil 

Method:
Start by peeling carrots and cleaning onions, clean garlic into individual cloves and washing all ingredients. Chop the carrots garlic and onions into small pieces slice your leeks up and place all ingredients into a bowl together. Heat the olive oil in a deep-dish pot. Once the oil is hot throw in the onion, garlic and carrot mix and allow to simmer at a medium heat.

While it's simmering get started on chopping up the tomatoes into fairly small pieces. Take the chopped tomato and place into a food processor and blitz the tomato until smooth. Add the tomato puree to the onion and garlic mix and allow it to reach a boil. The add salt, pepper and basil leaves, turn down the heat and leave to simmer for roughly 40 minutes. After 40 minutes remove the Napoli sauce from heat and allow it to cool. 

Vegetarian pizza
Serves 2. Preparation time 20 minutes
Ingredients pizza dough:
375g cake flour + extra, to dust
1 tsp salt
1 tbsp instant dried yeast
1 cup water
1 tbsp vegetable oil + extra, to grease

Ingredients topping:
1 x Aubergine 
1 x red onion 
1 x Sharon fruit
1 x red pepper 
1 x leek
2 x spring thyme
1x spring rosemary 
10g salt
10g black pepper
20g flour 
100ml Olive oil 
100ml Napoli sauce (see previous recipe)
2 x ball fresh mozzarella 

Method pizza dough:
For the pizza dough, grease a large bowl with vegetable oil. Set aside until needed. Combine the cake flour, salt and instant dried yeast together in a separate large bowl and set aside.

In another bowl, mix the water and vegetable oil together. Make a well in the centre of the bowl with dry ingredients in it and pour the water-oil mixture into it. Mix until just combined. Be careful not to overmix it. Turn the dough out onto a clean surface dusted with flour. Knead until smooth, about 2 minutes.

Roughly form the dough into a ball shape and place in the prepared greased bowl. Turn the dough so as to coat the surface with oil. Cover with a clean tea towel and set aside in a warm, draught-free space to rest for about 20 minutes.

While the dough is resting, preheat the oven to its maximum temperature. After the dough is rested make a fist with your hand and push it gently and firmly into the centre of the puffy dough. Gently form the deflated dough into a ball. Turn out onto a clean surface and, using a rolling pin, roll the dough into a circular shape of about 1cm in thickness.

Topping method:
Start by taking the aubergine, red onion, red pepper and leeks and slice finely. Pull the leaves from one sprig of thyme and drizzle with olive oil, place in a pan at a medium heat and toss veg until slightly cooked. Remove from heat and set aside.

Take the Sharon fruit and slice finely, Pull the leaves from one sprig of rosemary and one sprig of thyme and place the herbs and Sharon fruit aside until ready to place on pizza.

Dust a clean, dry and flat surface with flour and take a handful of the pizza dough and place it on top of the flour. Using a rolling pin, gently roll the dough out to a thin flat pizza base about 2mm thick.

Place the pizza dough on a large round plate, and using a knife slice around the plate achieving a perfect round pizza base.

Using a tablespoon, scoop two to three spoons of the Napoli sauce onto the base, then take the pre-cooked veg and gently spread them over the pizza base, followed by the pre-cut Sharon fruit and herbs. Roughly break up the mozzarella and spread it over the pizza base. Season with salt and pepper.

Cooking options:
Wood fired pizza oven: Dust your pizza paddle with flour and gently move it under the pizza base until it is on top of the paddle, gently slide into the wood fired pizza oven and cook for 3 minutes rotating at intervals as to not burn the pizza.

Regular Oven: Bake in the preheated oven until slightly golden, about 4–6 minutes. Remove the pizza from the oven and place it into a round plate or wooden board, slice into 8 pieces and serve with fresh chilli and garlic on the side.