One of our favourite cookbook authors of all time, Ottolenghi pioneered the idea that Middle Eastern ingredients like sumac, Za'atar and tahini are kitchen staples, as deserving of a permanent place on the pantry shelf as sesame oil and soy sauce. He also created the impression that no table is complete without an eggplant dish.
 
Ottolenghi brought an abundance of fresh ingredients to the table, making it possible and also highly fashionable for a home cook to create sumptuous salads and innovative vegetable dish feasts. And these are just two of a long list of reasons why Ottolenghi has a global following utterly devoted to his every move in the kitchen
 
He is also a great newspaper columnist, worth following weekly in The Guardian, and a prolific producer of cookbooks, each a collectable or giftable item.
 
Another thing Ottolenghi should be recognized for ­is his love of collaboration. While many a chef's career is entirely focused on their personal brand Ottolenghi stands out for his embrace of working together with others. It's something that marked his career early on when he shared a byline with Sami Tamimi. Of course their display of cooperation also changed the way people think about the Middle East – Yotam Ottolenghi is London-based and Israeli-born, while his business partner Chef Tamimi is Palestinian. While politically Israel and Palestine are worlds apart, bring them together on a plate and you can make magic.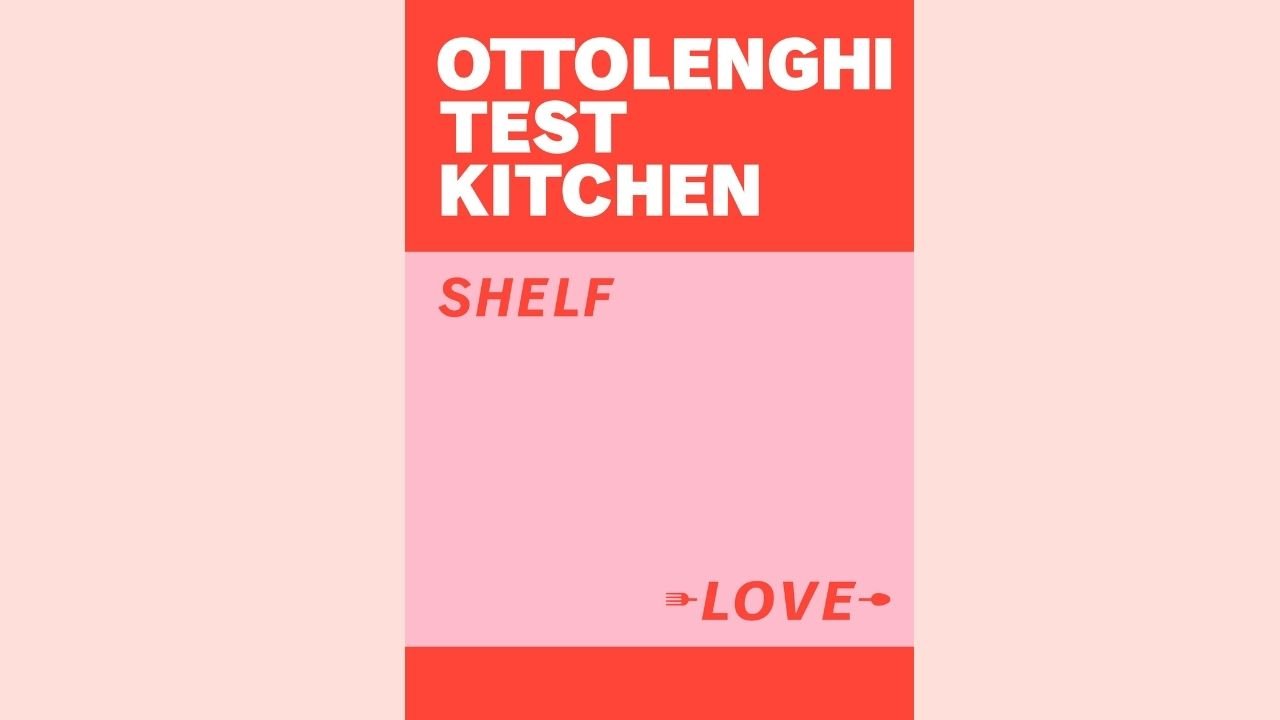 The latest cookbook Ottolenghi Test Kitchen is a testament to all the above. Titled Shelf Love, and wrapped in stripes of pink and orange it's a standout as much for its appearance as for its recipes.

This is the first in a new series – and it's focused on "skills and solutions" for using up ingredients that might otherwise sit on a shelf or in the freezer. It's a "lockdown" publication, that was shaped by the idea that you might not have all the ingredients suggested on hand but there are many ways to work around this. An exercise in … what do I do with this? Shaping a dish around a single ingredient that might just be a jar of olives you were once gifted, or a fresh bounty of garden tomatoes.
 
The front index lists recipes by use of tin and jars, spices, pulses and grains and baking staples. There's also a list for nuts and seeds and a great vegetable index with tomatoes emerging as the star of the show, included in myriad ways. At the back of the book are indexes of meal suggestions themed under topics from 'under an hour' to 'kiddie friendly' and vegan mains. The idea of Shelf Love is to make you a more resourceful cook, and each recipe has suggestions for substitution as well as a handy notes section. There's also a little "get ahead' box on most recipes showing you how to break up the preparation.

So much consideration has gone into making this one of the most useful cookbooks on your shelf, filled with recipes that as you follow will teach you techniques to use that you can make your own.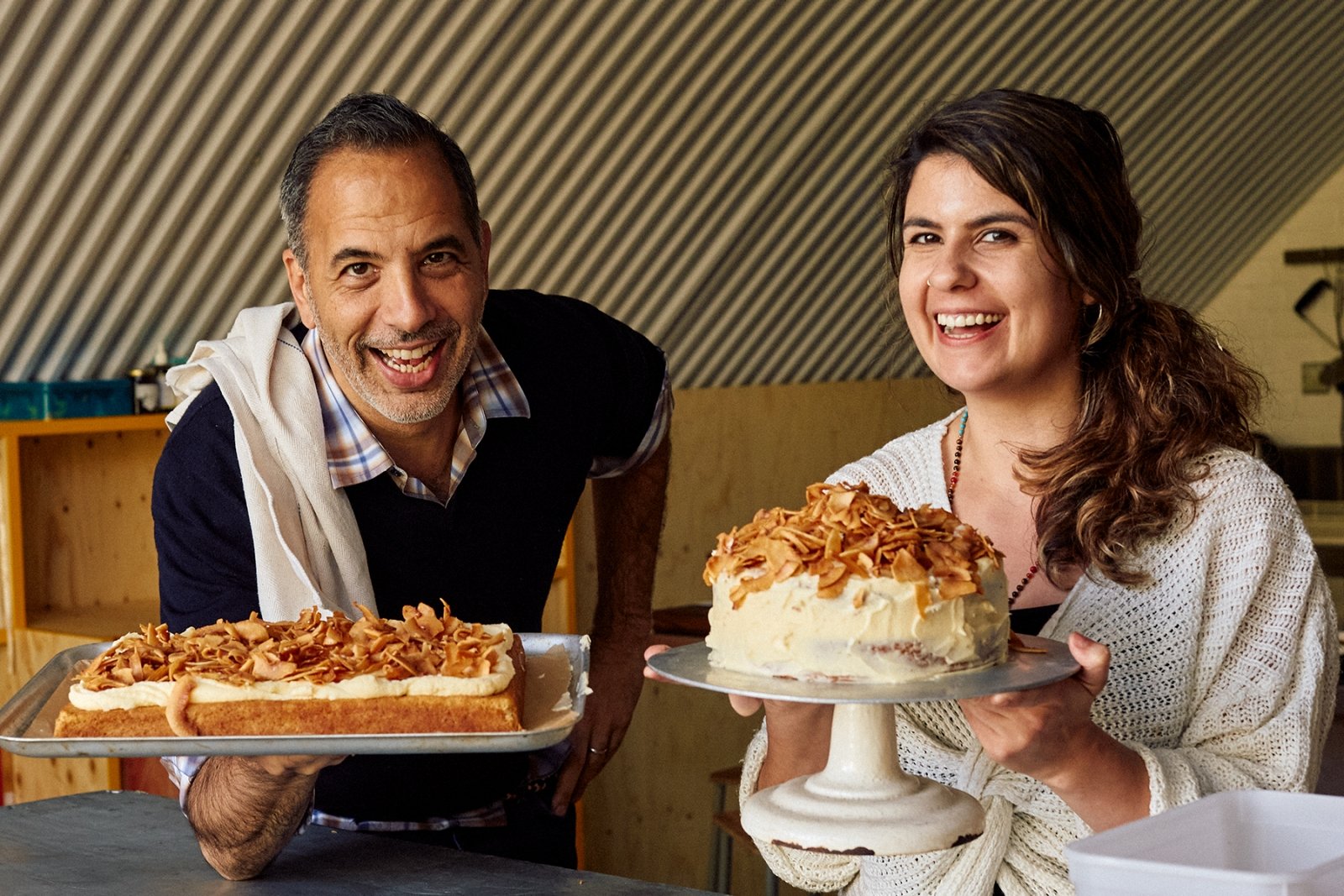 Collaborating with Ottolenghi on the book is the utterly charming Bahrain-born Noor Murad, who has developed recipes for Sami Tamimi and Tara Wigley's Falastin, and for Ottolenghi's book Flavour (read our review here). She describes the Ottolenghi Test Kitchen (or OTK) as a team "like the Test Kitchen Avengers", each bringing something unique to the mix in terms of skills and background. OTK is a space of learning, and of cooking and tasting, that sounds worth dreaming about as all work is centered around experimentation with the ultimate goal of creating dishes worthy of a public showing. Follow @noorishbynoor on Instagram for all the latest dishes. Her instagram account is a real treat for cooks, utterly fresh and authentic, and we've even found that she responds warmly to feedback. 

Buy the Book here 



Among the recipes we have tried and found to be delicious are the cheesy polenta and tomato sauce (the sauce is worth having on hand as a regular staple in the fridge, as good with pasta, as it is with eggs), the smooshed carrots with coriander pistachio pesto and pickled onions (you can also use butternut or sweet potato as a base), and the brilliant curried cauliflower cheese phyllo pie.

While some recipe books might lie on your shelf this one is designed to be used and used again.Below are two recipes from the book to get you started.
Curried cauliflower cheese filo pie
Cauliflower cheese, but make it a pie. This dish was once described as pretty fitting for the ultimate comfort of comfort foods.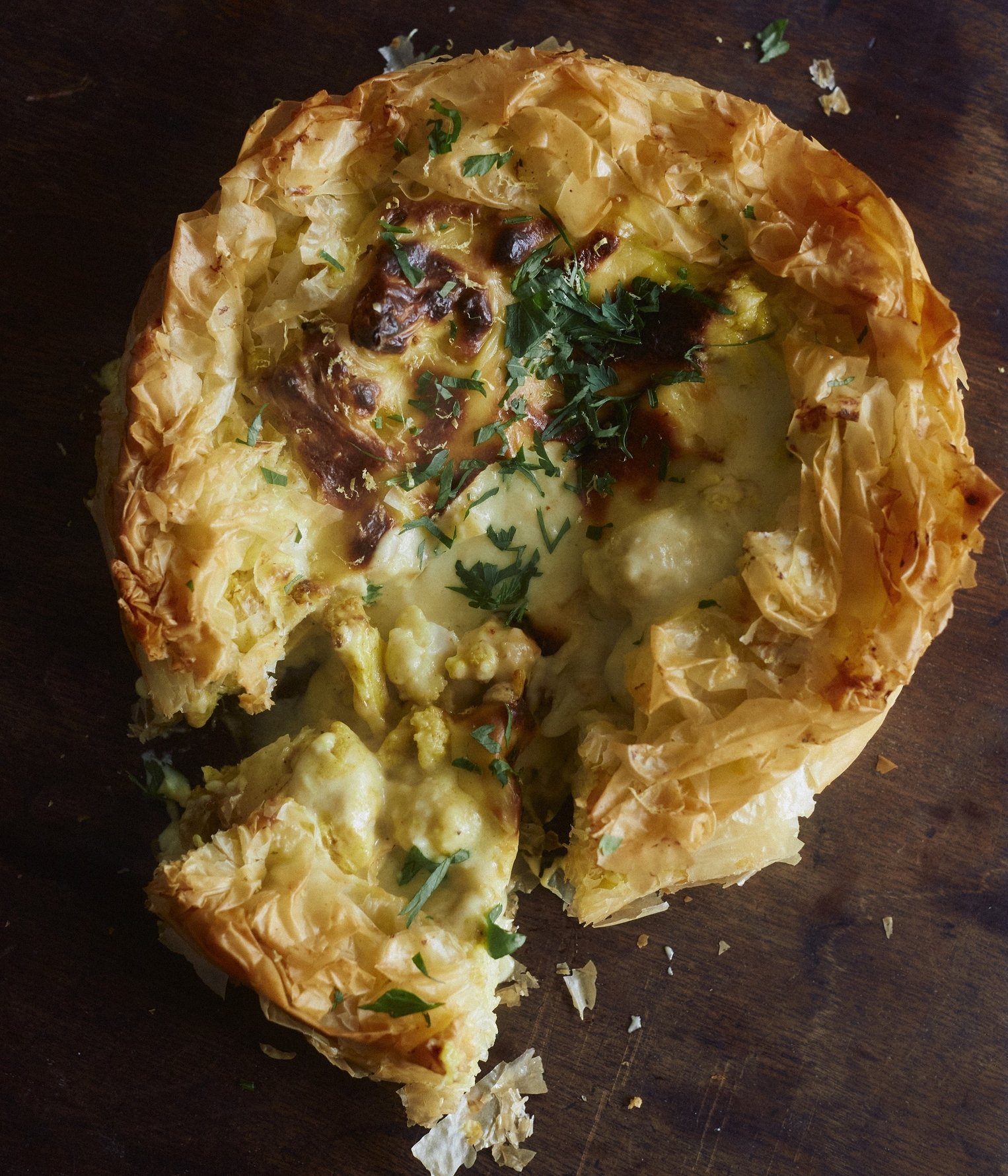 Prep time: 20 minutes
Cook time: 1 hour 45 minutes
Serves 4, generously

Ingredients
1 large cauliflower, trimmed and cut into bite-size florets (700g)
2 tsp mild curry powder
3 tbsp olive oil
100g unsalted butter, 50g cut into roughly 3cm cubes and 50g melted
75g plain flour
675ml whole milk
2 garlic cloves, crushed 
1½ tbsp English mustard
150g mature cheddar, roughly grated
6 sheets of good-quality filo pastry
salt and black pepper
1 tbsp roughly chopped parsley, to serve
1½ tsp lemon zest, to serve

Method
1. Preheat the oven to 180°C fan. Line the bottom and sides of a 23cm springform cake tin with baking parchment. 

2. Put the cauliflower on a large, parchment-lined baking tray and toss with the curry powder, half the oil, 1⁄2 teaspoon of salt and a good grind of pepper. Roast for about 20 minutes, until cooked through and lightly coloured. Set aside, and turn the oven temperature down to 170°C fan. 

3. Meanwhile, make the béchamel. Put the cubed butter into a medium saucepan on a medium-high heat and, once melted, whisk in the flour and cook for 1–2 minutes – it should start to smell nutty (like popcorn). Turn the heat down to medium and slowly add the milk a little at a time, whisking continuously to prevent any lumps, until incorporated and the sauce is smooth. Cook, whisking often, for about 7 minutes, until thickened slightly. Off the heat, stir in the garlic, mustard, cheese and 1⁄4 teaspoon of salt until the cheese has melted. 

4. Keep your filo sheets under a damp tea towel to prevent them from drying out. In a bowl, combine the melted butter and the remaining 11⁄2 tablespoons of oil and keep to one side. 

5. Working one sheet at a time, brush the exposed side of the filo with the butter mixture and drape it into your prepared tin (buttered side up), pushing it down gently to fit. Continue in this way with the next filo sheet, brushing it with butter and then laying it over the bottom sheet, rotating it slightly so the overhang drapes over the sides at a different angle. Do this with all six sheets. 

6. Spoon half the béchamel into the base and top with the roasted cauliflower florets. Spoon over the remaining béchamel, then crimp up the overhang so that it creates a messy 'scrunched-up' border around the edges, leaving the centre of the pie exposed.
 
7. Brush the top of the filo border with the remaining butter mixture, then transfer the tin to a baking tray and bake for
30 minutes. 

8. Using a tea towel to help you, carefully release the outer circle of the springform tin and return the pie to the oven for another 20–25 minutes, or until the sides are nicely coloured and everything is golden and bubbling. Leave to settle for
15 minutes. 

9. Top the pie with the parsley and lemon zest and serve warm. 
Sticky miso bananas with lime and toasted rice
This dessert ticks all our flavour boxes – sweet, salty, tangy and umami – and all our texture boxes – sticky, crunchy and creamy. The bananas you use should have almost completely yellow skin, with only the tiniest bit of brown spotting.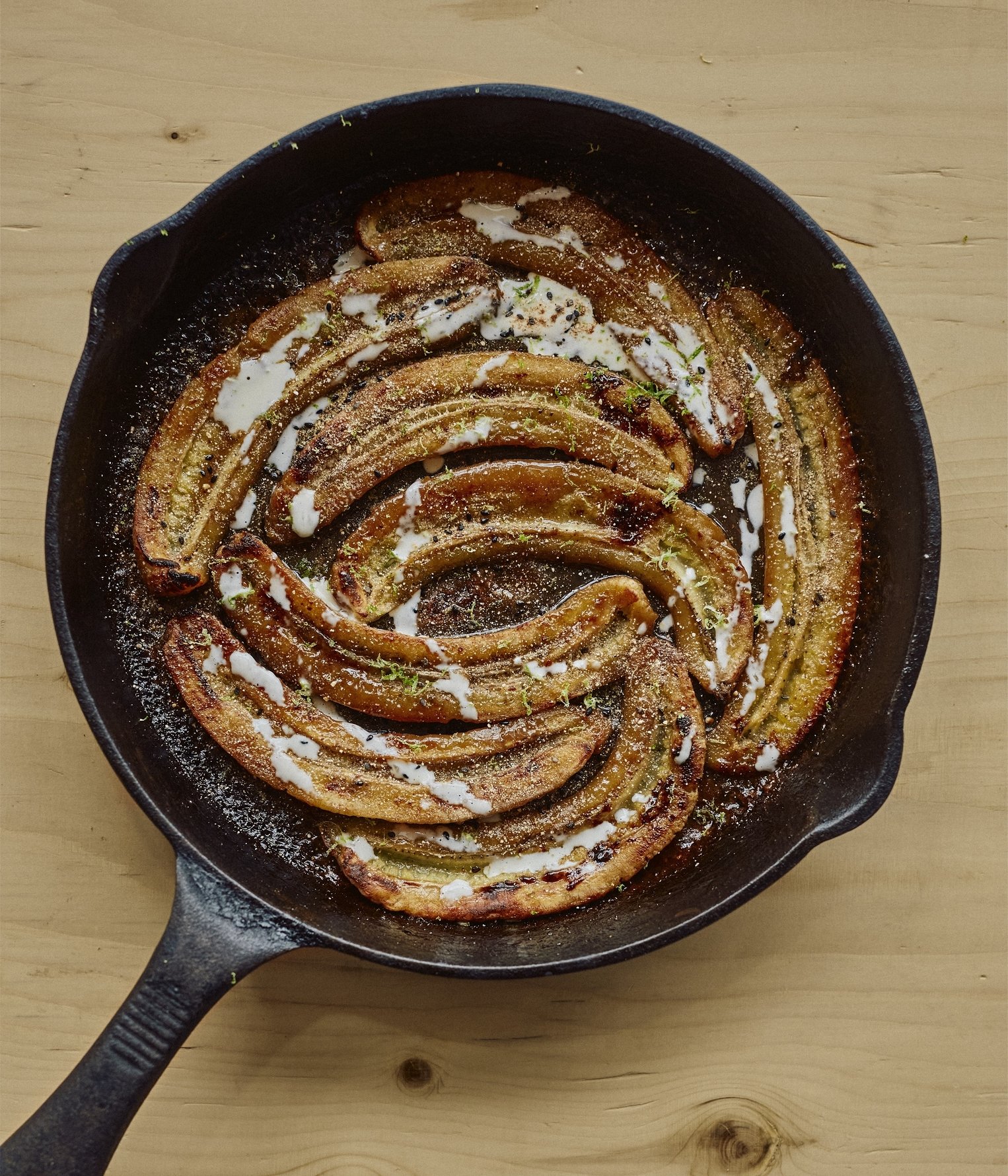 Prep time: 5 minutes
Cook time: 30 minutes
Serves 4

Ingredients
40g unsalted butter
70g light soft brown sugar
½ tsp ground star anise
3 tbsp crème fraîche
1½ tbsp white miso
4 medium bananas (medium ripe), peeled and halved lengthways
1 lime: finely grate the zest to get 1 tsp and then juice to get 1½ tsp

TOASTED RICE TOPPING
1 tbsp Thai sticky rice (raw), or jasmine rice
2 tsp black sesame seeds
½ tsp ground star anise

Method
1. Set the oven to its highest grill setting.

2. Make the topping. Toast the rice in a small frying pan on a medium heat for 12–15 minutes, shaking the pan from time to time, until deeply golden. Blitz in a spice or coffee grinder until fine, then transfer to a small bowl. Return the pan to a medium-high heat and add the sesame seeds. Toast for 1 minute, then stir into the rice bowl along with the star anise. Set aside.

3. Put the butter, sugar, star anise and half the crème fraîche into a large, ovenproof cast-iron pan (or a large sauté pan) on a medium heat. Stir the mixture frequently, until the butter has melted and the sugar has dissolved, then, off the heat, whisk in the miso until smooth. Add the bananas, cut side up, using a spoon to coat the tops with some of the caramel, then transfer to the oven and grill for about 8 minutes (this will vary, depending on your grill, so check them at the 7-minute mark), or until the bananas have softened and are lightly browned.

4. While the bananas are grilling, mix the remaining crème fraîche with the lime juice. When ready, spoon this all over the bananas, then sprinkle with the lime zest and a tablespoon of the rice topping. Serve immediately and directly from the pan, with the extra rice topping alongside.