Yotam Ottolenghi is like Madonna, Pele and god, those who only need one name to make it into any household. Ottolenghi has done for Middle Eastern cooking what Beyonce (another one) has done for hair extensions and Siya Kholisi did for South African rugby. He is the undisputed champion of this cuisine, and someone whose books are a staple in the kitchens of avid cooks, and have even been spotted on many a chef's bookshelf.

Without him there would be no worldwide demand for specialist ingredients that have now become pantry staples like za'atar (a savoury spice blend of dried oregano, marjoram or thyme, and cumin and coriander, with sesame seeds, salt and sumac) and sumac, a tangy red spice with a lemony flavour. He made cooking with vegetables and bountiful table displays of colourful salads sexy. Granted this is being written by a big fan of his work, and someone who has dutifully bought just about every book he has ever published. Saying that, his second book Plenty and his new latest Flavours are my personal favourites. 

Ottolenghi's recipes are not for those who bemoan hunting down ingredients or for who think life is too short to chop vegetables. They are for the committed cook. At times he has even pushed those limits. In his latest book Flavour he seems to have refined his approach paring down his list to 20 essential ingredients and focusing his efforts in the process. It's a book that he has written as well as a compilation of recipes, and it's one that is well worth taking the time to read and pore over as there is much useful information that will serve you well in any future kitchen efforts. This is a book about the science of ingredients and how to bring the best flavour out of a vegetable. His signature style is the layering of flavours, and the contrast of textures. Food is colour, exemplified by the book's rainbow-coloured embossed cover.

The approach here is that less is more and the effort put into bringing out the most optimal flavour of a particular vegetable is worth everything. I found it reassuring that the legendary stars of Ottolenghi's show – cauliflower "The umpteenth way to cook the beloved cauliflower didn't just present itself out of thin air" and aubergine "How many more ways are there to fry an aubergine? The answer I am delighted to report, is many" – have remained. 

The focus on process takes the reader on a trip from charring, browning to ageing and infusing. It's all about getting big flavour from what otherwise may appear to be ordinary ingredients. The sub-text is a revolutionary protest against ever boiling a vegetable. In Ottolenghi's words "Vegetables boiled in water are only ever going to taste like hot versions of themselves". There's a lot more – as it's also a playbook on how to pair ingredients and how each responds to different methods.  

The book was put together with Ixta Befrage who is part of the Ottolenghi test kitchen team in London (worth following on Instagram along with Noor Murad who is also on the team and whose posts often document the genesis of these recipes). One of the great perks of buying an Ottolenghi cookbook is that it comes with a unique code that gives you access to the online version too, so you are never without this reference at your fingertips, so in short, it's a must. 

*Recipes and photos extracted from Ottolenghi FLAVOUR by Yotam Ottolenghi and Ixta Belfrage (Ebury Press). 
Spicy mushroom lasagne photo by Louise Hagger All other photography by Jonathan Lovekin 
 
SPICY MUSHROOM LASAGNE
Serves six as a main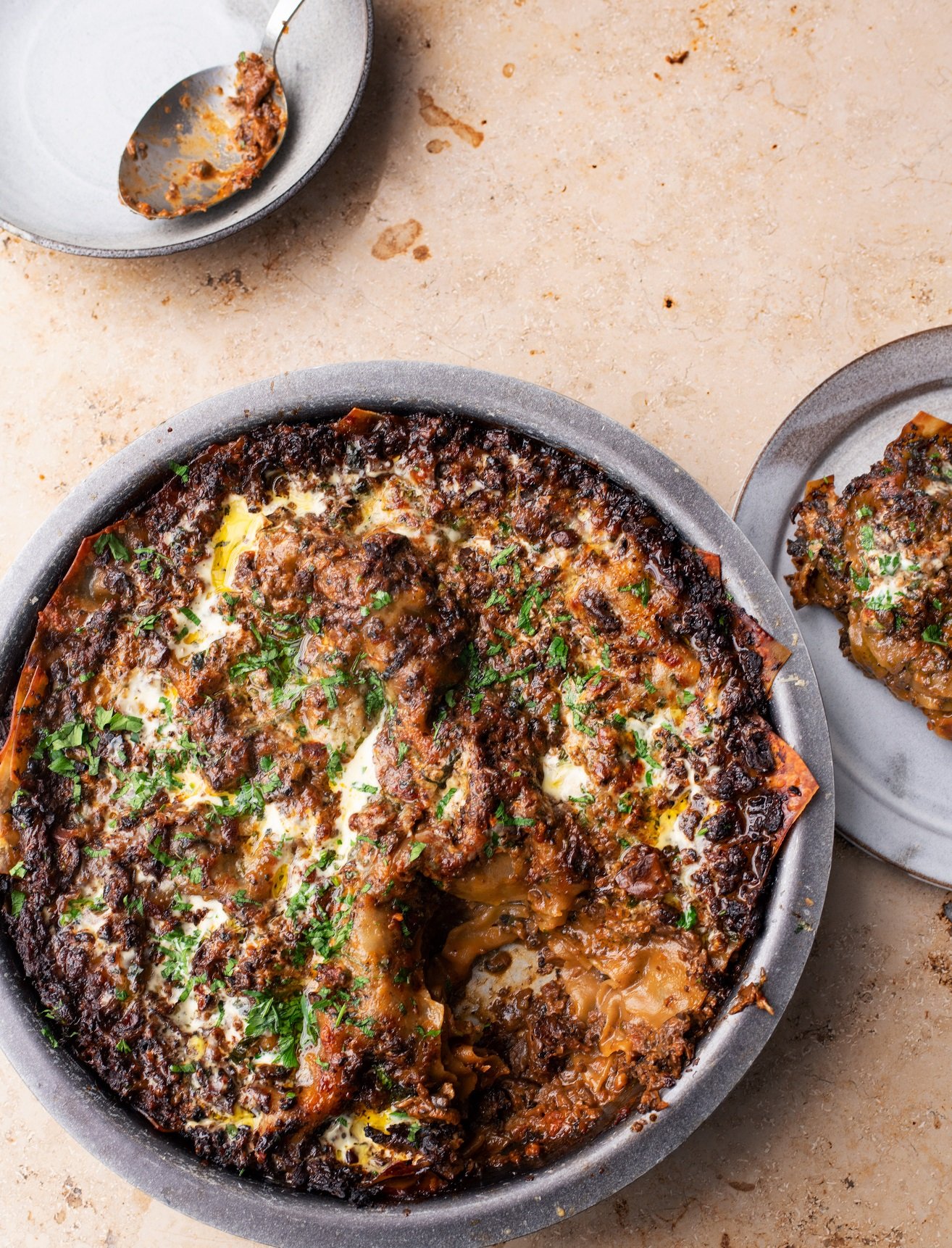 750g chestnut mushrooms, halved
500g oyster mushrooms
135ml olive oil, plus extra for greasing
60g dried porcini mushrooms
30g dried wild mushrooms
2 dried red chillies, roughly chopped (deseeded for less heat)
500ml hot vegetable stock
1 onion, peeled and quartered
5 garlic cloves, roughly chopped
1 carrot, peeled and quartered (90g)
2–3 plum tomatoes, quartered (200g)
75g tomato paste
130ml double cream
60g Pecorino Romano, finely grated
60g Parmesan, finely grated
5g basil leaves, finely chopped
10g parsley leaves, finely chopped, plus an extra tsp to serve
250g dried lasagne sheets (that's about 14 sheets)
salt and black pepper

This lasagne contains one of two epic ragù recipes in this book – the other is the ultimate traybake ragù, p.101 – which, we believe, give any meat ragù a terrifically good run for its money. This particular ragù pays homage to penne all'Aconese, the first dish that Ixta fell madly in love with. It's served at Ristorante Pizzeria Acone, a community run restaurant in the Tuscan village of Acone, perched at the top of the mountain on which she spent her formative childhood years. The recipe is a closely guarded secret, but the complex, earthy and deeply umami flavour of dried porcini mushrooms is impossible to miss. This is our meatless take on that mythical sauce.

The ragù can easily be made vegan if you lose the cream. It can also be made ahead and refrigerated, ready to be served with pasta or polenta, saving yourself the trouble of constructing the lasagne if you're short on time. Reduce the black pepper and lose the chilli for a child-friendly version. If you want to get ahead, the lasagne can be assembled, refrigerated and then baked the next day (once it's come back up to room temperature). 

1. Preheat the oven to 230°C fan.

2. Put the chestnut and oyster mushrooms into the large bowl of a food processor in three or four batches and pulse each batch until finely chopped (or finely chop everything by hand). Toss the chopped mushrooms in a large bowl with 3 tablespoons of oil and 1 teaspoon of salt and spread out on a large, 40cm x 35cm parchment-lined, rimmed baking tray. Bake for 30 minutes near the top of the oven, stirring three times throughout, until the mushrooms are golden brown; they will have reduced in volume significantly. Set aside. Reduce the oven temperature to 200°C fan.

3. Meanwhile, combine the dried mushrooms, chillies and hot stock in a large bowl and set aside to soak for half an hour. Strain the liquid into another bowl, squeezing as much liquid from the mushrooms as possible to get about 340ml: if you have any less, top up with water. Very roughly chop the rehydrated mushrooms (you want some chunks) and finely chop the chillies. Set the stock and mushrooms aside separately.

4. Put the onion, garlic and carrot into the food processor and pulse until finely chopped (or finely chop everything by hand). Heat 60ml of oil in a large sauté pan or pot on a medium-high heat. Once hot, add the onion mixture and fry for 8 minutes, stirring occasionally, until soft and golden. Pulse the tomatoes in the food processor until finely chopped (or finely chop by hand), then add to the pan along with the tomato paste, 1½ teaspoons of salt and 1¾ teaspoons of freshly cracked black pepper. Cook for 7 minutes, stirring occasionally. Add the rehydrated mushrooms and chillies and the roasted mushrooms and cook for 9 minutes, resisting the urge to stir: you want the mushrooms to be slightly crisp and browned on the bottom. Stir in the reserved stock and 800ml of water and, once simmering, reduce the heat to medium and cook for about 25 minutes, stirring occasionally, until you get the consistency of a ragù. Stir in 100ml of the cream and simmer for another 2 minutes, then remove from the heat.

5. Combine both cheeses and both herbs in a small bowl. To assemble the lasagne, spread one-fifth of the sauce in the bottom of a round 28cm baking dish (or a 30cm x 20cm rectangular dish), then top with a fifth of the cheese mixture, followed by a layer of lasagne sheets, broken to fit where necessary. Repeat these layers three more times in that order, and finish with a final layer of sauce and cheese: that's five layers of sauce and cheese and four layers of pasta.

6. Drizzle over 1 tablespoon of cream and 1 tablespoon of oil, then cover with foil and bake for 15 minutes. Remove the foil, increase the temperature to 220°C fan and bake for another 12 minutes, turning the dish round halfway. Turn the oven to the grill setting and grill for a final 2 minutes, until the edges are brown and crisp. Set aside to cool for 5 or so minutes, then drizzle over the remaining tablespoon of cream and oil. Sprinkle over the remaining parsley, finish with a good grind of pepper and serve.
PORTOBELLO STEAKS AND BUTTER BEAN MASH
Serves 4 as a main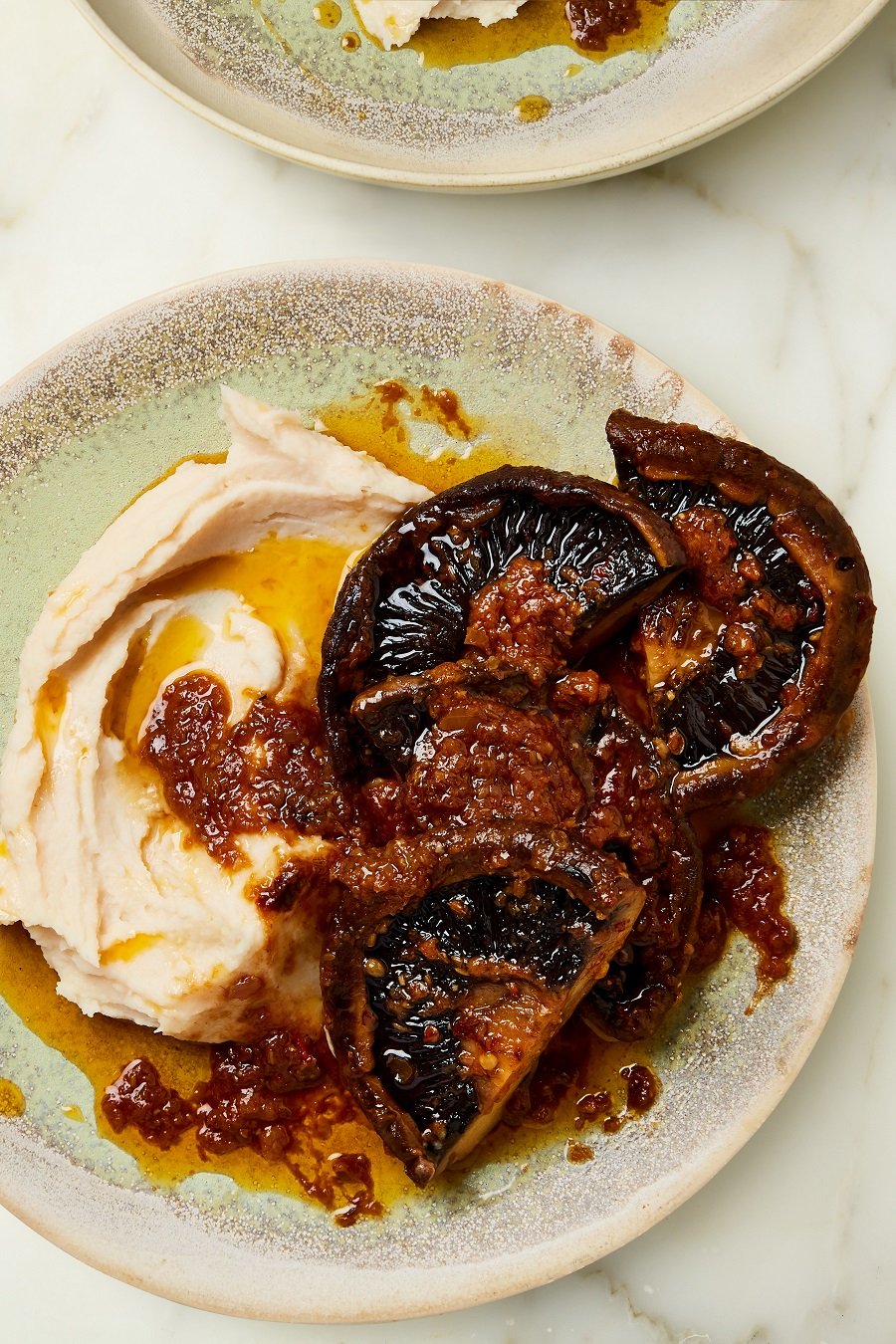 PORTOBELLO STEAKS
8 medium to large portobello mushrooms (about 650g), stems removed
10 garlic cloves, peeled 
1 onion, peeled and cut into 6 wedges (150g)
1½ tbsp chipotle chilli flakes
1 red chilli (15g)
4 tsp cumin seeds, roughly crushed in a pestle and mortar
1 tbsp coriander seeds, roughly crushed in a pestle and mortar
2 tbsp tomato paste
400ml olive oil

BUTTER BEAN MASH
1 × 700g jar of good quality cooked large butter beans, drained (500g) (we use Brindisa Navarrico large butter beans, but you can, of course, use tinned or cook your own)
1½ tbsp lemon juice
1 tbsp olive oil
flaked sea salt

We're not mad about calling vegetables a 'steak' or 'burger' or 'schnitzel', because it feels like you are trying to pass them off as something else, something superior. Vegetables are great simply as they are. In fact, they are the best! Sometimes, though, using a meaty name helps you understand what's going on and how delicious it is. Our portobellos aren't trying to be a steak, they are simply as good as any steak (with mash), if not better; in just the same way as our Romano pepper schnitzels are as delectable as any other schnitzel.

What gives the mushrooms their verve is the chillies and spices and all the flavoured oil that coats them. You'll make more oil than you need here; keep it refrigerated in a sealed container to spoon over grilled vegetables, noodles, meat or fish. Serve this with some sautéed greens, if you like.

1. Preheat the oven to 150°C fan.

2. Put all the ingredients for the steaks and 1 tablespoon of flaked salt into a large ovenproof saucepan, for which you have a lid. Arrange the mushrooms so they are domed side up, then top with a piece of parchment paper, pushing it down to cover all the ingredients. Cover with the lid, then transfer to the oven for 1 hour. Turn the mushrooms over, replacing the paper and lid, and return to the oven for 20 minutes more, or until the mushrooms are very tender but not falling apart. Use a pair of tongs to transfer the mushrooms to a chopping board, then cut them in half and set aside.

3. Use a spoon to remove the onion, garlic and chilli (discarding the stem) – don't worry if you scoop up some of the spices and oil. Put them into the small bowl of a food processor and blitz until smooth. Return the blitzed onion mixture to the saucepan, along with the mushroom halves, and place on a medium-high heat. Cook for about 5 minutes, for all the flavours to come together.

4. While the mushrooms are cooking, make the mash by putting the beans into a food processor along with the lemon juice, olive oil, ½ teaspoon flaked salt and 2 tablespoons of water. Blitz until completely smooth. Transfer to a medium saucepan and cook on a medium-high heat for about 3 minutes, stirring, until warmed through.

5. To serve, divide the butter bean mash between four plates. Top with four mushroom halves per plate and spoon over a generous amount of the oil and its accompanying aromatics (you won't need all of it, though – see intro).
STUFFED AUBERGINE IN CURRY AND COCONUT DAL
Serves four as a main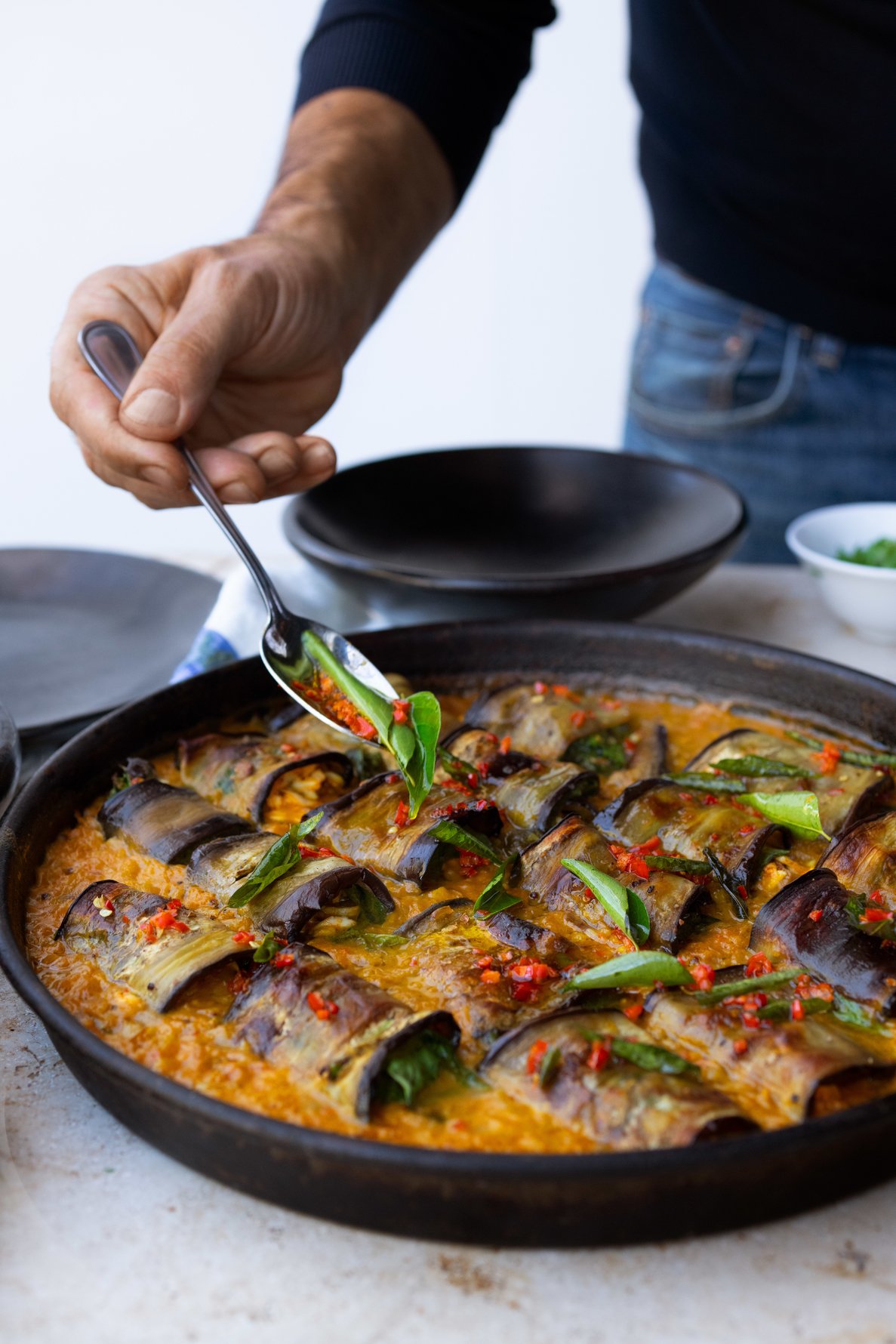 3 large aubergines, stalks removed, each aubergine cut lengthways into 6 x ½cm-thick slices (750g)
3 tbsp olive oil
220g paneer (or extra-firm tofu), roughly grated
2 limes: finely grate the zest to get 1 tsp, then juice to get 2 tbsp
45g hot mango pickle, roughly chopped, plus extra to serve
5g coriander, roughly chopped, plus extra to serve
100g large (not baby) spinach leaves, stems removed (60g)
salt and black pepper

COCONUT DAL
3 tbsp olive oil
5 banana shallots, peeled and finely chopped (250g)
45g fresh ginger, peeled and finely chopped
2 red chillies, finely chopped
30 fresh curry leaves (if you can't get any, you can also do without)
1 tsp black mustard seeds
1 tsp ground cumin
1 tsp ground coriander
½ tsp ground turmeric
2 tsp medium curry powder
2 tsp tomato paste
100g dried red lentils
1 x 400ml tin of coconut
milk (at least 70% coconut extract)

Only two ingredients – lemon and milk – are what it takes to make paneer at home. It's an experiment worth trying (it certainly feels like conducting a chemistry experiment), both for a sense of achievement and for unrivalled freshness. Yotam has published a recipe in the Guardian, but many others are also available online. If you buy your paneer – which makes the most satisfying filling for the grilled aubergines here, as it soaks up the coconut sauce – try to find a soft variety, which has a texture like compressed ricotta. Other varieties, which are harder and slightly rubbery, are more suitable for making vegetarian tikka kebabs, but they will also do if that's what you've got. For a vegan option, use extra-firm tofu. Try to get a good-quality, chunky Indian mango pickle for this. We use Fudco brand.

Both the aubergine slices and the lentil sauce can be prepared the day before, if you want to get ahead. In fact, you can make the whole dish a day ahead, up until before it goes into the oven, chill in the fridge and then just bring to room temperature before warming up. 

The coconut dal is a great recipe in its own right. Double it, if you like, and serve with our curry-crusted swede steaks, and some rice.

1. Heat the oven to 220°C fan.

2. In a large bowl, toss the aubergines together with the oil, ¾ teaspoon of salt and a good grind of black pepper. Spread out on two parchment-lined baking trays and bake for 25 minutes, flipping halfway, until softened and lightly browned. Set aside to cool.

For the coconut dal, put 2 tablespoons of the oil into a large sauté pan on a medium-high heat. Once hot, add the shallots and fry for 8 minutes, until golden. Add the ginger, half the chilli and half the curry leaves (if using), cook for 2 minutes, then add the spices, tomato paste and lentils. 

3. Stir for a minute, then add the coconut milk, 600ml of water and ¾ teaspoon of salt. Bring to the boil, then reduce the heat to medium and leave to simmer for 20 minutes, stirring once in a while, until the lentils are soft and the sauce is thick. Pour into a medium baking dish, around 28cm x 18cm, if making the aubergine rolls, and set aside.

4. In a small bowl, toss together the paneer, lime zest, mango pickle, 1 tablespoon of lime juice, the coriander and ⅛ teaspoon of salt. 

5. Place one spinach leaf on top of each slice of aubergine. Put a heaped teaspoon of the paneer mixture in the middle, then roll up the aubergine, from the thinner end at the top down to the thicker bottom end, so the filling is encased. Put the aubergine roll seam side down in the lentil sauce, and repeat with the remaining aubergine slices, spinach and paneer. You should end up with about 18 rolls, all sitting snugly in the sauce. Press the rolls gently into the sauce, but not so far that they are submerged, and bake for 15–20 minutes, until the aubergine is golden-brown on top and the sauce is bubbling. Remove from the oven and leave to rest for 5 minutes.

6. Heat the remaining tablespoon of oil in a small pan on a medium-high heat. Add the remaining chilli and curry leaves and fry for a minute, until the curry leaves are crisp and fragrant. Spoon over the aubergine rolls, drizzle over the lime juice and serve with the coriander sprinkled on top.