In our What to Cook series we ask our favourite Joburg chefs to share a recipe that you can cook at home. In this edition, TRISTAN LATOUF, from the Vivace restaurant at the Radisson Blu Hotel Sandton shares his recipe for homemade gnocchi with a wild mushroom tomato sauce, plus his signature chimichurri. 

Tristan Latouf (who previously headed the brilliant Dinner Time Stories' pop-up in Morningside) joined Vivace as the new executive chef at Radisson Blu Sandton in 2021. Vivace is the signature restaurant of this huge hotel in Sandton Central, set in a contemporary space located 13 floors above the streets with impressive views of Sandton's cityscape.

Tristan brings with him extensive local and international experiencesand some prestigious accolades including the Escoffier Society award. He was also a runner-up in the Carluccio's Italian Cook Competition as well as a Jeunes Chefs Rôtisseurs Competition finalist. 

As executive chef at Vivace he has been hard at work revising a pared-down new menu that takes inspiration from local and international flavours and seasonal locally-sourced produce, with plenty of Italian influences.

Here he shared his expertise on how to make your own gnocchi in a delicious vegan sauce, plus how to make the perfect chimichurri.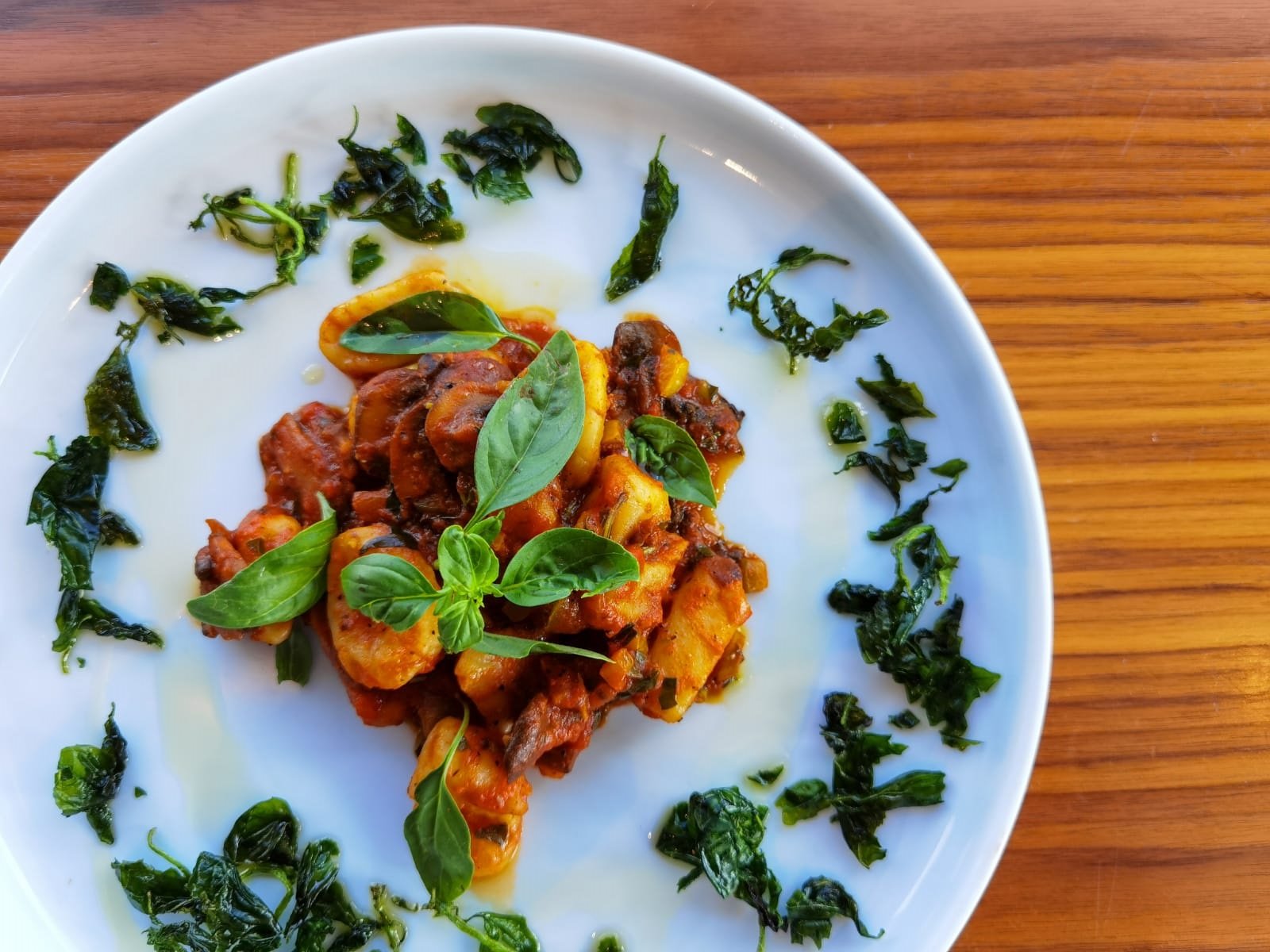 Egg-free gnocchi
Ingredients
5 large potatoes (get the 'up-to-date' variety, this is a great fluffy potato)
Olive oil
Salt and pepper
Black garlic
200g Cake flour

Method
Pre-heat oven to 200 degrees.
Do not peel or cut the potatoes, rub them with olive oil and seasoning and roast them whole until very very soft.
While they are still hot, slice the potatoes in half and scoop out the inside into a bowl.
Put a pot of water on the hob to boil.
Mash the potatoes with a fork and put on to a clean smooth surface.
Add the flour and knead gently to form a smooth dough.
Take a small portion of the dough and roll it into a long thin cylinder. Cut into 1 to 2cm pieces
You need to test the gnocchi if it has enough flour in it. To do this put one into the boiling water and see if it floats to the top without breaking. Add more flour if it does.
Wild mushroom tomato sauce
Ingredients
Whole peeled tomatoes
Basil leaves
salt
Black pepper
Portobellini and oyster mushrooms sliced thinly
Peppery olive oil
Celery
Red onion
Finely grated carrots
Rosemary
Bay leaves
Garlic

Method
Create what we call a sofrito - finely chopped onion, carrots, rosemary and celery, fried until soft with garlic in a heavy-based pot.
Add tomatoes and simmer for one hour, then season and blend until smooth.
In another pot fry the mushrooms for quite some time to get rid of all the water in them. A good sign is when the base of the pot starts to stick and gets a bit of color, at that point add the blended tomato sauce to the mushroom pot and stir well. Get the stickiness off the bottom and let the sauce simmer until thick.
Leave to cool a bit then stir through sliced basil leaves and leave the sauce overnight to infuse, ready for use the next day.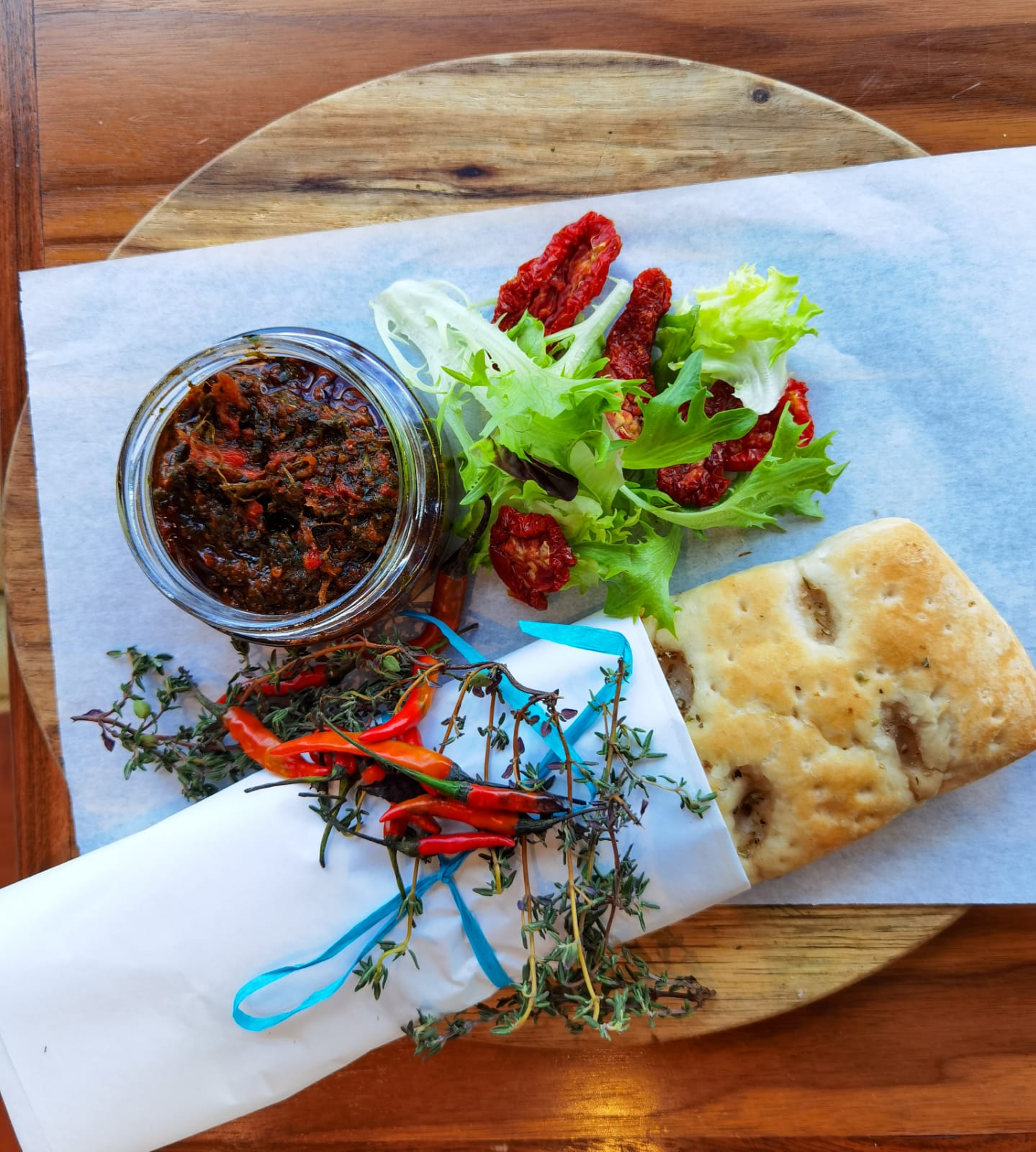 Homemade Chimichurri
Ingredients
100g mint
50g basil
100g parsley
100g sundried tomatoes
Juice of one lemon
Olive oil (a nice punchy flavored one)
Salt and pepper
Touch of cumin

Method
Roughly chop the herbs and put all into a blender. Then very simply blend everything together, bottle up and enjoy.