You won't find the Fourways Farmers Market in Fourways but its definitely worth the trip. Prior to Covid this super popular market had long outgrown its Fourways location and owner Greg Straw, a landscaper, was intent on locating it in a space that spoke to his love of the outdoors. He found the perfect spot in Modderfontein – an extensive piece of land in one of Johannesburg's largest privately-owned nature reserves, overlooking a dam. 

It sounds rustic and far from city life, so it's hard to believe Fourways Farmers Market is just under 10 kilometres from Central Sandton. The move brought all sorts of new things to the Fourways Farmers Market making it an ideal place to take a time out from the city, whether you are a family with young children, an adventurer keen on cycling trails, a gentle hike or birdwatching, or you are just looking for a fun time, delicious cocktails and a vast array of great street food. Also on offer, local craft, kid's activities and even live performances.

On a gorgeous spring Sunday afternoon, we visited and stepped into the market's vast outdoor offering. The first thing you encounter after making your way past the queue of eager and friendly Joburgers at the 'gate' is a lush presentation of fresh plants courtesy of Farmers Nursery. It sets the tone.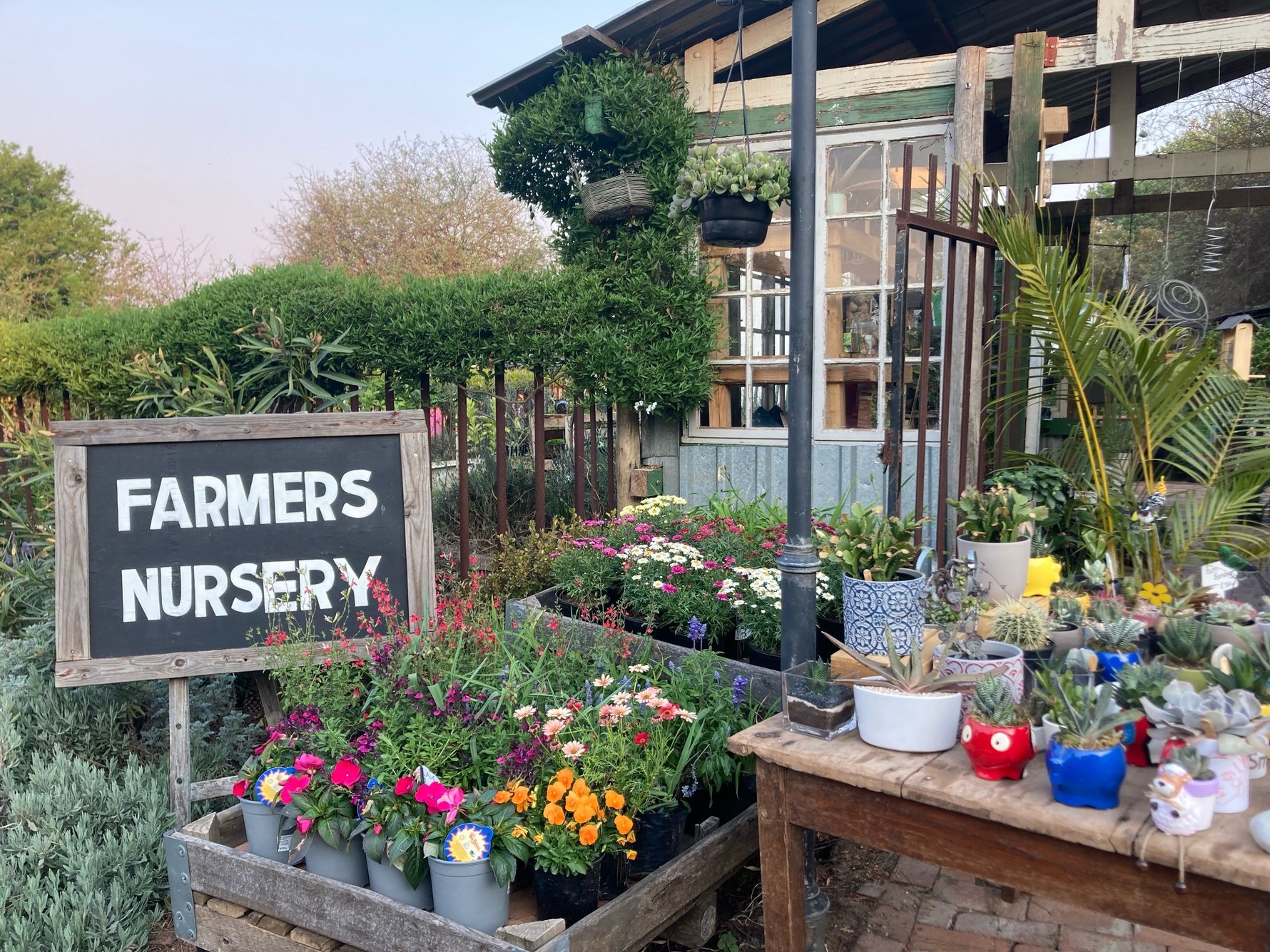 Farmers Café, Bar and Deli
The Johannesburg sun can be unforgiving if you don't hydrate, so naturally, our adventure kicked off with a strategic beeline to Farmers, a hybrid café, bar and deli. We were immediately cooled down by the open barn-styled atmosphere that seated several friend groups and families on rustic benches and hay stacks, staying true to the farm feel. Although there were many patrons waiting in line to buy refreshments, the service was relatively quick, especially considering the variety of beverages the bartenders were preparing.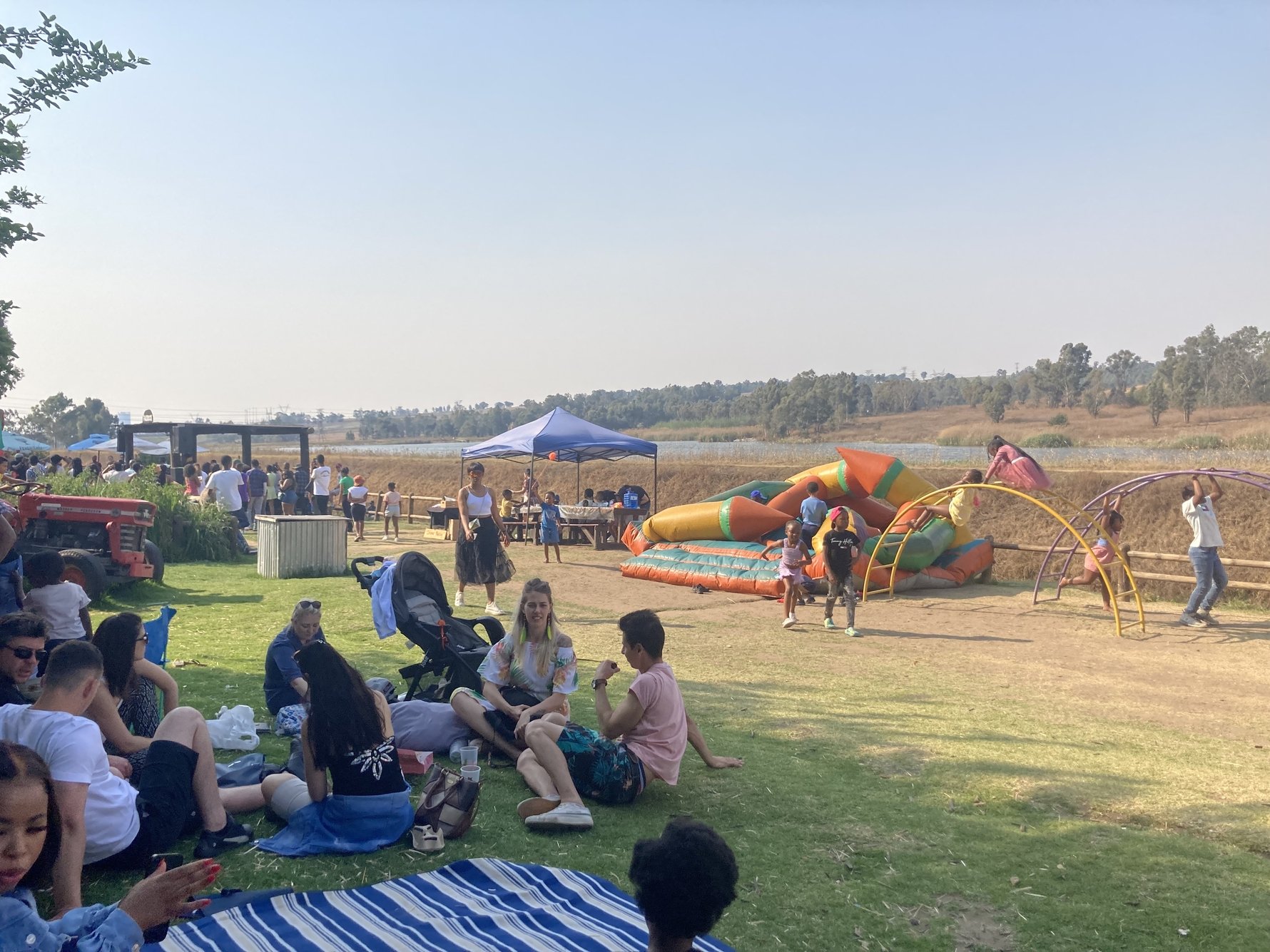 While the cocktails, mocktails, beers and gin and tonics on tap are undoubtedly the main attraction at Farmers, we couldn't help but admire the friendly and convenient nature of the seating arrangements in the space. We were especially intrigued by the accessibility to a kid-friendly open air area with jungle gyms and a jumping castle overlooking the Reserve Lake. The thoughtfulness of this positioning wasn't lost on us. Parents won't have to stress about seating, refreshments or entertaining their little ones thanks to this. 
The Market
If anything, the vendors at the Fourways Farmers Market are the main attraction for this weekend-long affair, so we trekked past the family area to the stalls where the energy buzzes with eager buyers and traders making the most of their day. A tasty meal is always on our minds and thankfully, the market has an abundance of options for foodies like us. From simple local street food such as boerewors rolls to cuisine from all over the world (Mexican food was spotlighted when we visited), there is something for everyone's dietary needs and desires.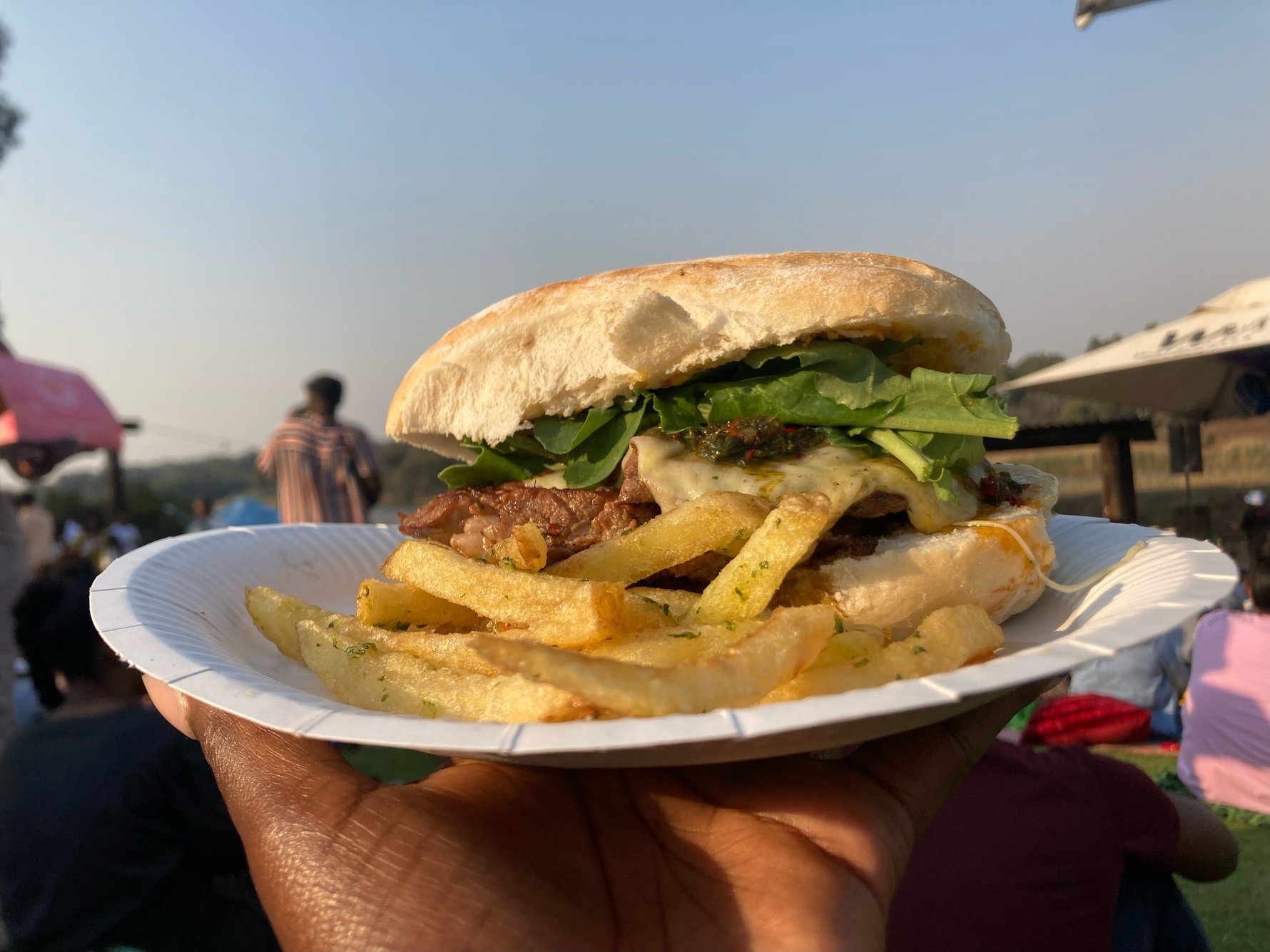 We were pleasantly surprised by the mouthwatering seafood platter from The Mermaid's Grill, whose food certainly lives up to their "Shrimply irresistible" tagline. It's always a delight to eat fresh prawns that taste like they were caught on the day, even though that likelihood is geographically impossible. Noodle bars, Mediterranean, Asian and Ethiopian food stalls present flavourful options for vegans and vegetarians. Also, a market food stop without a Che Argentine rump sandwich with chips wouldn't be one at all, so we had to get one to mark the occasion. 

Dessert options were aplenty, and we were particularly drawn to the delectable options at the Brownie bar stall a few paces from the market entrance. There are also a few smoothie, gelato and ice-cream stalls sprinkled around the market for those who prefer to cool off with their sweet treats.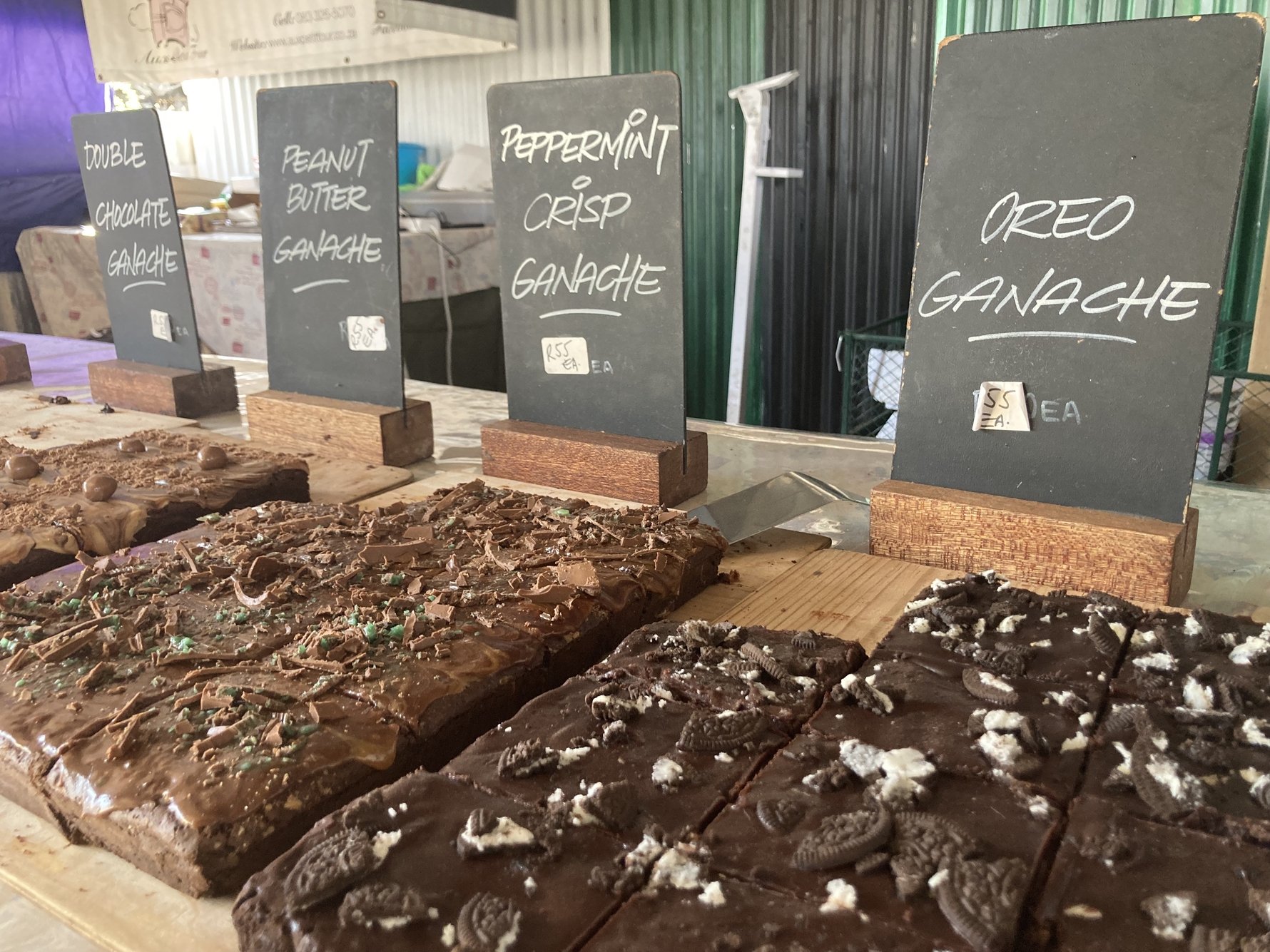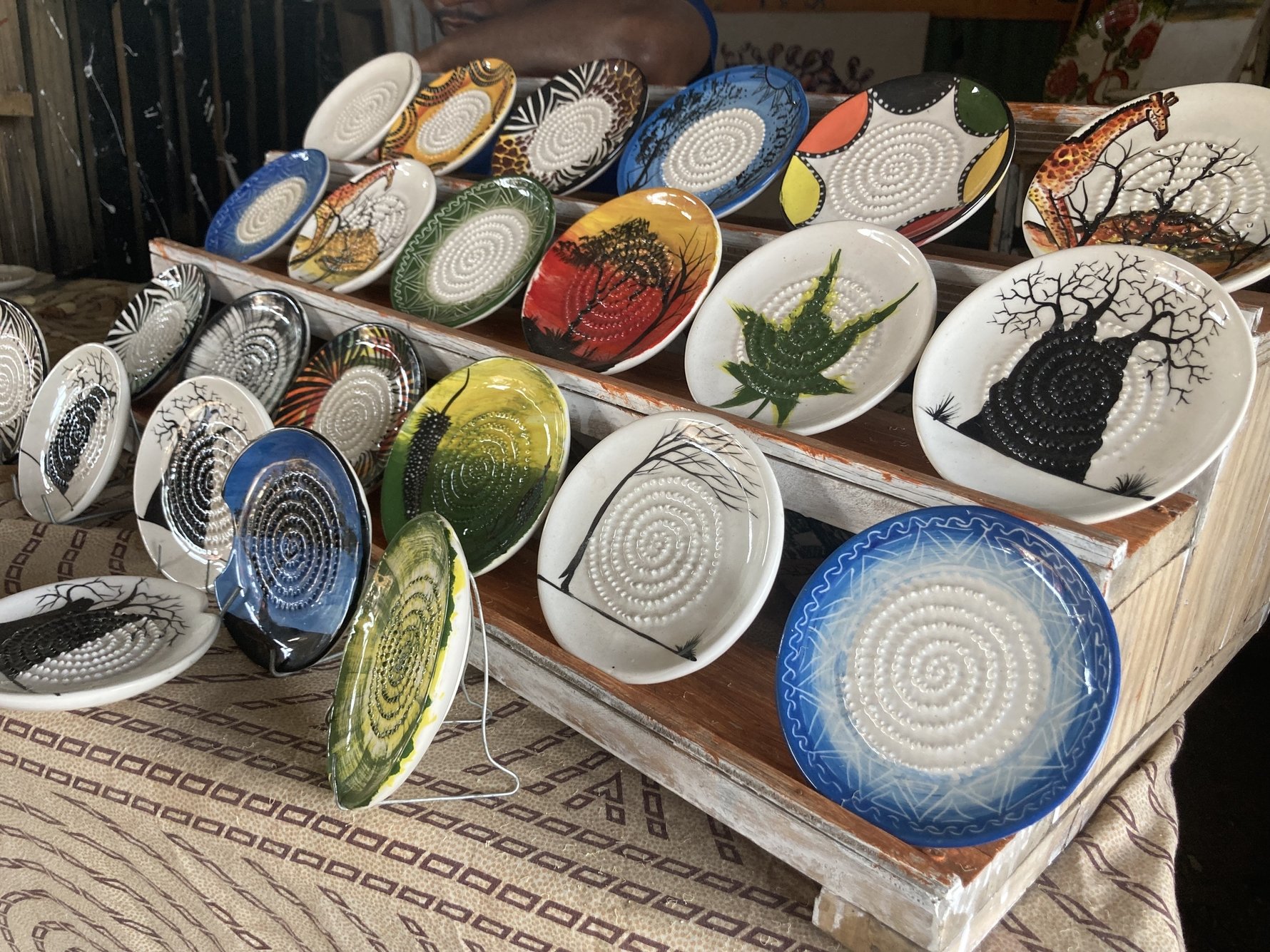 Although we love the food at the market, the locally-made products on sale had a way of pulling our attention like magnets. In all fairness, who could resist the alluring scent of hand-poured soy wax candles and the brilliant colours on hand painted ceramics? We perused various stalls and found trinkets and treasures in every corner of the market area, with the earrings from the Zazi Accessories stall, organic handcrafted cosmetics from the Raising Uhuru vendor and Bee Garden's natural raw honey standing out to us. Of course, there are several spices, homemade condiments and other products like hand-woven wicker baskets and local branded apparel for sale — make sure to bring a tote bag with you. 
The Family Area
A large and open grass area with a few movable umbrellas is the perfect spot to set up camp and soak in Fourways Farmers Market scene. This is where we ate and were treated to a performance by Loyiso Gijana of Idols SA season 11 fame (he also recently performed at Brooklyn Beckhams wedding!). This open spot has a clear view of 'The Paddock' stage, and it is a more wholesome camp chair and picnic blanket setup that everybody can enjoy, rather than the more upbeat vibe (you need to feel it) presented by the Music Lawns on the other side of the market.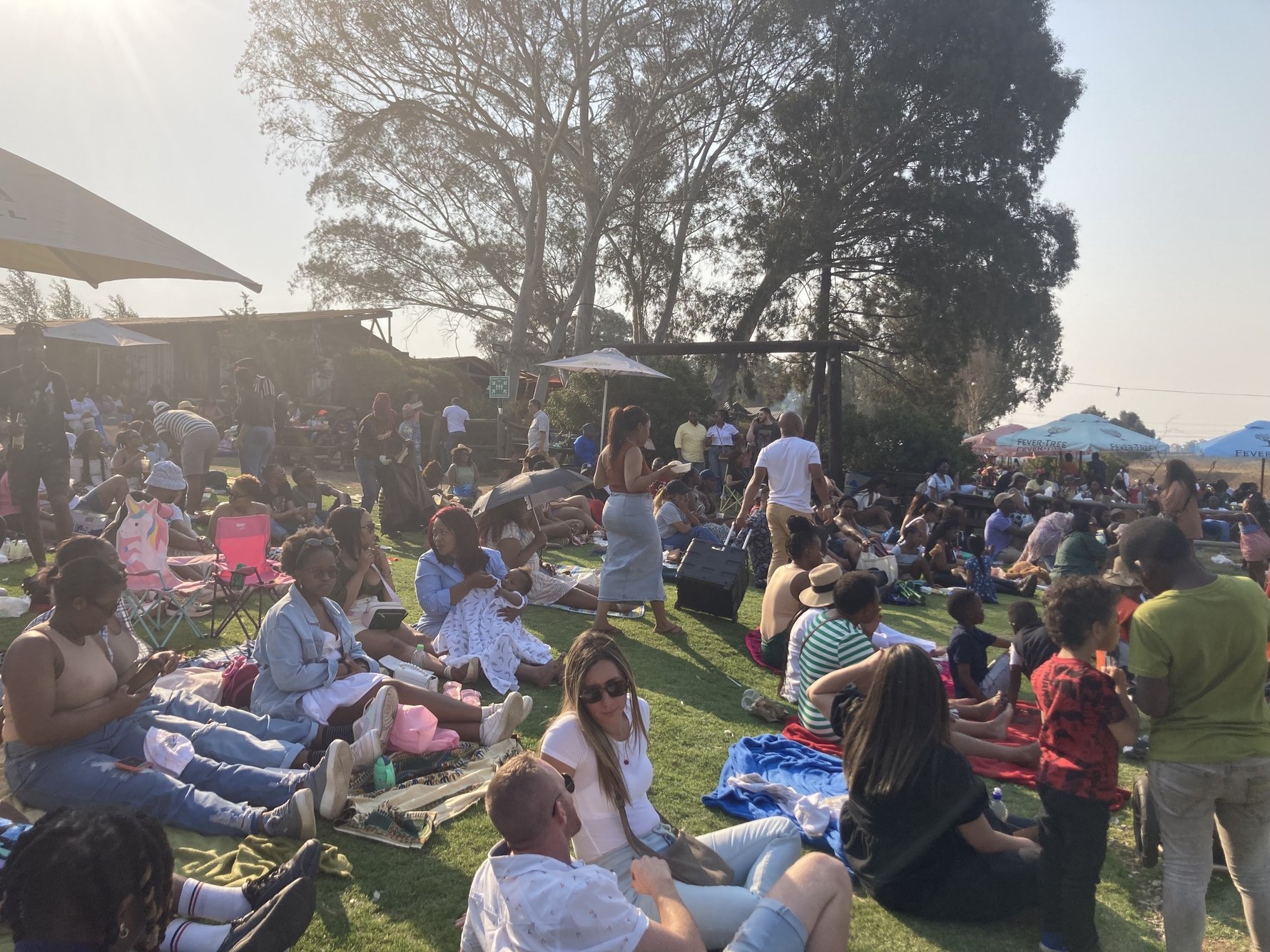 We loved winding down here while watching the sun turn a beautiful golden colour as people enjoyed each other's company, passing on friendly smiles to strangers as sounds of music lulled away the Sunday scaries for some. This is also a fantastic position for spotting different views of the Fourways Farmers Market offering, for example, it was while sitting here that we learned about a ceramics painting activity area. Unfortunately, we didn't catch the signage in time, but we will definitely be back for an arty session. Besides, we need to visit our friends at the parking lot, who so graciously watched our cars under the glaring heat and greeted us with even warmer smiles when it was time to go home. Perhaps we might have found the happiest place in Joburg? You tell us as soon as you visit. 

The Fourways Farmers Market located at the Modderfontein Reserve opens Fri, 15:00-22:00 and on Sat, Sun at 08:00-18:00. There are electronic payment options at the market, but make sure to carry cash if you are visiting during load shedding to avoid disappointment. See more details about best time to visit.