Here's sand in your eye: 40 kilometres away, smack between Kraków and Katowice, lies Pustynia Błędowska (Błędów Desert) - a bonafide, genuine, centuries-old desert. Known as the 'Polish Sahara' (because there's a 'Polish' everything), this is Central Europe's largest sand-pitch, and though it covers an area of only about 33 square kilometres between the small towns of Klucze, Chechło and Błędów today, it was once 5 times larger. Ideal if you're filming a 'pierogi western' or need a site for an exotic photo shoot, Poland's inexplicable desert is also an attractive, offbeat place for hiking and horseback riding. Recent conservation efforts, investment and Instagram (of course) have renewed interest in this unusual curiosity and made it more welcoming for visitors than ever before.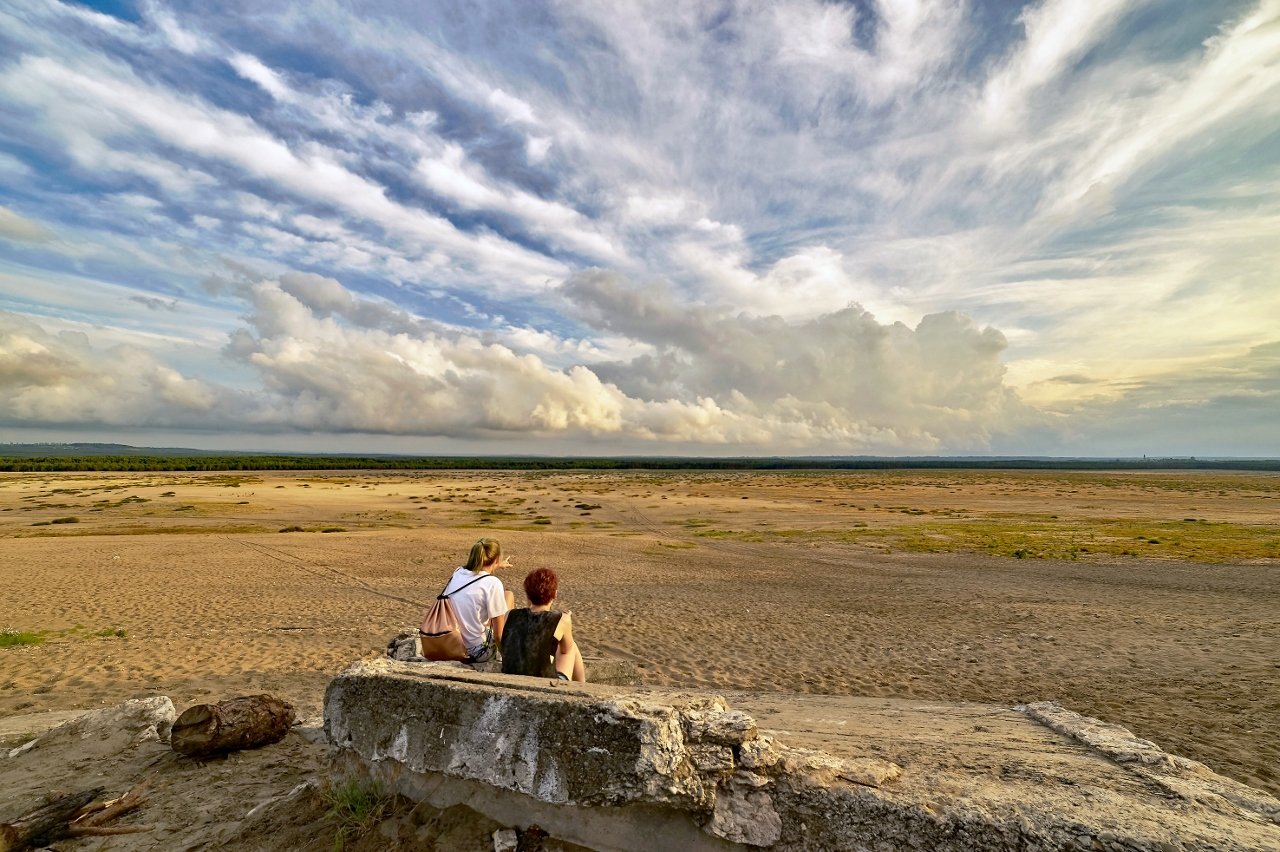 Creation & Conservation
Like all strange geographic phenomena, the origins of this odd sandbox can be traced back to Ice Age glaciers that migrated across the land dumping sand and gravel. But the same can be said of the surrounding region, which grew into a lush forest in the millions of years since. The area was stripped of trees and intensely exploited in the 13th century to fortify the tunnels of the nearby Olkusz silver and lead mines, which subsequently lowered the water table to the point that it couldn't support plant life. Therefore, the desert is technically considered to be of 'anthropogenic origin' or, in layman's terms, man-made. If you prefer legend, however (and who doesn't?), the desert was actually created by the Devil in an attempt to hide the silver deposits beneath it.

By the 1930s, the desert had grown to an impressive 150 square kilometres and during WWII was found to be an ideal training grounds for Nazi Field Marshall Rommel and his 'Afrika Korps.' Abandoned military bunkers can still be found on both ends of the desert, and even today the Polish army still does parachute jumps in the northern part of the desert in spring and summer.

After the war, as further exploitation of the land had the desert primed to expand further, the Polish government began trying to contain it. Fearing encroachment of the sand patch into neighbouring farmlands, the area was ploughed and seeded with pine and willow trees. This forestation programme went on actively through the 1970s and was wildly successful in strangling the dunes with vegetation; so much so that if left unchecked the Błędów Desert would continue shrinking on its own until it eventually vanished completely, like some sort of mirage that was never there. In fact, as recently as the 60s, visitors were able to witness strange desert phenomena here like sandstorms and mirages.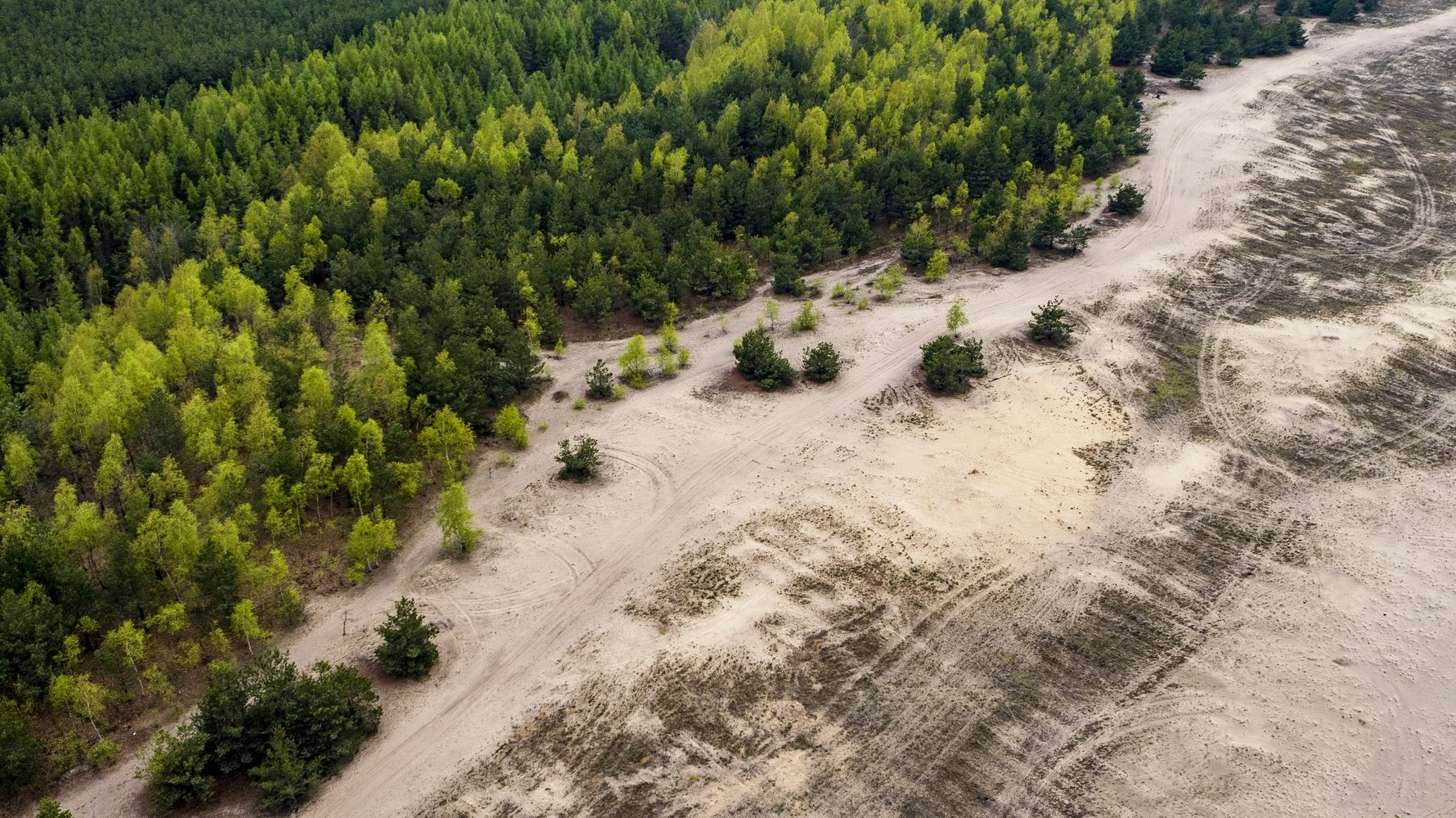 In what can only be viewed with a certain irony - since Błędów Desert's very existence is the accidental consequence of environmental expolitation, and it serves no strategic purpose - recent decades have seen a concentrated effort from naturalists to protect and restore the desert, with the EU even flipping in some coinage. Encroaching vegetation is being stripped, plants are being weeded and animals (camels?!) are even being set out here to graze (no, not camels) all in an effort to preserve the sandy wastes as a unique topographical attraction.
 
How to Visit & What to See
Is it an attraction worth seeing, though? Well, that depends how much you mind sand getting into literally everything. It is certainly an extremely peaceful place to explore and offers a hiking experience unlike any you'll find elsewhere in the heartland of Europe. The abandoned military bunkers offer creepy, downright bonkers destinations to discover, there are several marked educational trails, picnic areas and also observation towers to give you a better perspective on the desert's dimensions. To call it a proper tourist attraction might still be taking things a bit too far, despite recent energy invested into making it more of one.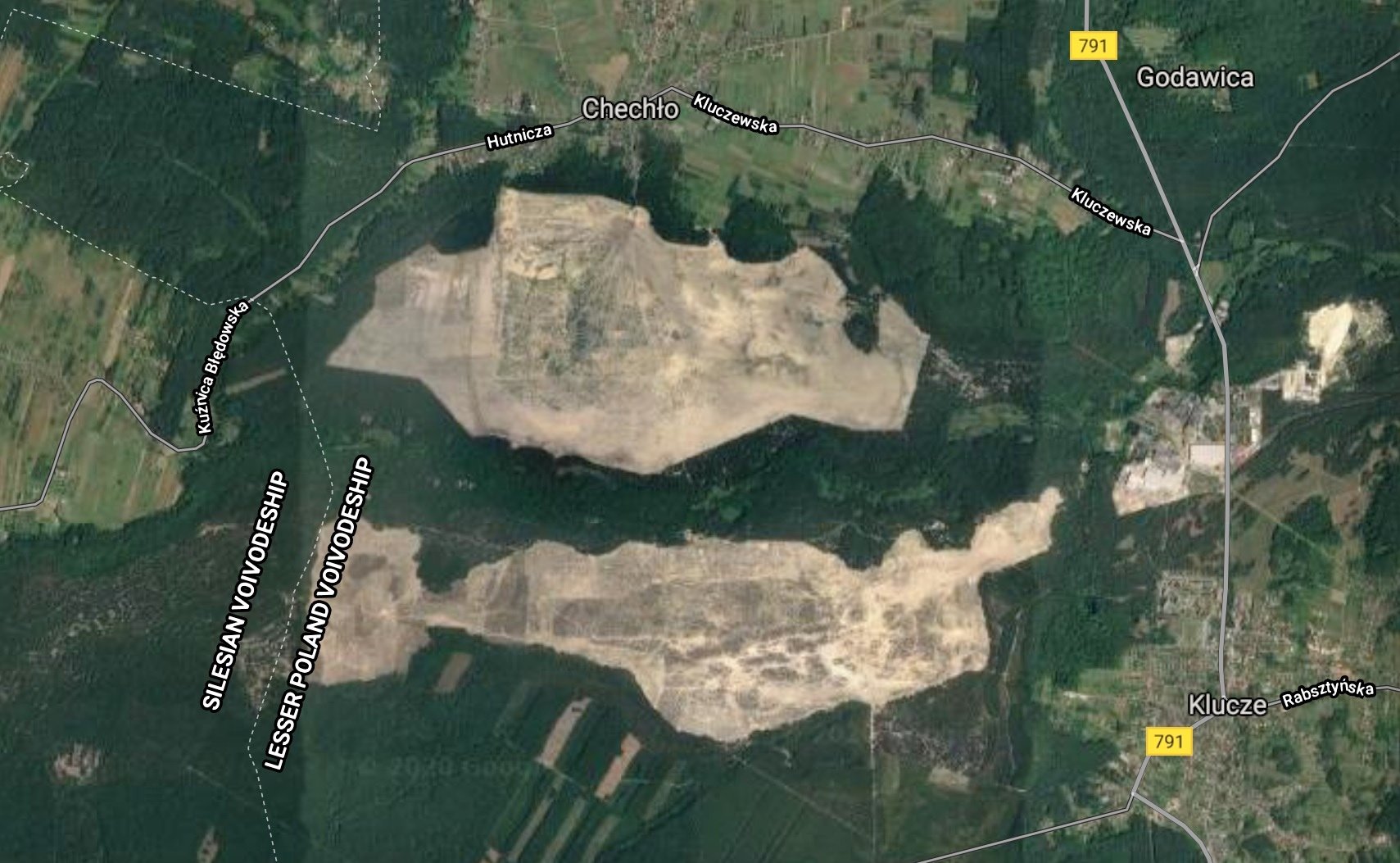 Błędów Desert is basically split in two sections bisected by the comparably lush Biała Przemsza river valley: the northern section (just south of Chechło) and the southern section (just west of Klucze). To explore the area you really need a car (and then maybe a camel or horse), but you can get to Klucze by bus from Kraków's main bus station (try e-podroznik.pl for connections). By car or bus, Klucze and the desert are about one hour's journey from Kraków.

Below we list the main points of interest for tourists.
1. Róża Wiatrów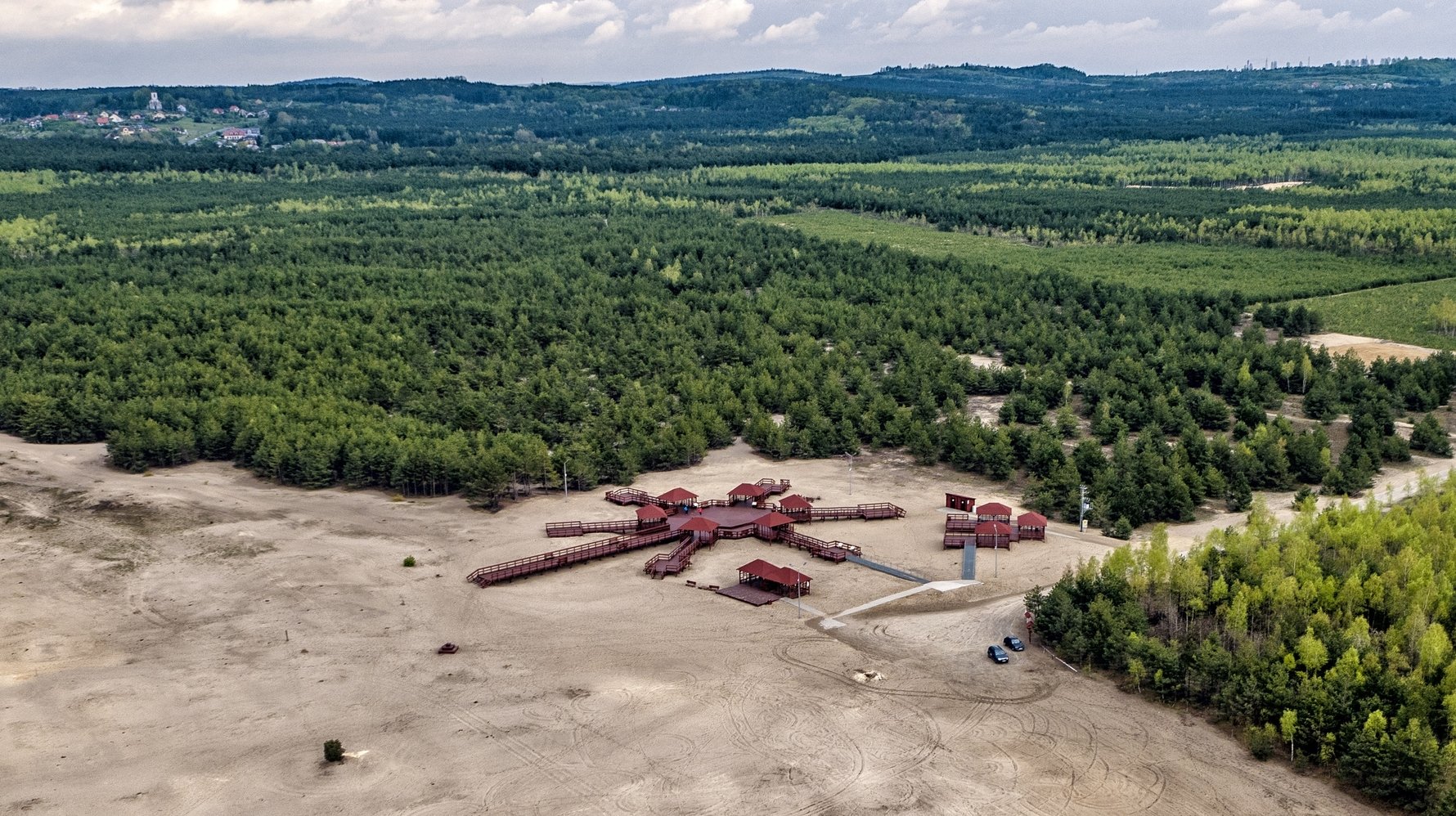 The romantically named 'Rose of Winds' recreation area is located on the southern edge of the southern section of the desert near Klucze. Created in 2018, the site is the ideal entry point to the desert and comprises a star-shaped complex of wooden gazebos, platforms and piers, as well as information posts and a viewing platform. The site gives access to educational trails and was also created to host cultural events. There is a parking area just south of here and it is a short walk east through the sands to reach one of the desert's old abandoned military bunkers.
2. Czubatka Hill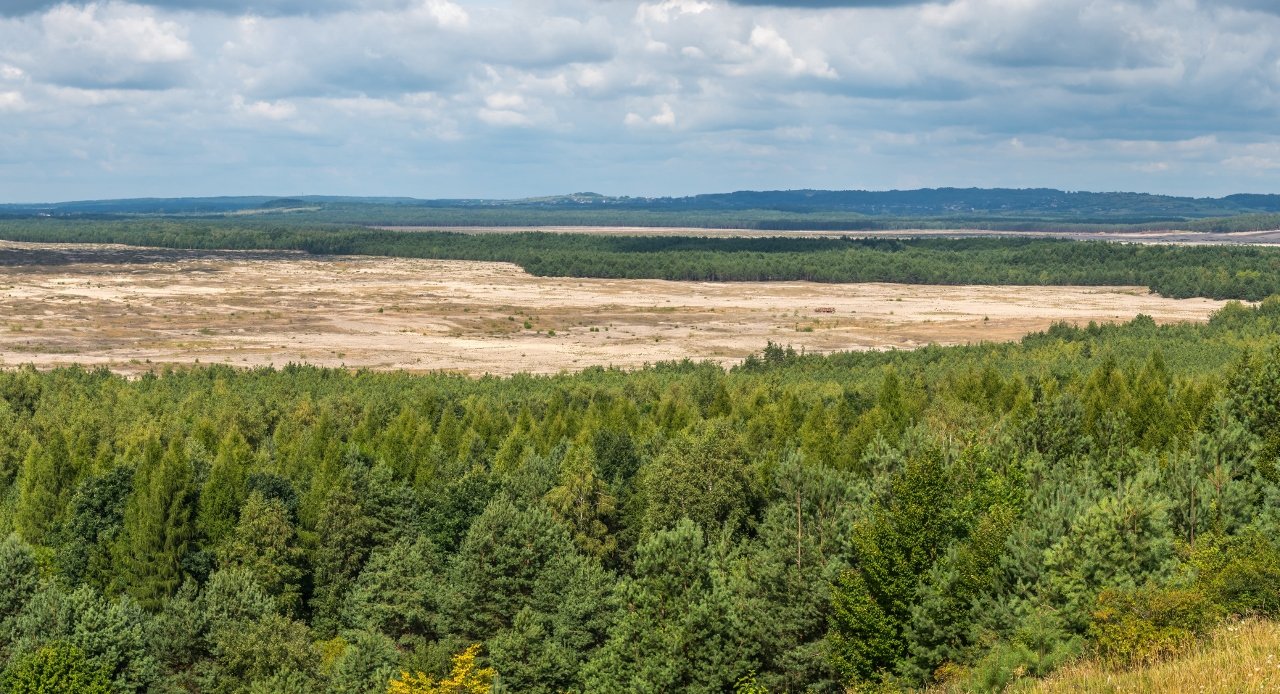 Closer to the centre of Klucze is Czubatka Hill, formerly the most developed access point to the desert. 382 metres above sea level, Czubatka offers lots of parking, some gazebos and views to the west over the southern part of the desert. Climb the tall observation tower for an even better vantage point. Not actually in the desert, from here you can take the yellow trail down into the sands, reaching the edge of the desert in about 10mins, and the Róża Wiatrów area in 20mins. In the evening it makes a dreamy spot for sunset views, and the lights and fires of industrial sites can also be seen in the distance.
3. Dąbrówka Hill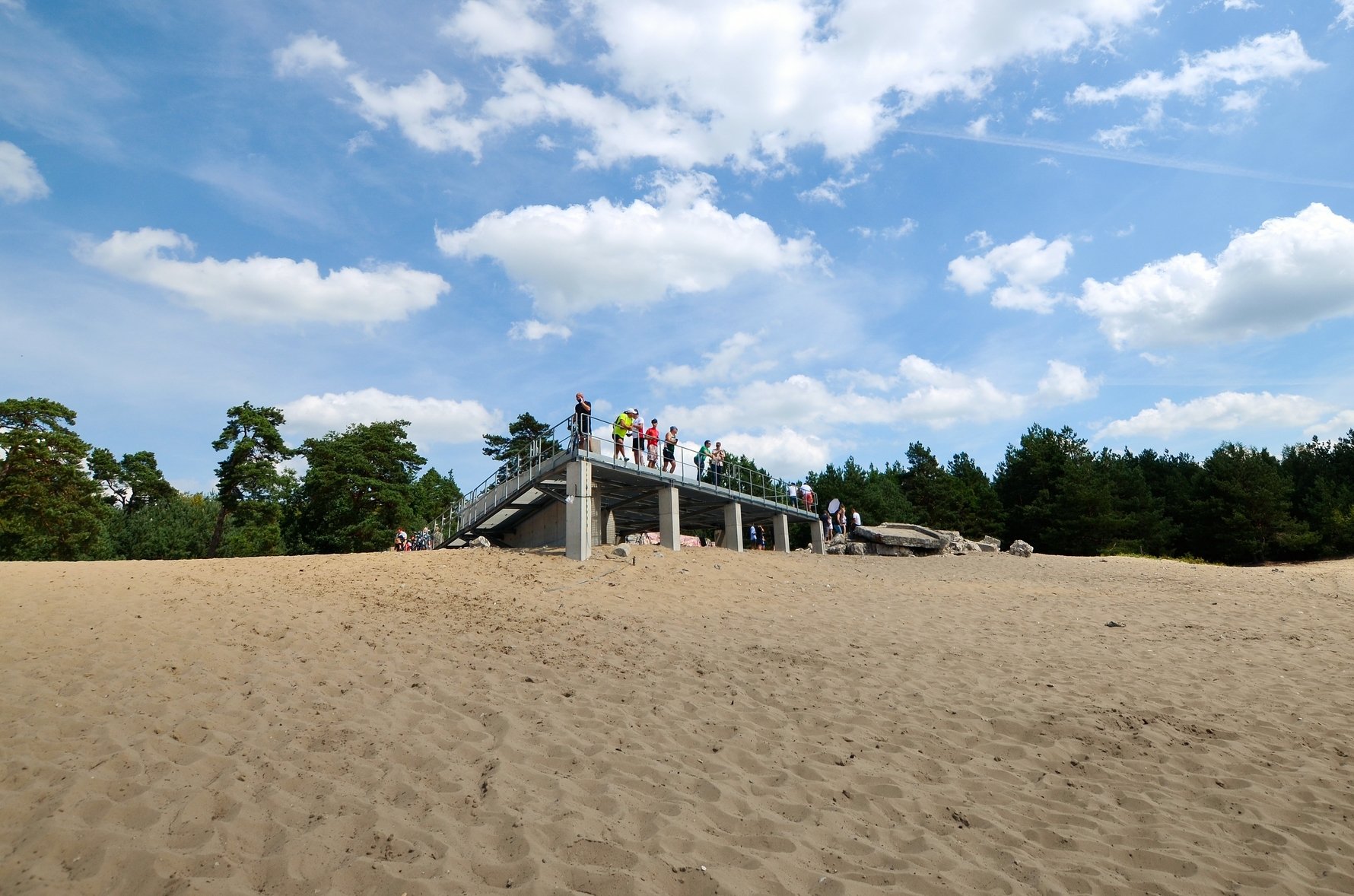 The northern part of Błędów Desert is actually more pristine with larger dunes and less brush. Dąbrówka Hill is located in the middle of the northern edge of the northern section of the desert. A bit more remote, there are informational boards and some vandalised military ruins scattered about, as well as a new (but low) viewing platform over the sand, which is handicap accessible. Despite being directly on the sand, you are on a hill here (355 metres above sea level), so you have some solid views of the dreamy desert desolation.