The Michelin Guide has finally come to Slovenia and has awarded Ana Roš of Hiša Franko with not one, but two Michelin stars!  For full coverage of the festivities as well as a complete rundown of all the other winners and awards doled out (there were lots!), we recommend checking out the extensive Slovenia Gourmet coverage on The Slovenia.

Hiša Franko is one the top three absolute winners of the 2020 national competition for Slovenia's best restaurant, The Slovenia Restaurant Awards as well as the winner of the Alpine Slovenia category.
Check out the winners of The Slovenia Restaurant Awards 2020 here!
 

Ana Roš is the head chef and co-owner along with her business partner Valter Kramar of Hiša Franko in Kobarid. Since taking over Valter's family's inn in 2000, Ana running the kitchen and Valter in his cellar and managing the front of house have turned Hiša Franko into a world class culinary destination. It's been a long road for Ana who is a self taught chef though her talent and incredible dishes are finally gaining international acclaim.
What a year...you were named the world's best female chef, Hiša Franko made it onto the list of top 100 restaurants in the world and it also claimed the title of best restaurant in Slovenia in the inaugural The Slovenia Restaurant Awards...Was this all part of your grand plan?
There had never been a plan for awards. We simply try to focus on our work and on our quality. If we were working in another country with more international recognition, everything would be much faster... But when things happen slowly, the base is more solid, with less risk to fail.
How hard was it becoming a chef without training? Do you now wish you'd gone to culinary school instead of studying international relations?
Never. I am different because I never did schools. My kitchen is different because I never did schools. Passion, motivation and talent are sometimes a lot more. And dedication.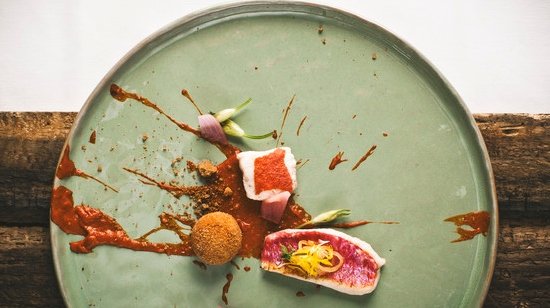 Were you always so creative or is this something you've embraced since becoming a Chef?
I consider myself a very creative personality. I was a dancer with an immense talent. And I always enjoyed writing. As a student I was earning enough money for my life as an occasional journalist. I had my dance group. I found my personal way how to teach kids how to ski. This is how I am.
How did Valter's parents react to you two taking over Hiša Franko? What did they think about your new approach?
Valter's father Franko Kramar, the original owner of the house loved saying that we keep on flying too much (metaphorically speaking). He has always been used to work hard and too much philosophy was not close to him. But with his wife they remain our biggest supporters and I can see admiration, even if the words are sometimes just not said.
 
You're now an ambassador for Slovenian gastronomy...what do you tell foreigners about Slovenia, it's food and wine?
Slovenia is a tiny country with fantastic geographical diversity and strong cultural and food traditions all around us/Italy, Austria, Balkans, Hungarian lowlands. All this strong identities influence us a lot.