Bulgarian cuisine tends to be simple, seasonal and tasty. There are many dishes similar to those of neighbouring countries.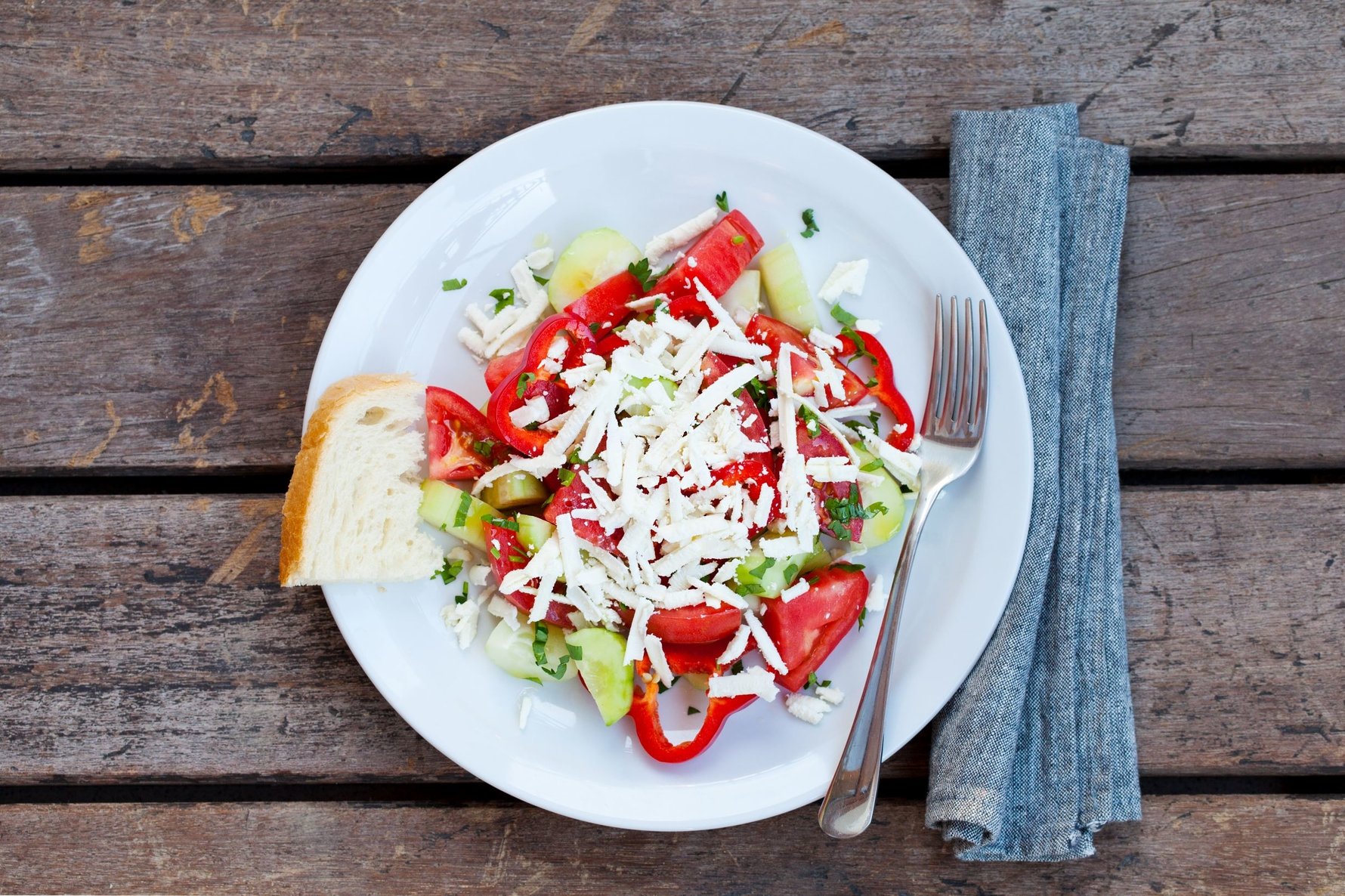 Salads
It relies heavily on fresh salads, a compulsory start to any meal along with a good measure of the local brandy 'rakiya'. Topping the list is the 'Shopska' Salad (diced cucumber, tomatoes, sometimes peppers and onions, generously covered in grated white cheese and parsley) which not only combines the colours of the national flag, but the purest of locally produced ingredients. In the winter months these are partly replaced by pickled cabbage salad and mixed vegetables 'turshiya'ShopStarters
Many of the traditional warm starter dishes make good vegetarian options e.g. 'Sirene po Shopski' ( white cheese and egg baked in a ceramic pot), 'chushki byurek' (peppers stuffed with white cheese mixture) or baked peppers with a tomato sauce. The most popular soups include; chicken, bean, lentil, nettle and tripe but be sure to try the refreshing cold 'tarator' (yoghurt with cucumber, dill garlic and walnuts) during the summer months.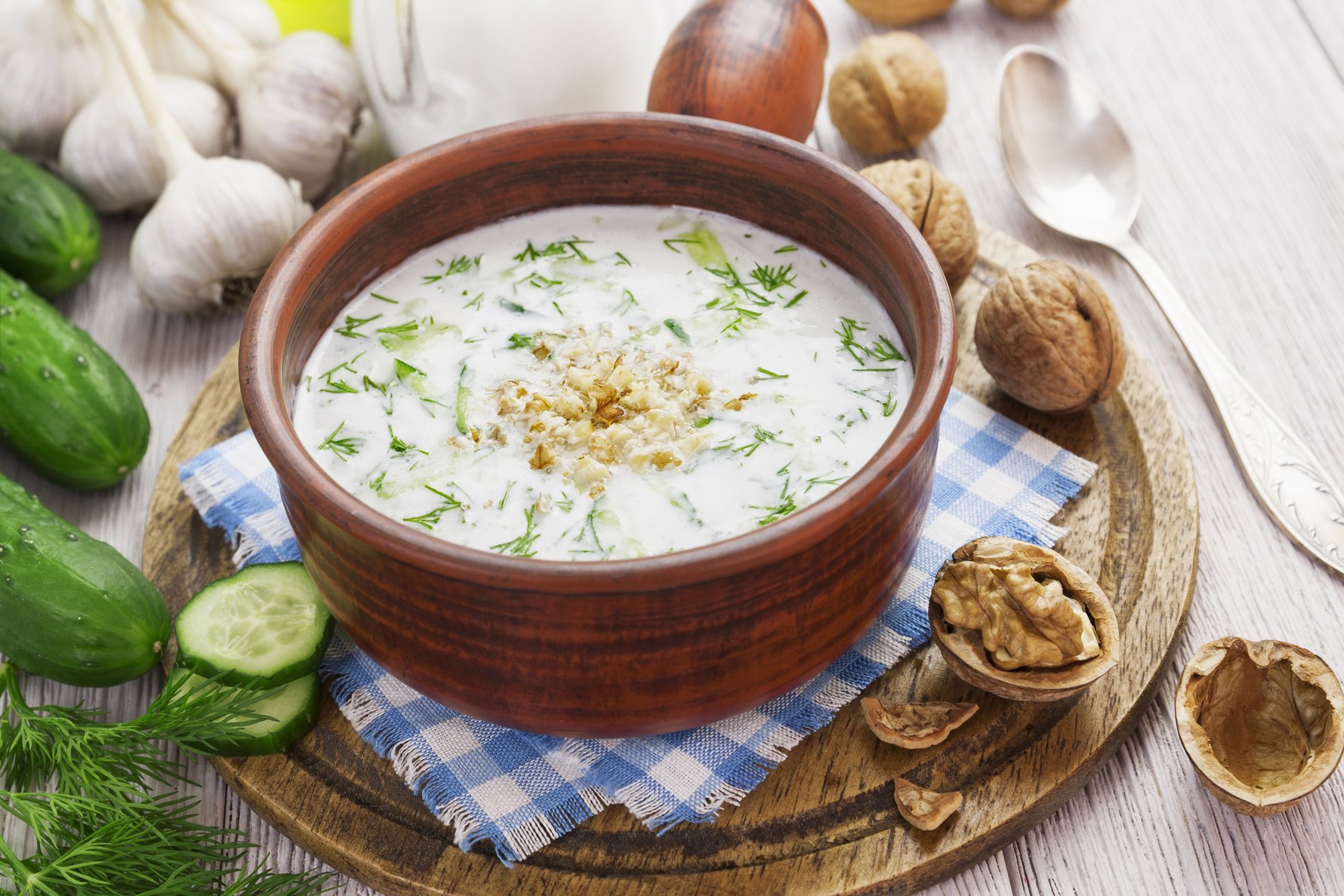 Main Courses
Grilled meats are very popular and a safe bet, either in the form of pork or chicken chops or as minced meatballs 'kyufteta or sausage shaped 'kebabcheta' As a side dish potatoes sautéed with garlic and dill are hard to beat, In spring take the opportunity to enjoy the taste of fresh whole lamb cooked on a spit 'cheverme' or slow roasted in special ovens, stuffed with rice and innards. Traditional slow cooked stews in pretty earthenware pots combine a variety of seasonal vegetables 'Gyuvech' with meat 'Kavarma' as do the hot sizzler plates known as 'satch'.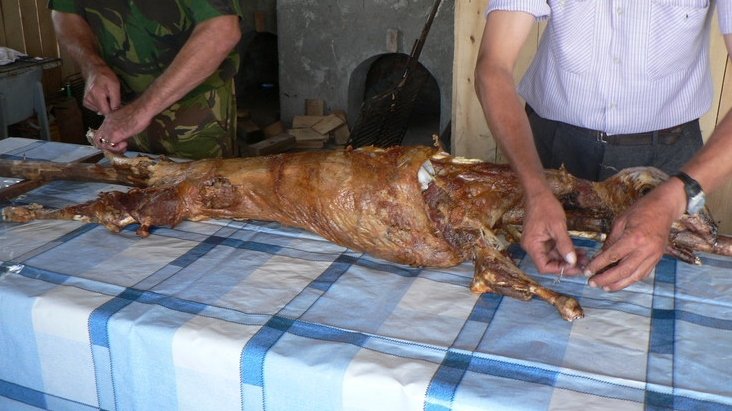 Desserts and Snacks
Bulgarian cuisine is a little poor when it comes to desserts especially in restaurants. Usually the offer is limited to pancakes, ice cream or crème brule, but in the autumn baked pumpkin with honey and walnuts makes a regular appearance on local menus and is a healthy and tasty end to any meal. 'Banitsa' is probably the most popular snack in Bulgaria. Thin filo pastry is filled with a variety of mixtures such as custard, white cheese, spinach, leeks or pumpkin, can be found at special bakery shops known as 'banicharnitsi'. Together with a bottle of 'Aryan' (yoghurt drink) this is a filling and tasty snack at any time of day.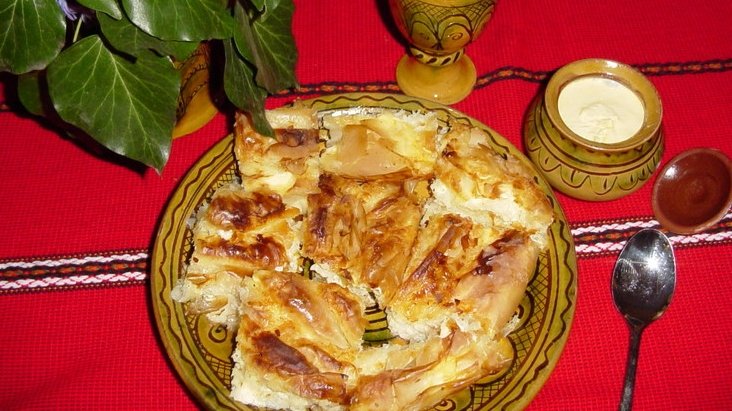 And finally just a quick word about some of the things Bulgarians enjoy – things that not everyone will enjoy! These include tripe soup, tongue in butter, and similar delicacies.
Be adventurous and enjoy!