Avoid getting ripped off by dodgy taxi drivers in Bulgaria's capital
OK Supertrans is the official taxi operator at Sofia airport, yet hundreds of unwitting tourists get ripped off each year by taxis either posing as OK Taxi or by other taxi companies 'kerb crawling' outside the main entrance of both terminals. The benefits for the taxi driver are endless – tourists who don't even speak the language often have no idea how much they should pay to get by taxi to the centre of Sofia, and even if they realise they have been the victim of a scam they are unlikely to be able to do anything about it: they don't know who to complain to. There are also many stories of taxi drivers holding the customer's luggage hostage until he pays.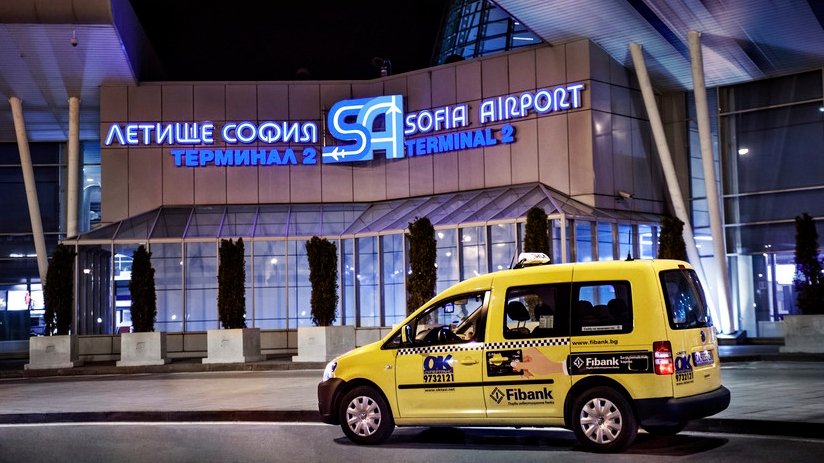 If you're wondering how you can be certain you are using the official taxi service for Sofia airport here's a quick guide:
1. Check the logo
Check it closely as there are cars around the airport sporting various imitations of the OK logo (infuriatingly this is not actually illegal unless they directly copy it)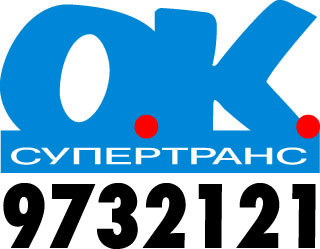 9732121 – the surest way to spot an imposter is the telephone number. Imitators may have a similar number but they can't actually use the same one. When phoning the number use the Sofia code (02) and the Bulgaria one (+359), if you are outside the country.
СУПЕРТРАНС – this is going to be difficult for anyone who doesn't know the Cyrillic alphabet – fakes use something similar but not the same.
2. Check the car type
OK taxi only use VW Caddy, Hyundai Sonata, Hyundai Elantra and Fiat Cubo. Any other make is not them. Most of the cars at Sofia airport are VW Caddy.
3. Check the rates
The rates are displayed on the window and inside the car, in front of the passenger seat. The official rates of OK Supertrans are pictured below and are 0.79 lv for one kilometer daytime and 0.90 for one kilometer nighttime. Additional fees include: 0.70 lev call out fee, 0.70 lev initial fee and 0.22 lev waiting fee per minute.
As a rule of thumb it should cost about 15 leva to get from the airport to the centre of Sofia by taxi.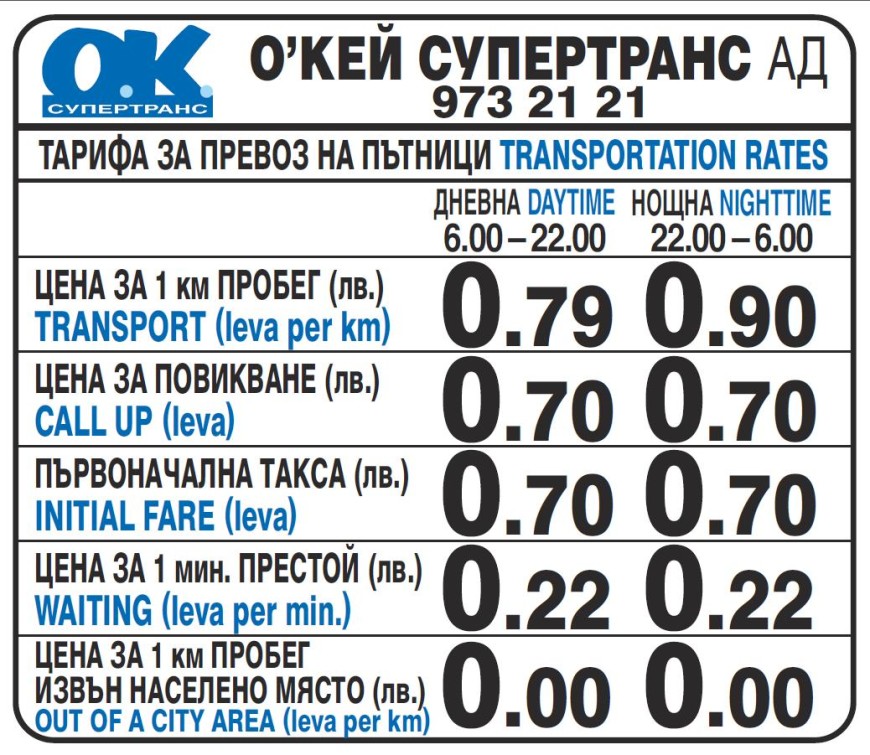 4. Sofia Airport Office
OK Supertrans is the only taxi company authorised to service Sofia Airport.

There are offices of OK Taxi in the arrival lounges of both terminals 1 and 2 of Sofia Aiport.

The safest way to get a taxi at Sofia aiport is to go the OK Supertrans office where you can book a taxi for a 0.70 leva booking fee and receive a printout with the number of the taxi who will be waiting outside.

Staff in both offices speak English.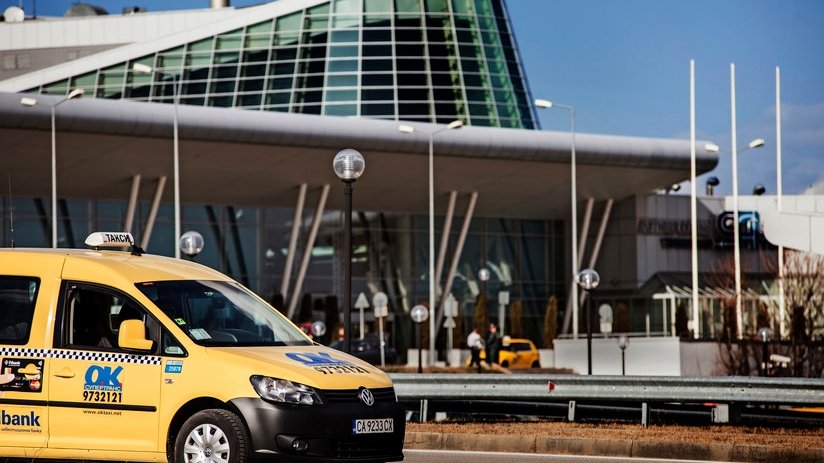 Important
The staff and drivers of OK Supertrans do not tout for passengers in the corridors of the aiport so if someone stops you and offers you a taxi you can be sure it is not the authorised taxi service.

The authorised taxi stop outside is clearly marked with a sign. Make sure you look around as you come out of the airport exit to find the right stop.

Signs around the airport point to the OK Taxi offices.

You can also book a taxi in advance online at: https://www.oktaxi.net/onlineorder_en.php
If you book online you will see your name on a sign outside the OK Taxi office and once you provide your I.D. you will be directed to your cab.
OK Supertrans also has an office at Sofia's Central Bus Station.
Order a taxi by calling 02/9732121 or 18294 from a Bulgarian mobile phone. Bulgaria code: +359.