Did you know that there are more than 800 graffiti walls in Joburg? That's according to Eelco Meyjes (of tour company eBiker SA). The city's countless high walls, gated areas and underpasses make it a perfect canvas for graffiti artists. On any given day exploring some city neighbourhoods, it is hard not to come across graffiti artwork both small and large sprayed across a shop wall or along the side of the road.

Eelco Meyjes offers a city graffiti experience like no other – a ride in a safari vehicle through the streets of Joburg. His eBiker SA Graffiti Masterpieces Tour is a great way to spend a Sunday, traversing the streets of places like Newtown and Braamfontein in the City Centre, and visiting other key urban graffiti sites along the way.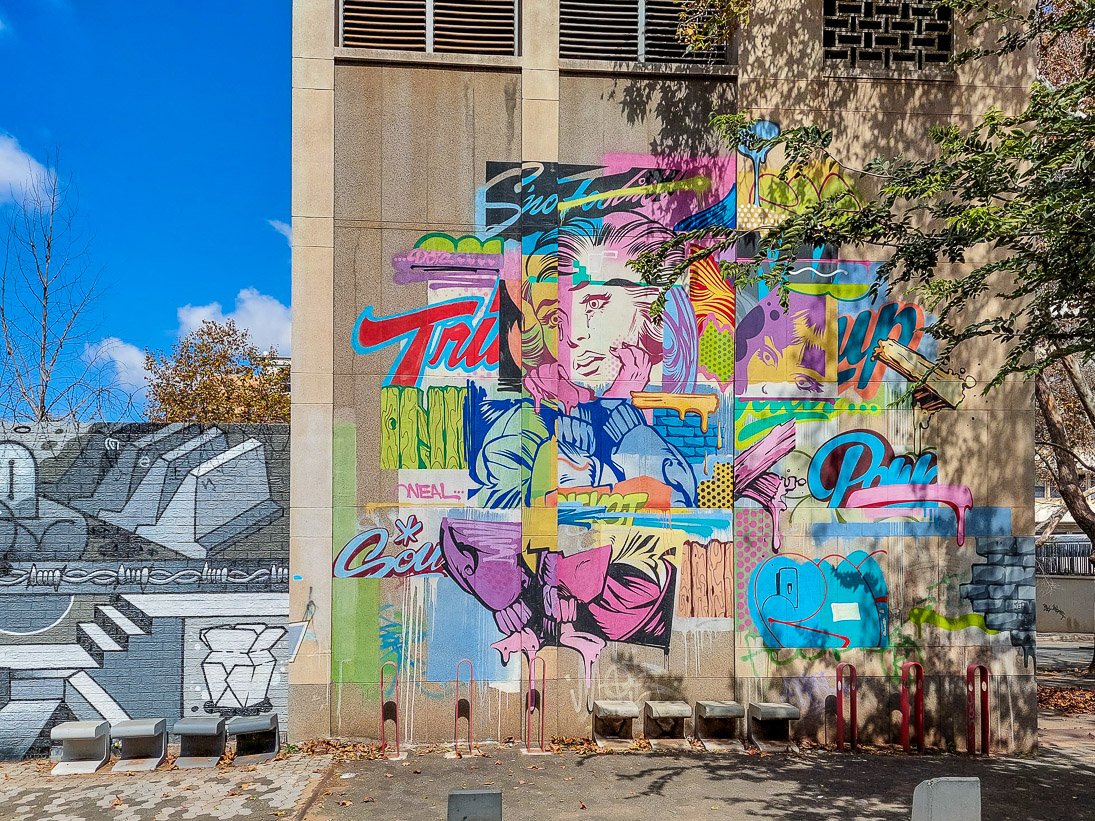 A graffiti connoisseur and cycling fanatic, his 2.5-hour Graffiti Masterpieces Tour gives an insider's perspective into how graffiti culture was brought to Joburg and how the local street art scene has evolved to make Joburg a world-class destination for those interested in graffiti. From wild styles to bubble letters and tags, and what it takes to be part of a graffiti crew, Eelco presents a tour that shows the unique character of the city, and comes alive across the city's walls.  

Graffiti as a street art movement first came to South Africa in the 1980s and 1990s, he says, and was originally most popular in Cape Town. However, due to increased police surveillance and regulation of street art in Cape Town many artists moved up to Joburg and the scene then started to boom. Joburg's size, and its abundance of large walls made the city the perfect place for a major graffiti scene to grow.

As Eelco explains graffiti crews are usually composed of members who live in the same area, have the same graffiti style, or just mesh together well. One of the most popular crews in downtown Joburg is named "Most Hated Crew."

Armed with this insight, it soon became very easy to identify their work with its signature "MHC" on walls around town.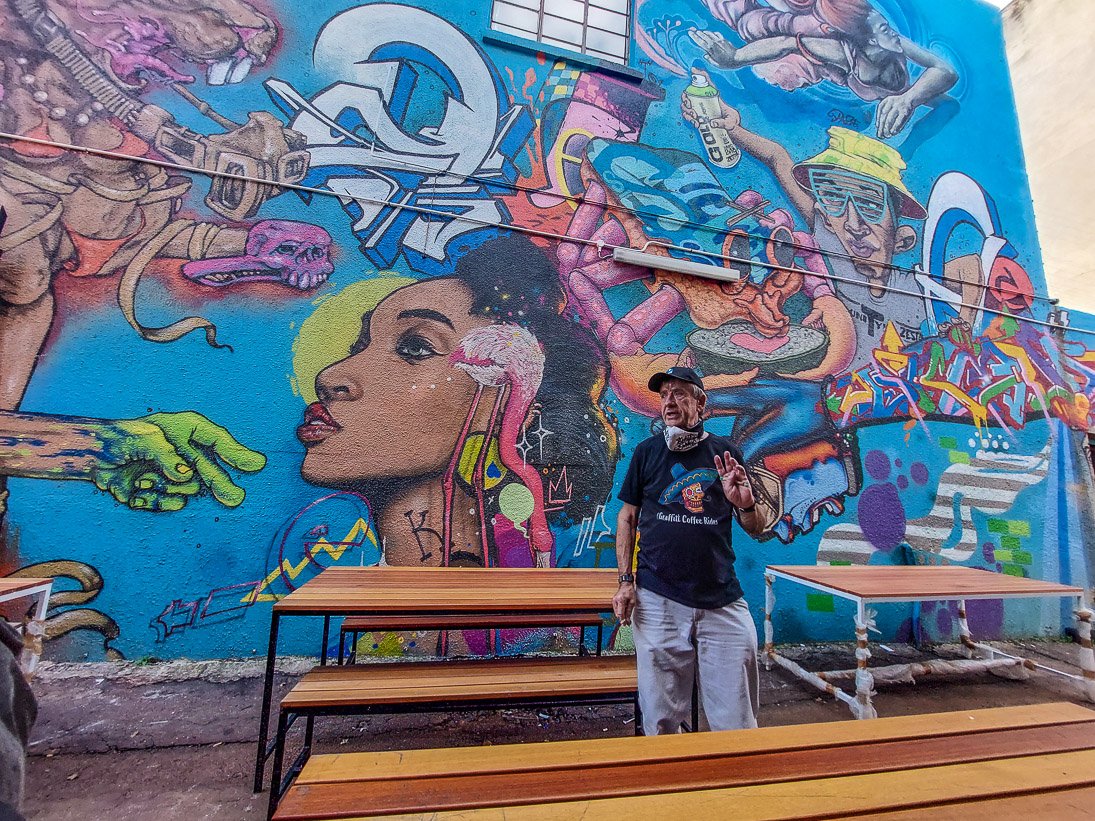 What makes this experience particularly special is that you are driven around in an open safari vehicle – an unusual sight on Joburg's roads – giving you a chance to fully experience the environment, and cover lots of ground in a relatively short time. A huge bonus is that it's also super easy to snap photos left and right from the safety of the vehicle as you drive by. 

The eBiker SA safari graffiti tours began in October 2021 as a response to cyclists who wanted to bring along friends and family – who were not too confident on a bike – on Eelco's graffiti tours. 
 
This tour is as perfect for locals or visitors who have yet to explore the city districts of Newtown and Braamfontein, as it is for those familiar with these areas of the city.  Even though this writer had been to some of the graffiti areas visited on the tour, street art is an always evolving art form and murals go up frequently, meaning there's always something new to see. Interestingly everyone on our tour was from Joburg, but we imagine this safari experience will be super popular with Joburg visitors as tourism opens up.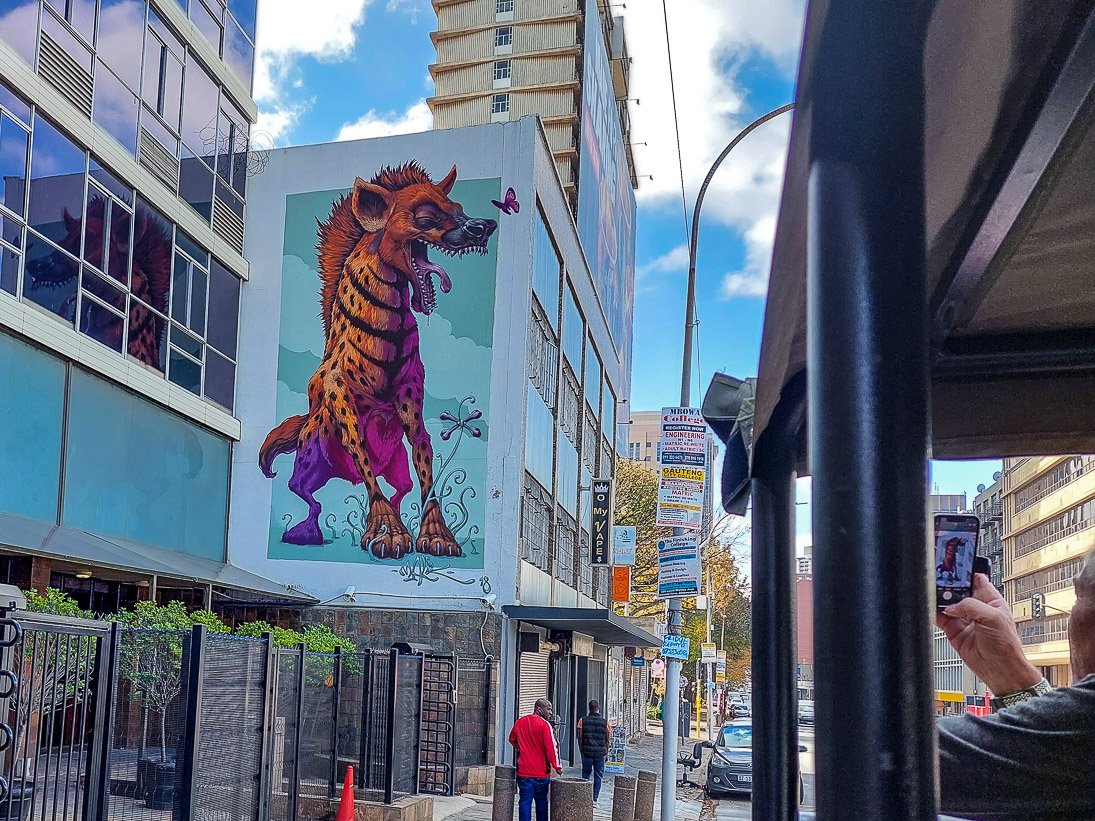 Graffiti is an ever-changing art form that retains a sense of informality, despite the increasingly involvement of commercial interests – from popular brands to property and precinct managers. It's also an art form that changes perception – while scribbles on a neighbourhood wall might speak to urban decay, mural art can and often does make city neighbourhoods more attractive. A recent project in Newtown saw the commission of a number of works that bring to life the neighbourhood's creative heart by celebrating key musical icons. These works took many days to complete.  Right next to them another "hit-and-run" style work can unfold in 15 minutes or less!

Within the graffiti scene in Joburg there are those who deem themselves 'street artists' and who don't usually partake of tagging, 'bombing' and wild style writing. The hit-and-run tagging style is practiced by others who refer to themselves as 'graffiti writers'. In fact, Eelco says that many who consider themselves 'writers' have little time for the 'artists' who they say "never served time on the street". It's a tough business clearly. 

Eelco's tour starts at Delta Cafe in Craighall Park, making brief stops in the Parks suburbs before heading to Newtown to pick up some of the most famous graffiti spots such as the area beneath the bridge on Mary Fitzgerald Square. The tour then heads over to explore Braamfontein (including a quick stop for coffee), before looping back around to Craighall Park via Rosebank.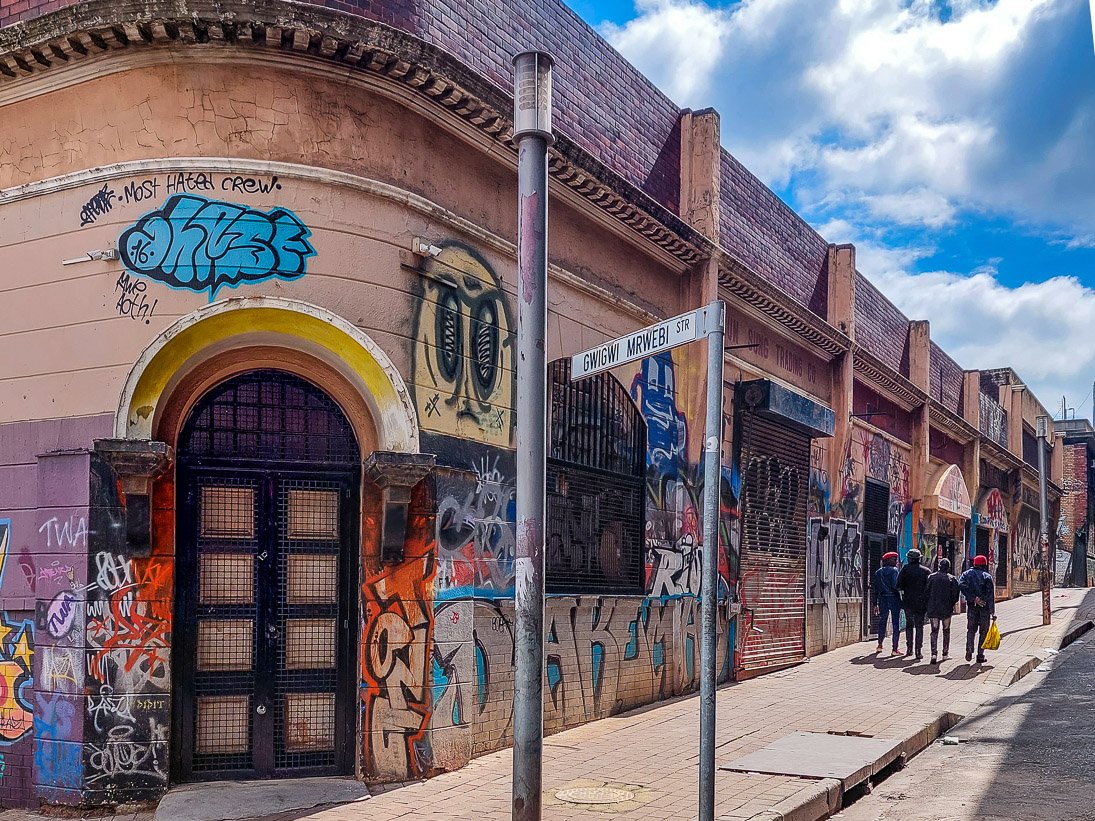 These graffiti safari tours are not limited to Newtown and Braamfontein. There are four different tours to choose from: the Graffiti Mini Safari Tour, Big 5 Graffiti Safari Game Drive, Westdene Graffiti Art Project Tour, and the Graffiti Masterpieces Tour which we tried.

NEED TO KNOW 
Tours are hosted once a month on weekends. Private midweek tours can be arranged on request. To book call Eelco on +27 82 457 4936 or email ebikersa@gmail.com. Tours cost from R345 to R525. Check out ebikersa.wordpress.com for more details and follow eBikerSA on Instagram.

*Our reviewer, @thescribsandnibs (Attiya Sayyed) was invited by eBikerSA to try this tour. The views expressed in this review are her own. Follow the Scribs and Nibs travel and food blog online at thescribsandnibs.com.