Arguably the street art capital of sub-Saharan Africa, Joburg has a thriving graffiti art culture with bold new murals and artworks by local and international artists going up on the city's walls almost every other day, bringing colour to Joburg's busy streets.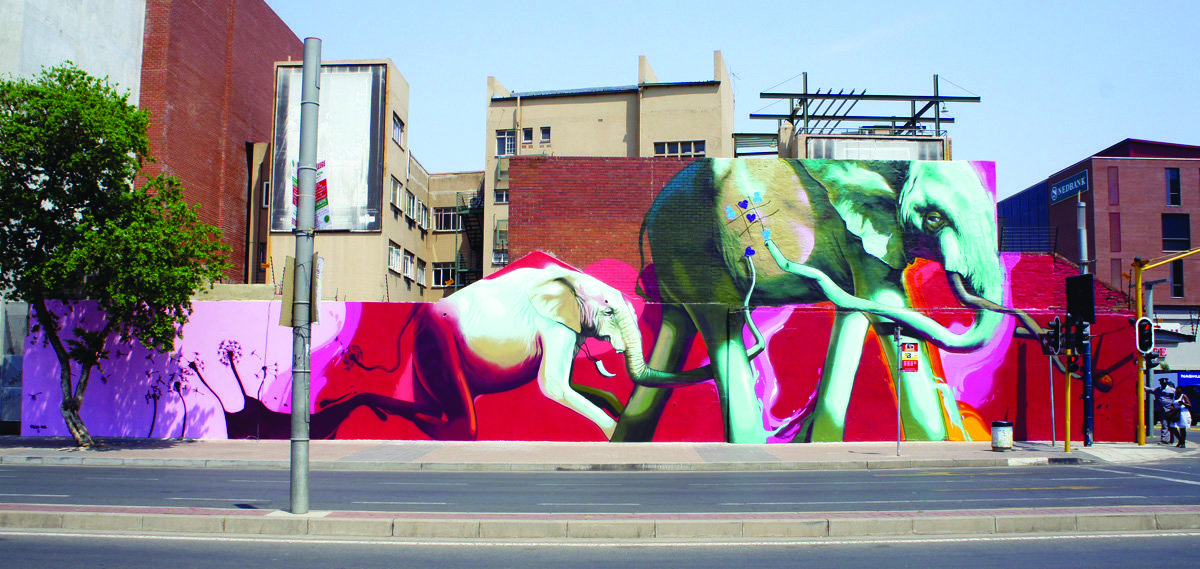 While there are those who dismiss graffiti as a public blight, in Joburg the spread of graffiti has played a role in the city's upliftment. Particularly in downtown neighbourhoods like Braamfontein, Newtown and Maboneng the wall paintings by local and international artists enliven spaces, create reasons to pause along busy streets and add colour to the concrete cityscape. The murals also serve the purpose of creating beauty amid the billboards and advertising hoardings that blare commercial messages at passersby. 
Graffiti hotspots in Maboneng and Newtown
In the downtown neighbourhood of Newtown (on the western edges of the inner city), an abundance of large open walls have made the area the heart of Joburg's graffiti art scene. A major graffiti hotspot is the area beneath the M1 highway and the adjoining streets Gwigwi Mrwebi and Pim which are always in a state of change with new murals cropping up all the time covering long stretches and snaking their way around the pillars holding up the motorway above.

Meanwhile just beyond the highway flyovers on the eastern side of the city is the hip Maboneng Precinct which also has a wealth of eye-catching works. These include an ever-changing collection of murals that cover the walls leading along Maboneng's main drag Fox Street and Ricky Lee Gordon's (aka Freddy Sam) 40-metre-high mural of Nelson Mandela on Beacon Street, completed shortly after Mandela's death in 2013. It is based on an iconic photograph of a young Mandela boxing on a city rooftop, taken by Drum magazine photographer Bob Gosani in the 1950s (the same photo also inspired a magnificent steel sculpture by Marco Cianfanelli in Ferreirasdorp).

Also particularly notable are the distinctive brightly coloured portraits of local children on nearby Van Beek Street painted by fine artist Nelson Makamo, whose work, which is collected by global celebrities like Oprah Winfrey, was recently featured on the cover of Time Magazine.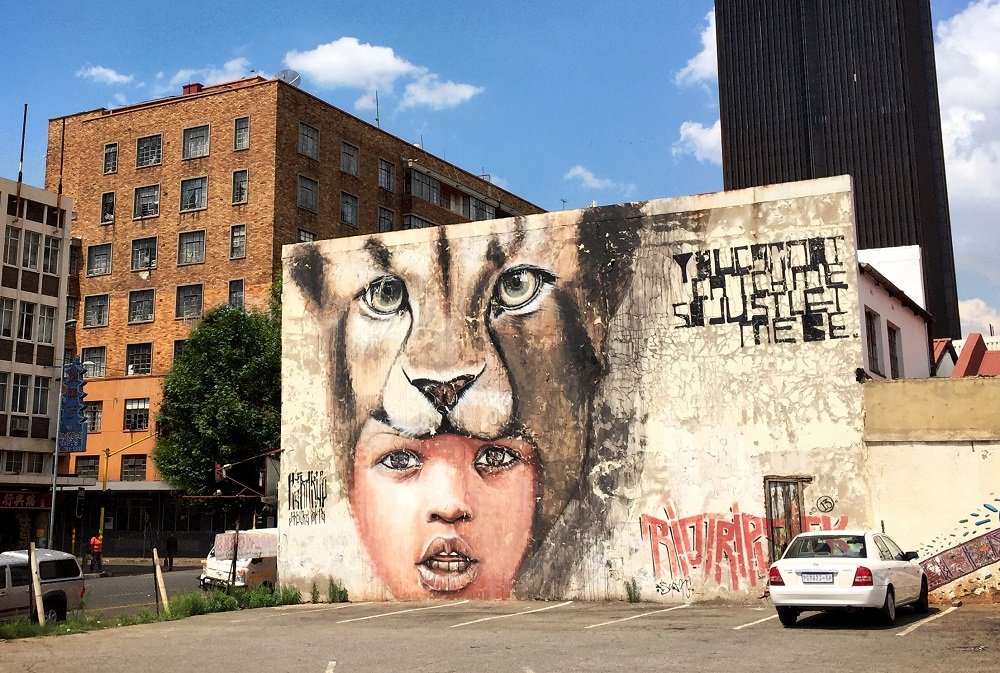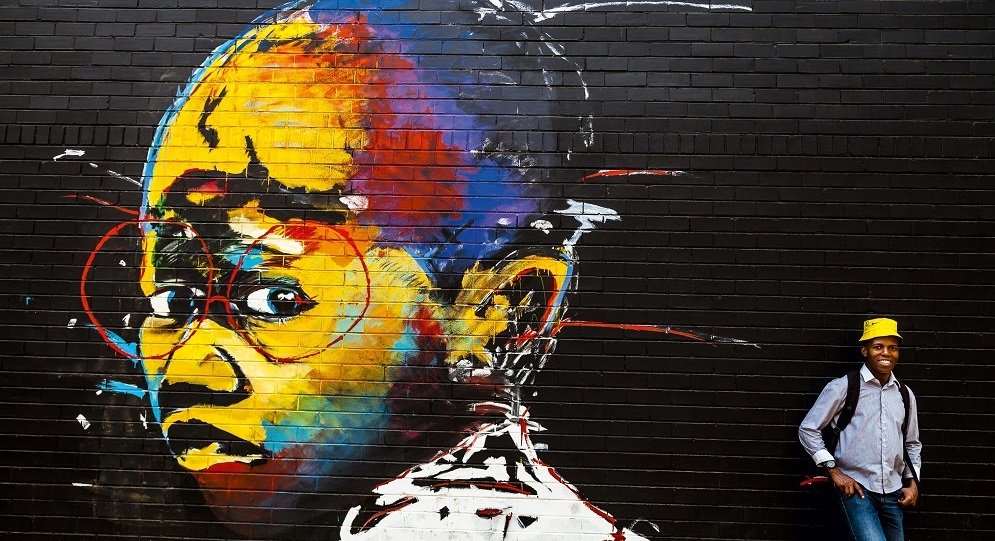 Exploring Braamfontein's murals
Another local street art hub is Braamfontein, a busy student neighbourhood and home to one of South Africa's premier tertiary institutions, the University of the Witwatersrand. This is a great place to take yourself on a self-guided street art exploration. 

Start your walk from Grayscale Gallery, Joburg's dedicated street art gallery and spray paint retailer. Grayscale is owned by one of the city's most prominent graffiti artists, Rasty, who founded the annual City of Gold Urban Arts Festival which invites international street artists to come to Joburg for a week to create new murals. He is also a top tattoo artist. In 2018 the festival took place exclusively in Braamfontein, meaning the area has a bumper crop of interesting murals.

From Grayscale take a right onto Eendracht Street for newer artworks from the 2018 City of Gold festival such as those by the British graffiti artist Solo One, Spanish illustrator and street artist Isaac Malakkai and South African graffiti artist Falko, who is famous for his works featuring playful and colourful African animals, most notably elephants, who can be seen making their way across this city and other parts of the world.

Follow the route down De Korte Street, turning onto Melle Street to gaze up at artist Hannelie Coetzee's Nzunza, a 10-storey portrait on the side of a Braamfontein tower block made from more than 2000 ceramic plates completed in 2018. The work is inspired by the history and culture of the Ndzundza (or Nzunza) Ndebele people.

Then take Melle Street down to Juta Street making a stop at The Grove square to explore the Braamfontein alleyways that connect the square with neighbouring streets. One block over at the corner of Juta and De Beer Street , you'll find American street artist Shepard Fairey's 200-metre high Mandela mural The Purple Shall Govern, painted in tribute to South Africa's Purple Rain protest. In 1989 a peaceful protest in downtown Cape Town saw anti-apartheid protesters come up against riot police armed with a water cannon filled with purple paint. The protestors managed to take control of the cannon and used it to fire purple paint onto the police and in the following days graffiti tags spread across the city declaring 'The Purple Shall Govern'.

End your Braamfontein street art walk at Constitution Hill where a bold collection of new murals include Nard Star's colourful dedication to South African female anti-apartheid activists and Imraan Christian's incredible photo-realistic murals that present ordinary and extraordinary scenes inspired by South African people and places.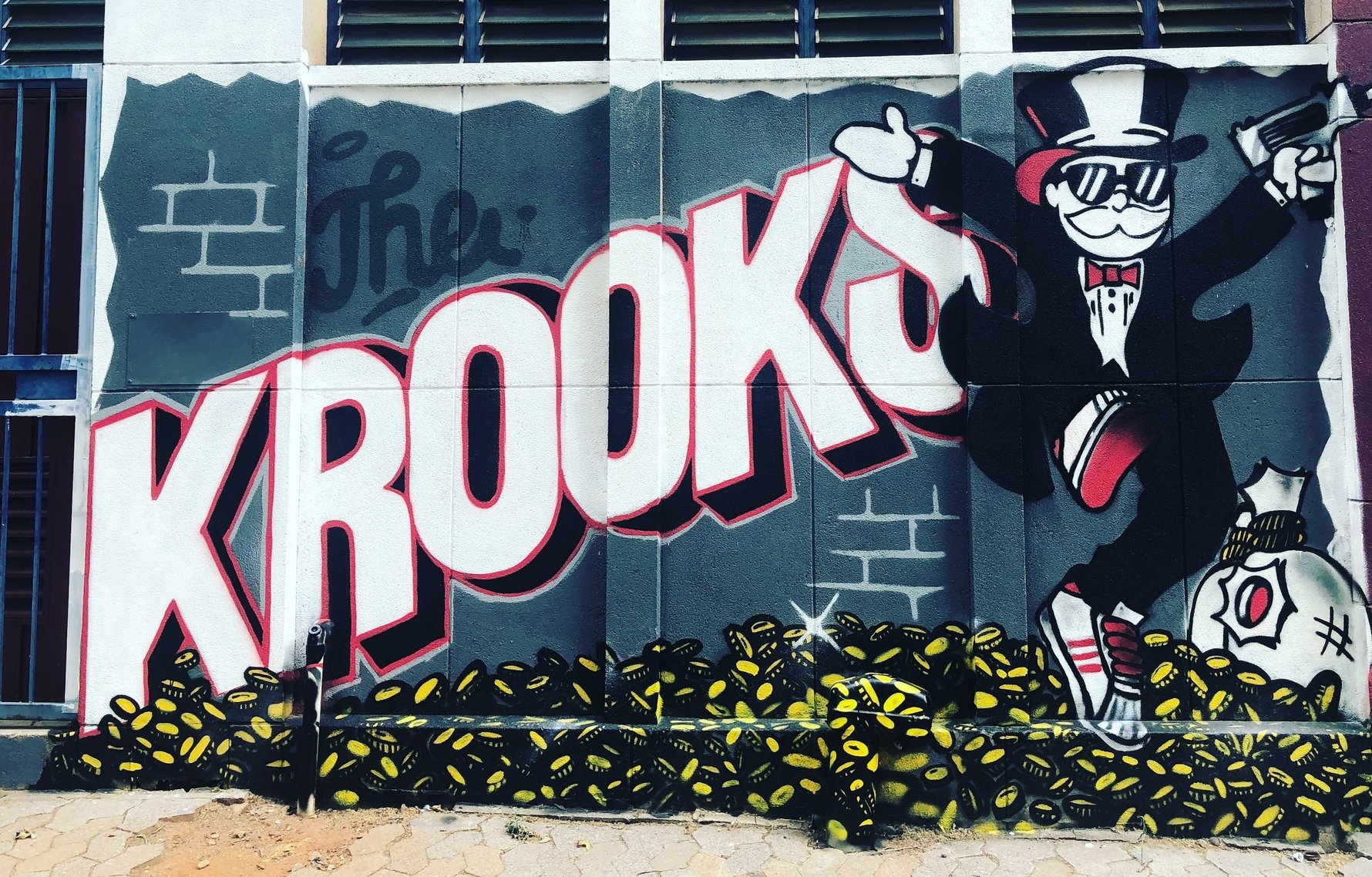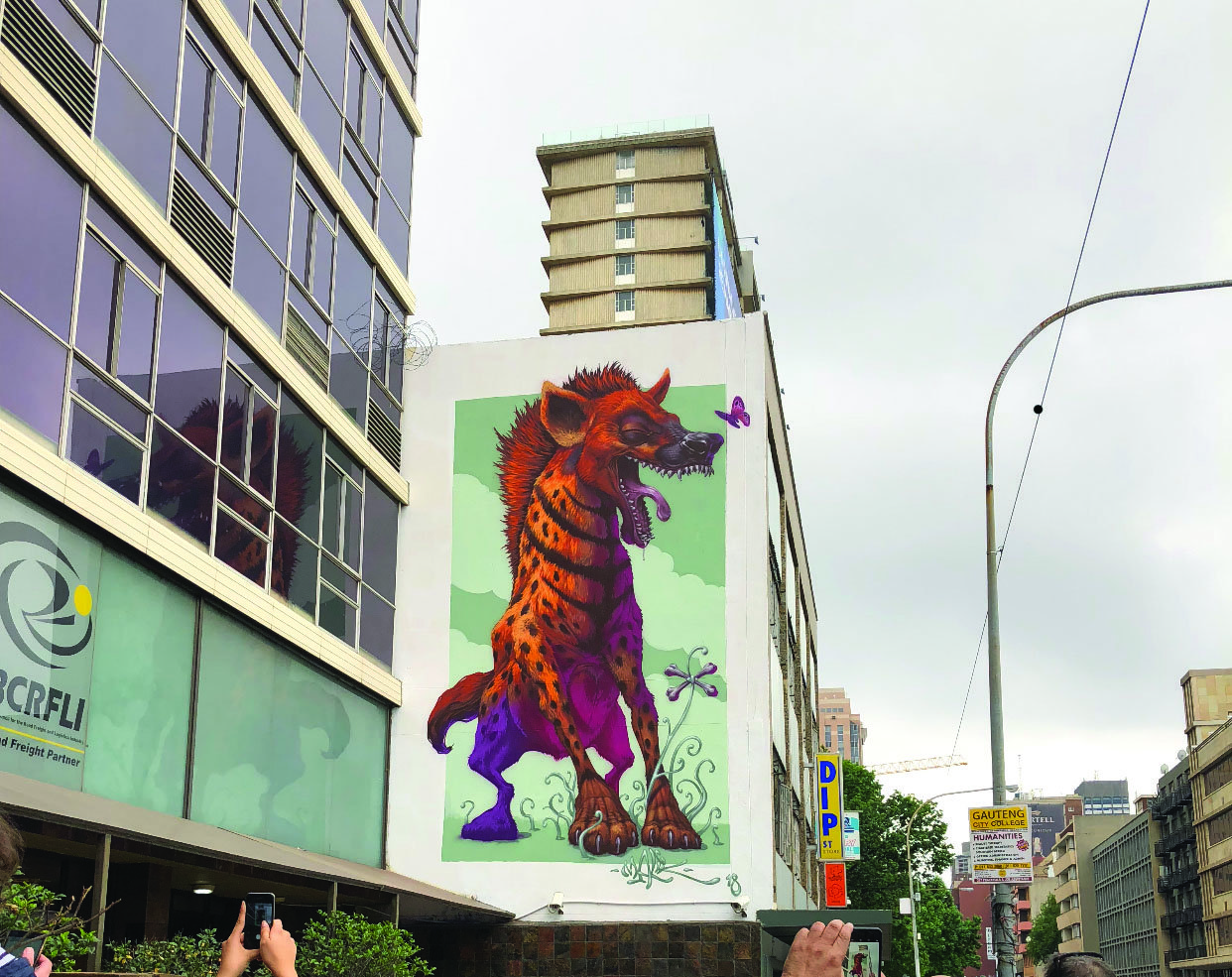 STREET ART AND GRAFFITI WALKING TOURS
While many murals are easy to discover on your own, the best way to explore Joburg's exciting street art scene is with a specialised guided tour. We recommend Past Experiences, Jozy Triangel Tours, or Maboneng-based MainStreetWalks.

Joburg's street art scene is not restricted to the city. To see how graffiti and street art are transforming the streets of Alexandra, Joburg's oldest and most densely populated township, join Maboneng Township Arts Experience on one of their unique tours that visit local homes transformed into art galleries, and gritty streets and backyards that have been given a colourful makeover with the help of local street artists.