Arguably the street art capital of sub-Saharan Africa, Joburg has a thriving graffiti art culture with bold new murals and artworks by local and international artists going up on the city's walls almost every other day, bringing colour to busy streets.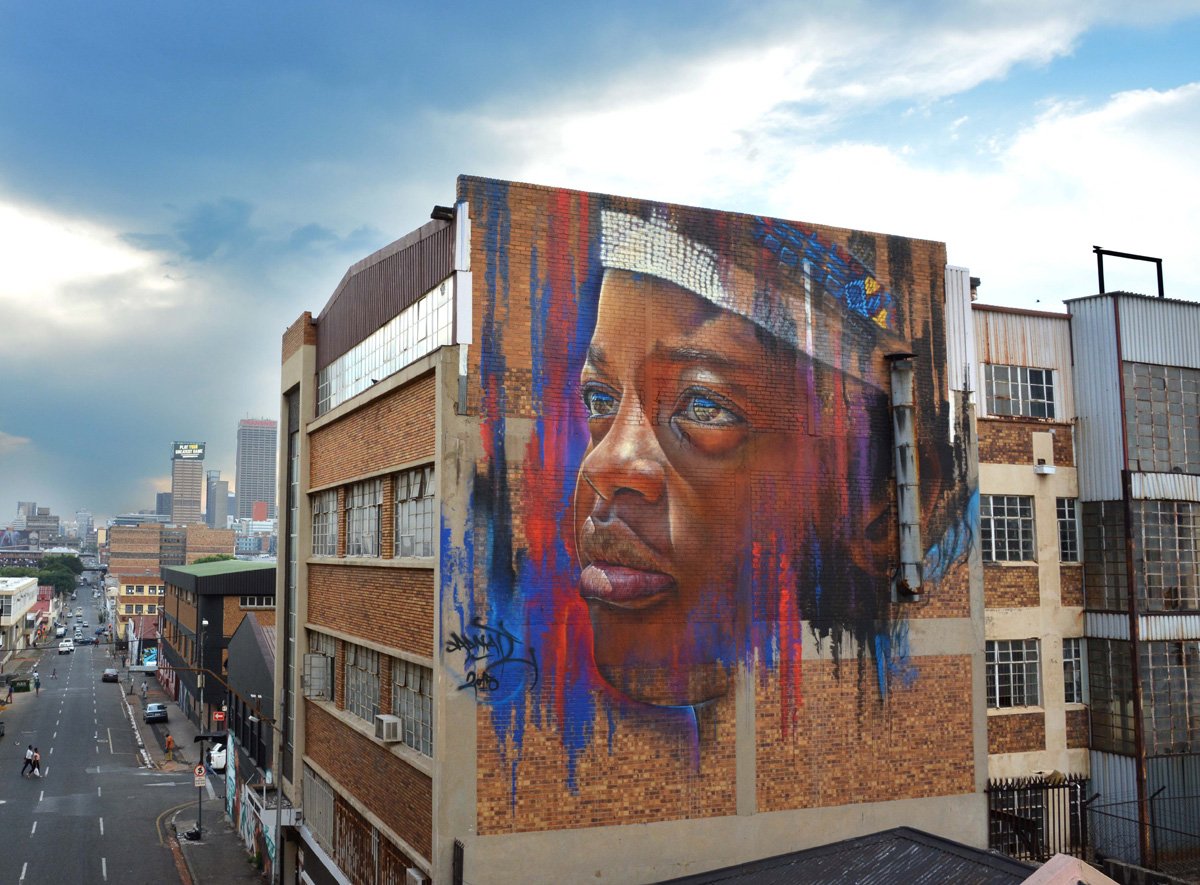 While there are those who dismiss graffiti as a public blight, in Joburg the spread of graffiti has played a role in the city's upliftment. Particularly in downtown neighbourhoods like Braamfontein, Newtown and Maboneng the wall paintings by local and international artists enliven spaces, create reasons to pause along busy streets and add colour to the concrete cityscape.

The murals also serve the purpose of creating beauty and pride amid the billboards and advertising hoardings that blare commercial messages at passersby. 
Graffiti hotspots historic Newtown
In the downtown neighbourhood of Newtown (on the western edges of the inner city), an abundance of large open walls have long made this the heart of Joburg's graffiti art scene. A major graffiti hotspot is the area beneath the M1 highway and the adjoining streets Gwigwi Mrwebi and Pim. Always in a state of change new murals crop up every year, covering long stretches of empty walls and snaking their way around the pillars holding up the motorway above.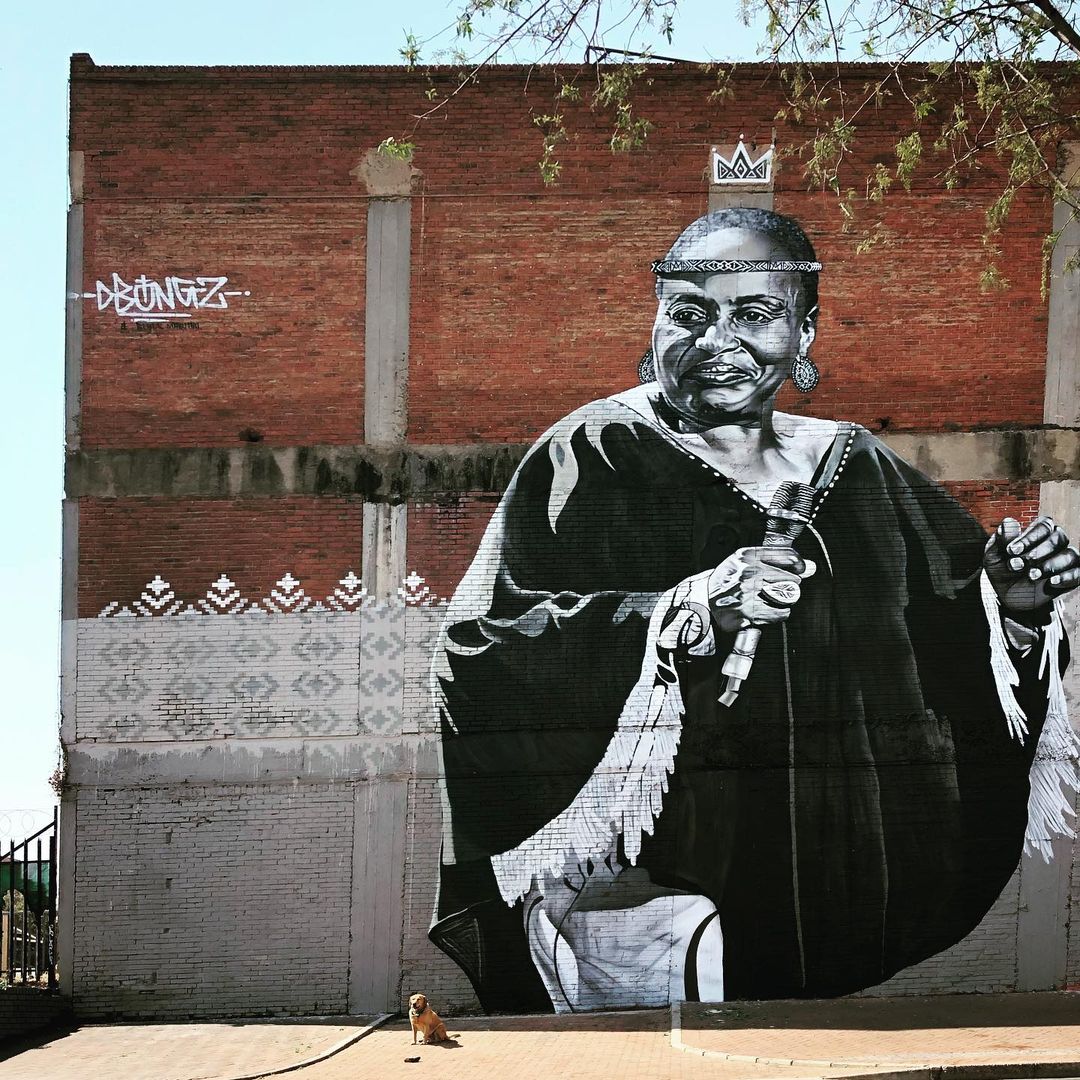 The latest graffiti activation to crop up here was created as part of the Newtown Revitalisation Project in winter 2021, a project that aims to instill new pride in this oft-neglected arts-centric neighbourhood through street art activations and a renewed dedication to keeping the streets neat, clean and green.

The new commissioned artworks honour Newtown's rich cultural history, particularly its jazz legacy. The Jazz Legends series includes four large portraits by "Dbongz" Mahlati on the pillars beneath the M1 freeway, each depicting a key music icon. Another large-scale portrait by Dbongz of Miriam Makeba, or Mama Africa as she is affectionately known, two blocks away on Gerard Sekoto Street, adds to this tribute to musical genius and is a popular selfie spot.

Look out for other colourful musical tributes in the neighbourhood such as James Delaney's saxophone sculpture on Mary Fitzgerald Square and a fun "piano key" walkway mural painted across the square leading from Museum Africa.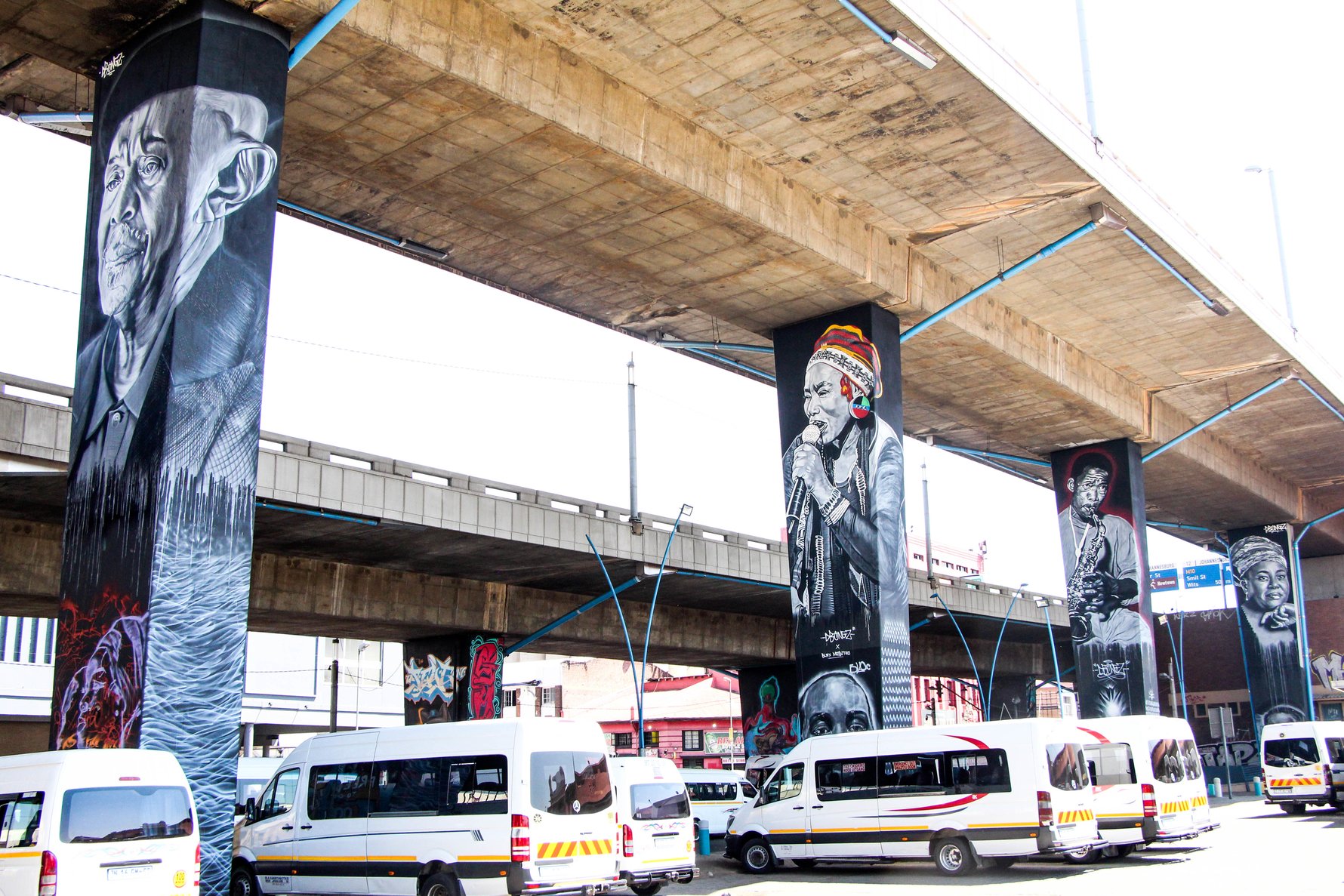 A walking street art gallery in Jewel City and Maboneng
Across town, straddling the highway flyovers on the eastern side of the city is the hip Maboneng Precinct that now extends out into the new pedestrianised Jewel City precinct. 

One of the biggest Joburg City Centre residential and commercial developments in recent years, the R2billion Jewel City has transformed what was once a complex of diamond dealing buildings into affordable inner-city housing. Characterising Jewel City is an emphasis on walkability, inviting public spaces and colourful public art.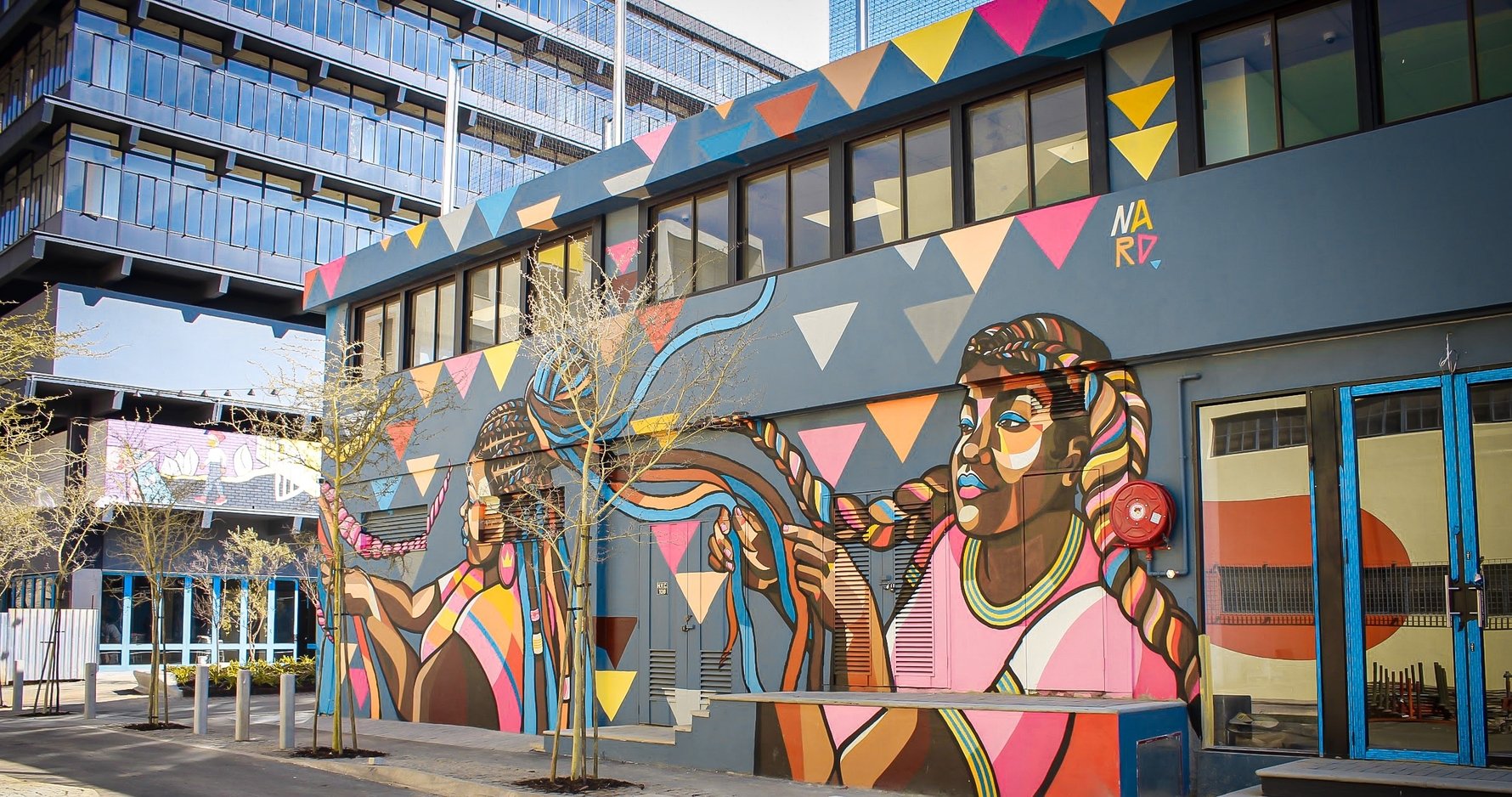 Running through the middle of Jewel City is the wide and walkable central avenue Fox Street where you'll find many of the biggest murals. The Jewel City developers invited both established and young emerging South African street artists to paint the walls of the precinct with a brief to reflect on the walls the diversity of the many different people and cultures who call the city home. Artists to look out for in Jewel City include Sonwabo Valashiya, Nardstar*, Dbongz, Zhi Zulu and Kgabo 'Saint Rose' Mametja.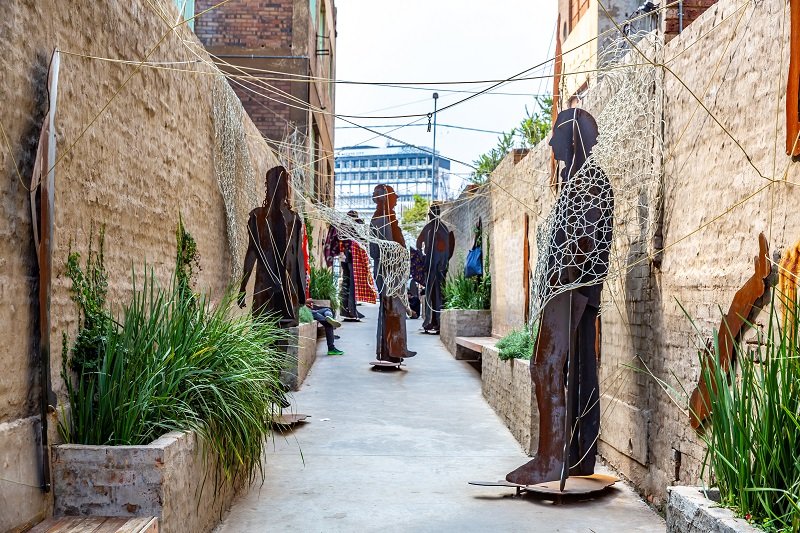 Connected to Jewel City via Fox Street, the Maboneng Precinct continues this public expression of art with yet more murals as well as interesting public art installations. On a connecting alleyway just off Fox artist Kim Lieberman (who has a studio nearby) has created Human Intersection, an installation featuring life-size, cut-out figures based on cultural figures from the area (look out for artist William Kentridge's distinctive profile) ensnared in a lace-like web. 

Other famous artists whose works can be found here include Nelson Makamo, a favourite of Oprah Winfrey. His iconic brightly coloured portraits of local children can be found on nearby Van Beek Street.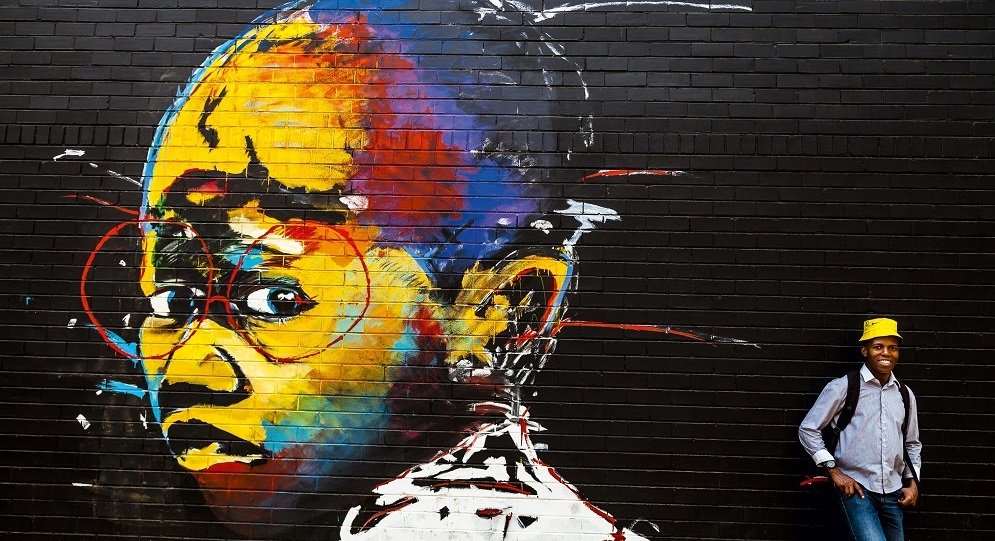 Exploring Braamfontein's murals
Joburg's other major street art hub is Braamfontein, a busy student neighbourhood and home to one of South Africa's premier tertiary institutions, the University of the Witwatersrand. Start your explorations from Grayscale Gallery, Joburg's dedicated street art gallery and spray paint retailer. From Grayscale take a right onto Eendracht Street where Grayscale founder, graffiti artist Rasty, often organises for international street artists to leave their mark on the alleyways connecting the cross streets.

From here continue on down De Korte Street, turning onto Melle Street to gaze up at artist Hannelie Coetzee's Nzunza. This 10-storey portrait on the side of a Braamfontein tower block, completed in 2018, is made from more than 2000 ceramic plates and is inspired by the history and culture of the Ndzundza (or Nzunza) Ndebele people. 

Two blocks over at the corner of Juta and De Beer Street and you'll find yourself in the heart of the action at Braamfontein's coolest corner. Many of the buildings on this corner have had their facades painted by local artists. It's hard to choose favourites but the colourful dog on the front of the bar Great Dane certainly stands out, as does artist and illustrator Karabo Poppi's monochrome designs on the front of The Wing Republic. 

Look up and you'll find American street artist Shepard Fairey's 200-metre high Mandela mural The Purple Shall Govern, painted in tribute to South Africa's Purple Rain protest. In 1989 a peaceful protest in downtown Cape Town saw anti-apartheid protesters come up against riot police armed with a water cannon filled with purple paint. The protestors managed to take control of the cannon and used it to fire purple paint onto the police and in the following days graffiti tags spread across the city declaring 'The Purple Shall Govern'.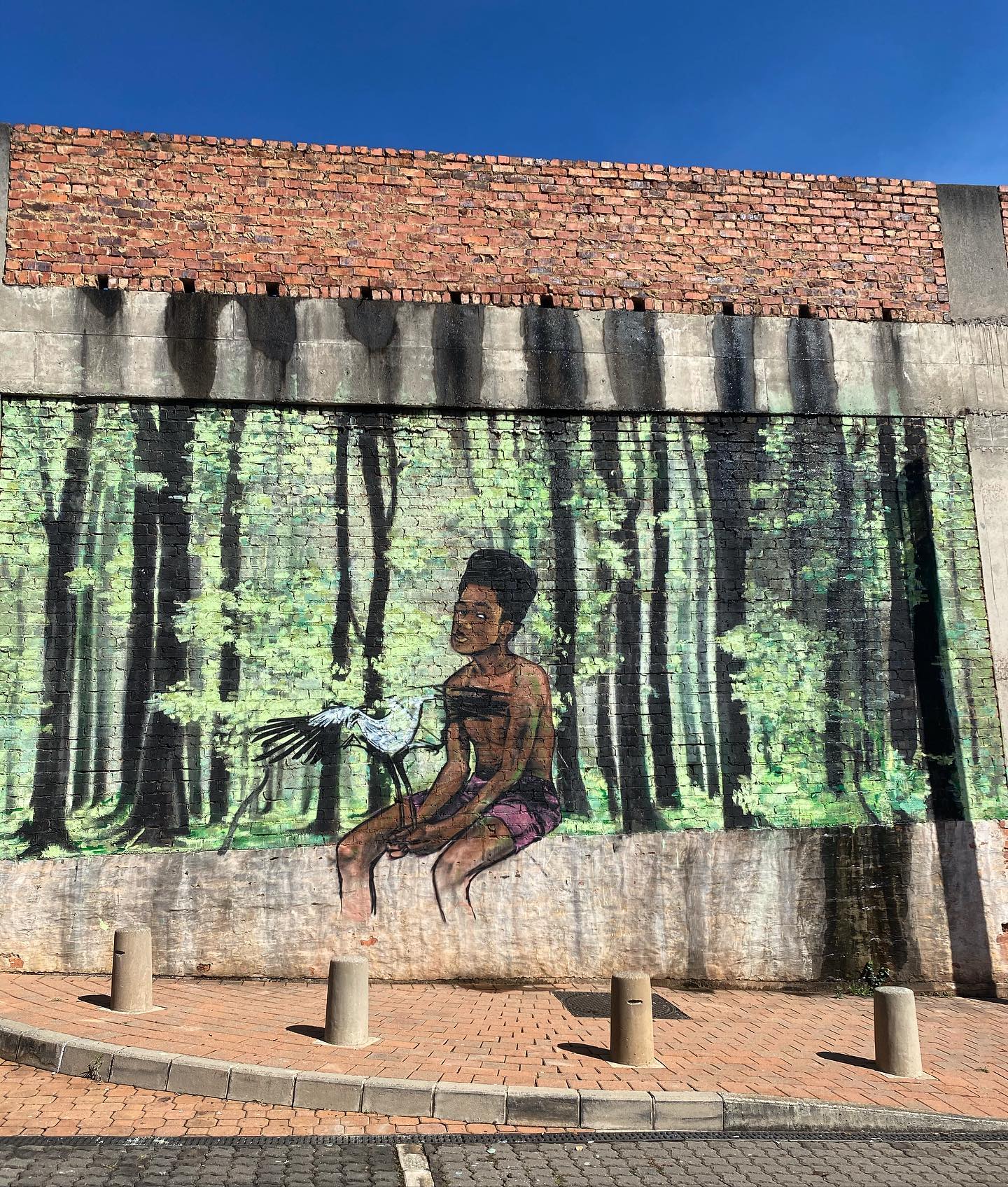 End your Braamfontein street art walk at Constitution Hill where a collaboration with the Bash Uhuru Creative Uprising means there are always bold new murals to be discovered. Bringing colour to the empty brick walls surrounding what was once an apartheid prison (now home to a museum and the Constitutional Court), this ongoing street art project is always changing and murals pay tribute to not only the struggle against apatheid, but also to Joburg's cultural history and to pressing societal issues such as the climate emergency. Among the many highlights are NardStar*'s colourful dedication to South African female anti-apartheid activists and Mr Ekse's peaceful reminder of the joys of nature.
STREET ART AND GRAFFITI WALKING TOURS
While many murals are easy to discover on your own, the best way to explore Joburg's exciting street art scene is with a specialised guided tour. We recommend Maboneng-based MainStreetWalks who can lead you on a street art walk in and around Maboneng or MicroAdventure Tours who lead street art bike tours that traverse the whole City Centre.