Sandton Central is South Africa's business capital, home to the headquarters of Africa's biggest companies, a place where deals are made and big ideas find their backers. There are scores of international brand business-orientated hotels to choose from, but until now there has not been a place for visitors to stay that reflects a flexible Millennial lifestyle or a fresh and youthful aesthetic.

Enter Black Brick, an innovative new 'vertical village' on Fredman Drive (one block down the hill from Sandton City) opened in November 2020. With everything under one roof Black Brick is filled with stylish studio, one-bedroom and two-bedroom apartments and a full lifestyle concept boutique hotel built around the needs of the new flexible work philosophy that emerged pre-Covid but has become the norm in this new age. The emphasis is on bringing together multi-functional spaces and creating a sense of being at home, anywhere.

The hotel offers everything you could need, all in one stylish package. On the ground floor the casual Soul Souvlaki cafe and Sesame superette and coffee bar spill out onto a cool terrace, and in the car park in front a fleet of new electric Mini Coopers will await guests who can rent them by the kilometre with the click of their room key. Scattered through the building are also co-working spaces, meeting rooms, events venues, a rooftop yoga space, a meditation garden, a boxing gym and even a super cosy cinema screening room.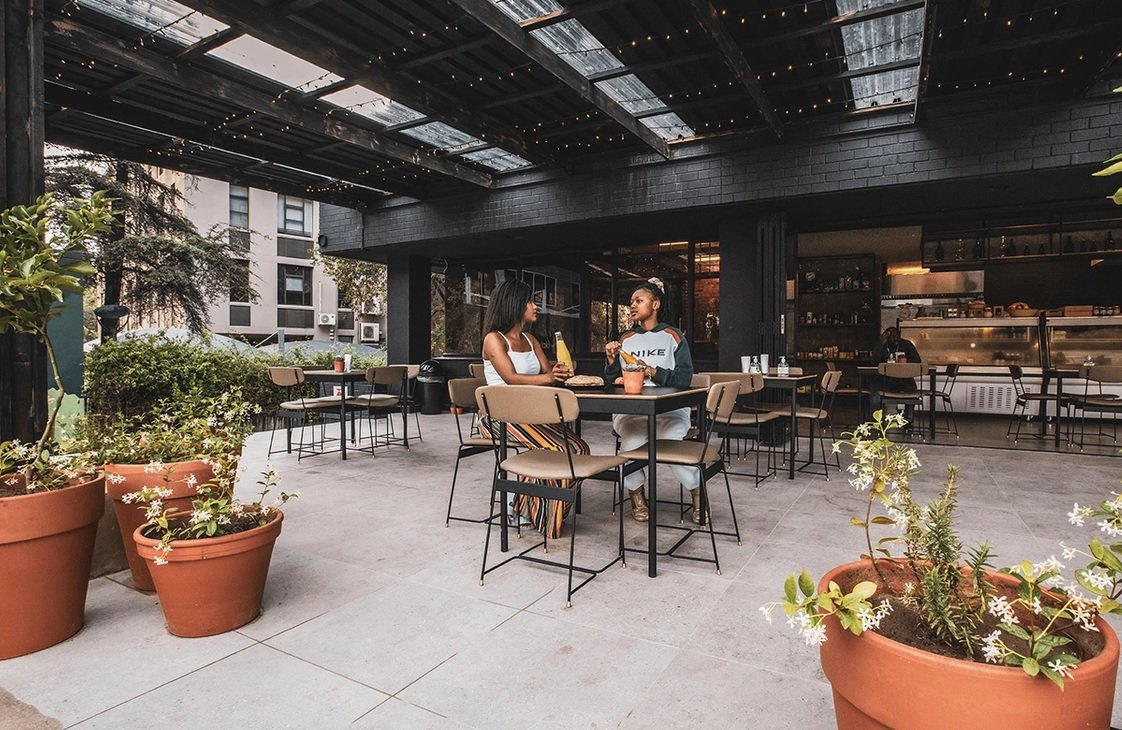 The building itself was once part of the headquarters of global brewing giants AB InBev (a face-brick structure now painted black) and the developers are already busy at work transforming another empty former office block on the opposite side of the road into the second Joburg Black Brick premises. It will also house conferencing space and more lifestyle amenities. The idea is to great a fluidity between properties. Your Black Brick card key is a key to Black Brick's philosophy and lifestyle, regardless of address. 

Black Brick is an innovation in terms of city spaces, where traditionally financial and commercial districts have had a singular vision. Pre-Covid there was already much movement in Sandton Central, with many company headquarters deserting properties below Sandton City in favour of new, more efficient, modern and impressive architectural statements along Sandton's Rivonia Road. This has created a commuter district with not much walkability and where weekend street life has largely been absent. 

Black Brick Sandton is the first of a series of innovative spaces that are coming to South Africa cities (launching next year in Cape Town and Durban), taking up unused or neglected corporate buildings and transforming them into cool, and affordable destinations for city living. There are options to buy or rent an apartment (the first phase Black Brick Sandton apartments are already sold out) and when you need to travel to another city you can seamlessly move into another apartment at a sister property without worrying about paying double rent. The vision is global and the developers are already scouting next developments internationally.

For visitors to Sandton the hotel appeals especially for its fun, creative and collaborative feel. There's not a suit and tie in sight. On arrival you are greeted with a glass of bubbly in the towering lobby with its statement light fixtures while a resident DJ sets the mood in the afternoon sundowner hour.

In the evening (if there isn't a private event happening) you can retreat to the rooftop and enjoy a great sunset view of northern Joburg's urban forest. And there are always a host of other interesting activities you can join in too when you become a temporary member of the 'Black Brick Club' during your stay (you can also join the club by paying a monthly membership even if you are not staying here). The club is structured around the idea of "accelerating your life" with a focus on entrepreneurship and wellness and a monthly events programme of talks and classes.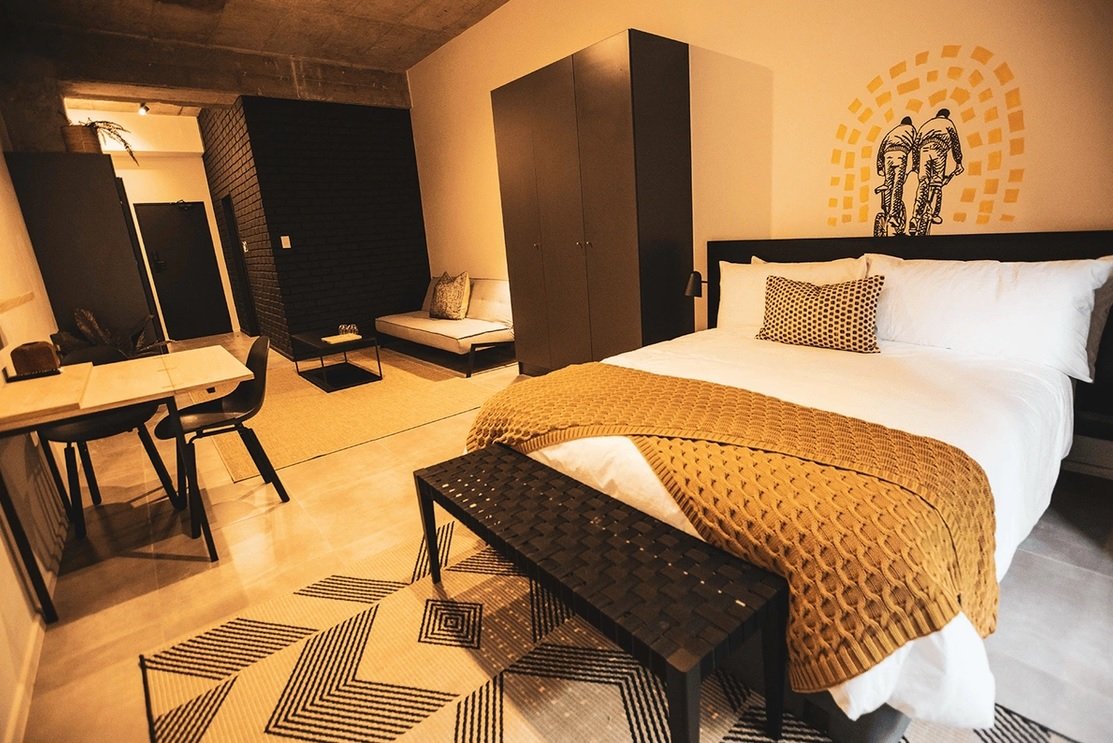 The look is industrial and pared-down, a stark contrast from the many shiny big lobby hotels that dot the district. The hotel rooms all come with a fully equipped kitchenette and at an average of 38 metres square in size are easily among the bigger hotel rooms to be found this side of the city. We also love the fresh decor across the property that mixes designer furniture from studios like Weylandts and mid-century specialists Modernist and murals by local artists Fhatuwani Mukheli and Sarah Grace.

On the lower level of the building are boutique hotel rooms, while the upper floors have fully-fledged apartments. It's a unique residential mix that gives you the feeling of sleeping over within a community, rather than being stationed as a complete outsider in a building on the fringes of one.

Black Brick's founder, young entrepreneur Moritz Wellensiek describes the concept of the 'vertical village' as a solution to the needs of the growing young flexible workforce. Not only is his vision about creating a space where you can access everything you need under one roof "it's a place where you are surrounded by a mix of people with common values who are in a similar stage of life to you". It's definitely a space to watch.