When it comes to tented luxury and the thrill of sleeping out in the wild, South Africa is a premium destination. From budget camping holidays in dome tents and sleeping bags, top great-value tented camp options that come with a real bed and the chance to sleep under canvas, plus once-in-a lifetime luxury experiences, South Africa has it all. 

Camping luxury in Africa is not simply 'glamping'. It is pure unadulterated safari luxury. An evening turndown and chocolates on the pillow of your king-sized bed with plenty of thread count, your own deck with a plunge pool and possibly a butler to bring you your evening sundowner while you watch the action at the waterhole too. Air conditioning and ceiling fans to ensure a cool breeze of course come as standard and fine dining is part of the package, plus personalised game drives and experiences. 

Whether your tastes are for family bush camping or a glorious tented safari luxury, here are some beautiful places to enjoy a camping holiday in South Africa. If you are starting your journey in Johannesburg we have indicated the driving distance to each destination, and of course local flights are available. 
Bush Willow Tented Camps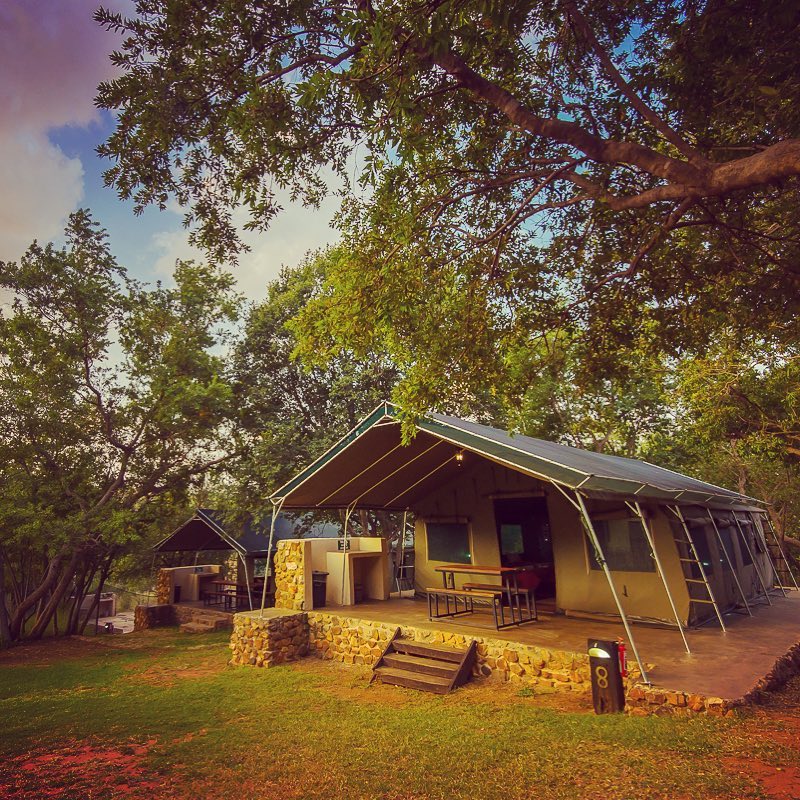 Distance from Johannesburg: one hour by car
Just an hour outside Johannesburg in the idyllic countryside of the Magaliesberg, this tented camp, part of Guvon Hotel's sprawling Glenburn Lodge estate, is located on the banks of the Blaawbank river and is popular with city dwellers and backpackers looking for an easy rustic experience in reach of the city. With ten comfortable, budget-traveller friendly, walk-in tents to choose from, each sleeping up to six people on single beds it is a fun destination for families and groups. Tents each come with their own indoor shower, toilet and a small kitchenette as well as an outdoor deck with a built-in braai stand. Note that bedding, crockery and cutlery is not provided so you will need to bring your own. The camp also has a communal boma (firepit) area and a small pool and you can make use of the facilities, such as a swimming pool and restaurant, at neighbouring Glenburn Lodge.

RATES & BOOKING: Find out more and book online here.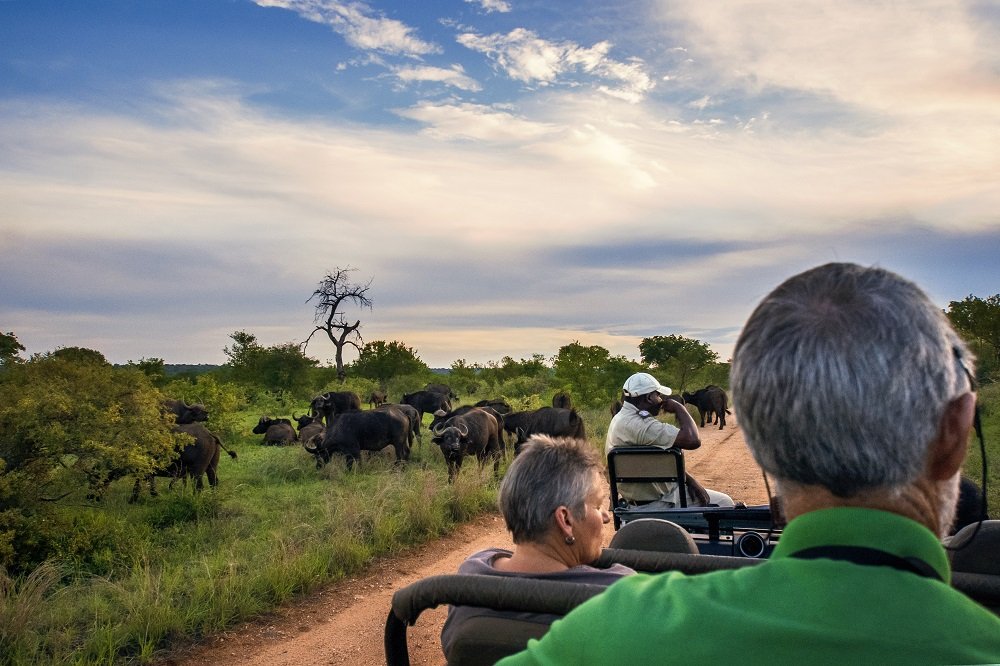 Distance from Johannesburg: 5 hrs by car, alternatively you can fly to Nelspruit, 30minutes drive from the park

One of the world's most famous safari destinations, the huge Kruger National Park (run by SANParks) is one of the best places to experience wildlife in the world. At 19,500 square kilometres (360km north to south, 65km east to west) the park is as big as Slovenia, so it is more than worth your while to set aside several days for a visit. There are more than a dozen rest camps and campsites run by SANParks to choose from that are located deep inside the park, and with careful planning you can plot a route to drive through the whole park and stay at different camps along the way.  In addition to self-catering cottages and cabins, most Kruger 'rest camps' also have campsites set up for camping or caravans. Some of the most popular camps can get booked up several months in advance so start planning early.

In the south of the park Berg-en-Dal and Crocodile Bridge have popular campsites, that are located bang in the middle of areas of the park that boast the highest concentrations of wildlife (and correspondingly higher numbers of visitors).

Tamboti is a beautiful tented camp in the middle section of the park (near the Orpen gate) with 30 rustic 'budget' tents that look onto a dry riverbed and share kitchens and bathrooms. There are also ten semi-luxe tents with their own private bathrooms and everything you need for self-catering.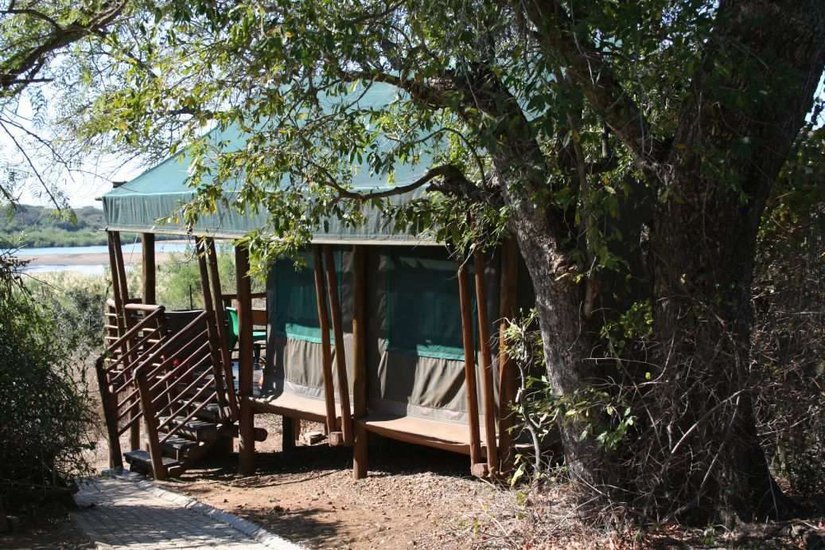 For many Lower Sabie, on the banks of the Sabie river deep on the south-east of the park, is the jewel in the crown. The setting is outstanding, and the wildlife sightings in this area of the park are second to none. There are 33 camping spots or you can book one of the 24 canvas tents on stilts, each with their own small veranda. This is the most popular rest camp in the Kruger so get your bookings in several months in advance.
RATES & BOOKING: Find out more and book here via the SANParks website.
Hamiltons Tented Camp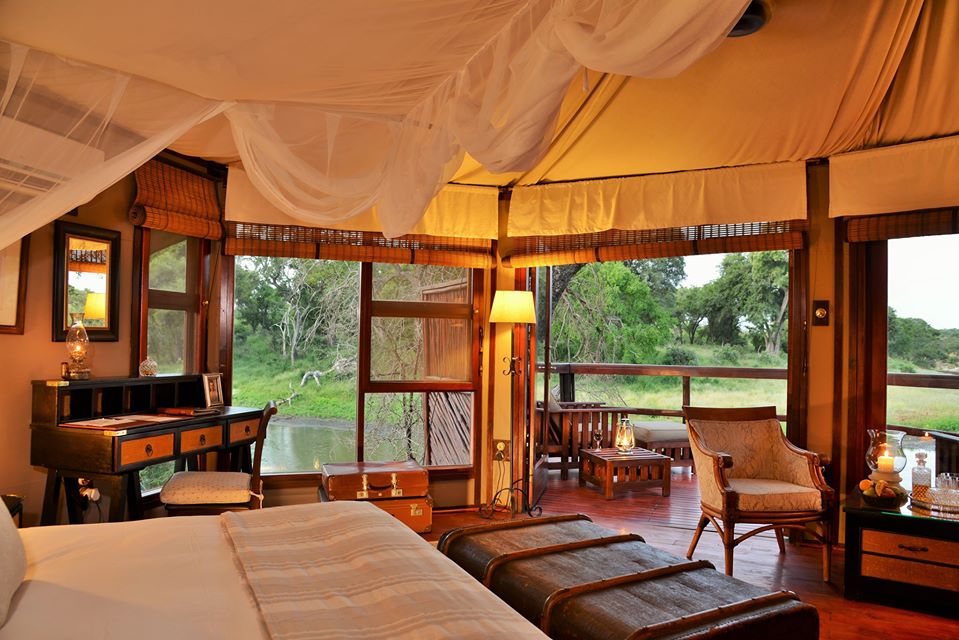 Distance from Johannesburg: 7 hours drive, 3 hours drive from Nelspruit

The Kruger National Park is bordered to the west by several vast private game reserves, which boast some of the most luxurious safari experiences in Africa. There are no fences between the reserves and the Kruger Park, essentially forming a gigantic free-roaming Big Five region the size of a small country. Dominated by ultra-luxurious lodges, you are guaranteed the most intimate game drives and true wilderness experiences that will never, ever, feel in any way crowded. As exclusive an experience as you can find.

For the most spectacularly imagined tented safari experience there's Hamiltons Tented Camp, north of the famous Sabi Sands area. There are just six, opulent elevated tents, installed on stilts and overlooking the N'waswitsontso River, that are so private you'll feel you have the bush entirely to yourself. Despite being under canvas, the ceilings are impossibly high and you can open your whole room out to enjoy the morning sun.

The tents are all connected to the grand main tent by elevated walkways, romantically lit at night, where guests can enjoy meals on the viewing deck overlooking the river. There's an old-world 'grand tour' feel to the decor with lots of antique brass fittings, vintage steamer trunks and grand candelabras, and of course, a fine dining menu and plenty of G+T. Twice daily game drives come as standard.
RATES & BOOKING: Find out more and book here.
andBeyond Ngala Tented Camp


Distance from Johannesburg: 7 hours drive, 3 hours drive from Nelspruit

If you have been watching WildEarth's twice-daily virtual safari drives during lockdown then you will most likely be familiar with the name Ngala. This is one of andBeyond's South African properties from where the WildEarth team shoot their daily drives which are watched by thousands live on YouTube. When you arrive to stay at this magical tented camp in the greater Kruger wilderness, you may even recognise some of your favourite rangers too, as they have become minor celebrities among their dedicated online audience.

Nestled between dense riverine forest and the sandy bed of the Timbavati river, this is African contemporary chic at its most luxurious. There are just nine intimate and luxurious tented suites set on raised platforms, each with their own private deck and that special bush escape touch, an outdoor shower.

For an unforgettable night under the stars you can also book a night in the luxurious and remote, three-storey Ngala Treehouse. Lunch can be enjoyed on the lawns, by the lap pool or on the deck, while dinners are theatrically served al fresco by candlelight in the middle of the dry riverbed. Twice daily game drives come as standard.
RATES & BOOKING: Find out more and book here.
Cape Vidal


Distance from Johannesburg: 7 hrs drive from Johannesburg, 3 hrs drive from Durban, 1.5 hrs from Richards Bay

KwaZulu Natal is famous for its stunning white-sand beaches and warm waters, fringed by sub-tropical riverine forests that are home to lots of wildlife. Located 30km drive inside the iSimangaliso Wetland Park (which borders Mozambique), Cape Vidal is one of South Africa's most magnificent protected beaches. In summer turtles come to nest here, while in autumn whales can be sighted offshore embarking on their annual migration. At the right time of day, the receding tide reveals rock pools ideal for snorkelling, while the long stretch of sand continues up the coast for kilometres, perfect for long walks or finding a quiet place to cast off your fishing rod.

Most people wind up at Cape Vidal as day visitors, enjoying a self-drive experience of the park from the nearby holiday town of St Lucia. However, the luckiest campers can secure a spot at the Cape Vidal campsite, nestled in the lush dune forests just off the beach. There are 45 camping spots as well as five large log cabins.
RATES & BOOKING: Find out more and book here via the KZN Ezemvelo wildlife website.
Kalahari Tented Camp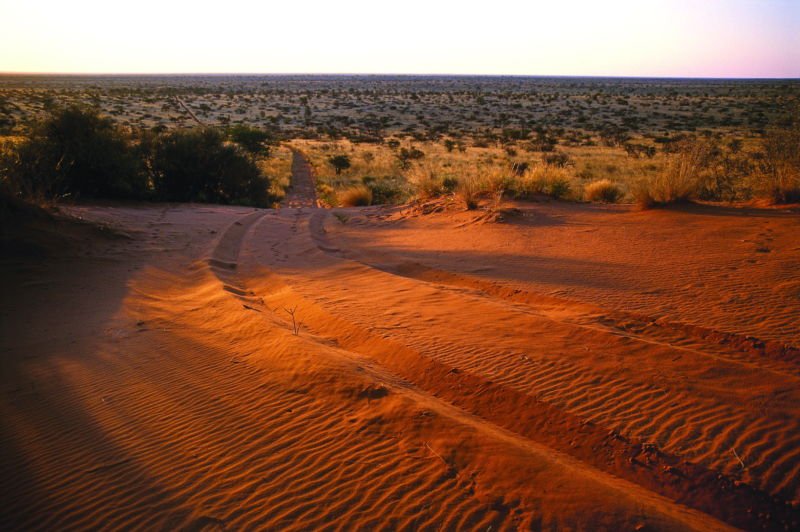 Distance from Johannesburg: Approximately 12 hrs drive from Johannesburg, 4hrs drive from Uppington, 6hrs from Windhoek (Namibia). Note that to reach the camp inside the park a 4x4 vehicle is essential

SANParks sprawling Kgalagadi Transfrontier Park forms the South Africa section of the vast Kalahari Desert and together with the Namibian and Botswana sectors of the park across the border this is one of the largest protected wildlife areas in the world. SANParks runs three traditional styled rest camps in the vast park (with a shop, cafe, restaurant and swimming pool) as well as six unfenced 'wilderness camps' which accommodate only a handful of visitors in remote cabins and stilted cottages.

Generally the wilderness camps can only be reached by 4x4 and you will need to ensure you have brought plenty of food and drinking water with you. Lighting is solar and the fridge runs on gas so that when the sun sets there are no noisy generators and electric lamps to spoil the most spectacular desert star-gazing. Camps also come with a caveat that this is the wild and there are no fences. Wild animals may visit the camp at night (especially hyenas). Keep your distance and do not feed them. All camps also have a staff ranger on site should you be worried about there being any dangerous animals entering the camp.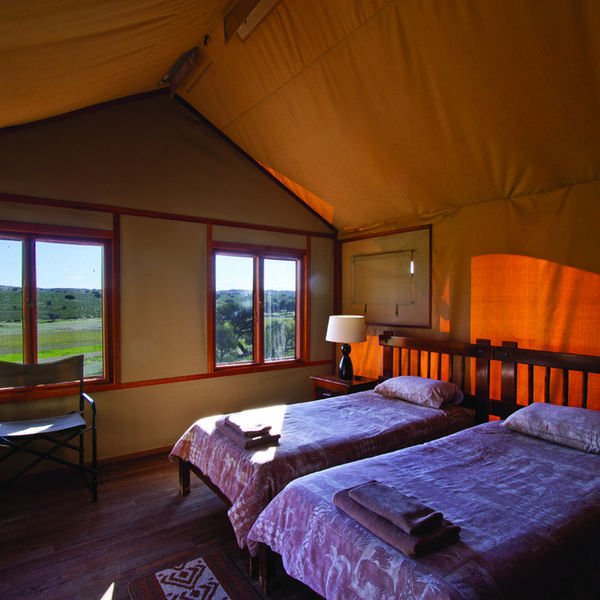 If you want to sleep under canvas book for the Kalahari Tented Camp. Situated high up on a red sand dune, overlooking a waterhole in the dry bed of the ancient Auob River, there are 15 desert tents each with their own deck and braai area for cooking, plus a swimming pool for cooling off on hot desert afternoons. 
RATES & BOOKING: Find out more and book here via the SANParks website.