There's nothing Dull about Dullstroom. That's the first thing you need to know. At 2,097m above sea level Dullstroom (a town dating back to the 1880s) is one of South Africa's highest towns, endowing it with a sub-Alpine climate, creating a resemblance to the Scottish countryside. How far is Dullstroom from Johannesburg? A 270km drive east out of Johannesburg along the N4 highway in Mpumalanga province.

Things to do in Dullstroom include marvellous fishing, exceptional birdlife, whisky tasting, mountain bike and walking trails, horseriding and look at the picturesque rolling hillsides. Walkersons Hotel & Spa, located on a private estate is the perfect destination for a weekend getaway from Johannesburg or a road trip stayover en route to Kruger National Park and Mozambique. Part of the pleasure of arriving at Walkersons is the drive down the winding road into Walkersons private estate which offers awe-inspiring views of a sky-filled valley, the light reflecting off the many tranquil trout dams, enclosed by the Steenkampsberg mountain range. In summer the area is lush with greenery, and banks of hydrangeas, from plenty of rain, and on some days, mist and fine drizzle.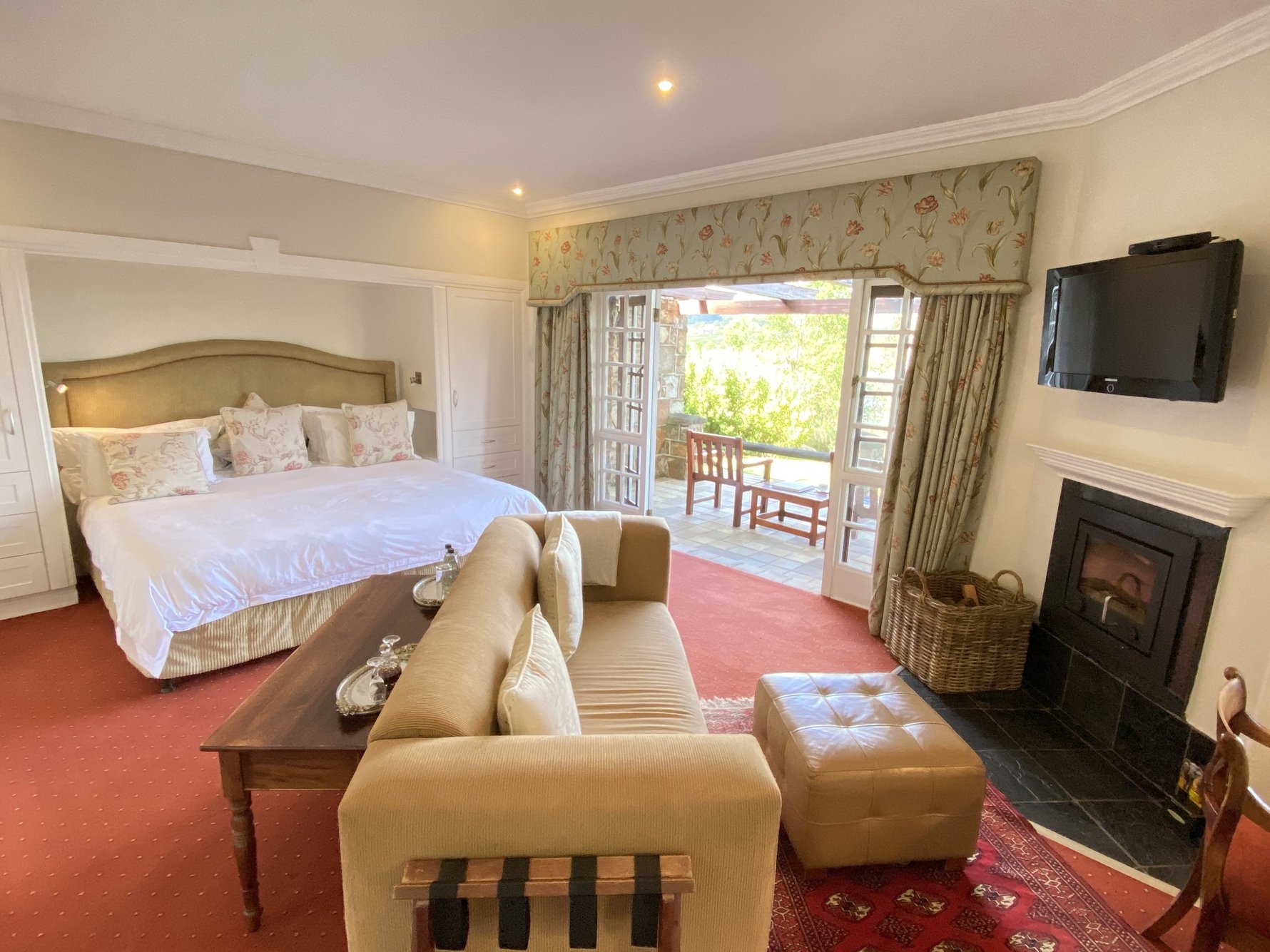 A five-star hotel, Walkersons has a number of lakeside suites as well as self-catering cottages dotted across the property. There is a superb terrace on which to while away time on a comfortable couch or enjoy breakfast in the morning sunshine. No one will judge you if your idea of outdoor activity is a walk to the Spa, and you'll be rewarded with a warm welcome and a range of relaxing body treatments (it's worth booking before your visit).

The spacious lakeside suites are an ideal hideaway, kitted out with a king-sized bed, comfortable seating inside from which to watch TV or laze in front of the fireplace, an indoor and outdoor shower, separate bathroom and a patio from which you can walk into the valley along paved pathways traversing the 800-hectare Walkersons private estate.

Located 10km from the heart of Dullstroom, South Africa's fly-fishing capital, this country estate is the place to learn the art of fly fishing, with a multitude of lakes, dams and ponds stocked with rainbow trout, and expert advice. Fly-fishing is just one of the many activities available at Walkersons, along with mountain biking, horse riding, walking trails, and one of our favourites, maybe we already mentioned it, spa treatments.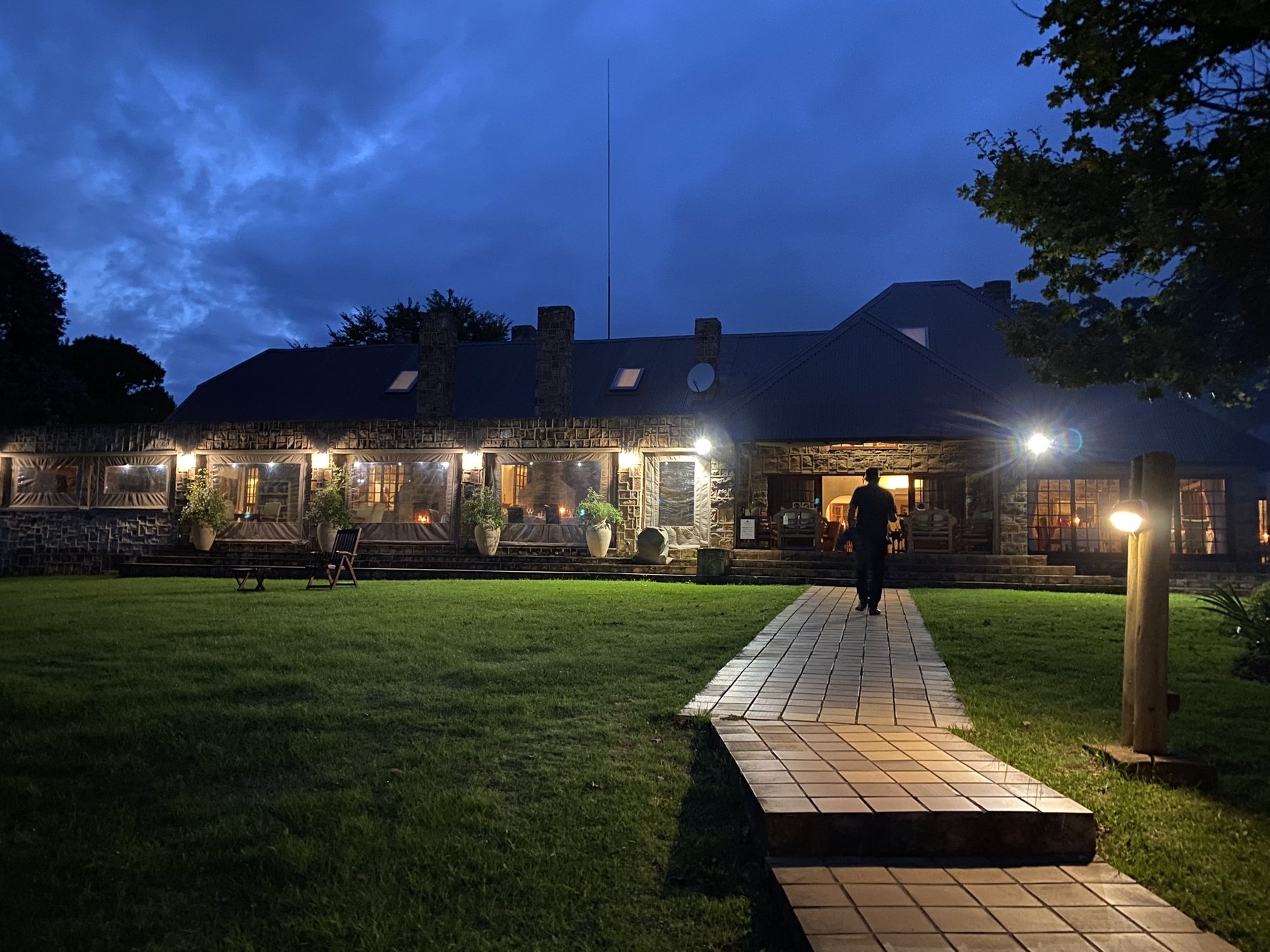 The next best way to meet a rainbow trout could be on your plate, served up as part of a hearty nightly four-course dinner at The Flying Scotsman, in the Scottish countryside-inspired stone manor hotel. The menu changes each day. An a la carte menu is also available. Opt for a wine pairing, or select from the daily recommended wine list from the award-winning cellar.

A dining tip is to order dessert to your suite where you can enjoy it next to the fireplace, sipping tea or a nightcap of your fancy. You'll find a tray with sherry and two glasses in your suite. For breakfast, we loved the whisky oats, and eggs and kippers, and the fact that it is served until 11am.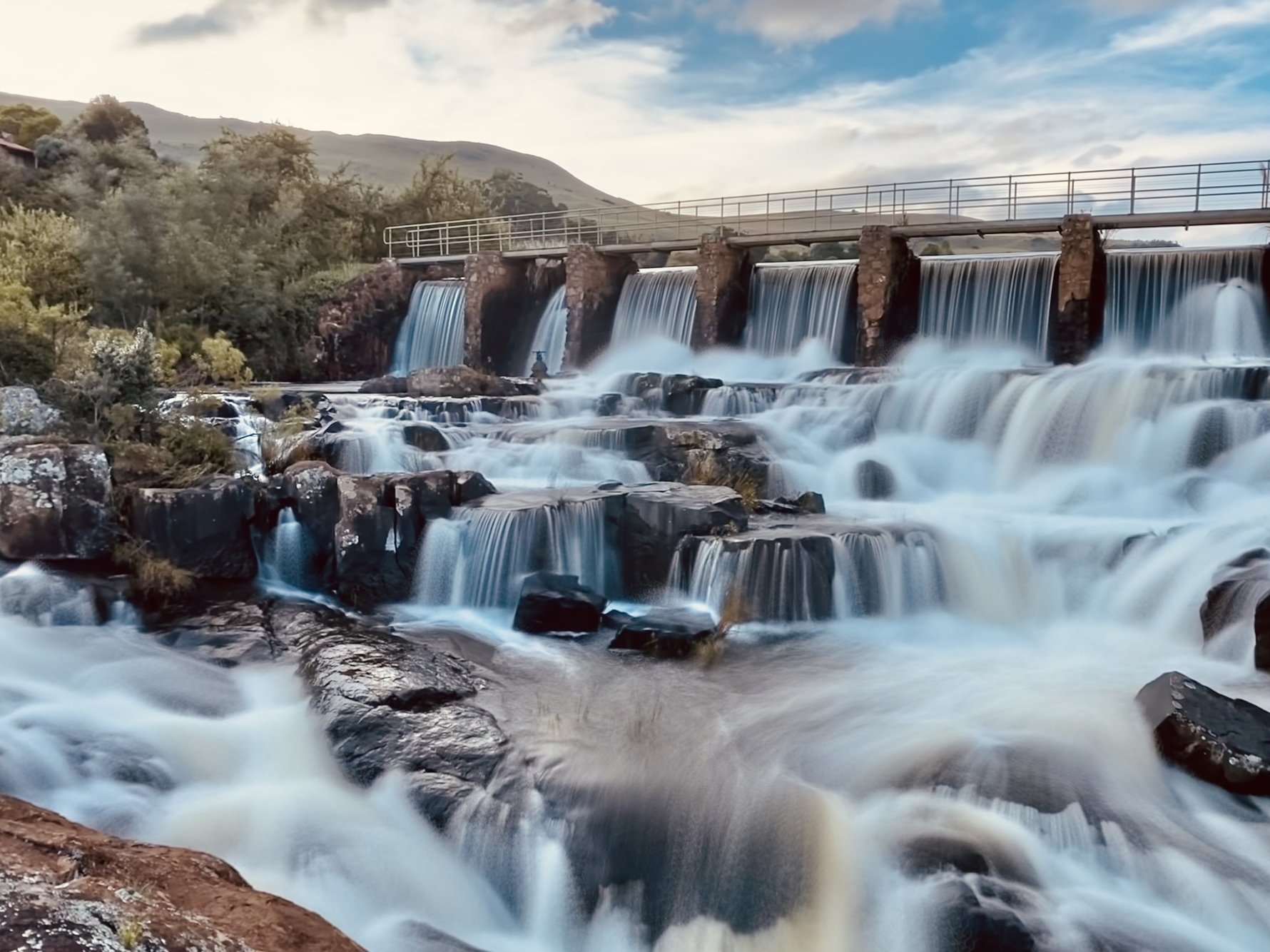 Everything at this warm and welcoming Dullstroom country estate is designed to make you forget about watching the clock. The team of staff excel at making sure you have everything you need, and many of them have worked at the hotel for more than ten or 15 years, which makes for palpable service difference. 

As mentioned there's plenty to do outdoors at this countryside retreat if the compulsion strikes, from following a mountain trail for a panoramic view, to hiring mountain bikes, or bird watching. Order a picnic basket and ask to be directed to one of the many scenic spots on the property (for romance head to the spectacular waterfall at the edge of the property – we visited in the rainy season). There are also two golf courses within a 50km radius.

The bird life is exceptional, and the Steenkampsberg is one of the rare places on the globe where you might spot all three species of crane – among them South Africa's national bird, the Blue Crane. The mountain reserve is also home to blesbok, duiker and zebra.

What's the weather like in Dullstroom? Fickle. Dullstroom weather can be highly changeable, from sun-drenched to cool and misty within hours, so pack a variety of clothing. Remember there is no such thing as bad weather, just inadequate clothing. 

How to get to Walkersons? If you don't favour driving the highways Walkersons also has a light aircraft runway and a helipad. Whichever way you choose to get there make sure that you don't only stay for one night. 

FIND OUT MORE AND BOOK A WALKERSONS STAY:
​Walkersons Private Estate, Lydenburg road from Dullstroom, Mpumalanga,
walkersons.co.za,
tel. +27 (13) 253 7000.

Thanks to @jaredincpt for the use of his images.
WHERE TO STOP EN ROUTE TO WALKERSONS
NAN HUA BUDDHIST TEMPLE
Along the N4 (50km from Pretoria), at the centre of a suburb with streets named in Chinese, is the elaborate Nan Hua Buddhist Temple that attracts novices from across the continent. Nan Hua is a branch of the humanistic Buddhist order, Fo Guang Shan. The biggest Buddhist Temple in Africa it is an impressive structure with huge festively decorated front gates and an intricate complex of temple buildings arrayed around a central courtyard. The temple's main chamber contains three enormous Buddhas. A small museum contains some fascinating artefacts, and the snack shop serves simple noodle and dumpling dishes accompanied by health-giving tea. 
27 Nan Hua Road, Cultura Park, Bronkhorstspruit, tel. +27 13 931 0009. http://en.nanhuatemple.org. Open 09:00-17:00, including public holidays. Closed Mon.

ALZU PETROPORT
This is one roadside attraction worth stopping at along the N4. Approximately 160km from Johannesburg (between the towns of Middleburg and Belfast) this luxury petroport has praiseworthy restrooms, a number of eateries, and Country & Outdoor, a store packed with must-have outdoor clothing and accessories. The piece de resistance, fascinating and also strange in these surroundings, is a game enclosure viewable from a deck which is home to increasingly precious and rare rhinoceroses, buffalo, eland, ostriches, blesbok, and even an emu.
N4 Highway, tel. +27 87 310 9808, www.alzupetroport.co.za. Open 24hrs.
WHERE TO STOP IN DULLSTROOM 
Dullstroom is also named Emnotweni (meaning the place of prosperity). The first name is from the Dutch settler Wolterus Dull who established the settlement in the late 1880s and 'stroom' meaning stream which came from the Crocodile River, that flows nearby. You'll find the entire town of Dullstroom along its main road. Park your vehicle and take a walk. This is a great destination for casual browsing with an eclectic selection of stores, which include of course outlets for specialist fishing gear and plenty of opportunities to meet fishermen who love to offer advice. You'll also find a good selection of coffee shops. We stopped at roastery Beans about Coffee for an excellent cup. Next door is Anvil Brewery offering craft beer tastings. 

MILLY'S COUNTRY STALL
It is almost law in Dullstroom that you cannot leave without tasting the national treasure that is Milly's home-baked trout pie. This store and farm stall stocks a wide range of home-made preserves, pickles and sauces plus you can buy freshly frozen trout as well as trout pâté, and a range of other tasty trout treats.
Critchley Common Centre, R540 Dullstroom, Mpumalanga, tel. +27 13 256 0718. Open daily.

WILD ABOUT WHISKY
A Dullstroom attraction, Wild About Whisky is a unique bar with an astounding whisky collection and matching expertise that offers around 45 tutored tasting menus for you to sample the best of the world's whisky. Wild About Whisky also offers gin tastings. The setting is atmospheric, with images of the Scottish countryside donning the walls, that match the view of Dullstroom's landscape from the bar. There's also a store at which you can purchase bottles of your favourite tastes. We tried the novel whisky and chocolate tasting, and loved the unique combinations. The tasting options are enormous and offer great variety.  
Naledi Dr, R540 Dullstroom, Mpumalanga, tel. +27 13 254 0066. Open daily, wildaboutwhisky.com.