From ancient caves to quirky teepees and a luxury boutique hotel atop a railways bridge in the middle of the Kruger Park, South Africa has lots of fun and unusual places to book a memorable stayover if you want something different from the usual. Here's a look at ten of the best.
GAUTENG
Stay in a faux Moorish castle at The Orient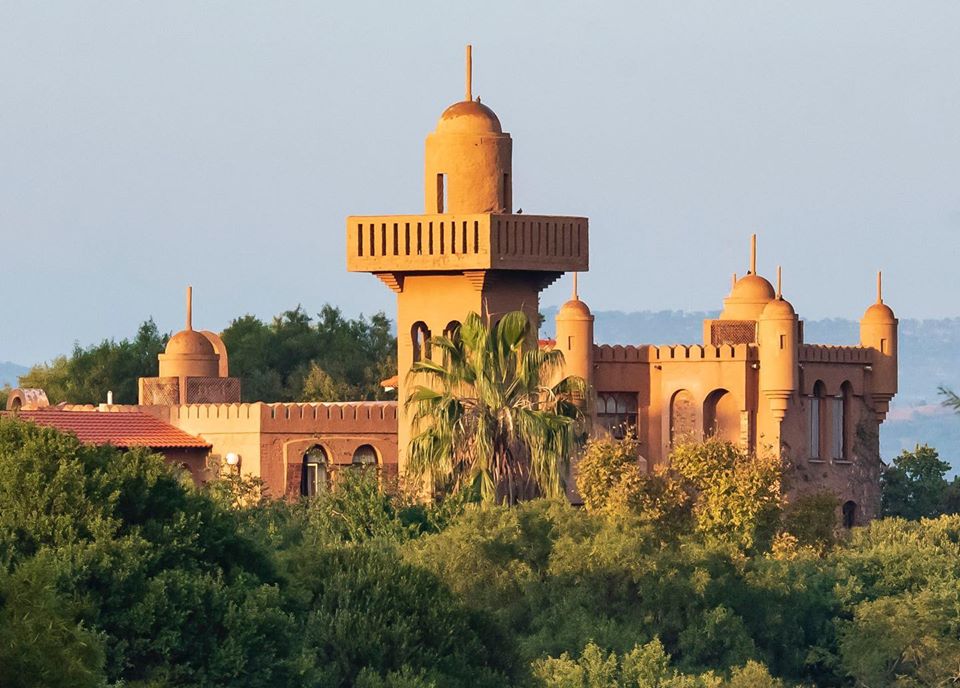 A faux Moorish castle set amid acres of peaceful bushveld in the Francolin Conservancy (about one hour drive from Pretoria), The Orient is one of Gauteng's most luxurious countryside hotels, famed for its multi-award-winning fine dining restaurant Mosaic. Each suite is themed around a different ancient city from the middle east and central Asia such as Samarkand, Kashmir and Constantinople and decorated with the most opulent Persian carpets and intricately carved wood panelling. Unapologetically over-the-top, the hotel even has its own miniature theatre, an exotic Moroccan-style central courtyard with intricate fountains, an art museum and an Arabesque tower with fantastic views of the countryside.

Rates and booking: For the latest rates and bookings call +27 12 371 2902/3/4, email reservations@the-orient.net or find them online at the-orient.net
Charter a boat from Old Willow No. 7 Houseboat Charters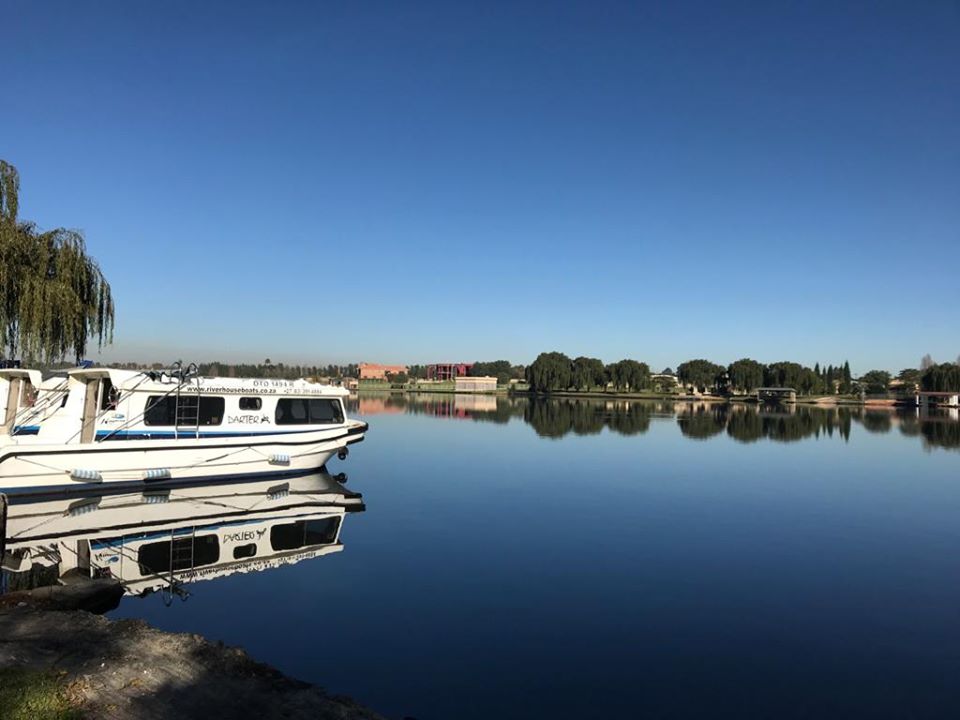 Why drive around in a car when you could be cruising the waterways of the Vaal in your own boat?!  Old Willow No7 Houseboat Charters has seven houseboats for rent, each with a cosy double bed and a rooftop seating area with deckchairs for enjoying drinks at sunset. You don't need any prior experience to rent a boat, you'll be shown the ropes (so to speak) beforehand. Each boat also has a small galley kitchen with fridge and electric stove, and of course an on-board braai stand too. Great for birders, fishing fanatics or adventurous couples looking for an out of the ordinary weekend break in Gauteng. ​​​

Rates: Boat rentals cost from R450 per person per night (weekdays), weekends cost more and there is a minimum booking of two nights.
Find out more and book at oldwillow.co.za
Adama's Artistic Chalets and Teepees in Dinokeng Game Reserve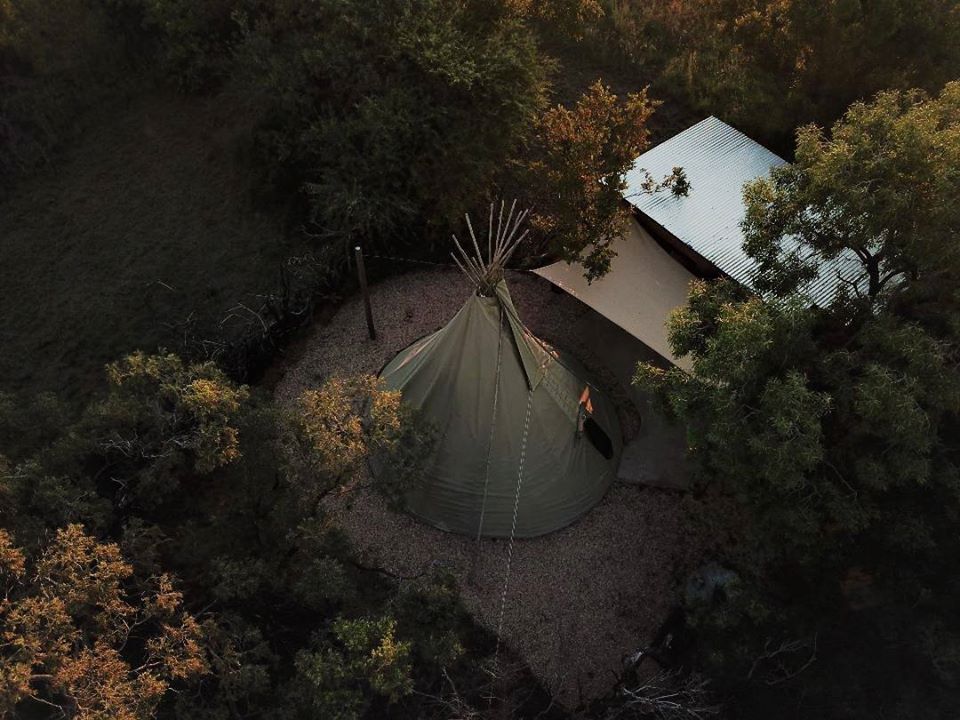 There is no shortage of classic tented accommodation in South Africa where you get to sleep under canvas with all the convenience of an en-suite bathroom and kitchen facilities - an experience otherwise known as 'glamping'. Adama Chalets in the Dinokeng Game Reserve offers traditional glamping with a difference with the chance to sleep in a native American-style teepee. There are two teepees each with a double bed inside that come with their own adjoining boma area, bathroom and a fully equipped kitchen.

Rates: Teepees costs from R1050 per night (sleeps two)
Find out more and book online at adama.co.za
The ultimate luxury rail journey with Rovos Rail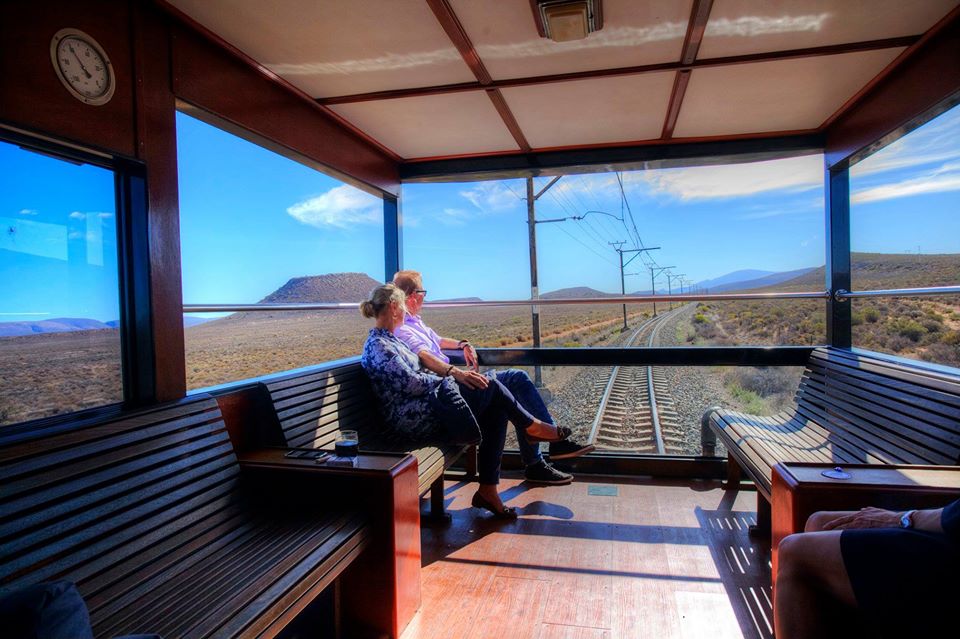 The ultimate in luxury travel, filled with the romance of a bygone age of Slow Travel. Disconnect from the busyness and book a one-way journey on Rovos Rail where you'll be drawn back to the grace of Victorian luxury travel. Trains leave from Rovos's private station in Pretoria and a number of journeys are available, including two-night trips to Cape Town or Durban and spectacular three-night journey to Victoria Falls. A true bucket list experience for any railway fanatic, service is exceptional and the on-board accommodation is among the most luxurious to be found on any train journey in the world.

Rovos Rail are now accepting bookings for travel in 2021 and 2022. Find out more about the different packages on offer at rovos.com
MPUMALANGA
Kruger Shalati's incredible train on the bridge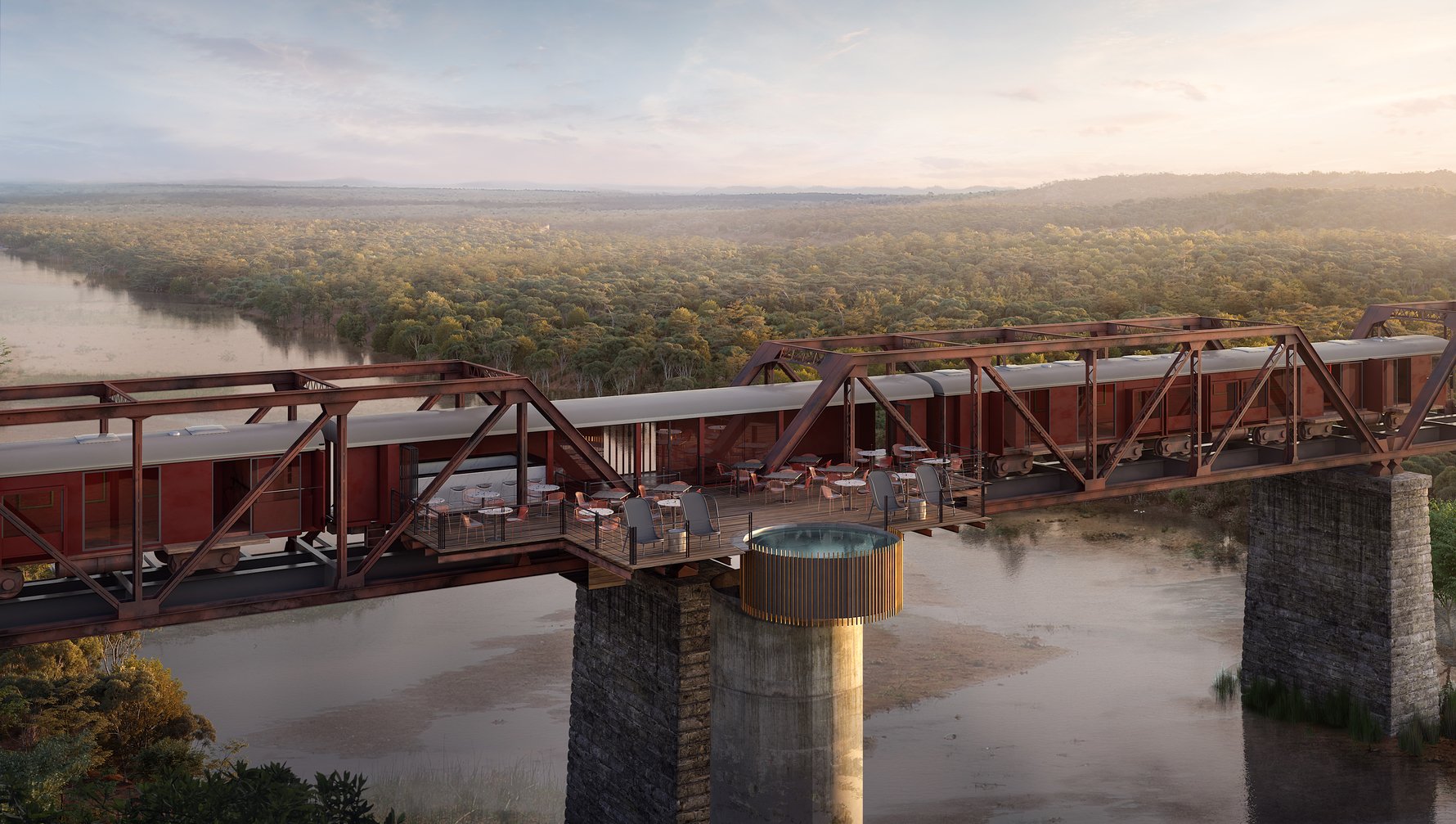 This remarkable new luxury safari destination has one of the most outstanding views on the continent, occupying an old railway bridge crossing the vast Sabie river in the lower Kruger National Park. Wake up to the most incredible views across the river from the comfort of your luxurious open-fronted room, cleverly transformed from a historic railway carriage, then take a dip in the statement splash pool deck that looks right out over the river. As with the best once-in-a-lifetime luxury safari experiences accommodation includes all meals and twice-daily guided game drives through the park.   

The Kruger Shalati is due to officially open in spring 2020. There are already a host of special early bird deals available online. Find out more at www.krugershalati.com
NORTHERN CAPE
Mountain Suites at Naries Namakwa Retreat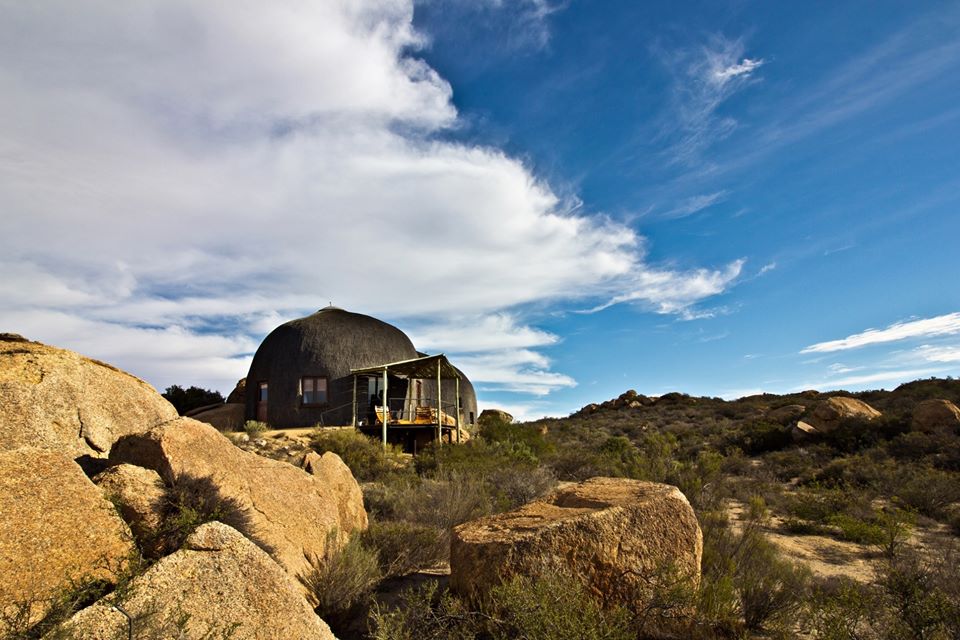 An extraordinary retreat in the middle of the Namqualand wilderness, in addition to classic guesthouse accommodation Naries also has three 'Mountain Suites' that have a very Flintstones feel to them. Designed to blend perfectly into the landscape each suite resembles a large boulder and you'll find that inside the walls are half manmade and half ancient rockface. Close to Springbok, this is the perfect bolthole for exploring the shipwrecks of the Northern Cape coastline and the blossoming spring Namaqualand flowers. 

Find out more and book online at www.naries.co.za
WESTERN CAPE
The Silo Hotel Cape Town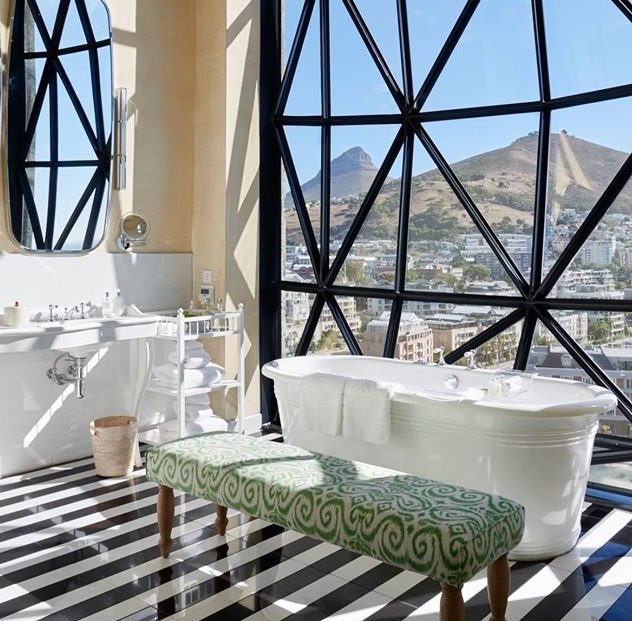 Cape Town's most exclusive new luxury hotel sits atop an old grain silo in the heart of the V&A Waterfront. Rooms comes with a remarkable 5.5-metre window, described as 'pillowed glazing panels' providing the most spectacular sky-high views in town and contemporary artworks that reflect the abundance of art that lies below in the outstanding Zeitz MOCCA contemporary art museum. 

Find out more at theroyalportfolio.com/the-silo/overview/
The Sky Room at Kagga Kamma in the Cederberg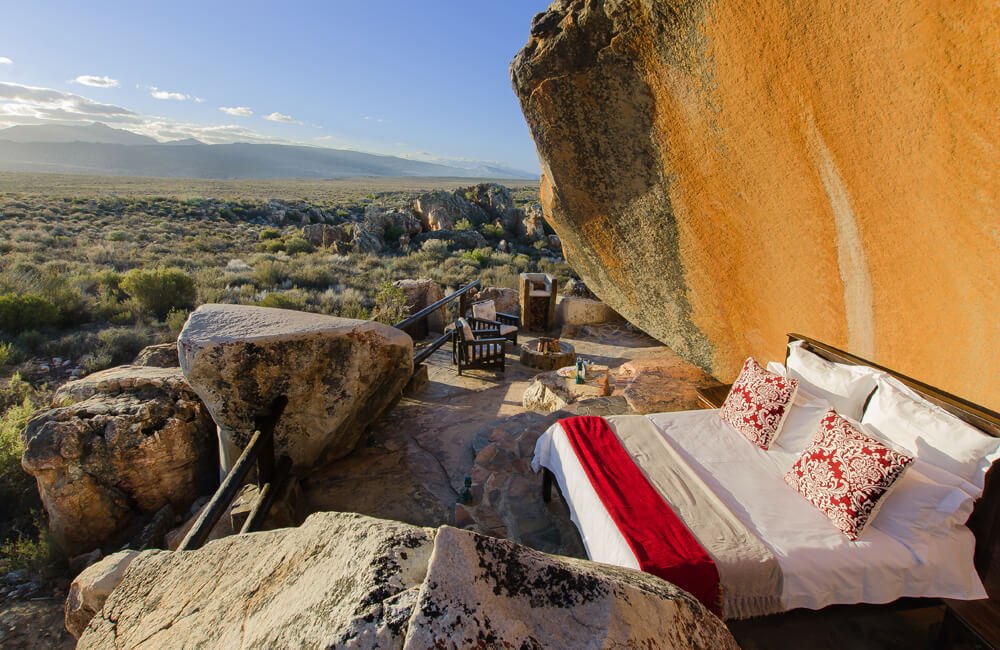 Nestled deep in the scenic Cederberg Mountains, far from the buzzing lights and humming TVs of even the smallest town, this is your opportunity to get back to nature and sleep under the stars. The jewel in the crown is the Star Suite Open Air Room set on a private platform below the most astonishing hanging rock formation, three kilometres from reception. There's a bathtub for a special soak under the stars as well as your own personal rock pool for a refreshing nighttime dip under the twinkling spread of the milky way.

The star room is only available from September- April (weather permitting). Guests who stay at the Star Suite have to be booked in at the Lodge in either a Hut or Cave Suite and can then add on to their stay by choosing the Star Suite at an additional cost.

Rates: The Sky Suite costs R1,300 per person per night. 
Find out more and book at www.kaggakamma.co.za/star-suite.php
Teniqua Treetops treehouses in the Outeniqua Mountains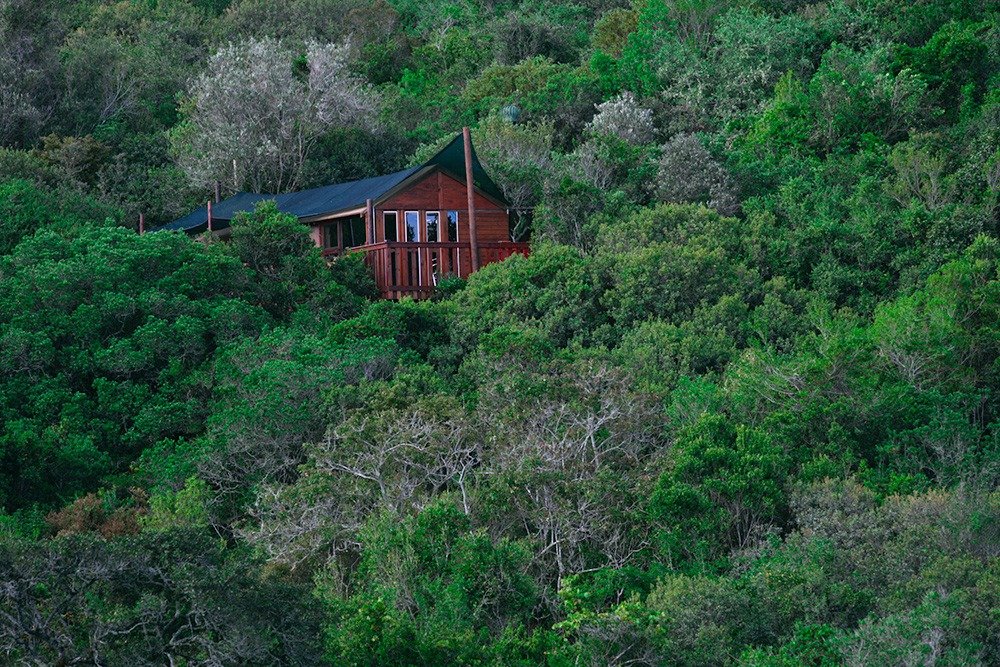 Deep in the ancient milkwood forests that fill the slopes of the Outeniqua Mountains, around 35km from the Garden Route town of Kynsna, these delightful treehouses blend perfectly with their surroundings. Each wooden house perches out on stilts over the sloping forest canopy giving the sensation of sleeping in the treetops. The treehouses are also eco-friendly, perfectly equipped with gas stoves and compost toilets (don't be alarmed by the rain spiders!) and fresh mountain spring water, which the locals call 'cola water' due to its unusual colour and distinct tanin taste. 

Rates: From R1,193 per unit per night
Find out more and book online at teniquatreetops.co.za
EASTERN CAPE
Sleepover in a fully-equipped cave at Makkedaat Caves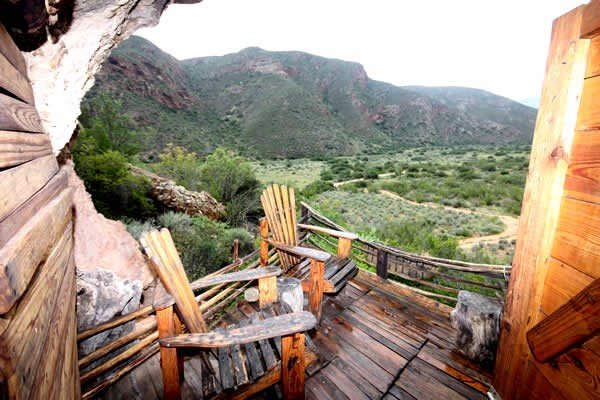 A super quirky stayover for those looking to get back to nature, this unique destination gives you the chance to sleep inside a natural cave that has been enclosed with timber and rock to form a small cave house kitted out with an open-air shower, a small kitchen and bathroom and of course a great braai area just outside the cave for those long evenings by the fire. Rustic is the keyword here - you need to bring your own bedding (sleeping bags are best) and there's no electricity (but plenty of solar lamps!). There are six cave houses sleeping between two and ten people as well as a regular wooden house. Located inside the Baviaanskloof Wilderness Area there are lots of walking and hiking trails to explore and the farm on which the caves are based can also provide picnics. 

Rates: Caves cost from R500 per night. Find out more and book online at www.makkedaat.co.za

Subscribe to our free weekly Johannesburg In Your Pocket newsletter for all the latest news and reviews about what's new in Joburg!