Between the substantial Big 5 Dinokeng Reserve in Tshwane near Pretoria, the pristine Highveld landscape of the UNESCO protected Cradle of Humankind and the rolling valleys of the foothills of the Magaliesberg mountains and the Magalies Meander, the Gauteng Province has plenty of quiet places to enjoy a relaxed countryside escape away from bustling Johannesburg. 

Here's a look at some brilliant boutique hotels, self-catering lodges and tented camps suitable for all budgets and ideal for couples or families looking for a countryside break in the Gauteng Province. With close to 400 attractions that include the Nirox sculpture park, and Maropeng and the Sterkfontein Caves, The Cradle is within very easy driving distance of Joburg (under just one hour) and offers attractions for the whole family. The world's oldest hominid fossils were discovered in this area, now a UNESCO world heritage site and remains of our ancient ancestors continue to be found in the Cradle of Humankind which is an active digging site for paleoanthropological research. There is also some good hiking in the area and with so much of the Cradle being officially protected, essentially guaranteeing sustainable development, it's an excellent place to get away from it all and get back to nature.

MAROPENG BOUTIQUE HOTEL
Perfect for: Couples, romantic breaks, visits to nearby caves and digging sites

The Maropeng Boutique Hotel is perfectly located in the heart of the UNESCO-protected Cradle of Humankind, adjacent to the region's official Visitor's Centre and museum, Maropeng. Bookings at the hotel include a ticket to both the Maropeng visitor's centre and for the tour of the nearby Sterkfontein Caves (where famous hominids such as Mrs Ples were discovered). The hotel has been designed to blend into the surrounding countryside, while also allowing for immense, uninterrupted views of the countryside.  Each guest room comes endowed with full-length windows and terraces looking out across the expansive grasslands of the Cradle towards the Magaliesberg mountain ranges in the distance, particularly beautiful at sunset.  

RATES & BOOKING: Rooms start from R1,500 per night. Find out more and book online here.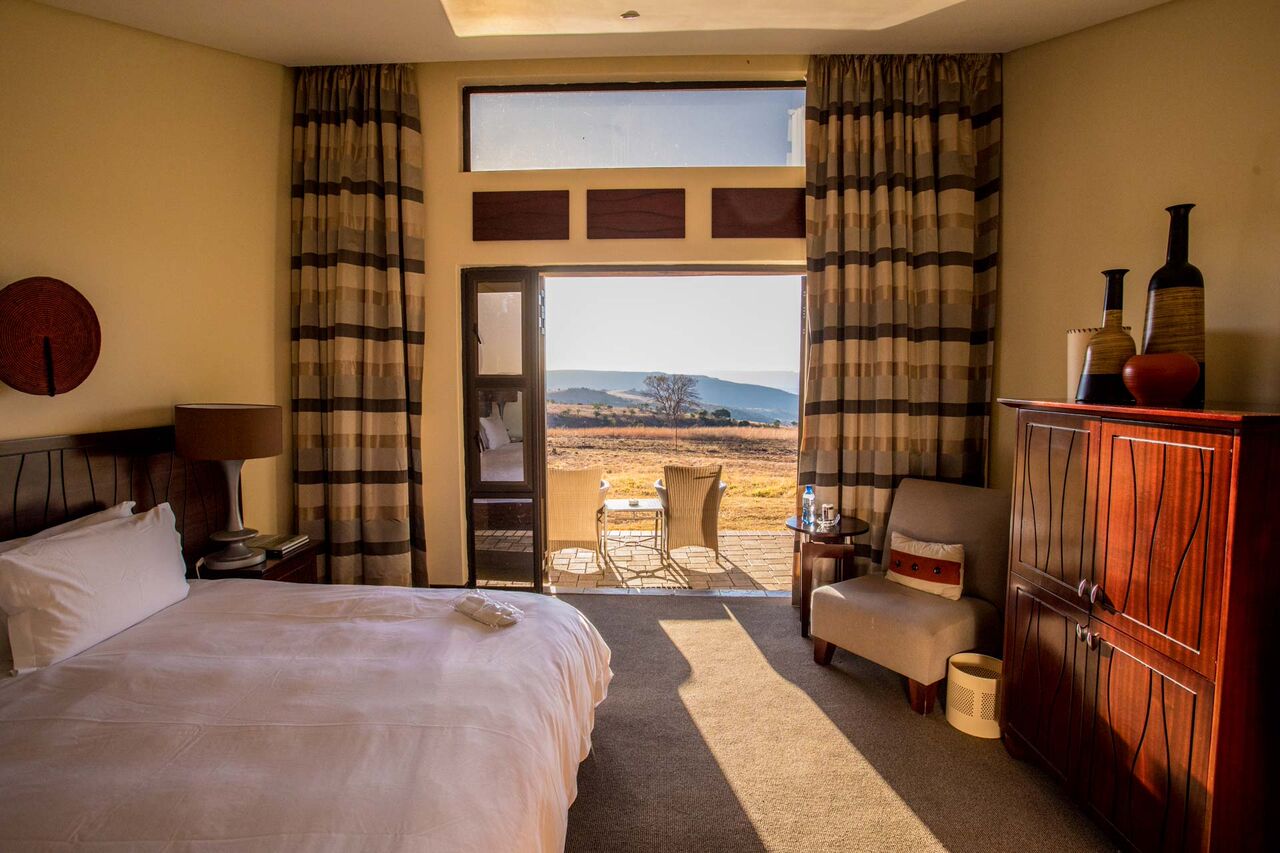 FORUM HOMINI BOUTIQUE HOTEL
Perfect for: Couples, romantic breaks and great dining

Set within a private game estate just 20 minutes drive from the Maropeng Visitor's Centre, this unique 5-star hotel's suites are cut into the earth like prehistoric caves and endowed with environmentally friendly grass-covered roofs, stalactite-style lights, indoor and outdoor showers and broad views of the grassy savannah below. The hotel's Roots restaurant with its fantastic deck positioned perfectly to capture the sunset hour, has made it onto the 'Top Restaurants in SA' list more than once. 
RATES & BOOKING: Find out more and book online here.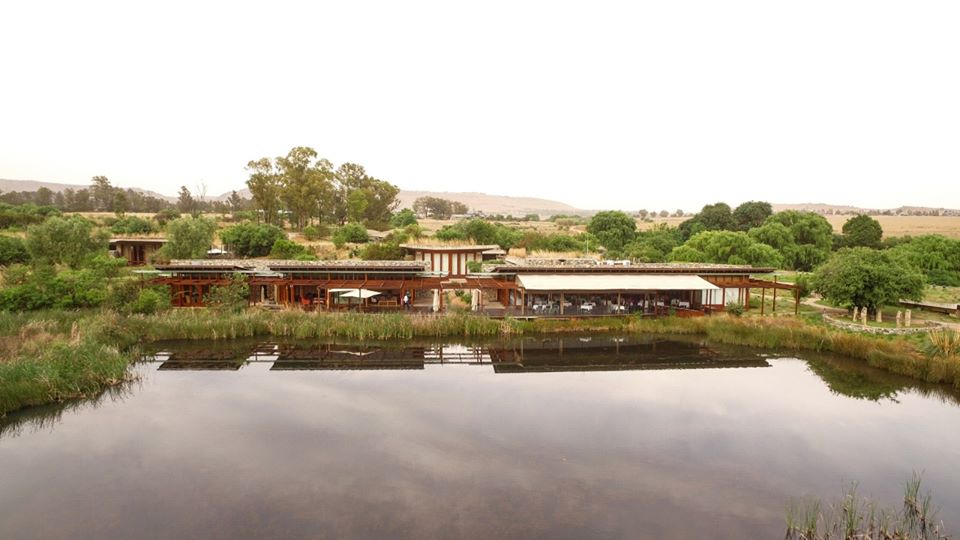 CRADLE BOUTIQUE HOTEL
Perfect for: Couples, romantic breaks, pampering

For a luxury stay in the Cradle region, look no further than the Cradle Boutique Hotel where each of the high-end timber and thatch-roofed cottages has a private viewing deck elevated above the 7,000 hectares of private nature reserve spilling out below. There are two luxurious pools on site; the natural filtration lounge pool with a cascading rock waterfall and a second sun-drenched swimming pool framed by private cabanas. The hotel also offers guests the chance to tick off an elusive bucket list item – joining a world-renowned paleo-anthropologist on a visit to a major fossil exploration site in the nearby Sterkfontein Caves area.

RATES & BOOKING: Rooms from R,2200 per night. Find out more and book online here.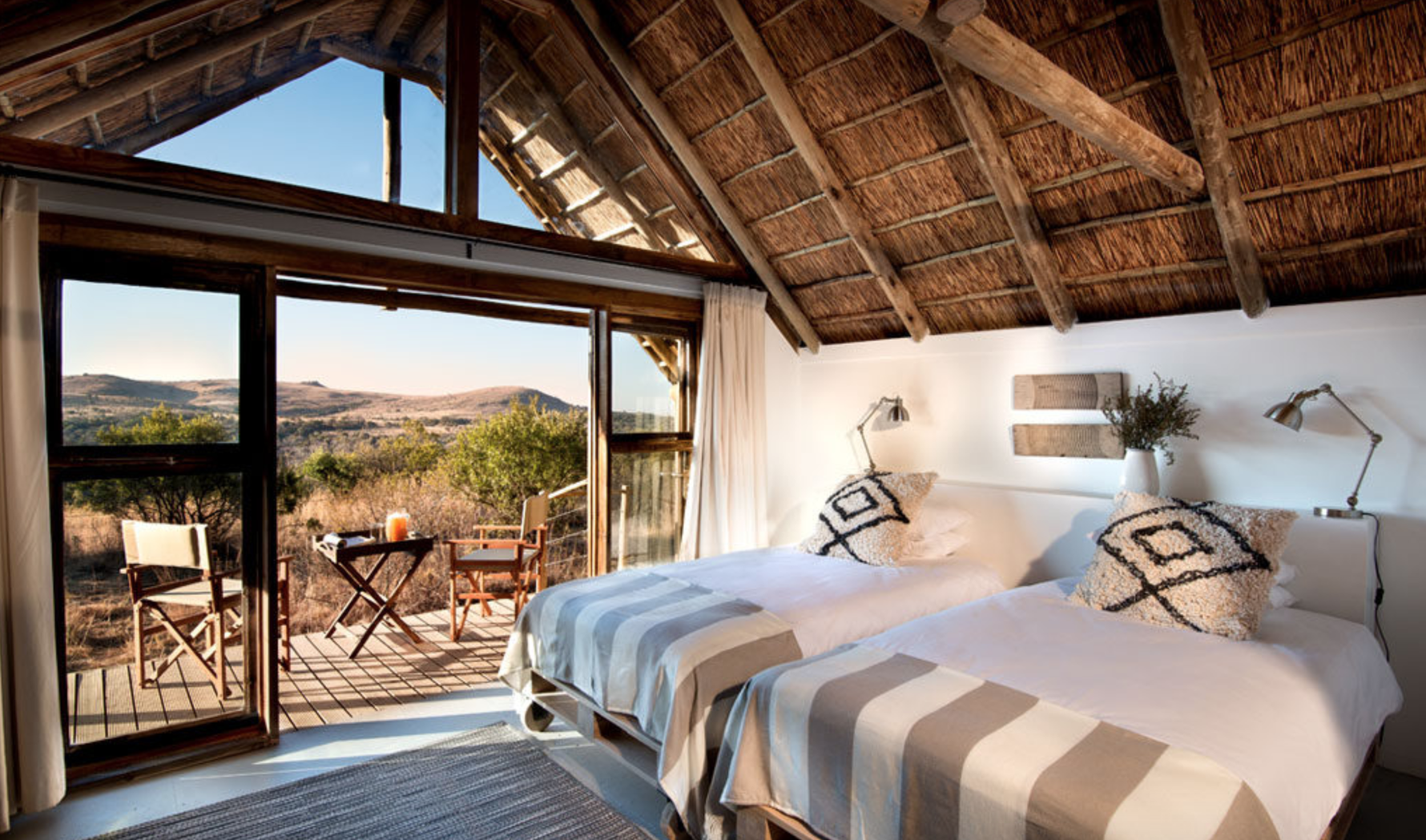 KLOOFZICHT LODGE & SPA
Perfect for: Couples, romantic breaks, pampering and birdwatching on the dam

Woven among peaceful fly fishing dams and the lower reaches of the Blaauwbank Spruit, is the dreamy five-star Kloofzicht Lodge and Spa. Local game and birds roam freely on the private nature reserve upon which Kloofzicht is built, making this boutique lodge in the greater Cradle region a peaceful escape into nature where you can melt into the stillness of the surrounds. The five-star lodge is well-liked for its friendly, high standard of service. 

RATES & BOOKING: Rooms start from R3,400 per night. Find out more and book online here.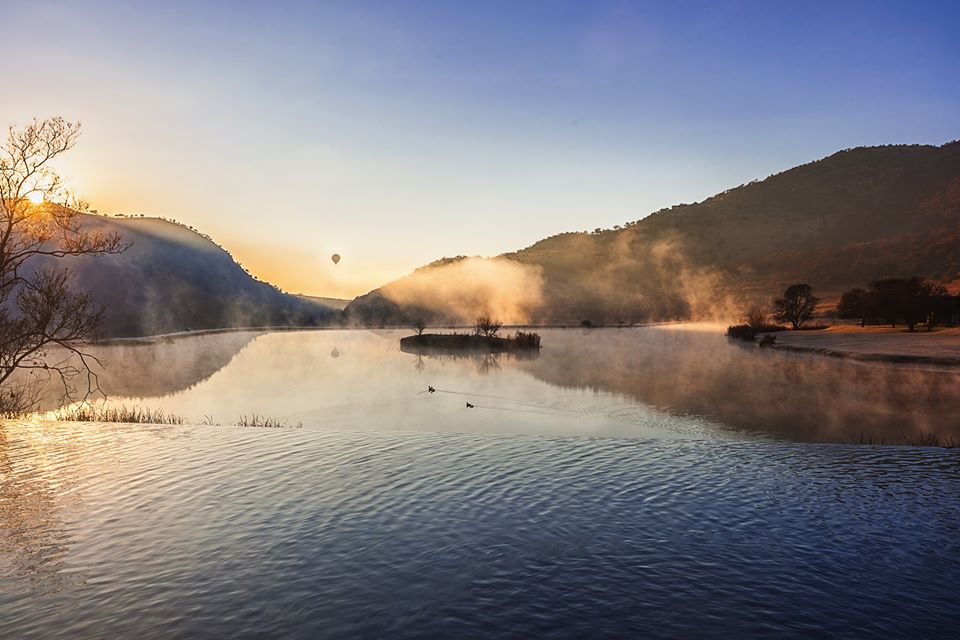 IBIS RIVER RETREAT
Perfect for: Self-catering for couples and families

Situated inside the Crocodile River Reserve, Ibis River Retreat has five spacious cottages to choose from each endowed with their own wow feature - a private jacuzzi and an indoor fireplace for those chilly winter evenings. Four of the five cottages are designed for couples with decent kitchens and large outdoor braai areas. The rustic Fish Eagle cottage sits right on the banks of the river and has an attic bedroom reached via a steep ladder. There is one larger cottage, The Francolin which has two bedrooms and bathrooms and its own firepit. Note that no children aged under 7 are allowed at the property. The property also has its own small spa.

While manageable in an ordinary sedan car, it is worth noting that there is a long and dusty road through the surrounding farmland to reach the property which takes at least 20 minutes. Drive carefully and take your time.

RATES & BOOKING: Cottages R1,600 per night, Francolin cottage R2,000 per night. Find out more and book online here.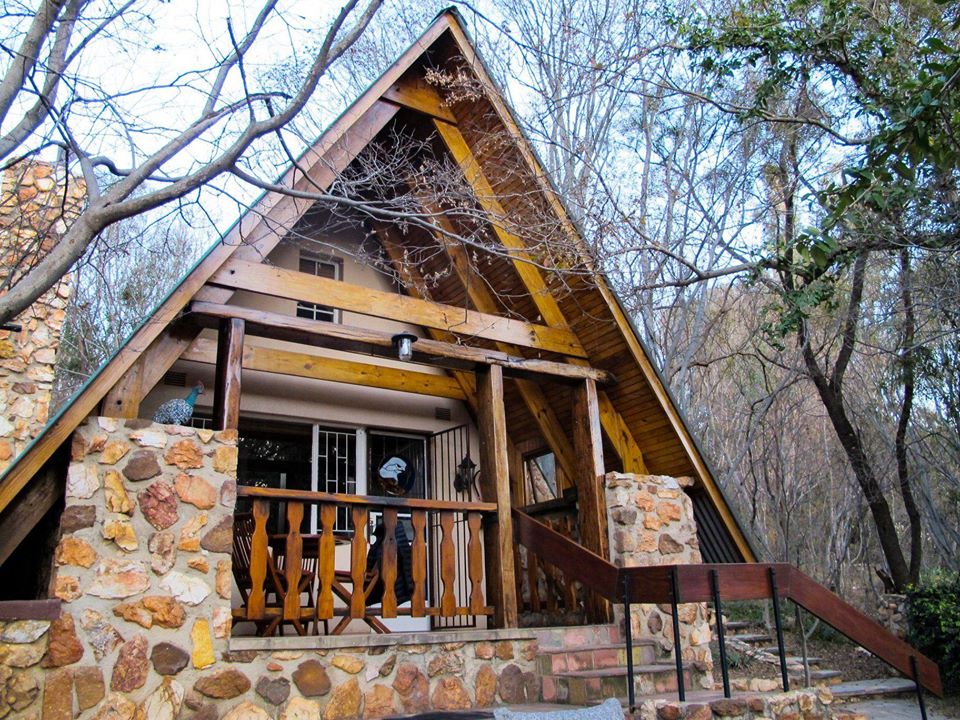 BUSH WILLOW TENTED CAMPS
Perfect for: a rustic outdoors experience, groups and families

This tented camp, part of Guvon Hotel's sprawling Glenburn Lodge estate, has an idyllic location on the banks of the Blaawbank river and offers a rustic experience with ten comfortable walk-in tents to choose from, each sleeping up to six people on single beds making it a fun destination for families and groups. Tents each come with their own indoor shower, toilet and a small kitchenette as well as an outdoor deck with a built-in braai stand. Note that bedding, crockery and cutlery is not provided so you will need to bring your own. The camp also has a communal boma area and a small pool and you can make use of the facilities at Glenburn Lodge.

RATES & BOOKING: Find out more and book online here.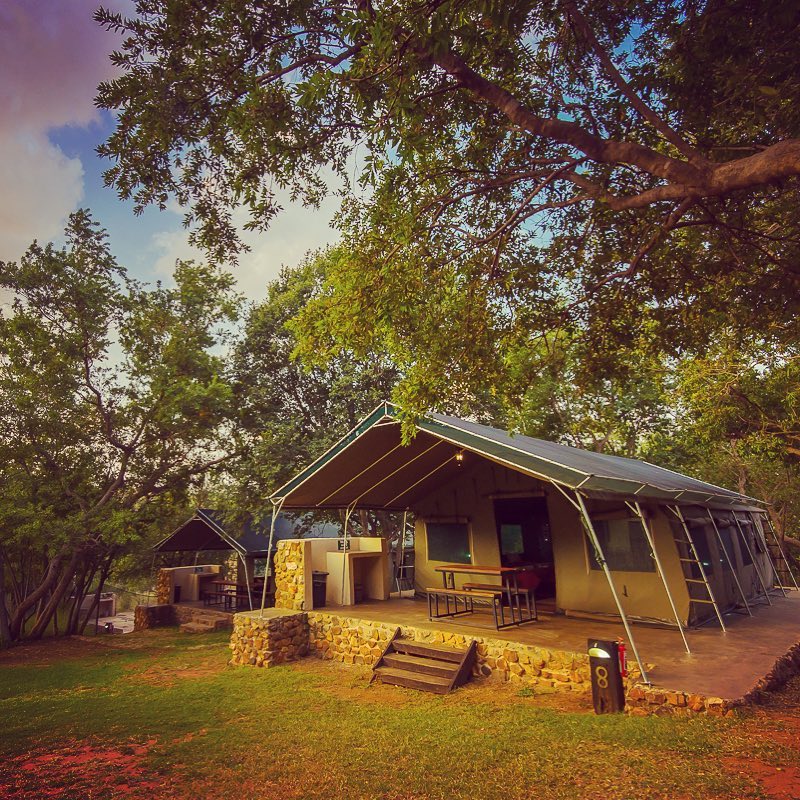 Magaliesberg mountains and the Magalies Meander
Bordering on 'Haarties' as the large Hartbeespoort Dam is known, this area about 1.5hours drive from Joburg offers a beautiful mountain backdrop, with the ancient Magaliesberg mountain range forming a natural border between the Gauteng and North West Provinces. Lots of farm shops and quaint countryside restaurants to explore have earned this area the nickname 'Magalies Meander' and it has long been a popular spot with weekend holiday-makers from Johannesburg and Pretoria. 

The most popular activity for daytrippers is enjoying one of the many private hiking trails or taking a ride up the Magaliesberg mountains on the Hartbeespoort Aerial Cableway to admire the views. Other popular activities in the area include visits to some of the nearby farms such as the Van Gaalen cheese farm, lunch at a countryside restaurant, a trip up in one of Bill Harrop's hot-air balloons or a round of golf at the Jack Nicklaus designed Pecanwood golf course.

Although the Magalies area straddles the Gauteng and North West Provinces, the following accommodation options all lie within the Gauteng Province.

DE HOEK COUNTRY HOTEL
Perfect for: A romantic couples break with the best High Tea

This 5-Star countryside boutique hotel is a study in elegance and romance, just as popular with couples as it is with city executives in search of quiet time and space to recharge.  The spacious and tastefully furnished rooms in the main Manor House-style hotel building and the more contemporary sandstone suites are all set amid extensive gardens near the Magalies River, with a view of the enclosing mountains. The hotel is a short drive away from a wide range of attractions, including horse riding trails, hiking trails, golf courses and the caves of the Cradle of Humankind. For a special weekend treat, book for the decadent De Hoek High Tea.

RATES & BOOKING: Rooms start from R3,000 per night. Find out more and book online here.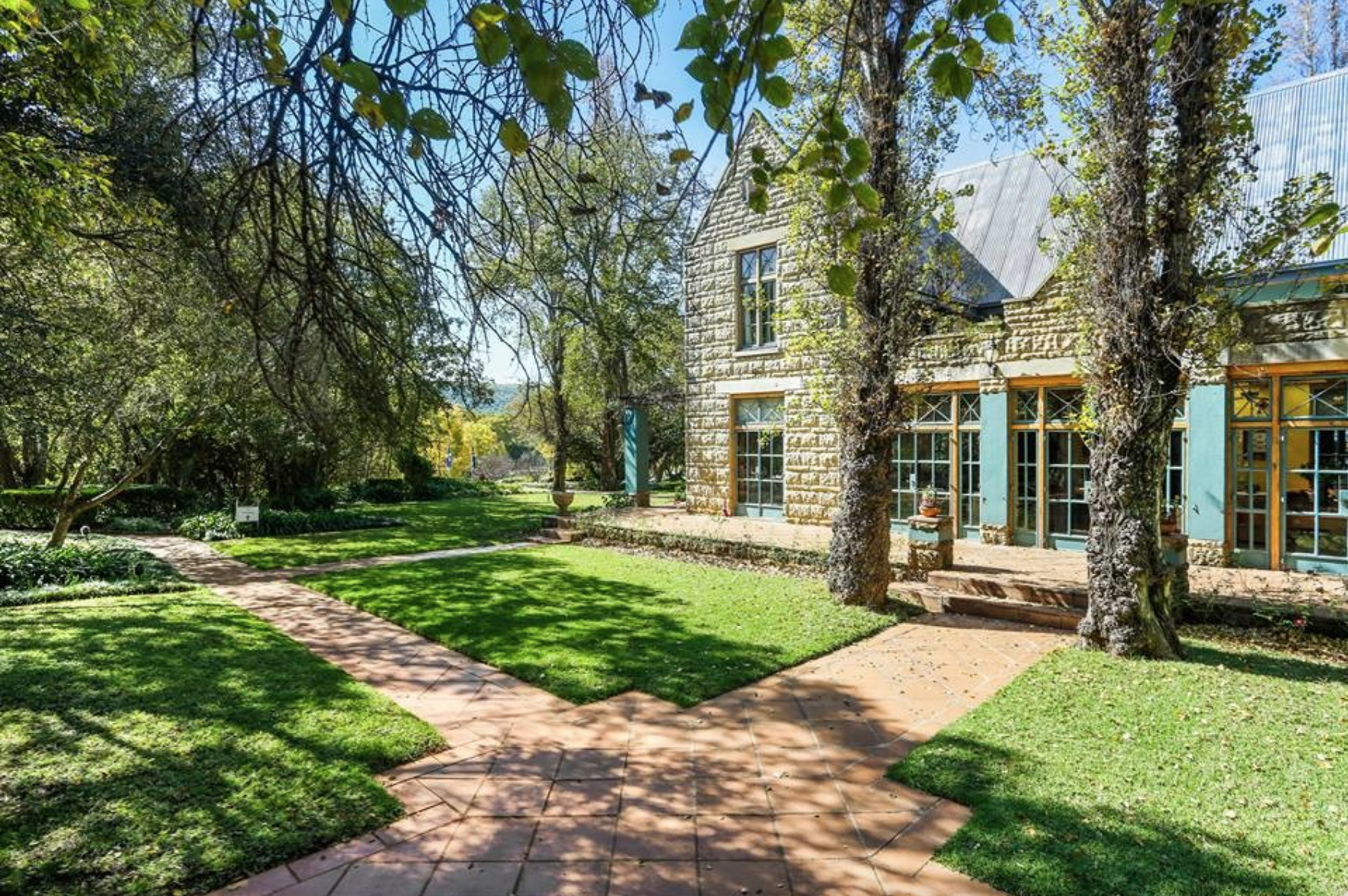 RUSTIG
Perfect for: weekend hikers and backpackers 

This historic family farm sits right below the craggy foothills of the Magaliesberg mountain range and is popular with day visitors who come to hike the Rustig trails which climb their way up the crags to offer some spectacular views across northern Gauteng.

With a broad range of accommodation options it's popular with larger groups and families. You can choose from bed and breakfast inside the Cape Dutch style heritage house or rent one of the self-catering properties which include a large old farmhouse with its own stoep (sleeps up to ten in five bedrooms) or the considerably more 'rustic' Stone House which has a bedroom with a double bed and a second bedroom packed with four bunk beds. There are also two self-catering tents (sleeping four and six) and basic backpacker dormitory accommodation. Serious hikers can also book the overnight hut on the mountain and sleep over while tackling the 18km hiking trail which leaves from the property.  Amenities include a tea room and a large swimming pool that's perfect for doing laps on a hot day.

RATES & BOOKING: Tents from R1,200 per night, Heritage House rooms R1,000 per night, The Farmhouse rental R3,000 per night.  Find out more and book online here.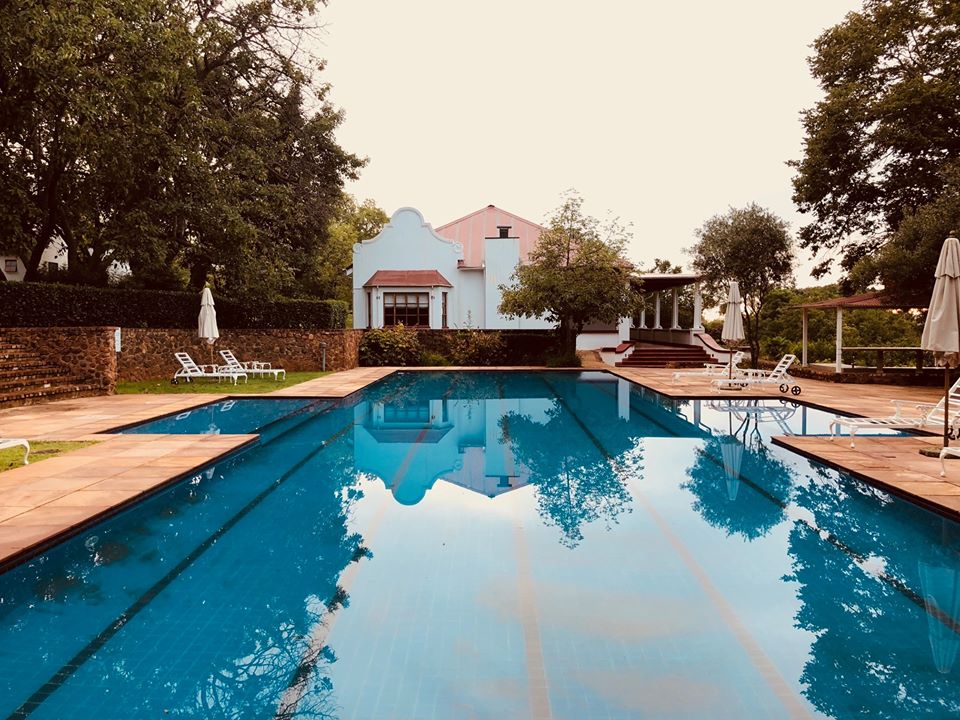 STEYNSHOOP MOUNTAIN AND VALLEY LODGE
Perfect for: weekend hikers, self-catering and families looking for lots of on-site activities

This secluded country hotel is nestled in a game farm that sits on the slopes of the Magaliesburg mountain. Choose from one of five cottages in the self-catering Steynshoop Valley Lodge or book into a room at the upmarket Steynshoop Mountain Lodge hotel just up the hill, where four-poster beds and sweeping views make for a grand setting. Set across a spacious Cape Dutch style farmstead linked by pretty wide open courtyards (or 'quads') there are plenty of amenities including tennis courts, volleyball, billiards, a large swimming pool and croquet. 

Self-catering accommodation ranges from quaint thatched roof cottages to the epic five bedroom Homestead building. There are pretty nature trails through the game farm and it is also possible to hire a guide to take you through longer trails that link up through neighbouring farms.

RATES & BOOKING: Valley Lodge self-catering from R1,000 per night, Mountain Lodge rooms from R,1700 per night (two people sharing, single R1,200). Find out more and book here.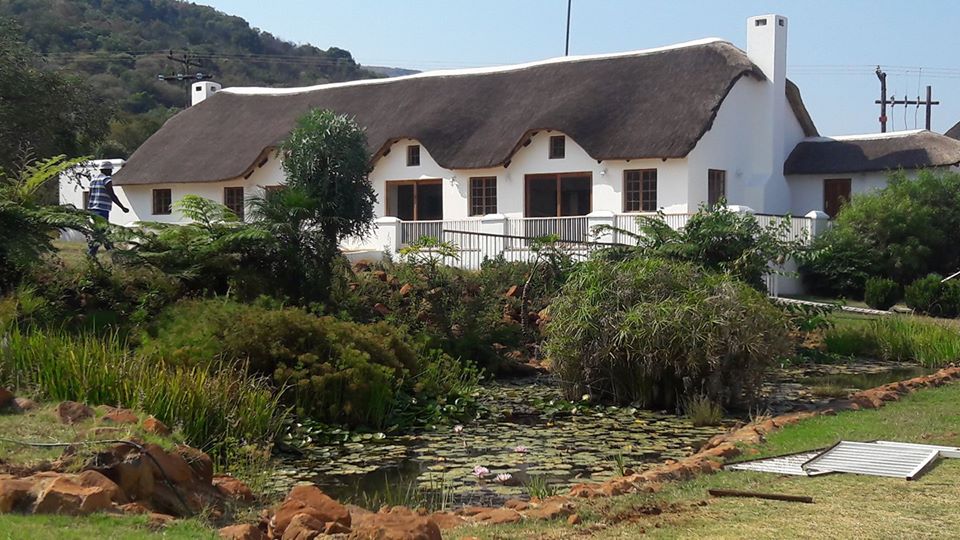 SAAMRUS GUEST FARM
Perfect for: A pet-friendly self-catering break and splendid isolation

If you are looking for isolated self-catering accommodation you can't do much better than this guest farm scattered over 500 hectares of Magaliesburg mountainside. There are ten cottages altogether, four at the foot of the hill and six others scattered high up on the mountainside. Be warned if you don't have a 4x4 vehicle you will need to walk up to the cottages on the hill, which is anything between 200 and 400 metres. Fortunately, there are staff on hand who will carry your food, braai wood and luggage for you (tip them well - it is a steep walk!)

Mountain cottages sleep between two and four people and are all well isolated from each other with their own fenced gardens complete with firepit and braai. Bigger families can also book the large old farmhouse, The Plaashuis, at the foot of hill which has four double bedrooms.  

RATES & BOOKING: Cottages start from R450 per night per person sharing. Find out more and book here.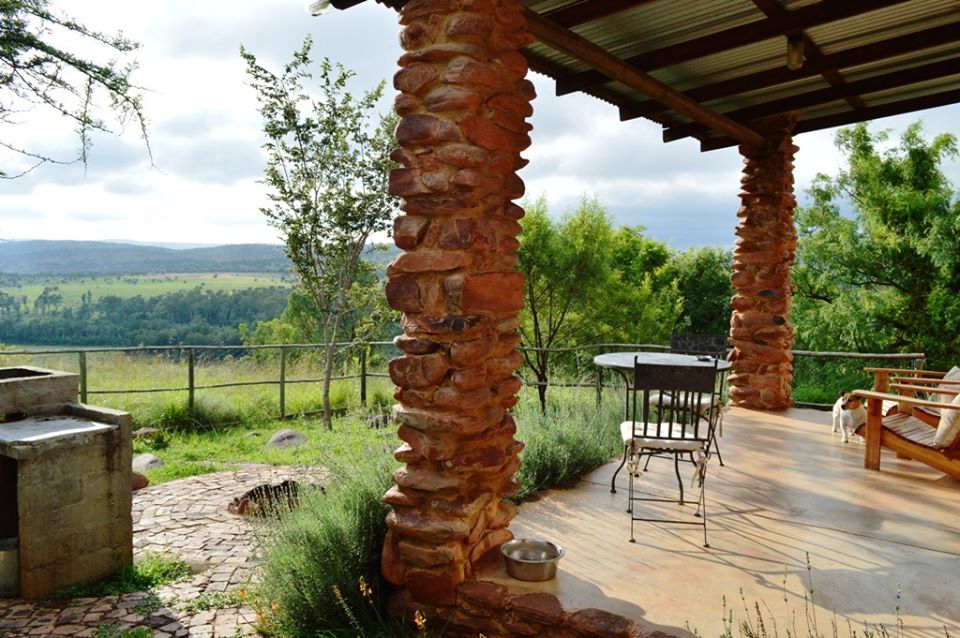 For those who love a safari experience and are invigorated by the call of the wild Joburg has long been a stopover en route to one of South Africa's most well-known attractions, the Kruger National Park (a 450km drive from the city). Less well-known is that the province of Gauteng, of which Joburg is part, is also home to a free-roaming Big 5 reserve called Dinokeng Game Reserve around 100km north-east of Joburg. Apart from the Big 5, Dinokeng also boasts cheetah, brown hyena, zebra and giraffe and is a malaria-free zone, so it's brilliantly suited to young families.

As the area is made up of a number of different private farms that have taken down their fences, there is no shortage of places to stay within the reserve, although quality varies wildly. A lot of venues cater especially for the conference and wedding crowd, while others are focused on camping. You won't find the ultra-luxury that you can get in South Africa's biggest private reserves, Dinokeng more appeals to rustic self-catering and camping family breaks with a taste of the wild in easy reach of the city. 

CHAMELEON BUSH LODGE
Perfect for: Self-catering family breaks

This self-catering lodge offers ten chalets each with their own modern fully equipped kitchen, a patio and braai with view of the waterhole and some with outdoor showers for that classic 'bush break' feel. For families there are also larger two-bedroom chalets that also have their own boma firepits for those fireside evenings under the stars. Compared to some of the more dated looking properties in the area, the decor is modern with a fresh pop of bright neon colours (albeit set against the same face brick interiors which are so ubiquitous across South African safari chalets).

RATES & BOOKING: Chalets from R610 per person sharing. Find out more and book here.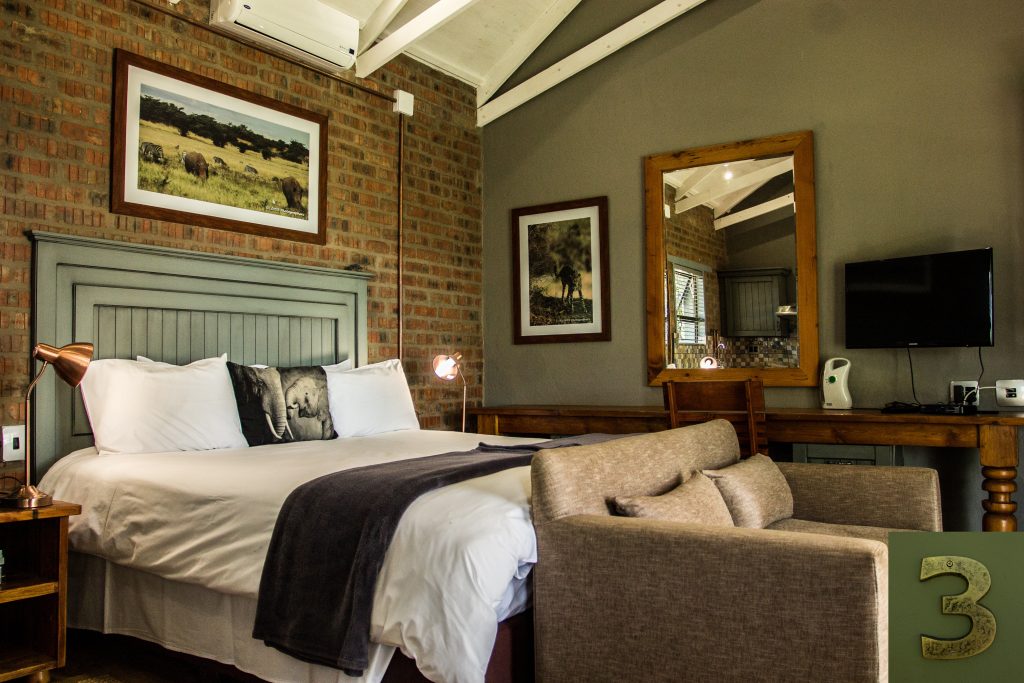 iKHAYA LAMADUBE GAME LODGE
Perfect for: self-catering with the option of guided game drives

Meaning "home of the Zebra", this small self-catering lodge offers eight fully-equipped thatched self-catering cottages and the option of enjoying a guided game drive. The cottages vary widely with the prime spot being the two new "luxury villas" (sleeps two). There are also two fun stilted log cabins with attic bedrooms that give a feeling of being up in the trees or the smaller and rustic studio-style rondavels, safari tent and 'log cottage'. 

RATES & BOOKING: Cottages and cabins from R1,450 per night, luxury villas R2,990. Find out more and book online here.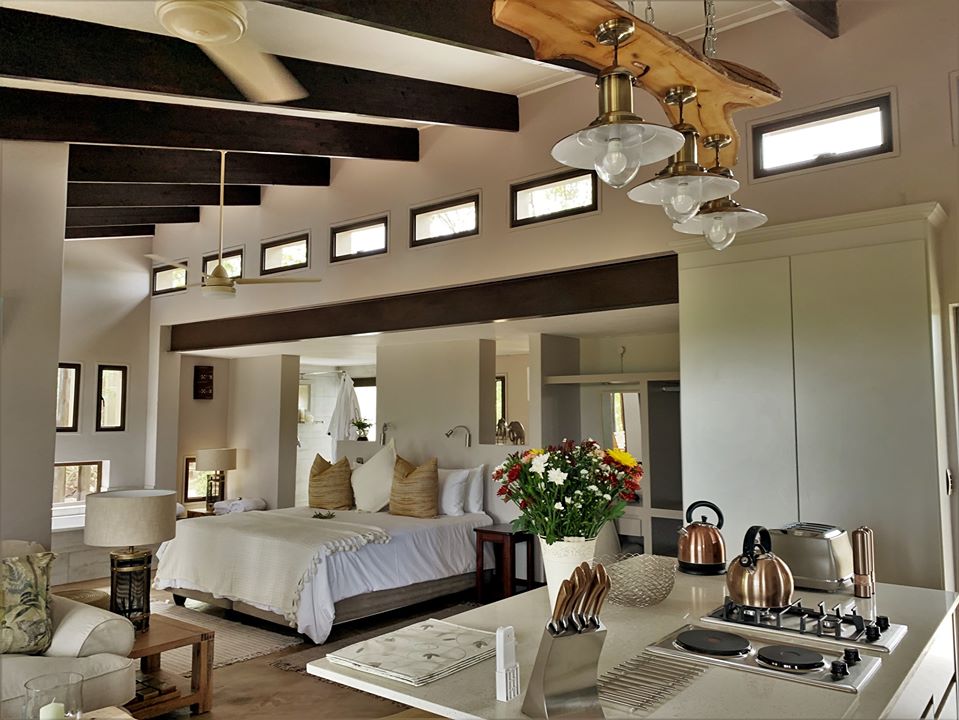 THORN TREE BUSH CAMP
Perfect for: Glamping experiences for all budgets

A rustic camping experience without the need to set up your own tent - otherwise known as glamping. This expansive tented camp has all kinds of tented accommodation ranging from a large 'luxury' tent with indoor and outdoor dining areas and a bath tub, to a classic canvas tent with a braai area on the doorstep. Every tent has its own kitchenette and braai area with seating and a camp basin, only some come with their own en-suite bathrooms. There is a swimming pool but you will need to bring your own pool towels. 

RATES & BOOKING: Tents from R850 per night, campsite from R350 per night. Find out more and book here.

OUKLIP GAME LODGE
Perfect for: good value glamping in the bush

OuKlip is a privately-owned eco-lodge with spacious and well-appointed self-catering safari 'house tents', each of which can sleep up to four (ideally two adults and two kids as you will need to share one room). The spotless canvas house tents each come with their own ensuite bathrooms as a well as an open kitchen and a private boma area where you can sit by the fire at night and when skies are clear gaze up at the incredible display of stars. Guided game drives can be booked through the lodge and they can also assist with booking other activities in the area such as micro-light flights and hot air balloon safaris (weather dependent). 

RATES & BOOKING: Tent houses from R750 per person sharing. Find out more and book here.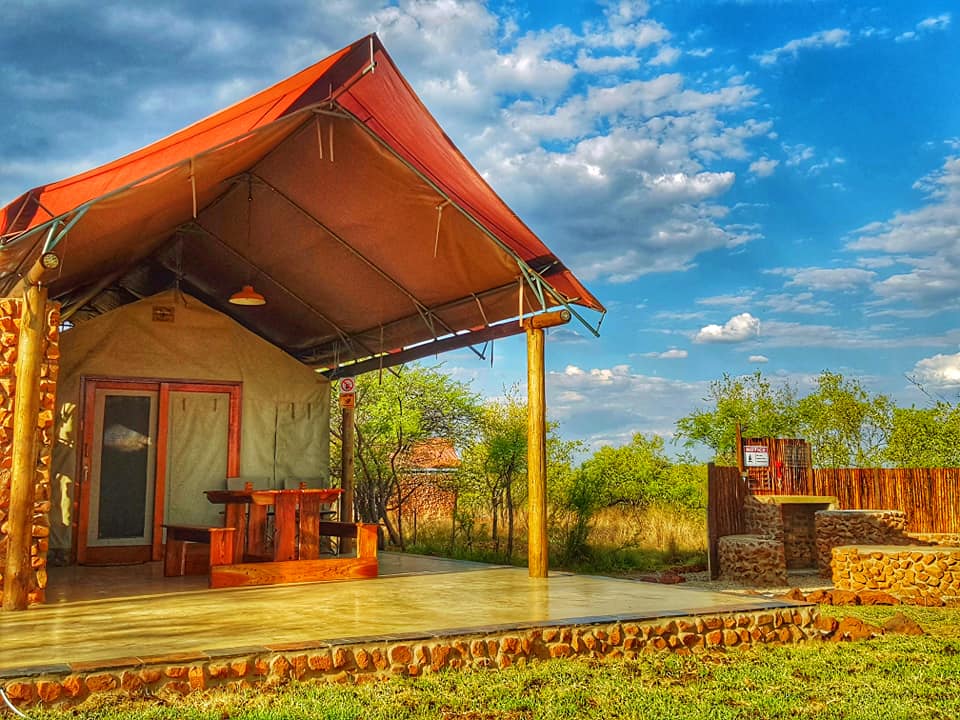 WILLEM'S RUS CAMPSITE
Perfect for: Camping addicts

Camping addicts regularly rate this campsite as the best in the area with high-quality abulation facilities and extremely well-cared for public areas including a swimming pool and large lawns shaded by thorn trees. The site offers 25 stands with two abulation blocks. Stands 1, 2 and 3 share their own shower, toilet and scullery and can be booked separately for a group, ideal for families who like to camp together.

RATES & BOOKING: Campsite from R210 per person per night. Find out more here.

THE BLADES
Perfect for: Hotel luxury in easy reach of wildlife

While not located inside the Dinokeng Reserve, this is a great base for exploring the wider area. Built on the banks of the Roodeplaat dam, about 20 minutes drive from Pretoria, this 46 room hotel is set across 10 hectares packed with indigenous bushveld and great views across the dam. Rooms are luxuriously fitted making this a great alternative to the rustic bushveld feel of other properties in the Dinokeng area and there's even a spa. As well as a restaurant, you also have the option to book a picnic basket and find a secluded spot in the grounds to enjoy a lazy lunch.

RATES & BOOKING: Rooms start from R2,400 per night. Find out more and book here.