In our What to Cook series, we have asked Joburg chefs to share some of their favourite recipes while we #stayathome. This week CHEF NTI from The Taste Kitchen shares some delicious recipes with us.

Maboneng-based Chef Nti (Nthabiseng Ramaboa) became a household name when hosting The Perfect Ace – a cooking show on etv. With more than 185,000 followers on Instagram she is one of South Africa's most popular young chef personalities whose exclusive pop-up dinners at her private dining space The Taste Kitchen in Maboneng have garnered a cult following.

In 2019 she launched her debut cookbook My Modern African Kitchen which draws inspiration from Soweto and her gran's cooking while also talking to a new generation of young South Africans about how to reinvent typical local flavours such as maize in ways that are fresh and innovative. In My Modern Kitchen, Nti explains says that "I want to instil a sense of pride in what we grew up eating" and "embrace this concept, celebrating food that is proudly South African".

 
Lamb knuckles with xx sauce 
Serves: 4
Add this to your spread when entertaining and you'll have everyone licking their fingers.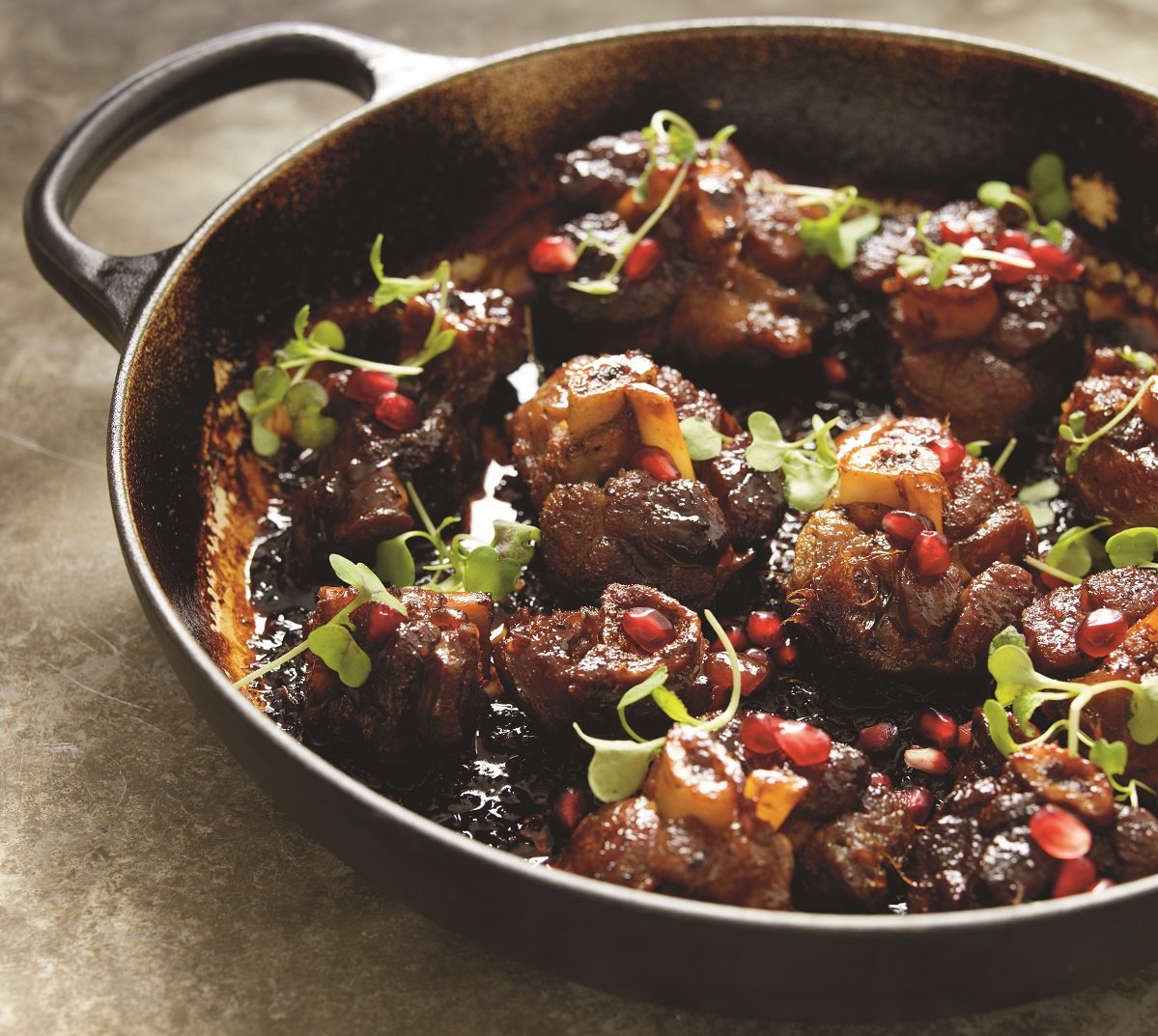 For the sauce: 
½ cup light soy sauce (dark soy sauce will be too overbearing) 
2½ tbsp brown sugar
2½ tbsp rice wine vinegar 
5 tbsp fresh ginger, peeled and chopped 
1 tbsp dried chilli flakes, bruised to wake up the aromas  
Salt and black pepper 

700g lamb knuckles (about 8 pieces)  
1 tbsp sesame oil 
1 clove garlic, minced
Pomegranate seeds, for garnish
Micro herbs, for garnish 
Mashed potato, for serving

Mix the sauce ingredients together, seasoning to taste. Place in a dish large enough to hold the meat. Marinate the lamb in the sauce for up to 45 minutes (but no longer). 
Heat the sesame oil and garlic in an ovenproof casserole dish on the stovetop. Remove the lamb from the marinade and brown it in the oil until golden on both sides. 
Add in the sauce and mix well with the lamb. Lower the heat and let it bubble gently for about 5 minutes, so that
a bit of the sauce is absorbed. 
Put the lid on (make sure it's firmly closed) and transfer the casserole dish to the oven set at 170°C. Cook for 2 hours, until the lamb falls off the bone. 
Serve immediately, garnished with pomegranate seeds and micro herbs, and with a side of mashed potato.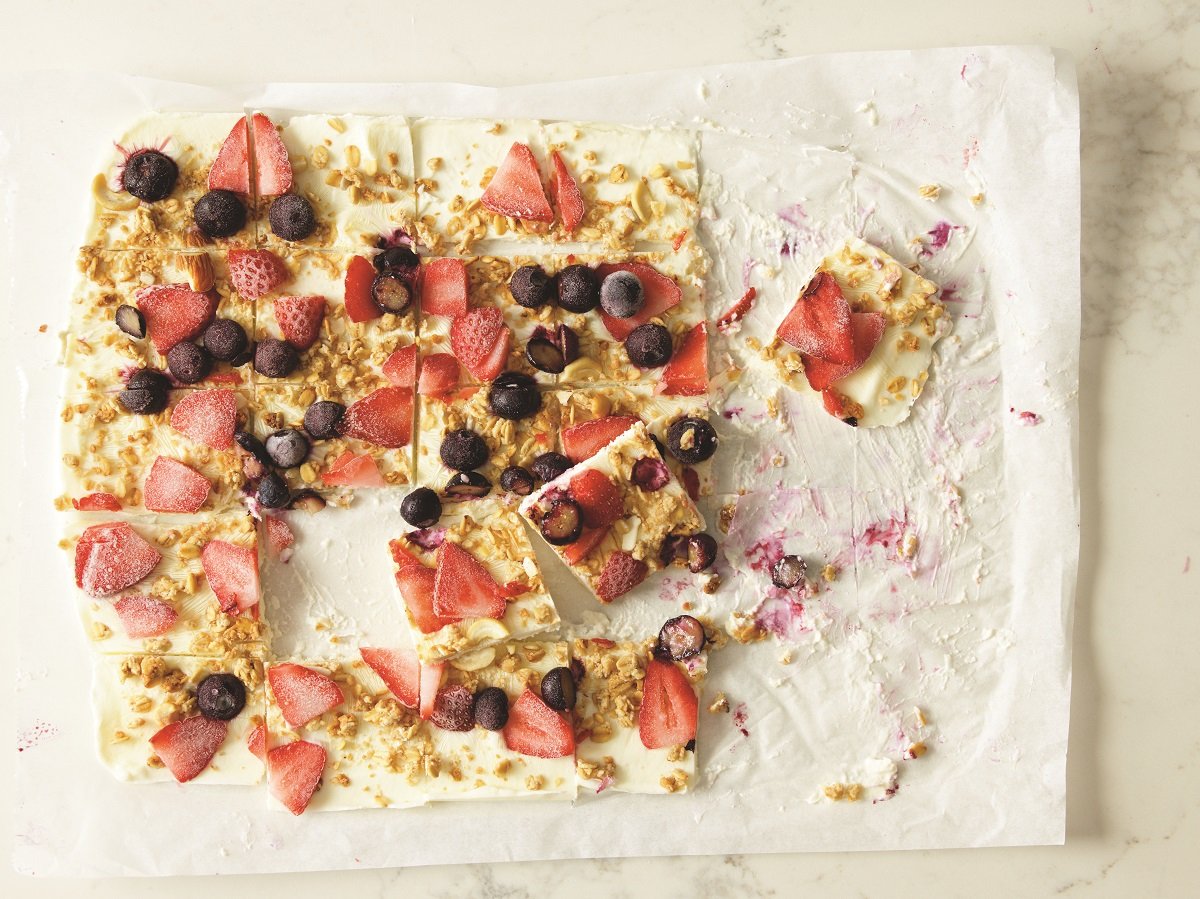 Breakfast Bark
Serves: 8
When you're in LA, you learn very quickly that you really are free to explore and do things differently. There are always 50 more ways one can treat a product. I would think to myself, 'They sold us yoghurt in South Africa, but no one showed us what you could do with it.' And that's where I saw a gap when I came back home. At the time, not many brands were making the effort to teach their consumers how to enjoy their products. My first campaign was with Mayo drinking yoghurt, and this is what gave birth to Chef Nti, the influencer. I'd make these breakfast barks for our roadshows and people would be amazed by what you could do with yoghurt. 

1½ cups plain Greek yoghurt
½ cup breakfast cereal (I use muesli)  
½ cup blueberries
½ cup strawberries, sliced

Line a baking sheet with parchment paper. Pour the yoghurt onto the baking sheet and spread it neatly into a thin layer. 
Top with cereal, blueberries and strawberries. Cover with another piece of parchment paper. 
Place in the freezer for two hours, or overnight, until the bark is fully frozen. 
Slice into your desired shape (I prefer squares). Serve immediately (you can store any leftovers in an airtight container in the freezer).
If you haven't already signed up for our weekly What's On In Joburg newsletter showcasing the best cultural events of the Joburg week – sign up here.