Natasha Sideris is a pioneering force on South Africa's food scene, and now globally, with her restaurants in Dubai. In 2005 she opened her first tashas, a brand that is now synonymous with a philosophy of fresh, beautiful and healthy food, seductively plated and styled, and drawing inspiration from the world's finest, and most exciting, cuisines.

Her philosophy centres on the magic of entertaining, with the food as centrepiece of an elegant landscape. Her vision has been translated into all of the spaces called tashas and she is constantly at work to refine the brand that she has created. This is food as a lifestyle, that suggests the best part of what happens when people come together to share a meal, the ease and warmth that a good meal shared with conversation produces.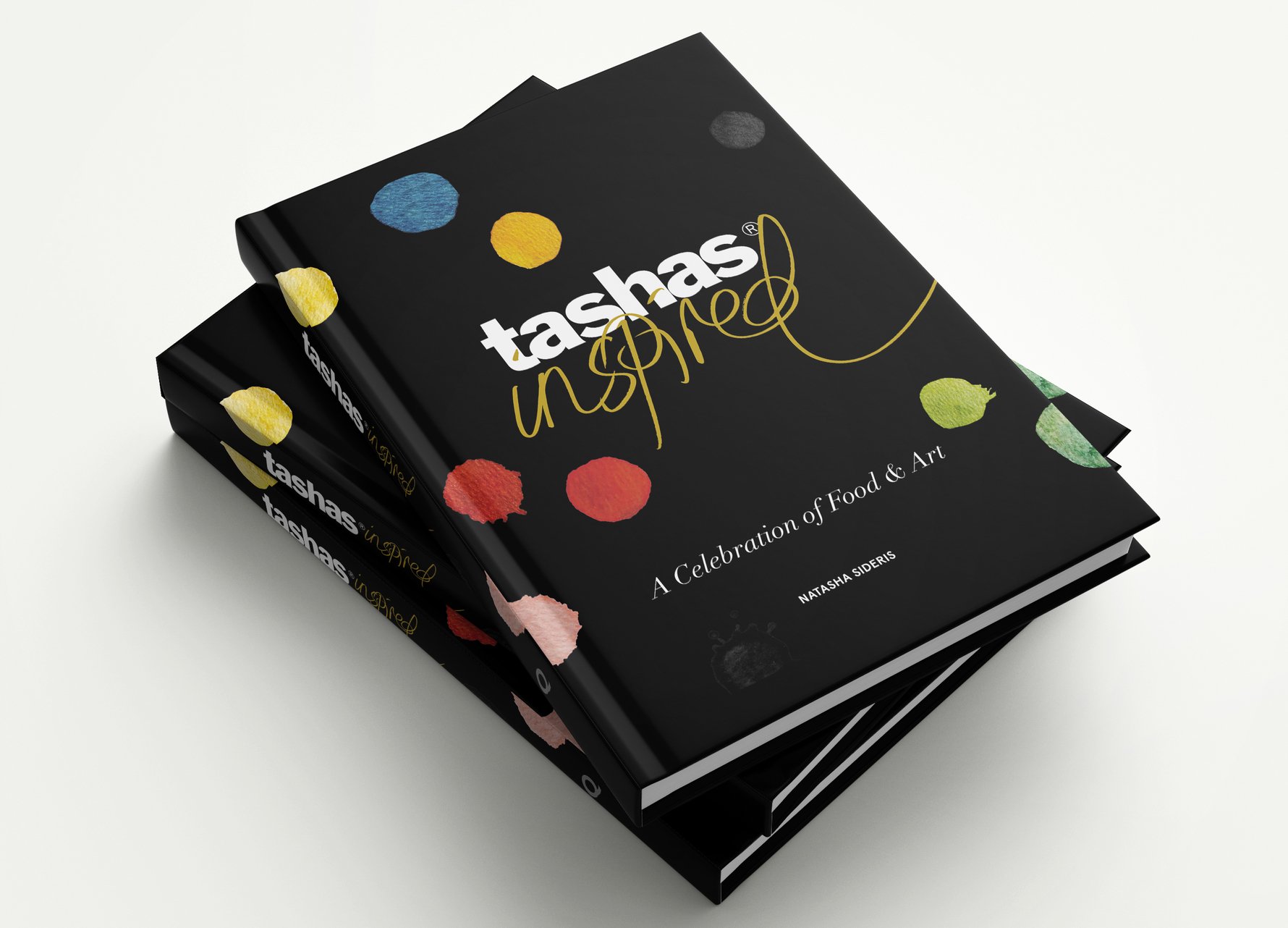 Sideris's tashas created a sensation on opening as it was probably the first Johannesburg cafe to give primacy to the salad, which in 2005 was a revelation. This was the salad as main course, plates heaped with freshness, colour and flavour. A radical departure at the time from the idea that a salad should be constituted of lettuce, cucumber and tomato. Her dishes were bejewelled with interesting ingredients and accompanied by her excellent dressings. From the start this cafe at Athol Square (closed in 2020 as the building is undergoing a complete overhaul) was a sensation and drew queues of eager patrons who would sit and page through magazines thoughtfully left in the waiting area section on the terrace. 

The restaurant's popularity soon drew commercial interest which led to the brand being franchised, but Natasha still retains full control over a number of branches, including tashas le parc at Hyde Park Corner.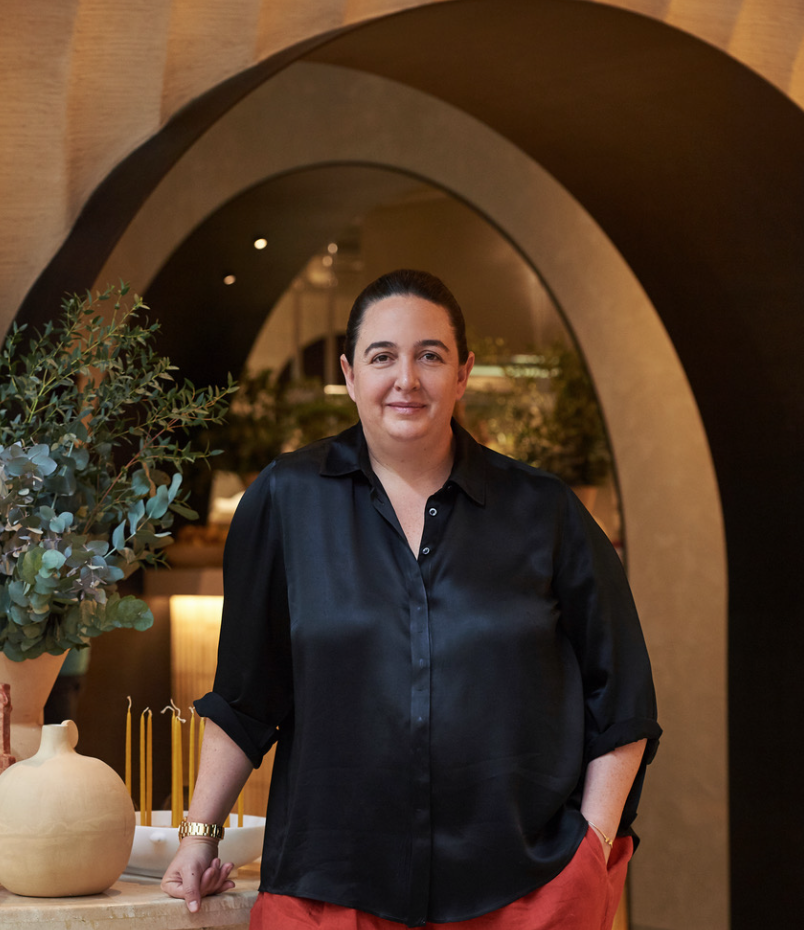 Tashas Inspired: A celebration of food and art is her second recipe book (the first was modest in size and ambition, and more suited to the kitchen shelf. Some worthwhile classics make it a staple in many South African kitchens) and it's so much more than that. It's a coffee table tome, lavishly produced and beautifully photographed. It takes the reader on a journey of food across the world, combining inspiration from food, art, decor and even music to give you a license and inspiration to entertain. The book, a project a number of years in the making, is even accompanied by a Spotify playlist for each section curated by @DJ_Scarf. 

The themed chapters are compiled from her sources of inspiration, or as Sideris writes "the people, places and moments that light my imagination". Her recipes are the result of a constant source of inspiration from travel and hard work to craft new ideas into tasty plates. The book's incredible photography was all shot in Athol over a period of four months, where the test kitchen was first located, with the space styled for each theme to conjure up a Parisian bistro, a New York deli, a Spanish tapas bar, a Greek taverna, the Levant kitchen and even an English country home. Each comes with a menu of dishes that include a number of courses and small dishes, as well as artful drinks including a recipe for grapefruit martini and a countryside inspired drunken cherry Champagne. 

Each chapter has an introduction that makes for enjoyable reading, as well as tips for recreating the theme when entertaining. Art is a central component of the book, providing inspiration and also revealing the many layers of the creative process that yields tashas philosophy and brand. The food too is art. And the combination of both in each chapter reveals this relationship in unexpected ways.

The recipes are each confined to one page of text and they vary in levels of complexity. There is something for any cook to try, from the simplicity of roasted cauliflower to the intricacy of a baklava mille-feuille. It's an amazing gift to readers, a sensory feast that also offers up practical recipes and ideas for entertaining. 

tashas Inspired is available at all bookshops and tashas restaurants and is published by Quivertree Publications, R1200.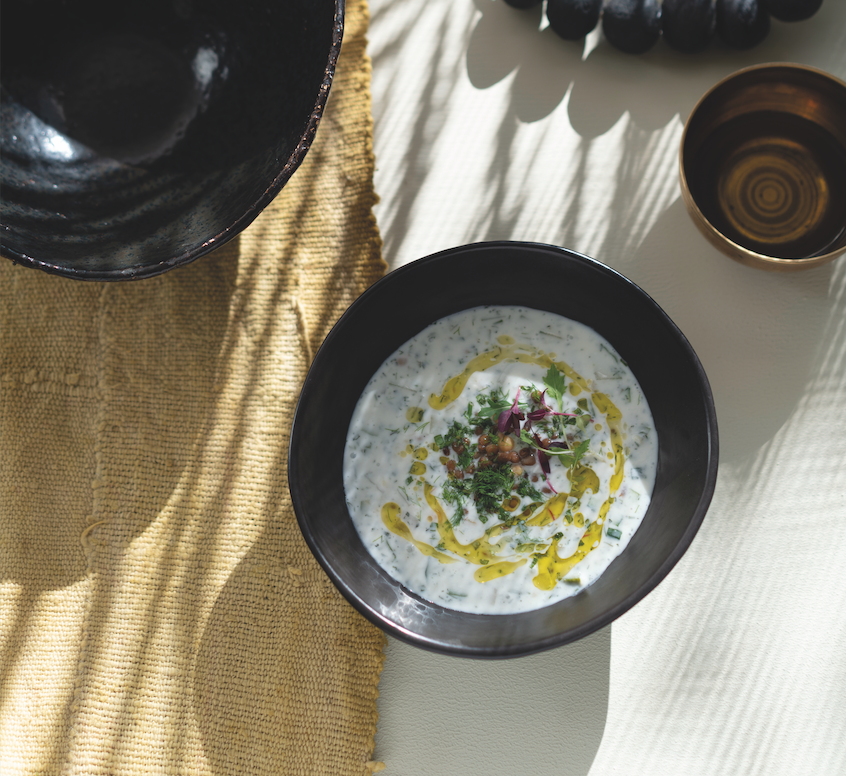 Cold Yoghurt Soup 
serves 4

Doogh is an ancient Persian cucumber and yoghurt drink that has inspired this refreshing soup. It's a lovely cooling dish for a hot summer's day, given body by the bulgur wheat. The fresher the herbs you use, the better. Serve the soup chilled.

400 ml Greek yoghurt
400 ml ice-cold water
1 cup cooked bulgur wheat
½ cup cooked lentils
½ cup cooked chickpeas
24 slices English cucumber, diced
4 tbsp chopped dill
4 tbsp chopped mint
4 basil leaves, chopped
salt & black pepper
extra-virgin olive oil

Mix the yoghurt, water, ¾ of the bulgur, ¾ of the lentils, the chickpeas, ¾ of the cucumber, ¾ of the dill, the mint and the basil. Season to taste and keep in the fridge until ready to serve.

Portion the soup between 4 soup bowls. Garnish with the remaining bulgur, lentils, cucumber and dill. Drizzle with olive oil and serve.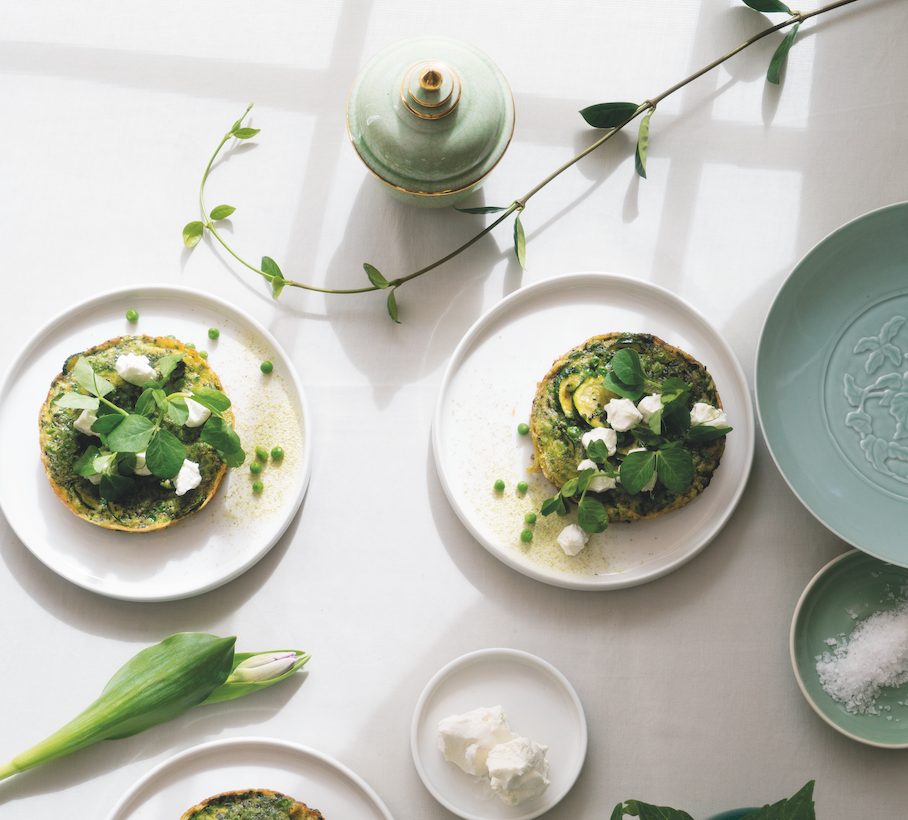 Pea, courgette & goat's cheese frittata 
serves 4

When we opened our first tashas, we had a few frittatas on the menu, not realising how ambitious that was for a restaurant kitchen. A properly made frittata is not a pan-fried omelette. It should be baked after frying because it's only in the oven that it becomes light and fluffy, like a soufflé. The prepping and cooking time from start to finish can be up to 40 minutes, but you can easily make it ahead and serve it at room temperature (though it will subside a bit). It's ideal picnic food.

Make a large one for lots of guests and cut it into wedges.

1 tbsp butter
1 tbsp olive oil
½ red onion, thinly sliced
4 medium courgettes, sliced into ½ cm rings 
200 g fresh or frozen peas
10–12 eggs
20 g mint, chopped
20 g flat-leaf parsley, chopped
20 g chives, chopped
salt & black pepper
100 g soft goat's milk cheese
drizzle of olive oil
chopped chives for garnish

In an ovenproof frying pan, heat the butter and olive oil and sauté the onion and courgettes until tender. 

Blanch the peas. If you're using fresh peas, it will take a bit longer to blanch them until they're tender. Add the peas to the pan and sauté until they are heated through. 

In a mixing bowl, lightly beat the eggs together with the herbs, salt and pepper. Pour into the pan. Reduce the heat to medium and cook for about 5 minutes. With a spatula, continuously scrape through the mixture, from the outside to the middle, all around the pan. This will help to lift the cooked parts and allow the raw egg to run in underneath to cook.

In the meantime, preheat the oven grill. When the egg mixture is halfway cooked, make sure all the ingredients are evenly distributed. Break half the cheese into small pieces and sprinkle on top of the egg mixture. Place the pan in the oven and cook under the grill for 8–10 minutes, or until golden brown. Do not overcook the frittata. 

Remove the frittata from the oven, and top with the remaining cheese, also broken into smaller pieces, and chopped chives. Drizzle with olive oil and garnish with pea shoots. Season with salt and pepper.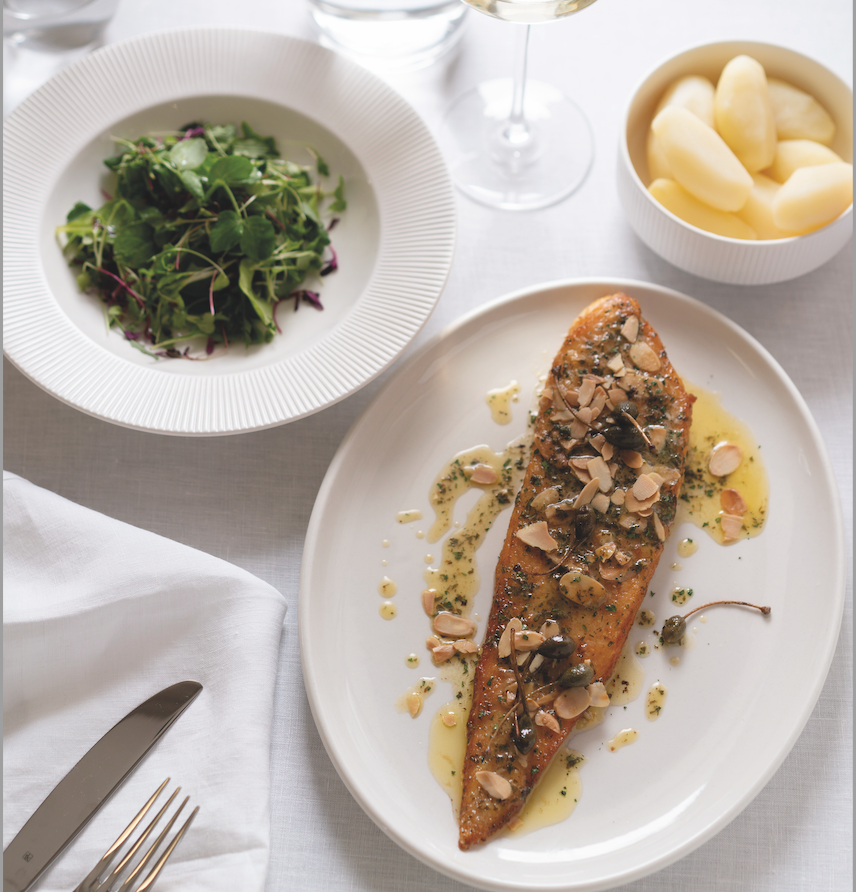 Sole Meunière

In a smart Parisian bistro, your fish will be boned and plated tableside. Your waiter's collared shirt will be clean and freshly pressed, the table linen starched and the wine chilled to perfection. Julia Child, the great American cook who popularised French cuisine in America in the '50s, described her first meunière as "the most exciting meal of my life". It's not hard to see why, because the humble sole is one of the most delicate and polite of all sea fishes. Even the bones behave themselves and will come away clean and neatly attached to the spine, all in one.

4 soles, cleaned & skinned
flour, for dusting fish, seasoned with salt
& black pepper
olive oil, for frying

lemon butter sauce
60 g flaked almonds
8 tbsp lemon juice
24 caper berries
200 g butter
handful of flat-leaf parsley, chopped

To serve
boiled potatoes
green salad
lemon wedges

Sole 
Dry the sole fillets and dust with the seasoned flour. Heat the olive oil on high in a large frying pan. Cook the sole for 2–3 minutes on each side and finish off in the oven if the sole is particularly thick, to ensure it is cooked through. 

Lemon butter sauce
Toast the flaked almonds over medium-high heat in a dry frying pan. The slivers burn easily, so keep an eye on them and give them a good shake for an even colour. 

Heat a saucepan on high. Add the lemon juice, stir in the caper berries and toasted almonds, reduce the heat and add the butter and chopped parsley. 

Plate the sole and dress with the lemon butter sauce. Serve with boiled potatoes, a green salad and lemon wedges.