Siba Mtongana is a radiant cook – and Welcome to My Table is a fun and energetic cookbook that makes you feel as if you have a good friend in the kitchen to guide you. This is a cookbook for busy people, who want a beautiful meal on the table but don't have hours to source rare ingredients and to prepare them. 

Siba has been called the "Queen of Convenience" as she finds the short routes to creating meals that look as if you spent hours in the kitchen. Her "Red Velvet Delight" is a case in point – a magnificent looking cake creation that will have mouths watering but comes with a note that says "no cooking time. Preparation time 15-20 minutes". Basically when Siba is around no one has any excuse not to produce a lovely meal.  The family photo at the front of the book is a clue – with adorable toddler twins anyone would be challenged to find spare hours for cooking.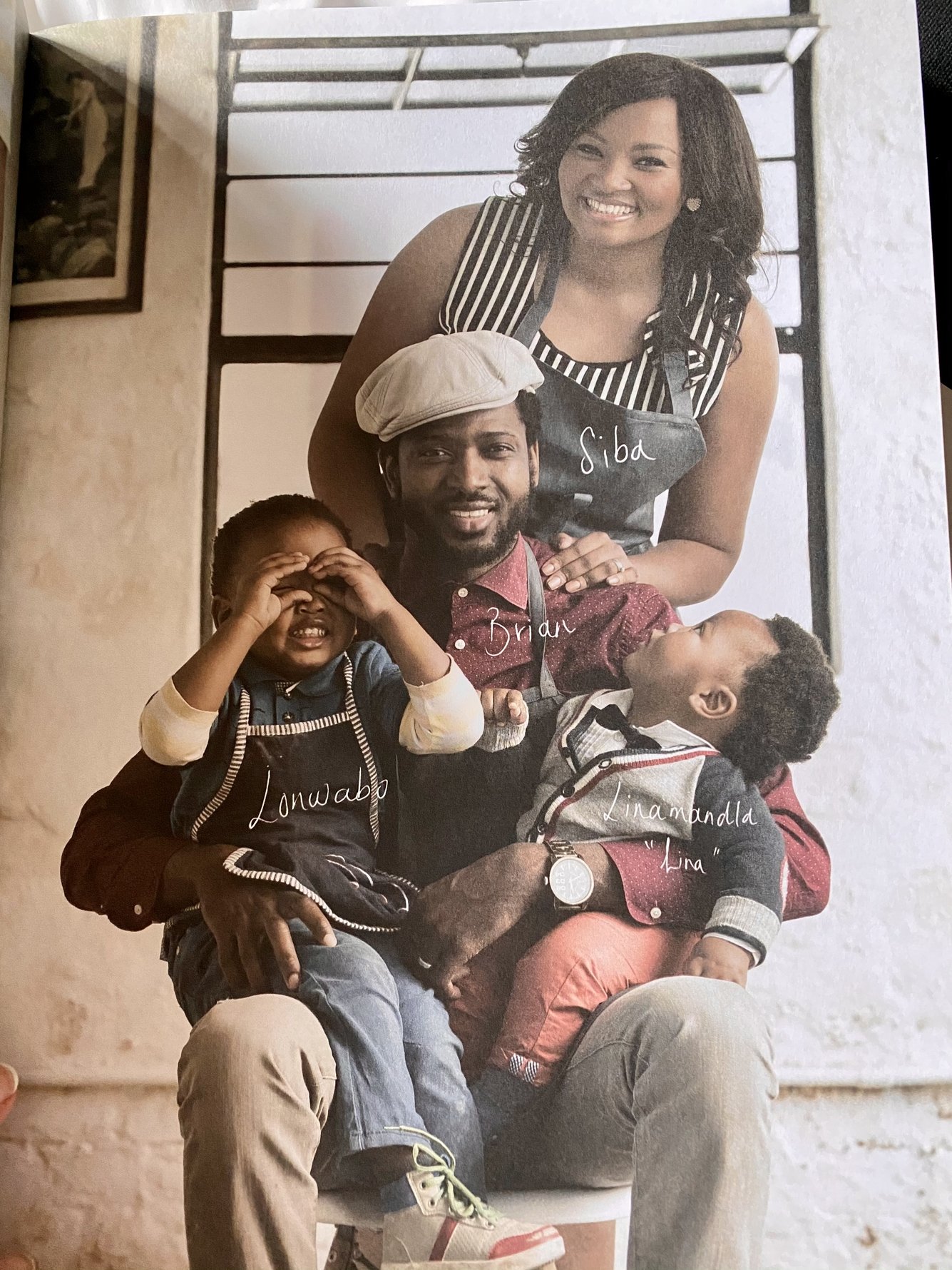 The book first came out in 2015 and was self-published. Five years later Siba is a national personality and this is the updated version that has been given a signature treatment. It's a fun book to page through, and enjoyable to read. It's also handy, with plenty of tips and convenient information like conversion tables and QR codes that allow you to access the video versions of some of the recipes.

Her story is a South African classic. Born in Mdantsane township outside East London in a deeply rooted Christian household, the youngest of six children, her aspirations for a career in the kitchen were regarded with deep suspicion. "My mother thought it could ony mean one thing: cooking for a white madam in a suburban kitchen somewhere. Celebrity and TV chefs hadn't arrived in South Africa yet." 

Siba majored in Food, Food Science and Nutrition at the Cape Peninsula University of Technology, going on become an assistant lecturer, a food editor and then the host of her own TV show. She first entered households with 'Siba's Table' on DStv's Food Network channel. It was a hit that saw her beamed onto screens in 130 countries. In 2014 when her show debuted in the USA she was the first South African to have her own TV show in America broadcast on the The Cooking Channel (a reach of more than 60 million homes in the USA alone).

The book is a celebration of family, of the joy of coming together to share food and of combining simple ingredients in fresh new ways to produce colourful and nutritious meals. Siba's philosophy is that food is all about expressing love.

We particularly enjoyed the "Local is lekker" section on South Africa foods – with its twists on classics like Seven Colour Sundays and the Bunny Chow. Not surprising that Sibalicious is a recognised term for anyone who has followed the rise of her star.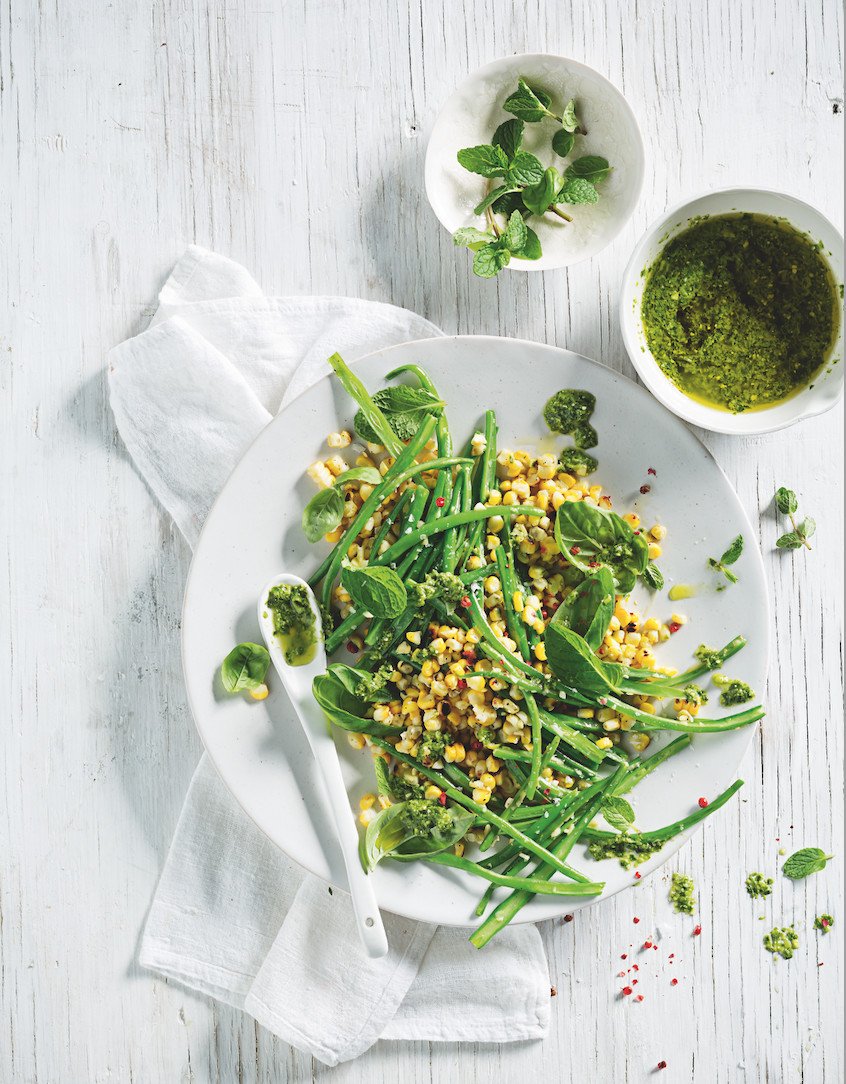 Braaied corn salad with basil pesto

This salad takes me back to my childhood summer holidays when braaing meat was the norm and corn was the flagship vegetable. I have so many salad ideas to bring out the flavours of this combination, especially the distinct and refreshing taste of minty basil pesto. it's always a winner at my table!

Preparation time: 10 min
Cooking time: 15 min
Serves 8 as a side

6 corn cobs
60ml butter, melted
5ml garlic-and-herb seasoning, to taste
2 cloves garlic, crushed
100g fine green beans, 
halved lengthways
sea salt and freshly ground black pepper
handful basil leaves, to garnish

Pesto dressing
250ml basil pesto
juice and zest of 
½ lemon, to taste
2–3 fresh mint leaves, finely chopped plus 
extra to garnish

Method
Cook the corn in boiling, salted water for about 7 minutes or until tender. Drain, brush with half the butter, and season with the garlic-and-herb seasoning. 

Place on the braai over hot coals or a hot griddle pan for 5 minutes until charred. Cut the corn kernels off the cobs and keep in a bowl.

Heat the remaining butter in a pan and sauté the garlic. Add the green beans, cook for 3 minutes and season with salt and pepper. Place the greens and the corn on a platter.

For the dressing, mix the pesto, zest and lemon juice with the finely chopped mint leaves. Drizzle over the salad just before serving, and scatter the basil and remaining mint leaves to garnish. It's great served warm or cold.

Siba's tip...
You can give this salad more substance by adding diced red pepper, spring onion and sliced mushrooms.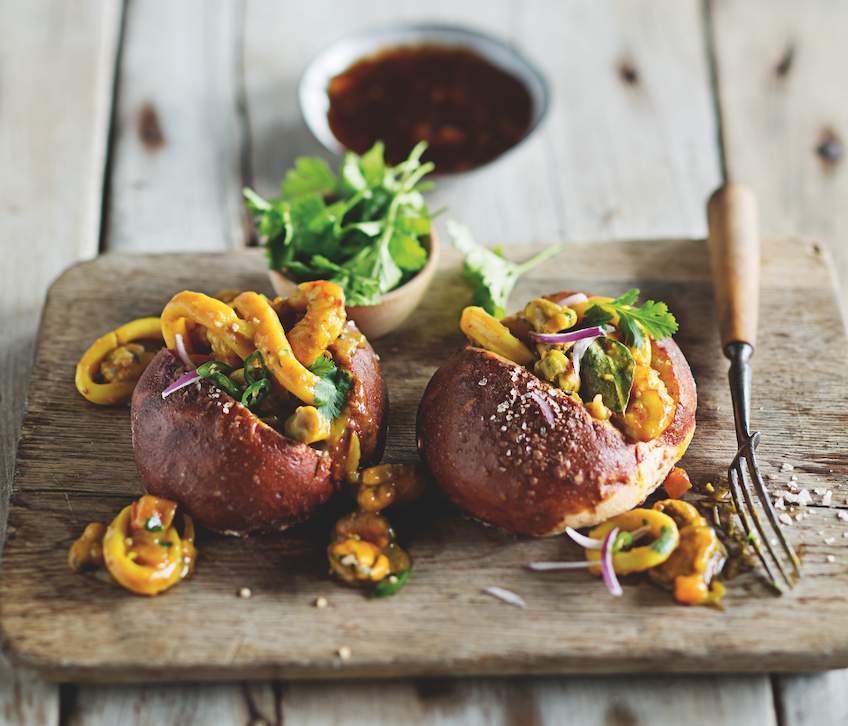 Seafood Bunny Chow

A 'bunny chow' or 'quarter', as this delicious curry in hollowed-out bread is known, has its roots in the Indian culture of kwazulu-Natal. In the Eastern Cape it's popularly known as a 'ikota' (referring to a quarter of a loaf) that is usually filled with bean, beef, mutton or chicken curry. Mine is a fancier version, using prawns, mussels and calamari in a wonderfully rich and fragrant curry sauce. The bread is replaced with wholewheat gourmet rolls. 

Preparation time: 20 min
Cooking time: 25 min
Serves 6

45ml olive oil
1 red onion, finely chopped
2 cloves garlic, crushed
5ml fresh ginger, grated
1 red chili, seeded and chopped
5ml garam masala
5ml crushed coriander seeds
2ml each of turmeric, paprika
and ground cumin
15ml tomato paste
400g can chopped, peeled tomatoes
400g can coconut milk
250ml chicken stock
salt, black pepper and sugar

Seafood mixture
2 cloves garlic, crushed
5ml fresh ginger, grated
30ml korma paste
400g calamari tubes, cut into rings
250g prawns, shelled
250g mussels, rinsed and shelled
5ml soy sauce, to season

Serve with
4–6 wholewheat gourmet rolls
¼ red onion, very thinly sliced 
fresh coriander leaves, rinsed
chutney or tomato salsa

Method
Scoop out the insides of the rolls to make hollows for filling and cover until needed. Heat 30ml of the olive oil in a large saucepan with a lid and sauté the onion and garlic for 2 minutes until soft and translucent. Add the ginger and chili and stir. 

Add the spices and heat for a minute to release their flavour. Stir in the tomato paste and season well with salt and pepper. 

Pour in the canned tomatoes, coconut milk and chicken stock, and bring to the boil. Half cover and simmer gently for 15–20 minutes, until the sauce is fragrant and has thickened slightly. Season lightly with salt, pepper and sugar for taste.

In the meantime, heat the rest of the oil in a large frying pan and sauté the garlic and ginger for a minute. Stir in the korma paste. Add the seafood mixture, season with the soy sauce and sauté for 2 minutes, until almost cooked. 

Transfer this mixture to the simmering curry sauce pot, stirring until combined, and cook for a further 2 minutes until the seafood is cooked. Spoon the curry mixture into the hollowed-out rolls and garnish with red onion slices and coriander. Serve with chutney or tomato salsa. 

Siba's tip...
When simmering the curry sauce, make sure it doesn't thicken too much by adding some water or more chicken or fish stock when necessary. It's best to add the seafood mix to the curry sauce before it's fully cooked so it can absorb the curry flavour. Remember that seafood cooks in less than 5 minutes and shouldn't be overcooked, otherwise it'll become tough and rubbery, especially calamari.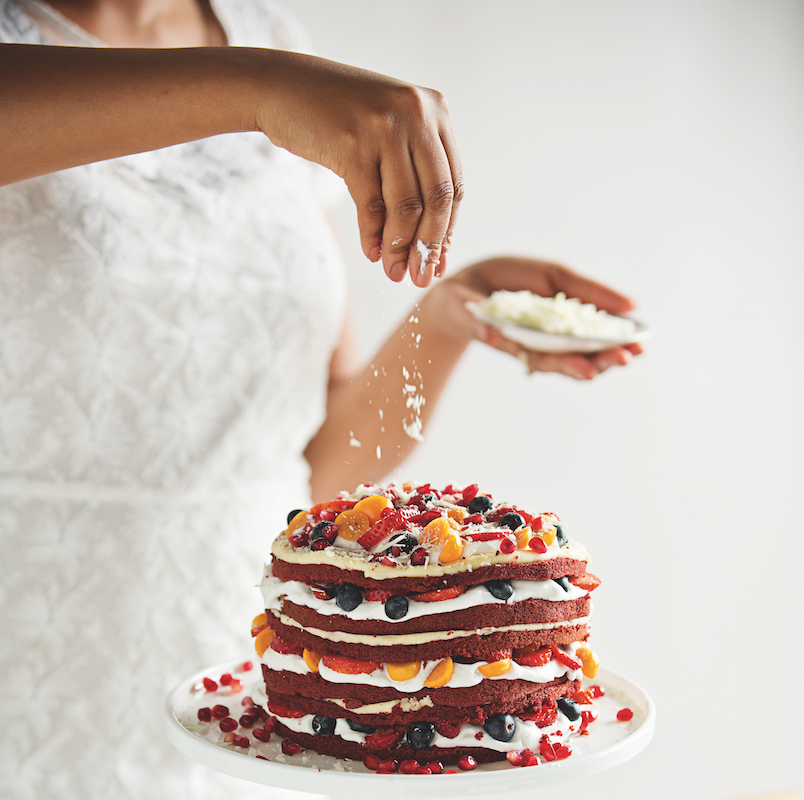 My Red Velvet Delight

This is a cheat cake that I make with store-bought red velvet cake when I don't have time to bake my own. Once I put my spin on it, though, hardly anyone notices that it's store-bought. It suddenly becomes a cake with a lot of pizzazz.

Preparation time: 15–20 min
No cooking time
Serves 8

1 red velvet cake with sour cream frosting, three layers

Filling
400ml cream 
45ml caster sugar  
5ml vanilla extract
juice of 1 or 2 lemons
500g raspberries
500g strawberries, sliced
a few blueberries, sliced
a few gooseberries, sliced

Garnish 
white vanilla extract chocolate shavings 
pomegranate rubies 
icing sugar, to dust 

Method
Carefully slice each layer of the cake horizontally, creating 6 layers instead of 3. Don't separate the layers that were joined by icing when you bought the cake.  

Whip the cream with the sugar, vanilla extract and lemon juice. In a large bowl mix the raspberries and sliced strawberries together.

To assemble the delight, place one of the layers without icing on a cake stand. Spread over a layer of whipped cream and top with a quarter of the mixed berries. 

Now place a layer containing the store-bought icing on top of the cream and berries. Once again spread over the cream and add the berries.

Place the second layer of cake with the store-bought icing on top of the cream and berries. Spread a further layer of cream and berries. Then place the final plain layer of cake on top of that and repeat the cream and berry topping. 

Loosely sprinkle the white chocolate shavings and the pomegranate rubies over the berries and cream. Dust with icing sugar just before serving.

Siba's tip...
You can use a two-layer cake as well for this recipe. Be careful when cutting through the layers not to break them or puncture the cake. Cream cheese is steadier than cream, so if you're not going to serve the cake immediately, use cream cheese instead of cream.