Lesego Mapeka is a young hiking enthusiast with a passion for adventure and the outdoors. In 2014 he launched Epic Hikes, a guided hiking company that promotes hiking as more than just a hobby, as a culture and way of life.

Lesego's hikes not only celebrate South Africa's amazing trails and abundant natural attractions, they also highlight the peace and mindfulness that walking in nature can bring, emphasising the positive mental health impacts of an invigorating walk outdoors.

We joined Lesego on one of his regular hikes that sets off from Project 58 in the Cradle of Humankind, the sprawling reserve and farmland across the road from the fabulous Nirox Sculpture Park. The reserve has a wonderful boutique guesthouse Farmhouse, from where guests can start the trail with Lesego at sunrise or sunset straight from the door.

Alternatively, day visitors can join (prior booking is essential) and park at Nirox where morning walks end with a meal at the restaurant And Then There Was Fire.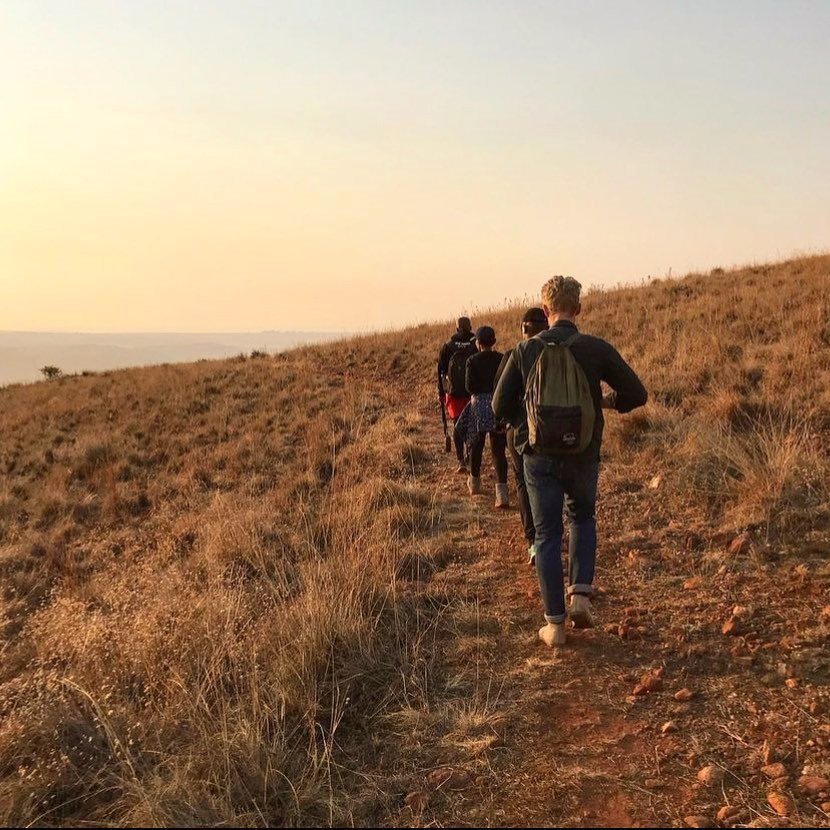 Lesego is a laidback and insightful guide and without revealing too much of what to expect from the conversational parts of the walk, suffice to say that as you amble over the hills you'll find your mind opened to new thoughts and perspectives. Despite our initial early morning skepticism (a hallmark of those of us who prefer late mornings) we really enjoyed this refreshing opportunity to deviate from our norm and yes, to escape a little from our fortress-like comfort zones. 

The first kilometres at Project 58 begin with a gentle incline up and over the ridge heading towards an epic hilltop rammed earth installation by Moroccan artist Moroccan-artist Amine El Gotaibi that imagines a borderless state. It's an impressive and deeply symbolic work that can only be accessed via a guided hike. Along the way we were treated to the sight of grazing zebras and antelope and expansive views towards the Magaliesberg mountains. 

From here the walk meanders across the lower slopes taking in a 'forgotten village' of mysterious kraal-like rock circles that are surrounded by scattered patches of fragrant wild mint. Another moment to contemplate our position in the grand scheme of nature and the cycle of life.

A definite highlight is an amble down through a forested glade to a beautiful waterfall fed by a natural spring that bubbles through the earth just above. At this point we were invited to sit, meditate and enjoy the sensation of merely being present. An invitation that we readily accepted.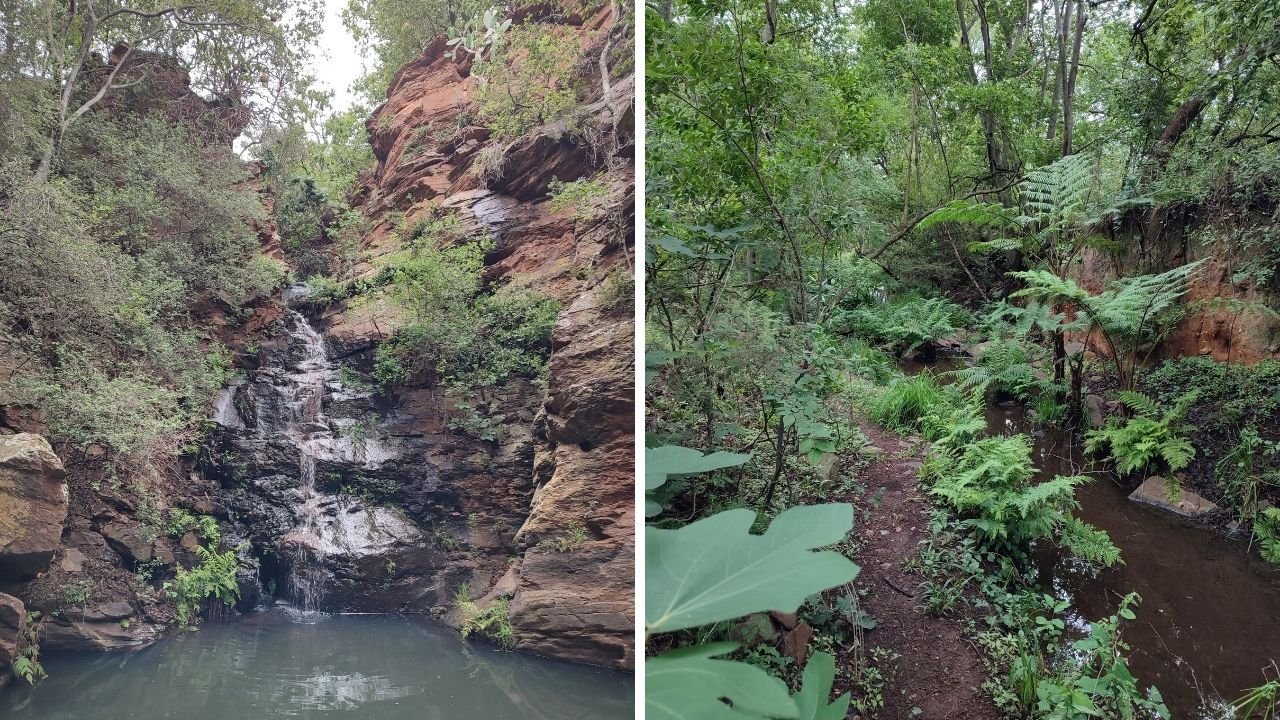 The final stretches of the roughly 7km meander were equally scenic and peaceful. Most hikes end down the bottom of the hill with lunch at Nirox Sculpture Park or alternatively you may swing back via the small lily pad topped dam to the Farmhouse. Wherever your hike finishes you'll leave feeling with a new sense of calm.

In addition to the regular scheduled themed hikes at Project 58, Epic Hikes also organise guided group weekend hiking and camping trails in Gauteng, the Drakensberg, Lesotho, Namibia and the Cape. See epichikess.co.za for more and email info@epichikess.co.za or call +27 81 492 1864 to enquire about joining a hike. 

The guided hike experience at Project 58 costs R350 per person (including lunch or early dinner at the end). Epic Hikes offer 5km, 12km or 15km guided trails.