A rustic retreat less than an hour's drive from the city of Joburg, Farmhouse58 in the Cradle of Humankind is an antidote to living life at pace. Set within 173 hectares of land in the UNESCO-protected Cradle of Humankind, Farmhouse58 has been designed for an immersive experience, and an embrace of slow living

Whether you spend the night, or a weekend here – we recommend the latter for a real sense of rejuvenation, and also a chance to sample all that's on offer – everything at Farmhouse58 has been designed as a homage to the act of creation.

The land on which your accommodation is located is being regenerated as farmland with the intent of creating some form of sustainability, so expect to encounter the working parts of a farm. 

First rule – don't call Farmhouse58 a hotel if you want to stay on friendly terms with your hosts. Second rule – leave the city and its worries behind you.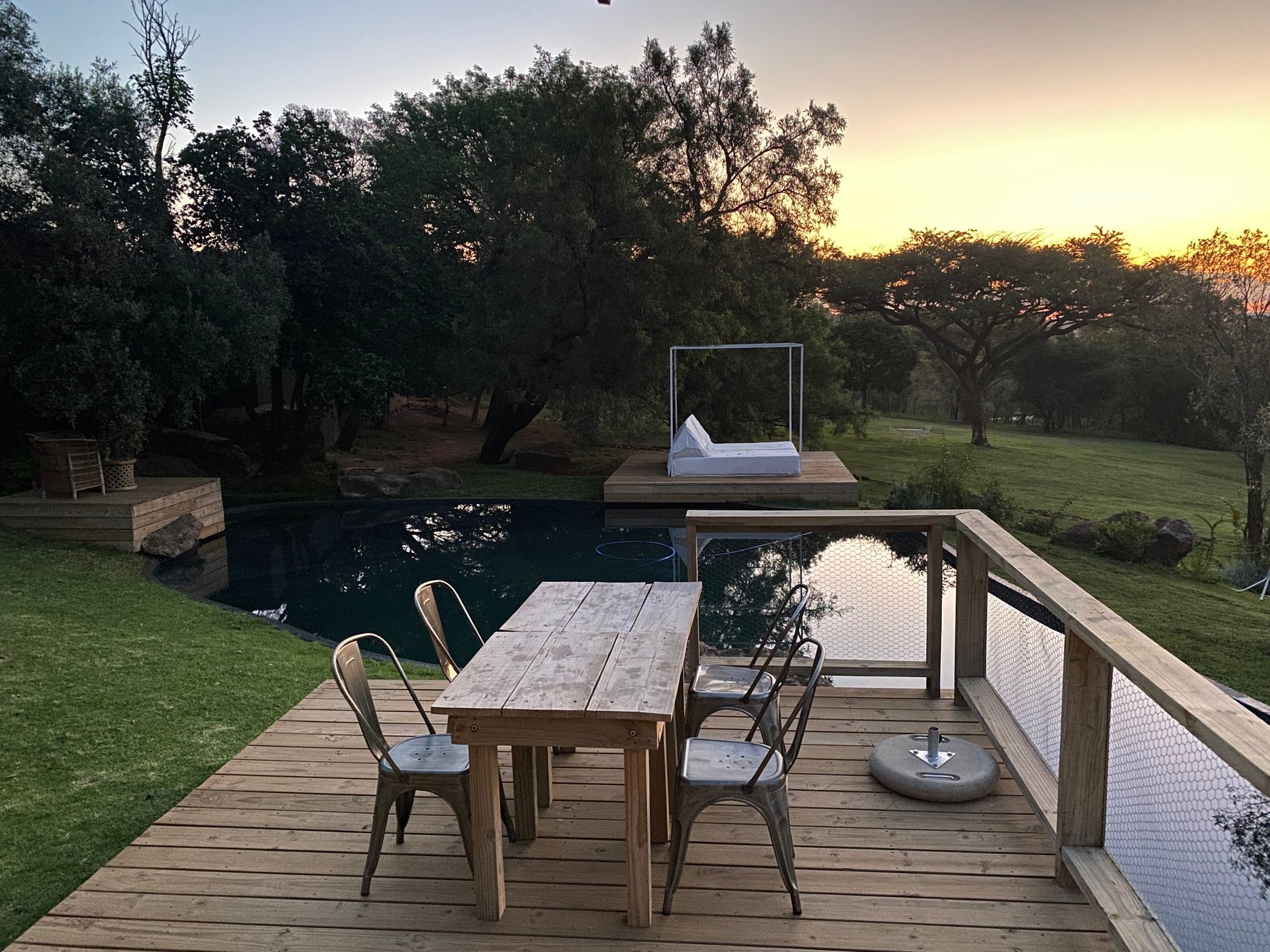 The best expression of the Farmhouse58 experience for us was hiking with Lesego of Epic Hikes who has worked to create hiking trails that cut across the land, roamed by antelope, wildebeest. A Bsc graduate whose love of hiking succeeded over all else, he  brings something unique to an outdoor experience, adding to Farmhouse58's quest to nurture a sense of quiet, introspection and reflection.

Opened in 2021 Farmhouse58 is part of a much bigger plan for this property by Project 58. Eventually it will be joined by all sorts of other lifestyle elements, including construction of a new restaurant, sheds, a greenhouse, chicken run, fitness and yoga centre, and villas across the property. Currently at 22 rooms, the plans will see additional accommodation being added too.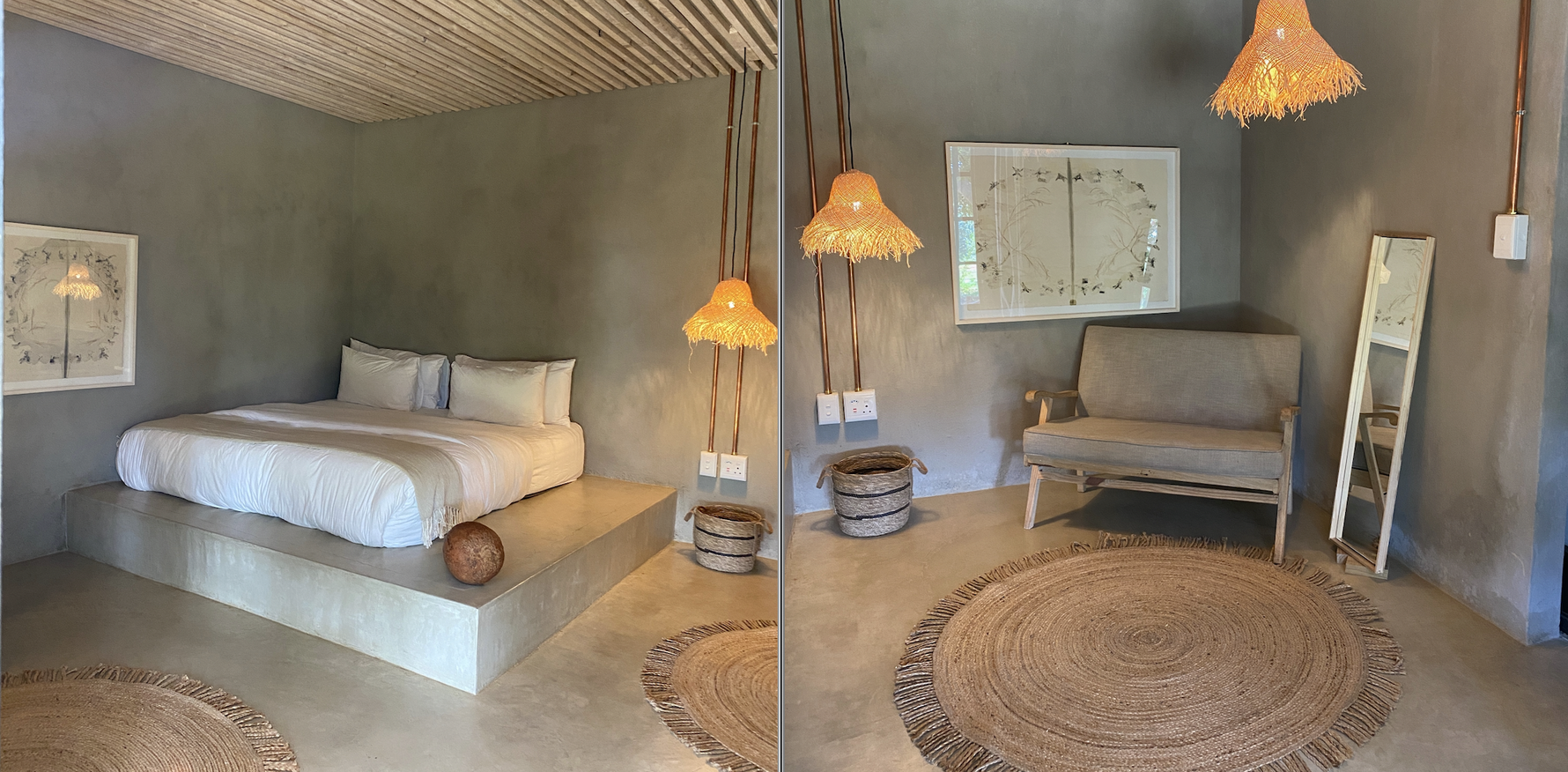 The land is being regenerated to farm produce for the dedicated restaurant, and with a future farm stall in mind. There's also a project to place bee hives on the property by researcher and artist Nick Hester, whose fascinating installation on the topic of busy bees can be seen next door at Nirox Sculpture Park.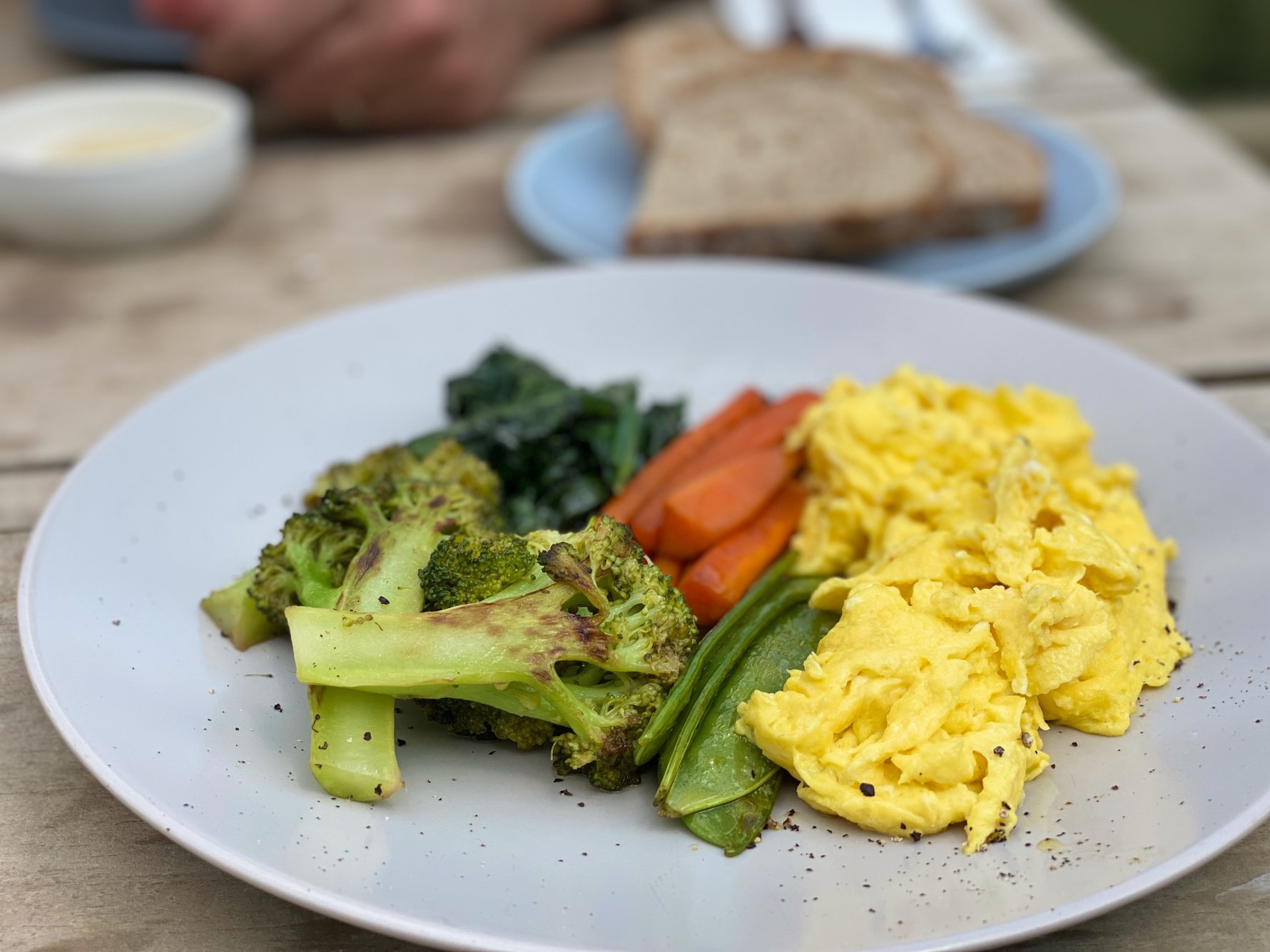 Farmhouse58 as a place to stay is exactly that – a converted set of farm buildings that epitomise comfortable simplicity, set into a garden and surrounding farmland. The muted earth tones used throughout contribute to the soothing quality of being there.

To create a sense of place from the start you are required to park at Nirox Sculpture Park across the road, and transport is then provided in a buggy taking you up, across and along the winding farm road to Farmhouse58. It's an opportunity to free yourself as you cross the road into a landscape where slow is at the core of the experience.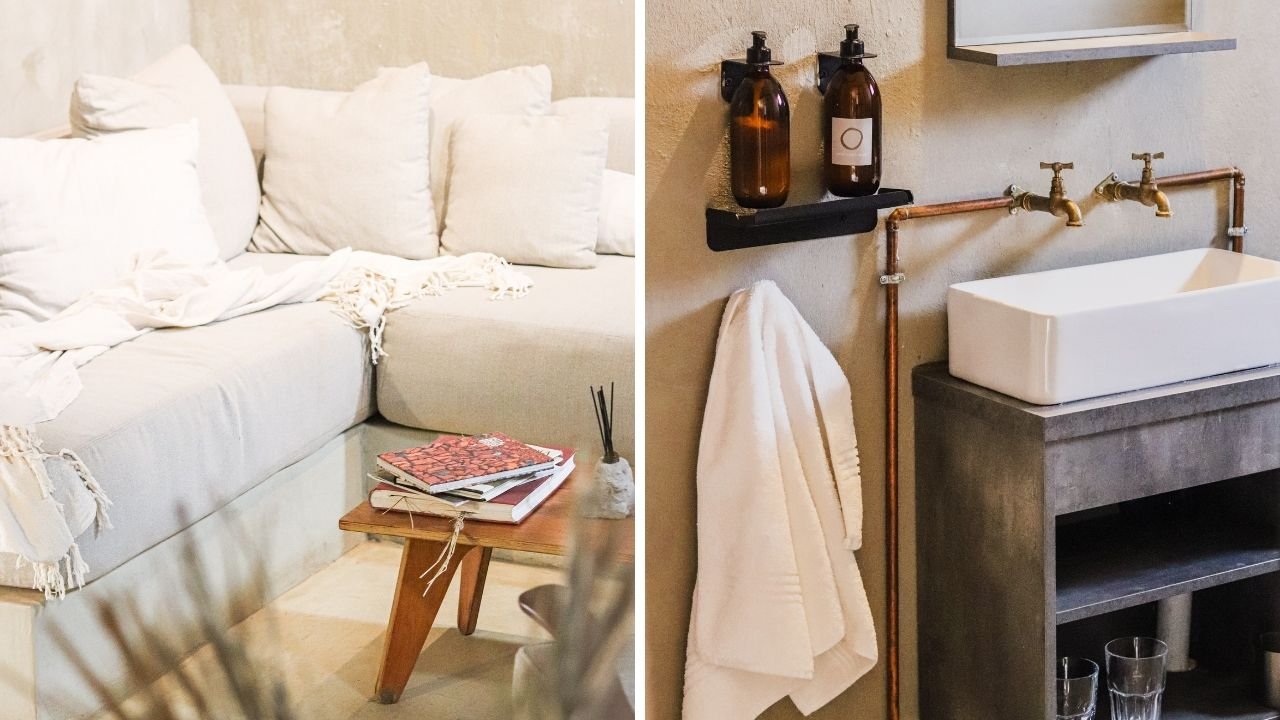 With your room opening out onto the garden and surrounding farm you are as close to the land as you can get, and there's no sense of being in a hotel. With no carpeted corridors to travel, you are outside between buildings with different amenities scattered across the grounds.

It's a short walk to a picturesque waterfall and on Lesego's hike you will travel up the rocky hills to take in expansive views of the Cradle – and get a sense of how much of this land has been protected from development. Reminders of other lives, and human ancestors abound, kraal-like structures made from rock circles provide clues. The entire area in which Project 58 is located  is rich in fossils, and a major Africa base of research for palaeoanthropological work. If you want to explore that further we suggest a trip to Maropeng and the nearby Sterkfontein Caves, also located in the Cradle of Humankind. 

At the top of the hill a rammed earth wall by Moroccan artist Amine El Gotaibi imagines a borderless state.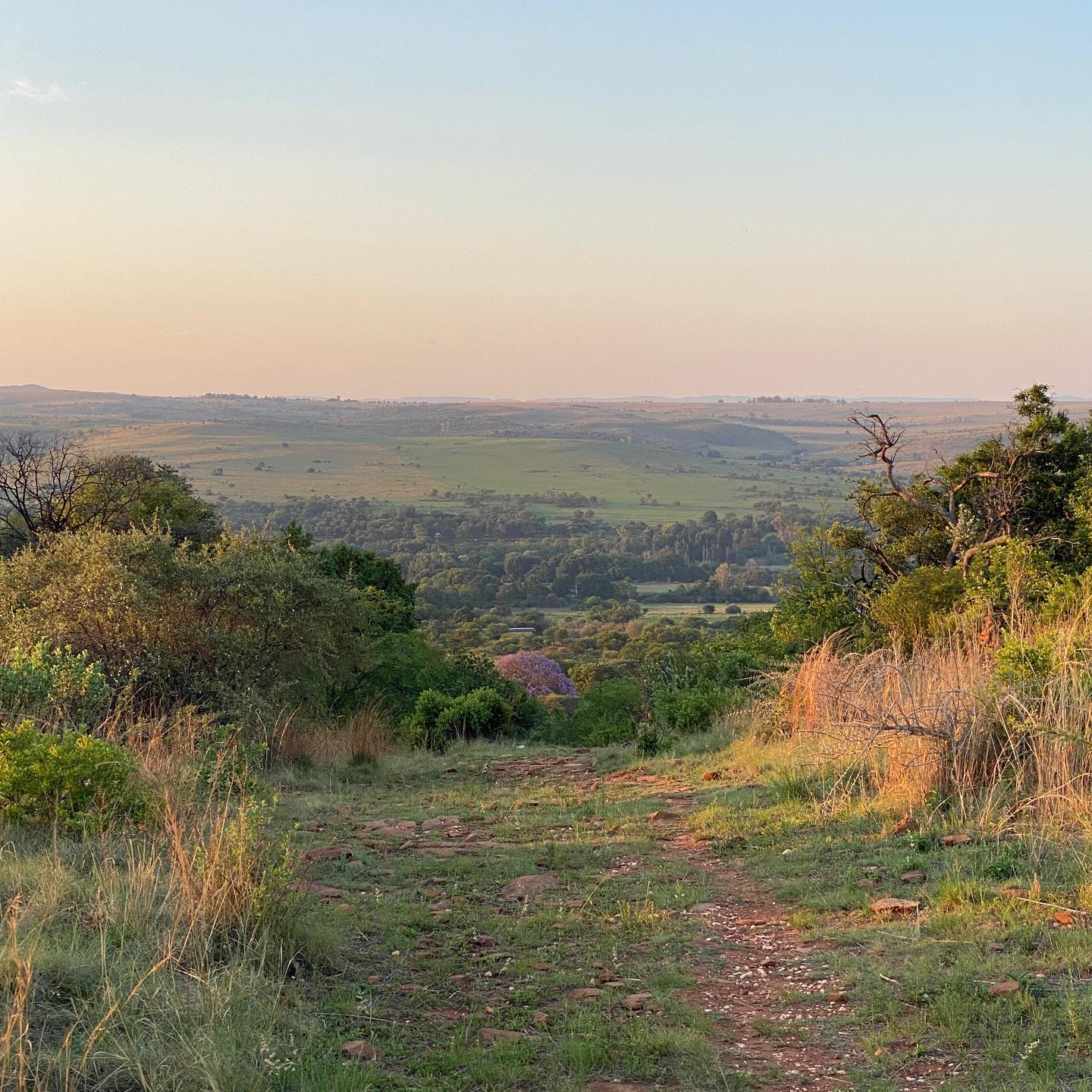 Part of the uniqueness of Farmhouse58 is its proximity to the incredible creative force that is Nirox Sculpture Park and the work done by the Nirox Foundation. Artists residencies and an opportunity to walk the gardens without the usual weekend crowds, and visit artists in their studios are a special treat. And of course if there is a big event – this is the perfect stay over. You'll just about be carried to your room afterwards. 

And of course no visit would be complete without a meal at And Then There Was Fire, the live fire grill restaurant set elegantly on the lawns of the park. 

If tranquillity and escape are top of the list – we've found the perfect place for you.