Flames is the terrace restaurant at the luxurious Four Seasons Hotel The Westcliff. An urban casual dining destination, the restaurant is one of the most famous sundowner locations in the city.

Perched high upon the Westcliff ridge with a magnificent view over the verdant northern suburbs, you get to watch Hadeda Ibis fly overhead as the sky turns a dozen shades of pink. This is also the best vantage point for admiring Johannesburg's treeline.

While experts still differ over whether Joburg is the world's largest urban forest, everyone agrees that the city has an incredibly large number of trees, which in spring are even more noticeable, as it's the time when the jacarandas planted at the city's founding in the 1880s burst into life, covering the city with a mass of purple blooms. You can't get a more romantic view of Joburg than that. 

Seating is outside mostly under shade of umbrellas, or you can opt for a more sheltered table. But we only advise this if you are on the run from authorities, and trying to stay undetected. The reason to be at Flames is to sit as close to the edge of the terrace as possible and to take in the awe-inspiring views. 

Flames has an all-day dining menu from breakfast and casual bistro lunch to an a la carte dinner. But the standout here is weekend brunch, a popular affair where bookings are essential. On a beautiful sunny day (of which Joburg has many) this is a fantastic place to be. The views are jaw-dropping in every direction and the terraces filled. You'll notice people dress up to show up – casual, but considered. 

Brunch comes at a luxurious price but the offering matches up, with multi-courses brought to the table of small dishes, starting with a cold platter for two which includes delicious sweet and savoury pastries, fruit and salads as well as Mandela Bay oysters. There is a great selection of freshly pressed juices, packed with ginger and other health-giving ingredients, the appropriately named Flu Fighter and Immune Booster among them. We suggest a rest between courses to admire the view.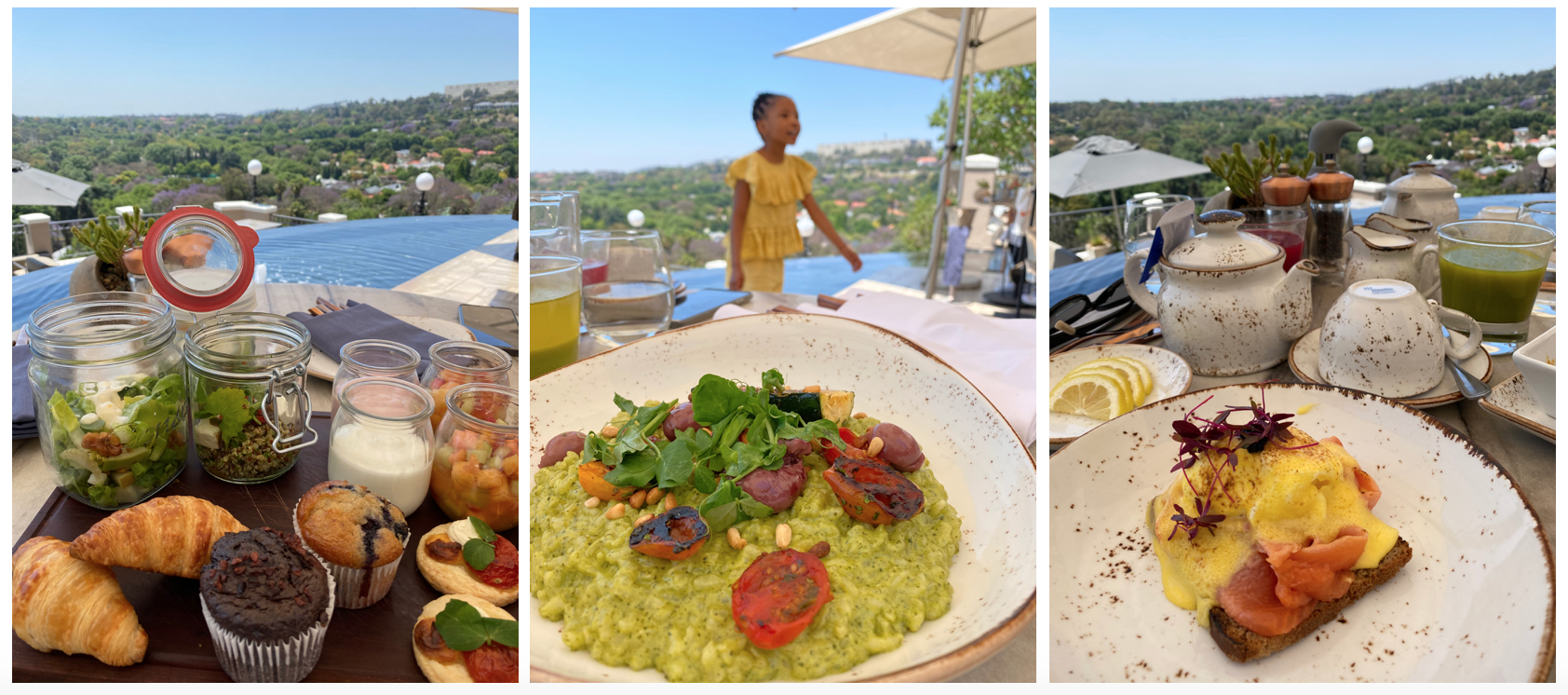 Next up is the hot dish selection from the kitchen – which includes breakfast classics such as Eggs Benedict with cured Italian ham and Eggs Florentine with sauteed spinach. The Hollandaise topping is as it should be, and these classic dishes hit the mark. Other options include the American-influenced Chicken and Waffles, for the meat-loving crowd, an oak-smoked Beef Brisket, and our standout dish of the day, Zucchini Risotto with slow roasted tomato and pine nuts. This is the dish we dream of returning for. By this stage your tranquillity and satisfaction levels should have been reached and you can finish off the experience with Flames' cheese selection or a plate of sweet treats. 

The afternoon brunch menu also includes the zucchini risotto, as well as Southern Fried Chicken, 16-hour sous vide pork ribs and a Kabeljou dish. Starters include small salads, savouries and oysters.

The pace is relaxed, the service attentive, and you'll find yourself happy to linger or to leave your table for couches on the lower terrace. On the day we visited there were plenty of tables for two, as well as bigger family tables quietly celebrating special occasions or just being released from home. You might find yourself not wanting to leave, with Joburg's glorious trees, and from the Flames terrace, a view into the Johannesburg Zoo's Elephant House, where with sharp eyes you might even pick out a resident ambling around their enclosure. 

This really is one of those signature Joburg experiences, that no visitor or local should miss. 

Johannesburg In Your Pocket visited by invitation of the restaurant. Views expressed in this review are our own.