We've been following chef Nick Scott and his partner Caroline Olavarrieta, whose has a background as a stylist and set designer, around this city for close on five years. And after our latest meal at his new Sandton pop-up, we're committed to not stopping. 

Glory was first a short-lived but astoundingly memorable Asian street-food hangout that briefly opened on Melville's busy 7th Street, and then moved to the nearby suburb of Westdene. Now Glory has made a move north, popping up for a few months at an elegant contemporary boutique establishment called Riva Townhouse. There's a choice of indoor and outdoor seating, weather permitting, and a cosy ambience. This is a perfect destination for a romantic dinner for two or for a small group.

Glory's pop-up menus take inspiration from south-east Asian ingredients, with every plate a beautifully styled affair. Nick is hellbent on cooking with sustainability in mind and for this pop-up is working with Icthys Aquaponics – who in December launched a rooftop farm at Eastgate Shopping Mall, powered by solar and built with a rain capture system in place. The farm supplies fresh herbs and vegetables while the hatchery ensures fresh trout, catfish and tilapia.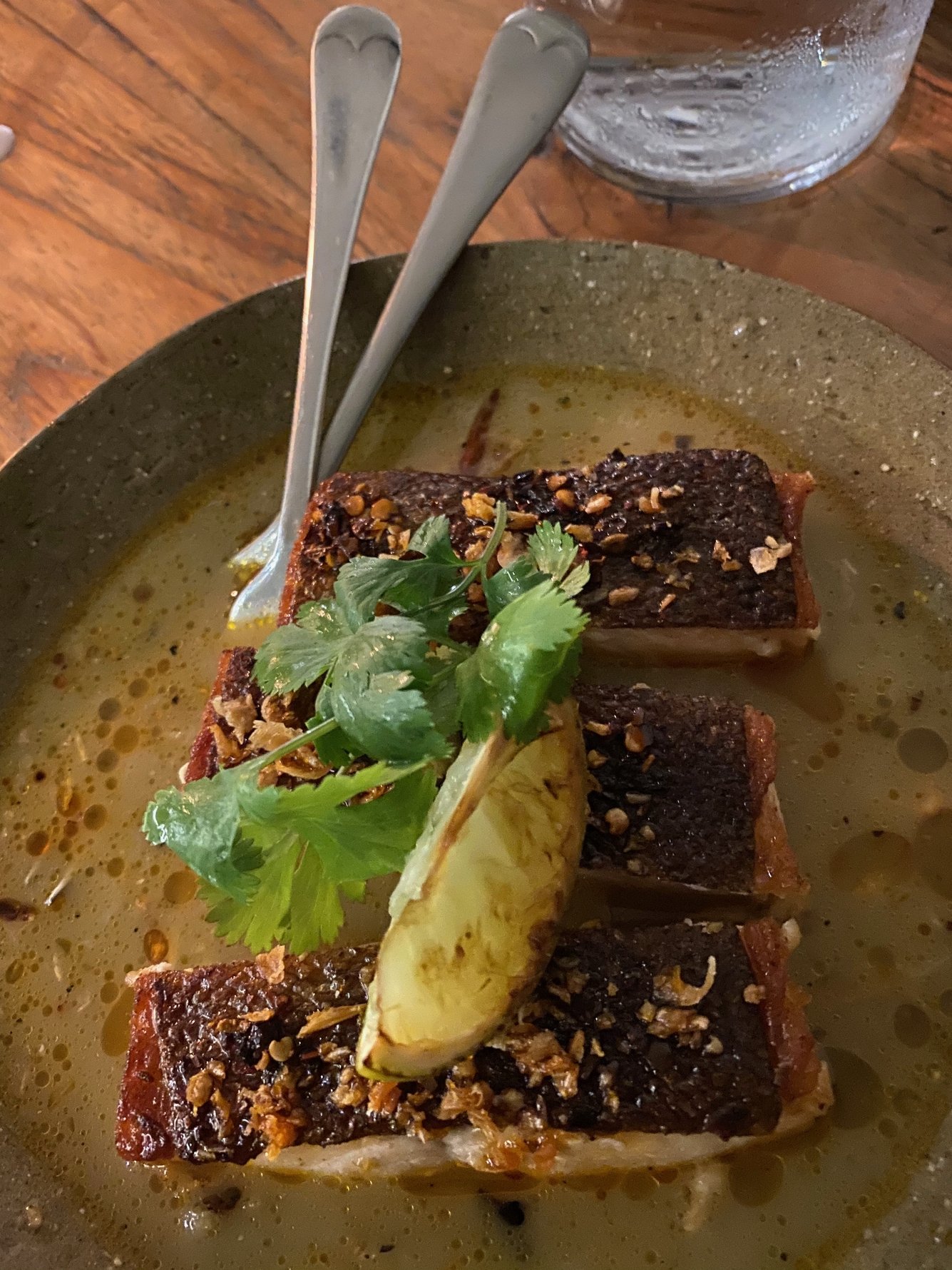 The shift to this type of Aquaponic farming means that ingredients are no longer seasonal, nor regional and cooking with them says Nick "is like writing music – you have the base notes and can play with the mid notes and the high notes". 

Scott's Asian cooking skills are legendary. "As a cook", he says, "farming is at the core of our food supply chain. It gives us a way to manage our ingredients and develop a new alphabet. Caring about how ingredients are farmed and the overall biodiversity of the environment is at the forefront of our ethos."

Glory's new five to six-course menu (see details below for pricing) is a glorious mix. Our dishes focused on vegetarian and fish as key ingredient elements (other options are available), and he is upfront about his approach of using every scrap of ingredient to enhance flavours. His flavours are super zesty, bold and sometimes even dramatic. There's a spiciness at play that will prove super satisfying for an easygoing or an adventurous palate. The dishes are well portioned. What at first seems like small bites amounts to a very satisfactory end.  

Our meal included a tower of rice-wrapped vegetable rolls with a crunchy topping, tacos with ceviche, battered prawns with togarashi spice and lime, a crunchy fish bao, a bowl of mussels in a Thai curry sauce, and exceptionally crispy fingers of grilled trout with lime. Dessert was a tarte tatine, crispy and sweet and topped with matcha laced ice cream.  We didnt even ask to see the menu at the start – confident of his attention and knowledge of our dietary requirements shared with our booking. It's a great way to eat a meal, each dish a surprise and with Nick's technique, each adds another layer of flavour. 

Nick Scott has spent years refining his technique and dishes and now has a young team in the kitchen understudying him. This can only bode well for more Glory in the future. And to that we add a Hallelujah. 

WhatsApp +27 63 766 1238 for bookings and follow the menu and events on @gloryjoburg's Instagram page.