Kamyar Bineshtarigh is a young Iran-born and Cape Town-based artist whose works centre around the Arabic script. Exploring the practice of writing and transliteration and the (mis)communications inherent in language as it crosses borders and places, his works reflect on the aesthetic nature of written language and the feelings and thoughts that can be conveyed once the literal meaning of words is stripped away.

His latest solo exhibition koples boek(e) is on show at the Goethe-Institut in Parkwood until the end of March. The title refers to the student notebooks koples boek(e) used by the Cape Muslim community in the 19th Century and the version of ''Arabic-Afrikaans''' that was recorded in them. 

The Goethe-Institut hosts a panel discussion at the gallery with the artist on Sat Mar 27 at 11:00. Ahead of the discussion, we talked to Kamyar Bineshtarigh about his work and the history of Arabic-Afrikaans.

Your work and interest as an artist centres around written languages. How did you become interested in using Arabic letters as the central point for your artworks?
The reason I am interested particularly in the letters of the Arabic language is that both my dad and uncle are calligraphers. Being around them in Iran I became inspired by the idea of using text as artwork and a form of mark-making.

Would you say you are an artist or a calligrapher?
Calligraphy is a very specific art form. It has certain rules, styles and forms. I don't think of myself as a calligrapher. My practice is much more intuitive. I don't think about writing words in a specific way. My art is text-based but without focusing on relaying any meaning of the specific words used. I usually don't want people to read the words or to try and create comprehensive meanings from them. My art is more about the visual and how these letters can be used to create a visual flow.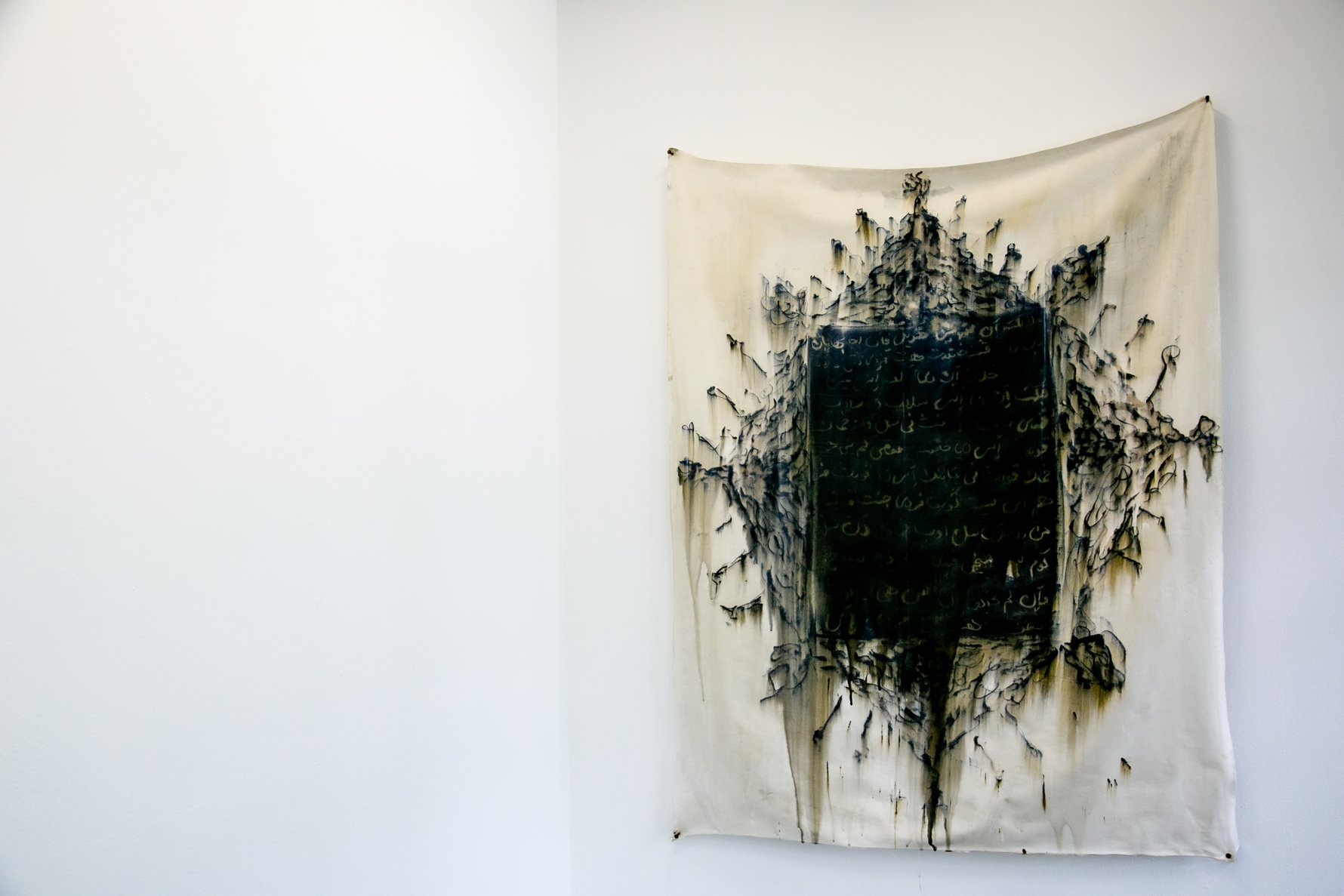 How do the materials you work with influence your art?
I use a lot of different fabrics in my work. For example in the koples boek(e) exhibition I used unstretched canvas. I have also used other materials before like calico, denim and even chiffon. When I come to my studio and start to work, it's just me and the materials and that's what I enjoy most in the creative process and what is most fundamental. If I use the same ink on a different fabric, it has a different effect. The ink gives different textures, colours and shades to the marks. I start to make inks lighter, darker, create different kinds of stains... And often I use bleach to take away the marks too. But you will always see a trace of what was there before.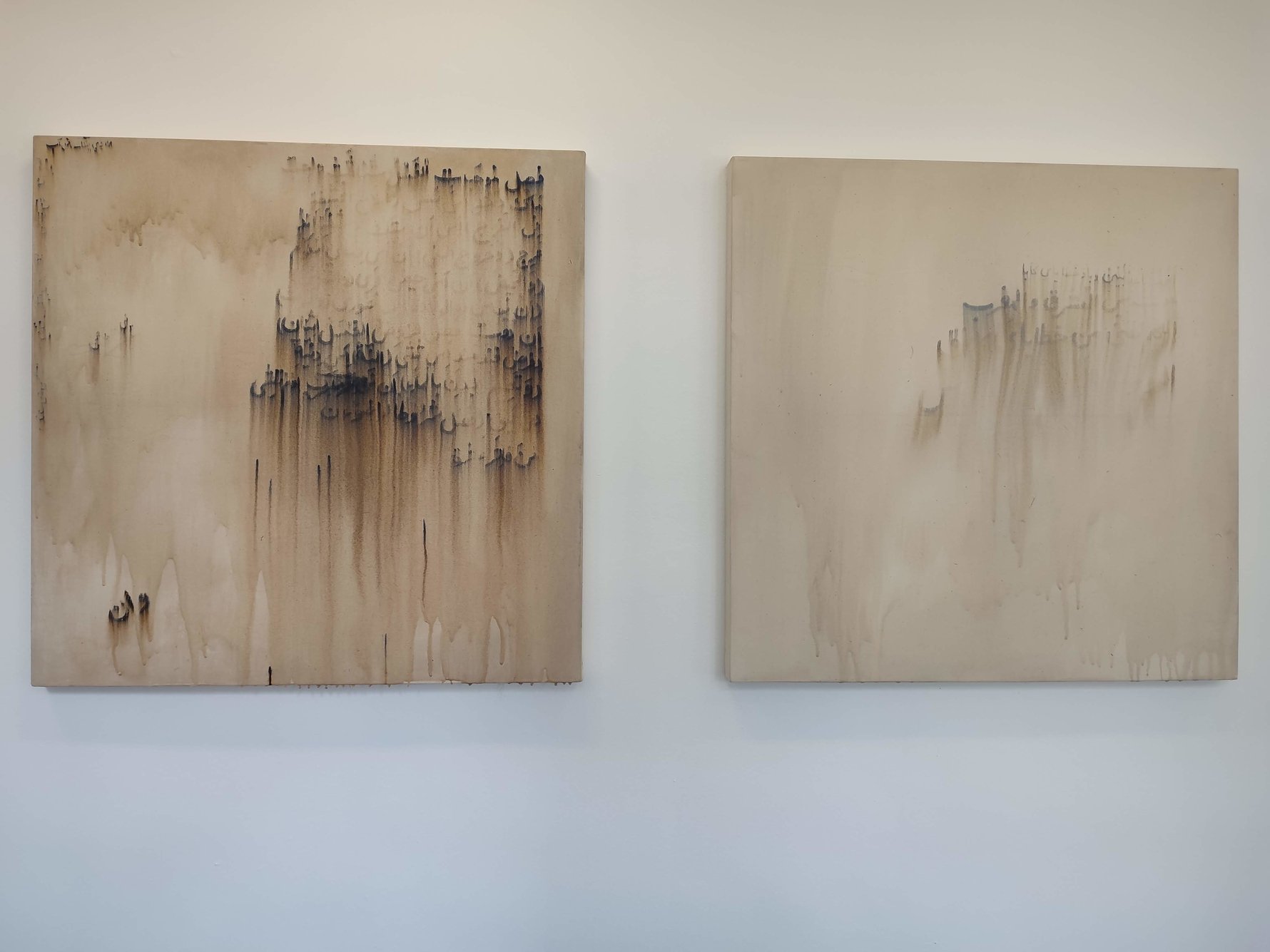 The works in the koples boek(e) exhibition are all based on historical Arabic-Afrikaans texts. How did you choose them? 
Often I use the same document and make a couple of works using just that text. Sometimes I will choose a random part of a text, or take a specific part and then repeat it in different organic ways in different works as the meaning is stripped away and the text becomes a visual flow rather than a readable document. There is one text in this exhibition that I chose very specifically. It is a letter by the son of the scholar Ahmet Ataullah Bey from the 19th Century who had tried to run for the Cape parliament. The parliament rejected his proposal to run as a representative and he wrote a complaint letter to them in Arabic-Afrikaans. This is one of the only non-religious Arabic-Afrikaans texts that we still have today. He could write in many languages, including in the Latin alphabet. But he chose specifically Arabic-Afrikaans for this letter, I think as a form of protest.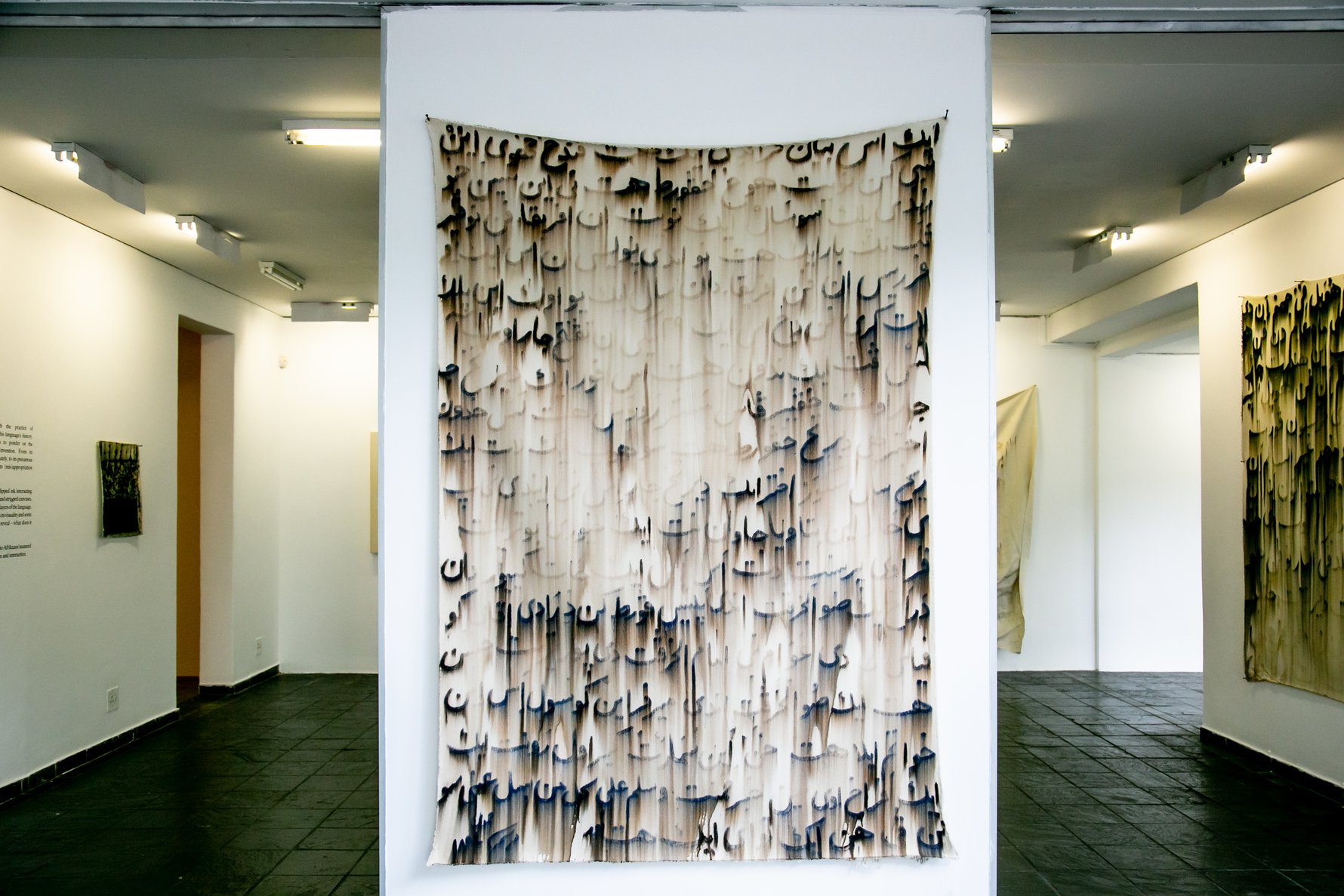 Your research into Arabic-Afrikaans texts is still ongoing. Tell us about how you have gone about uncovering these texts and what interesting things you have found within them? 
The first documents I found were online, but there were just a few pages. Then I went to the National Library in Cape Town and found a few more from scholars who have recorded some of this history. After that, I started to find people within the Cape Malay community who also had Arabic-Afrikaans documents at home, mainly koples boek(e) or student notebooks, that had been passed down through generations of their families. The latest one I found was a student notebook with details about how to embark on the Muslim pilgrimage Hajj. Interestingly, whoever was using this book also had a younger family member who had scribbled all around the pages. This dynamic between the very sacred nature of the words of the text and the child who can't understand their meaning and added scribbles around it really inspired a lot of my latest works.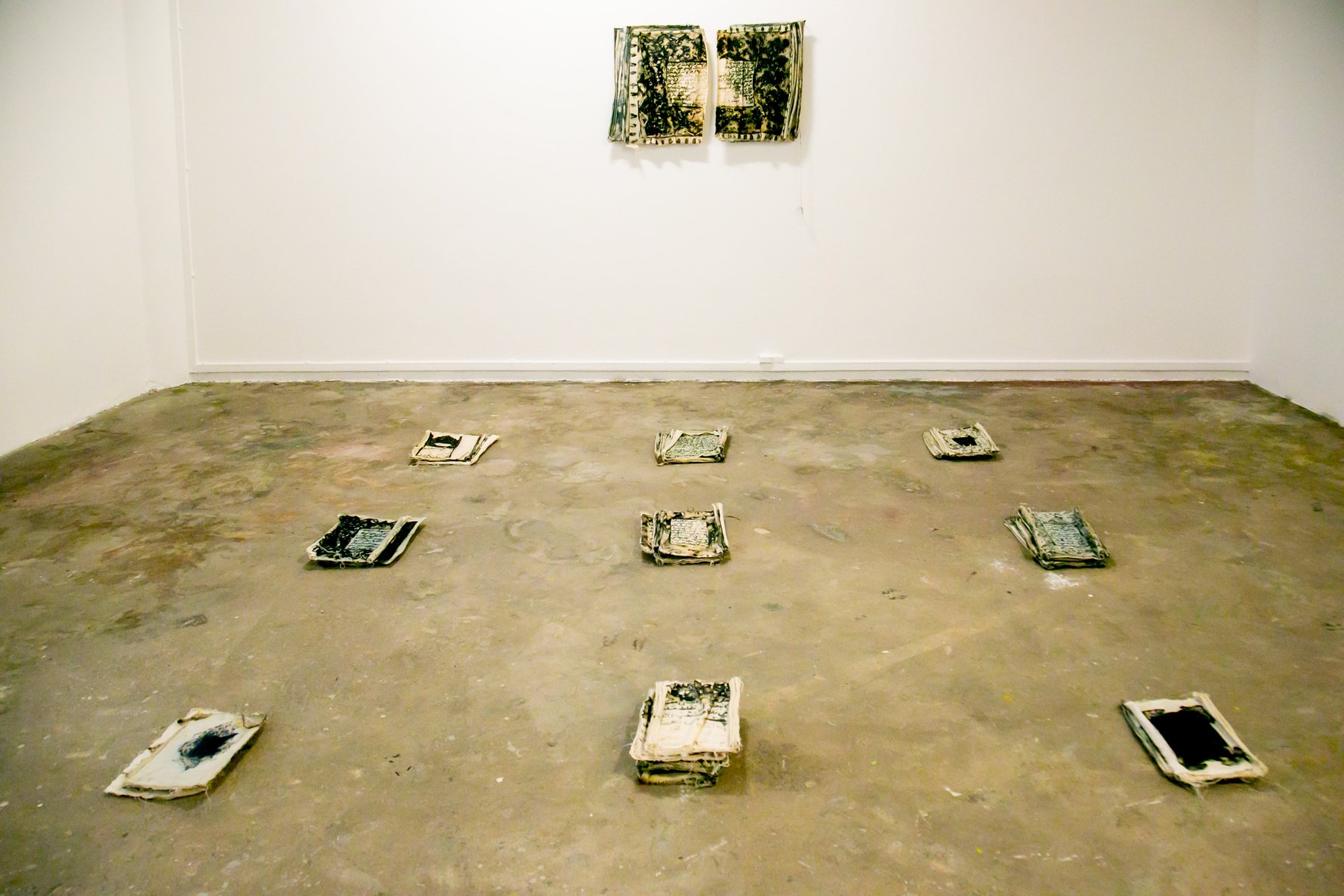 What do you hope people who visit your exhibition take away from the work?
What I want people to take away from this is the sense of connection and connectivity and a feeling for how new identities can be created through movement rather than being fixed on location and nationalism. As I became more engrossed in this history of Arabic-Afrikaans I became very inspired by this process of creating and sharing knowledge together as a community.

This written language of Arabic-Afrikaans was created by a community of exiles, immigrants and slaves, who had come from different parts of the world, particularly east Asia. They used the knowledge that they had collected from elsewhere (how to write and read Arabic script) to create a new thing, the first written form of the language that they as a community spoke (Afrikaans). They were not using this language and script as a form of colonisation or to take over something. They were using this new written language to expand and share knowledge. This is very powerful especially when we consider that later as Afrikaans became standarised into Latin letters, white Afrikaaners took claim and ownership of this language.

I use ink in my work to make the mark and then bleach to take away the mark. But there are always stains, remnants. You can say in a way my exhibition shows the remnants of this transnational Arabic-Afrikaans history. 
VISIT THE EXHIBITION
koples boek(e) by Kamyar Bineshtarigh is on show at the Goethe-Institut, 119 Jan Smuts Ave, Parkwood until March 30.
PANEL DISCUSSION
On Sat Mar 26 at 11:00 the Goethe-Institut hosts a panel discussion with the artist reflecting on the politics and poetics of Arabic-Afrikaans, the history of this form of expression and the ways in which language and memory are appropriated, expressed and shared in public and in the practice of artmaking.

The panelists at the discussion include: artist Kamyar Bineshtarigh, journalist, archivist and curator Atiyyah Khan, Arabic scholar Abdud-Daiyaan Petersen from the University of Cape Town, writer and poet Lesego Rampolokeng and curator of the koples boek(e) exhibition Amogelang Maledu.