If you haven't yet taken a trip to Pretoria Art Museum to see the 2022 Sasol New Signatures exhibitions' spellbinding presentation of over 100 works by up-and-coming local artists, you are missing out. The display includes artwork in a a host of different media, including digital and virtual reality, sculpture and printed works, painting and fabric collage. The depth and variety of skill on show astounded us. Take a look at some of the highlights from our trip. 
A sculpture sanctuary
The Sasol New Signatures exhibition is a sculpture-filled paradise with a myriad of three-dimensional models. It was especially exciting to see the different styles and materials used by the diverse mix of artists selected to present their works. One of our favourites was a multicoloured Pincushion Protea by Pretoria-based artist, Liezel von Wiellgh. A contrasting, yet just as captivating piece we couldn't take our eyes off of is Cape Town-based Erika Suter's Balance remaining, an unusually assembled but deeply relatable installation constructed from old desks.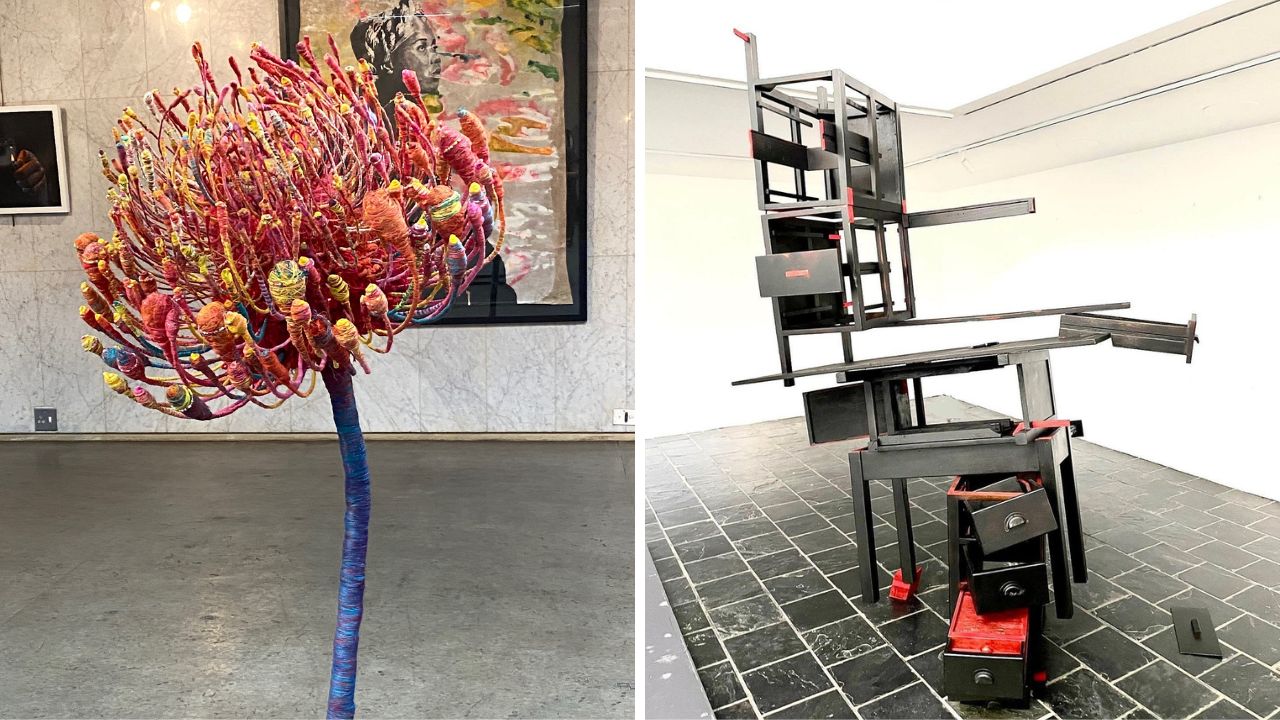 From bronze statuettes inspired by the Gqeberha tides to mild steel, rubber and rock figures that signify a woman's strength and vulnerability, there are such distinctive works presented by the selected sculptors. They are wide-ranging in their exploration of human nature and experiences, like the work of Bloemfontein-based artist, Jacobus Eben (Jaco) Pienaar's Depression that forms a whole person into a fragment wood sculpture.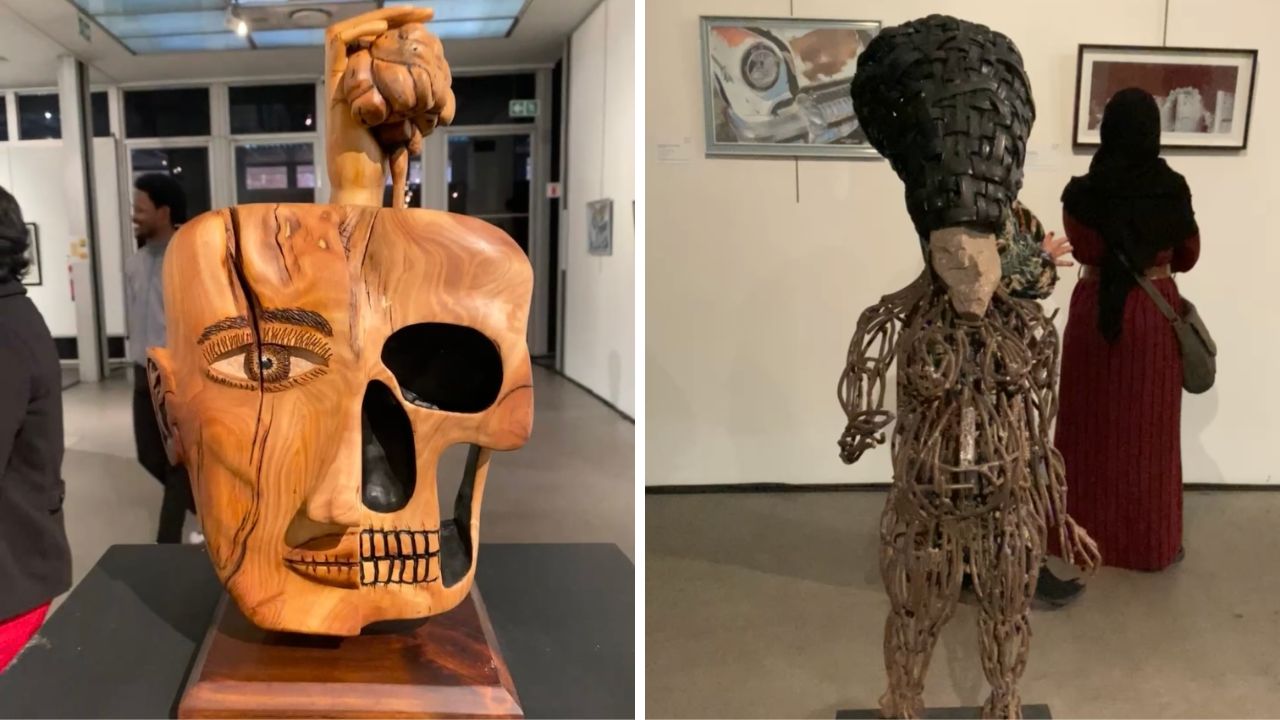 Digital art you can dream
Technology and art take an exciting twist at this year's Sasol New Signatures exhibition with plenty of practitioners showcasing innovative and interactive experiences through their work. For example, Durban-based Songezo Baleni's mixed media portrait entitled The king of Goodwill Izwelithi Khanyisel' uZulu cleverly allows viewers to make the piece their own by controlling the LED lighting installed in the artwork through an app provided via a QR code.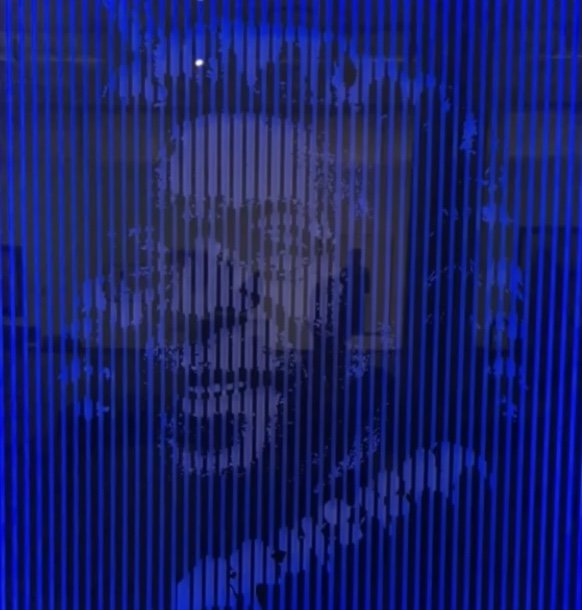 Merit winner and Pretoria-based software engineer Herman Pretorius' Instructures is another fantastic merge between art and technology. Pretorius' installation at the exhibition is a computer programme developed over the course of three years presenting the "endless outcomes when a set of minimal and straightforward instructions are followed to build structures out of cubes". Clicking through the artist's installation is an attraction in itself and a great eye-opener to what we can expect from the  art world in the near future.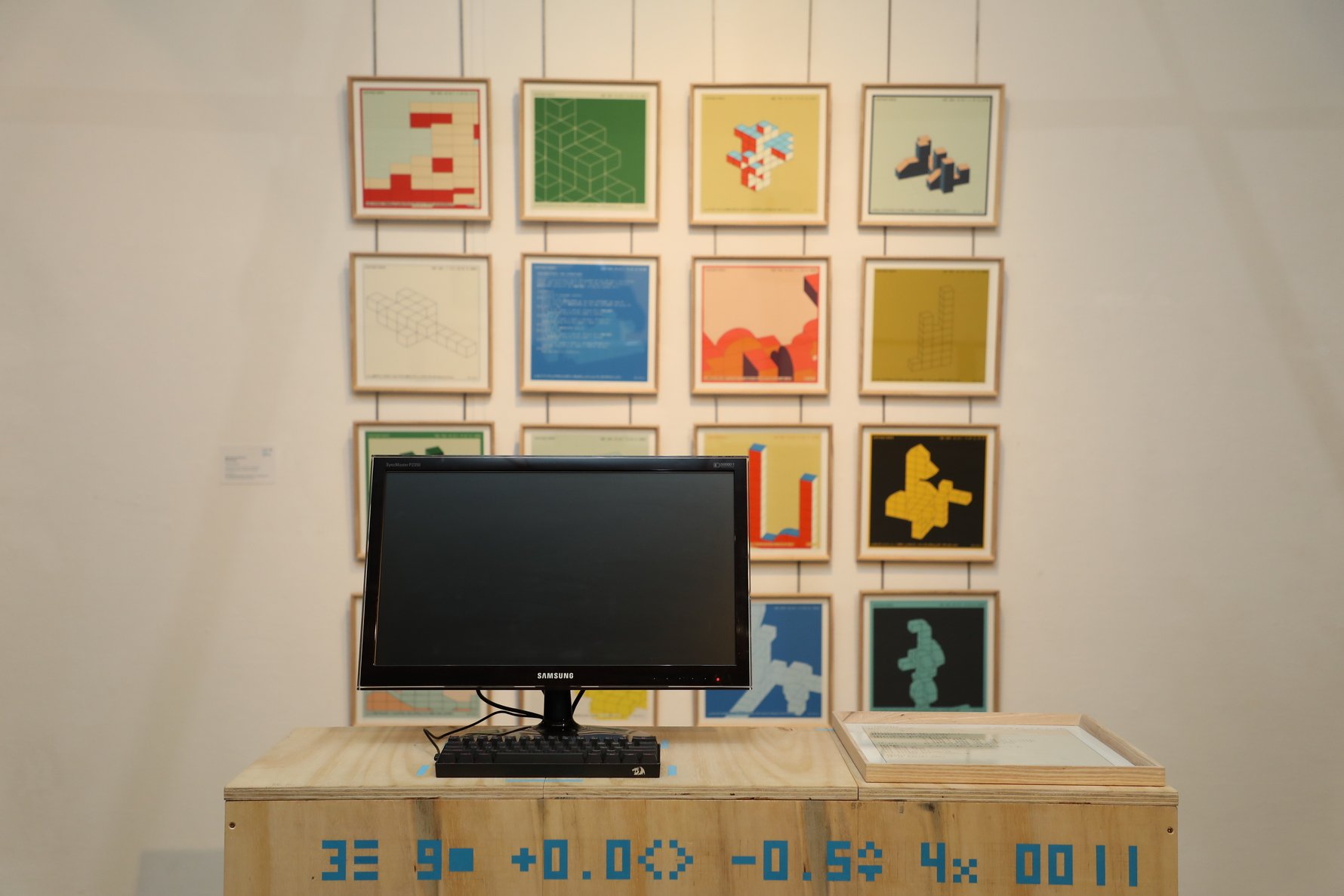 Of course, last year's winner, Andrea du Plessis's spectacular interactive solo exhibition Supernature: Simulacra is a must-see. A dreamy natural soundscape fills the room when entering this section of the exhibition where smartphones transform into portals to a sublime landscape of awe-inspiring nature experiences. Andrea achieves this immersive display by combining 18th and 19th Century romantic landscape painting styles with 21st Century technologies such as AR (Augmented Reality), VR (Virtual Reality), AI (Artificial Intelligence) and 3D printing. Take a moment to explore Andrea's fantastical creations and read our feature on her unforgettable exhibition. 
Classic (and not so classic) canvases
There is a plethora of more traditional and just as thrilling works on show at Pretoria Art Museum for this Sasol New Signatures Exhibition. Wandile Msipa's acrylic painting Umyalezo ka makhulu beautifully explores a grandmother's devotion through a portrait sprinkled with loving words in the form of a text message exchange. Even if you do not understand isiXhosa you can't help but stop and absorb the affection portrayed in this piece. Additionally, Durban-based artist, Mzulungile Cyril Nabhu's Uswenka acrylic painting portrait oozes an effortless African coolness that could not be captured via photograph. This year artists from Durban rose to great prominence.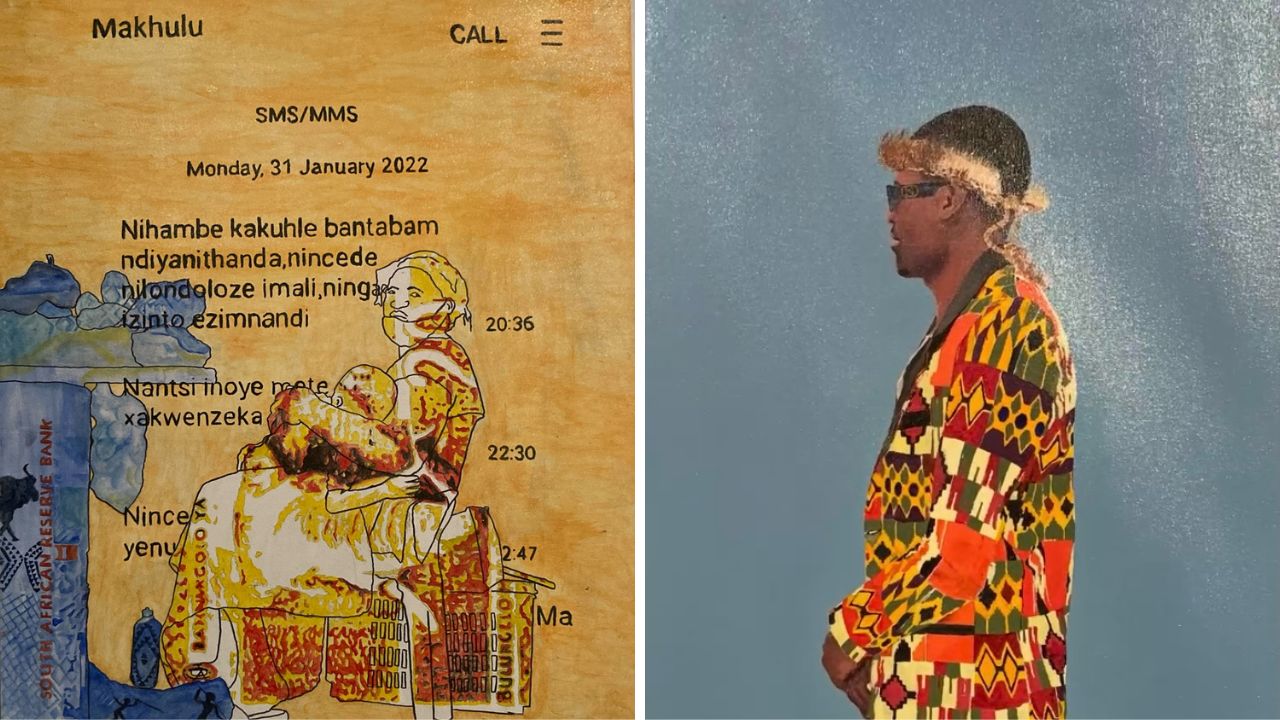 Mixed media works are also a major attraction at this exhibition, with tons of collages to catch the eye. Laura Liebenberg from Cape Town showcases Famileportret, a photomontage of cutouts that offers an interesting take on the family snapshot.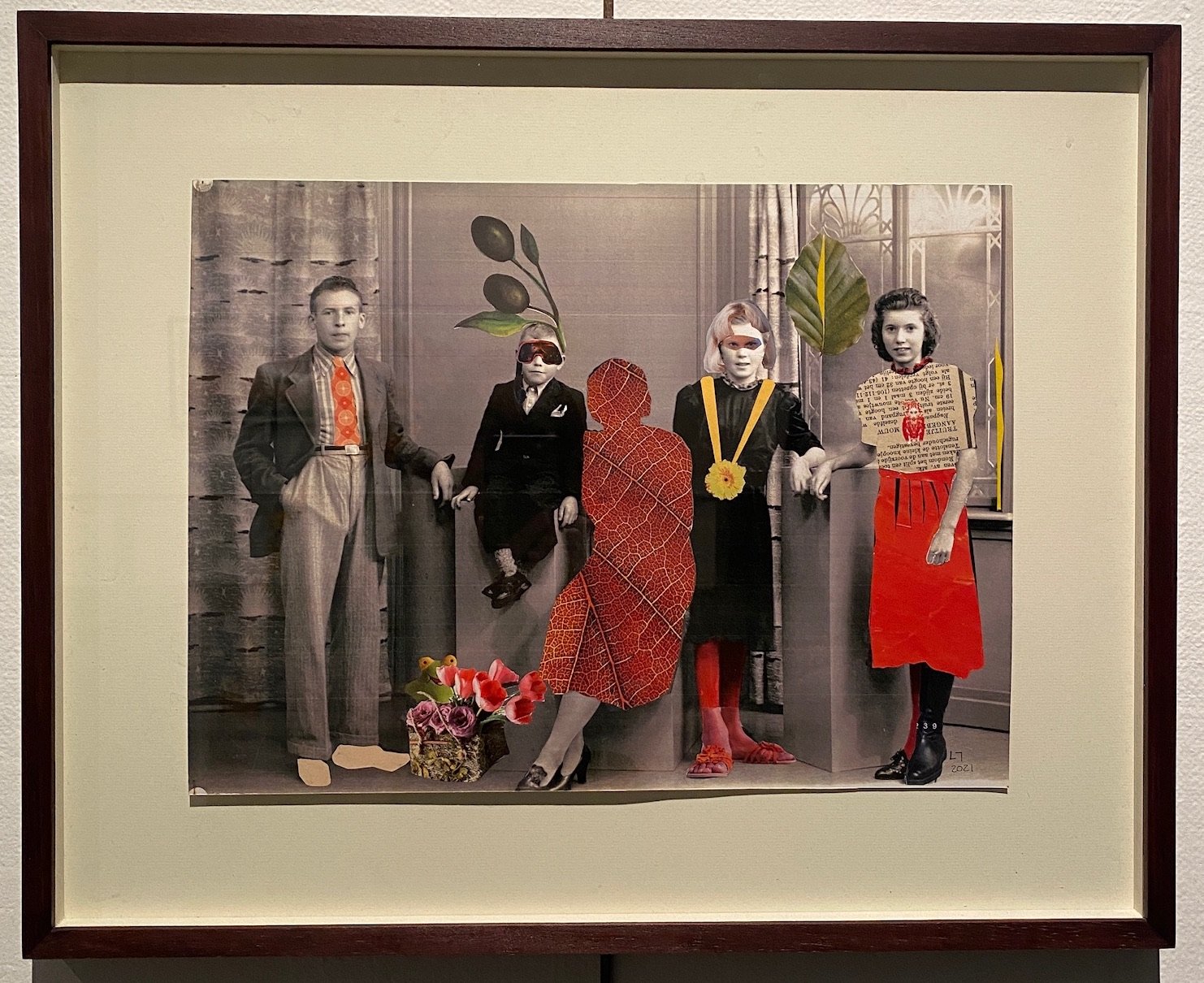 This year's winning piece, Mondli Mbhele's Iphasi nesiphesheli, might present as a vibrant oil painting at first but is, in fact, an exquisite fabric collage that you have to see to believe isn't one of the most enchanting paintings you'll come across. Read more on Mondli's winning artwork, his inspiration and his medium in our feature here. 

The 2022 Sasol New Signatures winners and finalists' work is on show at Pretoria Art Museum and online until Sun, Oct 2.