Bookworms and bibliophiles can find plenty of places to meet like-minded fans of the written word in Joburg with lots of great independent bookshops. Many of Joburg's independent bookshops focus on promoting local fiction and non-fiction and host regular literary events such as talks and launches while there are also some amazing second-hand and collectable bookshops offering one of the largest selections of used and rare books in Africa.

Whether you are looking for a new book to buy or you just enjoy hanging out at interesting independent bookshops, here are some favourite Joburg destinations for booklovers.  

Love Books
Kate Rogan's Love Books lives up to its name. The selection of books - general fiction and non-fiction as well as a great selection of South African titles - displayed exhibits thoughtful and considered choices, award-winning books, books people are or should be talking about. With chairs for reading, and place for browsing Love Books is a welcoming space in which to while a way a few hours. The bookshop hosts regular events and launches and also carries a great selection of books for children. The store also hosts a regular storytelling event for children at 10:00 on Saturdays.
Located at Bamboo Centre, Melville. Find out more here.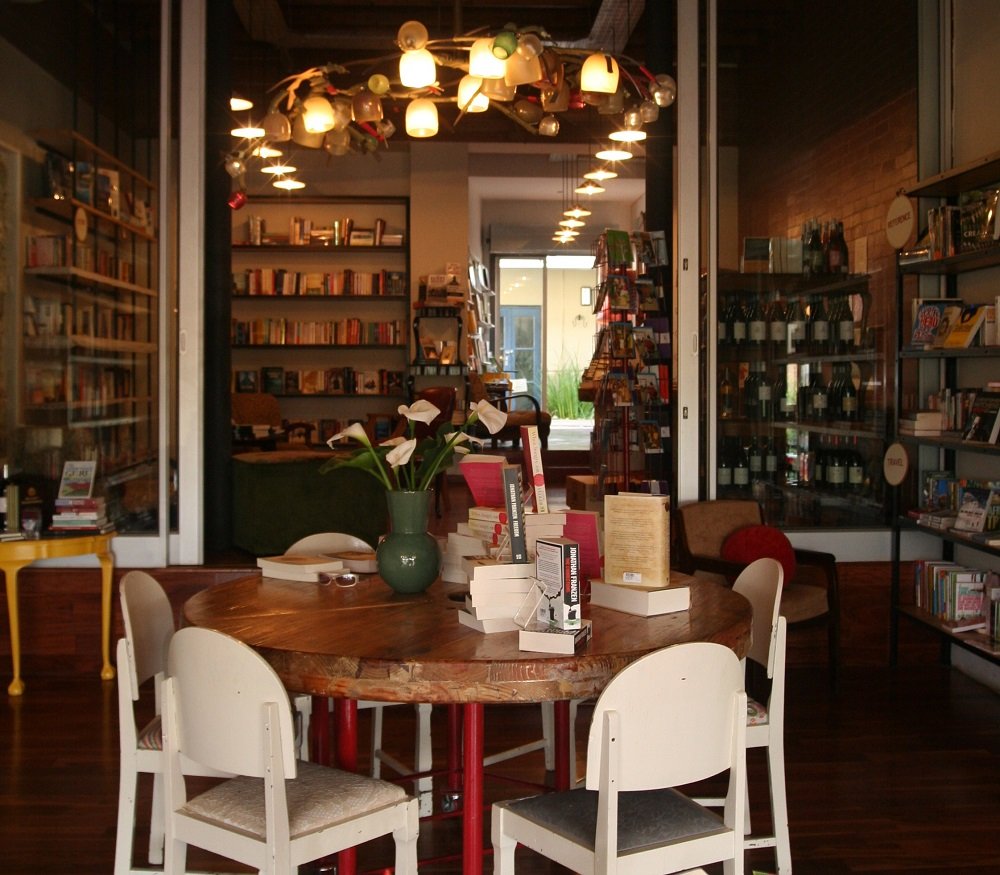 Bridge Books
This friendly downtown book store, situated just around the corner from the entrance to the historic Rand Club, sells new and second-hand books with a focus on works by South African and African writers. The shop runs various events including the Friday lunch time Brown Bag Lunch Book Club, children's storytelling mornings on Saturdays, a monthly walking tour through the fascinating downtown book trade (booking essential) and Unabridged, a series of writing workshops helping new writers develop their skills and showing them how to get published. There is also a second branch at the Victorian-era Cosmopolitan building in Maboneng.
Located at Rand Club, City Centre and at The Cosmopolitan in Maboneng. Find out more here.

Book Circle Capital
Passionate about African literature and promoting local stories, this small bookshop in Melville's quirky 27 Boxes centre stocks an interesting selection of books written by local authors including plenty of non-fiction and books for kids. Friendly staff and regular book launches and other literary events make this a welcoming space for inquisitive bookworms. 
Located at 27 Boxes in Melville. Find out more here.

The Commune
Looking out onto studenty Braamfontein's partially pedestrianised Reserve Street, The Commune is a cosy non-profit bookshop, cafe and reference library that describes itself as "community-centered, collectively-run" and which is dedicated to promoting a "collective commitment to revolutionary politics". The majority of the floor space is given over to cafe tables and comfy couches while one entire wall is lined with bookshelves stacked with titles covering topics such as pan-Africanism, decolonisation, queer theory, climate change and the abolition of prisons. The collection of authors on the shelves, loosely ordered by genres such as philosophy, history or art, is eclectic and wide-ranging. Steve Biko's I Write What I Like sits alongside the works of French philosopher Michel Foucault and Chinhua Achebe's classics share a shelf with edgy contemporary works by new young local writers. 
Located in Braamfontein. Find out more here.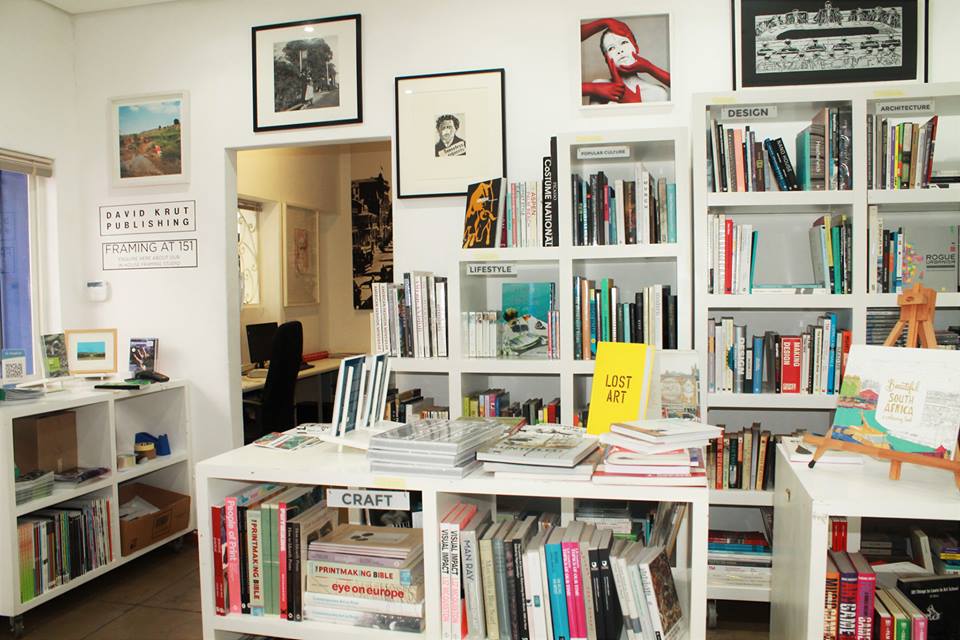 David Krut Projects
David Krut Projects is a top South African fine art print studio and art book publisher with gallery spaces in Parkwood near Rosebank and in the trendy Maboneng precinct in the City Centre. The distinctive Blue House in Parkwood houses an impressive art gallery space, professional fine art framing service and the David Krut bookstore which stocks a unique and hand-selected range of exquisite local and imported art books. The David Krut Projects workshop at the Arts on Main complex is where much of the fine art print work is carried out and the workshop space also has exhibition space and a rich selection of local and international art books. 
Located in Parkwood and Maboneng. Find out more here.

Skoobs Theatre of Books
The brash casino and entertainment centre Montecasino is not the first place you may expect to find a bookshop and yet just off the entrance to the gambling floor is this two-storey bookshop, complete with a ground floor coffee shop and a champagne bar on the upper level which even has its own baby grand piano. The contemporary styled shop's theatrical concept features, such as a fish tank shaped like a pair of cartoon eyes, are as different from Montecasino's faux-Tuscan streets as can be. The shop hosts regular events such as book launches, poetry evenings and book club meetings.
Located in Montecasino Casino & Entertainment Centre, Fourways. Find out more here.
Second-hand and collectable books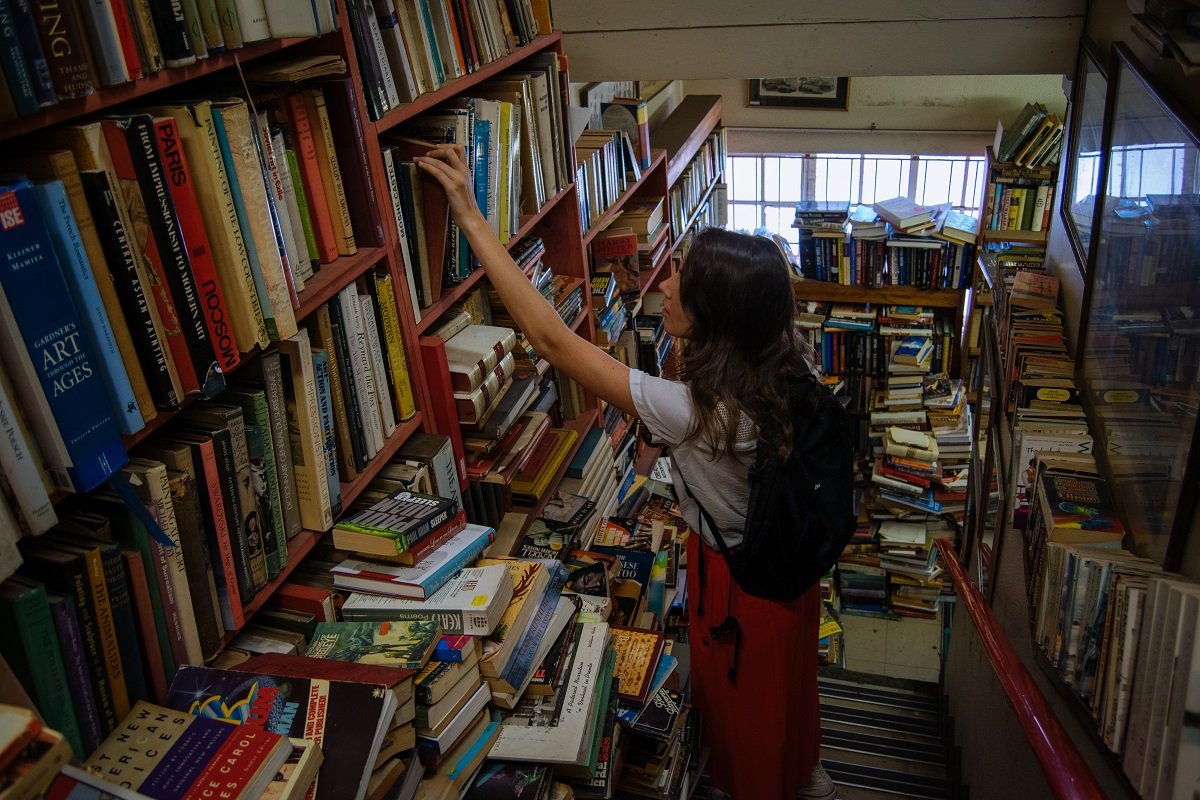 Collector's Treasury
For browsers it doesn't get much better than this, the largest used and rare bookshop in Africa with 2 000 000 items to look at. Founded in 1974, Collectors Treasury has a dizzying array of books, maps, collectables, engravings, prints, porcelain, fine china, vinyl records and small antiques spread over a few floors of an eight-storey city block. And if they have what you ask for, the owners will locate it, as if by some miracle. The books are heaped along walls, staircases, and arranged atop any surface that will hold them. Take your time to unearth some treasures.
Located at 244 Commissioner St, City Centre. Find out more here.

L' Elephant Terrible
This small second-hand bookshop tucked into one of 44 Stanley's pretty tree-filled courtyards is a quaint and quiet place to spend some time browsing for old treasures with piles of books stacked up on every available space. There's a particularly strong collection of old art history books covering topics such as architecture, interior design, painting and fashion and some lovely collectable coffee table books as well as lots of well-thumbed fiction, biographies and a choice collection of poetry. 
Located at 44 Stanley, Milpark. Find out more here.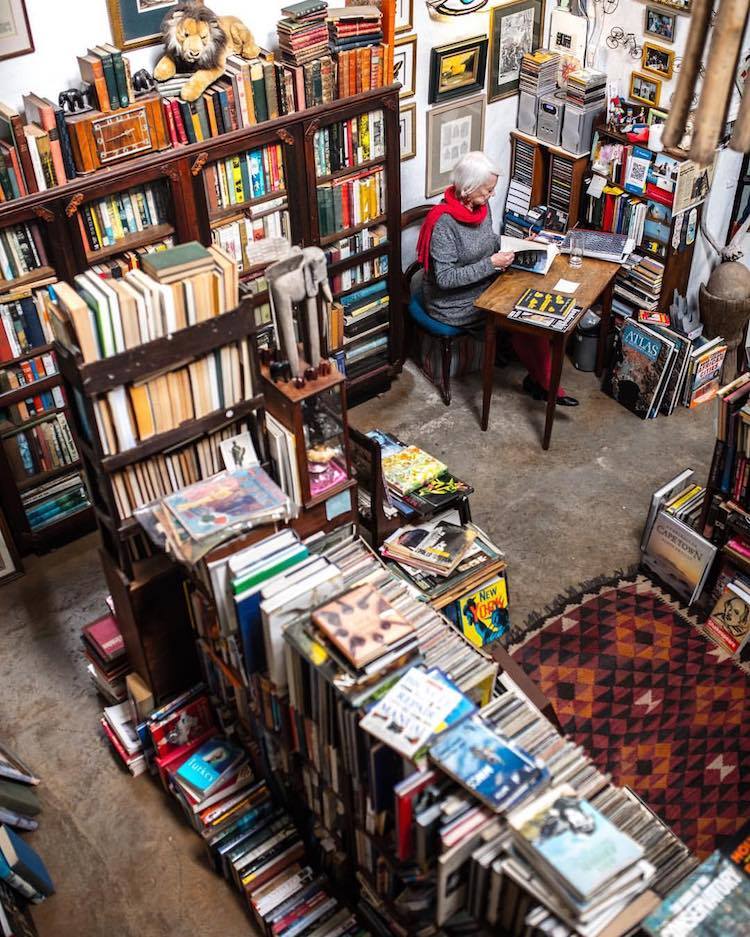 Bookdealers Melville
Collectables, new and used books are sold at this store on Melville's main street. New titles arrive every week and there are loads of genres covered to interest just about any reader from popular fiction to cookbooks, history to detective novels. Bookdealers opened in the suburb of Yeoville 30 years ago, and now has several stores across the city including this Melville store and a store at the Blubird shopping centre in Birnam (near Melrose Arch). They also will ship books to most countries.
Located on 7th Street, Melville. Find out more here.

James Findlay Collectable Books & Antique Maps
In the business of buying and selling rare and collectable books for more than two decades, James Findlay is one of South Africa's foremost book traders. In 2018 he relocated his bookshop to the historic Rand Club on Loveday Street in the heart of Joburg's heritage-rich mining district. Occupying the century-old club's 175-metre square basement it is a suitably historic location for Findlay's astonishing collection of rare and collectable books with prices that range from R250 to several thousand rands. The shop also specialises in other collectable items, especially rare historic maps, antique posters and hand-coloured botanical lithographs. Findlay also organises the 'Joburg Collectable Book Faire', held quarterly at the Rand Club, a feast of memorabilia and collectables that include books, antique maps, pamphlets, documents, postcards and posters showcased by around a dozen book dealers specialising in rare editions. 
Located at Rand Club, City Centre. Find out more here.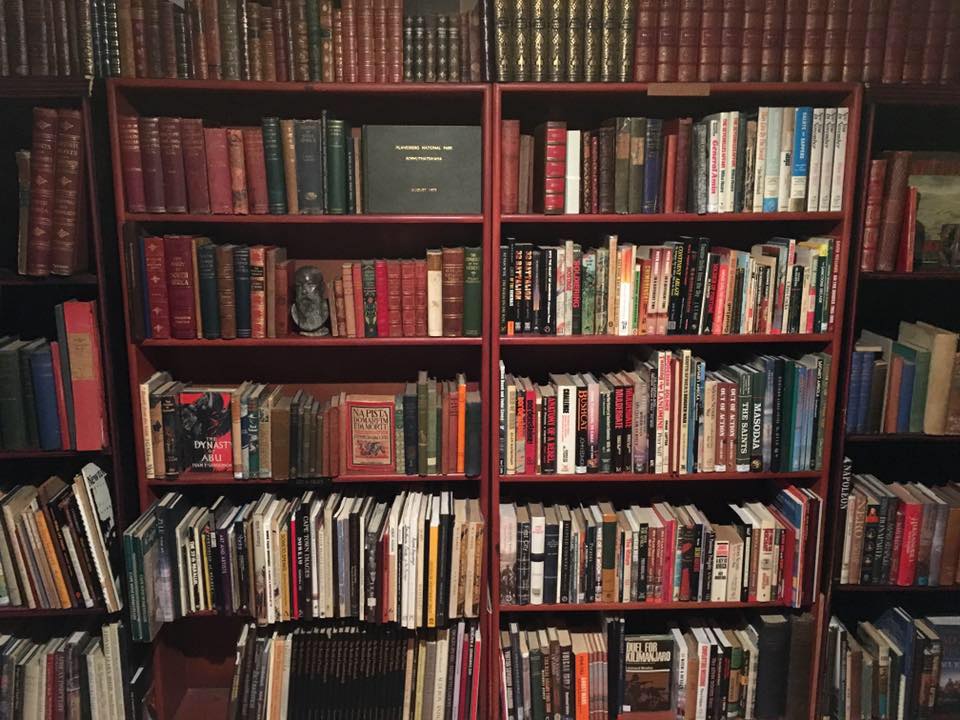 Kalahari Books
All that's visible from the street is a hand-painted sign with a large painted black arrow pointing to a concrete ramp. Follow it to this haven for used, hard-to-find and generally out-of-print editions with an estimated 70 000 titles. The original Kalahari books, founded before South Africa's online bookselling giant of the same name, is owned by Richard Welch who treats his customers like kings. The place to find back titles of your favourite fiction authors, along with attentive and friendly service and comfortable armchairs.
Located in Orange Grove. Find out more here.

Wits Hospice bookshop
The flagship store of the charity Hospice, this shop is surrounded by the equivalent of a charity shop 'village' selling everything under the sun including an assortment of clothing, household objects, furniture, vintage and rare items. A great place to browse and for finding well-priced fiction and non-fiction. Hospice Corner has been cleverly designed to feel more like a department store experience than a charity shop, and all purchases support an excellent and much-needed cause.
Located in Orange Grove. Find out more here.