While the gold rush defined the city's early years, the dust kicked up by mining spurred the desire for greenery and today Joburg has the distinction of being one of the world's largest human-made forests.

Joburg's first park, Joubert Park in the City Centre, was established in 1887, just one year after the discovery of gold. By the 1930s there were already more than 60 parks in the city and today according to Johannesburg City Parks there are more than 2,000 parks and an estimated 10 million trees.

Always a practical city, in Joburg's first decades, the planting of trees was often motivated by the need for wooden props to line mining tunnels. Fast-growing blue gum plantations were established to ensure a steady supply. In Turffontein in the south, a vast tree nursery was created and during the early decades of the 20th Century the city went on a massive tree-planting spree, lining new suburbs with beautiful Jacaranda trees.

Meanwhile in Joburg's northern suburbs such as Westcliff, Parkview, Emmarentia and Parktown, farmland was sold off to wealthy mining magnates (known as Randlords) who planted grand plane trees, pines and jacarandas in the vast gardens surrounding their mansions. The result is a magnificent sea of green that spreads out from the city's central ridges in all directions.

Sit on a suburban rooftop or climb atop one of the city's ridges such as Westcliff or Observatory and you'll see nothing but green, peppered with bursts of purple during the spring jacaranda season. Whether you favour long walks, carefully manicured formal gardens or wild green spaces, Joburg has a park for you.

This sprawling green oasis has extensive parkland for enjoying long walks with views of the distant ridges and wide lawns that slope down towards the dam, ideal for afternoon picnics. The pretty terraced rose gardens with its fountains are a popular spot for weekend weddings. 

Delta Park is one of the biggest green lungs in the city with stretches of grassland and woodland. The park houses an environmental centre with a wide range of fascinating wildlife-related courses for adults and children and long mountain biking trails that hug the Braamfontein Spruit which runs through the park. Unique to Delta Park is a sensory trail for the sight-impaired, and bird-viewing hides. The southeast corner has the best picnic spots. Largely unfenced, Delta Park has become popular during lockdown with dog walkers and families looking to access the city's green spaces.

Located on a hill overlooking the city, the park's winning feature is its extraordinary views of the downtown Joburg skyline, framed by a sea of trees. Popular with dog walkers, joggers and kids on bikes, the park also has a play area and an Acrobranch adventure course with zip lines and tree swings, both of which are closed during lockdown. This large park is unfenced and used by some residents as a short cut to reach Melrose Arch, therefore becoming a popular green space during lockdown.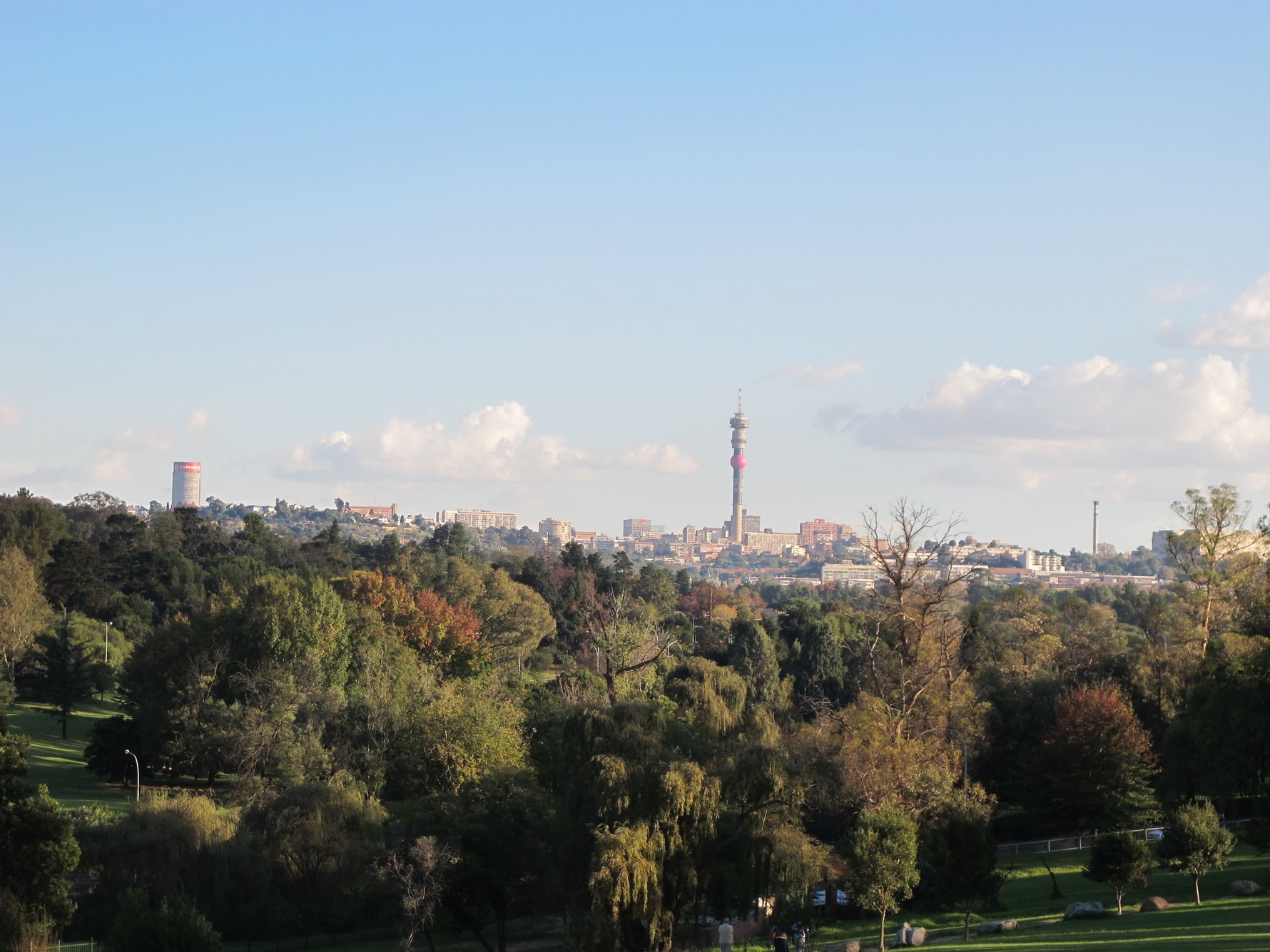 One of Joburg's oldest parks with some impressive aloes and indigenous flora. This Brixton park in west Joburg gently slopes down into one of the city's many rocky valleys and there's a great view of the city skyline from the top entrance to the park where the car park is.
A nature reserve and heritage site, the Melville Koppies (koppie means small hill in Afrikaans) boast archaeological remains of Stone Age and Iron Age settlements, and great views over the city. The best way to visit is on one of the Sunday open hiking days. The hikes were paused during lockdown but have resumed and the reserve is now open for hikers to explore every Sunday from 08:00 until 11:30 (entrance costs R80).  
This peaceful, privately managed 275-hectare reserve is crisscrossed by relatively flat hiking and cycling trails that are very well-maintained and signposted. There are four specially designed mountain biking routes ranging from 10km to 40km, and an 8km hiking trail complemented by shorter walks that skirt around the reserve's wetland areas.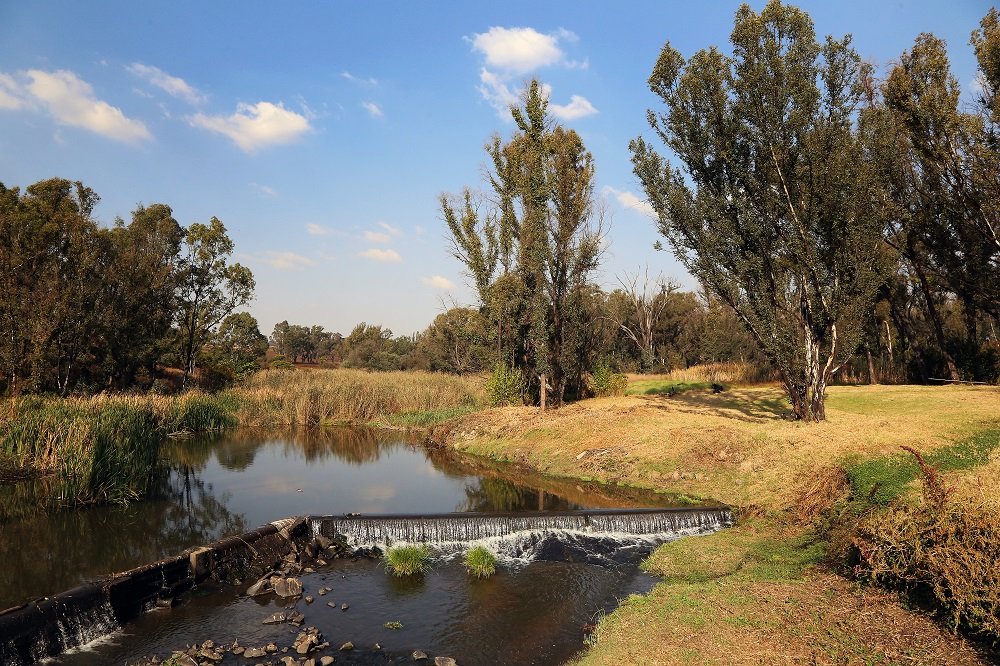 This small park with its playground, hilly landscaped lawns and an outdoor gym is one of precious few green spaces to be found within central Sandton Central's concrete sprawl. 
Drive up the winding roads that snake their way through the suburbs that hug the Northcliff Ridge in the direction of the landmark water tower and eventually you'll find yourself at the small Northcliff Ridge Ecopark. Made up predominantly of hard smooth quartzite, this area offers a great climb for avid rock climbers (just be careful of broken glass), and epic views that stretch out well beyond Sandton for walkers.
One of Gauteng's most beautiful and well-maintained parks, head here for stunning flora and fauna, excellent birdwatching (look out for the black Verreaux's eagles), waterfalls, manicured lawns and other natural delights. There are various hiking routes, including a 3.5km nature trail that takes you to the top of the waterfall. A perfect place to relax just 30 minutes drive from the city.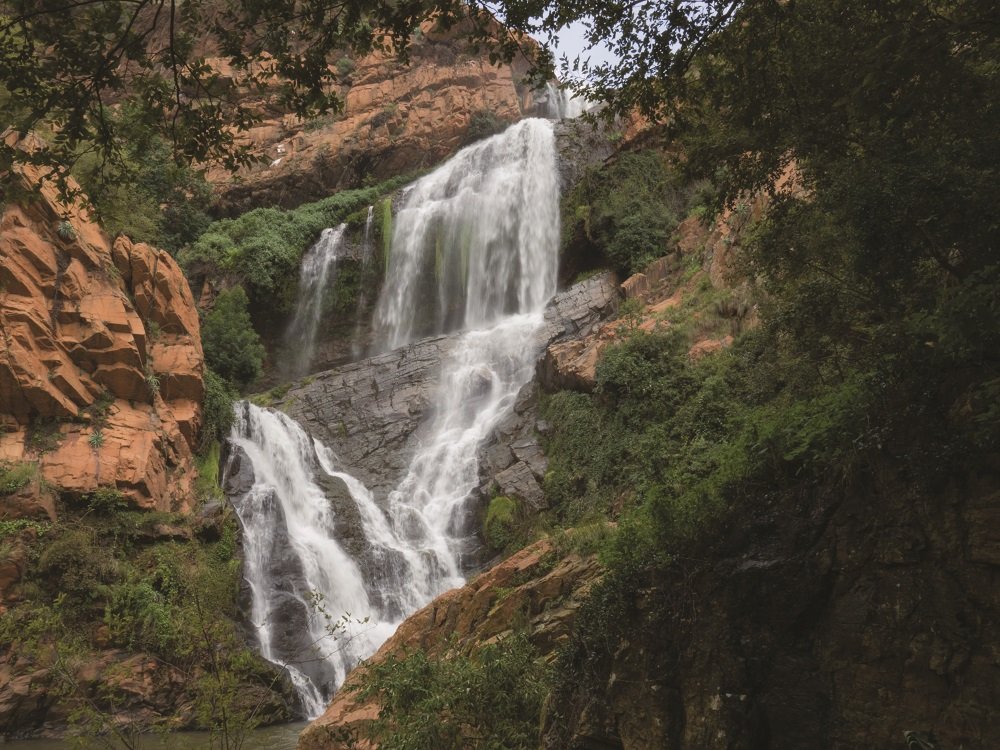 This magnificent historic park with its stone-cut paths and water features, and awe-inspiring city views has recently been brought back to life as a public space by the efforts of artist James Delaney and his team of assistants and volunteers. The Wilds has for years had a fearsome reputation for crime, based mostly on a terrible crime wave that swept through the area in the 1990s. With the help of Delaney and his team, who have worked tirelessly to cut away the thick overgrown vegetation that made an ideal hideout for opportunistic criminals and install colourful new public artworks, the situation has improved considerably. As Delaney points out, the more people who return to enjoy the park, the safer it becomes.

Dog walkers are welcomed with open arms (Delaney takes his own honey-coloured Labrador Pablo out for a walk in The Wilds every day), although owners are requested to please clean up after their dogs, as they should when taking their pets out in any other public space.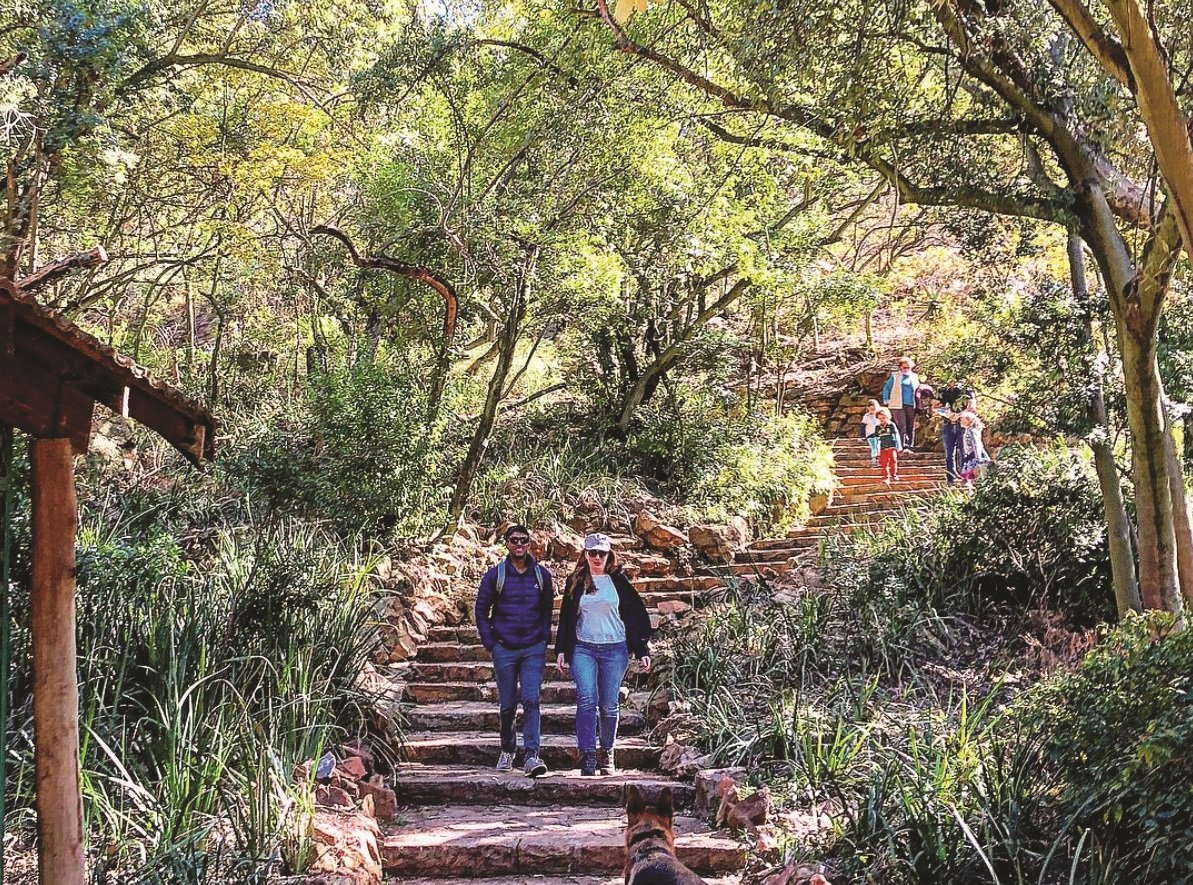 A premier green space where you can feed the ducks, hire a rowing boat, set up a picnic, or eat at the child-friendly African themed restaurant Moyo. Popular with walkers and runners, and just about everyone else. At weekends the park swells with families and big groups with their barbecues and picnic tables in tow intent on a good time and the city is currently battling to encourage these visitors to pick up their trash before they leave.