The story of Just Teddy is a Joburg classic. One of an immigrant family with tough-as-nails determination and no fear of hard work, extreme talent, a late bloomer, and a stratospheric rise in what has felt like the most uncertain time. It's a joy to relate.

Just Teddy is the Zaki family business – a Parisian-style patisserie that uniquely blends Middle Eastern flourish, located in upmarket Hyde Park Corner. The counters here overflow with edible beauty, and Teddy's love of signature gold. From the breakfast éclair, to perfect macarons in rainbows of colour, Lebanese delicacies, savoury treats, and rich chocolate ganache. Order your favourite TWG tea (we recommend the Vanilla Bourbon) and take time out to enjoy what's around you.

The Zaki family origins are a magical mix of French and Lebanese culture. They are also a tale of hardship – the Zaki family fled Lebanon from a small village when Teddy was 11.

In everything they put their hands to, there is a real sense of love for what they do, and incredible devotion to creating beauty and enjoyment for others to experience. Much of their journey is related in Just Teddy: Petals from Paris, a mouthwatering recipe book and family history.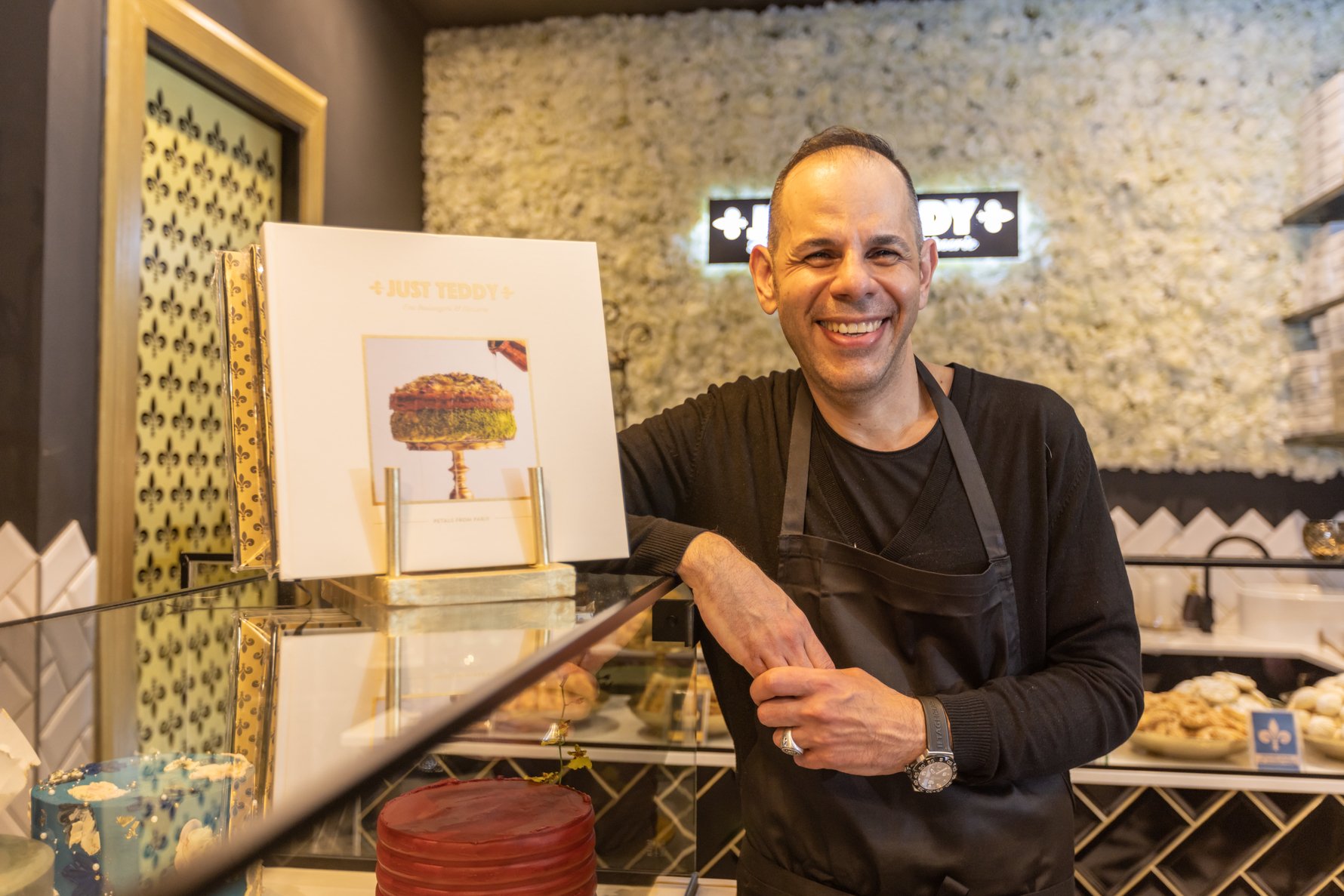 It wasn't that long ago that we followed Teddy Zaki to 1 Fox Precinct in Ferreirasdorp in the city to his market stall, on hearing that there was a new baker in town. Today the Zaki family's Just Teddy occupies most of the ground floor of Hyde Park Corner.

The life-changing moment came in July 2015 when Teddy was selected as a contestant in the Great South African Bake Off created by BBC. Unbeknown to him his son Jeffrey had put his name forward. An accomplished amateur baker then – this was something he did when he was not at work in a property business – his career in baking started at the age of 45.

As he tells it he immediately set out to stand out, becoming "Mr Bling" – known for taking Lebanese-inspired recipes and adding gold wherever possible. His gold-leaf-wrapped cheesecake became a signature.

Food and family are at the centre of the Zaki family, along with a devoutness to a higher power.

Just Teddy is a family business – and you'll meet the Zakis in full force if you visit the patisserie. Natasha Zaki, Teddy's wife is front of house. Their children Jeffrey and Jordyne attribute their baking skills to their grandmother. As adults, Jeffrey studied food and beverage management and Jordyne studied Culinary Arts and spent two years mastering Advanced Patisserie. 

Every morning starts with a family meal at Just Teddy. In the book Teddy talks of his reverence for bread as something that brings people together, in many cultures. This is Jeffrey's department a Petals from Paris contains a fantastic selection of bread recipes – from sesame bagels to sundried tomato and danish feta focaccia.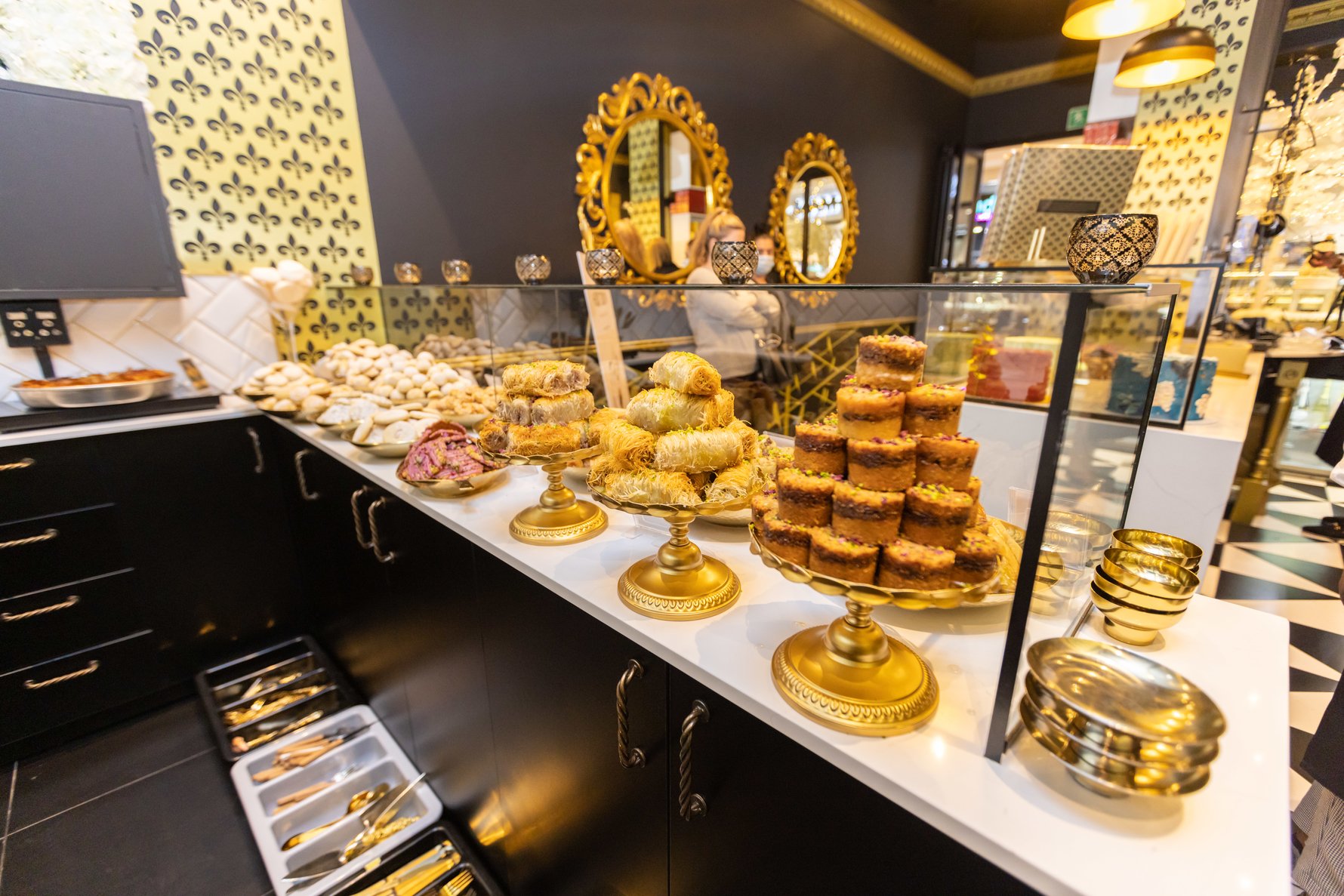 The move to Hyde Park from the city was imagined as creating "a kiosk". Today's it's a major brand, an immense patisserie and café that stretches the length of a floor at the Hyde Park Corner mall. Just Teddy opened in March 2019 without the family having tested a recipe. They were still in "market mode" says Teddy. He is unflinchingly honest about the difficulties, the challenges, the anxiety and the pressure. He is also incredibly modest about what the Zaki family has achieved, everything moderated by his absolute love of what he does and the way in which people experience it. They learned as they went along.

The book is divided into two parts – "Life before Just Teddy" and "Life as we know it now". The recipes stretch from childhood to now and vary in degree of difficulty. But even a novice baker will find something to try.

Baking as Teddy reminds us in the introduction is all about scientific precision. The more you bake the more your baking should improve – but you also must expect failure. Baking keeps one humble.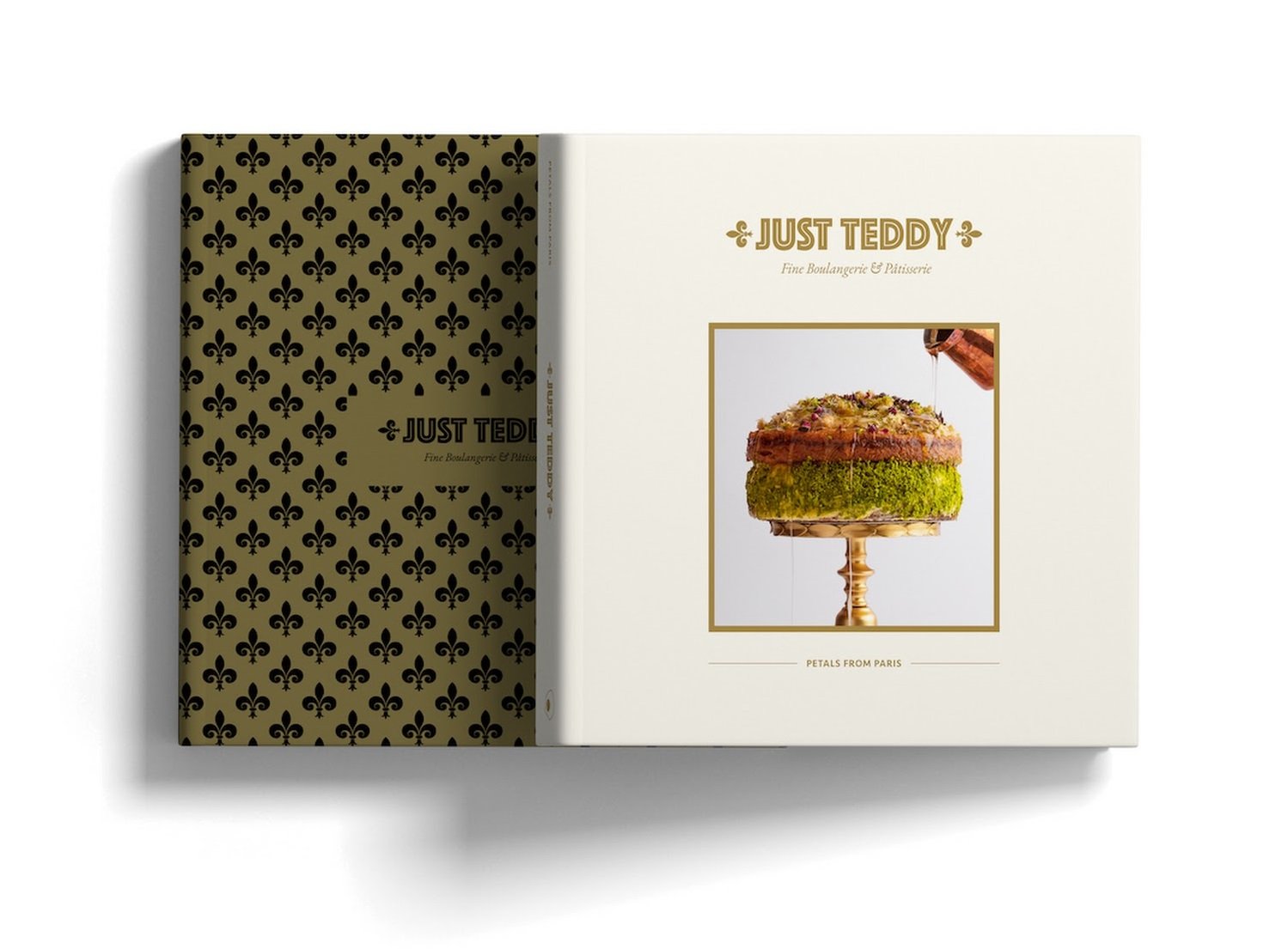 The photos are incredible and the recipe range is exciting – from Lebanese breads to street food favourites spiced with za'atar, to Just Teddy Chocolate GanacheTart – one of the first recipes that made it to the counter in Hyde Park.

One of the family's great innovations was a High Tea in a Box, developed in lockdown.

The patisserie of course features plenty of gold, and was inspired by the experience of having high tea at Selfridges in London. The family has made sure to seek out high teas on all their travels, remaining forever inspired by what's possible.

The stories and vignettes in this book, as told by Sharon Preston who helped Teddy Zaki bring the project to life in words, are a joy to read. The book quotes French-American pastry chef Dominique Ansel – inventor of the cronut – "Cake is not for sustenance, but for celebration. It's something extra, it's a gift, it's for your heart, not your stomach". Petals from Paris is exactly that, a book that creates delight.
TRY THESE RECIPES FROM JUST TEDDY'S PETALS FROM PARIS
Persian Love Cake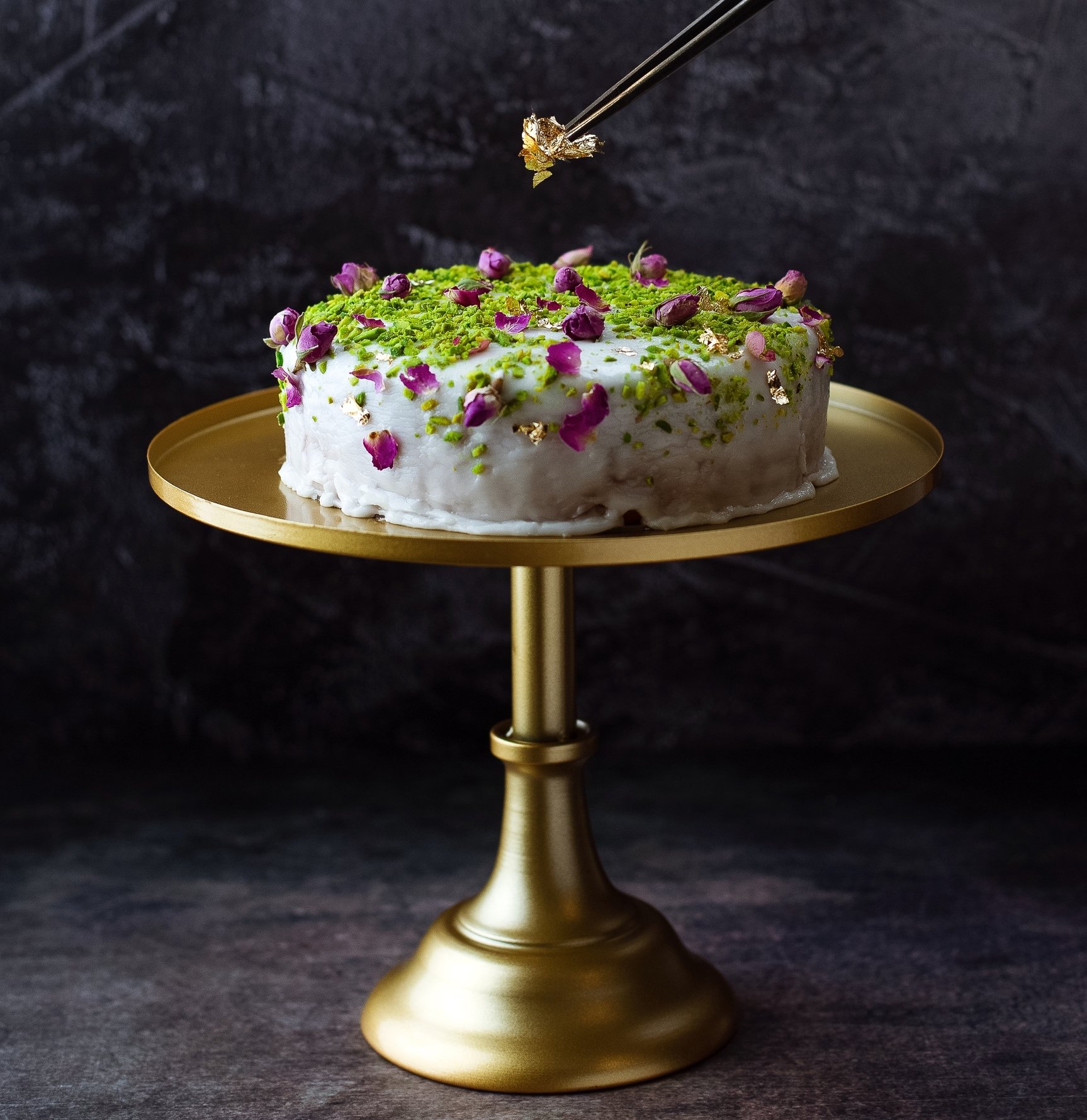 We thought long and hard about sharing this recipe. Eventually, the pure beauty of the ingredients, the aromatics of the spices and the mystique of the rose petals, made their own overwhelming argument in favour of this recipe appearing in this book, our book, which would not be complete without the Love Cake. Legend has it that a Persian woman was madly in love with a Prince. To make him fall in love with her, she baked him this cake filled with the magical powers of love. Allegedly there are two endings to this story: one tells of the Prince returning her love and how they lived happily ever after. The second is a tale of woe – her love is unrequited, and she consoles herself by eating the entire cake! Whatever your intention, and the outcome, one thing this recipe promises is a slice of delicious gluten-free cake!

INGREDIENTS
Sponge
200g unsalted butter, softened
150g castor sugar
4 medium eggs
¼ tsp ground cardamom
275g ground almonds
100g rice flour
1 lemon, zest and juice
1 Tbsp rose water
5ml baking powder
Pinch of salt

Drizzle
30ml castor sugar
15ml lemon juice
5ml rose water
Icing
150g icing sugar
30ml lemon juice
Cold water, enough to form a stiff paste
Decoration
Pistachio nut slivers
Edible gold leaf
Edible rose petals

INSTRUCTIONS
1. Grease a deep 20cm loose-bottomed springform tin.
2. Preheat the oven to 160°C.
3. Beat together butter and castor sugar.
4. Add eggs one at a time, beating after each addition.
5. Add rose water and lemon zest.
6. Sift together rice flour, cardamom, almonds, baking powder and salt.
7. Add the flour to the egg mixture alternating with the lemon juice and mix.
8. Pour the mixture into the springform tin and bake for 1 hour.
9. To make the drizzle, heat lemon juice, castor sugar and rose water together in a saucepan.
10. Boil until slightly thickened and set aside.
11. After 1 hour cooking time, prick with a skewer to test if it is baked through.
12. Once baked, remove from the oven, pour over the drizzle and allow to soak in the loose-bottomed cake tin.
13. Allow the cake to cool, then remove from the tin.
14. To make the icing, sift icing sugar, add lemon juice, then add enough water to make a thick but pourable paste.
15. Pour the icing over the cooled cake. Allow the drizzle to run down the sides of the cake in rivulets.

Apple & Almond Frangipane Tart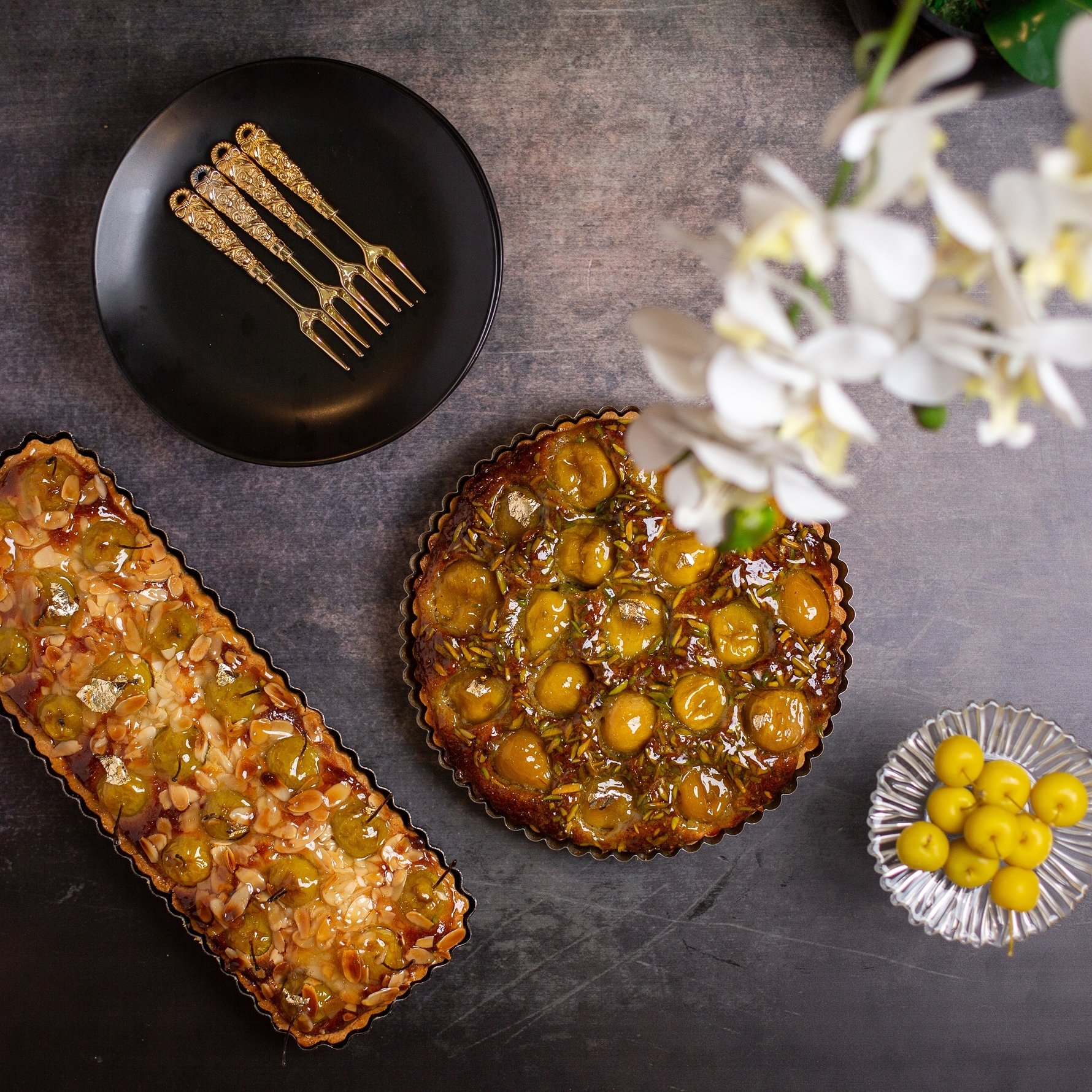 At your next dinner party, surprise your guests with this simple, yet extraordinary showstopper. They will think that you slaved for days! Take it to the next level and serve with lashings of whipped cream. Decadent…
This tart can easily be varied to a Pistachio and Fig Tart by just changing the nuts in the Frangipane and the fruit.

INGREDIENTS
Pastry
325g flour
125g unsalted butter, softened
125g icing sugar
2 eggs

Frangipane
100g unsalted butter
100g castor sugar
2 eggs
100g ground almonds
½ tsp baking powder
Pinch of salt
1 tin baby apples
125g flaked almonds
60ml smooth apricot jam, slackened with 15ml hot
water
Edible gold leaf, to decorate

INSTRUCTIONS
Pastry
1. Cream the butter and icing sugar together in a bowl.
2. Beat eggs lightly together in another bowl.
3. Add the flour and eggs alternately to the butter mixture until a paste forms.
4. Turn onto a floured board, knead lightly.
5. Once you have a smooth dough, wrap the dough in clingwrap and chill in the fridge.

To make the Frangipane
1. Beat the butter and the castor sugar together.
2. Mix the eggs together in a separate bowl and slowly add to the butter mixture.
3. Add the ground almonds with a pinch of salt and the baking powder.
4. Chill mixture in the fridge, covered.

To bake the tart
1. Grease a rectangle or round loose-bottomed tart shell.
2. Roll out the chilled pastry and line the shell. Chill.
3. Preheat the oven to 180°C.
4. Remove the pastry from the fridge and blind bake for 20 minutes.
5. Remove from the oven and allow the tart shell to cool down.
6. Fill with the frangipane mixture.
7. Flatten and neaten with a palette knife.
8. Place the baby apples in the frangipane in neat rows of 2's.
9. Sprinkle with the flaked almonds.
10. Return the tart to the oven and bake until golden, approximately 30 minutes.
11. Remove from the oven and brush with apricot jam glaze.
12. Chill and decorate with gold leaf.
Salmon & Sweet Pea Quiche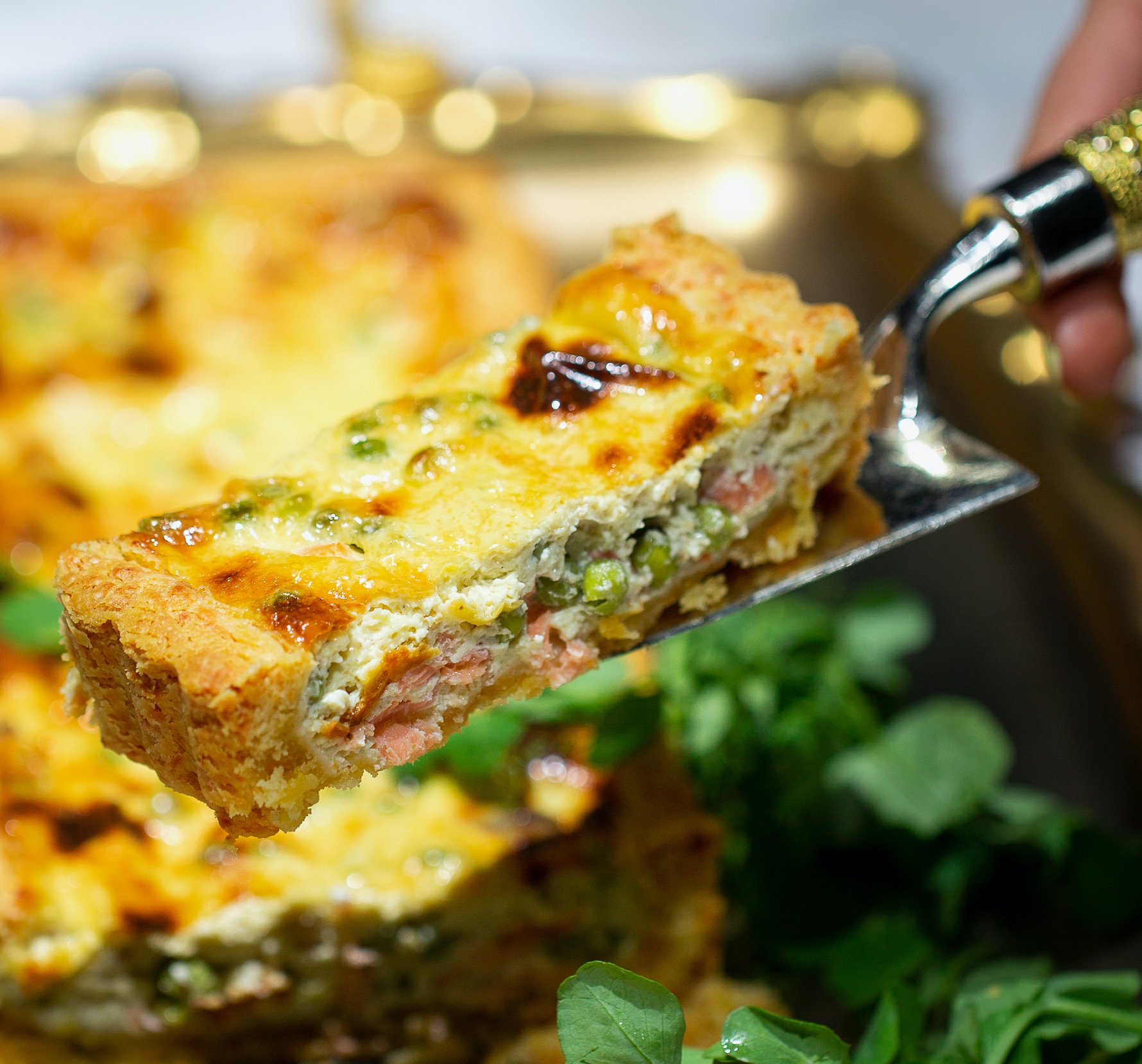 In the springtime, this flavour combination is magical. The recipe below can be varied to suit the seasons. For autumn, the sweet pea and salmon can be substituted with roasted root vegetables. In winter, use comforting cherry tomatoes and basil pesto. For summer, light cheese and sticky onion marmalade is a winning combination.

INGREDIENTS
Pastry
140g cake flour
100g cheddar cheese, grated
100g butter

Filling
250ml milk
3 eggs
125ml sour cream
50ml lemon juice
3g cracked black pepper
3ml mustard powder
5g salt
200g smoked salmon strips
250g blanched petits pois (small peas)

INSTRUCTIONS
Pastry
1. Place all the ingredients into a food processor and blend to form a soft dough.
2. Wrap dough in clingwrap and chill in the fridge for 30 minutes.

Filling
1. Preheat the oven to 160°C.
2. Beat eggs, milk, sour cream, lemon juice, cracked black pepper, mustard powder and salt together.
3. Grease the base of a 24cm quiche pan.
4. Roll out the pastry and line the base and sides of the pan.
5. Chill in the fridge for 15 minutes.
6. Remove chilled pastry and lay the smoked salmon strips evenly on the base.
7. Spread the peas over the salmon and fill with the egg and milk filling.
8. Bake for 45 minutes or until golden and set.
9. Remove from the oven and serve warm or at room temperature.