One of the coolest neighbourhoods in the world (according to Forbes magazine), Maboneng is a golden child amongst Joburg's regeneration stories and was transformed from an industrial and factory district to a buzzing lifestyle playground. The development of the Maboneng Precinct began in 2009 and after more than a decade this colourful, youthful neighbourhood has cemented its place as a popular Joburg visitor attraction in its own right. 

Maboneng's main high street is Fox Street, home to the pioneer development Arts on Main and an eclectic selection of dozens of bars, cafes and restaurants. In 2020 the neighbouring precinct of Jewel City launched, connected to Maboneng via a pedestrianised stretch of Fox Street. While in its early days the neighbourhood's focus was squarely on the arts, Maboneng has now become a major nightlife hotspot and on Saturdays the streets are thronged with a young party crowd.
Sample Maboneng's cafe culture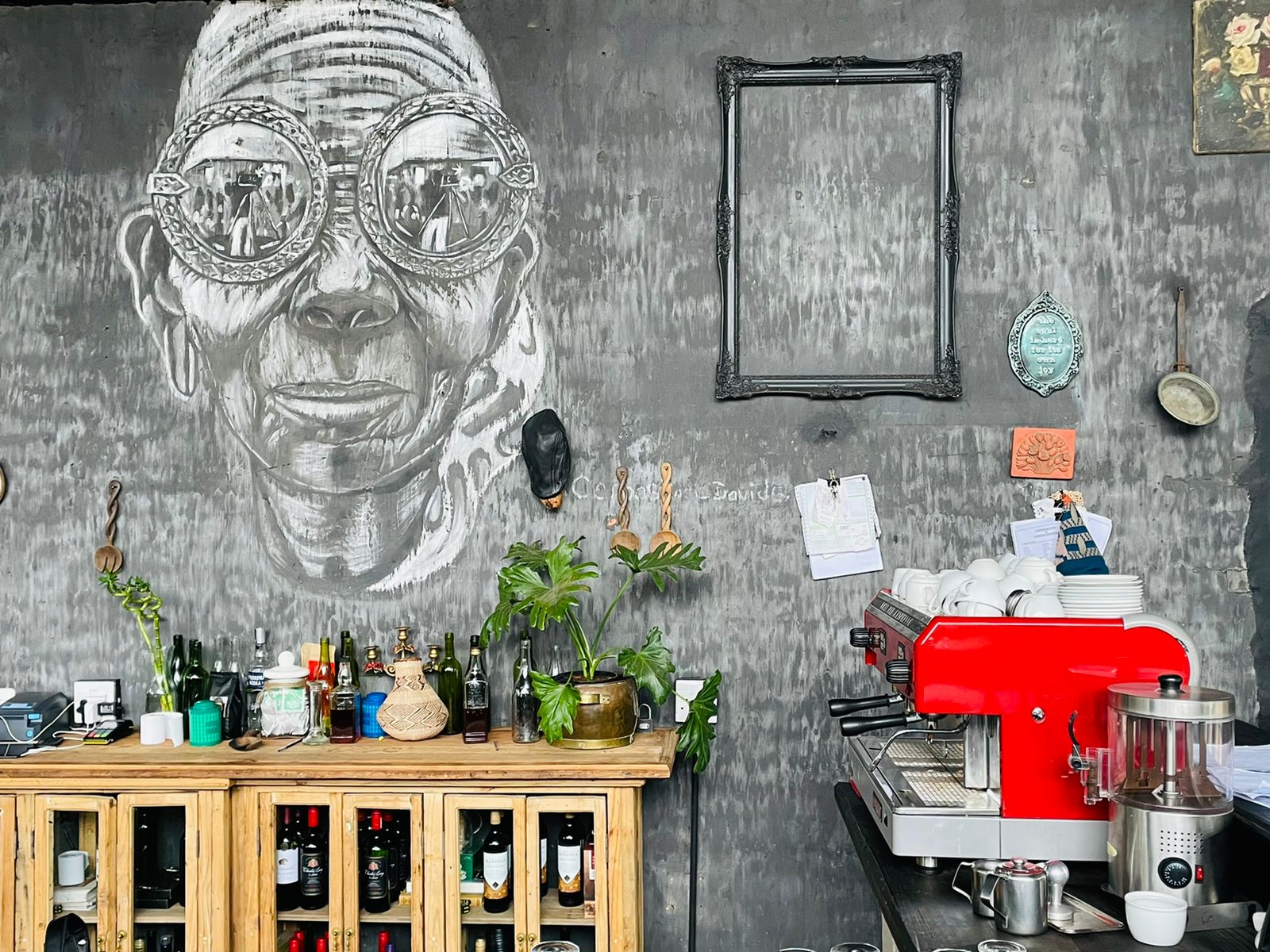 Maboneng has attracted a multicultural group of restaurateurs of the years, many of whom have grown their businesses from market stalls to fully-fledged restaurants. Along Fox Street you'll find everything from Mexican tacos at Mama Mexicana in the Arts on Main building to traditional Ethiopian injera platters at James XVI. There's also plenty of local flavours on the menus too. Popular South African choices include the cafe-bar Pata Pata.

Some of the bars that open out onto Fox Street can get very noisy on weekends, so follow the Maboneng locals to the quieter spots such as Bertrand where you can enjoy live jazz concerts at their upstairs concert space or relax on their dangerously comfy couched-stoep.
Art at Arts on Main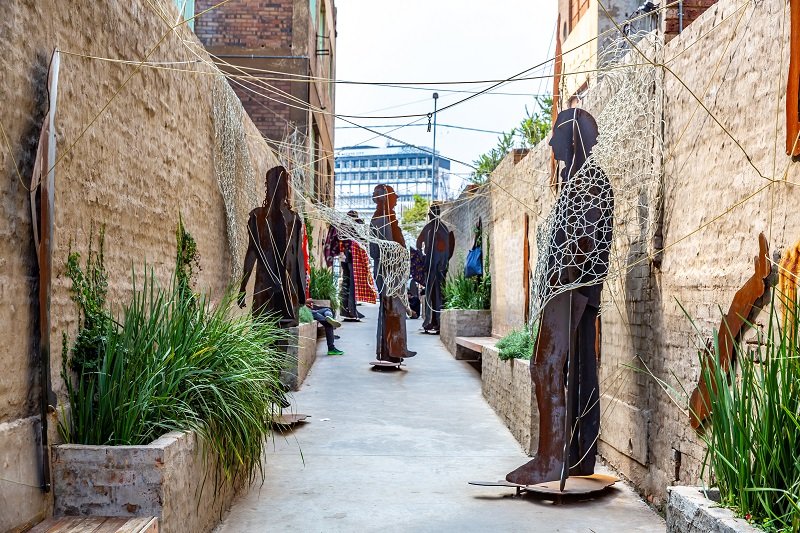 Arts on Main was once the offices of a former Johannesburg Mayor. Today the complex is an artistic hub housing artist studios, including world-famous contemporary artist William Kentridge's. Don't miss the David Krut Projects workshop where you can see local fine art print masters working on the printing press and browse one of the best selections of art books in the city. If you are looking to buy an original art print by a local artist there's also a collection of contemporary works on sale. The building is also home to the Centre for the Less Good Idea, an experimental, collaborative, multi-disciplinary arts platform founded by William Kentridge. The Centre hosts regular performances, talks, concerts, installations and other events that are worth keeping an eye out for. 
Coffee at Home of the Bean
For the best coffee in Maboneng drop into Home of the Bean. Founded by husband and wife duo Leroy Kgopa and Itumeleng Manamela Home of the Bean is all about a quality experience from the beans to the seats. The carrot cake brownies are also noteworthy. If you're looking for a relaxed spot in this buzzing 'hood this is it.
Hang out with Curiocity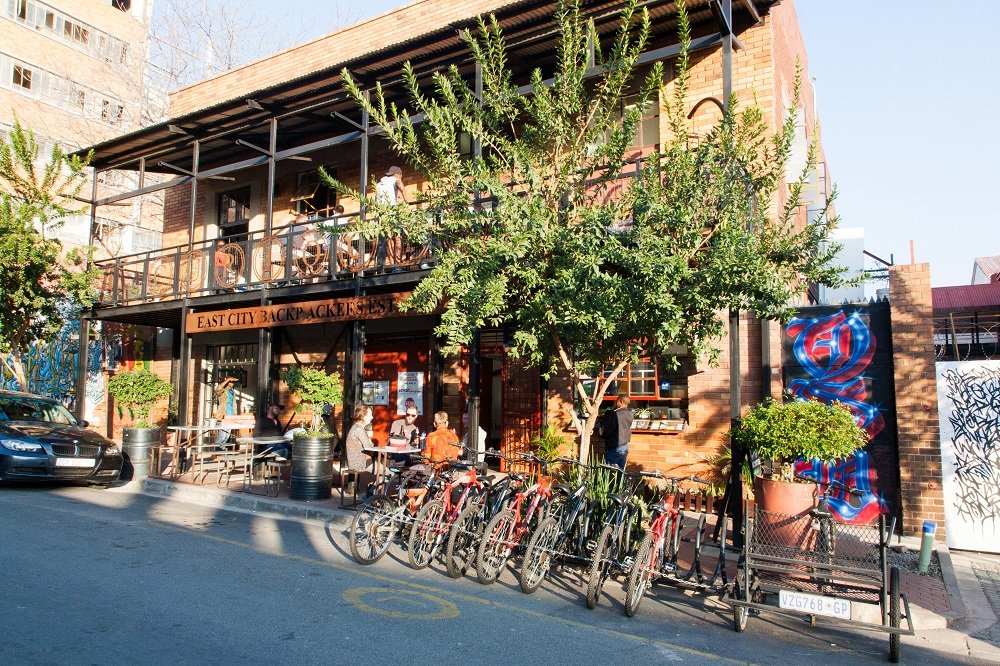 If it's happening in Maboneng, Curiocity is a perfect location from which to experience the action. Curiocity hosts live-music events, has a popular bar and braai stand and offers dorms, private rooms, a loft apartment and Curiocity Pads – 12 boutique studio apartments, each designed by an artist to reflect a particular decade of Joburg's first 120 years. They also organise great walking and cycling tours of Maboneng and the surrounding neighbourhoods. Their tours aim to encourage people to rediscover the city by foot and mix insights into contemporary culture and new immigrant neighbourhoods with history, public art and architecture. Popular tours include the Maboneng street art walk and their sunset walks that end with dinner and drinks at an exclusive penthouse.
Get your picture taken with the Maboneng sign
At the corner of Kruger and Fox Streets an ironwork sign spreads across the intersection spelling out the word Maboneng. On weekends this is the busiest corner of the whole neighbourhood with a steady stream of visitors armed with props getting in line to get that perfect Instagram shot. Alongside this corner's Insta infamy an enterprising fleet of young photographers has also sprung up ready and waiting with professional cameras to take the perfect shot for you. There is also a second similar sign (pictured top) located two blocks away just off Commissioner Street.
Go for a dip and drink at Poolside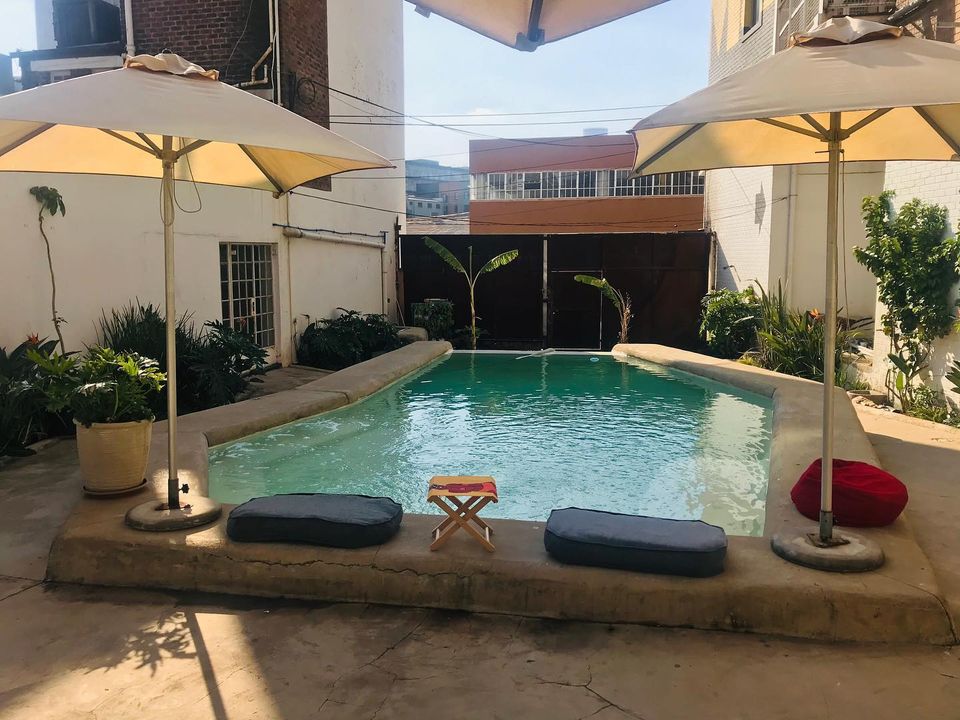 Located in the MOAD (Museum of African Design) building on Commissioner Street Poolside is hidden in the very back of the building (you may need to ask someone for directions) is a small courtyard with a relaxed poolside bar.  The entrance to the building is on Albrecht Street, opposite the Edwardian heritage landmark The Cosmopolitan. In the soaring entrance space there is a friendly little coffee bar and the maze-like building is also home to the Vintage Bar which specialises in jazz and afrobeat music. Splay out on their Victorian furniture and have a drink while enjoying Joburg's latest jazz offerings.
Sundowners at Living Room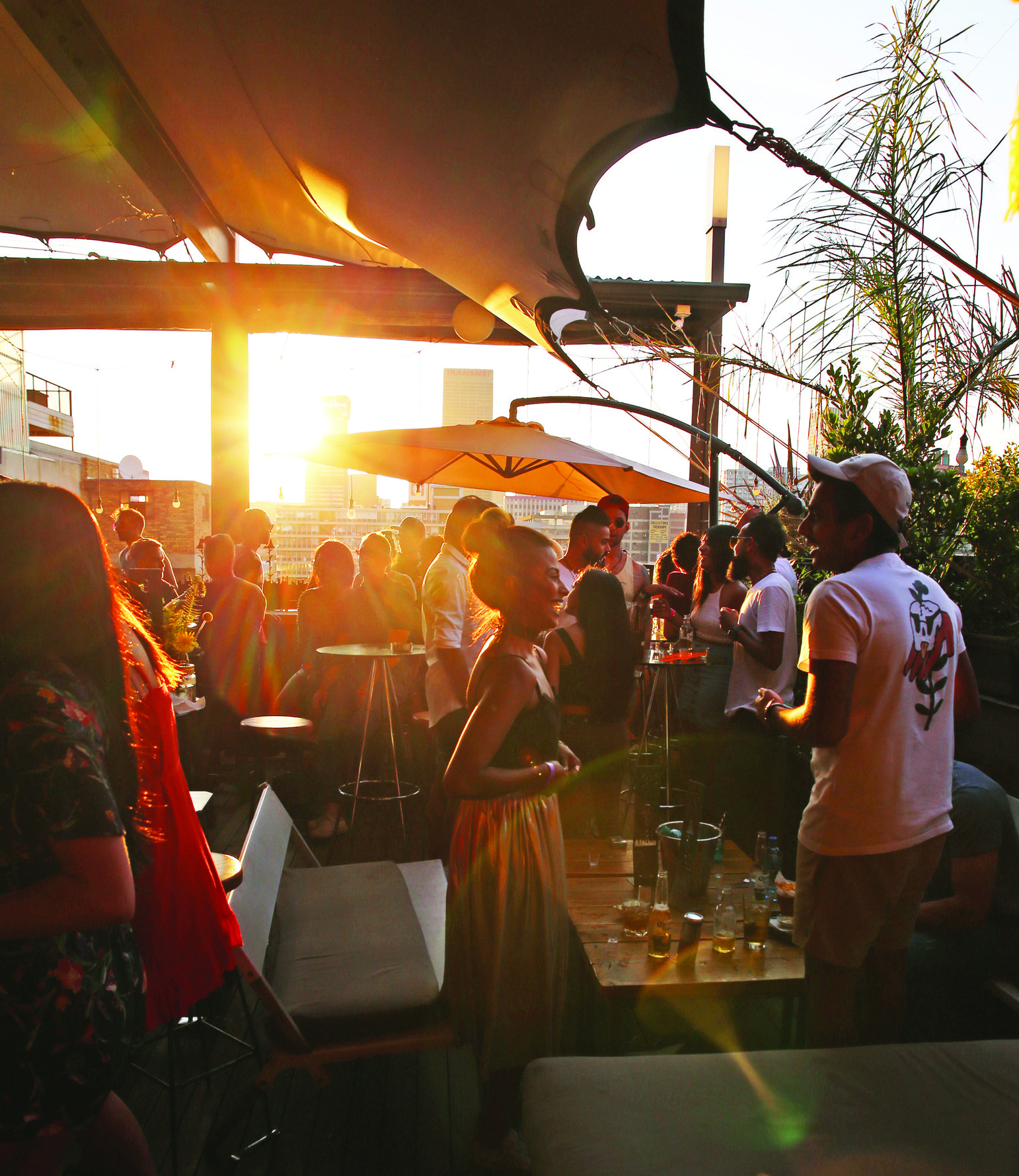 Enjoy one of the best views of the city's skyline with drinks and DJs at one of Maboneng's many rooftop bars. Chief among them is Living Room on the sixth floor of the MainStreetLife building in the middle of Fox Street. A veritable garden in the sky with every available space occupied by greenery, the bar was the venue for JayZ's birthday party in 2018.
Wine and dine at Hallmark House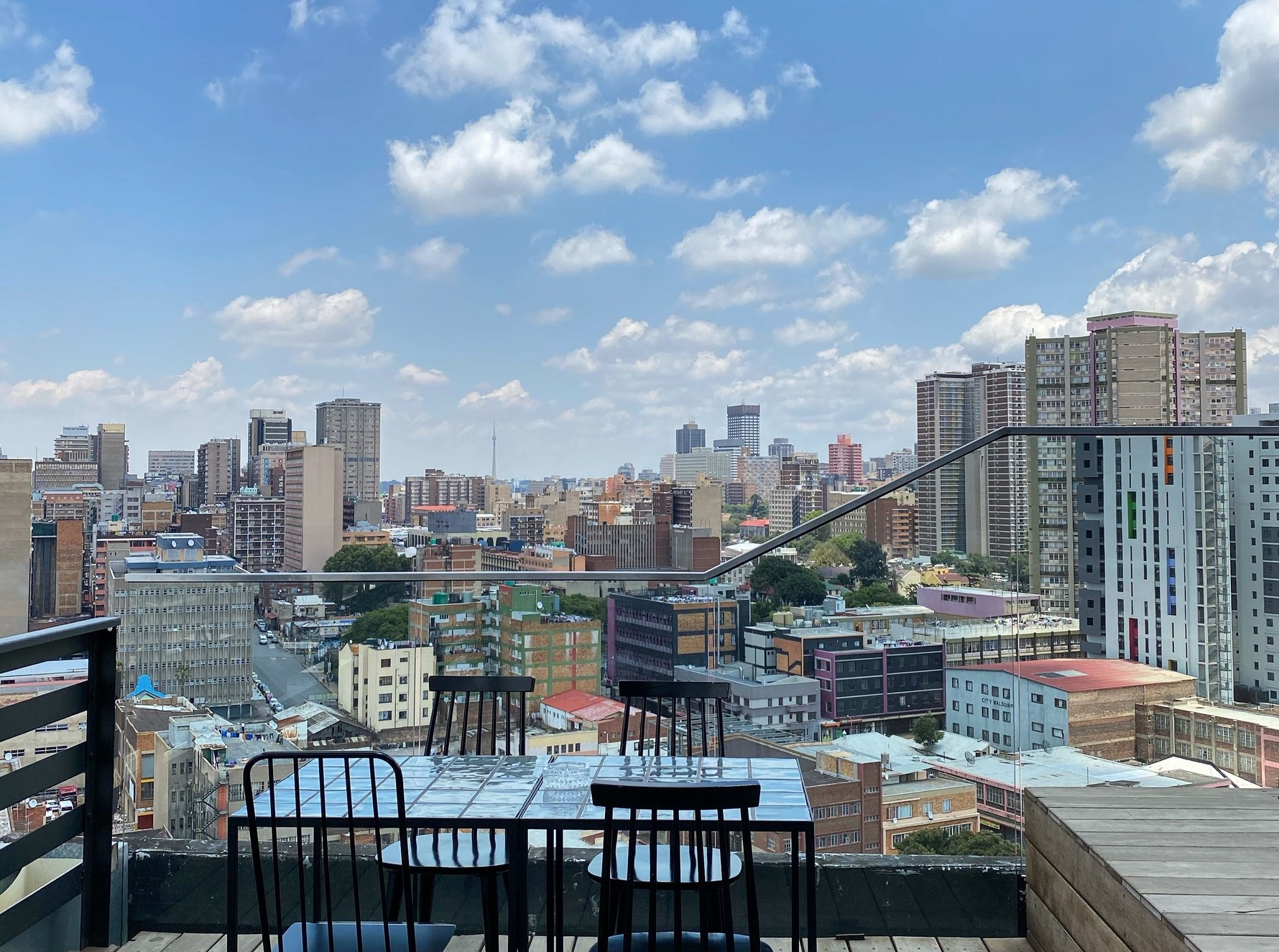 Hallmark House in nearby Doornfontein, was the much-anticipated design of leading Ghanaian-British architect David Adjaye. The building, which opened in 2017, houses residential apartments and the boutique Hallmark Hotel. The hotel's biggest attractions are the super-stylish and atmospheric underground restaurant and music venue, The Marabi Club, a fine dining and jazz music hotspot and the superbly impressive roof bar that offers 350-degree views of the city from its wraparound balcony. Parking is tricky and the hotel is not right next to Maboneng's main attractions so we recommend coming here by Uber.
Street food at Kwa Mai Mai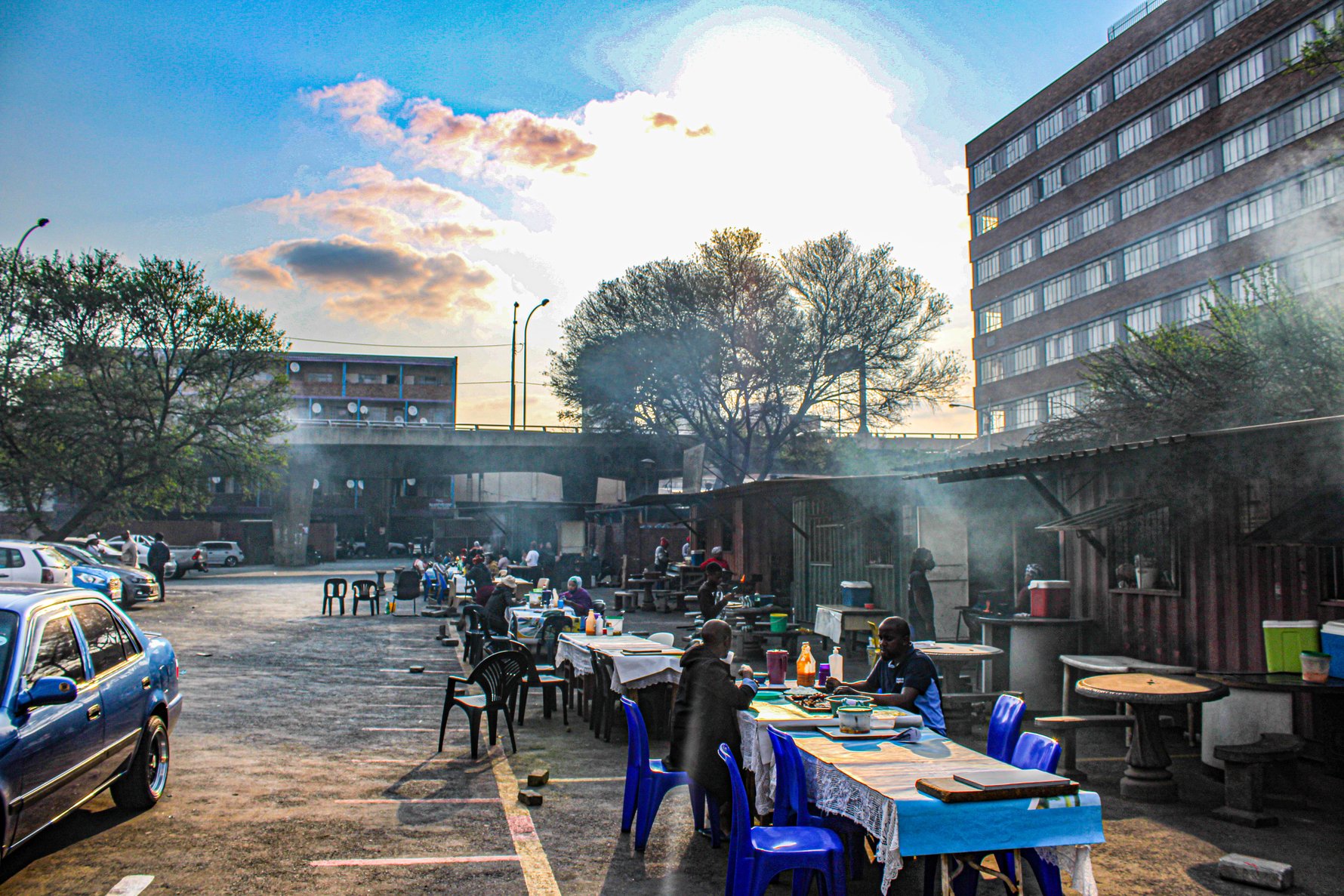 One of Joburg's oldest markets, the Kwa Mai Mai market is also known as Ezinyangeni, or 'the place of healers' and has for decades been one of the city's most established muthi (traditional medicine) markets. Located just a few blocks from Maboneng (it's easier to Uber), the market's reputation as a down-to-earth spot to grab traditional South African street food positively exploded in 2020 after the end of the lockdown and it's now one of the most popular weekend hangouts. The food at Kwa Mai Mai and how it is served reflects a true sense of unfiltered South African street food culture that is not often celebrated. The meat is prepared on a braai stand and the pap on firewood, seating is on plastic chairs and tables under makeshift awnings. Cars park outside and blast their sound systems, the chefs look on unperturbed.