A little Parisian oasis in the midst of one of Joburg's understated but swankiest shopping malls aptly describes this flagship branch of the popular cafe brand tashas, opened in 2021 (on the spot of tasha Le Parc) in Hyde Park Corner. Founder Natasha Sideris can be credited with changing the way affluent Joburgers eat, creating lifestyle destinations where the who's who like to hang out, often dressed to the nines. Casual luxury is synonymous with a tashas experience. 

Natasha Sideris opened her first tashas in Athol and made waves by putting salad on the menu – then nothing more than garnish on most Joburg menus. Her ingredients were fresh, healthy and exotic for most. The counter piled with heaving platters of delicious baked goods, in the style of Ottolenghi's famous Notting Hill cafe.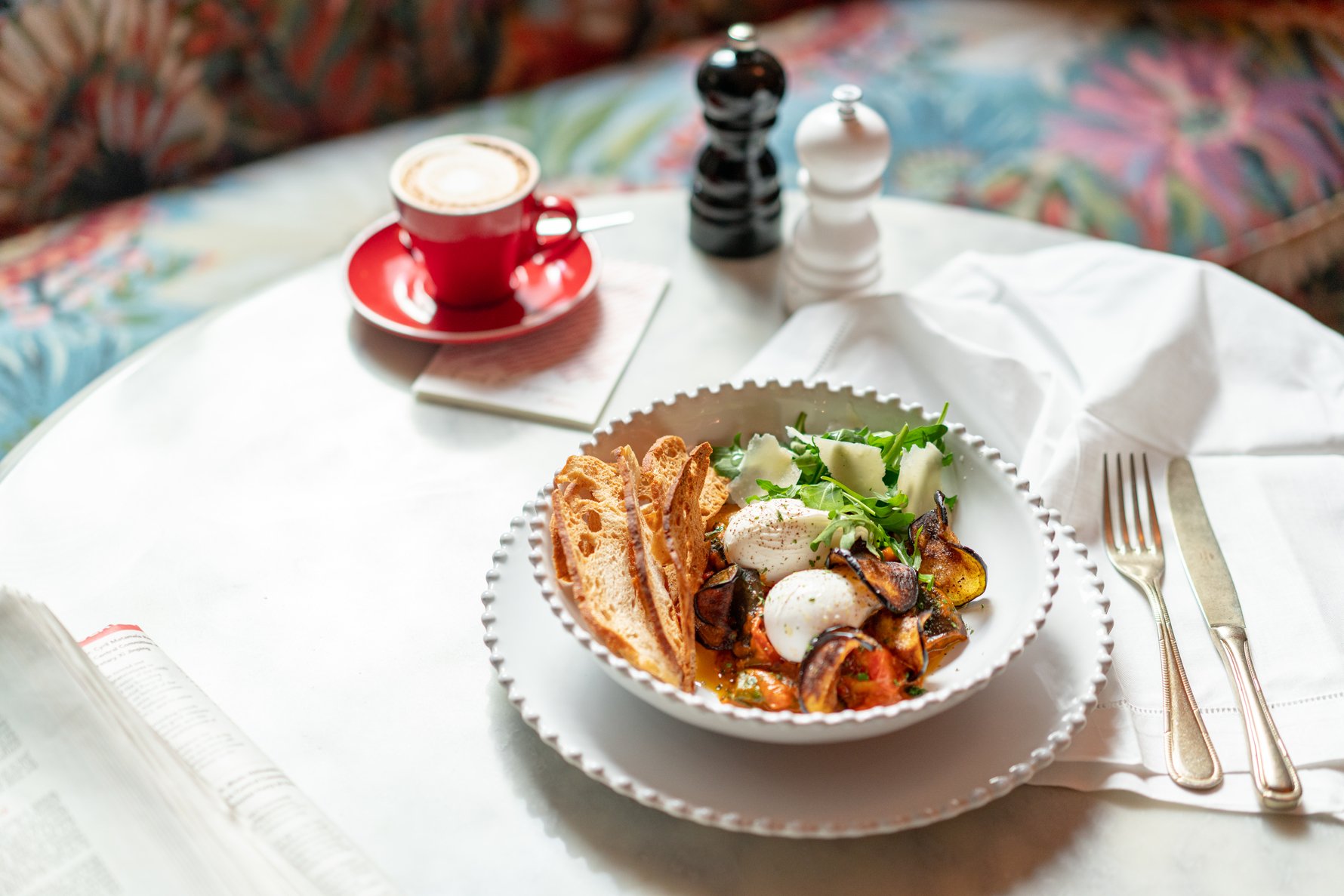 We suspect that Le Parc by tashas is what happens when you have opened 17 cafes, sold your business to corporate, and then bought it back along with your name, and now have the opportunity to play with your brand. In many ways it's a fantastical space. Look closer and you'll notice the art nouveau stained glass ironwork, the handpicked gifts, the gelato and candy floss stand that has the impact of creating the widest eyes on small children. There are flowers for sale, and a cupboard full of beautiful Assouline coffee table books – on everything from design to cooking. Of course Tasha's cookbook is also there – a giant tome of a book that needs its own cocktail table just to balance its opening. 

Le Parc by tashas is crafted as an experience, and the food and service generally don't miss that beat. It's as if a small army passes by the long counter carrying plates heaped with deliciousness. The plating is considered but not so fussy that you won't want to eat the dishes, served in generous portions. In fact a "doggie bag" from tashas has always made an attractive statement. 

tashas is a brand that takes great care – of its customers, and of the quality and variety of its food. At Le Parc by tashas the menu is sumptuous – with 75 dishes all made on order. It's a trademark of the brand – freshness. Favourites from tashas Classic menu have remained but 55 dishes are new to the signature menu. The French theme runs through it all, from the design of the space by Verhaal, with its inviting pink-toned retail cavern filled with gifts (sourced from all over and including fine tableware to kitchen accessories, and of course many food items) and counter delights, to the striped sails billowing above the tables. The effect is to dramatically soften the space.

It's a theme also expressed in all the new dishes – from (our favourite) ratatouille eggs with crispy brinjal, to the tashas version of a Banh Mi (a Vietnamese-style crispy baguette with a savoury filling). 

After the austerity of the Covid era – this is a leap into another world, more charming, even romantic, one where abundance is more the oder of the day. The bread here is not just any garden variety bread – and we suggest not taking a companion who struggles with choices. There's freshly made sourdough, baguettes, cranberry and seed loaf, coconut bread, and a couple of gluten-free options prepared fresh dailty.  Gelato comes in six different flavours, with four reasons to return each month to sample the "flavour of the week". There's also a waffle station and toffee apples, and many other delightful looking sweet things to behold or sample.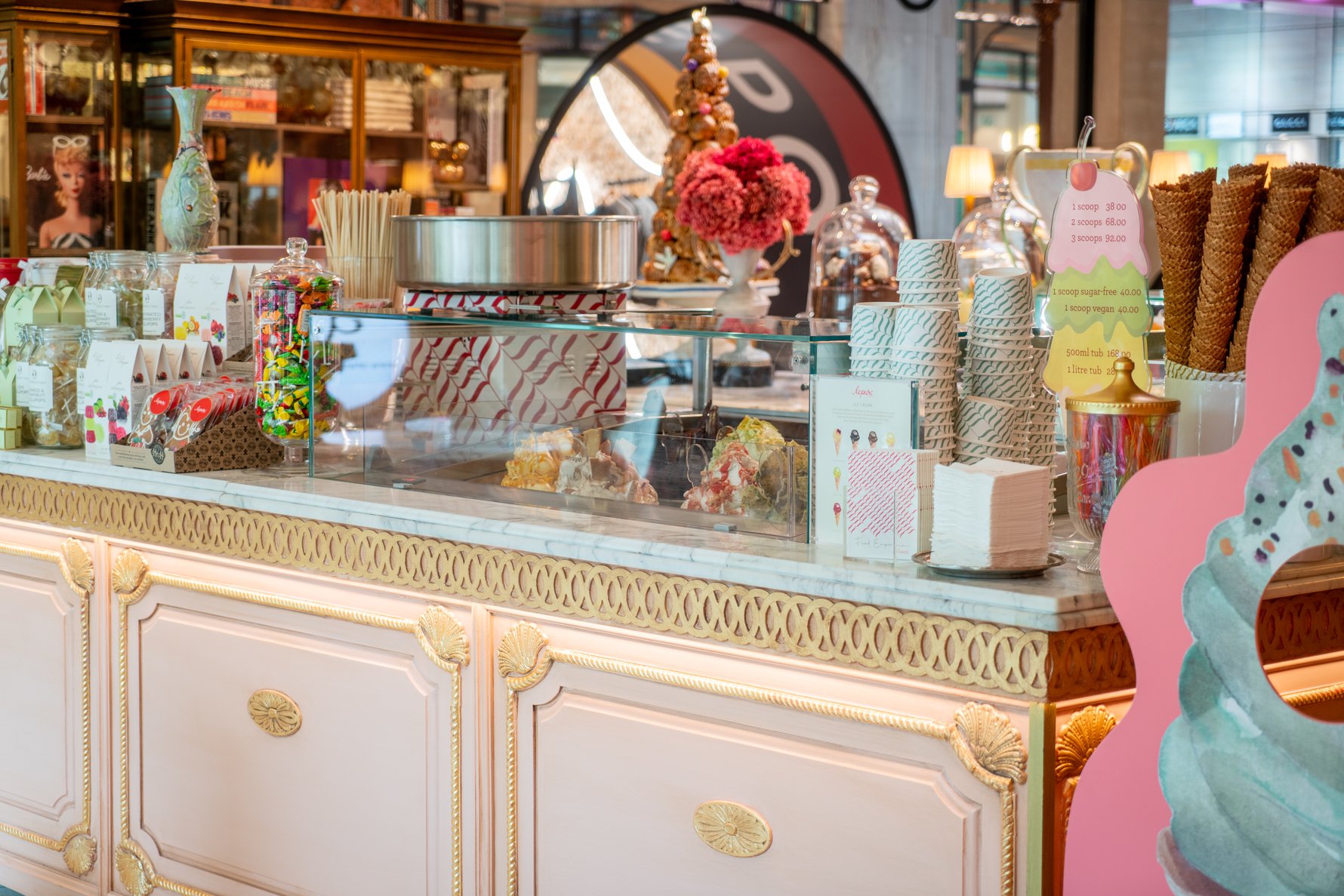 We love how this branch of tashas has also gone out of its way to source the skills of artisans – from the amazing 400-piece paper art installation by Elonah O'Neil that has been meticulously folded by hand and delicately painted in golf leaf, to the playful and over-the-top papier-mache works by David and Alexandra Ross, and illustrations in watercolour by artist and designer Victoria Verbaan. Lots of whimsical touches make this an enticing space to explore. 

We also highly recommend the cocktail menu – the Turkish Delight will amaze your friends with its look of candy floss. Open for breakfast, from 07:30, lunch and dinner (except on Sunday) daily, any time is a good time to visit.