The best way to get to know Joburg is to hang out with an insider. In our Ask a Local series we chat to some of our favourite Joburg city people to get the lowdown on what makes Joburg unique.

This week art historian, Joburg blogger and owner of Liz at Lancaster guesthouse in Craighall Park, LIZ DELMONT, shares her favourite Joburg places with us.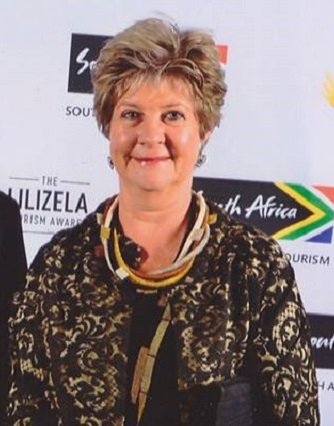 A former academic, Liz opened her guesthouse, Liz at Lancaster in 1995 and has garnered numerous prestigious hospitality awards over the years, including the Lilizela Award. Liz used to teach Art History at Wits University and her charming guesthouse is home to beautiful contemporary artworks collected over the years as well as exquisite handcrafted local cultural artefacts such as Shangaan capes, Xhosa ceremonial blankets and walking sticks. Liz also blogs about the city, its history and cultural attractions through her blog Liz at Lancaster. 

Home is... 
A place with family and friends, where people share the same humour and where I can read a book with my cat on my lap and my dog at my feet.
 
Three things visitors should experience before leaving Joburg?
1. A Jozi sunset.
2. One of the many excellent walking tours offered by peoples such as MainStreetWalks, JoburgPlaces, Past Experiences, Joburg Heritage and Lucille Davie's Jozi Tours & Tales. There is no better way to experience a city than on foot.  
3. One of the 'firsts'; the first Thursday of the month at Keyes Art Mile for art exhibitions, a 'jol' and the glitz and glamour of lower Rosebank or First Sundays in the Valley where the newly developing Victoria Yards is taking off and Drew Lindsay's Spaza Art Gallery offers the ultimate in quirk.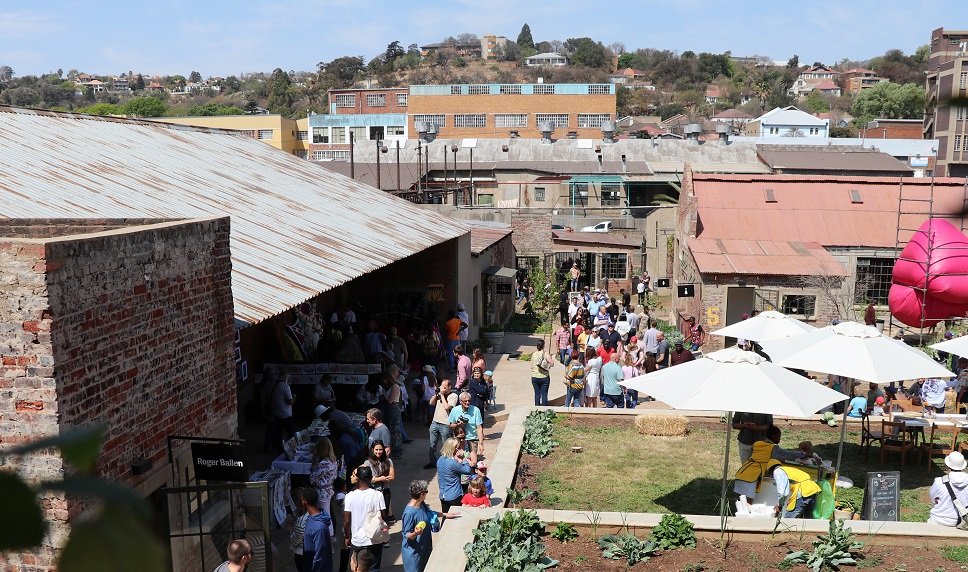 Number one tip for a first-time visitor to Joburg? 
That there is no 'city-centre' as such, just three business districts relatively far apart with pockets of suburbs, shopping strips, urban renewal ventures, nightlife and pavement eateries in between.

One thing nobody would expect to hear about Joburg? 
That we have a winery, right in the heart of Craighall Park. At Gerakaris in the Delta Centre the grapes are brought up from Cape Town overnight and pressed, fermented and bottled on-site, producing two red and white wines. How amazing to savour the difference between wooded and unwooded Chenin Blanc as you nibble on cheese and meze and watch horses (from the stables at Delta) exercising in the arena next door? Can't get more countrified than that and it's just down the road from Liz at Lancaster guesthouse. 

The most underrated Joburg sight or experience?  
The purple canopy of jacarandas in October and November – especially when silhouetted against the dark bruised light of an impending Highveld storm  

Favourite restaurant or cafe? 
There is nothing to beat shakshuka at Pablo Eggs Go Bar in Melville. I have tried many a shakshuka since my first at Eggs Go Bar and nothing compares. And the Yemeni bread and dips are to die for.  Definitely a favourite place. 

The most memorable meal you have eaten in Joburg? 
Has to be Chez Fong. Su-Yen Thornhill is a combination of magician and stand-up comedian.  Once a week only, (Wednesday nights), Su-Yen prepares (in facts performs) a 10-course meal in her home set high on the ridge in Houghton overlooking the view of the Parks suburbs north to Sandton. This Asian-fusion style meal is sublime – each course with its own subtle flavour, and completely distinctive taste.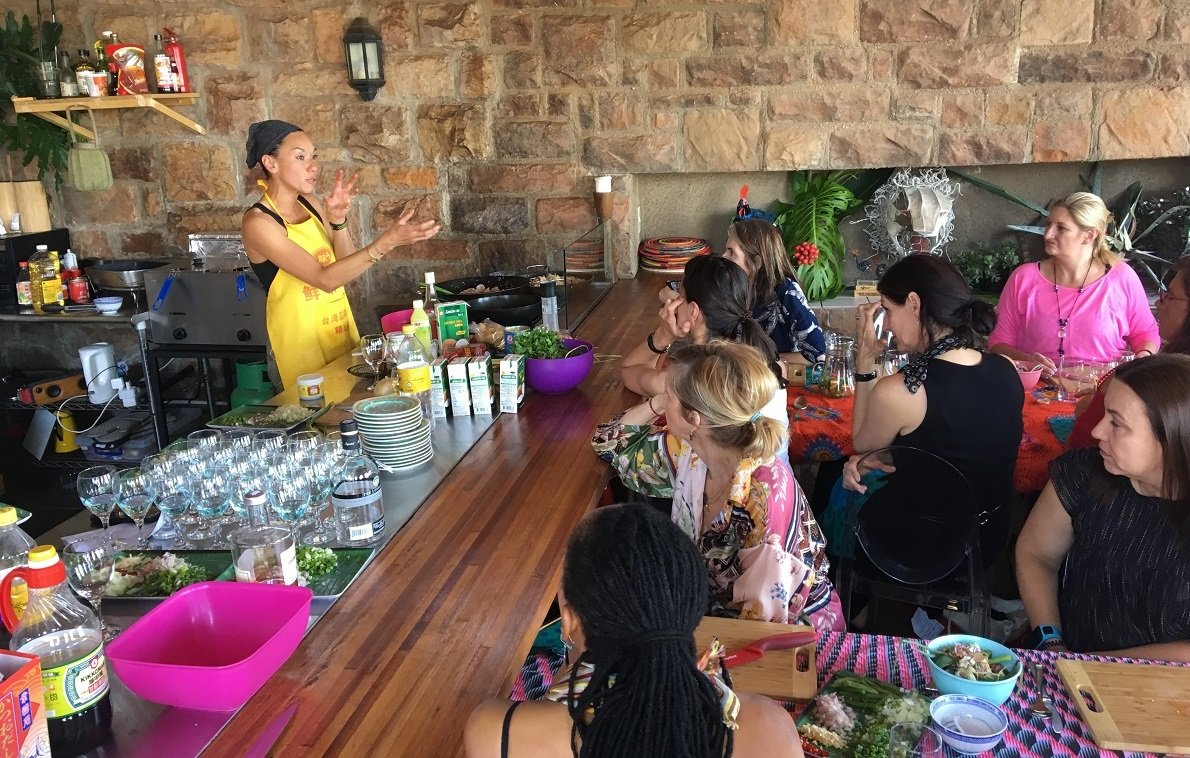 Where would you recommend for a first date in Joburg? 
The Secret Jozi Chef cookery school on Jan Smuts Avenue, maybe not the most romantic but you for sure know whether you want a second date or not! Working in couples or groups you create a three-course meal from a menu and ingredients planned and prepared by Emilio and Paul, the brains behind Secret Jozi Chef. The results are then laid out in splendiferous style for all to tuck into after. A great opportunity to assess your date's team-work, cooking expertise (and if they have none, the next best thing, a sense of humour), and of course socialising skills. If your date is a winner in all those departments well… you can do way worse than that!    

Favourite bar or after-work hangout?  
After work… is there such a time?! 

Favourite place to shop? 
Has to be Exclusive Books. It combines some of the most precious things in life – good coffee from Seattle coffee shop, an amazing selection of books, comfy chairs and secret nooks – all of which allow for a few hours of escape.

Favourite place to relax?  
Why go anywhere when I can relax in my little courtyard at home? There's no better place to chill with a cup of coffee or a glass of wine than watching the pecking order at the bird feeder. All the units at Liz at Lancaster Guesthouse have their own private courtyards so guests have this privilege too!  

On a weekend in Joburg you'll find me…. 
On a Sunday you'll find me at my desk catching up with admin and blogging (or occasionally meeting up with old friends to walk the Westcliff Steps). And then maybe a long, late lazy lunch with family – laidback and comfortable with a few glasses of wine. And then home to continue watching a Nordic noir series.   

How would you spend your perfect day in Joburg?
It's a Saturday and it has to be autumn. So it would be a walk in the park with friends and our dogs, a lazy breakfast in the warm morning sun, pop-in to a couple of art exhibitions, even catch a walkabout with an artist, and an afternoon curled up with a good novel. If there's something good at Cinema Nouveau in Rosebank, like a National Theatre HD Live screening, followed by supper and a glass of wine (or two) with friends. A day made in heaven.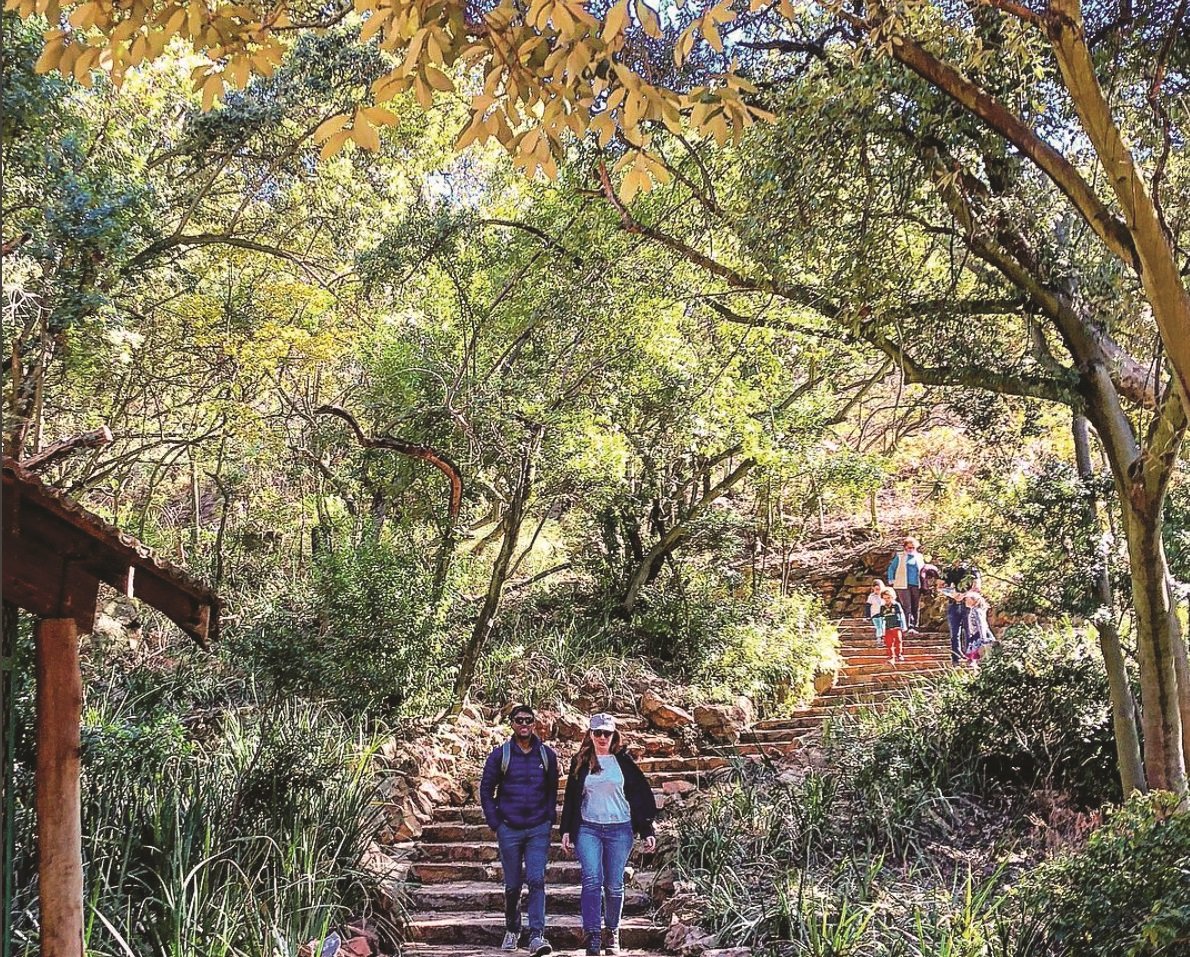 What's happening in Joburg right now that you think everyone should know about? 
Although there is a whole group of dedicated helpers working with James Delaney (civic activist extraordinaire) with the ongoing renewal of The Wilds, it's amazing how many people still don't know of this amazing initiative. The views at the top of this park make the climb up the stone paths worth it and the 67 hanging owl sculptures in the forest are completely whimsical and enchanting.  And make sure to be on the look-out for giraffe, ostrich, kudu, bush-babies and more. 

What makes someone a Joburger? 
A rule-breaker with an ASAP attitude 

Your favourite Joburg person?  
Mine is not one person but a group of people – the informal recyclers. For me they encapsulate so much of what the city is all about: migrancy, people on the move, a city built on really hard manual labour, homelessness, sheer grit as they heave their trolleys with huge makeshift carrier sacks filled with the detritus of the middle classes up steep hills with the odd yummy-mummy in her 4X4 shaking her head at the inconvenience of sharing the road with them. They truly inhabit the "in-between spaces" that comprise so much of Jozi.

Best things about Joburg? 
The contrasts. I love that I can be playing basketball in Alex in the morning as part of a walking tour and see a world-class Broadway musical in the evening.    

Worst things about Joburg? 
The contrasts. While I celebrate them in one way, the juxtaposition of wealth and poverty, of sanitised spaces and squalor, of BMWs and beggars at traffic lights, of privilege and deprivation, are also always starkly brutal.  

Three words that describe this city:
Mad, gritty, fast-paced  

If you didn't live in Joburg where would you like to live? 
Hmmm… A Karoo village? Coastal town? Amsterdam? Can I just stay in Jozi until further notice?